Delicious oven baked Bubble & Squeak Patties. Made with only 4 ingredients and super easy. A great way to get your children to eat their vegetables!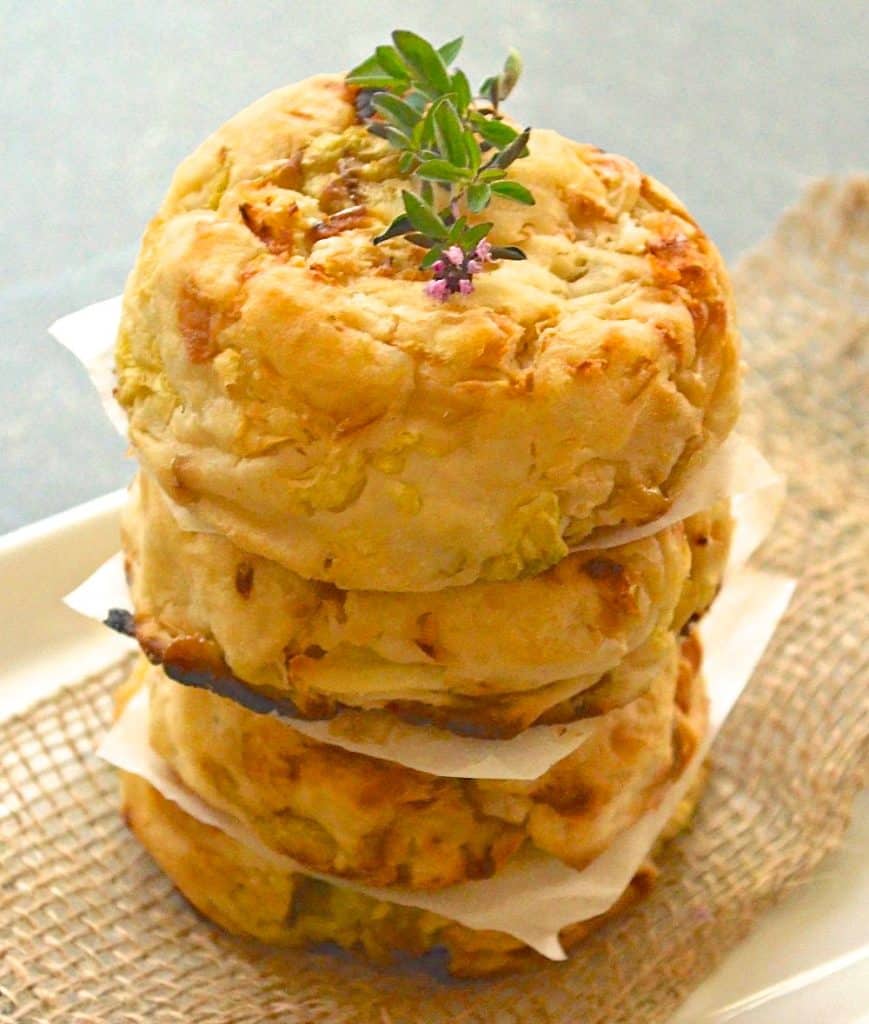 Bubble & Squeak is a traditional English dish which was originally made to use up leftovers. The rather unique name comes from the bubbling and squeaking noises the mixture would make in the hot oil whilst being fried.
As I am originally from England I have grown up eating Bubble & Squeak. My Mum would always cook extra vegetables with our Sunday roast so that she could make Bubble & Squeak with the leftovers the next day. Back then the potato would have been mashed with butter and milk, then the resulting Bubble & Squeak fried, probably in more butter and served with a fried egg and sausages. Not the healthiest meal!
My version of Bubble & Squeak is much healthier. It contains only 4 ingredients. Potato, cabbage, Brussels sprouts and onion. That's it apart from a bit of salt and pepper. All the ingredients are cooked, then stirred together and formed into patties. I have pan fried these Bubble & Squeak Patties and oven baked them and let me tell you that the oven baked version is much better. With the fried ones you get a really crispy finish which is delicious, but when you oven bake them they kind of puff up a bit and become much lighter and fluffier. We all agreed that baked was best.
This is a great recipe for children (or adults) who dislike vegetables. My son 'hates' Brussels sprouts but aways wolfs these Bubble & Squeak Patties down without question. The only thing I would suggest is to take extra care when shredding the vegetables. If you are lucky enough to have a family that loves their veggies then some chunks of cabbage and brussels sprouts are nice, but if you are struggling with veggie phobic individuals then shred the veggies extra small so that they are indistinguishable in the finished product!
Although in this recipe I cook the vegetables from scratch, feel free to sub any leftover vegetables you happen to have. Basically you can add as many vegetables as will comfortably stir through the mashed potato. Any green vegetable works and I have even been known to throw in come leftover cooked carrots, parsnips or swede/rutabaga.
These Bubble & Squeak Patties are great with anything that you would usually serve potatoes with. We like them with homemade BBQ baked beans (get my recipe here) They are also good with some thick, tasty gravy and sautéed mushrooms. Young children might also enjoy them with a good quality veggie sausage and some natural ketchup.  They are even good for breakfast!
I would love to see how you serve your Bubble & Squeak Patties so please share your pictures on Instagram (@avirtualvegan) and add the hashtag #avirtualvegan so I don't miss them! It would also be great if you could leave some feedback in the comments section below. I love to know what you think of my recipes!
Yields 12 patties
Bubble & Squeak Patties
Delicious oven baked Bubble & Squeak Patties. Made with only 4 ingredients and super easy. A great way to get your children to eat their vegetables!
20 minPrep Time
30 minCook Time
50 minTotal Time
Ingredients
1250g white potato chopped into chunks (about 9-10 medium potatoes)
500-550g green cabbage shredded (roughly half a large cabbage)
15 Brussels sprouts shredded
1 medium onion chopped
Salt & Pepper
Oil for brushing/spraying (optional)
Instructions
Place the potatoes in a large pan, cover with water, add a large pinch of salt and bring to the boil.
Boil until tender. Do not overcook (about 12 - 15 minutes)
Place your shredded cabbage and Brussels sprouts in a separate pan and cover with water. Bring to the boil and simmer for about 3 minutes then drain and set aside.
Heat a small fry pan and sauté your onion until golden brown then remove from the heat. I tend to dry fry mine but feel free to add a little oil if you prefer.
Once the potatoes are tender drain immediately and return to the pan with the lid off so that they can dry and cool down.
Preheat your oven to 400 degrees F
Prepare a large baking sheet. If it is non-stick it will be fine as it is. If not cover with a Silpat or baking parchment.
Once everything is cool enough to handle with your hands, mash the potato.
Add the cabbage, Brussels sprouts and onion to the potato ( I use the large pan the potatoes were boiled in to do this but if it won't all fit in yours then transfer to a large bowl).
Season generously and mix everything together well.
Take handfuls and roll into balls (you want them kind of mid way between golf and tennis ball size)
Place on your baking sheet and press down gently with the palm of your hand to make a patty shape. Smooth them out a little around the sides if they crack a bit. (See recipe notes for alternative directions if you do not wish to shape patties).
Brush or spray with oil (optional) then place in the preheated oven.
Bake for 30-40 minutes until golden brown.
Notes
If yo want an easier option than forming patties then you can spoon the mixture into a casserole, rough up the top of the Bubble & Squeak mixture with a fork, spray or brush with oil then bake uncovered for 30 - 40 minutes.
Leftover Bubble & Squeak Patties can be covered and stored in the fridge for 3 - 4 days. Reheat in the oven on 400 for about 15 minutes. They would also probably freeze well too but I haven't tried that yet.
http://avirtualvegan.com/bubble-squeak-patties/
This recipe has been submitted to the Meat Free Monday Challenge over at tinnedtomatoes.com and the Try A Bite Tuesday Link Up. Check them out for more recipe inspiration!