Light and fluffy vegan omelette with deep, earthy chickpea flavour, stuffed to bursting with delicious sautéed vegetables & cashew cheese.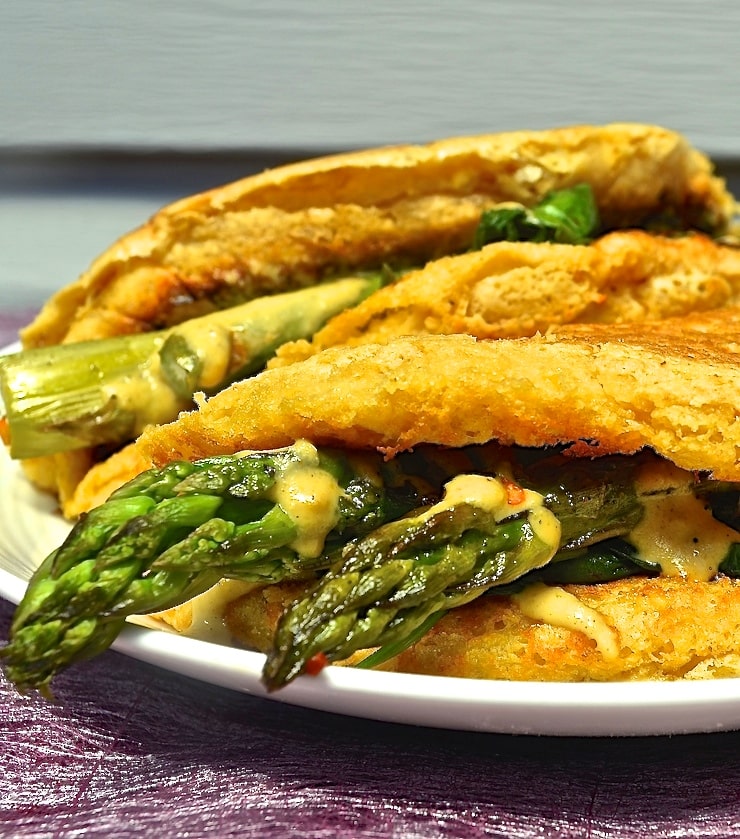 By now you have probably heard all about Aquafaba. If not, where have you been? ;o)
Basically it is the brine from a tin of chickpeas, or garbanzo beans as they are more commonly called here.
I must admit that I didn't like the sound of it at first but once I started seeing the amazing recipes that were being created by my fellow vegan food bloggers I was blown away. I mean just look at these macarons!
Seeing that macaron recipe by Amrita and Levan over at Crazy Vegan Kitchen was my turning point.
I just had to try cooking with aquafaba!
I decided I wanted to go down the savoury route with my recipe creation and ended up coming up with a soufflé style vegan omelette which I stuffed with asparagus, spinach and my Cashew Cheese Sauce.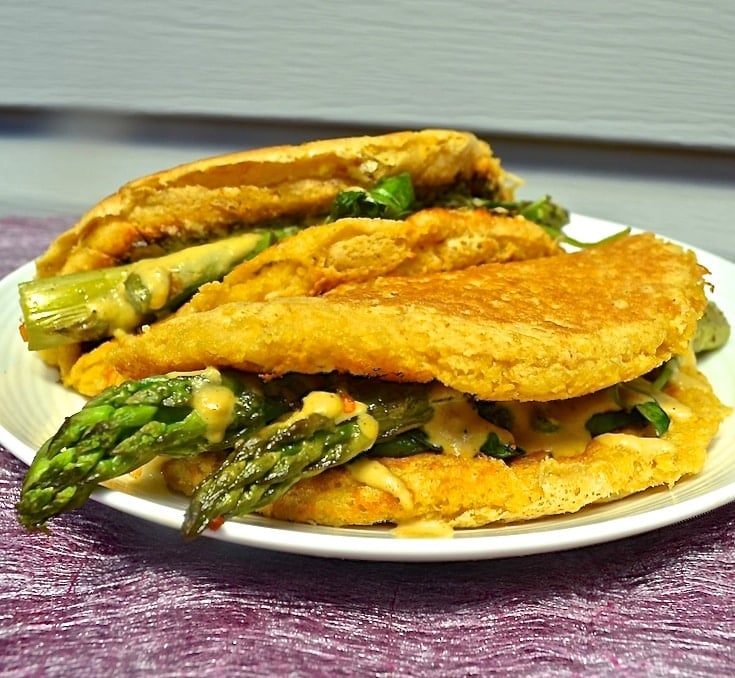 My Vegan Omelette with Asparagus, Spinach and 'Cheese' is
light and fluffy
with a deep earthy chickpea flavour
and is stuffed full of sautéed vegetables and oozy cheese
Yum!
Mel | A VIrtual Vegan
Yields 2 omelettes
Vegan Souffle Omelette with Asparagus, Spinach & 'Cheese'
Light and fluffy vegan soufflé omelette with deep, earthy chickpea flavour, stuffed to bursting with delicious sautéed vegetables & cashew cheese.
5 minPrep Time
10 minCook Time
15 minTotal Time
Ingredients
6 asparagus spears
1 cup aquafaba
1 cup of garbanzo bean flour
2 large handfuls of fresh spinach
pinch of chilli flakes
salt & pepper
your choice of oil for sautéing & frying
Cashew Cheese (get my recipe here
Instructions
Get a sauté pan warming over a medium heat.
In a very clean bowl whisk your aquafaba until stiffish peaks form.
While this is happening add a drop of oil to your sauté pan and sauté the asparagus gently with some salt and pepper.
Warm a fry pan over a medium heat with a tiny drop of oil. The least you can get away with. You know you're pan. If it's a really super-duper non-stick one you can get away with none. If it's pretty good use a tiny drop and if it's not great use a bit more.
Gently and gradually fold the garbanzo bean flour into the aquafaba with a metal spoon until just combined.
Pour a thick layer (about 1cm) of the batter into the frypan and smooth the top very gently with a spatula.
Turn heat to low/medium and leave well alone until it starts to solidify a bit and the top isn't wet anymore.
While the omelette is cooking move your asparagus to one side of the pan & add your spinach to the other side.
Sprinkle with chilli flakes and salt and pepper. Cook until gently wilted then turn off the heat.
Turn your omelette over very carefully (it will be pretty fragile and you might need to loosen it up around the edges a bit first) and continue cooking for another 3 - 4 minutes.
Remove from pan and keep warm in the oven until you have cooked the other omelette.
Once they are both cooked, stuff with spinach and asparagus and drizzle over plenty of cashew cheese.
Recipe Notes
It is normal to see some lumps throughout the mixture when folding the chickpea flour into the aquafaba so don't worry about them. Folding the flour in gradually though will minimize this. It is also normal for it to lose a bit of it's puffiness, but being as gentle as you can will preserve it as much as possible.
6.8
https://avirtualvegan.com/vegan-omelette/
Melanie McDonald | A Virtual Vegan