A Vegan Omelette made with just 2 ingredients. Chickpea flour and aquafaba. It's really puffy, light and fluffy, a bit like a souffle omelette, and so delicious. Budget-friendly too!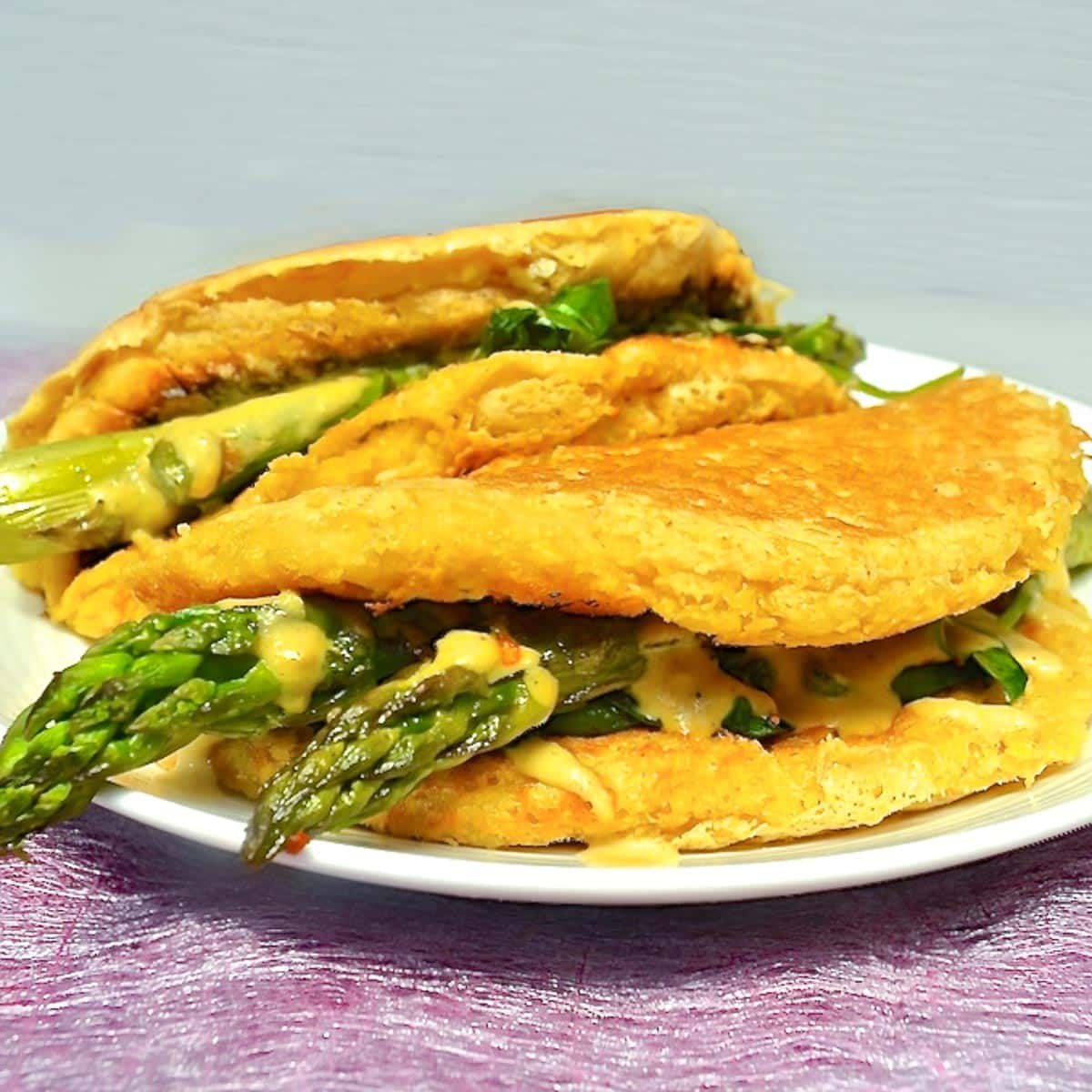 Hello. I'm happy to report that you can make a simple and budget-friendly Vegan Omelette with just 2 ingredients!
This naturally gluten-free aquafaba omelette is made souffle style so is thick, with a fluffy and light texture. Whip it up and stuff full of fillings of choice for breakfast, lunch or dinner!
In this post - Everything you need to make a perfect vegan omelette:
Jump to:
Ingredients
To make this Vegan Omelette recipe you will need chickpea flour and aquafaba. That's it, apart from a little seasoning and the oil you need to fry the omelette in.
Chef's Tip - For eggy flavor add an optional sprinkle of kala namak (Himalayan black salt) over the omelette after flipping, just as its finished setting (not before).
Filling Ideas
Fill your vegan omelette with whatever goodies you like. Some ideas include:
fresh or sautéed veggies like onions, tomato, mushrooms and asparagus
green leafy vegetables like arugula and baby spinach
avocado
vegan cheese or cream cheese
fresh herbs like parsley, cilantro and basil ( I have a year round supply thanks to my Click & Grow!).
diced or thinly sliced vegan deli meats (you can use my vegan beef, roast, ham or chicken for this)
If the fillings need to be cooked this must be done ahead of time. You can keep them warm on very low while you cook your omelette.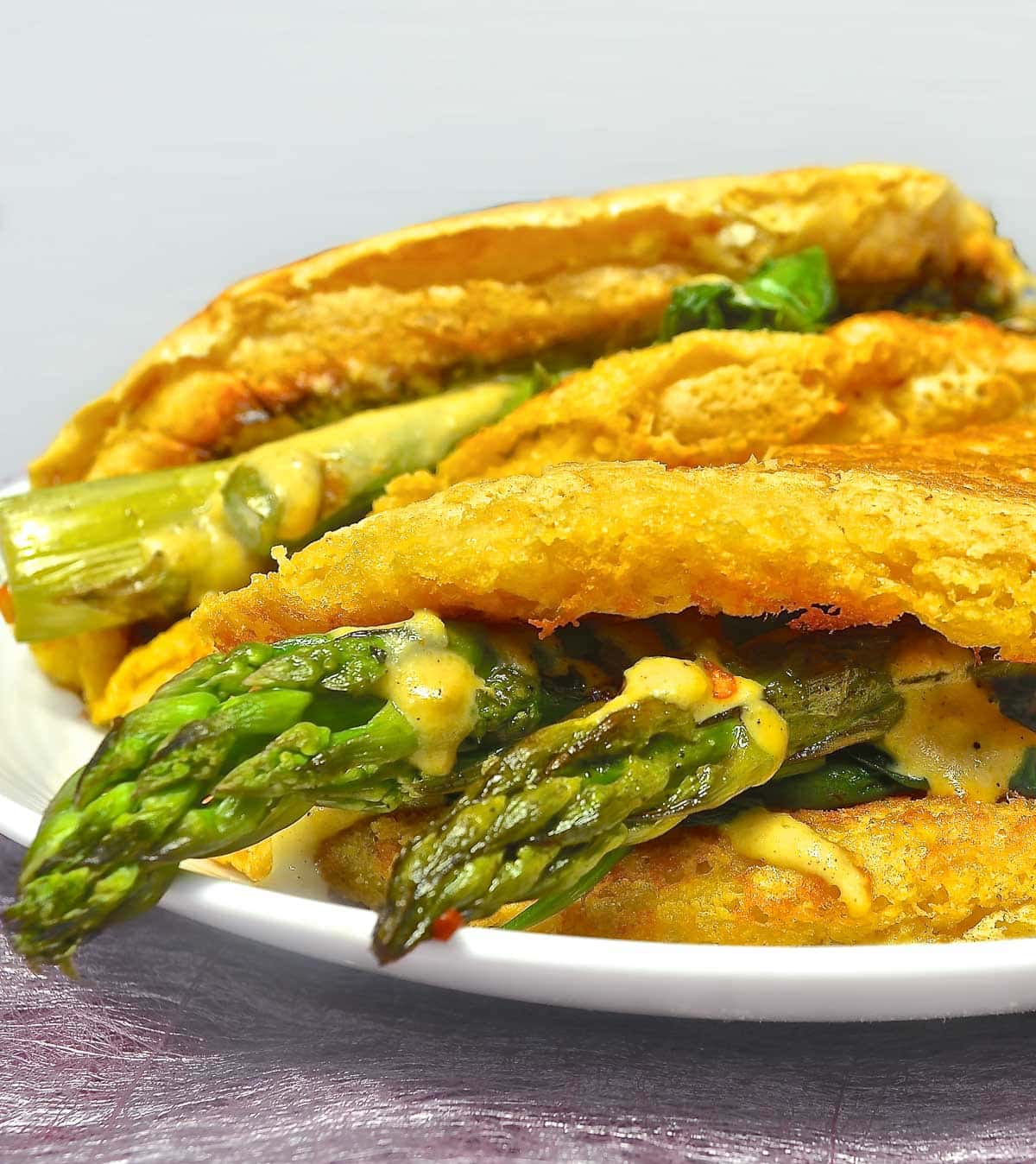 How To Make A Vegan Omelette
For your fluffy vegan chickpea flour omelette, first you need to whip up the aquafaba with an electric mixer. Then it's as simple as folding in the chickpea flour very gently, then cooking in a good non-stick frying pan. Be sure it's cooked through well because raw chickpea flour isn't the best.
Necessary equipment - For this recipe you need an electric mixer, either hand held or a stand mixer. Beating aquafaba by hand doesn't work as well. You will also need a really good non-stick pan with gently angled sides. It must be perfectly non-stick.
Serving Suggestions
Serve your vegan omelette with:
More Eggy Vegan Recipes
Recipe FAQs
What is aquafaba?
Aquafaba is the liquid from canned chickpeas. Just pour the chicpeas out of the can into a sieve and catch what runs out!
Can I use aquafaba from home-cooked chickpeas?
You can but there is some prep work involved. Once your chickpeas are cooked drain the liquid. Then you want to put that liquid back into the pan and reduce it by about half. And then you need to refrigerate it overnight. Do that and you'll end up with the thick, gloppy, aquafaba that is like the canned stuff.
Why is my vegan omelette sticking?
The pan. Using a really great nonstick pan is important to prevent sticking. One so good that when you cook something like a pancake, it will slide around in the pan very freely.
Fat. it is also really important to use oil. It's a misconception that using a nonstick pan means you don't need to add fat. With something like an omelette oil is really important.
Heat. A pan that is too hot will cause your omelette to stick.
If you try this recipe, let me know how you like it by leaving a comment and rating below! And be sure to join my mailing list for more deliciousness!
Recipe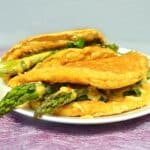 Vegan Omelette
Author:
A Vegan Omelette made with just 2 ingredients. Chickpea flour and aquafaba. It's really puffy, light and fluffy, a bit like a souffle omelette, and so delicious. Budget-friendly too!
Ingredients
OPTIONAL
kala namak

, for eggy flavour
INSTRUCTIONS
Add the pepper to the chickpea flour, mix together, then set aside.

In a scrupulously clean bowl, with an electric mixer, whisk the aquafaba until stiffish peaks form. It won't be as stiff as you need for meringue, just white, fluffy and airy and it should form gentle mounds.

Put a large and very good non stick shallow frying pan or omelette/crepe pan over a medium heat and brush with oil.

Gently and gradually sieve about ¼ of the chickpea flour into the aquafaba and fold in with a metal spoon (don't use wood or plastic) until just combined. Don't mix or beat it in.

Repeat until all flour is incorporated. the aquafaba will lose some of its volume but should still stay quite fluffy if you're very gentle.

Gently help the batter into the frying pan to conserve as much air as possible, so it's about ½ an inch thick, and level the top gently with a spatula.

Turn to medium low heat and leave well alone until it starts to solidify a bit and the top isn't wet anymore.

Now you can either turn your omelette over very carefully and continue cooking for another 3 - 4 minutes or put it under the broiler on low keeping a close eye on it until it's cooked through. Make surre it is cooked through thoroughly because raw chickpea flour does not taste good.

It's now you should add kala namak for eggy flavour. Sprinkle a tiny bit over the top once you've flipped it. Only a tiny bit though because aquafaba is already salted. Don't do this before it's almost set as all of your fluffiness could collapse.

Once it's cooked, gently slide out of the pan. Cover one side with fillings of choice then flip the other half over the top. If you're using vegan cheese, you can sprinkle it on then pop it under the broiler to melt. Otherwise make sure fillings are pre-cooked.
NUTRITION
Serving:
1
omelette
|
Calories:
116
kcal
|
Carbohydrates:
17
g
|
Protein:
7
g
|
Fat:
2
g
|
Saturated Fat:
0.2
g
|
Polyunsaturated Fat:
1
g
|
Monounsaturated Fat:
0.5
g
|
Sodium:
19
mg
|
Potassium:
254
mg
|
Fiber:
3
g
|
Sugar:
3
g
|
Vitamin A:
13
IU
|
Calcium:
14
mg
|
Iron:
1
mg
Did you make this recipe?
Rate it & leave feedback in the comments section below. I love seeing your remakes too. Tag @avirtualvegan on Instagram! 🌟