Easy Vegan Parmesan Cheese made with a handful of ingredients in only 5 minutes. This dairy-free hard cheese has a sharp, savory, nutty, flavor and a slightly salty edge. It can be grated, shaved, sliced and crumbled and is a great dairy-free alternative to parmesan. Oil-free option included.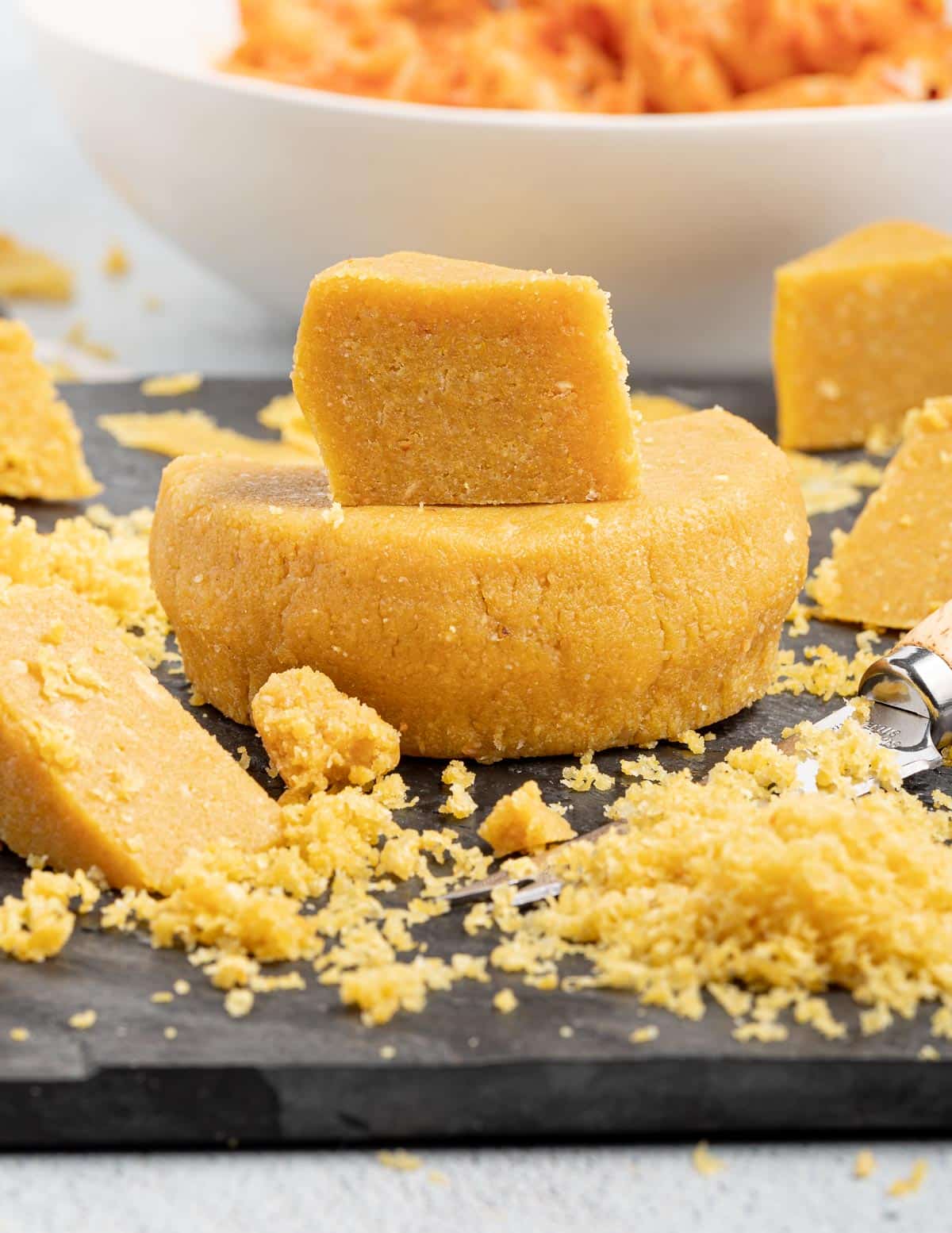 When it's nutty-sharp-salty-cheese to serve with your favourite pasta dishes and salads, only Vegan Parmesan Cheese will do, and now you can make your own in just 5 minutes. It's so quick and easy you won't believe your eyes!
Most importantly it tastes absolutely delicious, with a sharp, savoury, nutty flavour and a slightly salty edge. And, because this is a hard vegan cheese, you can grate it, shave it, slice it and crumble it!
Jump to: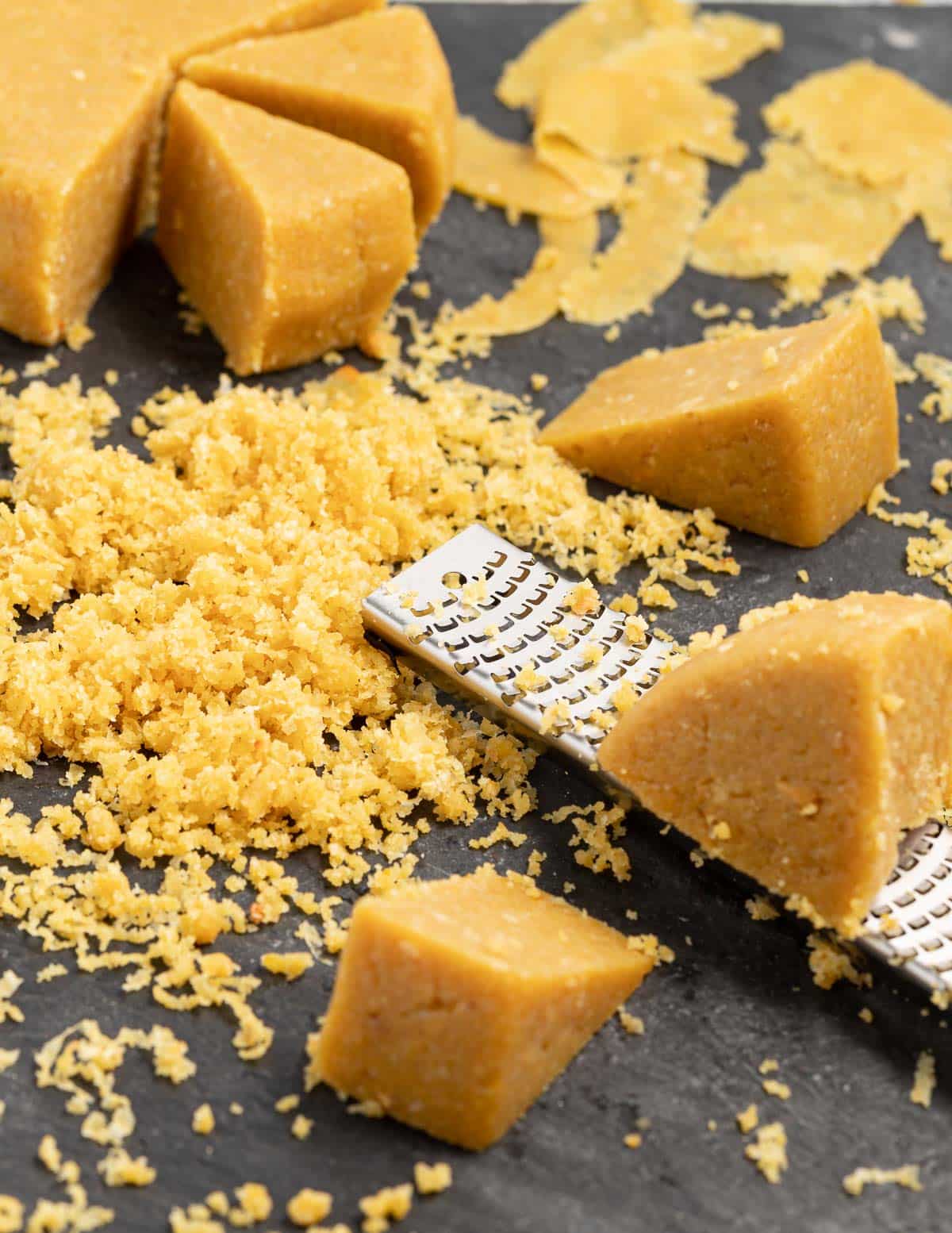 Ingredients & Substitutions
Here's what you will be needing to make your own naturally gluten-free Vegan Parmesan Cheese: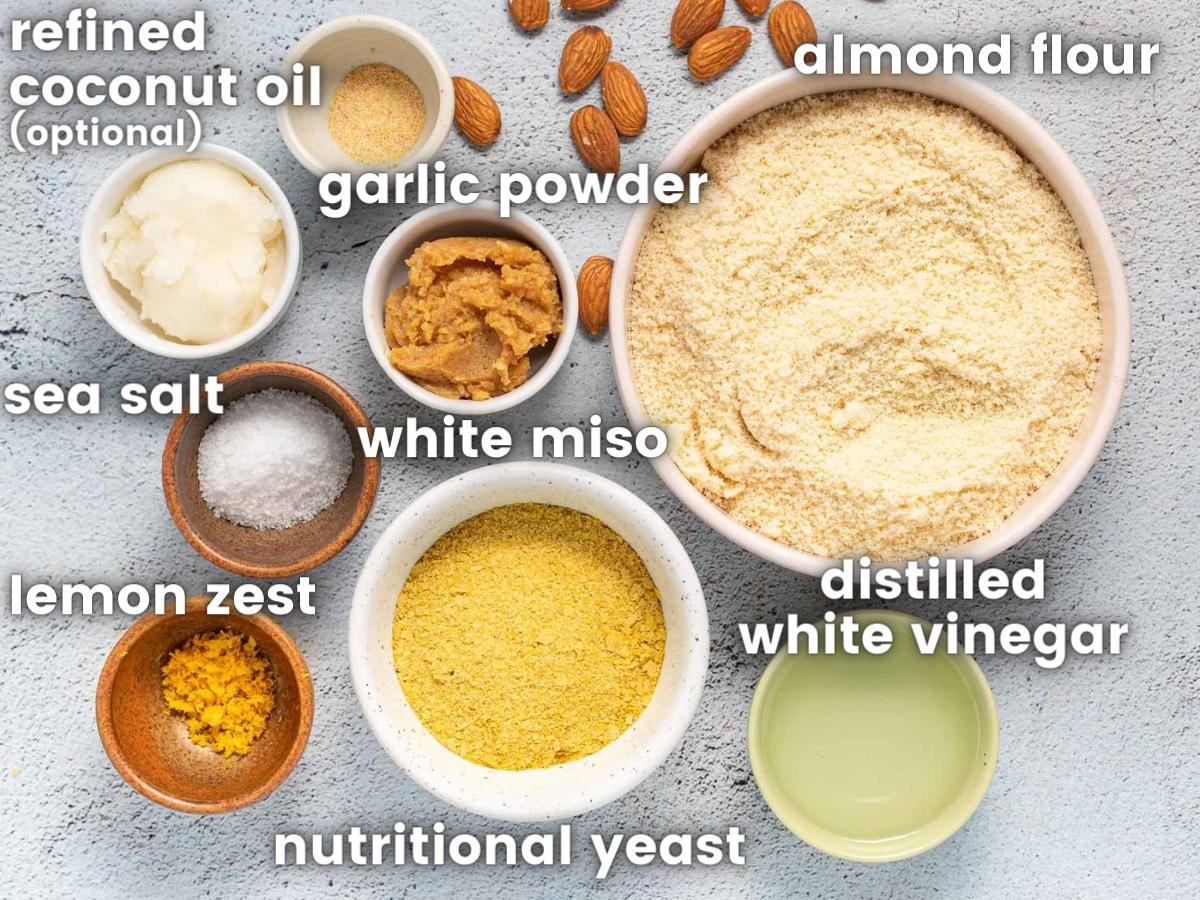 Most of the ingredients in this recipe are crucial for the great flavour and texture. There are a couple of subs you can safely make though:
Almond flour - Almond flour is made from blanched almonds and is very fine and light yellow in colour. However, you can also use ground almonds or almond meal with one caveat: It must not have brown skin flecks throughout otherwise your cheese will look really strange. Raw cashews or brazil nuts ground to a flour-like consistency will also work but I think that almonds give a better flavour in the finished cheese.
Refined coconut oil - Emphasis on refined. You cannot use unrefined or virgin coconut oil in this recipe. The coconut oil makes the cheese richer, gives it a better creamy mouthfeel and helps it set firmer. You can omit it but your cheese will be less rich and won't set quite as hard.
Nutritional yeast - Although I recommend using the nooch if at all possible, I know some people don't like to use it. Omit if you prefer and add an extra tablespoon of miso instead.
Lemon zest - A tiny amount but it adds a sharp brightness to the cheese. You can omit it if you prefer. It won't affect how the recipe technically works.
Distilled white vinegar - Essential for balance and sharpness. Other vinegars do not give the same effect.
How to Make Vegan Parmesan Cheese
This Vegan Parmesan recipe is so easy to make! For full instructions scroll down to the recipe card, but here's a quick summary of the process with step by step photos:
Simply throw everything in a food processor and blend to combine. Once it comes together into slightly grainy, doughy clumps it's ready. Switch to pulse once you are very nearly there so you don't overdo it.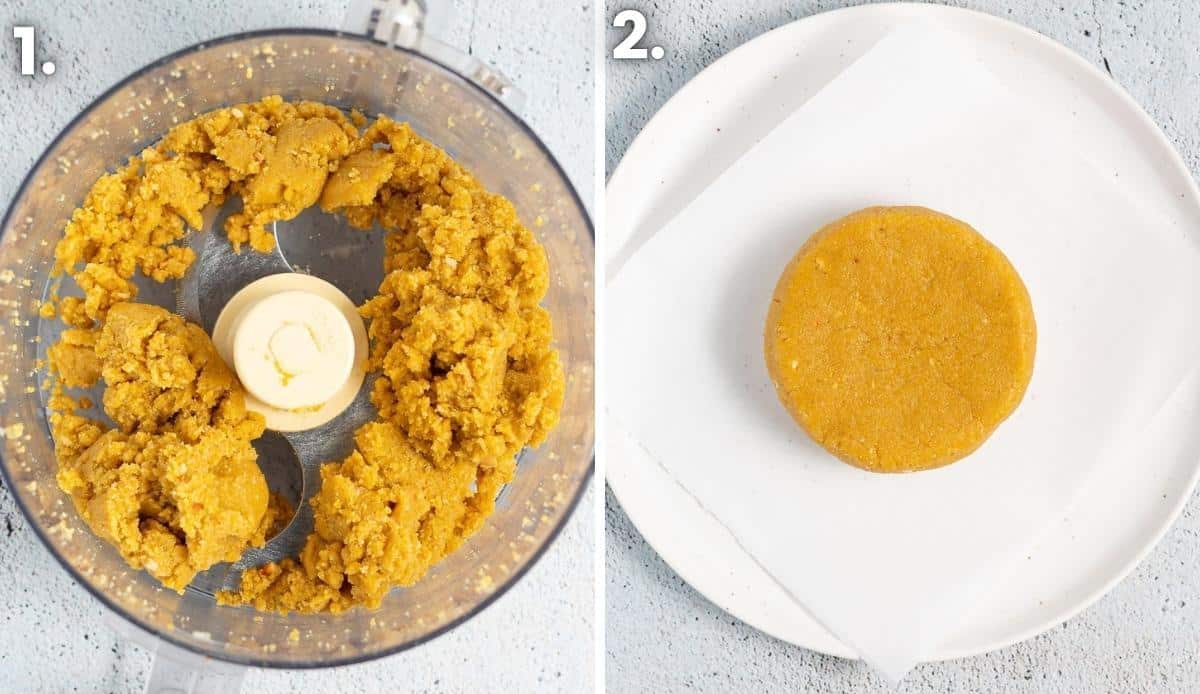 Then shape it into a wheel, pop it on a piece of parchment paper resting on a plate or in a container with lid left off, and let it set up in the fridge, or the freezer. As this recipe is replicating parmesan I prefer to leave it uncovered so it can dry out a bit as it sets.
Success tip - Don't over process the vegan parm or the almond flour will turn into nut butter. Not the effect we're going for!
Storing
In the refrigerator - After the initial setting period, store the cheese in a jar or other container in the fridge. It will keep well for up to 2 weeks.
In the freezer - Vegan parmesan will keep for up to 3 months in the freezer. It's possible to grate and shave this cheese straight from the freezer, so that's where I tend to keep mine most of the time. In the freezer store it in an airtight container, either in its wheel form, or grate it into a container then freeze so you can quickly grab a few tablespoons as you need it for sprinkling on all the things.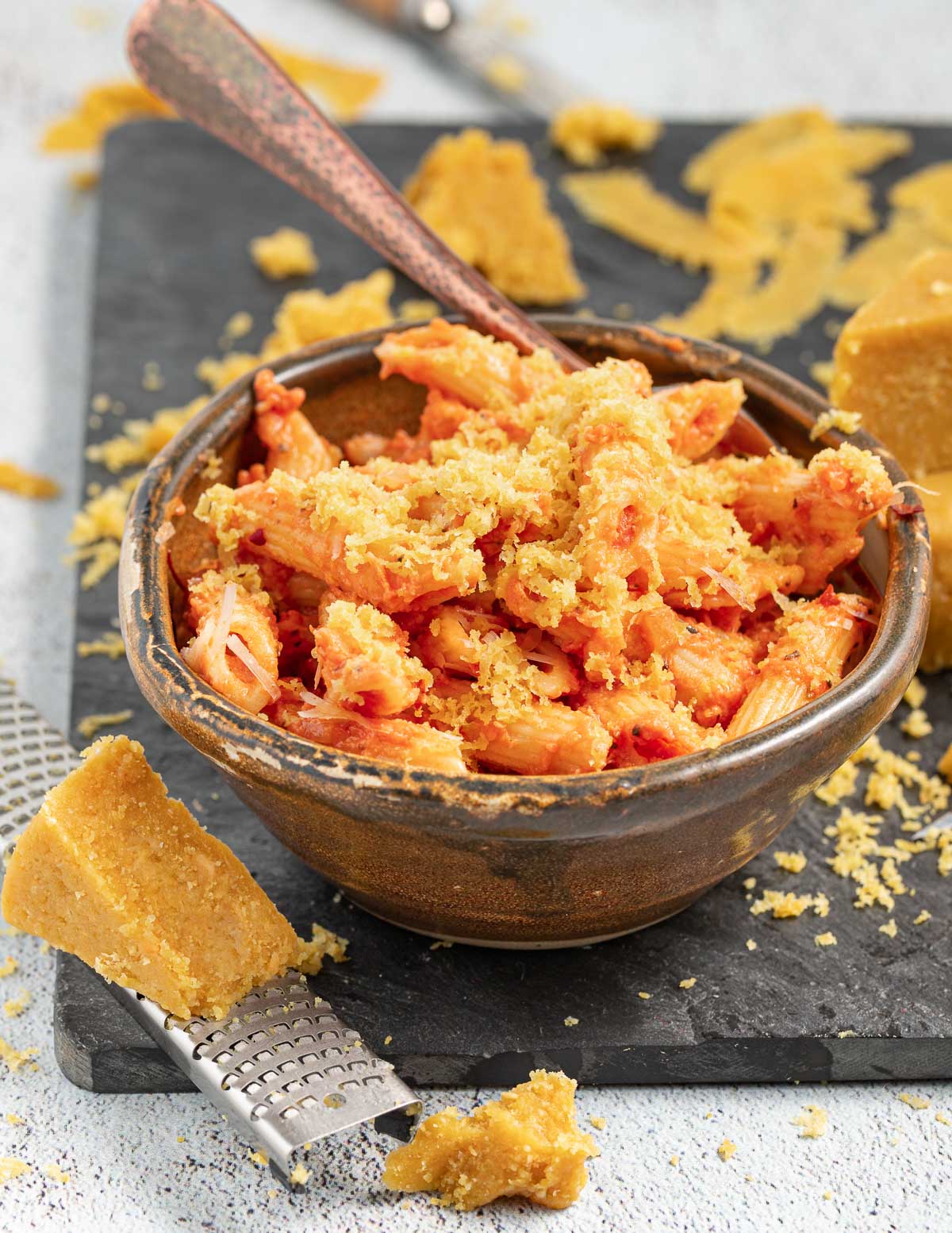 Serving Suggestions
Grate over pasta dishes, soups and risottos. Shave over salads and pizza. Basically use it in any way you would regular parmesan cheese.
That bowl of Vegan Penne alla Vodka, spaghetti with marinara sauce, Baked Vegan Orzo, Cauliflower Alfredo or Vegan Carbonara?...Just begging for you to grate Vegan Parmesan Cheese ALL over it! And don't forget to make a delish caesar salad with my vegan chicken breasts ;O)
I also highly recommend trying it on:
And it's worth pointing out that vegan parmesan cheese can be used in combination with my vegan ricotta to make all manner of amazing Italian dishes!
Recipe FAQs
Can I make this vegan parmesan nut-free?
I haven't tried to make this nut-free, it but I think hemp seeds would work really well as a substitute for the almond flour. You will just need to get them to a flour-like consistency in the food processor before you begin. Perhaps raw sunflower seeds would work too?
Can I make oil-free vegan parmesan?
The coconut oil makes the cheese richer, gives it a better creamy mouthfeel and helps it set firmer. You can omit it if you prefer though.
Recipe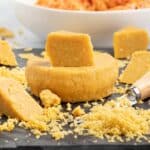 Vegan Parmesan Cheese
Author:
Easy Vegan Parmesan Cheese made with a handful of ingredients in only 5 minutes. This hard cheese has a rich, savoury/sweet, nutty, flavour and a slightly salty edge. It can be grated, shaved, sliced and crumbled!
Ingredients
1 cup (100

grams)

almond flour

, or ground almonds (or ¾ cup (100 grams) of raw almonds with no skin processed to a flour-like consistency)

¼ cup (20

grams)

nutritional yeast

1½

teaspoon

fine sea salt

, not table salt

¼

teaspoon

garlic powder

1

tablespoon

white miso

2

tablespoons

distilled white vinegar

½

teaspoon

finely grated lemon zest

1

tablespoon

refined coconut oil

, optional
INSTRUCTIONS
Add everything to a food processor and process until the mixture becomes a clumpy, damp, slightly grainy dough. This should only take a minute or two. Scrape down as necessary to make sure everything gets combined. It should hold together well if you squeeze the mixture in your hand. There is a photograph in the post showing what it looks like.

Remove the blade and tip the mixture out onto a clean counter. Bring it all together into a rough ball then shape into a wheel/round about 4 inches wide and 1 inch high. Be sure to compact it really well while doing this.

If any cracks appear around the edge, wet a finger under the tap and rub/squeeze the crack to bring it together and neaten it up.

Place the wheel on a piece of parchment paper on a small plate in the fridge. Don't cover it with anything so it can dry out a bit. Let it set ideally overnight or for up to 48 hours. This lets it dry out and allows the flavours to develop.

If you need to rush it, place the cheese carefully, on the parchment paper, in the freezer. After about 30 minutes you should be able to grate or shave it.

Once it's nicely solid, transfer to an airtight container (or wrap it well), and store in the fridge for up to 2 weeks or the freezer for up to 3 months. It can be used (grated/shaved) while still frozen.

Make sure the cheese is well chilled before crumbling or grating. If you accidentally leave it out of the fridge for too long and it gets a bit soft, simply pop it in the freezer for 10 minutes or so. For nice clean shavings, it is better for the cheese to be frozen.
NOTES
Recipe can easily be doubled if required.
NUTRITION
Serving:
1
serving (⅛ of the wheel)
|
Calories:
100
kcal
|
Carbohydrates:
4
g
|
Protein:
4
g
|
Fat:
8
g
|
Saturated Fat:
2
g
|
Polyunsaturated Fat:
1
g
|
Monounsaturated Fat:
1
g
|
Sodium:
515
mg
|
Potassium:
56
mg
|
Fiber:
2
g
|
Sugar:
1
g
|
Vitamin A:
2
IU
|
Vitamin C:
1
mg
|
Calcium:
28
mg
|
Iron:
1
mg
Did you make this recipe?
Rate it & leave feedback in the comments section below. I love seeing your remakes too. Tag @avirtualvegan on Instagram! 🌟