Have you been wondering what to do with the bag of almond flour in your pantry? If so you're in the right place because here are the Vegan Almond Flour Recipes that you need to make right now! Also be sure to check out the FAQs for lots of tips about using and storing almond flour.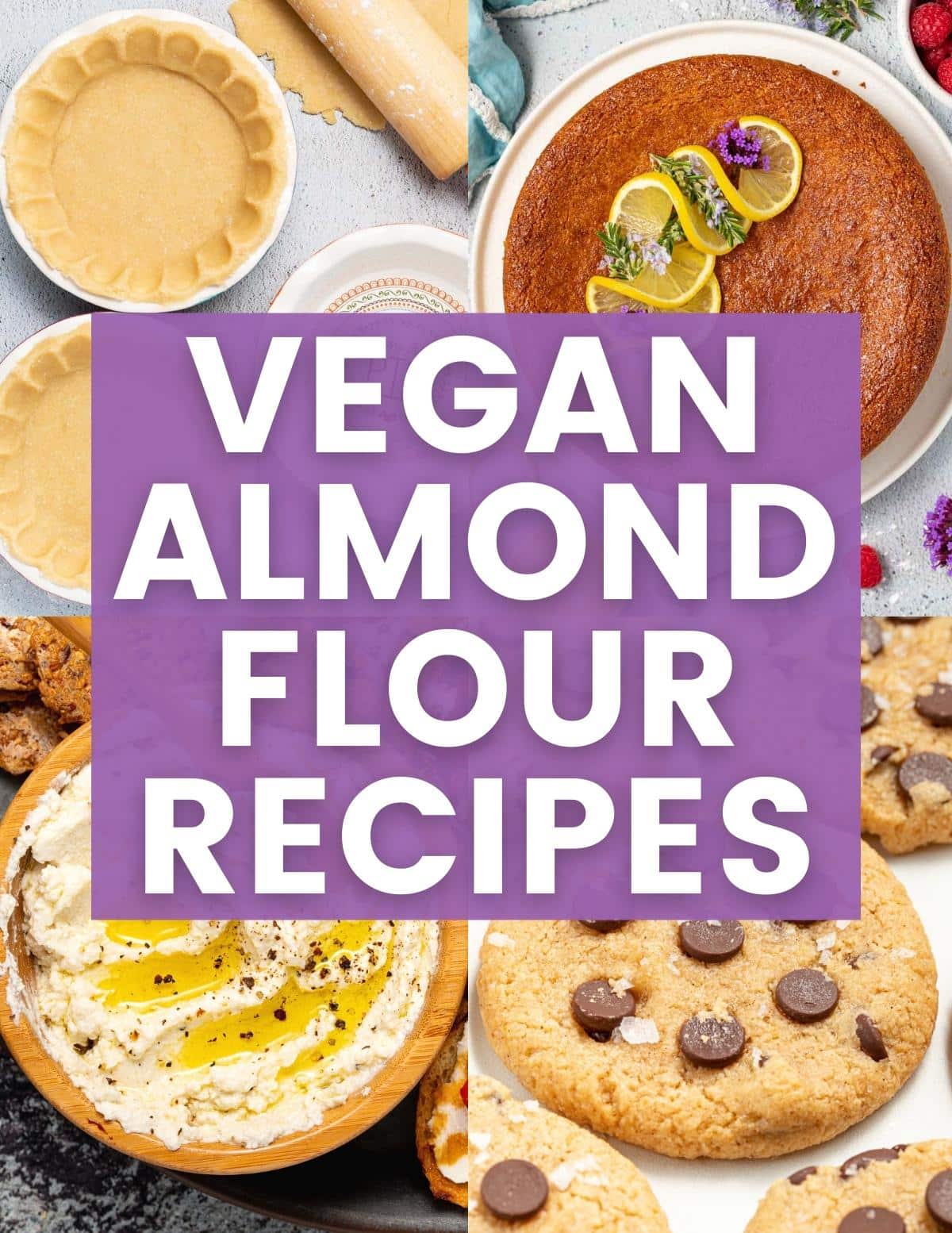 Almond flour is a delicious, nutritious and really versatile ingredient. One that is a vegan staple in my pantry.
It has a mild, buttery flavour and carries a fat content that adds depth, buttery flavour, and richness to the final dish, whether savoury or sweet. Perfect examples of this are seen in my vegan butter and vegan ricotta recipes.
When used in baking, almond flour gives light, fluffy, moist and buttery results. As an added bonus, almond flour has a very high-fat content, which means that when baking with it, you can often significantly reduce or even omit the oil or vegan butter used. My healthy pie crust is the perfect example. It contains no added oil or vegan butter.
This makes almond flour really popular amongst people who follow a whole food plant-based diet.
Vegan Almond Flour Recipes
And now to the recipes! All of these recipes use almond flour and are simple and delicious.
Healthy Pie Crust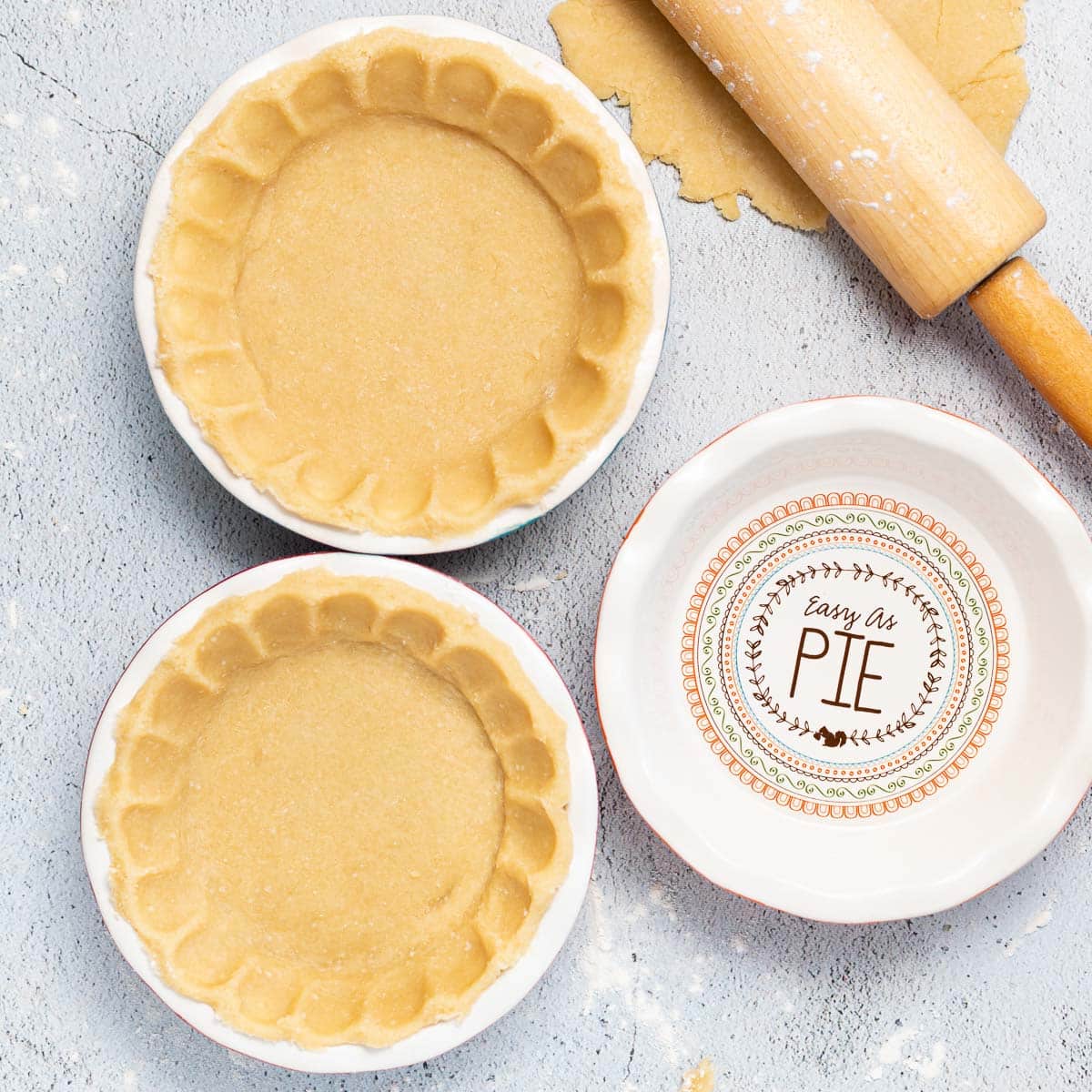 Learn how to make an easy and healthy pie crust that uses no oil or butter. This naturally vegan and oil-free pie crust is really easy to handle. It won't melt when you're working with it and won't shrink when you bake it. Use it to make sweet or savoury pies with cooked or no-cook fillings, tarts, quiches and galettes.
make this recipe
Vegan Parmesan Cheese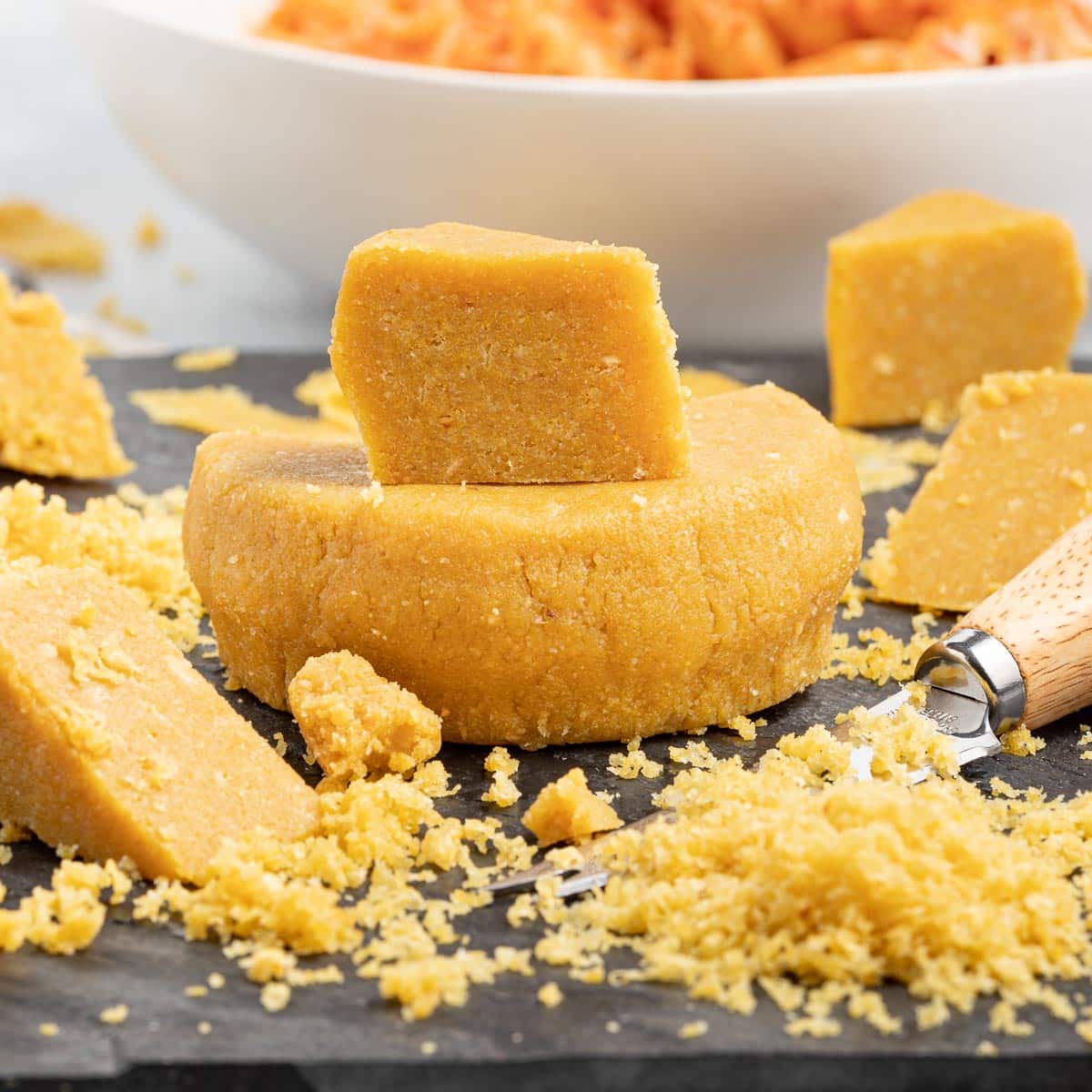 Easy Vegan Parmesan Cheese made with a handful of ingredients in only 5 minutes. This hard cheese has a rich, savoury/sweet, nutty, flavour and a slightly salty edge. It can be grated, shaved, sliced and crumbled!
make this recipe
Vegan Almond Cake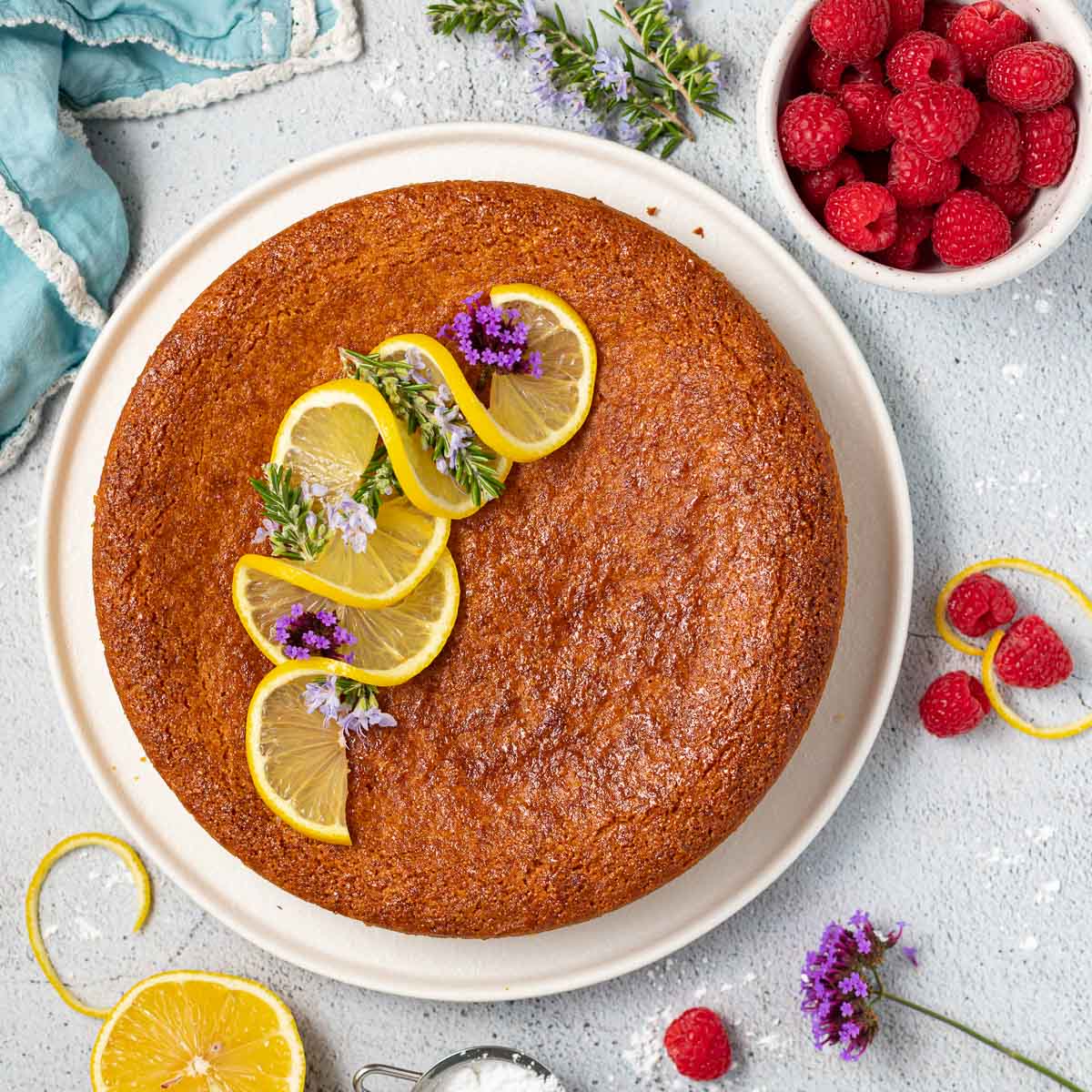 Moist, fragrant and delicate Vegan Almond Cake with a pop of lemon flavor. Made with almond flour it is naturally gluten-free and vegan, and quite possibly the easiest cake you'll ever make.
make this recipe
Almond Flour Chocolate Chip Cookies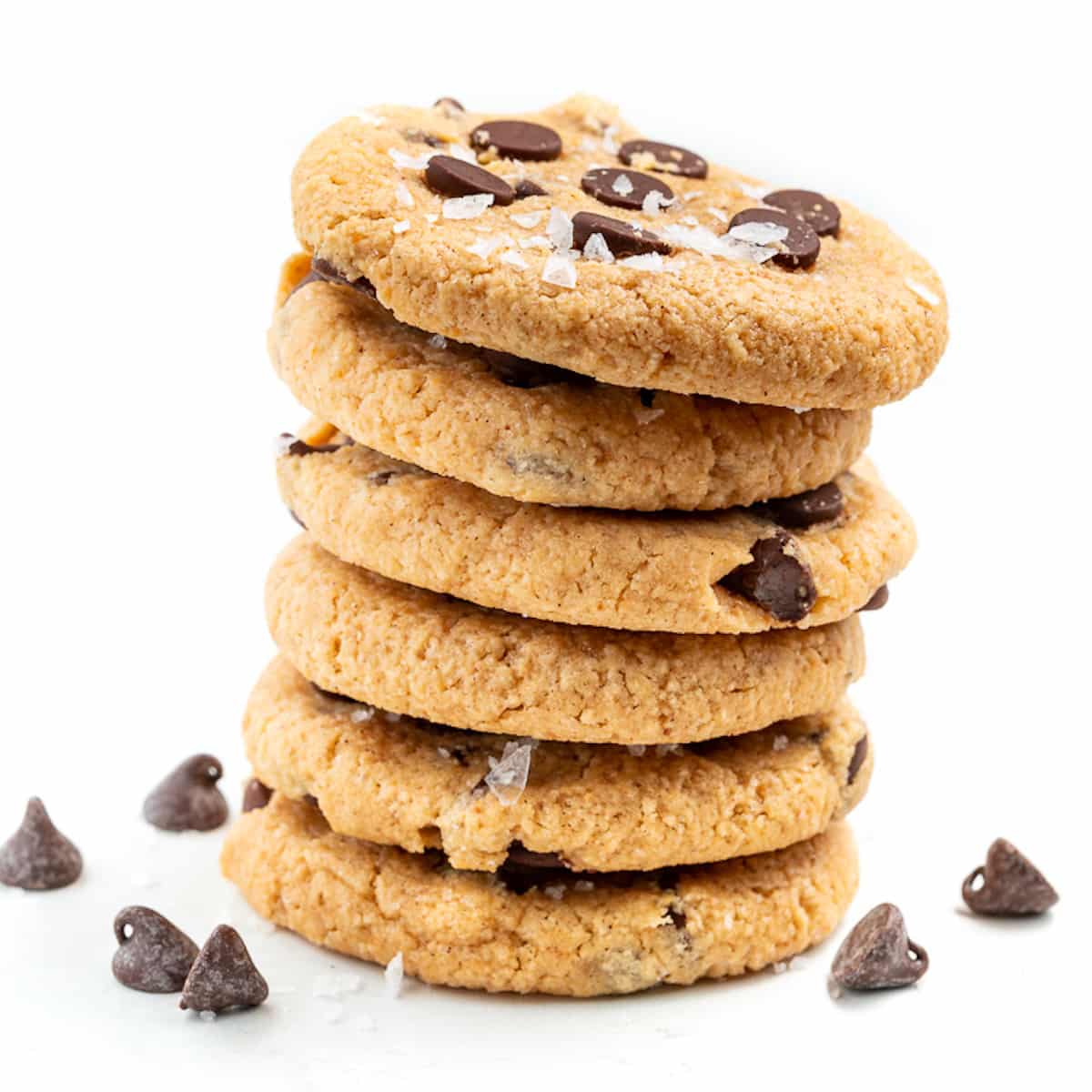 Almond Flour Chocolate Chip Cookies that are naturally gluten-free, perfectly chewy, buttery (but with no butter), a bit cookie-doughy in the middle and super yum. Mixed up and ready in under 20 minutes!  
make this recipe
Vegan Scrambled Eggs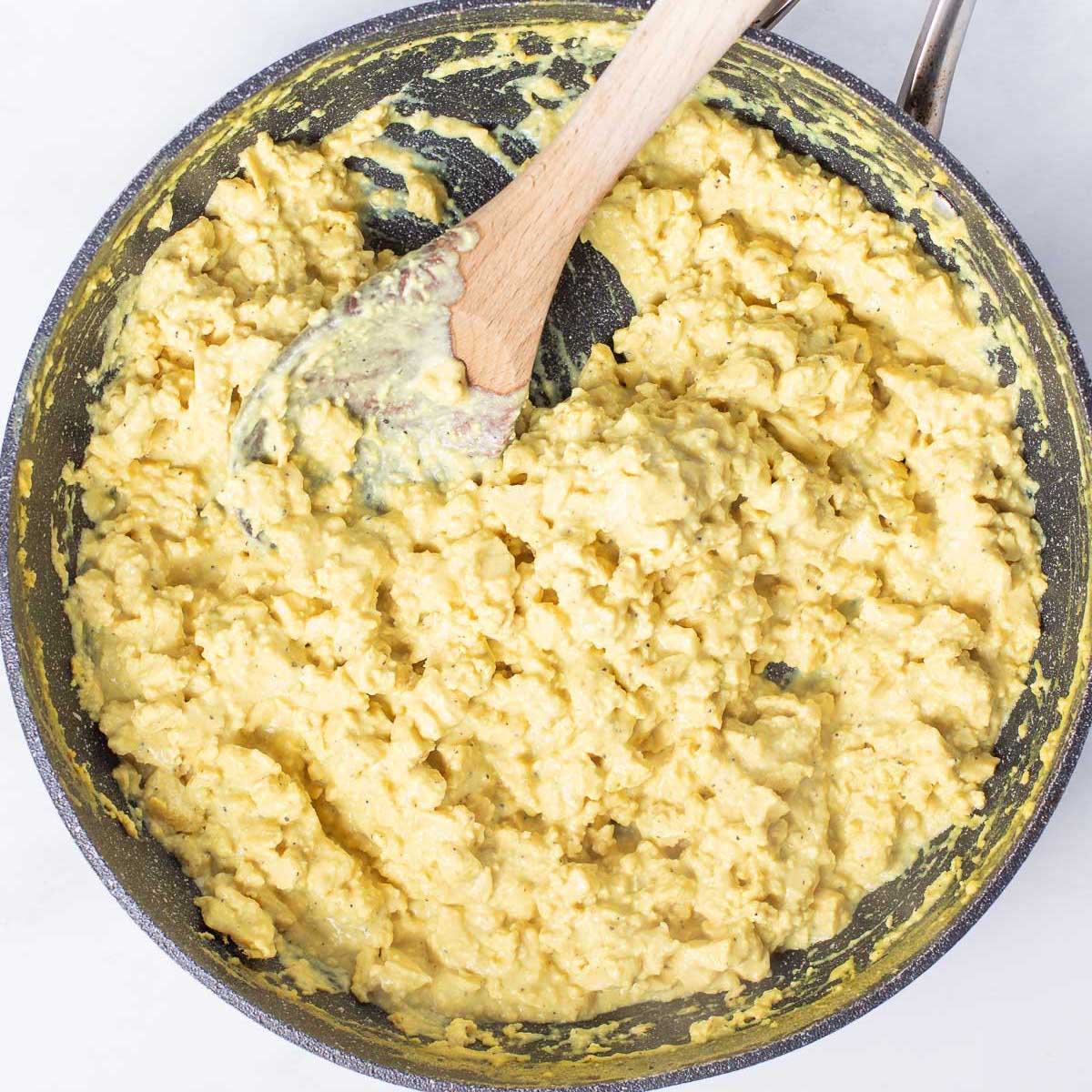 This easy foolproof recipe will get you perfect Vegan Scrambled Eggs every time!. We're talking soft, rich, buttery, on the verge of custardy and just perfect for piling on thick, hot, buttered toast. And as an added bonus, it packs a massive protein punch! 
make this recipe
Healthy Vegan Biscuits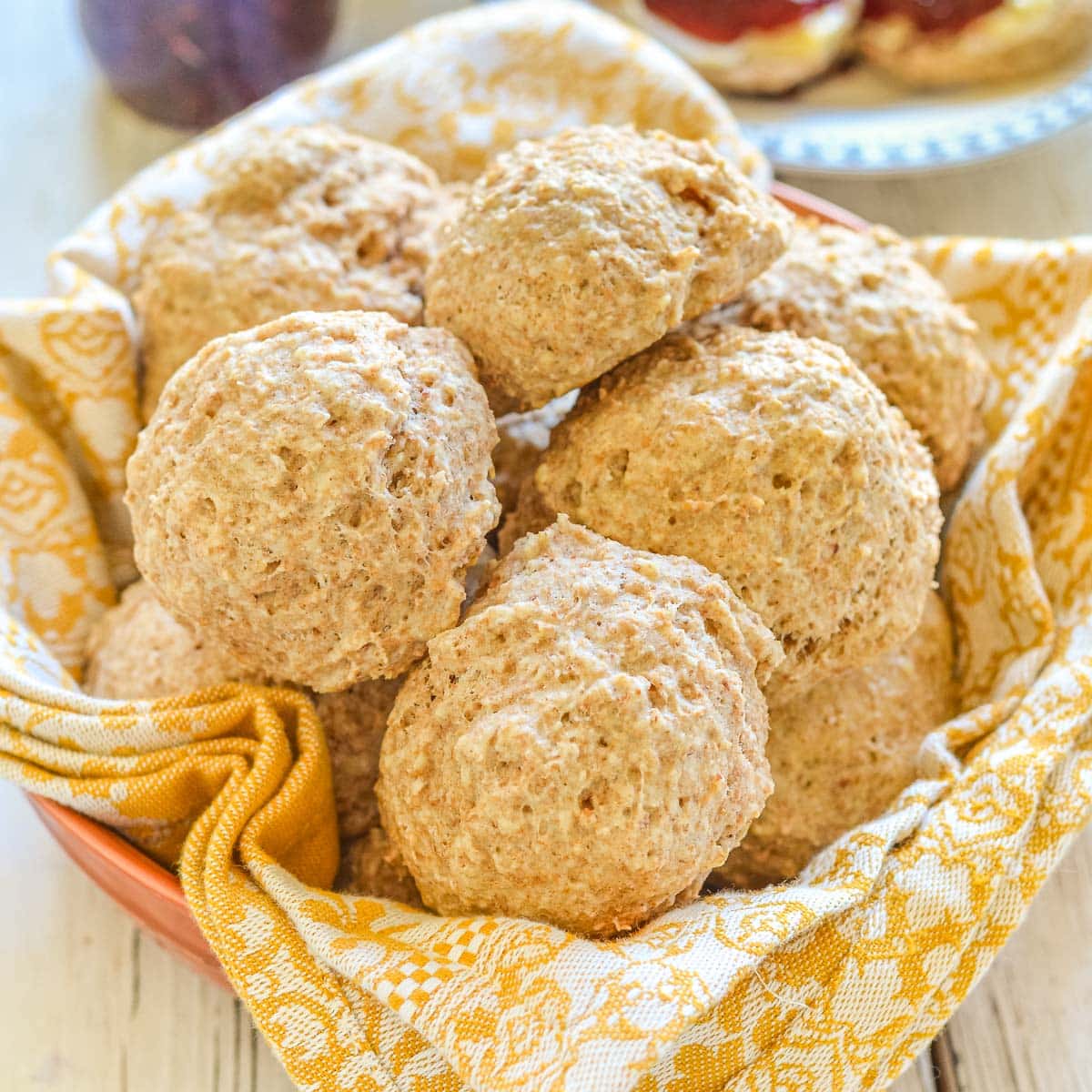 Healthy Vegan Biscuits made with whole-grains and no oil or butter. These completely oil-free biscuits are super speedy. They can be mixed, baked and ready to eat in about 15 minutes. Gluten-free option included!
make this recipe
Vegan Butter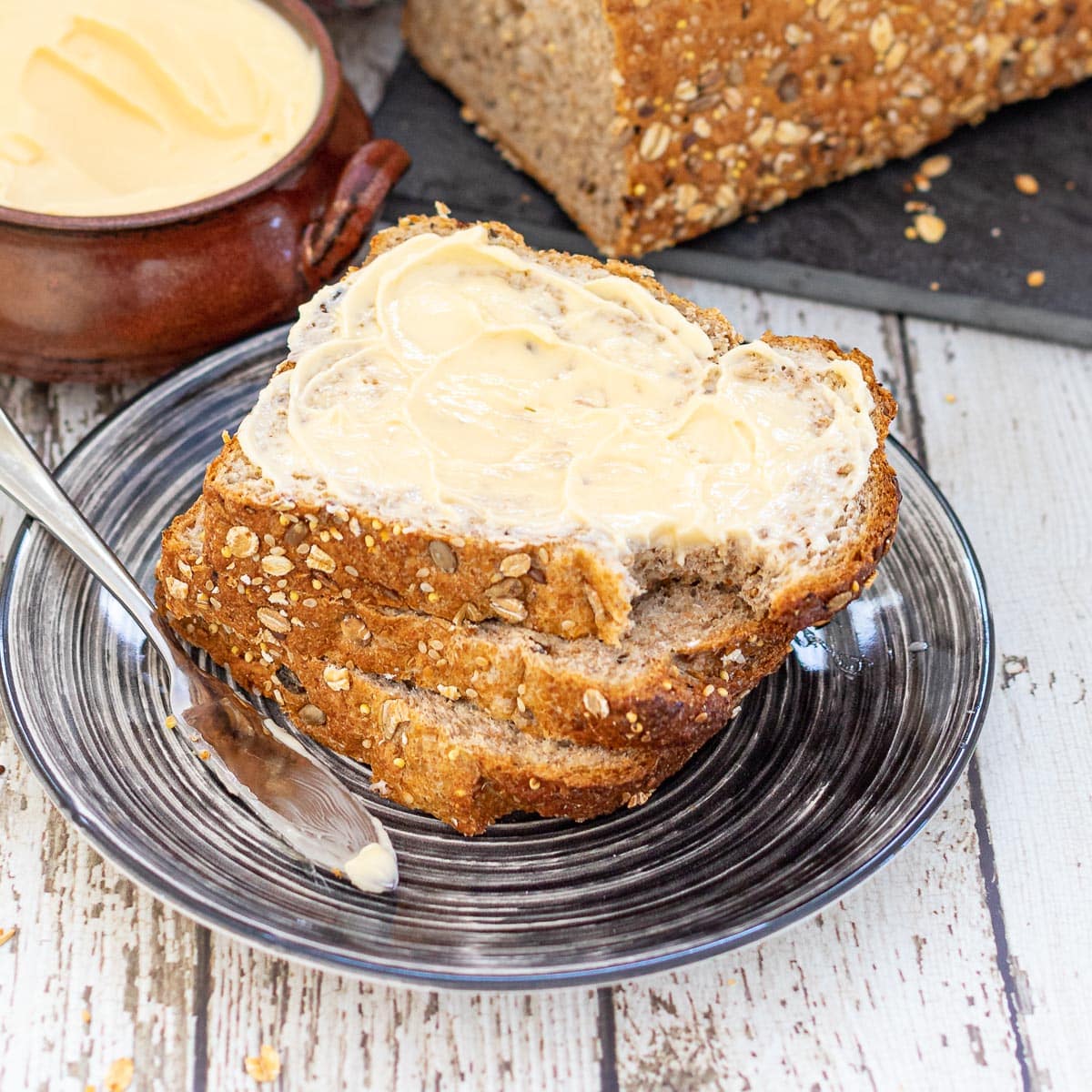 The best tasting vegan butter! It's plant based, super buttery, smooth, rich & creamy & can be made in minutes. Use it for all of your spreading and baking needs. No fancy ingredients are required and unlike most store bought vegan butters it is palm oil free.
make this recipe
Vegan Ricotta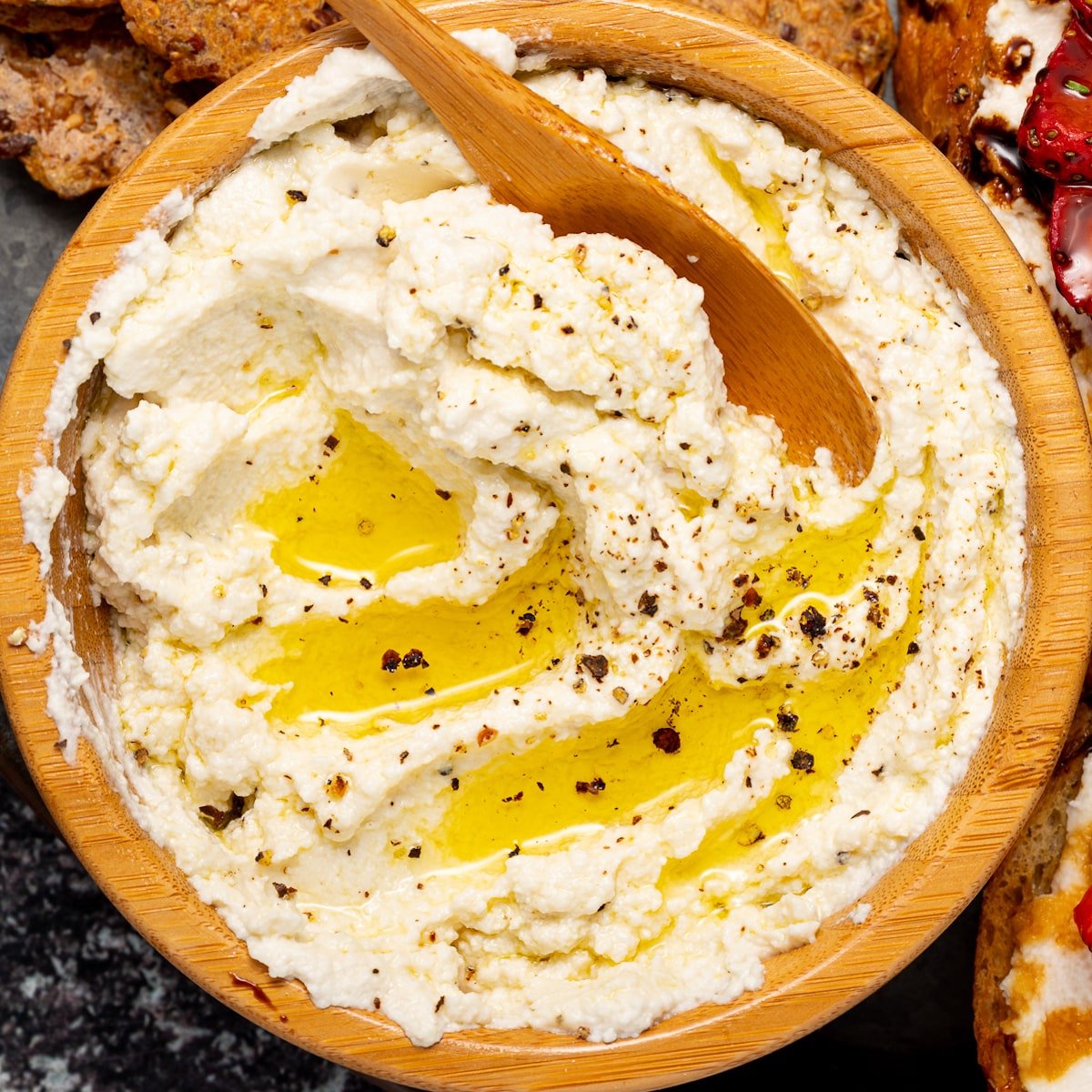 The best vegan ricotta with an authentic ricotta taste and texture and made with just four simple ingredients. It's light, fluffy, mild, creamy and milky and can be enjoyed as it is or used as a non-dairy substitute for ricotta cheese in any recipe.
make this recipe
Vegan Cherry Muffins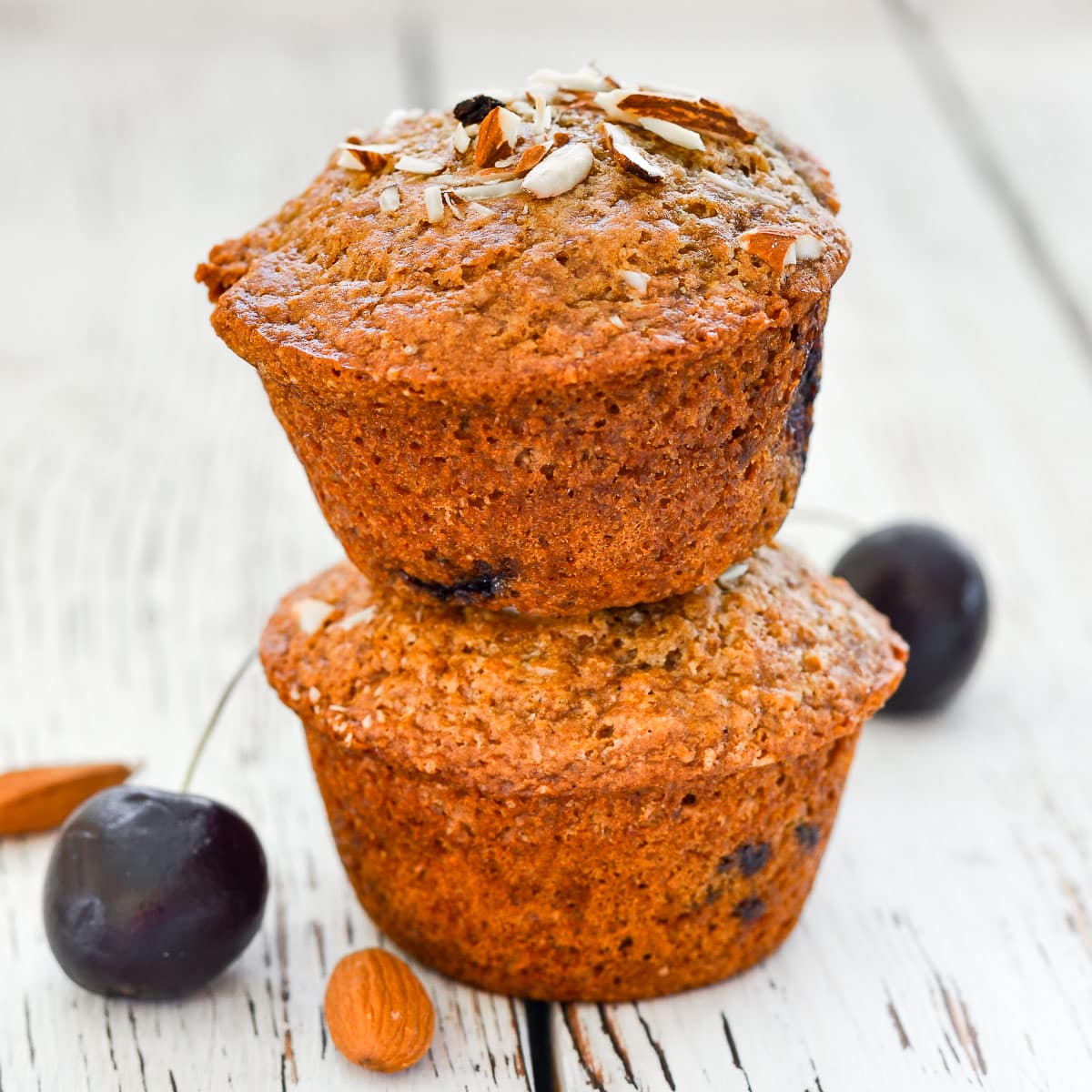 Buttery, moist, soft Vegan Cherry Muffins. Full of almond flavour & bursting with juicy cherries in every bite!
make this recipe
Vegan Carbonara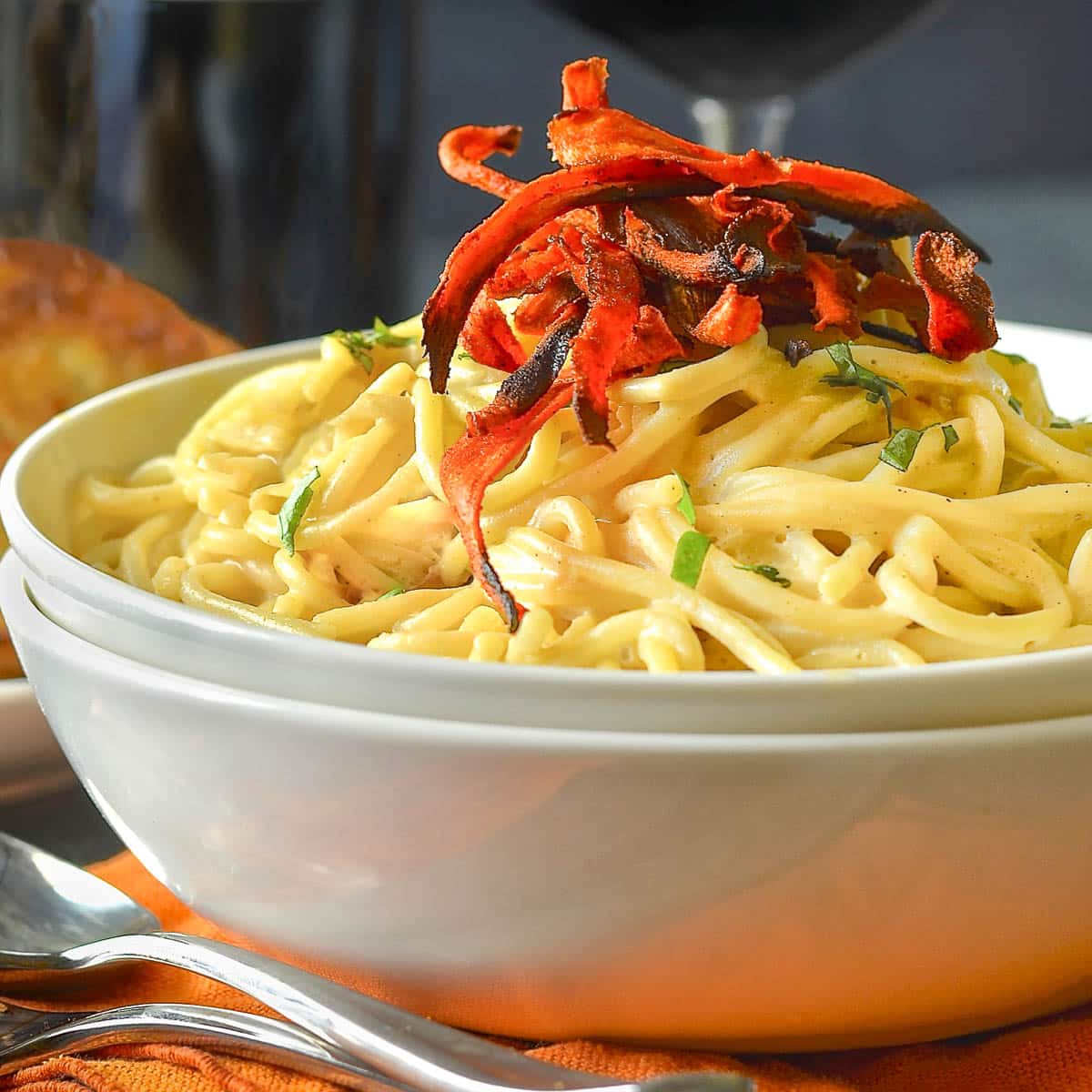 A classic Italian dish made vegan! Perfectly rich, silky, creamy Vegan Carbonara with a scattering of smoky carrot rashers for crispy, chewy texture and sweet, smoky flavour.
make this recipe
Banana Oatmeal Blueberry Muffins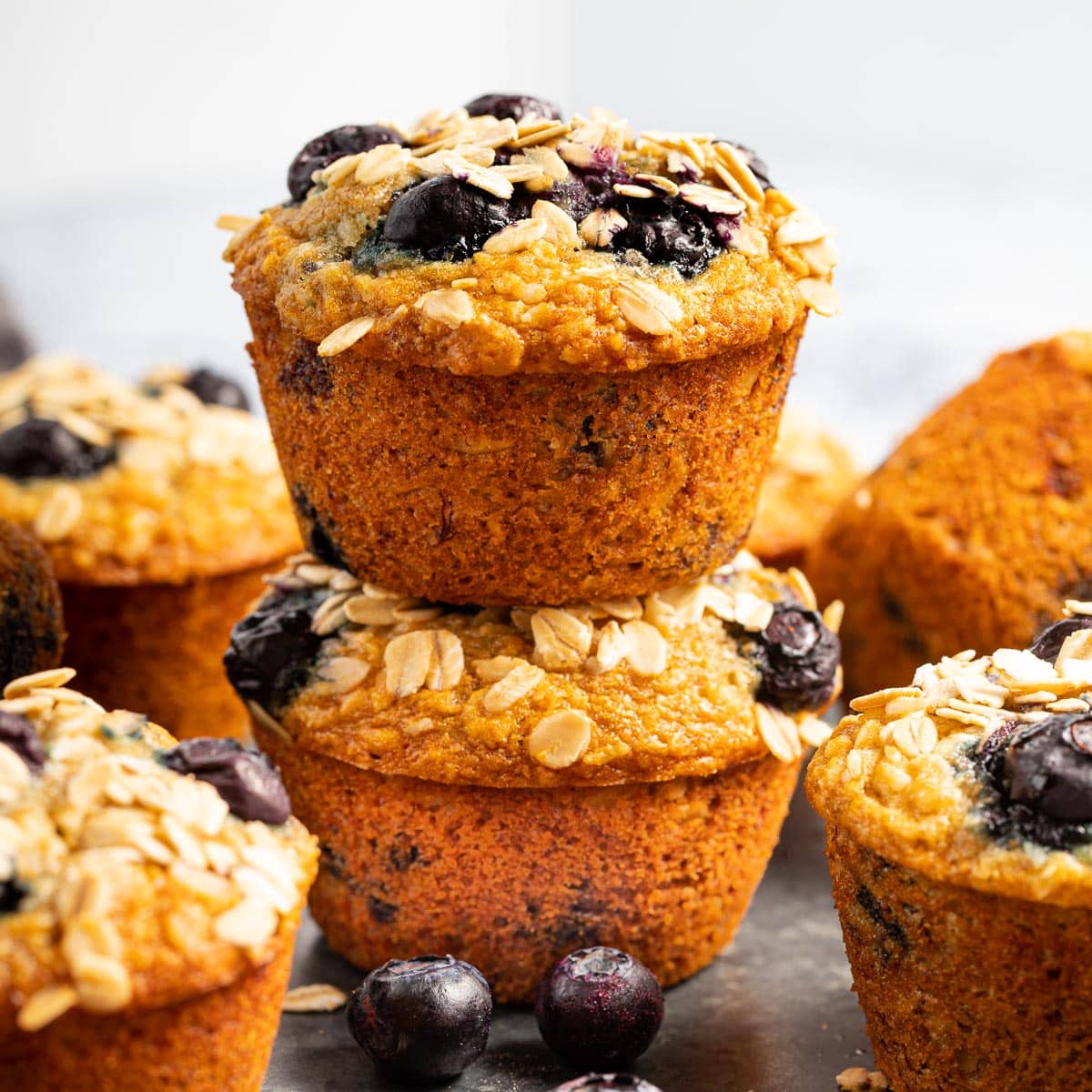 Easy one bowl Banana Oatmeal Blueberry Muffins made in under 30 minutes. Loaded with whole grains, fruit and fiber, they make a great breakfast or snack and freeze well too.
make this recipe
Vegan Christmas Cake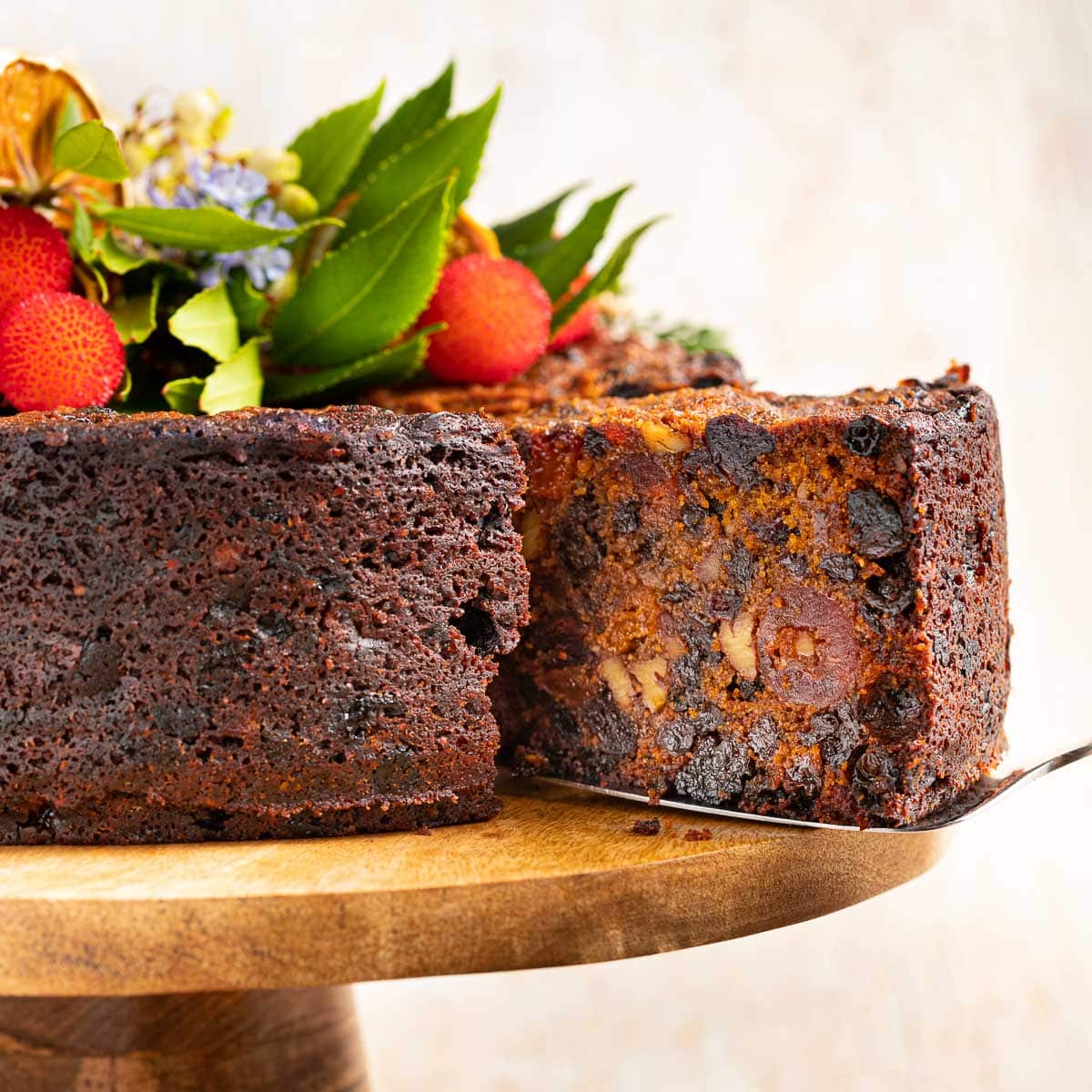 The ultimate Vegan Christmas Cake! This classic rich, dark vegan fruit cake is jam-packed with dried fruit and booze (although still delicious made alcohol-free) and can be made the day before, or up to 1 year ahead. Keep the decorations simple and rustic, or cover it in marzipan and fondant icing. Perfect for enjoying at Christmas but also makes a fantastic vegan wedding cake!
make this recipe
---
Almond Flour FAQs
What is almond flour?
Almond flour is a very fine, light coloured flour made from blanched almonds. It has a mild buttery flavour and can be used in sweet or savoury recipes. It is naturally gluten-free and when used for baking it gives light, fluffy, moist and buttery results. Its buttery flavour is also the reason I use it in my vegan butter and vegan ricotta recipes.
What is the difference between almond flour and almond meal?
Almond flour is made from blanched almonds and is ground very finely like flour. Almond meal is made from unblanched almonds and is ground much more coarsely, usually with the skin still on the almonds. It feels grittier and usually has little brown flecks throughout it. Almond flour is softer and has a finer texture and will be lighter in colour. 
Can I use almond flour and almond meal interchangeably?
It really depends on the recipe. In some you can and in some you can't. The best way to know is to read the recipe thoroughly before making a start because usually it will be specified.
Can I use almond flour in recipes that call for wheat flour?
No. The two aren't interchangeable. They both have very different qualities. Almond flour is completely gluten-free and isn't as absorbent as wheat flour. Significant changes would need to be made to a recipe for it to work.
How do I store almond flour?
Because almond flour has a high fat content, it does have a tendency to turn rancid. Because of this it is best stored in the fridge or freezer unless you will be using it quite quickly. It will keep for 6 months in the fridge or 12 months in the freezer.
How can you tell if almond flour is rancid?
You can easily tell if your almond flour is fresh and good to use by smelling it. It should smell mild and very slightly nutty. If it smells unpleasant or sour in any way it is past its best and should be discarded.
Is almond flour healthy?
Everyone's definition of healthy is different so that's up to you to decide. Almond flour certainly packs a punch in the nutrition department though. It is a great source of healthy fats, Vitamin E, fibre, biotin, phytonutrients and minerals such as calcium, phosphorous and magnesium. Read more about almonds, nutrition and health here.
And that's a wrap! Next time you're at the grocery store, grab a bag of almond flour so that you can give these delicious recipes a try.
And when you've tried any of these recipes with almond flour, I'd greatly appreciate you hopping over to the post to leave a comment and a rating so I know how you liked it!