You need these Crispy Baked Zucchini Slices in your life! Seasoned, coated in panko crumbs, and held tightly together with melty vegan cheese, they are the perfect combo of tender, sweet, crispy, crunchy, chewy, and cheesy.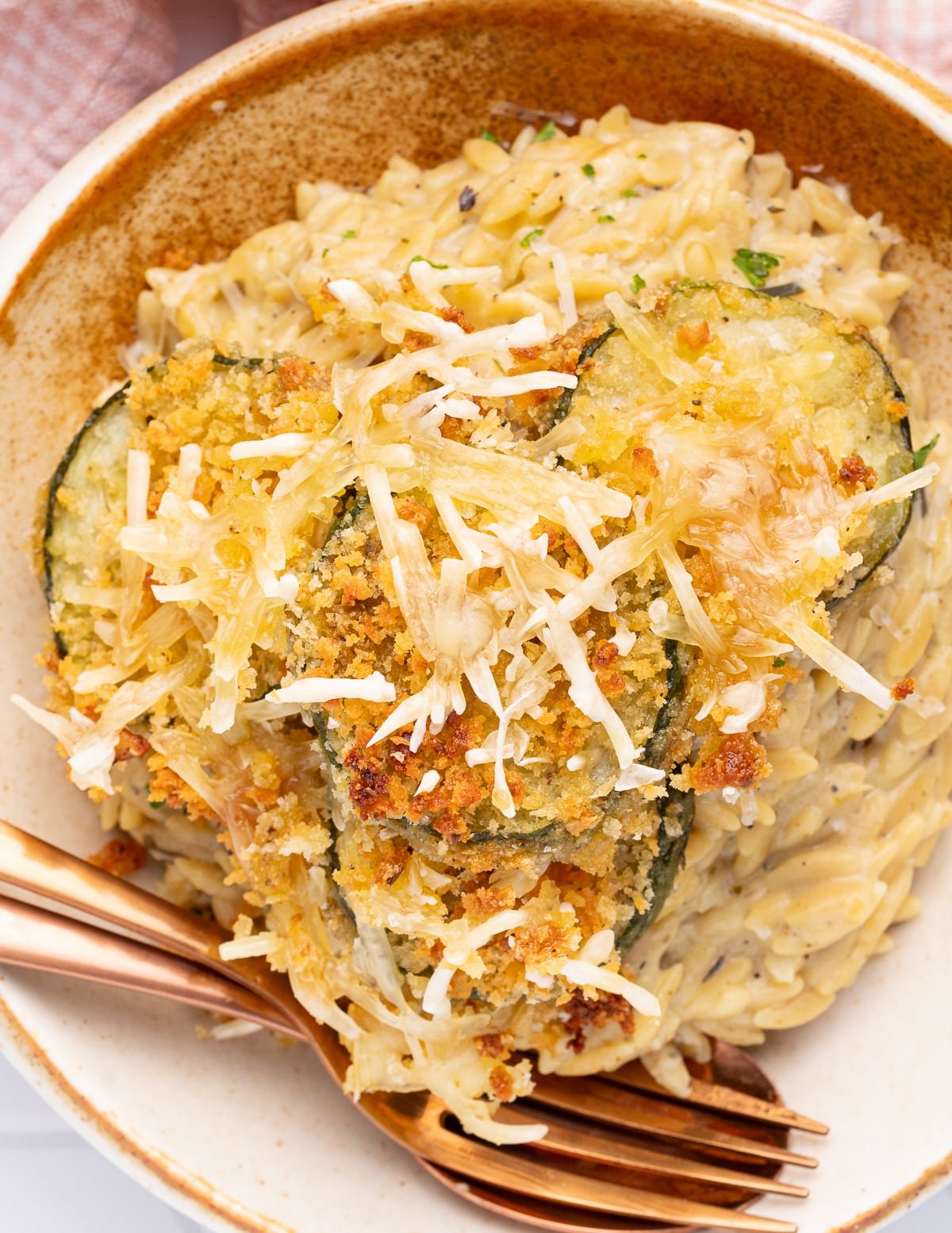 Crispy Baked Zucchini Slices. Where have you been all my life? To say I'm obsessed would be an understatement.
I'll keep it quick so you can get baking these crispy little morsels up, but the bottom line is, they are extremely yummy. We're talking sweet tender, roasty zucchini slices, with a well seasoned crispy, crunchy panko coating. And then comes a generous scattering of vegan cheese which melts and kind of holds all of the zucchini rounds together on the tray in the most irresistibly, stringy, melty, chewy, cheesy way.
Go straight to the recipe or click the section you are interested in:
Jump to:
Inspiration for this recipe comes from Pinch of Yum and their Spaghetti with Crispy Zucchini. I spotted the recipe on Pinterest and immediately had a go at veganizing the crispy zucchini part of it. And well...Here we are...My vegan version was too good not to share!
Ingredients
Here's exactly what you need at a glance along with some ingredient notes and substitution ideas: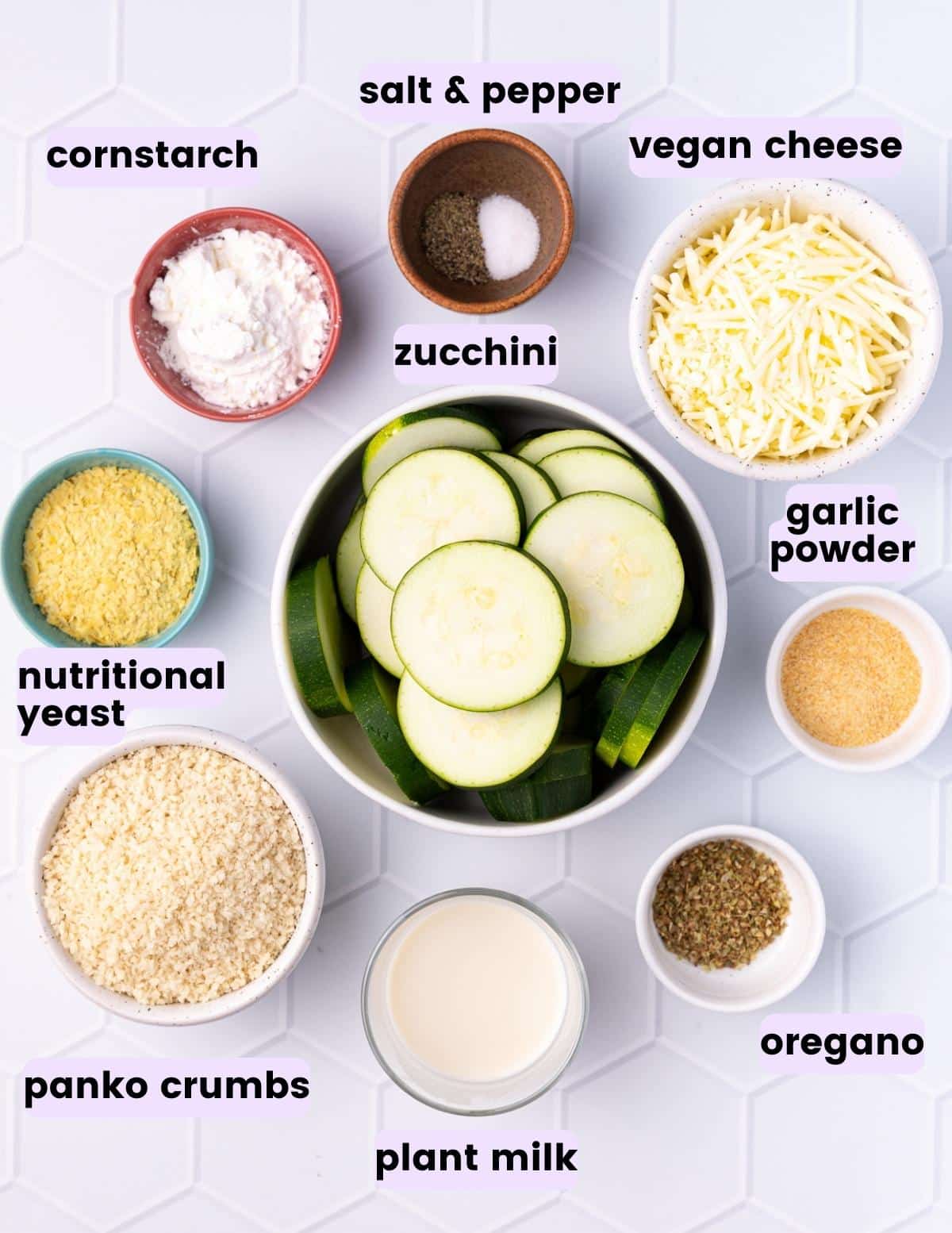 Zucchini - 1 large or 2 smaller ones. No need to be exact here. Green or yellow zucchini is fine.
Cornstarch & plant milk - These are combined and used to stick the seasonings to the zucchini.
Garlic powder, oregano, salt & pepper - Our seasonings. You could use onion powder instead of the garlic powder, and Italian seasoning instead of the oregano.
Nutritional yeast - This adds so much flavor! Vegan parmesan cheese would be a great sub though. Homemade or a store-bought one.
Panko crumbs - I recommend these over regular breadcrumbs. They just don't get the same uber-nubbly, crispy, crunchy, texture as the panko.
Vegan cheese - Any that you love that will get melty. I used Violife Mozzarella.
You will also need plenty of olive oil for drizzling. This isn't a recipe that will turn out well without oil.
How to Make Crispy Baked Zucchini Slices
Can't wait to make them? Here's a quick rundown of how it's done. See the recipe card for the full and detailed version, and if you're a visual learner check out my recipe video.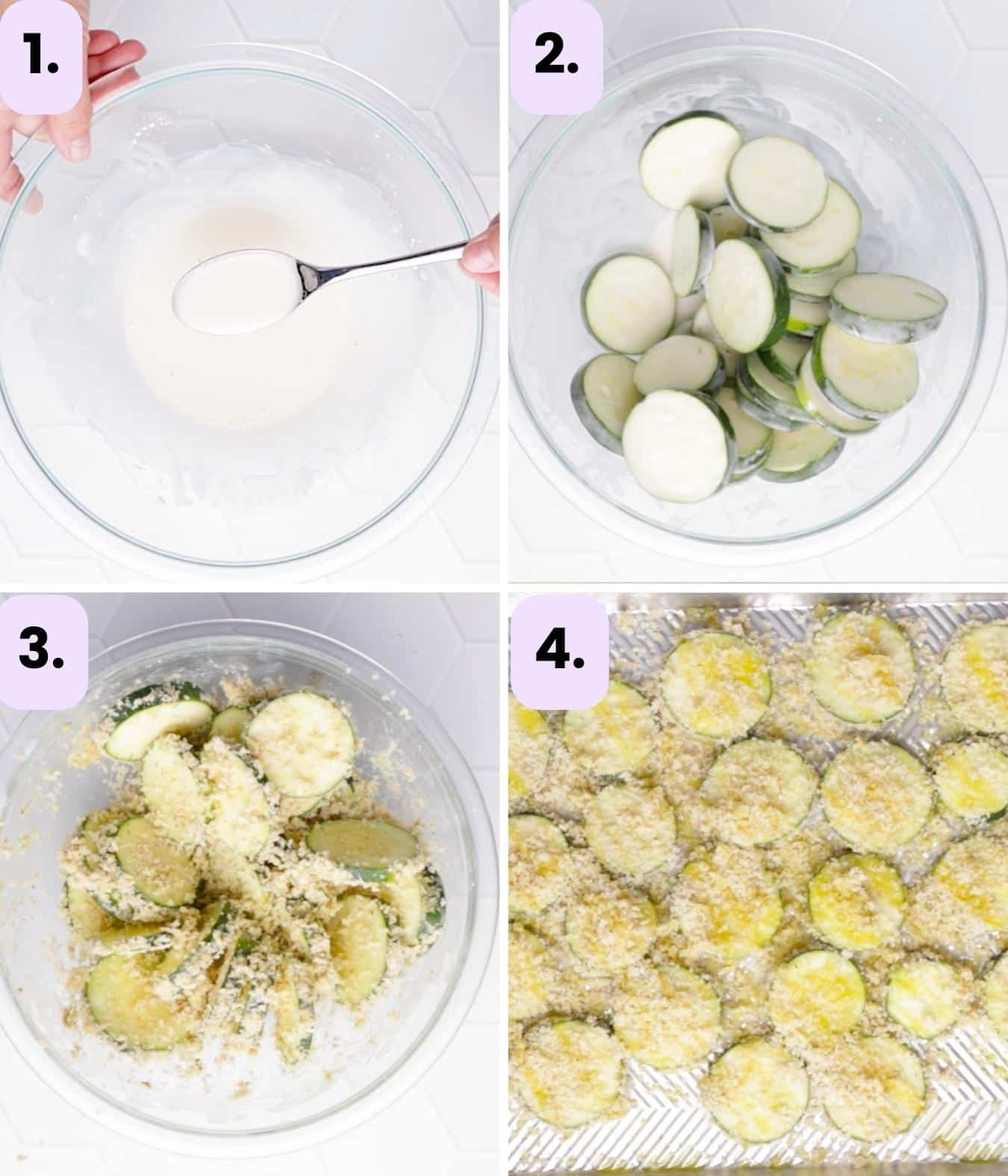 Mix the cornstarch with the plant milk to make a thin cream-type consistency.
Toss the zucchini in it.
Add the seasonings and toss, then the panko and toss again.
Spread out on a baking sheet and bake.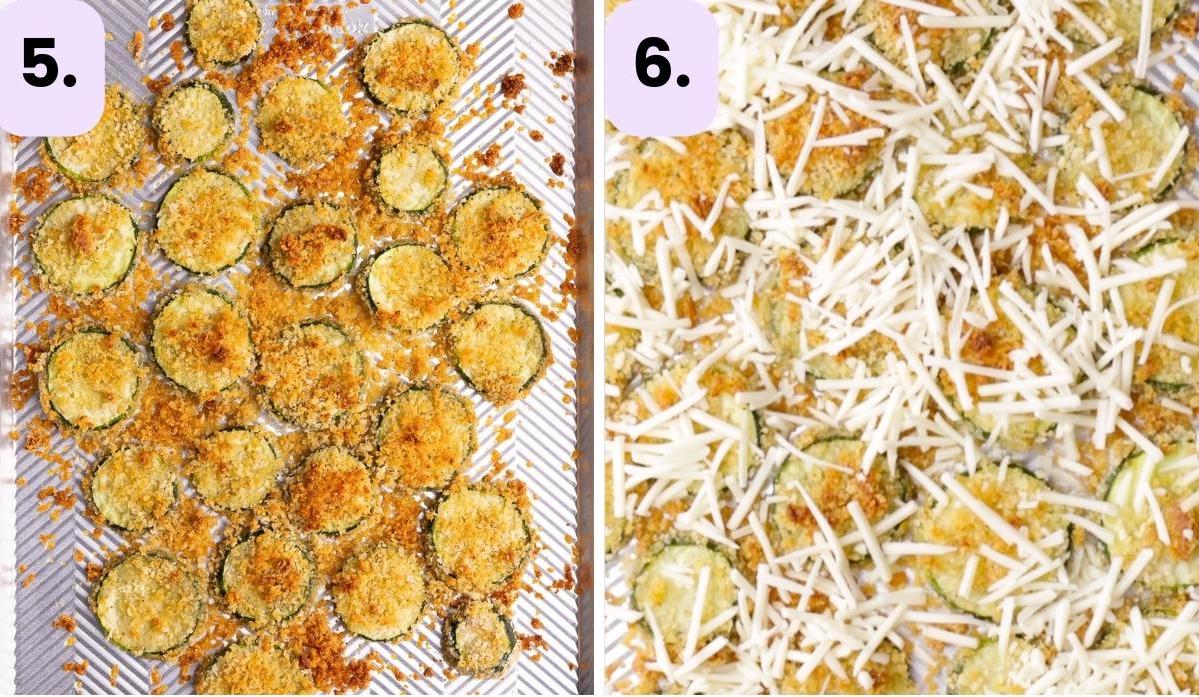 Once golden remove from the oven.
Add a generous sprinkle of vegan cheese then bake again for 5 minutes until bubbly and melty!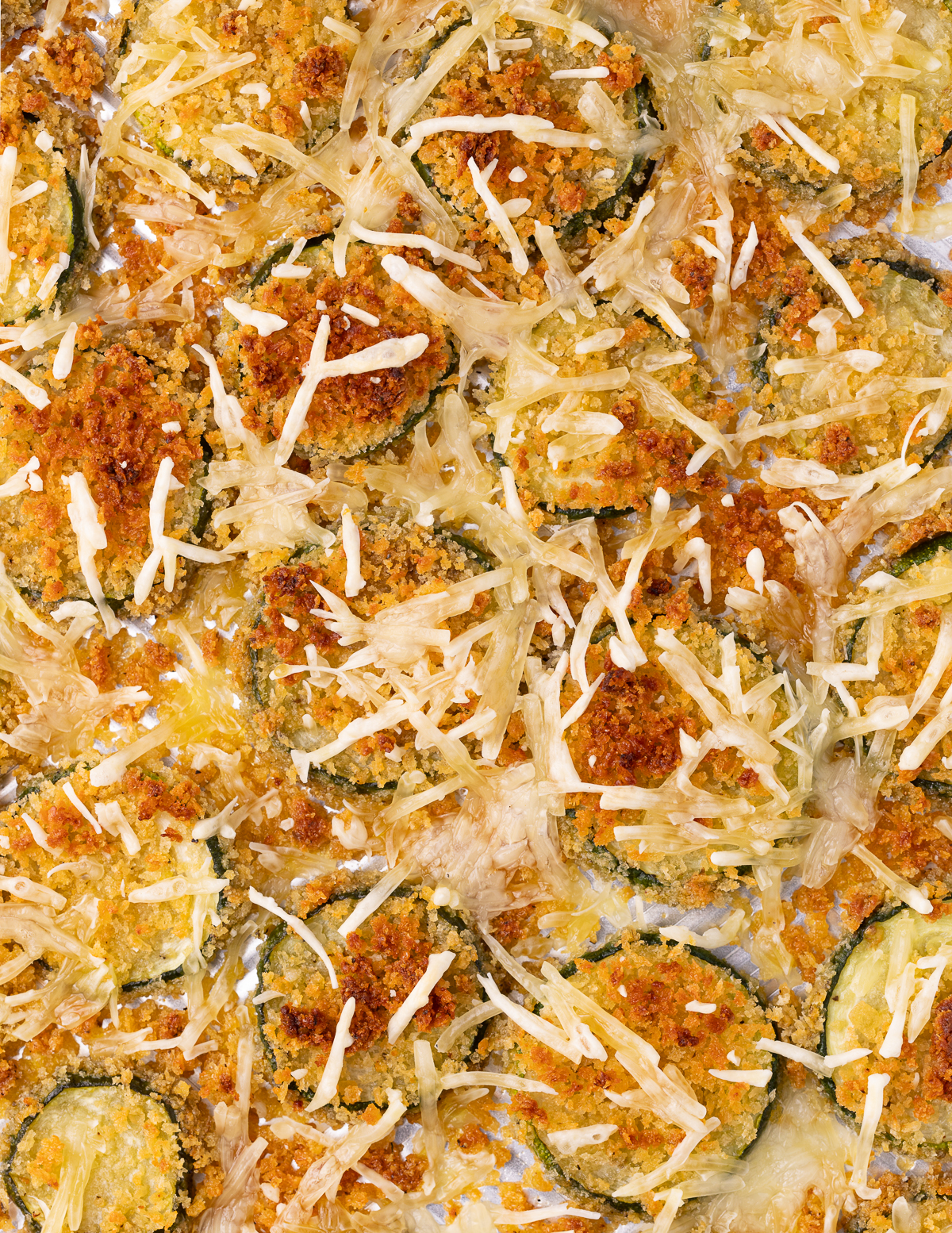 Serving Suggestions
A tray of these glorious zucchini rounds and a glass of white wine and I'm a very happy gal!
If you do manage to not eat every single one straight off the baking tray, you can enjoy them as an appetizer, or a side dish, or make them the star of the show in a delicious vegan meal like Creamy Orzo with Zucchini.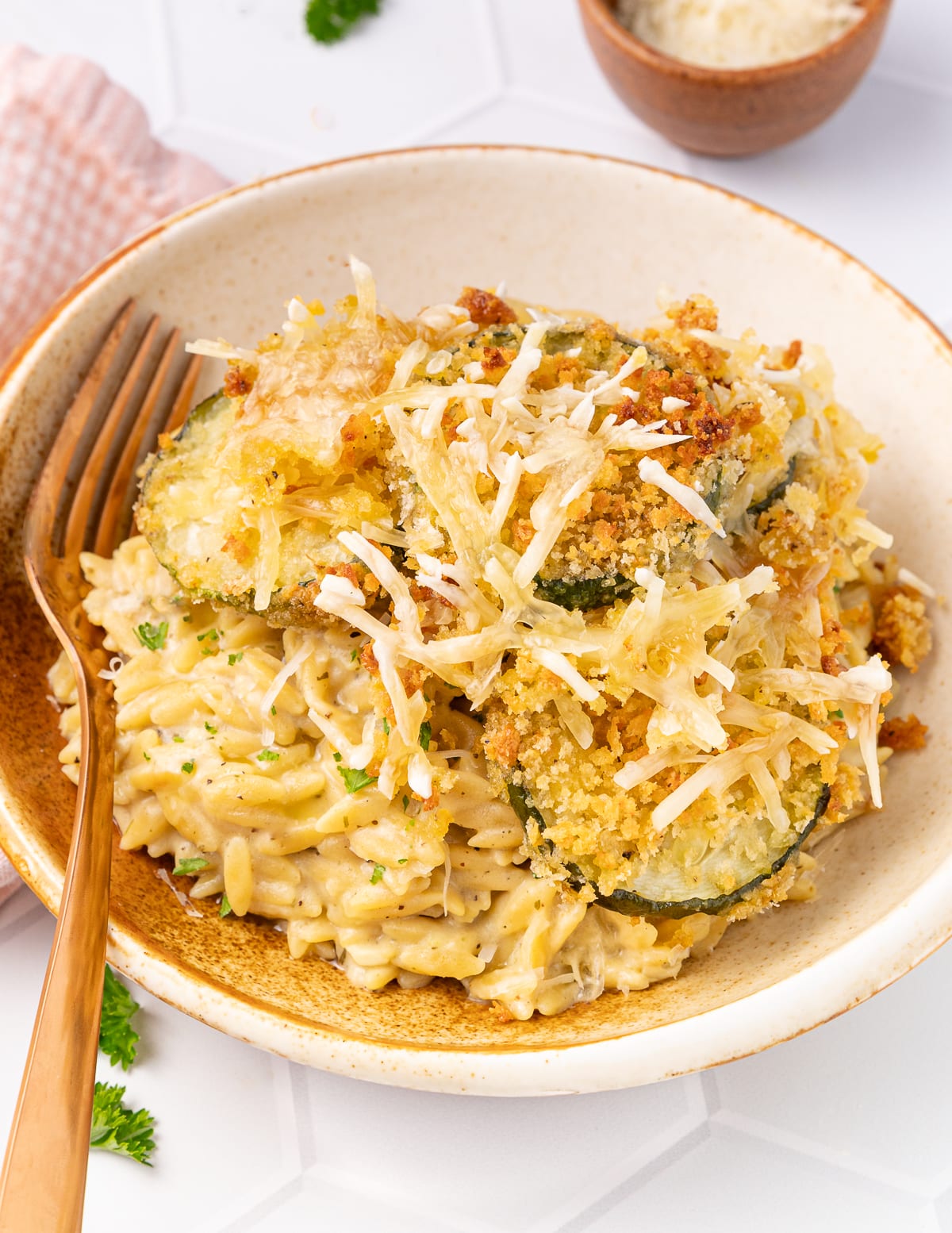 They are absolutely incredible piled high on top of spaghetti with cherry tomato sauce or marinara sauce, or pretty much any soft or creamy dish. And don't forget the loose panko crispies from the tray! The contrast between soft rice or pasta, sweet roasty zucchini, and crispy, caramelized crumbles is just incredible.
Any and all of these would be perfect partners:
If you try this recipe, let me know how you like it by leaving a comment and rating below! And be sure to join my mailing list for more deliciousness!
Recipe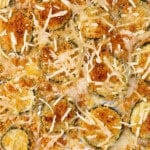 Crispy Baked Zucchini Slices
Author:
You need these Crispy Baked Zucchini Slices in your life! Seasoned, coated in panko crumbs, and held tightly together with melty vegan cheese, they are the perfect combo of tender, sweet, crispy, crunchy, chewy and cheesy.
INSTRUCTIONS
Preheat oven to 400°F (200°C) and line a large baking tray with parchment paper.

To a large mixing bowl, add the cornstarch then gradually add 1½ tablespoons of milk and mix really well to make a slurry with a lump-free, thin cream consistency. You might need to add an extra ¼ to ½ a teaspoon if it won't blend together well but use the smallest amount possible to get it combined.

Toss the zucchini rounds in the cornstarch slurry so they are coated on all sides. The slices tend to stick together a bit so loosen any ones that do so they get coated properly.

To the bowl add the nutritional yeast, salt, pepper, oregano, and garlic powder and toss to coat. I find it easier to use a clean hand to do this.

Now add the panko and toss it all around again. It won't stick well. Don't worry, that's fine.

Transfer the zucchini rounds to the baking tray in a single layer, leaving a little space around each one, then scatter the damp crumbs all over and around them.

Drizzle generously all over with olive oil.

Bake for 15 to 20 minutes until golden brown, then remove from the oven, sprinkle over the cheese and bake again for another 5 minutes until really melty, bubbly, and golden.

Serve immediately.
NOTES
Best eaten immediately, although you can store leftovers for a day or 2 in an airtight container, then reheat on a tray in the oven for 5 to 7 minutes, or in a skillet over medium heat. 
NUTRITION
Serving:
1
of 4 servings
|
Calories:
221
kcal
|
Carbohydrates:
30
g
|
Protein:
7
g
|
Fat:
8
g
|
Saturated Fat:
2
g
|
Polyunsaturated Fat:
1
g
|
Monounsaturated Fat:
0.2
g
|
Sodium:
712
mg
|
Potassium:
385
mg
|
Fiber:
4
g
|
Sugar:
3
g
|
Vitamin A:
194
IU
|
Vitamin C:
14
mg
|
Calcium:
86
mg
|
Iron:
2
mg
Did you make this recipe?
Rate it & leave feedback in the comments section below. I love seeing your remakes too. Tag @avirtualvegan on Instagram! 🌟