Vegan Slow Cooker Chili! With beans and sweet potatoes, it's easy, hearty, and big on flavour. Throw everything into your slow cooker and let it do all of the work!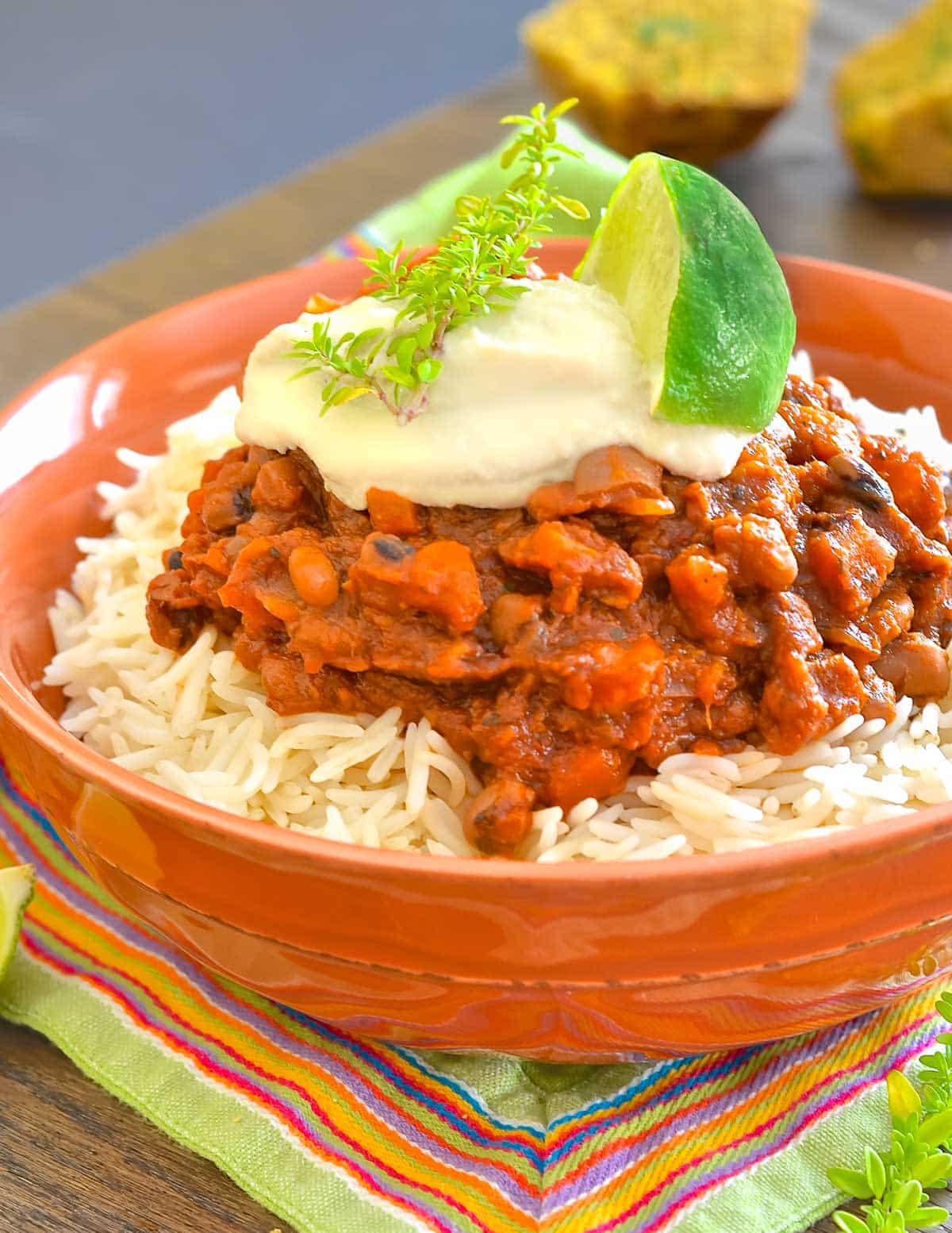 The beauty of a good slow cooker meal is that it pretty much cooks itself, and that is certainly the case with this Vegan Slow Cooker Chili.
Throw all of the ingredients in and let it do its stuff while you go off and do yours. You'll come back to a thick and hearty chili that's big on flavour, healthy, easy, and makes the best leftovers! Bonus points for being protein and fiber-packed, virtually fat-free, and low in calories too.
In this post - Everything you need to make Slow Cooker Vegan Chili:
Jump to:
Ingredients
Here is what you need to make this naturally gluten-free, dairy-free, and vegan Slow Cooker Chili: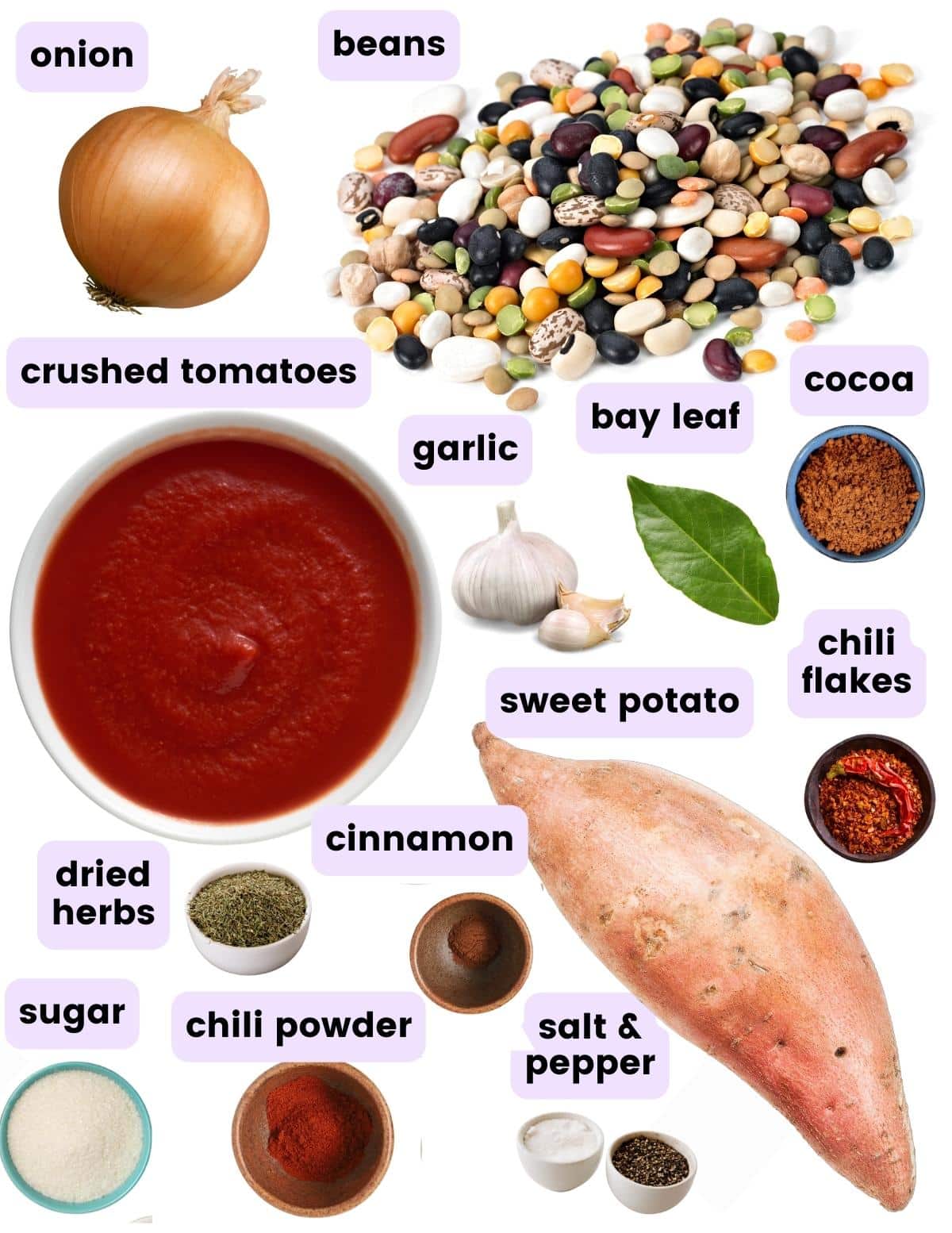 And a few ingredient notes:
Beans - You can use soaked dried beans or fully cooked/canned beans. Any combination of beans such as pinto beans, garbanzo beans /chickpeas, navy beans, black eyes beans, or black beans but for food safety reasons do NOT use dried or soaked kidney beans. This is really important. See the FAQs for more details regarding this if you're curious. Canned kidney beans are fine to use.
Chili powder - This should be American-style chili powder. If you are in the UK/Europe be sure to check the recipe notes. Your chili powder is not the same!
Tomatoes - These should be crushed tomatoes for the best sauciness. Passata works well too. You could also use tomato sauce but you will need to adjust the seasonings to compensate.
Cocoa - We are using it as a seasoning and not for chocolate flavour. It might sound odd but it adds depth and richness to your chili. (You can use cacao or a square of dark chocolate instead). Trust me. It tastes amazing and a little makes a HUGE difference!
Sugar - This is also being used as a seasoning. It balances the flavours and enhances the taste of all the other ingredients.
Dried herbs - You can use a dried herb mix like Italian seasoning or herbes de Provence, or herbs like thyme, rosemary, and oregano ( a combination or just one).
Feel free to also throw in any random vegetables that need to be used up. Just be sure to only add veggies that will tolerate a lot of cooking at the beginning of the cooking time. Quick-cooking veggies like mushrooms, peas, corn, etc should be added in the last 15 to 20 minutes of cook time.
How To Make Vegan Slow Cooker Chili
No detailed instructions are required for this vegan chili recipe. Just throw it all in and turn the crockpot/slow cooker on! If you want to you can saute the onions and garlic first before adding, but I never do.
Serving Suggestions
A big bowl and a spoon are all that is required, but can we all agree that toppings on chili are everything?
Some of my faves:
Avocado
Vegan cheese (I LOVE my feta crumbled on this but most others such as vegan parmesan or cheddar work well)
Thinly sliced green or red onions
Vegan sour cream
Sliced jalapenos
Cilantro
Crumbled tortilla chips
Lime juice
As for sides, rice, vegan sweet potato biscuits, tortilla chips, cornbread, baked potatoes, a simple green salad, and crusty bread are great. Chunks of warm, herby, no-knead focaccia are amazing with it!
Storing Leftovers
This recipe makes a lot so is great for hungry families, and it reheats and freezes brilliantly. The leftovers actually get better and more flavourful!
For storage seal leftover chili up in an airtight container and keep it for 4 to 5 days in the fridge or for 3 months in the freezer. Defrost overnight in the fridge and reheat in a pan on the stovetop or in a microwave.
Recipe FAQs
Why can't I cook dried kidney beans in my slow cooker?
Dried kidney beans contain high levels of phytohemagglutinin (PHA) which is a toxin that can cause severe food poisoning. Soaking and then boiling them for a sufficient time eliminates this toxin, but temperatures in slow cookers generally do not exceed 185 degrees Fahrenheit. This is not a high enough temperature to eliminate it, and may also trigger a five-fold increase in toxicity. According to the FDA's Bad Bug Book, kidney beans should be soaked in water for at least 5 hours, the water poured away, and the beans boiled in fresh water for at least 30 minutes before use.
Can I use unsoaked beans?
Yes (as long as they aren't kidney beans), but increase the water by 1 cup (240ml). They will take slightly longer to cook than soaked beans.
More Vegan Slow Cooker Recipes
If you try this recipe, let me know how you like it by leaving a comment and rating below! And be sure to join my mailing list for more deliciousness!
Recipe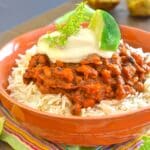 Three Bean Sweet Potato Chili
Author:
Vegan Slow Cooker Chili! With beans and sweet potatoes, it's easy, hearty, and big on flavour. Throw everything into your slow cooker and let it do all of the work!
Ingredients
1½ cups (300

grams)

dried beans

, OR 3 x 14-16oz cans of beans (about 4½ cups). DO NOT use dried kidney beans in this recipe.

1 x 28oz (796 ml)

can

crushed tomatoes

, (about 3 cups)

1

large

onion

, chopped finely

1

large

sweet potato

, peeled and cubed

4

large cloves

garlic

, minced

1

tablespoon

Italian mixed herbs

, or a teaspoon each of thyme, rosemary and oregano (or similar)

1 to 2

teaspoon

dried red chilli pepper flakes

, adjust to your spice tolerance

3

tablespoons

chili powder

, (American style - see notes if using UK/European chili powder)

2

teaspoons

ground cumin

¼

teaspoon

ground cinnamon

2

teaspoons

cocoa powder

, or 2 squares of good quality dark chocolate

1

tablespoon

sugar

2 cups (480

mls)

water

, reduce to 1 cup (240mls) if using canned/fully cooked beans.

2

teaspoons

fine sea salt

1

teaspoon

freshly ground black pepper
INSTRUCTIONS
If using dried beans soak them overnight before proceeding.

Add all of the ingredients to your slow cooker (mine is 6 quarts) and stir them together well.

If using soaked dried beans, set the slow cooker to low and cook for about 8 hours or high for about 4 to 5 hours. If using canned/fully cooked beans set to low and cook for 5 to 6 hours or high for about 3½ to 4 hours.

Check the beans are cooked through and tender before serving.

If at any time it gets too thick add a little boiling water from a kettle to thin as desired.
NOTES
Important note RE the chili powder - The chili powder used in this recipe is North American style. If you are in the UK or Europe DO NOT use 4 tablespoons. UK chili powder is 100% chili and is spicy and hot. The chili powder in the US and Canada is very different. It is mild and contains a mix of spices. Use a max of 1 teaspoon (dependent on your spice tolerance) and omit the chili flakes. 
For info about why you can't use dried kidney beans see the FAQs.
NUTRITION
Serving:
1
serving
|
Calories:
220
kcal
|
Carbohydrates:
44
g
|
Protein:
12
g
|
Fat:
1
g
|
Saturated Fat:
0.2
g
|
Polyunsaturated Fat:
1
g
|
Monounsaturated Fat:
0.2
g
|
Sodium:
782
mg
|
Potassium:
1039
mg
|
Fiber:
10
g
|
Sugar:
9
g
|
Vitamin A:
6927
IU
|
Vitamin C:
14
mg
|
Calcium:
109
mg
|
Iron:
5
mg
Did you make this recipe?
Rate it & leave feedback in the comments section below. I love seeing your remakes too. Tag @avirtualvegan on Instagram! 🌟