Healthy doesn't get any easier than this Cozy Slow Cooker Spicy Lentil Soup. Throw it all in. Forget about it. No-fuss. Super easy.  Super nutritious. Super tasty.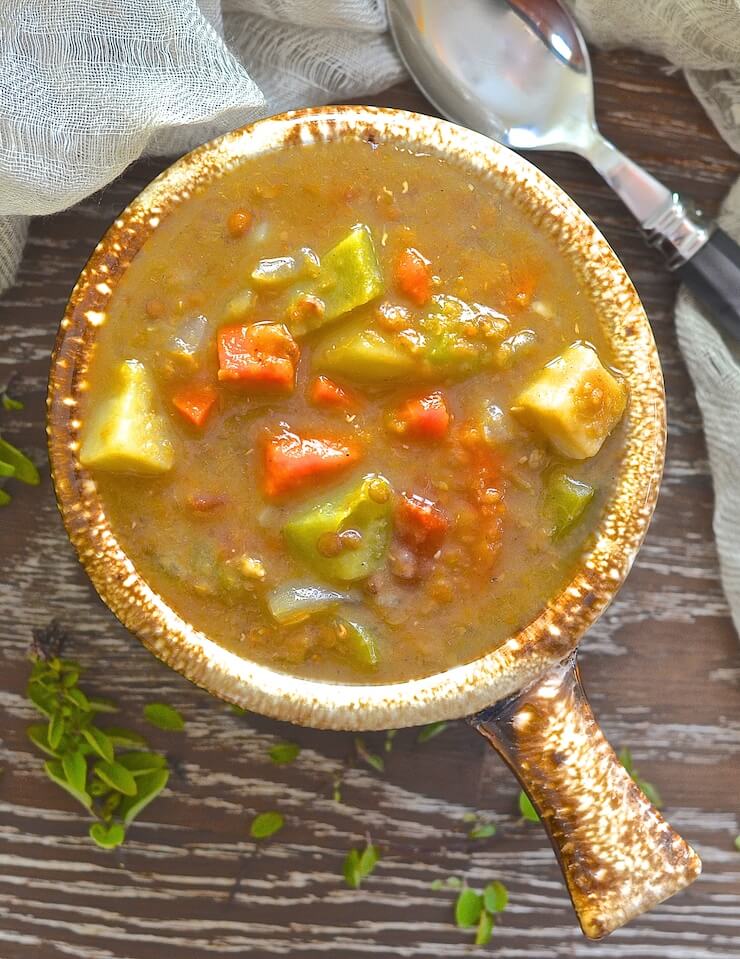 It is cold, grey and dreary and what is better for lunch or dinner on days like that than a big bowl of Cozy Slow Cooker Spicy Lentil Soup? In the winter, I swear that at least half of what I eat consists of soup and oatmeal. I am all about comfort food.
My slow cooker gets used a lot in the winter months. Favourites to make in it are my Three Bean Sweet Potato Chili and my Keema Lentils. I quite often also just throw a whole load of ingredients in and hope for the best, and this is how this Cozy Slow Cooker Spicy Lentil Soup originated. I have since made it at least 5 times, tweaking it here and there and it is now ready to introduce to you guys.
SOUP'S ON!
If you are pushed for time then this is the meal for you. It literally involves throwing everything in. No browning anything or pre-cooking the lentils at all and as long as the recipe is followed exactly, I would say it's virtually fool-proof. Not that any of you are fools of course, but there are a lot of people just starting their vegan journey at the moment with it being Veganuary and the start of a new year.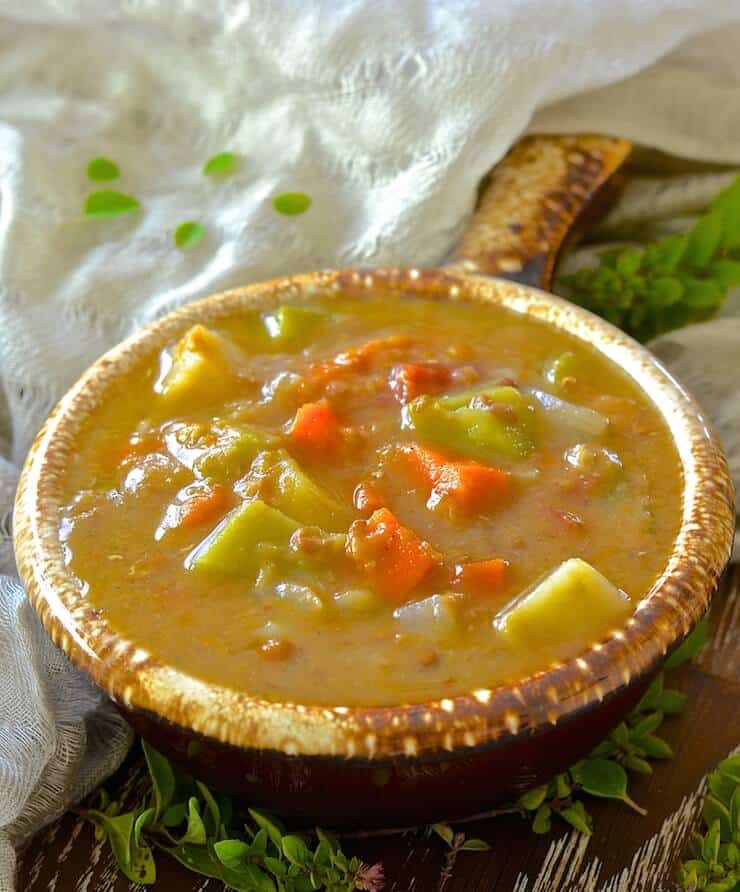 Page views on AVV have literally doubled from December to now which is fantastic as it means a whole new bunch of readers have joined us, many of which are probably brand new vegans. (Welcome to you if you are one of them - I am so glad you joined us!).
RELAX & LET YOUR SLOW COOKER DO ALL THE WORK
After spending your whole life cooking one way, with ingredients you are comfortable with, changing your mindset and having to get familiar with a whole new set of ingredients and cooking skills can be daunting.
If you are having nightmares about how to cook tofu so it actually tastes good, or if you are staring at your new package of nutritional yeast wondering what the heck to do with it then relax, dust your slow cooker off and make this Cozy Slow Cooker Spicy Lentil Soup instead.
There is plenty of time to learn all about tofu presses and other vegan things. Start with the easy stuff and break yourself in gently. The best vegan food is simple and uncomplicated, just like this soup. ♡
HOW TO MAKE MY COZY SLOW COOKER SPICY LENTIL SOUP
Peel and chop veggies.
Open a can of tomatoes and a carton of veggie broth.
Throw it all in the slow cooker.
Add some seasoning and water
Turn on the slow cooker
Leave for 5 to 8 hours
COME BACK TO THIS: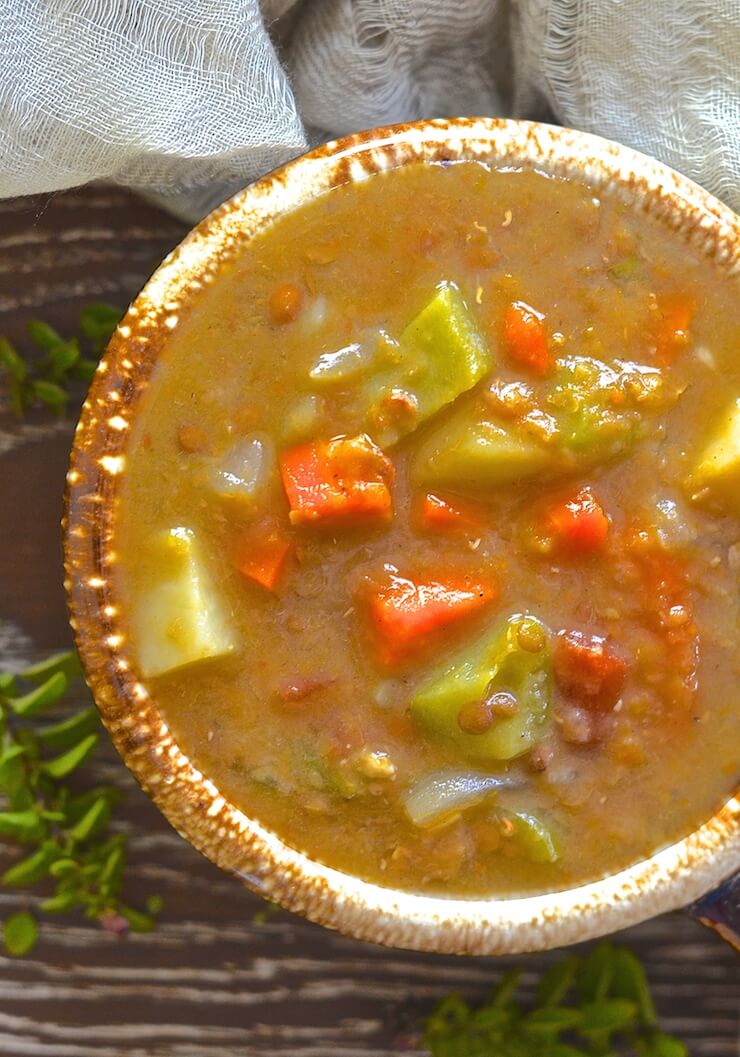 The red lentils melt down and thicken it beautifully, and the sweet potatoes become soft and melting. It is great as it is but if you prefer a thicker, stewier style soup, then just scoop out a few cups and blend them until smooth in a blender or with a stick blender, then return to the pan and stir it in. This will thicken it nicely without having to add anything else.
NO SLOW COOKER? NO PROBLEM!
If you don't have a slow cooker this soup can be cooked in a large pan on the stove. I have included directions in the recipe below.
SOME LEFTOVER LOVIN'
This Cozy Slow Cooker Spicy Lentil Soup is amazing with some big chunks of fresh crusty bread. The recipe makes a great big pot which reheats beautifully and will keep for up to 1 week in the fridge. Perfect for even easier dinners or lunches through the week. My husband likes to take it to work in a Thermos for lunch.
I am seriously excited for you to try this. It is so delicious! Be a ☆ and let me know what you think in the comments below or share a pic on Instagram. I am @avirtualvegan. use the hashtag #avirtualvegan to be sure I don't miss it.
Recipe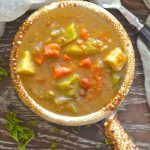 Cozy Slow Cooker Spicy Lentil Soup
Author:
Healthy doesn't get any easier than this Cozy Slow Cooker Spicy Lentil Soup. Throw it all in. Forget about it. No fuss. Super easy. Super nutritious. Super tasty.
Ingredients
1

very large / about 4 cups

sweet potato

chopped into bite sized chunks

2

medium

white potatoes

chopped into bite sized chunks, you can sub for more sweet potato or carrots if you prefer

4

large

carrots

chopped into bite sized chunks

2

ribs

celery

sliced thinly

1

large onion

diced

1

bell pepper

any colour | diced

2

banana chili peppers

see recipe notes for variations and tips on heat

4

large

cloves garlic

1

cup / 240mls

canned diced tomatoes

or 1 cup of diced fresh tomatoes

½ cup / 100

grams

of green lentils

½ cup / 100

grams

of red lentils

see recipe note

1

large bay leaf

4 cups / 960

mls

vegetable stock

4 cups / 960

mls

water

1

teaspoon

salt

, plus more to taste

¾

teaspoon

pepper

, plus more to taste
INSTRUCTIONS
Place all ingredients into a slow cooker. My

slow cooker

holds 6 quarts and was quite full. If yours is smaller you will need to scale the recipe down to fit.

Cover and cook on high for 5-6 hours or low for 7-8 hours.

When nearly ready to serve check seasoning & scoop out the bay leaf.

If you would like to thicken it a little remove 2 - 3 cups and

blend

until smooth them return them back to the slow cooker and stir. Or insert a

stick blender

into the slow cooker and blend until it's at the texture you like.
For cooking in a pan
Saute the onions in a little oil until golden brown. You will need to do this in a large pan.

Add the garlic and continue cooking for another minute. Add all of the other ingredients, cover with a lid and simmer until just starting to bubble. Turn down to low and cook for around 2 hours, or until the vegetables are tender. Be sure to stir occasionally while it is cooking.

Follow my directions in the slow cooker instructions above for thickening the soup if necessary.
NOTES
Banana peppers are very mild and will make your soup gently spiced. If you prefer a bit more heat you can use Anahiem peppers which are a little bit warmer, and if you prefer it a bit hotter again use Poblano peppers.
A combination of red and green lentils is best. The red lentils more or less dissolve and work to thicken the soup whilst the green ones stay whole and give texture. If you sub the green for all red your soup may end up thicker and if you sub all green for the red it will be a bit thinner. It won't affect the flavour too much though so if you are ok with this use any combo you like.
Leftovers can be stored in the fridge for up to a week. Be sure to heat them thoroughly until piping hot before serving.
NUTRITION
Serving:
1
serving
Calories:
191
kcal
Carbohydrates:
38
g
Protein:
9
g
Sodium:
376
mg
Fiber:
10
g
Sugar:
6
g
Vitamin A:
12400
IU
Vitamin C:
46.2
mg
Calcium:
60
mg
Iron:
2.5
mg
Tried this recipe?
Rate it & leave your feedback in the comments section below!