A twist on an old favourite. These Vegan Mac and Cheese bites are perfect for after-school snacking or packed lunches and are incredibly quick & easy to make!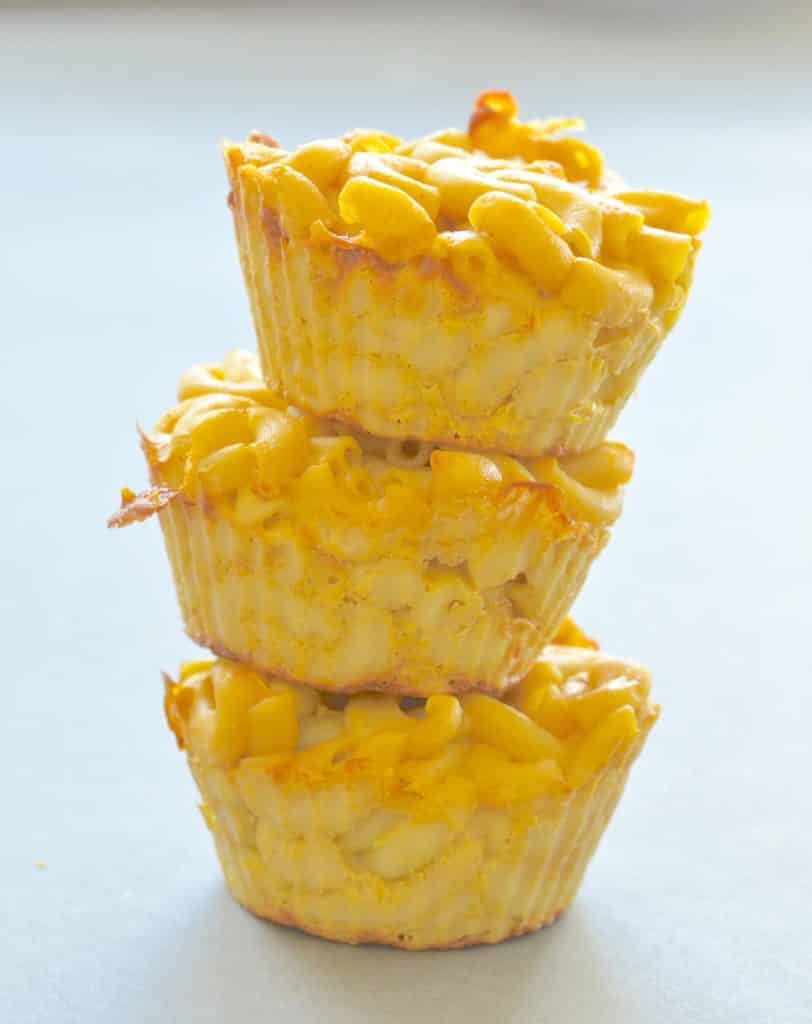 These Vegan Mac and Cheese Bites have been in the works since April. Yes April! I made them and photographed them then realized there was a problem. I had envisioned these tasty little bites as the perfect after school snack or packed lunch addition but the recipe I created contained nuts. It didn't even cross my mind at the time of creation, but as I was about to type the recipe up I suddenly realized that a lot of schools are now nut free environments. As these Vegan Mac and Cheese Bites are dairy-free, and can also be gluten-free, it made total sense for them to be nut-free too so they are totally allergen friendly.
My Vegan Carbonara with Smoky Carrot Rashers and my Easy Homemade Vegan Butter were the reason I decided to use the nuts. Both of these recipes utilize ground almonds to give a creamy, buttery flavour. I instinctively used that idea when creating my Vegan Mac and Cheese Bites and the results were great, but when I realized my faux pas with regards to nut allergies,  I had to reinvent the recipe to exclude the almonds.
As I am the only one in the house who likes mac and cheese, I couldn't trial them repeatedly until I got it right like I usually do. I had to space my attempts out and that is why they have taken so long to materialize here.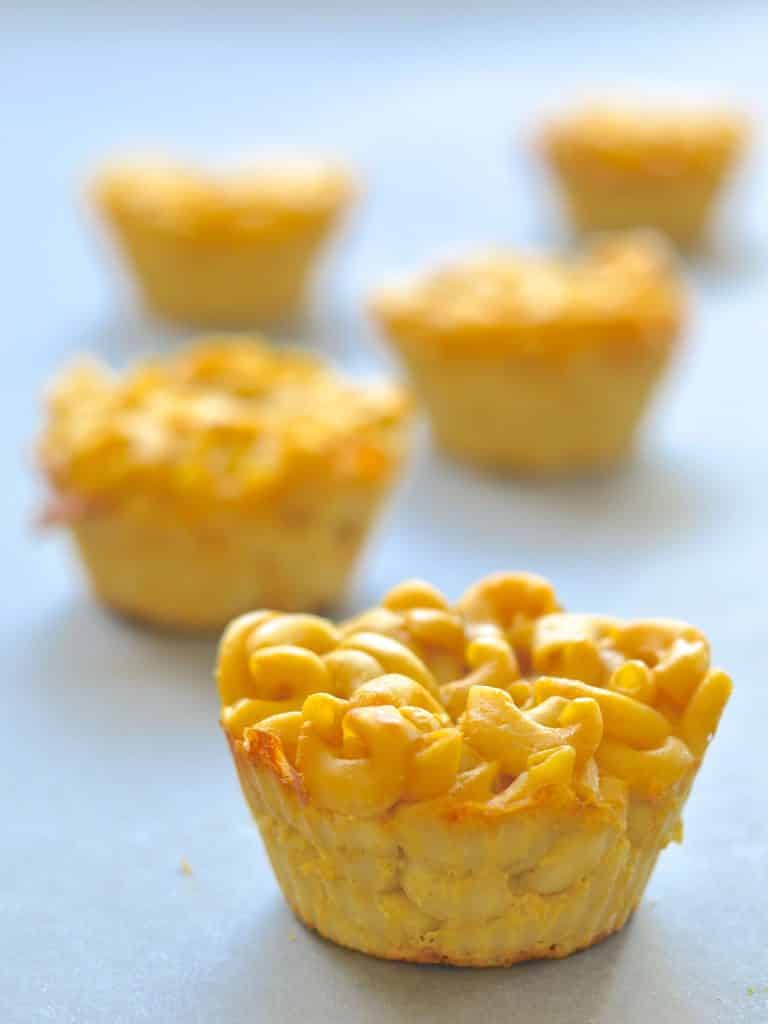 Mac and Cheese is such a family favourite. It was one of my very favourite guilty pleasures before I gave up dairy. These Vegan Mac and Cheese Bites are a twist on traditional versions. They are baked in muffin tins to create adorable little handheld treats which are perfect for snacking and packed lunches.
These Vegan Mac and Cheese Bites are incredibly easy to make. You don't even have to make a sauce in the traditional way. Like my Garlic Pineapple Sauce  it's just a case of throwing everything into a blender and blending until smooth. Then you stir it through some cooked macaroni, spoon into muffin tins and bake. So simple!
When the Vegan Mac and Cheese Bites are cooked, remove them from the oven and let them cool in the tins. My favourite way to eat them is cold with generous amounts of tomato ketchup!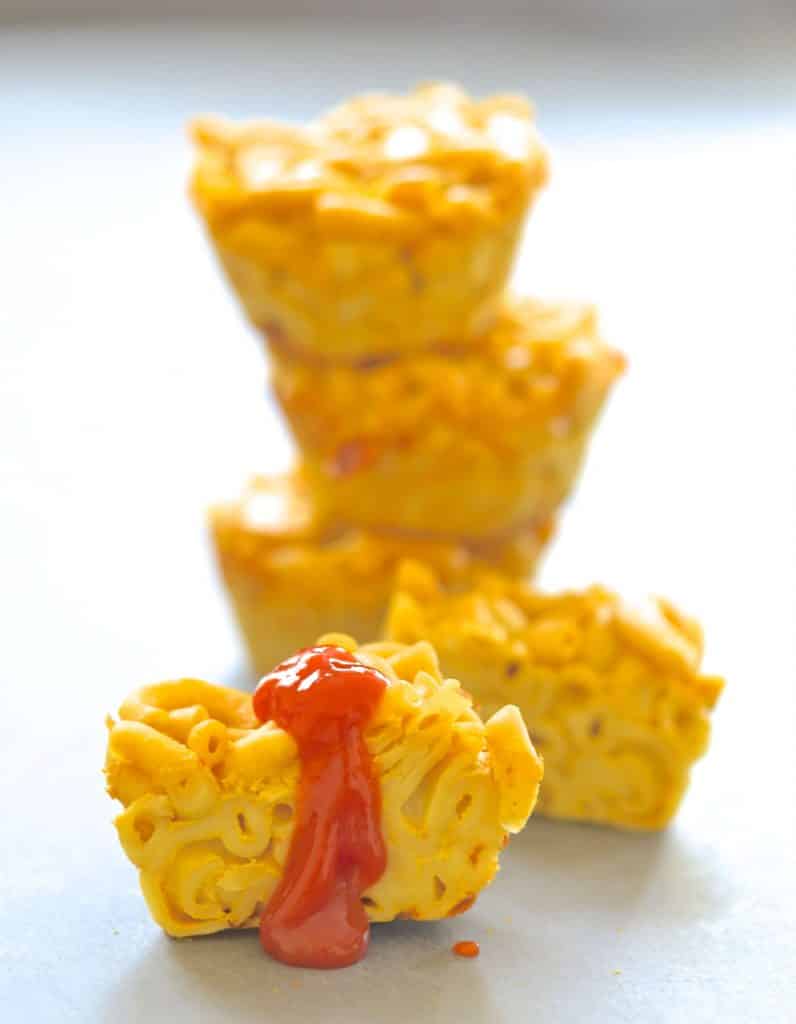 Of course you can eat them warm if you prefer, but don't expect them to stay together too well. They only firm up and glue together once they cool. As well as being great for back to school children's snacks and lunch boxes, they are good for grown-ups who are trying to limit fat and calories. As they are cooked individually they are great for portion control and each Mac and Cheese Bite has only 78 calories and 1 gram of fat!
I always use reusable silicone muffin cases to make these. Once you invest in some they will last you years and years which saves you money in the long run and is probably a little better for the environment than using disposable paper cases over a number of years. If you do buy some, be sure not to buy the really super cheap ones you find on Amazon. They range in price from around $2 to $15. When I first got some I started with the cheapest possible and they were really thin, everything stuck to them and they were difficult to clean. When I upgraded to the slightly more expensive ones I noticed a world of difference. Nothing ever sticks to the ones I have now and I love them.
I tend to leave my Vegan Mac and Cheese Bites in their cases until I eat them. Their outsides tend to be a little sticky so if you do pack them up for lunches be sure to include a little something to wipe sticky fingers with afterwards.
I would love to know what you think of these Vegan Mac and Cheese Bites. Please let me know in the comments below and share your pictures of these and my other recipes with me on Instagram. Tag them with #avirtualvegan so I don't miss them.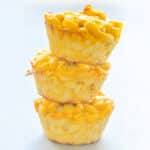 Vegan Mac & Cheese Bites
Author:
A twist on an old favourite! Vegan Mac & Cheese Bites are quick and easy to make in a muffin pan and make a great portable snack. Perfect for light lunches, packed lunches, or after-school snacking!
Ingredients
1½ cups (200

grams)

dried macaroni

, (gluten-free if necessary)

1

medium

onion

, diced

1

clove

garlic

, minced

½ cup (35

grams)

nutritional yeast

2

tablespoons

cornstarch

, or arrowroot powder

1

teaspoon

fine sea salt

1

teaspoon

apple cider vinegar

, or white wine vinegar

½

teaspoon

smoked paprika

1 cup (240

mls)

plant milk

, unsweetened & unflavoued
INSTRUCTIONS
Line a 12 well muffin pan and preheat oven to 350°F (175°F). I like to use silicone muffins liners for this recipe.

Boil a large pan of water then add the macaroni and cook as per the package instructions. Usually 8 to 10 minutes. Drain once cooked.

While the macaroni is cooking sauté the onion until just starting to turn golden brown then add the garlic and cook for one more minute. You can saute in a dry pan, or with a little water or oil.

Add the cooked onion and garlic to a blender along with the nutritional yeast, cornstarch, salt, apple cider vinegar, smoked paprika, and milk. Blend until smooth.

Pour the sauce into the macaroni and stir really well to combine, breaking up any clumps.

Spoon the mixture into the lined muffin pan and press them down with the back of a spoon or spatula to level the tops a little.

Place in oven and cook for 30 minutes.

Remove from the oven and leave to cool in the pan.
NOTES
Store Vegan Mac & Cheese Bites in the fridge for up to 1 week. I like to keep the liners on as they stay a little moister. They also freeze well for up to 3 months. Defrost overnight in the fridge.
NUTRITION
Serving:
1
serving
Calories:
89
kcal
Carbohydrates:
16
g
Protein:
4
g
Fat:
1
g
Saturated Fat:
0.1
g
Polyunsaturated Fat:
0.3
g
Monounsaturated Fat:
0.1
g
Sodium:
203
mg
Potassium:
136
mg
Fiber:
2
g
Sugar:
1
g
Vitamin A:
83
IU
Vitamin C:
1
mg
Calcium:
31
mg
Iron:
1
mg
Nutritional information is provided for convenience. The data is a computer generated estimate and should be used as a guide only.
Tried this recipe?
Rate it & leave your feedback in the comments section below, or tag @avirtualvegan on Instagram and hashtag it #avirtualvegan