A simple, super speedy & delicious fried rice which brings together fresh, sweet brussels sprouts, nutty brown rice & buttery cashew nuts in a delicious tamari, maple sauce.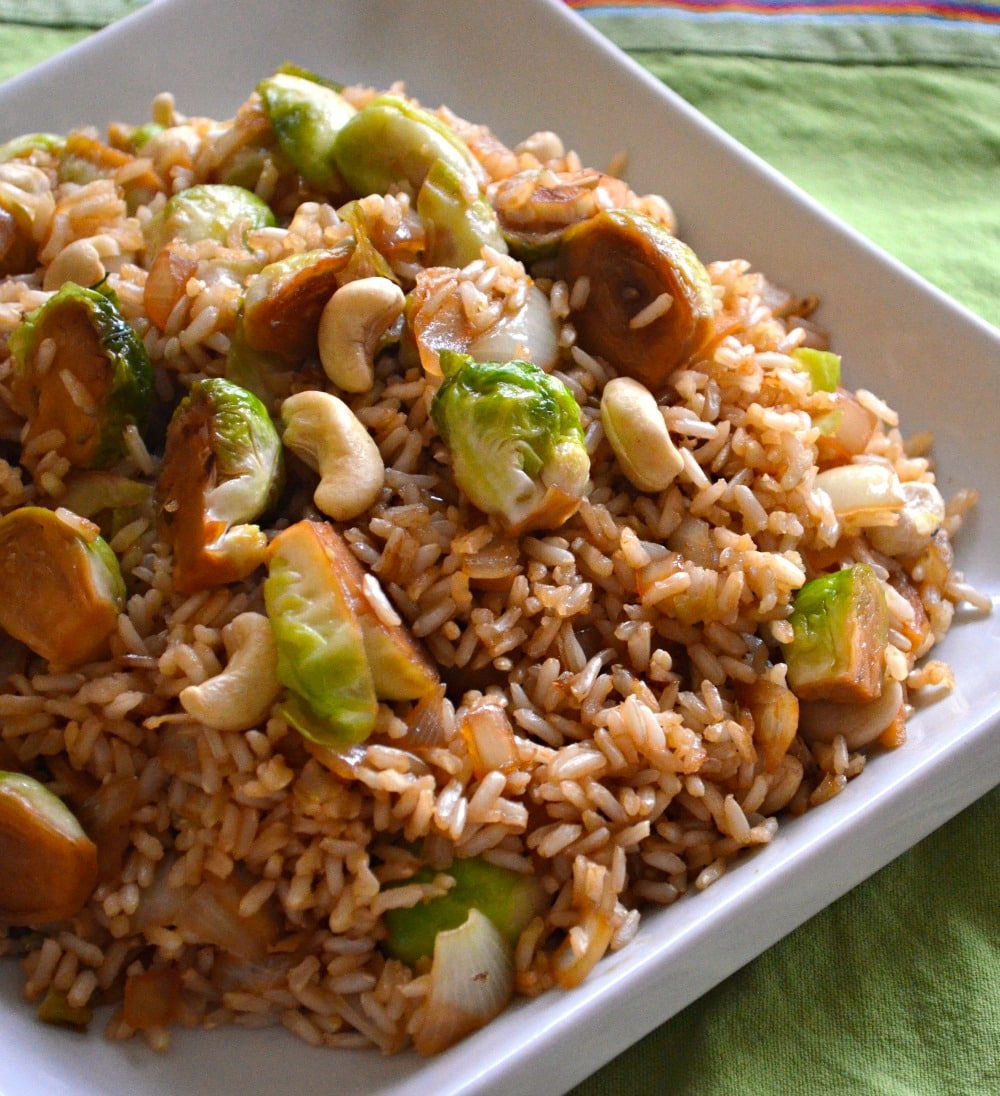 I celebrated a bit of a special birthday at the weekend.
I'd rather not announce to the whole bloggerverse how old I was but let's just say that the cake nearly went up in flames when the forty candles were lit……..
Over indulgence happened all weekend long and a lot of eating out was involved so today even though I worked late and was pressed for time, I wanted to make sure we had a nice, healthy home cooked meal.
This Brussels Sprout Fried Rice with Cashew Nuts was super speedy to throw together. How many meals can you honestly say take 15 minutes or less from start to finish? There aren't many but this is one of them. With just seven ingredients (plus oil) and a few minutes of your time you can have a delicious, healthy and filling meal that the whole family will love.
Gone are the days of boiling brussels sprouts in a pan of water until they turn into bitter, slimy, snotty little lumps. Treat them with the respect they deserve and try them raw and sliced finely in salads, roasted in the oven with olive oil and salt and pepper, or stir fried as they are in this recipe.
Brussels Sprouts are little power houses of nutrition. They are full of vitamins and minerals, surprisingly high in protein (2 grams per half a cup) and like other cruciferous vegetables they offer many healthy benefits. They are also deemed to be great for anti-aging. I do hope this is right as I need all the help I can get at the moment!
If you make this Brussels Sprout Fried Rice with Cashew Nuts please leave a comment below to let me know what you think.  I'm dying to know! You can also  share your pictures on Instagram (@avirtualvegan) and add the hashtag #avirtualvegan so I don't miss them! I love to know what you think of my recipes!
If you adore Brussels Sprouts as much as me then try my Bubble & Squeak Patties. You will not be disappointed!
Yields 2 servings
Brussels Sprout & Cashew Nut Fried Rice
A simple, super speedy & delicious meal which brings together fresh, sweet brussels sprouts, nutty brown rice & buttery cashew nuts in a delicious tamari, maple sauce.
5 minPrep Time
10 minCook Time
15 minTotal Time
Ingredients
2 teaspoons oil of choice (I used coconut oil although sesame would be nice) - You can omit the oil and salt the sprouts, onions etc in a few drops of water instead.
2 heaping cups halved brussels sprouts
1 medium onion chopped finely
2 cloves garlic chopped finely
1 tablespoon tamari (you can sub soy sauce if you don't have Tamari)
1 tablespoon maple syrup (can sub for honey if not vegan or agave but maple will give the best flavour so use if you can)
2 cups cooked & cooled brown rice (you can use white rice if you prefer)
1/4 cup cashew nuts
Instructions
Heat a large fry pan with the oil over a medium heat.
When hot add the brussels sprouts and sauté until just tender (about 4 minutes).
Add the onions and garlic and cook for another few minutes until the onion is just beginning to turn a golden brown.
Add the tamari and maple syrup and stir well to coat the vegetables.
Add the rice and cashew nuts and continue cooking for another couple of minutes or until the rice is piping hot.
Serve immediately.
6.8
https://avirtualvegan.com/brussels-sprout-fried-rice/
Melanie McDonald | A Virtual Vegan
This recipe has been linked to the Meat Free Monday link party over at tinnedtomatoes.com