Where do I even begin with these lip-smackingly good Mexican Burgers? They are so incredibly delicious & the sticky, sweet, spicy sauce just takes them OVER the top!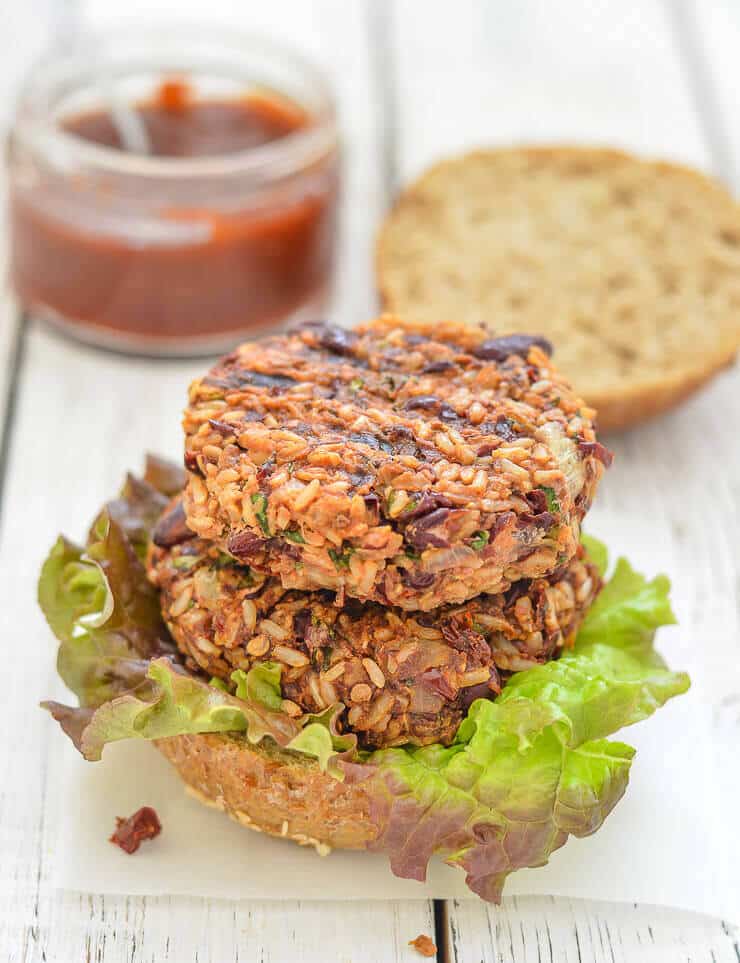 These delicious Mexican Burgers are brought to you thanks to RiceSelect who are kindly sponsoring this post and offering you the chance to win some of their awesome Texmati Brown Rice & a tote bag. Scroll down under the recipe to see the giveaway details! 
Excuse me while I wipe my chin.....
I just finished up one of these monsters and boy was it good! ♡
I am no stranger to veggie burgers. I have a couple of awesome ones on the blog already, like my White Bean Artichoke Burgers and my Vegan Black Bean Burgers with Lime, but one can never have too many veggie burger recipes up their sleeve, am I right?
Plus it's my first rice-based burger. Why have I never thought of using brown rice in burgers before? It is just wonderful! It gives great grainy texture on the inside and even better, crispy, chewy texture on the outside once they are cooked up. It kind of goes nubbly and nutty in a way that no other ingredient in a veggie burger would.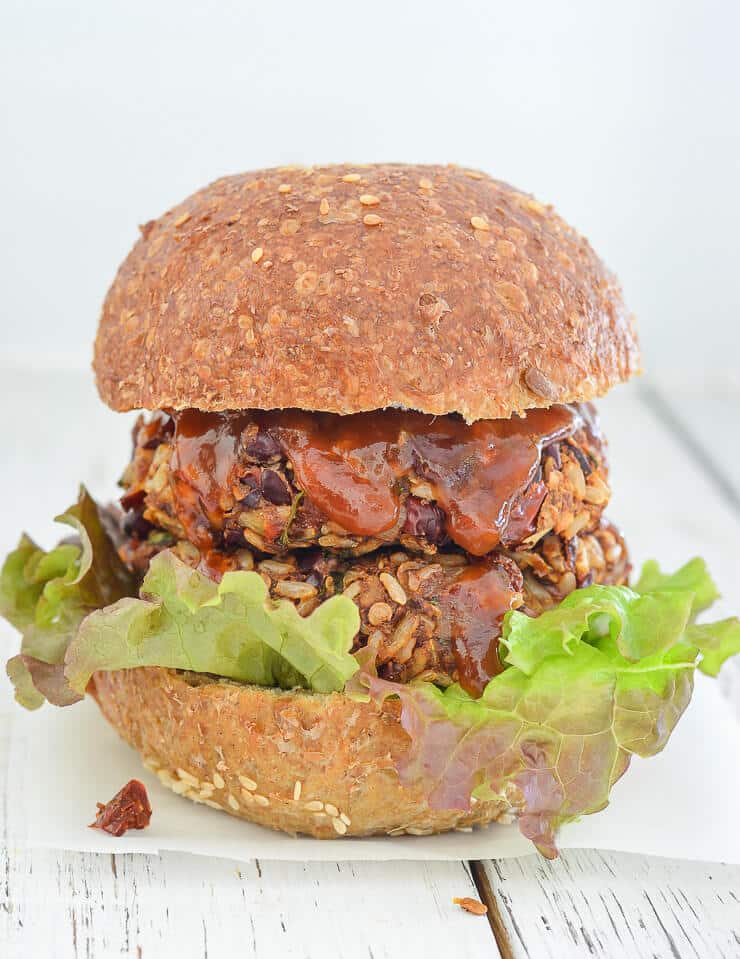 Look at that post-saucing gorgeousness!
[clickToTweet tweet="These Mexican Burgers are everything. So good & chin dribblingly saucy! " quote="These Mexican Burgers are quite literally everything. Great texture, amazingly flavourful, fiery flavour, moist but not too moist, chin dribblingly saucy....."]
Need I go on?
They are really easy to make too and a wonderful way to use up leftover cooked brown rice. Tell me I'm not the only one who always cooks too much rice? I usually use leftovers in my Brussel's Sprout & Cashew Fried Rice but to have another extremely tasty option is just perfect as it happens all too often.
Leftover rice will never be an issue again with these babies burning a hole in your computer screen. You just NEED to make them!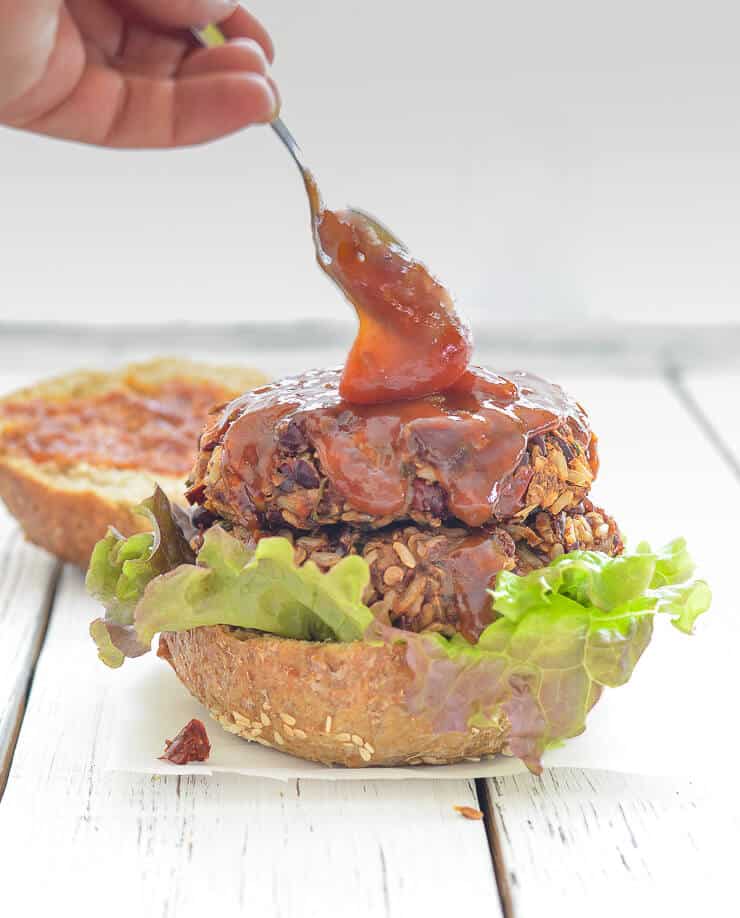 That sauce. It wasn't actually planned and was an afterthought.  I hate to waste anything and there was some saucy liquid left in the tin of chipotle chili peppers which I used in the burgers. It wasn't enough to use on its own so I tipped it in a pan, added a few things and wow....It turned into the most delicious and fiery sauce. The actual burgers themselves are spicy but not overly hot. The sauce is hot and takes these burgers over the top. It is so good with them. And because most of the heat is in the sauce and not the burger, it makes it easy for those of you that don't like very spicy food. Just omit the sauce and use something milder instead. Guacamole would be an awesome substitute!
The rice I used in these Mexican Burgers is RiceSelect Texmati Brown Rice and you can try it free by entering my giveaway. If you win you will receive 2 canisters of rice and a RiceSelect Tote Bag. The bag is large and roomy with a handy zip fastening and is perfect for grocery shopping. You can enter by scrolling down directly under the recipe where you will find my giveaway widget.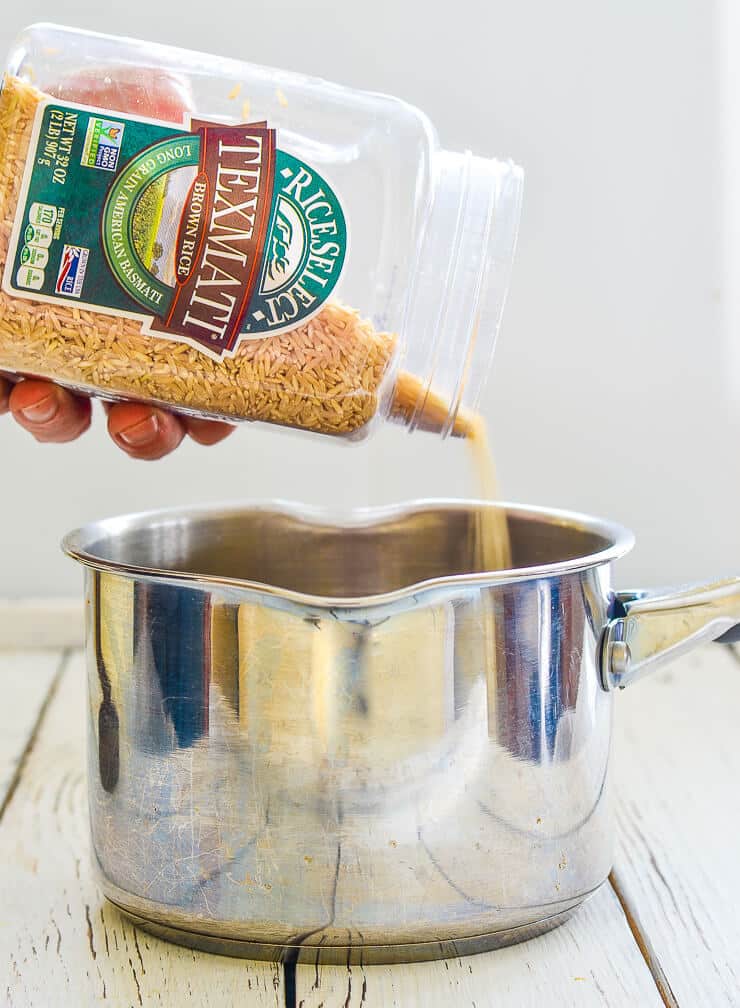 Texmati Brown Rice is an all-natural, whole grain alternative to white rice, and is a perfect choice for healthy lifestyles. With only the inedible husk removed, it is heart-healthy, full of fibre and has a low glycemic index value. Plus, like all RiceSelect products, it has been non-GMO Project Verified.
Aromatic basmati rice has been prized and cultivated for centuries. The grains are longer than regular rice and stay firm and separate after cooking. It also has a lovely popcorn aroma and a delicious flavour.
Forty years ago, RiceSelect introduced Texmati, the first basmati rice to be successfully grown in America. The resulting rice is an especially flavourful, all-natural aromatic rice.  It has a nutty taste and slightly chewy texture, and comes into its own when paired with strong seasonings and sauces like in this Mexican Burgers with Adobo Sauce recipe. It also works brilliantly in stir-fries, soups, fried rice, pilafs and stuffings.
HOW TO MAKE MEXICAN BURGERS WITH ADOBO SAUCE
To make these burgers all you have to do is mash the beans with a potato masher then add all of the other ingredients. Mix it all together well, shape into patties then refrigerate for a little while before cooking. This helps them firm up a bit and ensures they don't fall apart.
Once they are chilled they can either be baked in the oven, cooked in a skillet, or cooked on an indoor griddler. The burgers look really awesome with griddle lines on them! (You can see this in my picture above). They are fabulous in a bun with all the fixings but are also lovely wrapped in crispy salad leaves and dipped into the sauce.
These burgers are easily reheated in the oven but are also wonderful cold. My husband has been enjoying them for a protein filled, healthy snack prior to his long cycling sessions and I have been snacking on them too. They are also great with a big salad for a satisfying meal and are perfect in lunchboxes.
If you give them a try let me know what you think below and share your pictures on Instagram. I would love to see them! I am @avirtualvegan.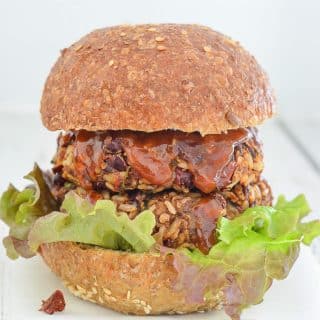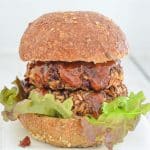 Mexican Burgers with Adobo Sauce
Author:
Where do I even begin with these lip smackingly good Mexican Burgers? They are so incredibly delicious & the sticky, sweet, spicy sauce just takes them OVER the top!
Ingredients
For the burgers
375g | 540ml | 2

slightly heaping cups

kidney beans

, canned or cooked from dry and cooled

1

large

onion

, chopped finely

4

cloves

garlic

, chopped finely

212g | 7.5oz

can

chipotle peppers in Adobo Sauce

, chopped finely, the peppers without the liquid should amount to about ½ cup

250g | 2

cups

cooked Texmati brown rice

, weighed/measured after cooking

45g | ½

cup

ground flax seeds

60g | ½

cup

chopped walnuts

1

teaspoon

salt

1

teaspoon

cumin seeds

, if you don't have cumin seeds you can use ground cumin instead

1

handful

cilantro

2

tablespoons

arrowroot powder

, I haven't tested this recipe with anything else. I am pretty sure corn starch (cornflour if in the UK) will work but it might not hold them together as well as arrowroot does
For the sauce
remaining liquid

from the chipotle peppers can

, there should be a couple tablespoons in there at least. That's all you need to make this sauce awesome. If you have a bit more feel free to add more though

2

teaspoons

arrowroot powder

, or cornstarch (cornflour in the UK)

3

tablespoons

maple syrup

60mls | ¼

cup

water
INSTRUCTIONS
For the burgers
Start by toasting your walnuts gently in a pan for a few minutes over a medium heat. Move them around frequently and keep a watch on them so they don't burn. Once looking golden and smelling toasty, remove from the heat and set aside.

Sauté the onion with a tablespoon or two of water until it is starting to turn golden brown. Add the garlic and cook for another minute or two. Remove from the heat and set aside.

In a large bowl, add the drained kidney beans and mash them with a potato masher. They don't need to be pureed, just smushed up, some more than others is good for texture.

Use a fork and take the chipotle peppers out of the can, leaving as much sauce as you can behind. Chop them finely and add them to the kidney beans. Reserve the liquid for the sauce. Be sure to wash your hands well after handling them.

Add all of the the other ingredients (the walnuts, garlic, onion, rice, flax, spices, arrowroot and cilantro) and stir really well until they are all combined.

Take scoops of the mixture (I used a ¾ cup measure) and squeeze them together into balls REALLY well in your hands. Once in a compressed ball place on some parchment paper on a tray and fatten the tops with the palm of your hand so that they are burger shaped. Smooth around the sides once you have flattened them if any cracks appear. You can make them as thick or thin as you like, mine were about an inch high. Once they are all shaped pop them in the fridge to chill for at least 30 minutes but you can leave them for longer, even up to a few days if they are covered.

Once the burgers have chilled, you can cook them either by using a griddler or a skillet over a medium heat, or bake them in the oven.

If using a griddler with the top down they should take no more than 10 minutes. Keep an eye on them and when they are golden brown and marked up they are done.

If using a skillet cook them for about 5 minutes on each side, or until the outsides are golden and crispy. You can do this in a dry pan or use a little oil if you prefer.

If oven baking, cook them at 400°F for about 25 minutes or until they are piping hot all the way through and crunchy on the outside.
NOTES
The shaped burgers will keep uncooked in the fridge for up to 2 days but keep them covered so they don't dry out. 
Cooked burgers can be kept in the fridge for 2 - 3 days and are really good cold as a snack. They also reheat very well. 
Calories are calculated with sauce 
NUTRITION
Serving:
1
burger
Calories:
350
kcal
Carbohydrates:
51
g
Fat:
12.4
g
Sodium:
892
mg
Fiber:
11.9
g
Sugar:
13
g
Vitamin A:
100
IU
Vitamin C:
4.1
mg
Calcium:
110
mg
Iron:
2.7
mg
Nutritional information is provided for convenience & as a courtesy. The data is a computer generated estimate so should be used as a guide only.
Tried this recipe?
Rate it & leave your feedback in the comments section below, or tag @avirtualvegan on Instagram and hashtag it #avirtualvegan
This is a sponsored conversation written by me on behalf of RiceSelect. I only ever recommend products that I truly enjoy & use myself & the featured recipe, opinions & text are all my own.