Start your day with this nourishing & incredibly delicious Glowing Skin Smoothie. It is packed with antioxidants & will leave you looking & feeling radiant both inside & out!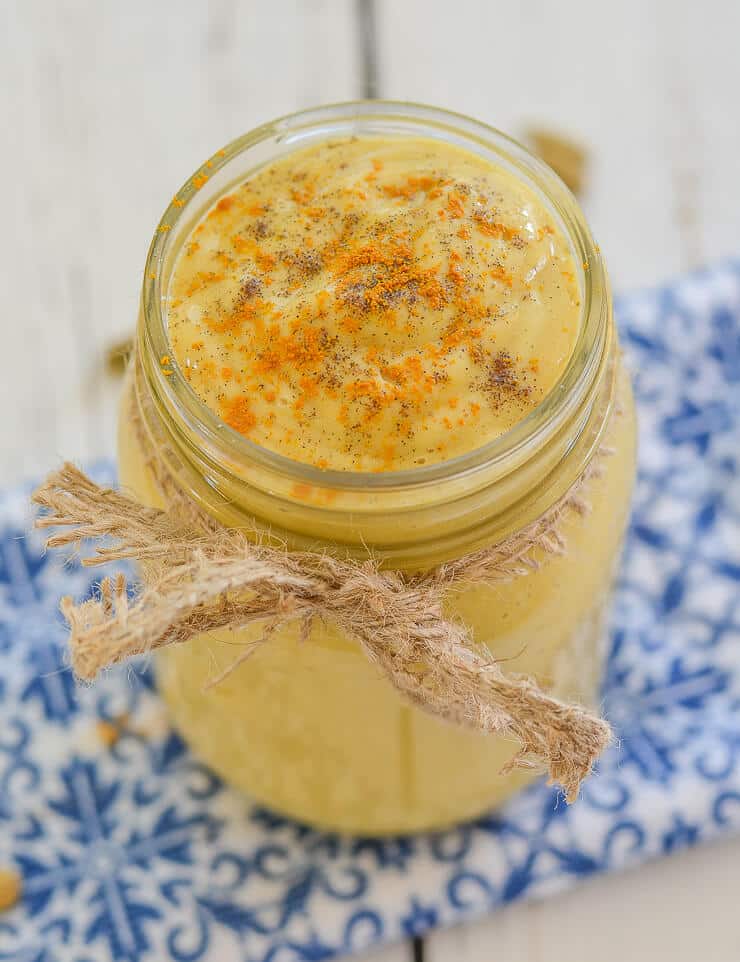 This deliciously nourishing Glowing Skin Smoothie is brought to you courtesy of Zenmed. Read on to get the recipe and find out how you can win your very own package of vegan skin care goodies to help you transition from winter to spring flawlessly! 
Becoming vegan has probably been one of the best things I have ever done for my skin. It was never that great before and tended to be greasy, dull and lacklustre. I also suffered terribly from eczema. After about six months of being vegan my eczema had gone and the skin on my face was clear, bright and healthy looking for the first time ever.
Winter though brings cold temperatures, wind, low humidity and increased air pollution. All of these take their toll on our skin and can make it dry, dull and red. Mine certainly needed some TLC to bring it back to it's pre-winter glory, so when the opportunity to collaborate with Zenmed came up, it was perfect timing. It's fantastic for you guys too because Zenmed are kindly offering an "At Home Spa Day Skin Care Package" to one lucky reader! What's even better is that this giveaway is global. Zenmed will ship this collection of goodies to you wherever you are in the world!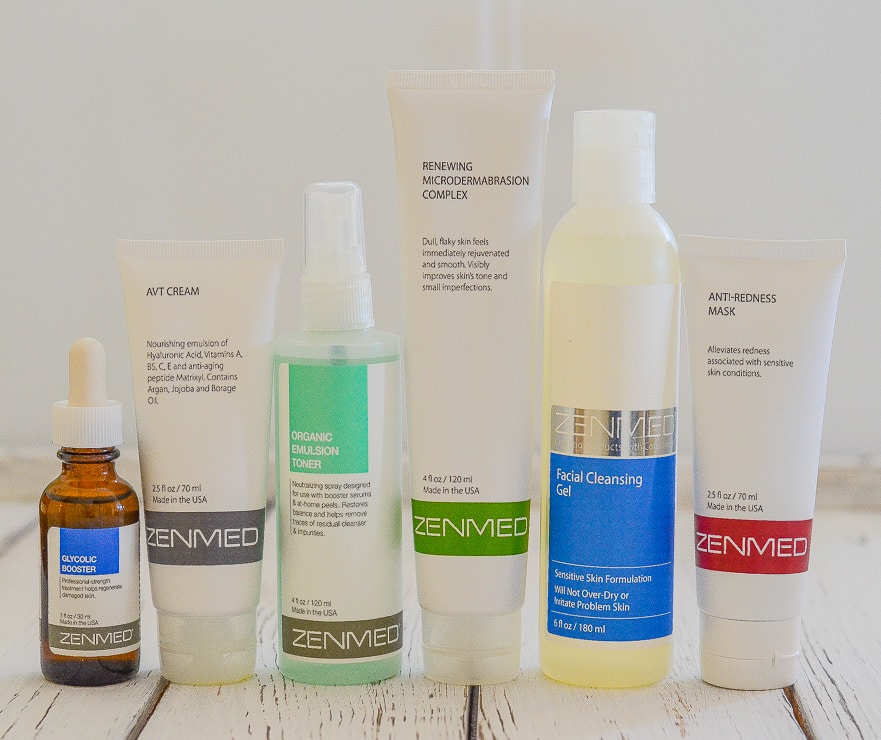 MY THOUGHTS
I have been using the products in the picture for the past couple of weeks and whilst I am probably not the best guinea pig for them as my skin is pretty normal and trouble free, I am the wrong side of forty so have some minor little wrinkles, some red patches where spots used to live and some brown patches, I think probably from sun damage.
They can't be age spots already can they? 😱
Since I have been using the Zenmed products, I have definitely noticed a slight improvement in my skin tone, and I think my wrinkles look a little less noticeable. My little red patches and brown spots appear to have faded slightly too. It's hard to tell for sure as it has only been a relatively short time but I am convinced there is some improvement. You never know, in six months I might even look twenty-one again!😉
THE ZENMED PRODUCTS I HAVE BEEN USING AND THAT ARE INCLUDED IN THE GIVEAWAY ARE:
Facial Cleansing Gel – A cleanser for oily or combination skin that won't strip natural oils needed for healthy skin. Herbal ingredients to calm skin from daily irritants. Great for removing makeup.
Renewing MicroDermabrasion Complex – Intensive clay scrub to eliminate dry, flaky skin and help rub away that dull winter look to reveal a healthy glow. It also smooths skin for flawless makeup application.
Glycolic Booster – Uses Alpha Hydroxy Acid to renew the skin, preventing build-up of dead skin cells that can lead to a dull complexion. It also helps fight wrinkles and improves skin tone.
Organic Emulsion Toner – Neutralizing spray designed for use with serums and at-home peels. Restores skins balance and helps remove traces of residual product and impurities.
Anti-Redness Mask – Herbal nourishing gel mask to calm skin. Ingredients include Green Tea, Cucumber, Chamomile, and Sea Kelp. Great before bed or at the end of a long day.
AVT Cream – Anti-aging moisturizer with skin boosting peptides and healing oils. Skin appears visibly lifted and firmer, more flawless and refreshed with that youthful, healthy glow we all crave.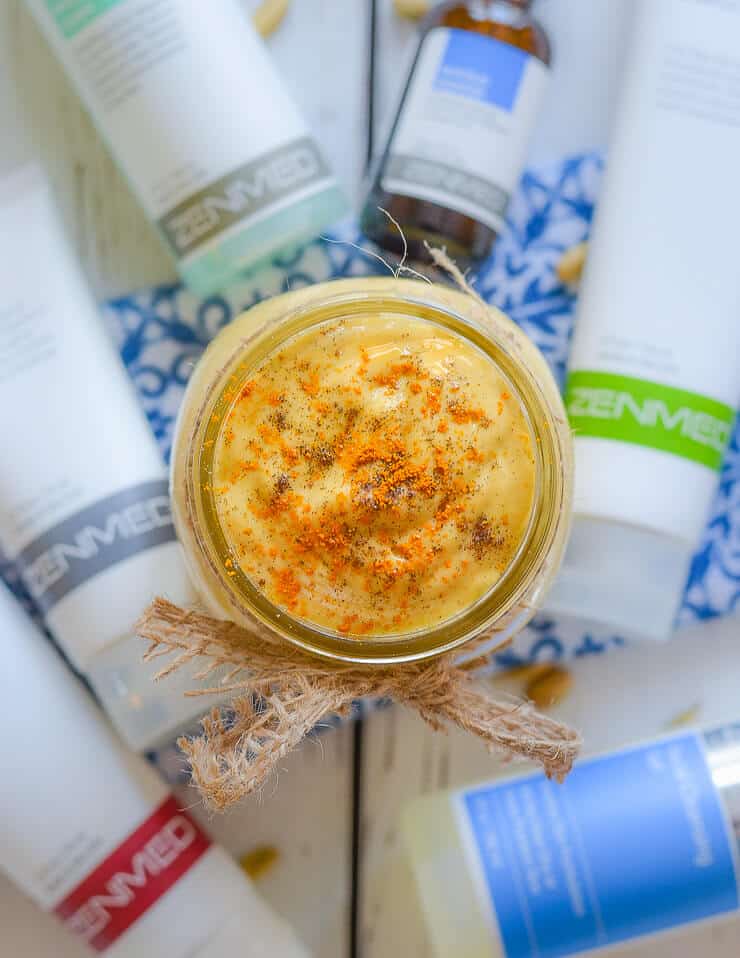 MY FAVOURITES
I particularly like the Renewing MicroDermabrasion complex. It is definitely the most effective scrub I have ever used and leaves my skin feeling amazingly soft. I couldn't stop touching my face after I used it the first time. The AVT cream is another favourite. It is rich but absorbs beautifully with no greasy residue.
CRUELTY FREE & VEGAN
Zenmed are on Peta and Leaping Bunny's approved seller list and whilst their products have always been vegetarian, they recently took steps to remove all animal products so they are now completely vegan and cruelty free. Something else I really love is that they use 100% recyclable packaging and no wasteful cosmetic boxes. Minimal impact on the environment has been their goal from day one and they continue to work on decreasing their environmental footprint everyday.
Zenmed are all about naturally-based skincare with a conscience. They specialize in natural skincare for troubled skin but believe this shouldn't mean straying from a natural, holistic foundation.  All of their products are paraben and sulfate free, their organic ingredients are certified and food grade and each product is developed without synthetic fragrance, irritants, dyes, steroids or other medicated ingredients, making them suitable for use by anyone whether they have troubled skin or not.
Scroll right to the end of the post, under the recipe to enter the giveaway!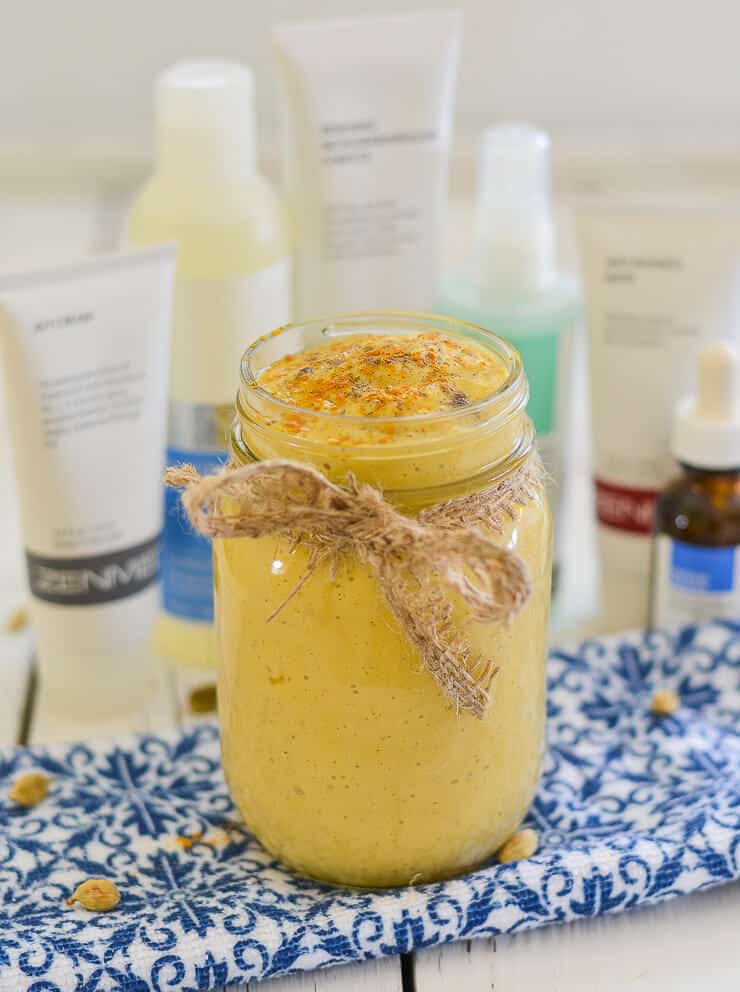 GLOWING SKIN SMOOTHIE
Ok, so now to the Glowing Skin Smoothie recipe. You really are what you eat. Skin cells are constantly being shed and replaced by new ones and the micronutrients in the food you eat help support this process. Eat healthy, nutritious foods and you will give your skin all the nutrients it needs to stay looking healthy.
All of the ingredients in this Glowing Skin Smoothie are beneficial to the skin. They contain a variety of vitamins, minerals, antioxidants and healthy fats which are great for you inside and out. The benefits they bring include increased collagen production, a reduction in inflammation, protection from free radical  and sun damage and reduced toxins in the body through improved digestion.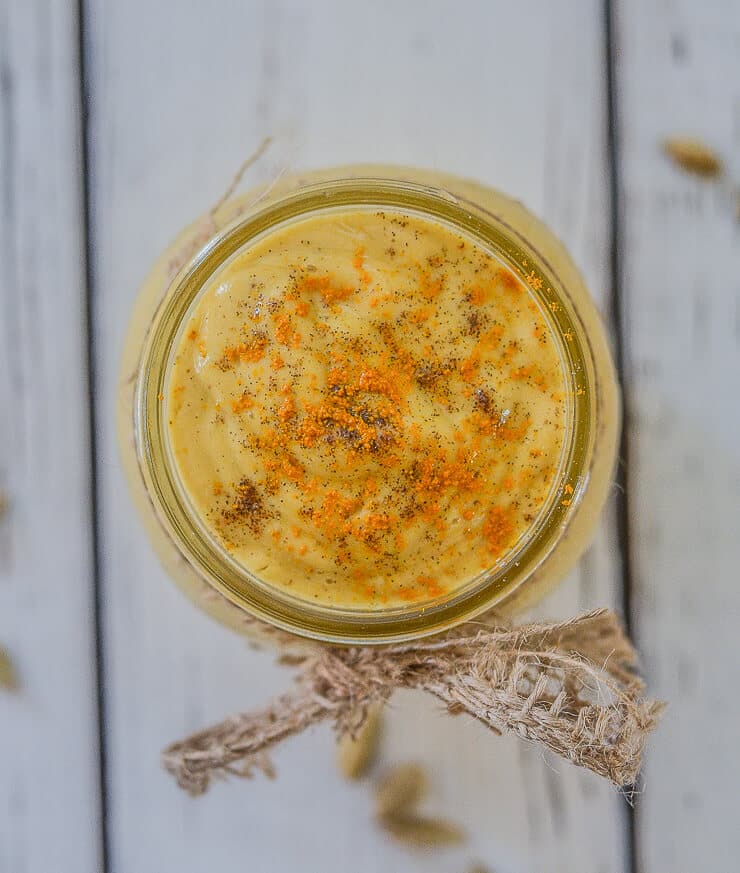 As well as coming with all of these benefits, this Glowing Skin Smoothie tastes great. I have been alternating between this and my Luscious Lemon Cheesecake Smoothie for the past week or so and they are both up there as my favourite smoothies of all time.
In this smoothie the combination of sweet fruit, creamy cashew nuts and fragrant spices is so good. The vanilla, cardamon, turmeric and ginger work so well with the banana and mango and really make it something special.
If you give it a try be a ☆ and let me know what you think in the comment below and don't forget to scroll down below the recipe to enter the giveaway. And remember, with this one it doesn't matter where you are in the world because Zenmed ship globally!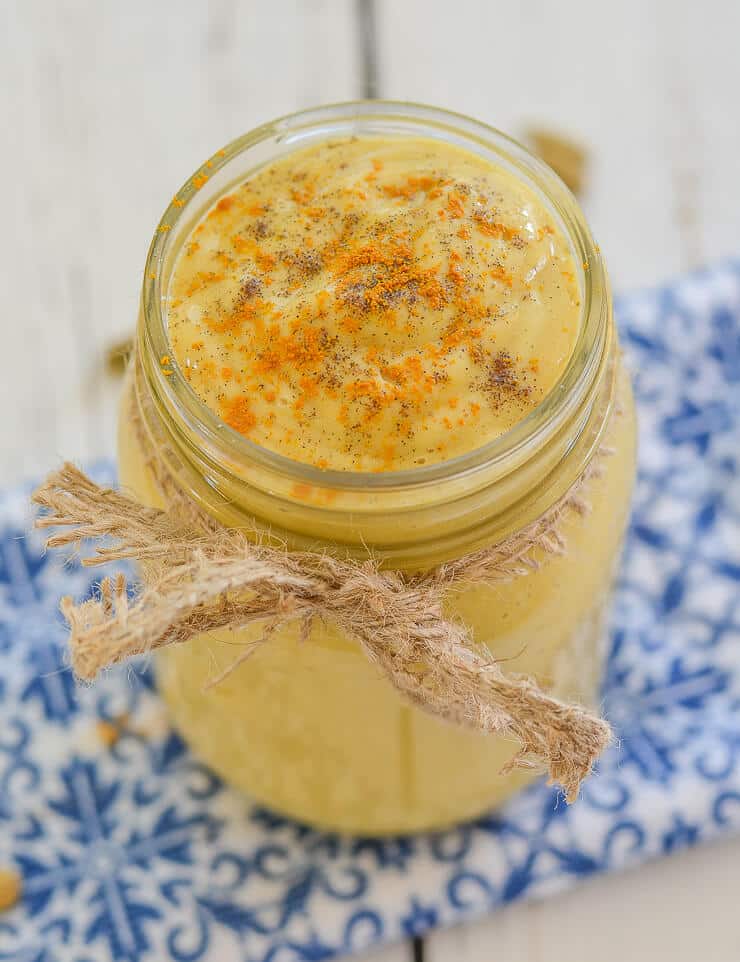 Glowing Skin Smoothie
Start your day with this nourishing & incredibly delicious Glowing Skin Smoothie. It is packed with antioxidants & will leave you looking & feeling radiant both inside & out.
Servings
2
cups | around 500mls
Ingredients
¼

cup

cashew nut pieces or 1 very heaping ¼ cup of whole ones

about 38g

1

cup | 240mls

water

1

medium banana

1

very heaping cup frozen mango pieces

around 140g, see recipe notes if you only have fresh mango

⅛

teaspoon

vanilla bean powder

or ½ teaspoon vanilla extract

½

teaspoon

ground cardamon

¼

teaspoon

ground turmeric

⅛

teaspoon

ground ginger

or a small piece of fresh ginger

1

tablespoon

of maple syrup or 1 large medjool date
Instructions
If you do not have a

high powered blender

soak the cashew nuts for 15 minutes in boiling water or for 2 hours in cold water (this method will preserve the nutrients) then drain.

Add the cashew nuts to a blender with the water and blend until smooth. You just made cashew milk!

Add the rest of the ingredients and blend again until smooth.

Serve with an optional sprinkle of cardamon and turmeric to make it look pretty!
Recipe Notes
If you only have fresh mango you can use that instead but switch the banana for a frozen banana.
Nutrition Facts
Glowing Skin Smoothie
Amount Per Serving (1 serving)
Calories 432
Calories from Fat 142
% Daily Value*
Total Fat 15.8g 24%
Sodium 17mg 1%
Total Carbohydrates 70g 23%
Protein 8.7g 17%
* Percent Daily Values are based on a 2000 calorie diet.
ENTER THE GIVEAWAY HERE!
This post was sponsored by Zenmed but the content & opinions expressed are my own.