Vegan Granola is super easy to make and so much cheaper to make at home than it is to buy readymade. Enjoy this oil-free granola for breakfast or snacks with dairy-free yogurt, a splash of cold plant-based milk, or just eat it by the handful!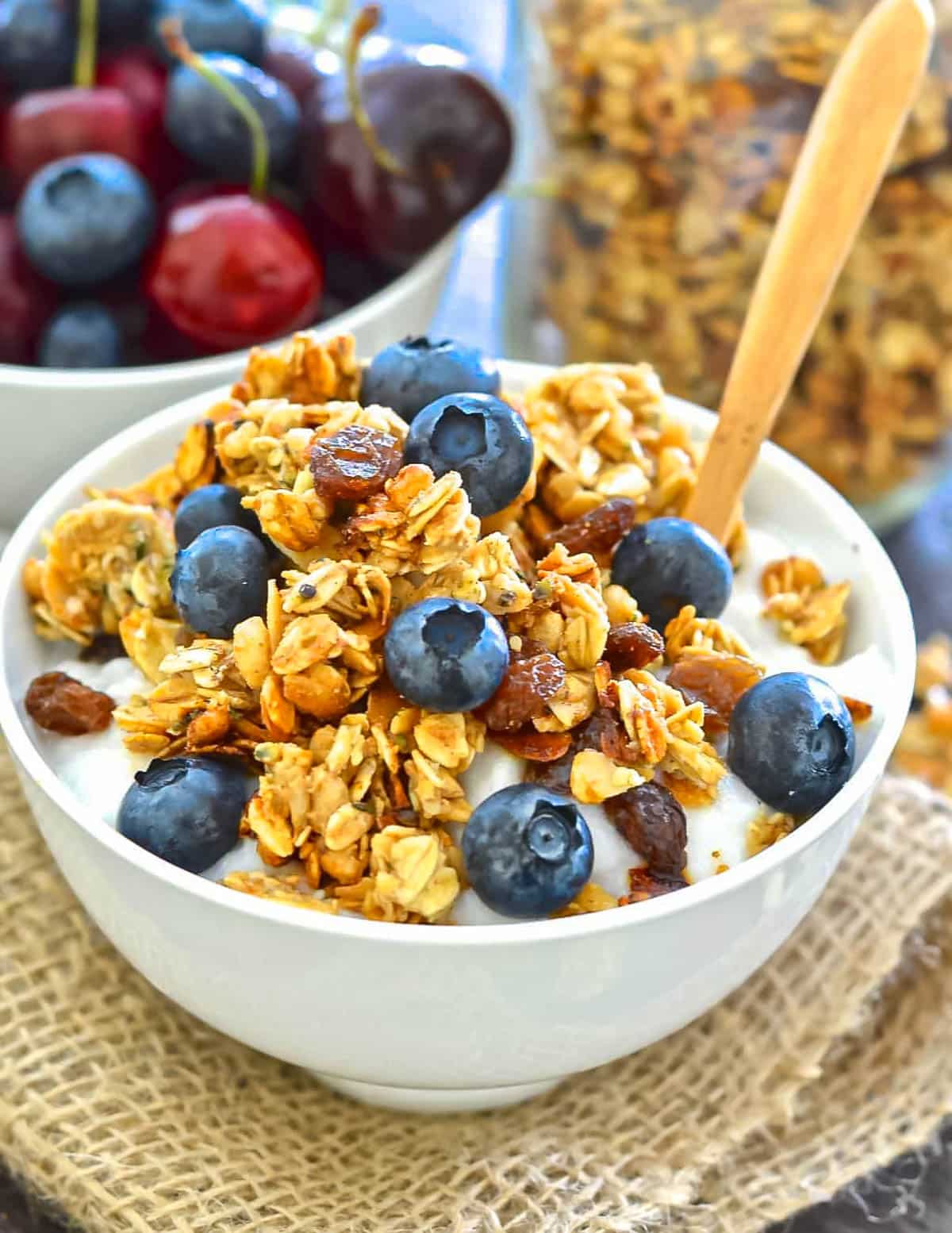 Vegan granola makes a wonderful breakfast or snack and it's so ridiculously quick and easy that I honestly don't know why we aren't all making it instead of buying it. Storebought granola is expensive too. You can definitely save yourself some dollar bills if you make it yourself and it's so good for meal prep because it lasts for weeks and weeks in an airtight container.
We're talking gorgeous clusters of crunchy, oaty, oil-free granola wholesomeness. that is so good with a huge dollop of creamy vegan yogurt or a splash of ice-cold plant cashew milk. Maybe a tumble of fresh berries or sliced banana too?
Jump to:
Is granola vegan friendly?
Storebought granola can be a bit hit and miss. Some are vegan and some aren't. Honey is the most common non-vegan ingredient you see but there can also be milk and butter, so be sure to keep an eye out for it while checking. Always be sure to check the labels carefully before purchasing it, or just make your own vegan, honey-free and dairy-free granola then you don't have to worry!
Ingredient notes
The great thing about making your own vegan granola at home is that it is so flexible. Keep the base recipe as it is and add whatever nuts, seeds, dried fruits, flavourings and spices you like. Just keep the total quantities roughly the same and you'll be golden.
Here's what we've got going on in this super tasty, oil-free granola:
Oats - The main ingredient. Heart-healthy and super filling. Rolled oats or old-fashioned oats are the best types to use for granola. Don't use quick oats or steel-cut oats. Quick oats are too small and dusty and steel-cut oats too hard and chewy. Use certified gluten-free oats to keep this recipe gluten-free.
Nuts and/or seeds - The beauty of homemade granola is the ingredients are so flexible. Use any raw nuts or seeds you like. They must be raw because they are being baked and could end up bitter or too dark if they aren't. You can use almonds (whole or slivered), walnuts, pistachios, cashews, pecans, peanuts etc. A combination of a few different kinds or just one. Whatever you like best or already have at home. Sunflower seeds and pumpkin seeds are great in granola, as are hemp seeds. Use a combination of nuts and seeds, or use all nuts or all seeds. Whatever works best for you!
Puffed rice - This ingredient is entirely optional but highly recommended! It's not something you see in many granola recipes, but it's something that I always, without fail, add to my granola. It provides even more texture to the granola and really makes it special. It's light, delicate and crunchy, with a different mouthfeel to everything else. Try it once and you'll be hooked! I use Nature's Path Rice Puffs which are easily available in a lot of grocery stores.
Nut or seed butter - For flavour, it's sticking power, and healthy fats. This is an oil-free granola recipe so the fat from nut or seed butter is necessary. It is what helps clump our granola and make it taste extra delicious too. If you are nut-free, use a seed butter like Sunbutter or pumpkin seed butter.
Syrup - Either maple syrup or brown rice syrup. Don't use pancake syrup! I prefer to use brown rice syrup when I make granola. It is really thick and sticky and will give you nice, big, chewy, clumps. If you use maple syrup your granola won't be as clumpy. Most stores carry Sweet Dreams Brown Rice Syrup. You'll usually find it in the baking aisle near the molasses.
Salt, cinnamon, vanilla - For flavour! Instead of cinnamon you could add pumpkin spice, ground ginger or a pinch of cardamom. You can even add a couple tablespoons of cocoa powder for a chocolate-y effect.
Mix-ins - Any dried fruit you like or chocolate chips and even some coconut flakes. Or a mix of all of them. Use your favourite or what you have already at home. These get added right at the end after baking. Dried fruit can get really unpleasantly chewy if you bake it with the other granola ingredients, and obviously chocolate chips would melt.
How to make vegan granola
Making your own delicious and crunchy vegan granola is really quick and easy. Here's how it's done:
Step 1 - Mix the oats, puffed rice, nuts and seeds together in a large bowl.
Step 1 - Mix the nut butter, syrup and spices together in another bowl.
Step 3 - Pour the wet mixture into the dry mixture and stir to combine.
Step 4 - Spread out on a lined baking tray and bake.
Step 5 - Allow to cool completely then crumble up into clusters.
Success tips
For the very best results when making this recipe follow these tips:
Make sure you line your baking tray. This granola will stick like crazy if you don't.
Don't spread the granola out on the baking tray too thick or the underneath won't crisp up. It should be about ¾ inch thick and no more.
Pack the granola down hard into the tray after stirring halfway through cooking time. This helps produce great big clumps.
Use the bottom rack of your oven so the granola is closest to the heat. This helsp it crisp up more.
Make sure you allow the granola to cool completely on the tray before breaking it up. It's even fine if you leave it overnight. Just cover it gently with a clean dish towel.
To store
Once the vegan granola has completely cooled, break it up and store it in an airtight container. I find glass jars keep it freshest. It should keep well for up to 2 months. Because it stores so well it is great for gifting.
Serving suggestions
When you're not snacking on it by the handful, try serving crunchy vegan granola:
scattered over creamy vegan yogurt with some berries or other chopped fruit
in a bowl with a splash of ice-cold plant milk of choice
as a topping on smoothie bowls, nice cream, oatmeal, chia pudding or ice cream
with stewed fruit, grilled nectarines, baked apples or baked sweet potatoes
in a parfait
Recipe FAQs
Can I make vegan granola nut-free?
Yes, this recipe can easily be made nut-free. Use seed butter instead of nut butter and use seeds and/or more dried fruit instead of nuts.
Can you freeze vegan granola?
I wouldn't recommend freezing granola. It keeps for months if you store it correctly anyway so there's really no need and freezing it then defrosting it will affect the texture.
Recipe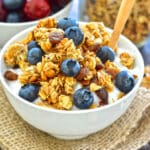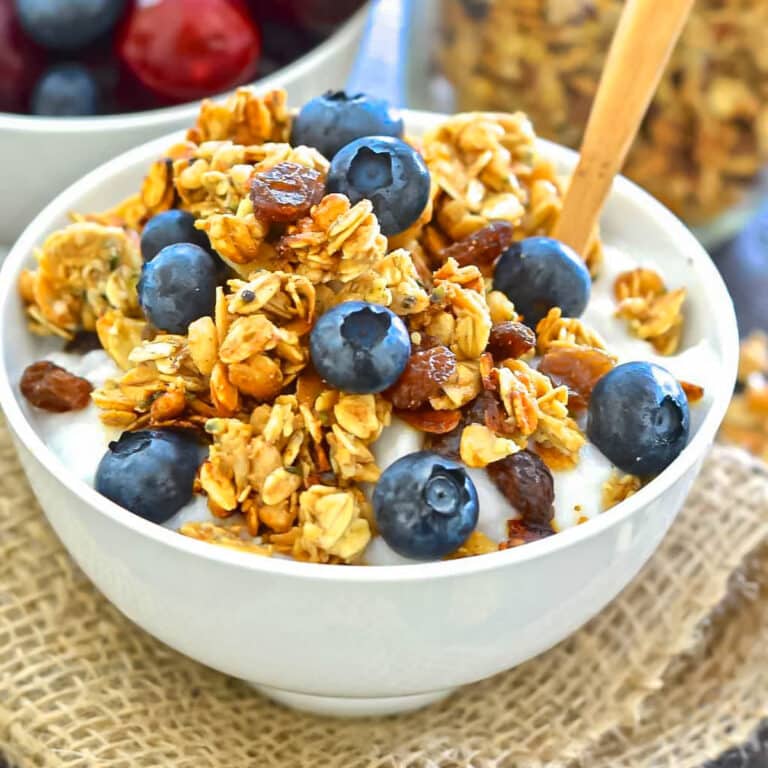 Vegan Granola
Author:
Vegan Granola is super easy to make and so much cheaper to make at home than it is to buy readymade. Enjoy it for breakfast or snacks with dairy-free yogurt, a splash of cold plant-based milk, or just eat it by the handful!
Ingredients
2 cups (180

grams)

rolled or old fashioned oats

, use certified gluten-free for gluten-free granola

1 cup (85

grams)

raw nuts of choice

, almonds, pecans, walnuts etc (or more pumpkin or sunflower seeds for nut-free)

½ cup (80

grams)

shelled pumpkin, sunflower or hemp seeds

, or a mix of all 3

½ cup (25

grams)

puffed rice (optional)

(adds fantastic texture - If you don't use it make up the quantity with more oats, nuts or seeds)

6

tablespoons

creamy nut or seed butter of choice

¾ cup (180

mls)

brown rice syrup or maple syrup

, brown rice syrup will give you bigger clusters

½

teaspoon

fine sea salt

, note that if you use iodized (table) salt instead, you will need to use less

1

teaspoon

ground cinnamon

1

teaspoon

vanilla extract

1

cup

dried raisins, sultanas, cranberries, tart cherries or chocolate chips

, or any other dried fruit (chopped if it's something like apricots or dates)
INSTRUCTIONS
Preheat oven to 350°F (175 °C), and position an oven shelf on the lowest level.

Line a large baking tray with parchment paper or a silicone baking mat.

To a large bowl, add the oats, nuts, seeds and optional puffed rice. Stir to combine.

To a medium bowl, add the nut/seed butter, syrup, salt, cinnamon and vanilla. Whisk together to combine.

Pour the wet mixture into the oaty mixture and stir together really well with a wooden spoon or spatula until everything is combined, damp and sticky.

Tip onto the prepared tray and spread out evenly so it's about 3/4 inch deep.

Bake on the lowest oven shelf for 10 minutes then remove from the oven and stir it up with a spatula so it cooks evenly. When you've finished stirring it, press it down all over hard with the spatula or the bottom of a mug. This helps stick it together and will form lovely big clumps when you crumble it later.

Return to the oven and bake for another 10 to 15 minutes or until golden on top and smelling toasty.

Remove from the oven and sprinkle the dried fruit/chocolate chips over, then let it cool down completely on the tray. The granola will harden as it cools.

Using your hands, break the granola up into chunky pieces and transfer it to an airtight container. It will keep for 6 to 8 weeks.
NUTRITION
Serving:
0.5
cup
Calories:
250
kcal
Carbohydrates:
35
g
Protein:
8
g
Fat:
13
g
Saturated Fat:
2
g
Polyunsaturated Fat:
6
g
Monounsaturated Fat:
4
g
Sodium:
140
mg
Potassium:
325
mg
Fiber:
4
g
Sugar:
10
g
Vitamin A:
3
IU
Vitamin C:
1
mg
Calcium:
43
mg
Iron:
3
mg
Nutritional information is provided for convenience. The data is a computer generated estimate and should be used as a guide only.
Tried this recipe?
Rate it & leave your feedback in the comments section below, or tag @avirtualvegan on Instagram and hashtag it #avirtualvegan
This recipe was originally published on July 12th, 2016 and has since been updated, renamed and republished. The recipe has been tweaked a bit but remains very similar to the original. I hope you enjoy it. Thank you for following A Virtual Vegan!