Energy-boosting, healthy & oil-free, this Vegan Almond Hemp Granola makes a fantastic breakfast or snack. Great served with yogurt & fresh fruit or a splash of cold plant-based milk, or even by the handful!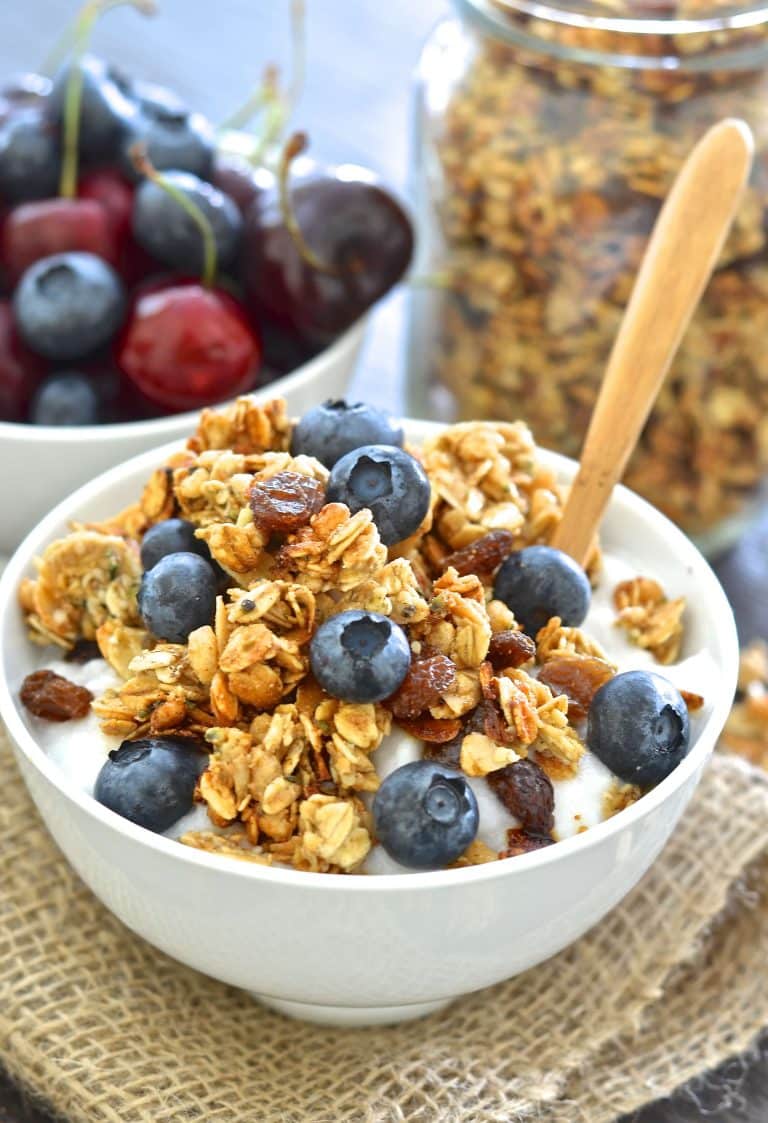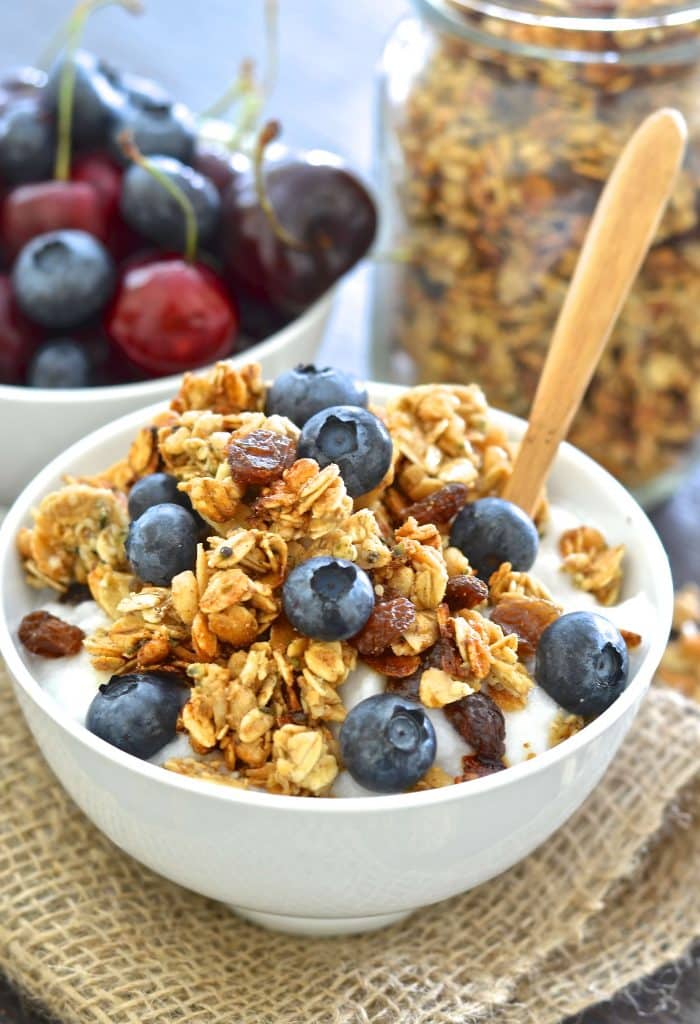 I am so late writing this post. I honestly don't know where my time has gone over the past few days. I usually have my posts all ready and scheduled out at least the night before but not this time. I'm now sat in my pyjamas at stupid o'clock typing this, with a bowl of Vegan Almond Hemp Granola on the side to see me through. If you are on my mailing list you will be getting this sent to you a little later in the day than usual and that is why.
And I do apologize for giving you visions of me in pyjamas first thing in the morning. It's not a pretty sight.....
It couldn't be more appropriate that I am eating this Vegan Almond Hemp Granola as I write. It makes such a wonderful breakfast. I love it served with my vegan yogurt recipe and fresh berries, or with a splash of very cold homemade cashew milk. It's also wonderful with stewed apple, on smoothie bowls or scattered liberally over banana nice-cream.
It makes an awesome snack by the handful too.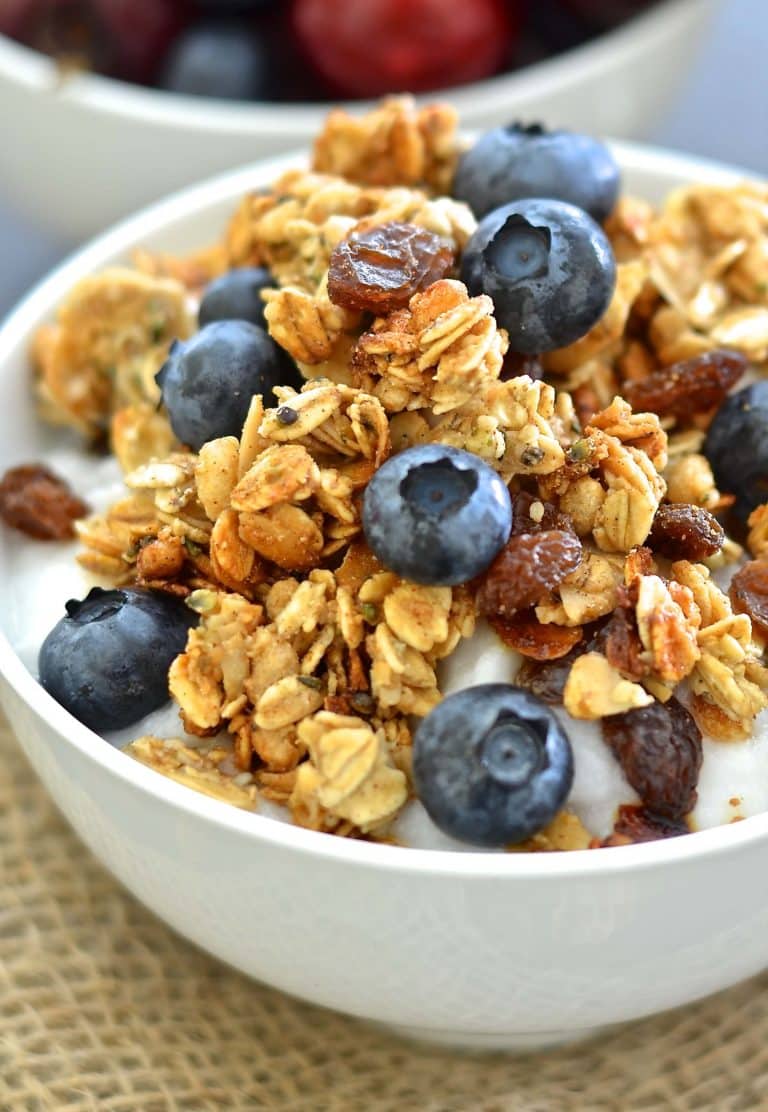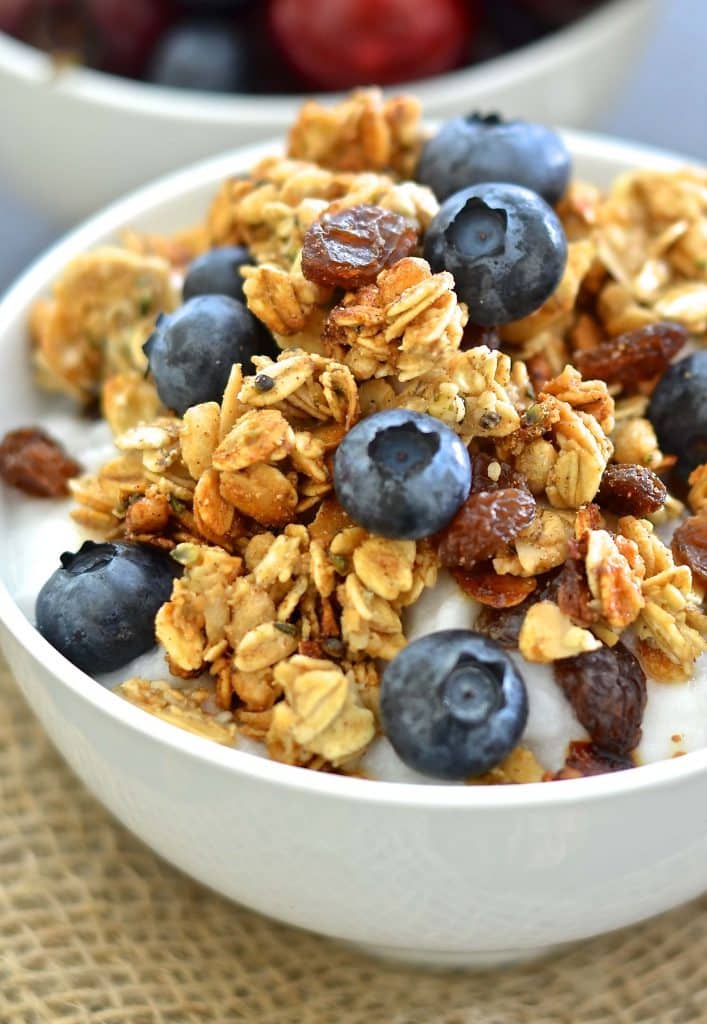 I published my Double Chocolate Coconut Vegan Granola recipe a few months ago and it has been really popular so I thought I would follow it up with another flavour profile that doesn't involve chocolate.
I love to eat chocolate no matter what time of day it is but I realize that some people don't. For those of you who fall into that category, and for those of you that just love granola regardless of what flavour it is, I created my Vegan Almond Hemp Granola.
This granola is crunchy, slightly chewy and has such a lovely toasty flavour. The main ingredients are the obligatory oats, almonds, hemp seeds and puffed rice which I love to add to my granola for the added texture and crunch. What makes this granola really special though is the cinnamon and cardamon. There might not be much, but it totally lifts the flavour and makes the granola super delicious.
As well as being full of flavour, it has real staying power thanks to its nutrient packed ingredients. It really keeps you feeling full for ages and is fantastic fuel for a busy day.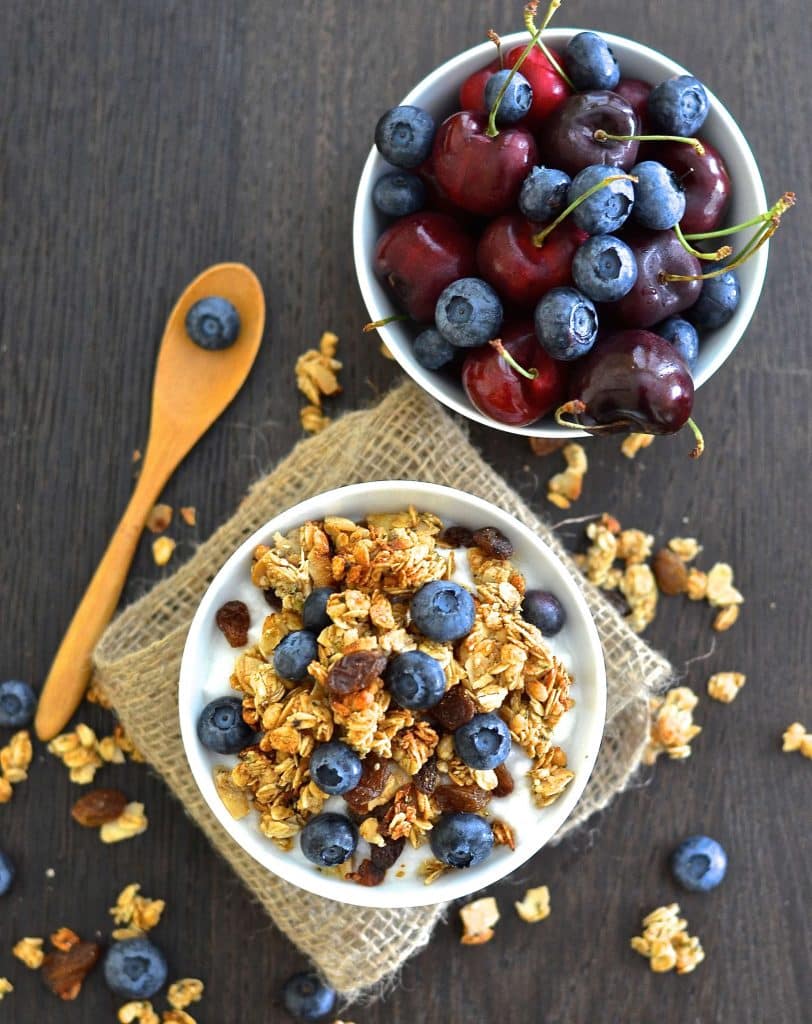 IS HEMP SEED HEALTHY?
As you probably already know, oats are incredibly beneficial to your health, but add to them the power of hemp seeds and you give yourself a real boost.
Hemp seeds are a fantastic source of omega-3 and omega-6 fatty acids, gamma linolenic acid, fibre and phytonutrients and they are a complete protein. They are great for regulating hormones, digestive health, heart health and for easing arthritis and joint pain. They are also a fabulous option if you are dealing with nut allergies as they have a nutty flavour and texture. They can even be used as a substitute for cashew nuts in dairy-free blended creams and sauces.
NUTS NOT FOR YOU?
If nut allergies are an issue for you, it is possible to sub the almonds in this recipe for something else. More oats, more hemp, sunflower seeds or pumpkin seeds would all be good. The cashew butter can also be subbed for sunflower seed butter which is pretty widely available in grocery stores.
If you give this Almond Hemp Granola a try please let me know what you think in the comments below. Leaving comments is not only helpful for me, it also helps other readers make informed decisions about what recipes to try next and helps to build a bit of a community feel to the blog which is nice. Don't forget too that you can share pictures of this or any other of my recipes on Instagram. I am @avirtualvegan and you can use the hashtag #avirtualvegan. I love to see them!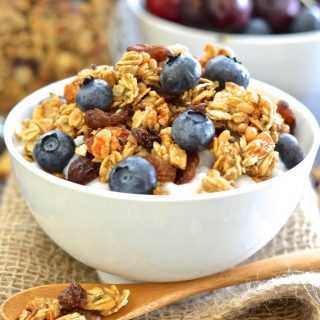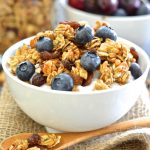 Vegan Almond Hemp Granola
Author:
Energy boosting, healthy & oil-free, this Almond Hemp Granola makes a fantastic breakfast or snack. Great served with yogurt & fresh fruit or a splash of cold plant-based milk, or even by the handful!
Ingredients
180g | 2

cups

rolled oats

80g | 1/2

cup

hemp seeds

(if you don't have hemp seeds you could use sunflower seeds instead)

25g | 1/2

cup

puffed rice

(optional but adds a lovely crunch - If you don't use it make up the quantity with more oats, almonds or hemp seeds)

85g | 1

cup

flaked almonds

(see recipe notes for nut free option)

4 tablespoons | 1/4

cup

cashew butter

(almond butter would work too - see recipe notes for nut free option)

120mls | 1/2

cup

brown rice syrup

(you can sub this for maple syrup but you won't get quite the same chewy, crunch)

60mls | 1/4

cup

maple syrup

(only to be used if you use brown rice syrup.If you subbed maple syrup for brown rice syrup above then you don't need this extra maple syrup)

1/2

teaspoon

salt

1

teaspoon

ground cinnamon

1/2

teaspoon

ground cardamon

1

cup

raisins
INSTRUCTIONS
Preheat oven to 350°F

Add the oats, hemp, puffed rice and almonds to a large bowl and stir to combine.

Add the cashew butter, rice syrup, maple syrup, salt, cinnamon and cardamon to a small pan and warm gently, stirring occasionally until it has liquified and is smooth.

Remove from the heat and pour into the oat mixture.

Stir really well until all of the dry ingredients are coated well.

Tip onto the prepared tray and spread out evenly so it's no more than about 3/4 inch deep.

Bake for 10 mins then remove from the oven and stir around.

Return to the oven and bake for another 10 minutes.

Remove from the oven and sprinkle the raisins over it, then let cool completely on the tray.

It will harden as it cools. Break up into chunks and transfer to an airtight container. If you like big clumps be very gentle with it.

It will keep for a couple of weeks.
NOTES
You can make this recipe nut free by substituting sunflower seed butter for the cashew butter and more oats, hemp seeds, or sunflower seeds, pumpkin seeds, or a combination of those for the almonds.
NUTRITION
Serving:
1
servings
Calories:
279
kcal
Carbohydrates:
42
g
Protein:
7
g
Fat:
10
g
Sodium:
125
mg
Fiber:
5
g
Sugar:
20
g
Vitamin A:
150
IU
Vitamin C:
0.8
mg
Calcium:
60
mg
Iron:
2.5
mg
Nutritional information is provided for convenience & as a courtesy. The data is a computer generated estimate so should be used as a guide only.
Tried this recipe?
Rate it & leave your feedback in the comments section below, or tag @avirtualvegan on Instagram and hashtag it #avirtualvegan