WARNING! This seriously Fiery Habanero Hot Sauce is not for the faint-hearted! Get past the heat though & you will find that it has a depth of flavour that a lot of hot sauces don't. It has plenty of zing, a bit of tang & hints of sweet red pepper & maple. Are you brave enough?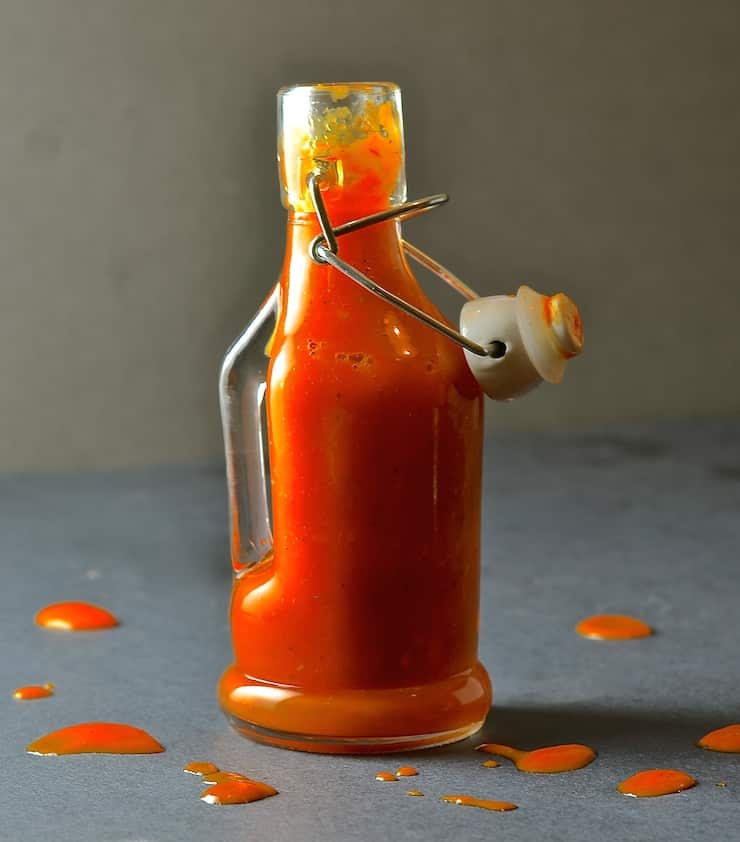 This post contains affiliate links. Read my disclosure policy here.
It is International Hot & Spicy Food Day tomorrow and here is my contribution. I don't go by half measures. This Fiery Habanero Hot Sauce is HOT.
I am a massive spicy food fan. I use a lot of hot sauce but the one I like most from my local farmer's market is nearly $9 a bottle. It is delicious but with the way we go through it, I decided that it was time to come up with my own version and I couldn't have timed it better.
My first few attempts didn't go too well. They were far too hot.
Incredibly and inedibly hot.
My lips and tongue were numb for hours after trying them and I couldn't find anyone brave enough to stand in for me as taste tester.  I had to carry on my mission alone.
It was a difficult process as obviously hot sauce needs to be hot but not so hot that it burns the top layer off your tongue!
HOW IS THE CHILI PEPPER HEAT SCALE MEASURED?
The heat of chili peppers or products derived from chili peppers, is measured with the Scoville Heat Scale.
The scale is named after William Scoville who developed the test in 1912 and works by measuring the level of the chemical compound capsaicin.
Until recently, extract from the pepper was continually diluted until it was no longer detectable to the people tasting it. The final amount of dilution gave the pepper its measure on the Scoville scale. Now a more modern method of measuring the heat is utilized and this is called high-performance liquid chromatography (HPLC). Peppers are dried then ground up then water is filtered through. A machine is then use to measure the heat. This method is of course much more accurate than relying on human taste buds.
I love this humorous article written by Anna Maria Barry-Jester called "Rating Chili Peppers On A Scale Of 1 To Oh Dear God I'm On Fire".
It goes into a lot more depth about the whole subject and is a good read.
Habaneros, as used in my Fiery Habanero Hot Sauce, have a Scoville rating of between 100,000 - 350,000. They are up there with the wonderful Scotch Bonnets which are another of my favourites. Compare this to the very popular Jalapeño pepper which has a Scoville rating of only 3,500-8,000. A significant difference, but although very hot, this Fiery Habanero Hot Sauce has a great depth of flavour. It's not all about the heat. You get the fiery heat first, then a sharp tang from the vinegar, combined with hints of sweet red pepper and maple. It will make the perfect addition to your dinner table.
HOW TO MAKE HOT SAUCE
---
FOR INGREDIENTS & FULL INSTRUCTIONS PLEASE SEE THE RECIPE CARD AT THE END OF THIS POST
---
Making your own Hot Sauce is really quite simple.
My recipe is a little different to most in that I like to add some onion and bell peppers for extra depth of flavour.
Here's how I make it:
STEP1
Sauté the chili peppers with the bell peppers and onions.
STEP 2
Blend the sautéed peppers and onion with the remaining ingredients.
I love my Blendtec for recipes like this.
STEP 3
Decant into bottles.
It's that easy!
WHERE DID I BUY MY LITTLE SWING TOP BOTTLE?
I get asked all the time where I got the little swing top bottle my hot sauce is in in my photograph. It came from a store called Canadian Tire and it was only a couple of dollars.
If you aren't in Canada though, I found some similar looking ones on Amazon which you can find here.
They will be really handy for storing all kinds of homemade sauces or for making a big batch of this Fiery Habanero Hot Sauce.
If you like a bit of spice in your life then you need to try this Fiery Habanero Hot Sauce recipe soon!
It is so incredibly cheap to make and lasts in the fridge for ages and ages.
You can use it in so many ways. My favourite way to eat it is drizzled on avocado toast. I also love it with rice dishes like my One Pot Spicy Rice, in salad dressings, swirled into soups, in hummus or guacamole and with crispy tofu.
It also makes a fabulous gift for that hot sauce lover in your life.
Give it a try soon!
---
DID YOU MAKE THIS RECIPE?
If you did, be a ☆ and let me know what you think by rating it and commenting below. Tag me on Instagram too. I am @avirtualvegan and my hashtag is #avirtualvegan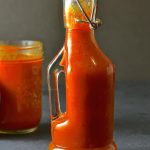 Fiery Habanero Hot Sauce
Author:
WARNING! This seriously Fiery Habanero Hot Sauce is not for the faint hearted! Get past the heat though & you will find that it has a depth of flavour that a lot of hot sauces don't. It has plenty of zing, a bit of tang & hints of sweet red pepper & maple. Are you brave enough?
Ingredients
1

teaspoon

oil

, any neutral tasting oil (use a tiny drop of water instead to keep the recipe oil-free)

6

habanero peppers

(mine were about walnut in shell kind of size)

2

large red bell peppers

120mls / ½

cup

distilled white vinegar

½

medium onion chopped roughly

2

fat cloves of garlic chopped roughly

180mls / ¾

cup

water

2

tablespoons

maple syrup

¼

teaspoon

salt
INSTRUCTIONS
Remove the seeds from the bell peppers and chop into chunks.

Cut the habeneros in half and remove the seeds

Over a medium heat warm a pan with the oil ( or a tablespoon of water to keep the recipe oil-free), then sauté the onions and bell peppers for a few minutes until beginning to soften. Add the habeneros and garlic and sauté for a little while longer until soft and slightly caramelized. Make sure you have a window or door open and an extractor fan on if you have one, to ventilate your kitchen. When the habaneros start cooking you will get chili pepper fumes which might make you cough a bit or make your eyes smart.

Turn off the heat and transfer to a

blender.

Add the remaining ingredients to the blender, adding just enough water to get it to the thickness you like. everyone likes their hot sauce different thicknesses so add enough to suit you. It's best to do it gradually though and blend in between so you don't accidentally add too much.

Blend until completely smooth.

If you do not have a high powered

blender

you may find some pieces of pepper skin floating about. If these bother you then just strain the sauce through a sieve.

Decant into bottles or jars and store in the fridge. I didn't bother sterilizing my jars/bottles as I know I use my hot sauce quite quickly. If you want it to keep for a long time then it would probably be wise to sterilize your jars first. It should then keep well for a few months.
NOTES
The amount of water you add is totally up to you. More water and you will get a thinner sauce, less water and your sauce will be thicker. If you add the amount of water exactly as specified the sauce will be quite thin, like Frank's Hot Sauce kind of thickness.
NUTRITION
Serving:
1
tablespoon
Calories:
12.5
kcal
Carbohydrates:
2
g
Protein:
0.1
g
Fat:
0.2
g
Sodium:
25
mg
Fiber:
0.3
g
Sugar:
1.5
g
Vitamin A:
300
IU
Vitamin C:
19.8
mg
Nutritional information is provided for convenience & as a courtesy. The data is a computer generated estimate so should be used as a guide only.
Tried this recipe?
Rate it & leave your feedback in the comments section below, or tag @avirtualvegan on Instagram and hashtag it #avirtualvegan