Easy, fluffy, super yum and wholesome Vegan Zucchini Bread. The batter is perfectly spiced and loaded with shredded zucchini, golden raisins and walnuts. It makes the perfect snack, breakfast or even dessert!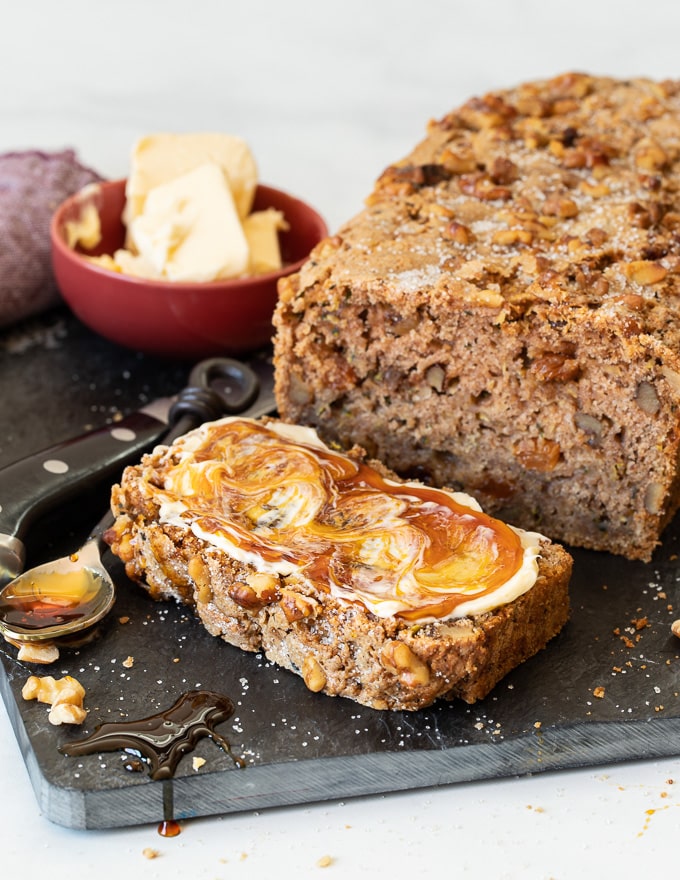 Move over my Best Vegan Banana Bread, because there is a new loaf in town. Vegan Zucchini Bread, is here to steal the show. And when I say 'bread" I really mean "cake" but cooked in a loaf pan.
Zucchini are in season so it had to be done. And if you're confused about zucchini being put into cake, I get you, but just like carrots work in vegan carrot cake, zucchini works in this. More than works in fact.
It is super yum and doesn't taste in the slightest vegetable-y, or even healthy. It just tastes like moist, sweet, deliciously spiced cake that is soft, fluffy and hearty all at the same time.
So good, but taken WAY over the top with a big schmear of Vegan Butter and a dribble of vegan honey. I am a sucker for Bumblebloom (not sponsored, but well worth picking up if you can find some!)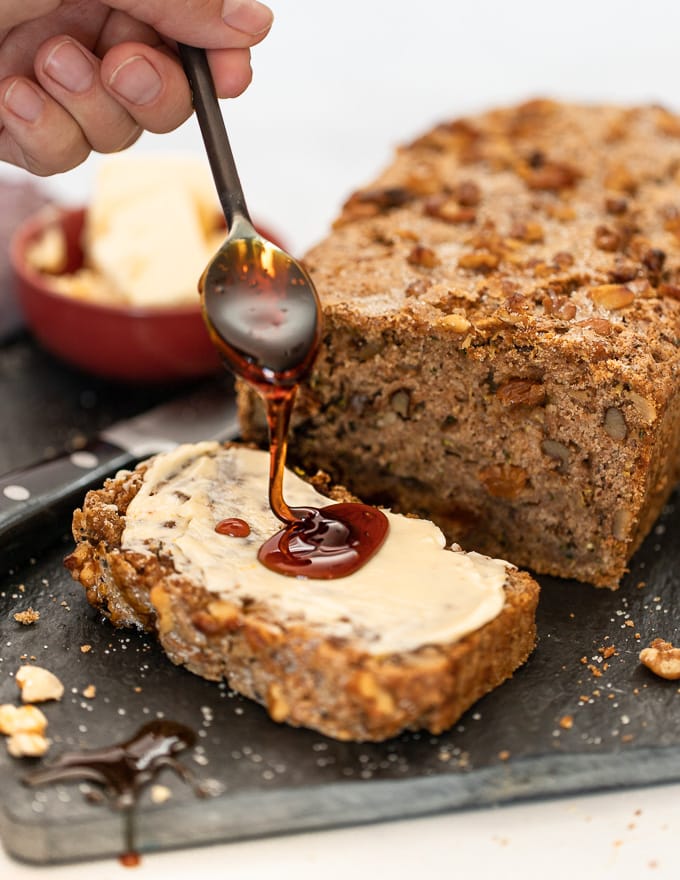 And if it makes you feel better to know that you are getting a serving of vegetables every time you eat a slice, and you want to use that fact to justify making a plentiful supply, then who am I to stop you? ;O)
The bottom line though? Zucchini is magic in baked goods!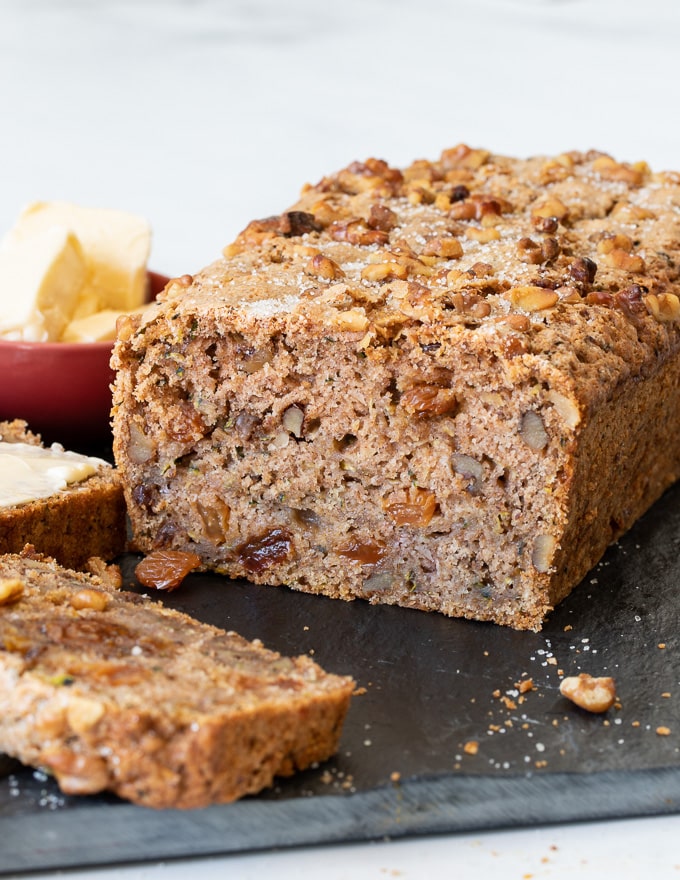 How to make Vegan Zucchini Bread
---
FOR INGREDIENTS & FULL INSTRUCTIONS PLEASE SEE THE RECIPE CARD AT THE END OF THIS POST
---
Step 1 - Preheat the oven, then grease and line a loaf pan with a strip of baking parchment, like this: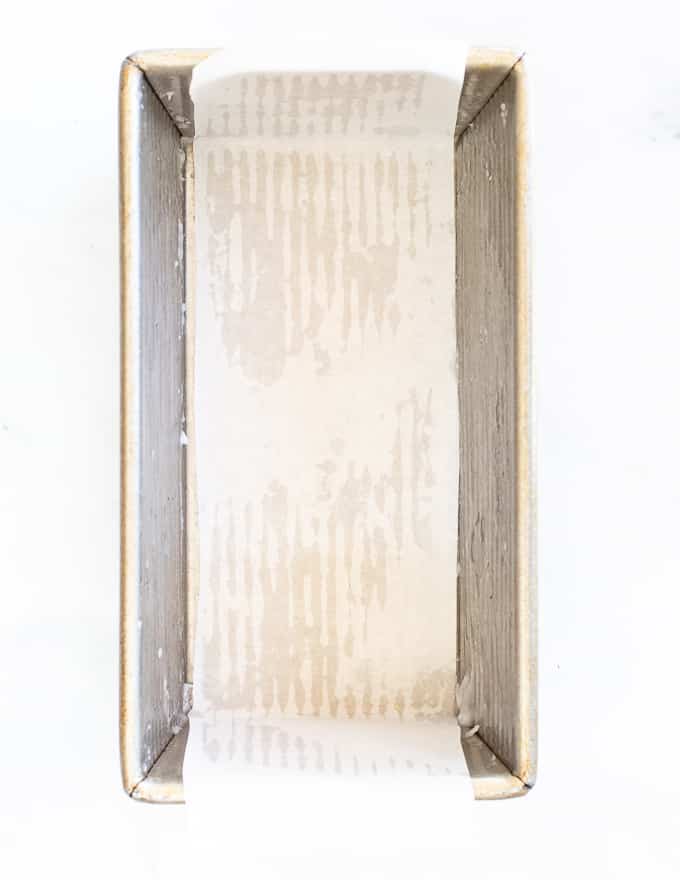 Step 2 - Grate the zucchini. You do not need to peel the zucchini for this bread recipe. I use my food processor to grate it as it takes literally 2 seconds, but it won't take much time at all to do it manually.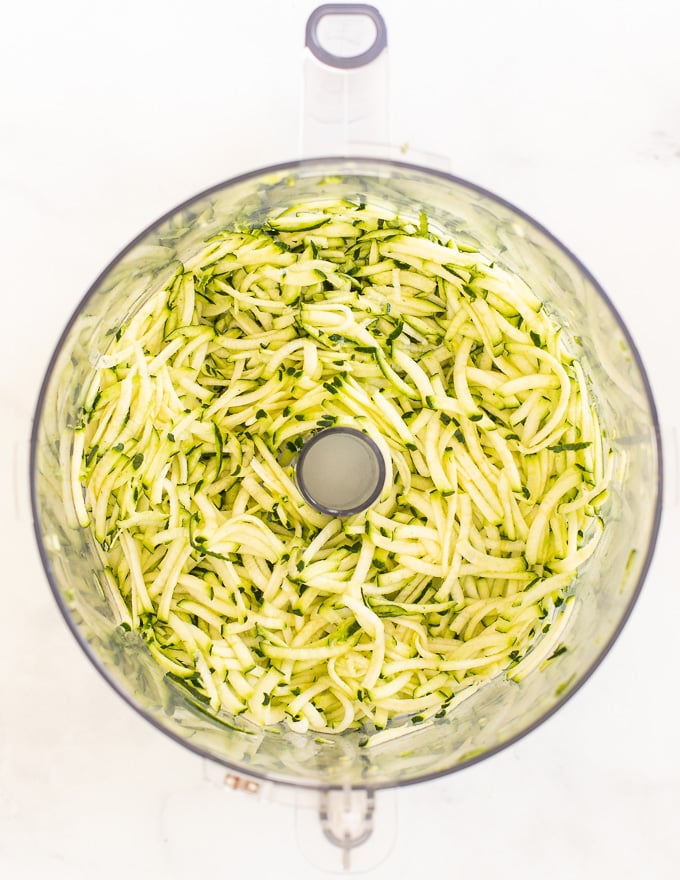 Step 3 - Put all of the dry ingredients into a mixing bowl and whisk to combine well. 


Step 4 - Put the zucchini and all of the wet ingredients into another bowl and mix them together. 


Step 5 - Scoop the wet mixture into the dry mixture and stir until just combined. It's pretty stiff to mix and that's normal. The zucchini will naturally let more moisture out as it bakes so don't add any more liquid as it will make your bread too moist


Step 6 - Add the nuts and raisins and stir again very gently to combine. 


Step 7 - Then spoon it into the loaf pan, and before it goes in the oven, we're going to top this beauty of a zucchini loaf with a generous handful of chopped walnuts and a big sprinkle of sugar for ultimate crunchy, crusty top deliciousness!


Step 8 - Leave to cool completely before enjoying or storing. Check that crusty, delicious top!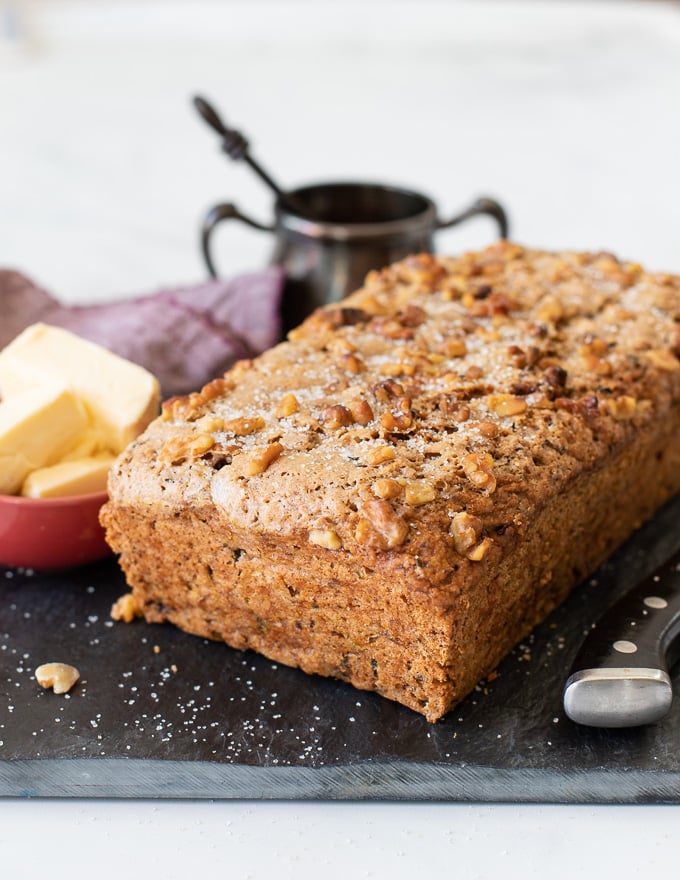 Vegan Zucchini Bread recipe success tips
Follow the recipe closely and as always with recipes involving flour, I highly recommend that you use a kitchen scale. Cup measurements are not accurate enough to get the best and consistent results. Digital kitchen scales are available at most big superstores now and you can pick one up for around $10. They are a great investment and are so worth having! If you do need to use cups, spoon the flour into the cup then level off the top with a knife without compacting it or shaking it down. By doing it like this you will get roughly the correct amount and make your chances of success better. Do not scoop the flour up into the cup as you will end up with much more than intended and it will affect the outcome of the recipe.
Do not over mix the batter. As with all cakes, the more you mix, the more you activate the gluten in the flour which really affects the texture and rise of the finished bread.
Even if your loaf pan is non stick, I recommend lining the bottom of it with a strip of parchment paper. One long strip that goes along the bottom and overhangs the ends is fine, then it can act as handles for you to easily lift the loaf out once it's baked. I love USA Pan Loaf Pans.
How can you tell when it's cooked properly? You can use the toothpick test. Stick it in the centre and if it comes out clean then its done. Or gently press down on the center of the loaf. If it bounces back completely, it is done. If your finger leaves a dent in the loaf it needs more time.
Don't turn the loaf out of the pan too soon. It needs time to settle a little as it can be quite fragile when hot. Remove from the oven and leave for 10 minutes before turning out carefully onto a wire rack and removing the strip of baking parchment.
Let the loaf cool completely before you cut it. I know it's tempting to break into it when it's still warm, but if you let all of the steam inside escape, you will affect the quality of the crumb and it won't keep as well.
Storing and freezing
STORING - Allow the bread to cool completely on a wire rack prior to stashing it away. Then, keep it in an air tight container, wrapped well, or I often keep mine on a covered plate. When I'm really stuck for containers I often keep cakes in the microwave. Just make sure no-one accidentally turns it on! It will keep well and perfectly moist for up to 5 days.
FREEZING - Uncut loaves freeze very well for up to 3 months, so if you have extra zucchini, make a few extra loaves and freeze them for later. Allow to cool completely then wrap very well, before placing carefully in the freezer. Leave to defrost overnight when you want to eat it.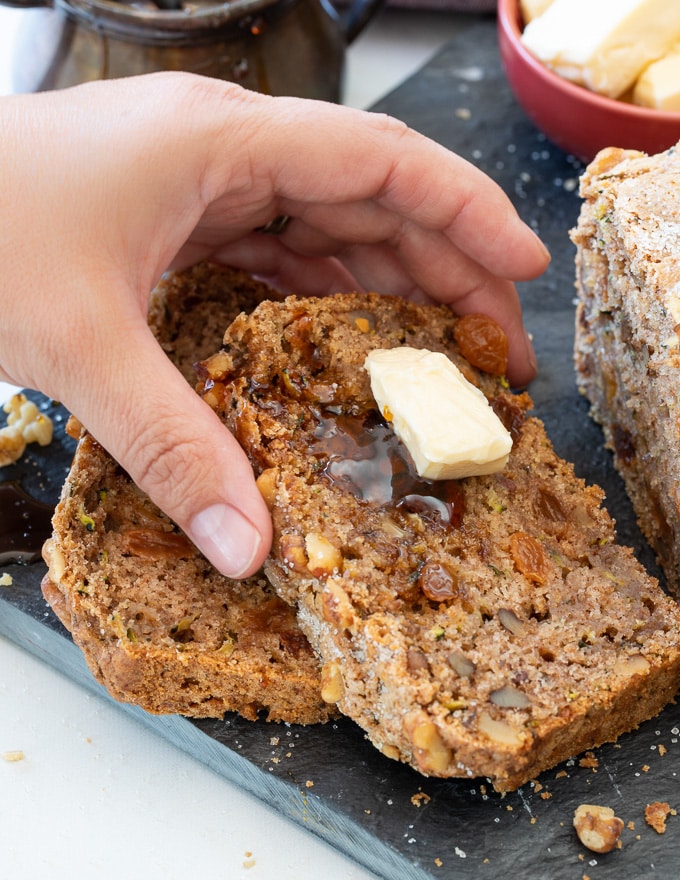 Some ways you can adapt this recipe
Use vegan chocolate chips instead of the golden raisins to make Vegan Chocolate Chip Zucchini Bread
Omit the walnuts to make the loaf nut-free
Add the zest of a lemon for some added zing
Switch out the golden raisins and/or nuts for dried fruit such as cranberries, apricots, blueberries or cherries. Just be sure to use a very similar amount.
Make it gluten-free by using Bob's Red Mill Gluten-Free 1 to 1 Baking Flour. Just be sure to weigh the flour rather than using cups so you get absolutely the correct amount.
Make it oil-free by using the same quantity of drippy nut butter instead of the oil. Cashew butter is my choice in cakes as it is mild and buttery in flavour. You might also need 1 or 2 extra tablespoons of plant milk as nut butter is much thicker and less liquidy than oil.
Make muffins instead of bread. This should make about 12. Line a muffin pan and divide the mixture evenly between each well. Bake at 425 °F for 5 minutes (my trick for good muffin tops!), then reduce the temperature to 350 °F for about another 15 minutes, or until a toothpick inserted come out clean.
So there we are. If you feel like you need to get back to quick bread basics, use up all those zucchinis that are rampaging through your garden, and bake up a storm, this Vegan Zucchini Bread is here for you.
You really don't need to slather it with vegan butter. But honestly……….why not? You deserve it!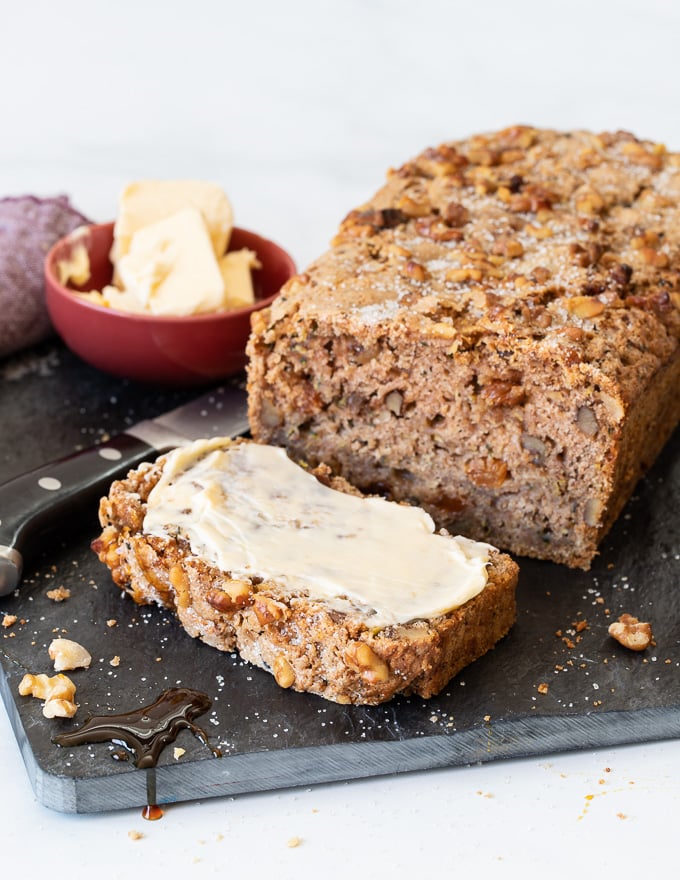 Hungry for more?
For more vegan quick bread recipes check out these great options:
And if you love this recipe, please do check out my cookbook, and subscribe to my email list for a fabulous FREE eCookbook featuring my top 10 recipes. Being on the list means you will be first to see my new recipes and you'll be kept in the loop on all things new and exciting too!
Vegan Zucchini Bread
Easy, fluffy, super yum and wholesome Vegan Zucchini Bread. The batter is perfectly spiced and loaded with shredded zucchini, golden raisins and walnuts. It makes the perfect snack, breakfast or even dessert!
Ingredients
1¼ packed cups / 250

g

grated zucchini

, about 2 small or 1 medium zucchini

2 cups / 250

g

flour

, spelt flour, all purpose flour (plain in the UK), or wholewheat flour all work well

2

teaspoons

baking powder

¼

teaspoon

baking soda

, (bicarbonate of soda in the UK)

¾ cup / 150

g

sugar

, plus a little more for sprinkling on the top. White granulated, cane sugar, turbinado sugar, coconut sugar or light brown sugar are all fine to use

2

teaspoons

ground cinnamon

¼

teaspoon

ground nutmeg

½

teaspoon

fine salt

2

tablespoons

ground flax seed

, (it must be ground and not whole seeds)

½ cup + 2 tablespoons / 150

mls

unsweetened plant milk

1½

teaspoons

vanilla extract

¼ cup / 60

mls

liquid oil of choice

, avocado oil, sunflower, vegetable, light olive oil or melted but cool coconut oil are all ok to use. See recipe notes for oil-free option.

1

teaspoon

apple cider vinegar

, or lemon juice (important - do not omit)

½ cup / 80

g

golden raisins

½ cup / 65

g

chopped walnuts

, plus more for sprinkling on the top. Pecans can be used instead. (omit to make nut-free)
INSTRUCTIONS
Preheat the oven to 350 °F (175 °C) and grease and line a loaf pan.

Grate the zucchini and set aside. I use the grating attachment on my food processor but you can do it manually if you don't have one.

Add the flour, baking powder, baking soda, sugar, cinnamon, nutmeg, salt and ground flax seed to a large bowl. Whisk to combine.

Add the grated zucchini, plant milk, vanilla extract, oil and apple cider vinegar to another bowl and stir them together.

Add the wet mixture to the dry mixture and stir together with a spatula until just combined. It's a really stiff batter, and it will feel and look too dry, but be patient and it will come together. The zucchini naturally lets out it's moisture as it cooks so don't be tempted to add more liquid as your bread will end up too moist.

Add the nuts and raisins to the batter and stir gently once more to combine.

Spoon into the prepared loaf pan and smooth the top. Sprinkle on a generous amount of sugar and some more nuts (optional but gives a lovely crusty, textured top), and bake for about 70 minutes or until a tooth pick inserted comes out clean. It does take longer than your average quick bread because the zucchini adds so much moistness.

Once cooked through, remove from the oven and leave for 10 to 15 minutes in the pan before turning out onto a wire rack. It is very fragile while warm so be gentle. It will firm up as it cools.
NOTES
I like to use half (125g) of all purpose flour (plain flour in the UK) and half (125 g) of spelt flour for the very best flavour and texture, but all all purpose or a combination of all purpose and wholewheat is ok too.
Vegan Zucchini Bread is best left to cool completely before serving. 
Store in an air tight container or on a covered plate at room temperature. Keeps will for up to 5 days. 
Loaves can be wrapped and frozen for up to 3 months. 
To make the bread oil-free, use ¼ cup (4 tablespoons) of drippy nut butter instead of the oil. Cashew butter or almond butter will work best flavour-wise. You might need to add an extra 1 to 2 tablespoons of plant milk though to make up for it's thickness. Don't add too much more than that as the zucchini naturally lets out it's moisture while baking and your loaf will end up too wet. The batter is supposed to be very, very, thick and will loosen as the zucchini lets out it's moisture. 
NUTRITION
Calories:
288
kcal
Carbohydrates:
44
g
Protein:
4
g
Fat:
11
g
Saturated Fat:
1
g
Sodium:
159
mg
Potassium:
274
mg
Fiber:
2
g
Sugar:
21
g
Vitamin A:
50
IU
Vitamin C:
5
mg
Calcium:
61
mg
Iron:
2
mg
Tried this recipe?
Rate it & leave your feedback in the comments section below, or tag @avirtualvegan on Instagram and hashtag it #avirtualvegan
LOOKING FOR MORE RECIPES?
Be sure to check out my recipe index where you can browse and filter recipes by meal type, category and dietary preference.