Read my review of "Not Just For Goldilocks! Your classic porridge bowl...rebooted!" and make this mouthwatering Chocolate Banana Hazelnut Baked Oatmeal with a deliciously crusty exterior, a soft, creamy, chocolatey, oaty interior, crunchy roasted hazelnuts and soft, sweet baked banana.
A whole book FULL of oatmeal recipes is my idea of breakfast heaven and that's exactly what you get with Jo Hodson's new book "Not Just For Goldilocks! Your classic porridge bowl....rebooted!"
When she asked if I would like to review it, I jumped at the chance as I eat oatmeal a lot and I am always on the lookout for new recipes to change it up.
I woke up and was checking my email in bed (yes, I am addicted to my phone) and found this beauty of a book in my inbox.
Talk about perfect timing! All of the recipes look fab but the Chocolate Banana Hazelnut Baked Oatmeal really caught my eye, so I hopped out of bed and whipped it up right away, leaving it to bake while I showered and got ready for the day.
When I returned downstairs the whole house smelled delicious and the Choc Banana Hazelnut Bake looked fantastic. It tasted as good as it looked. With a deliciously crusty exterior, a soft, creamy, chocolatey, oaty interior, crunchy roasted hazelnuts and soft, sweet baked banana. Breakfast couldn't get much better.
My only complaint would be that it said it served two but I ate the whole thing myself. Perhaps the serving sizes are a tad on the small size, or I just eat too much? Let me know what you think when you make it, which I highly recommend you do as it is delicious.
Rich chocolate, creamy banana and toasty hazelnuts make the perfect flavour combination. Regardless of portion sizes I recommend you double the recipe as you will want to eat it more than once! It warms up well the next day or you can just eat it cold.
Later in the day I also made the Choc Porridge Squares ready for packed lunches and snacks throughout the week. They are so good with peanut butter spread on top! Simple to make and a great healthy snack which conveniently freezes well too.
With well over 50 other recipes in the book you will be spoilt for choice. All of them are dairy free, egg free, wheat free, sugar free and vegan and there are options for low carb, fat free, gluten free, grain free, high protein and ketogenic diets.
They all look so good that I am slowly making my way through the book, page by page. Some of the recipes that I can't resist and will be making are:
Coconut flour porridge (next on my 'to make' list!)
Matcha tea porridge 
Sweet potato porridge
Lemony blueberry porridge
Pear, carrot & ginger porridge
Pumpkin, orange & pecan porridge
Raw buckwheat porridge
Pear & courgette (or zucchini as we call them here in Canada ) porridge
Creamy quinoa porridge
Triple grain porridge
Plus other porridge spin-offs such as
Apple & ginger oat bake
Overnight oat cookies
Bakewell oat muffin
PB&J oat smoothie
I think my breakfasts are well and truly covered for the foreseeable future!
As well as recipes such as the ones listed above, there are topping ideas and recipes, tips, nutritional information and handy conversion notes. All of the recipes are quick and easy with minimal prep time, short ingredient lists and very easy to follow instructions. I love that the measurements are in cups too which surprised me as Jo lives in England where cup measurements aren't often used. The book is laid out well with easy to read text and great photos of each dish. There are traditional type recipes using ingredients that you would easily associate with oatmeal, interspersed with inventive recipes containing ingredients that I would never ever have thought to use with oatmeal such as turmeric, tofu and cauliflower. They might sound strange but believe me, the recipes look and taste great.
Jo has kindly offered to let my readers have 20% off their purchase of "Not Just For Goldilocks". Visit this link to purchase and use the code GOLDILOCKS20 at checkout to get your discount. The code is good until the end of November 2015.
You can find the recipe for theChocolate Banana Hazelnut Baked Oatmeal below. Leave a comment to let me know if you enjoyed it as much as me and share your pictures with me on Instagram or Twitter. I am @avirtualvegan on both. Use the #avirtualvegan on Instagram so I don't miss anything.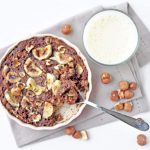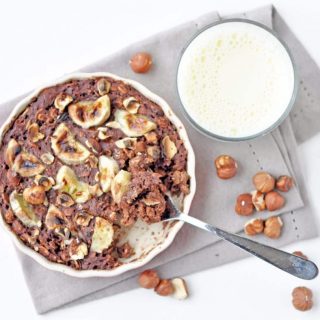 Chocolate Banana Hazelnut Baked Oatmeal
Author:
"I love my oat bakes as they make the perfect weekend brunch or dessert (I add a little extra syrup when serving for dessert), plus if you make a big portion then you have leftovers all weekend long- delicious eaten cold too!" Jo Hodson
Ingredients
45g | 1/2

cup

rolled oats

1

heaped teaspoon

ground flax seeds

1

pinch

salt

1

handful

roasted hazelnuts

(or raw)

2

teaspoons

cocoa powder

1½

teaspoon

cinnamon

1

medium

banana

(half mashed, half sliced)

a few drops of stevia or 1 - 2 tablespoons of syrup to taste

120mls | 1/2

cup

non dairy-milk
INSTRUCTIONS
Mix all dry ingredients together in a medium bowl, add the mashed banana and sweetener to the milk, then mix all into the dry ingredients. Arrange the sliced banana on top of the mixture once spooned into a pie dish. Drizzle a little syrup on top as desired.

Use a medium pie dish- approx 20cm diameter (the mixture should be approx 2cm deep). Bake at 180C for approx 30 mins until the top is golden and banana lightly browned at the edges
NUTRITION
Serving:
1
serving
Calories:
194
kcal
Carbohydrates:
31
g
Protein:
5.2
g
Fat:
7
g
Sodium:
41
mg
Fiber:
6.4
g
Sugar:
8
g
Vitamin A:
150
IU
Vitamin C:
7.4
mg
Calcium:
160
mg
Iron:
1.8
mg
Nutritional information is provided for convenience & as a courtesy. The data is a computer generated estimate so should be used as a guide only.
Tried this recipe?
Rate it & leave your feedback in the comments section below, or tag @avirtualvegan on Instagram and hashtag it #avirtualvegan