This ultra-rich, decadently creamy and smooth Vegan New York Cheesecake is surprisingly quick and easy to make. Enjoy as it is or get a little fancy with your choice of topping. It is dessert perfection and you absolutely need it in your life.....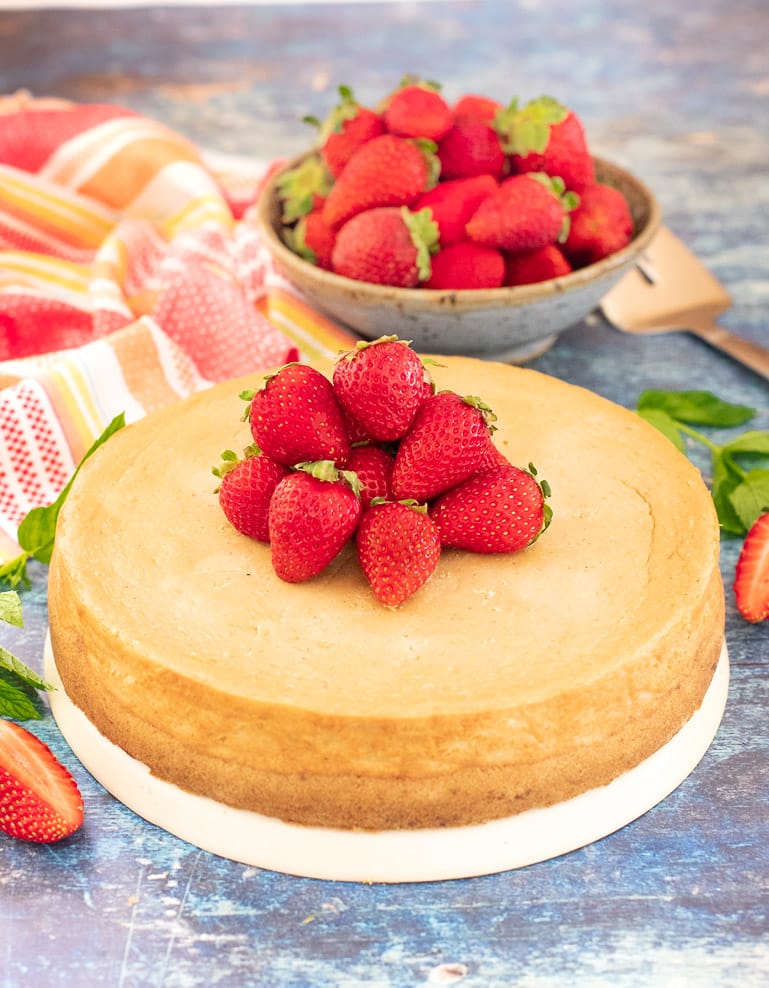 Stop right there. This is a warning. This Vegan New York Cheesecake is for people who are serious about their dessert. Like really serious.
Proceed with caution. If you don't want to eat slice after slice of classic, creamy, velvety, rich cheesecake and spend all of your time coming up with delicious ways to top your perfect baked cheesecake, then step away now. Find yourself another recipe.
May I suggest my Cinnamon Roll in a Mug? Ready in minutes and just one portion. perfect for people like me who cannot stop at one helping ...
I LOVE CHEESECAKE ♡
Vegan Cheesecake has got to be one of my all time favourite desserts. I love anything rich, creamy and decadent and it doesn't get much more rich and decadent than this Vegan New York Style Cheesecake.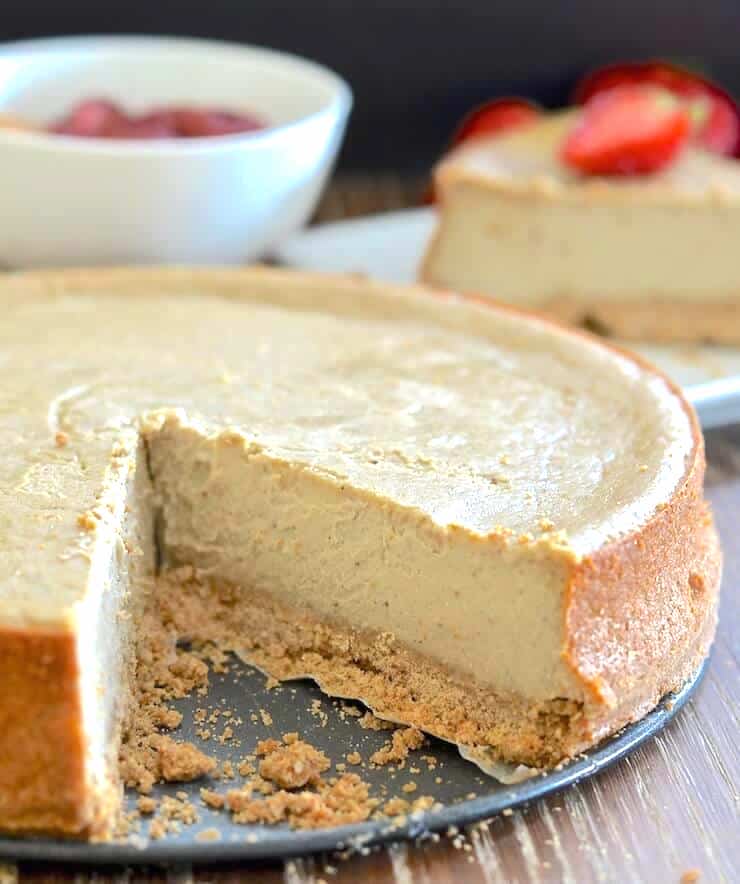 I have made and eaten a lot of vegan cheesecake (all in the name of research of course ;O) and whilst they are mostly very lovely, they aren't like "real" baked New York Cheesecake.
Most vegan cheesecake tends to be raw and don't get me wrong, I don't have a problem with that and really enjoy eating them, but they tend to be very smooth and quite light in texture. They don't have that ultra-rich, creamy density that traditional baked New York style cheesecakes have. Many of them also need to be kept in the freezer, or they use coconut oil to help solidify them and melt into a puddle if left out of the fridge for any length of time.
My Vegan New York Cheesecake is different. It is just like a "real" baked cheesecake in texture. Dense, rich, super creamy and very satisfying.
Whilst there is oil in the crust, there is none in the cheesecake filling. This means that if you follow an oil free diet you can make the cheesecake top without the crust and still stay on track (see my recipe notes for tips on cooking it like this).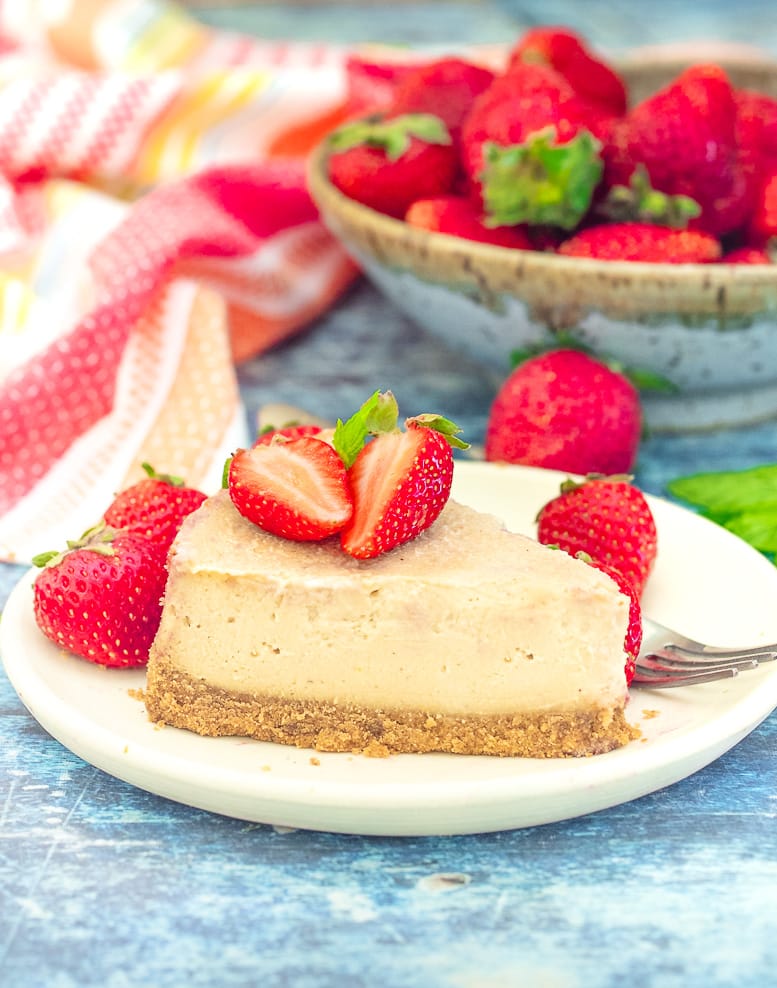 MY VEGAN NEW YORK CHEESECAKE FILLING HIDES A SECRET INGREDIENT!
To get the perfect vegan baked cheesecake texture I experimented with many different ingredients and methods. I settled for a combination of cashew nuts and chickpeas. Yes, the humble but quite awesome chickpea is the secret ingredient here.
Please do not let that scare you off. You would NEVER know.
You might remember that they made a surprise appearance in my Healthy Raspberry Chocolate Fudge Tart, and that's what gave me the idea of adding them here.
The cashews give the filling it's creaminess and the chickpeas give the denseness, in a similar way that heavy cream cheese and eggs would in a non-vegan baked cheesecake.
It's so similar in texture it's scary.
HOW TO MAKE VEGAN CHEESECAKE
---
SEE MY VIDEO FOR A VISUAL GUIDE. FOR INGREDIENTS & FULL INSTRUCTIONS PLEASE SEE THE RECIPE CARD AT THE END OF THIS POST
---
This Vegan New York Cheesecake is surprisingly easy to make.
STEP 1
First you need to make the crust and let is set in the fridge. For this I use my Vegan Digestive Biscuits recipe but to make life easier you can use store bought digestive biscuits or graham crackers (a lot are accidentally vegan).
Have you tried my Vegan Digestive Biscuits recipe yet? They are so good and perfect for dunking in your tea or coffee!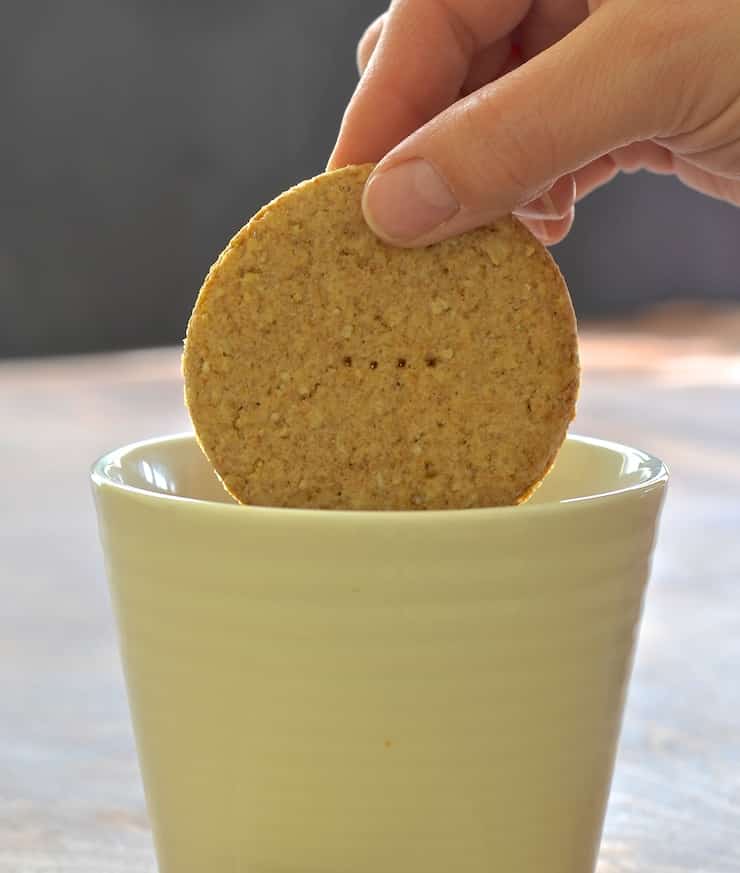 Plus they make an awesome cheesecake base!
All you have to do is blend them with some vegan butter or coconut oil in a food processor. I have this one and love it:
STEP 2
Press the crust mixture into the bottom of a 9 inch spring form pan (or similar). My go to bakeware is always USA Pan. Their spring form pan is great. This is the one I have (not sponsored, I just love their products):
STEP 3
While the crust is setting up in the fridge, blend the filling ingredients together until smooth. I recommend soaking the cashew nuts in boiling water before blending in the instructions, but if you have a high powered blender like the one below, or a Vitamix then you can get away without doing this.
STEP 4
Once the filling is blended and smooth, pour it on to the base and bake.
For such a decadent dessert it's all pretty easy really!
STEP 5
Allow to cool then refrigerate for a few hours before serving.
CHEESECAKE TOPPING IDEAS
Whilst this Vegan New York Cheesecake is absolutely delicious on it's own, I love to top it with a little something extra.
The healthiest option is fresh fruit. Juicy berries in particular are very nice. Then there's my Five Minute Vegan Caramel Sauce, my Blueberry Lavender Sauce or my Vanilla Roasted Strawberries ♡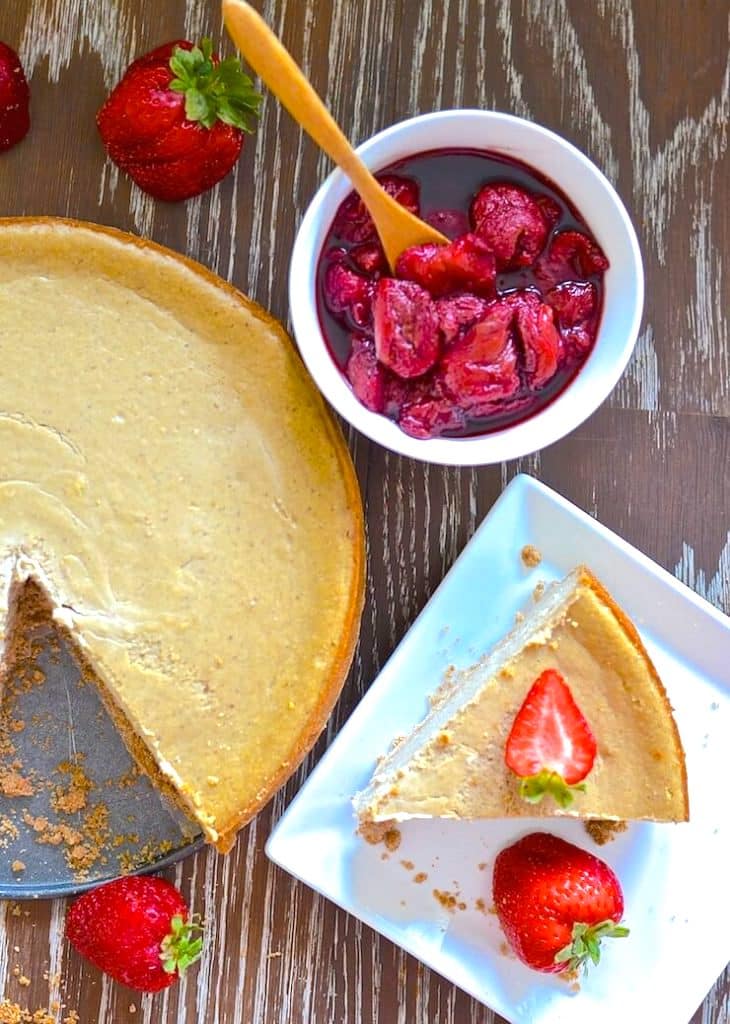 Or my Vegan Lemon Curd or Pumpkin Caramel Sauce...♡♡
I think the Pumpkin Caramel Sauce is my favourite cheesecake topping so far. It is a very indulgent combo and is extremely rich but that's how I like my desserts!
For a festive spin on this cheesecake you could top it with a layer of my sweet, boozy Mincemeat.
This Vegan New York Cheesecake is:
Rich
Creamy
Tangy
Easy to make
Perfectly sweet
And just like the real thing!
I can't wait for you to try it!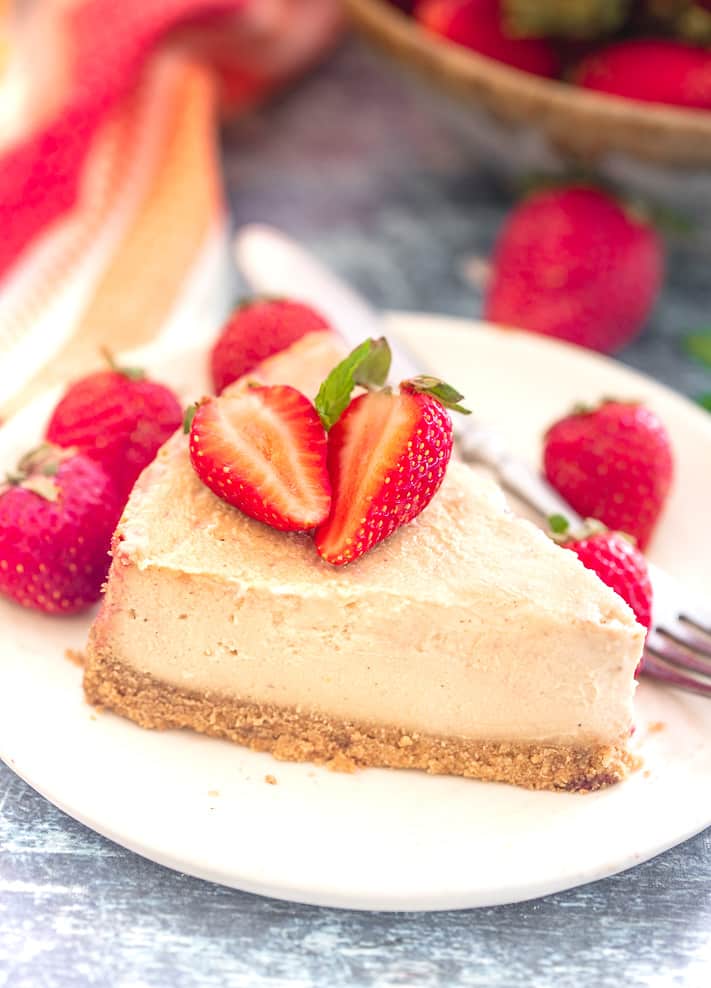 For more indulgent vegan dessert recipes, check out these great options:
And if you love this recipe, please do check out my cookbook, and subscribe to my email list for a fabulous FREE eCookbook featuring my top 10 recipes. Being on the list means you will be first to see my new recipes and you'll be kept in the loop on all things new and exciting too!
Vegan New York Cheesecake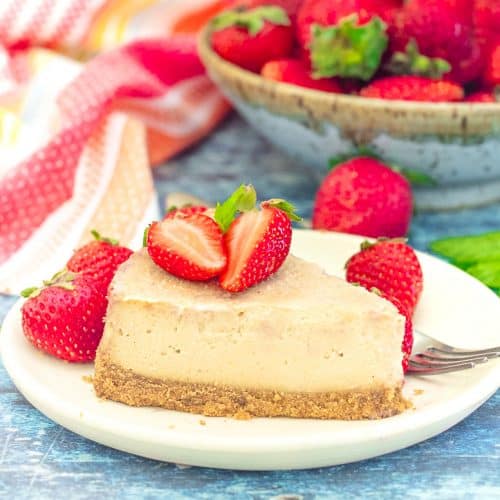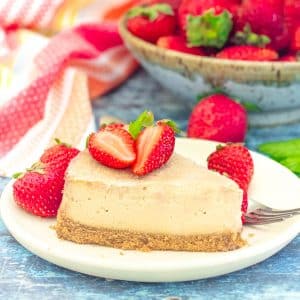 It's only a baked Vegan New York Cheesecake..♡...It is ultra-rich, decadently creamy, dessert perfection & you absolutely need it in your life…..
Ingredients
FOR THE BASE
350g / about 23

biscuits/cookies

digestive biscuits

(can sub graham crackers) - if you use my digestive biscuit recipe you will need almost the whole batch (minus about 3). For a gluten-free version use gluten-free cookies

4

tablespoons

melted vegan butter

, or coconut oil
FOR THE FILLING
300g / 2

cups

raw cashews

,soaked in boiling water for 15 mins then drained (measured before soaking)

175g / 1

cup

canned chickpeas

, drained & rinsed well

1

lemon

zest and juice

1

teaspoon

vanilla bean powder

, or 3 teaspoons vanilla extract

2

tablespoons

arrowroot powder

, or cornstarch (cornflour in the UK)

120mls / ½

cup

maple syrup

2

tablespoons

tahini

1 can / 400 ml

can

full fat coconut milk

(must be full fat, not light & if your can is 398 mls that's fine.

½

teaspoon

salt

3

tablespoons

apple cider vinegar
INSTRUCTIONS
Preheat oven to 320F

Prepare the tin. Use the bottom of a deep

9 inch spring form pan

. It must be

at least

3 inches deep (see recipe notes if you have another size pan). to draw a circle on some parchment paper. Cut out the circle and use it to line the bottom of your pan. Line the sides of the pan with a long rectangular strip of baking parchment. Use a little mildly flavoured oil on the pan first to make the paper stick

Put digestive biscuits (or graham crackers) into a

food processor

with the butter/coconut oil and blend until well combined and in fine crumbs.

Press into the bottom of the tin. Make sure it is even and pressed down firmly then refrigerate while you make the filling.

Add all the filling ingredients to a

blender

and blend until completely smooth.

Remove base from the fridge and pour the filling in carefully.

Bake for around 50 minutes but this will vary depending on your oven and the pan you use. It should be set well around the edges and have a little tiny bit of a wobble in the middle when done.

Remove and allow to cool then refrigerate for at least 4-5 hours or overnight.
NOTES
Store in the fridge for freshness, but unlike a lot of vegan cheesecakes it wont melt into a puddle if left at room temperature for a while before serving.
If you do not have a deep 9 inch spring form tin then an 8 or a 10 inch will be ok. The cooking time just might need to be adjusted very slightly. Using an 8 inch tin will make it take a little longer as it will be a bit deeper. Probably only 5 or 10 minutes longer though. If you use a 10 inch it will probably be ready a few minutes earlier as it wont be quite as deep. Follow my guide in the instructions for knowing when it is ready.
A deep spring form tin is ideal for this recipe. If you do not have one then a tin with a removable bottom will also work. Do not try to make it in a cake pan with no removable bottom as you will never get it out. If you do not have a deep pan then you might need to use a bigger than 9 inch pan in order to fit everything in.
If you follow an oil-free diet then you can omit the crust and just cook the cheesecake filling. You can do this in the same way as above but you will need to make absolutely sure that your springform tin is leak proof as it won't have the biscuit layer covering the seams. The last thing you want is for the cheesecake to leak out before it sets up in the oven. Practise with the tin by filling it with water to see if any drips out. If it doesn't you are good to go. If it does then don't use that tin!
If you do not have a leak proof tin then you could bake the cheesecake in ramekins. I haven't tried it myself but I would imagine that in small ramekins it would take about 20 - 25 mins in the oven. Follow my instructions above for checking when it is ready.
[thrive_leads id='15882']
NUTRITION
Serving:
1
serving
Calories:
524
kcal
Carbohydrates:
46
g
Protein:
10
g
Fat:
33
g
Sodium:
191
mg
Potassium:
234
mg
Fiber:
4
g
Sugar:
18
g
Vitamin C:
11.6
mg
Calcium:
50
mg
Iron:
2.7
mg
Nutritional information is provided for convenience & as a courtesy. The data is a computer generated estimate so should be used as a guide only.
Tried this recipe?
Rate it & leave your feedback in the comments section below, or tag @avirtualvegan on Instagram and hashtag it #avirtualvegan