Soft & fluffy Lemon Blueberry Loaf. Loaded with juicy, fresh lemon, studded with blueberries and drizzled in lemon glaze. Made in one bowl and no mixer required!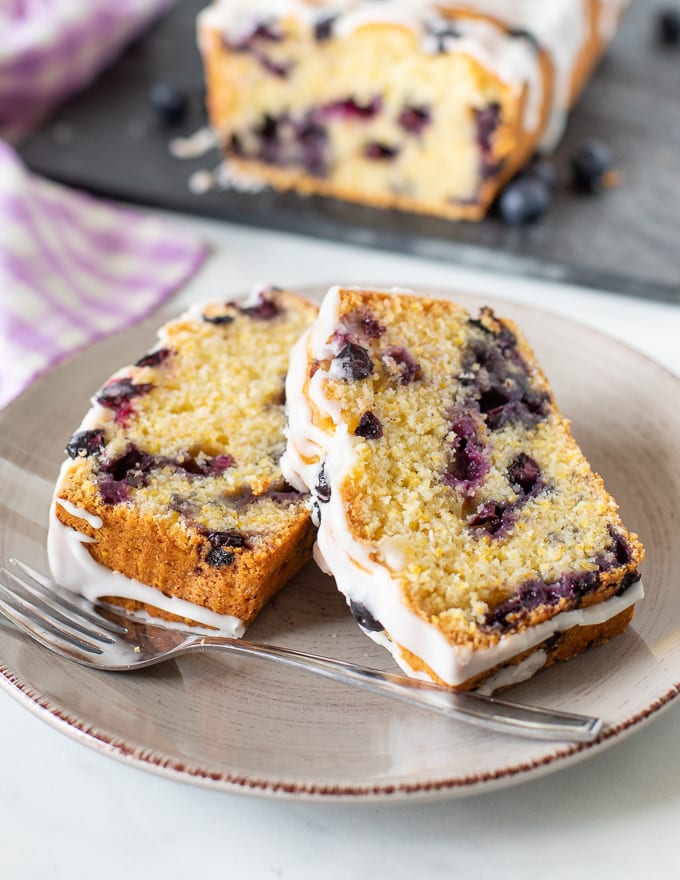 Nothing says spring like a Lemon Blueberry Loaf. It's fresh and zingy with bursts of juicy blueberry in every bite!
And the lemony glaze? That's there just because. Mostly because I like glaze on cake, and also because I asked on Instagram and 61% of you agreed with me.
You can easily omit it though. The loaf is sweet enough and moist enough without it, but if you do, instead, I recommend a small handful of granulated sugar sprinkled over the top, just as it goes in the oven, to make a super yum, crunchy crust.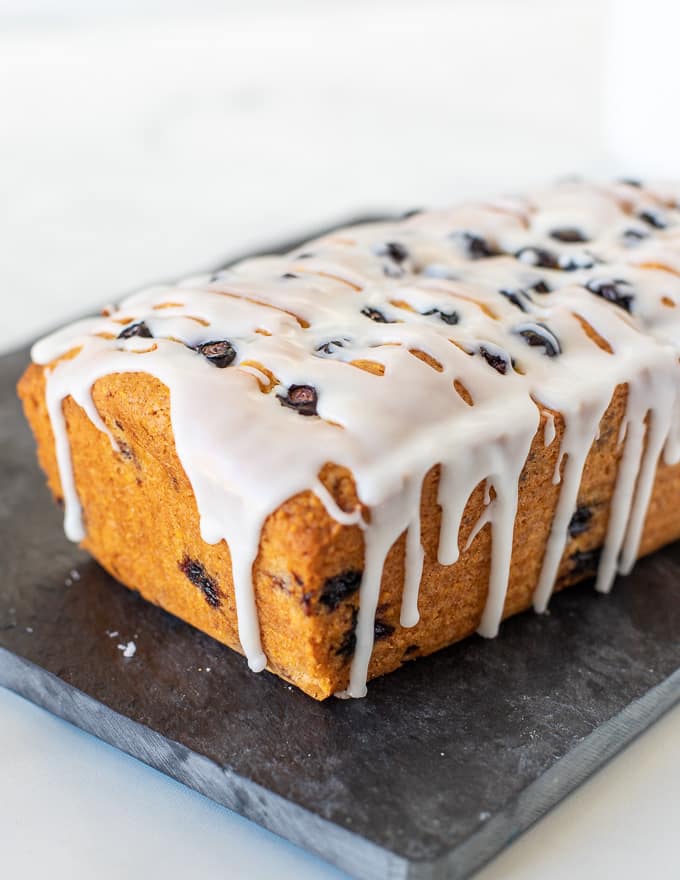 Not a lemon fan? Give my simple Vegan Blueberry Cake a try instead!
A big, thick slice of this vegan loaf cake, with or without some of my vegan butter is like springtime eating perfection and I should know because I've eaten about 3,000,052 slices this week.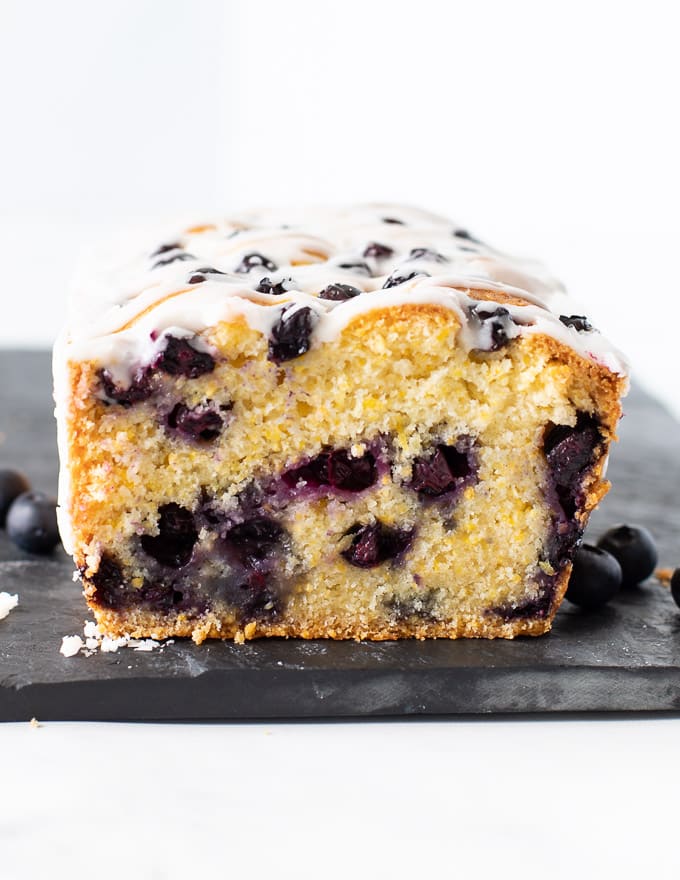 We're talking:
AMAZING spring infused cake made with fresh lemons and beautiful bluebs. I can die happy.
Crunchy outsides ...literally my favourite bit of loaf cakes
Fluffy, soft sponge inside
Bursty bluebs in every bite
Cornmeal for depth of flavour, colour and texture
Fragrance like no other at all stages from prep to baking to eating
Zingy lemon glaze drizzled ALL OVER the top to make it look like you know what you're doing with cake decorating ..
And the beauty of the glaze is that it has just 2 ingredients for you to mix up, then you just drizzle it all on haphazardly. It looks good however it lands!
Don't worry if you are gluten-free because I've got you covered too. I've tweaked this recipe to make you your very own Gluten-Free Lemon Cake with Blueberries!
Ingredients
Here's what you need to make my Lemon Blueberry Loaf: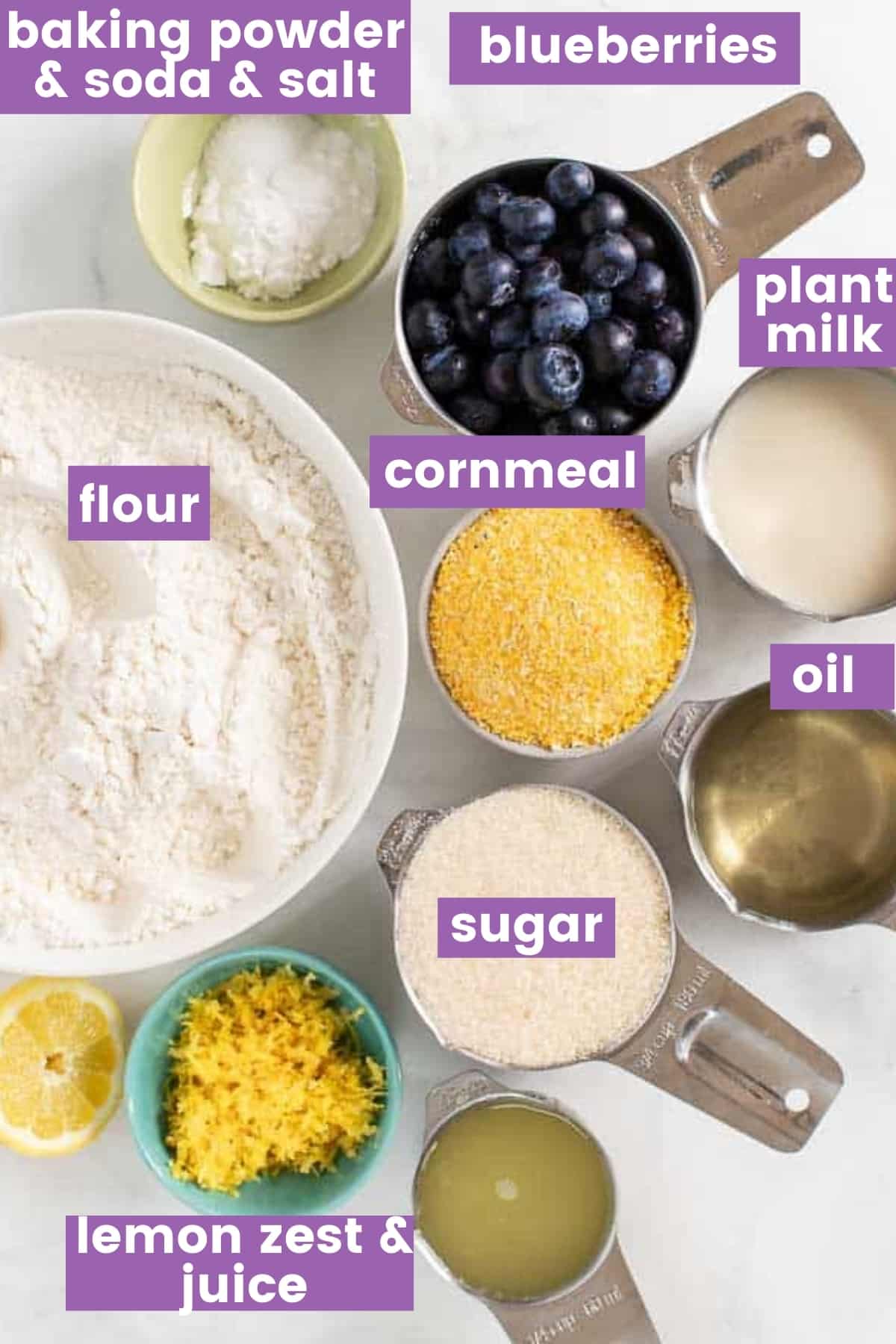 And here's what you need to make the simple lemon glaze: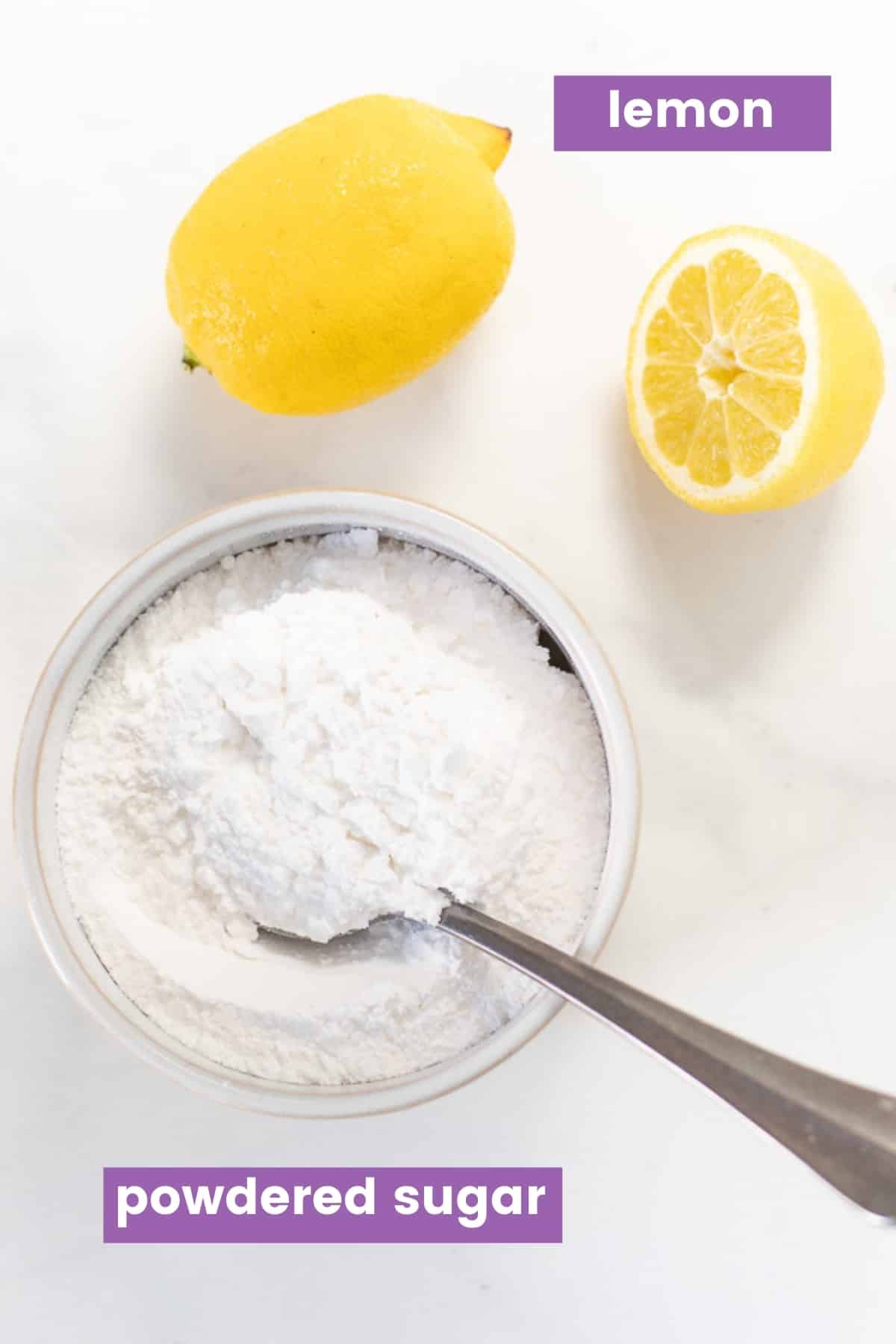 You will also need a loaf pan.
How To Make Lemon Blueberry Loaf
Add the dry ingredients, except the sugar, to a mixing bowl and whisk them together
Zest your lemons like a boss. Yes, I hate zesting citrus fruits too, but that's where all that lovely flavour is so don't skip it, then add them to a jug with all of the wet ingredients and the sugar and give them all a good stir up
Pour the wet ingredients into the dry ingredients and stir together then add the blueberries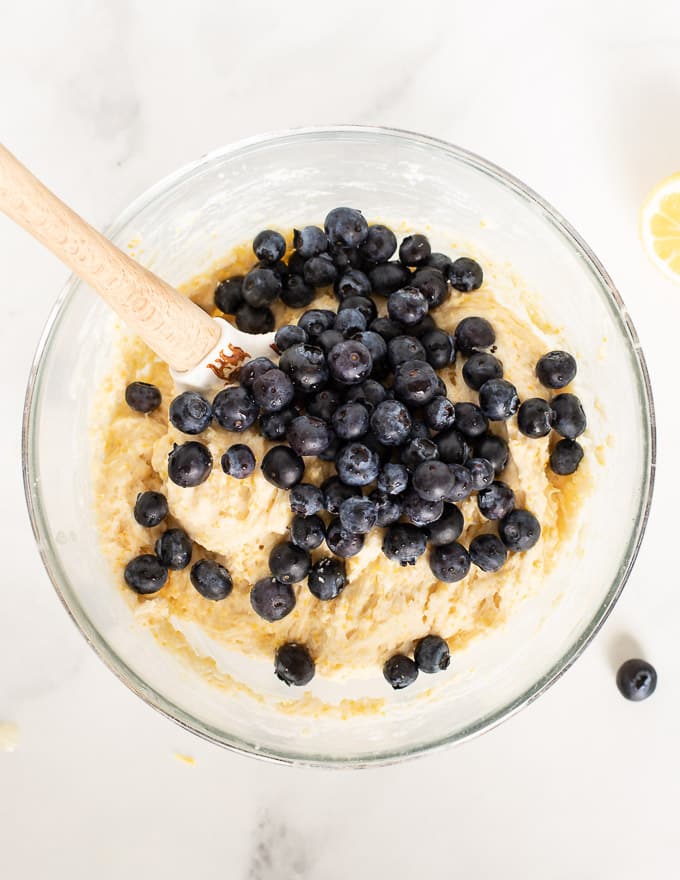 Fold them through
Then spoon into a loaf pan and bake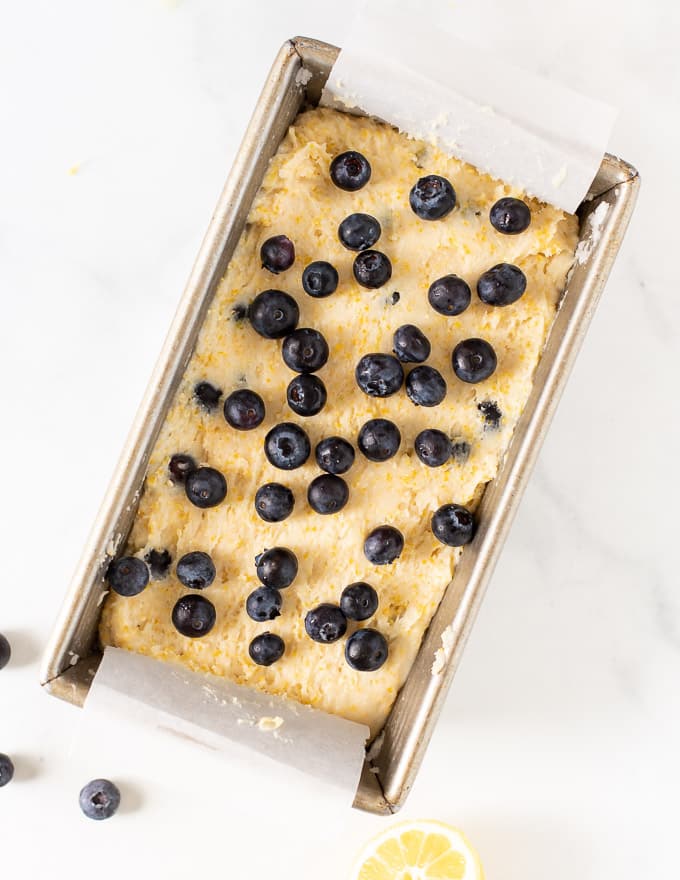 Success Tips
Follow the recipe closely and as always with recipes involving flour, I highly recommend you use a kitchen scale. Cup measurements are not accurate enough to get the best and consistent results, but if you do need to use them, spoon the flour into the cup then level off the top with a knife without compacting it or shaking it down. By doing it like this you will get roughly the correct amount. If you scoop the flour up into the cup, you will end up with much more than is needed and it will affect the outcome of the recipe. Digital scales are available at most big superstores now and you can pick one up for around $10. They are a great investment and are so worth having!
Even if your loaf pan is non stick, I recommend lining the bottom of it with a strip of parchment paper. One long strip that goes along the bottom and overhangs the ends is fine, then it can act as handles for you to easily lift the loaf out once it's baked.My favourite loaf pan is this one from USA Pan.
How can you tell when it's cooked properly? You can use the toothpick test. Stick it in the centre and if it comes out clean (apart from a little sticky blueberry juice), then its done, or gently press down on the center of the loaf. If it bounces back completely, it is done. If your finger leaves a dent in the loaf it needs more time.
Let the loaf cool completely before you cut it. I know it's tempting to break into it when it's still warm, but if you let all of the steam inside escape, you will affect the quality of the crumb. It won't be as moist and it won't keep as well.
If you are glazing it, you must wait until it is completely cool.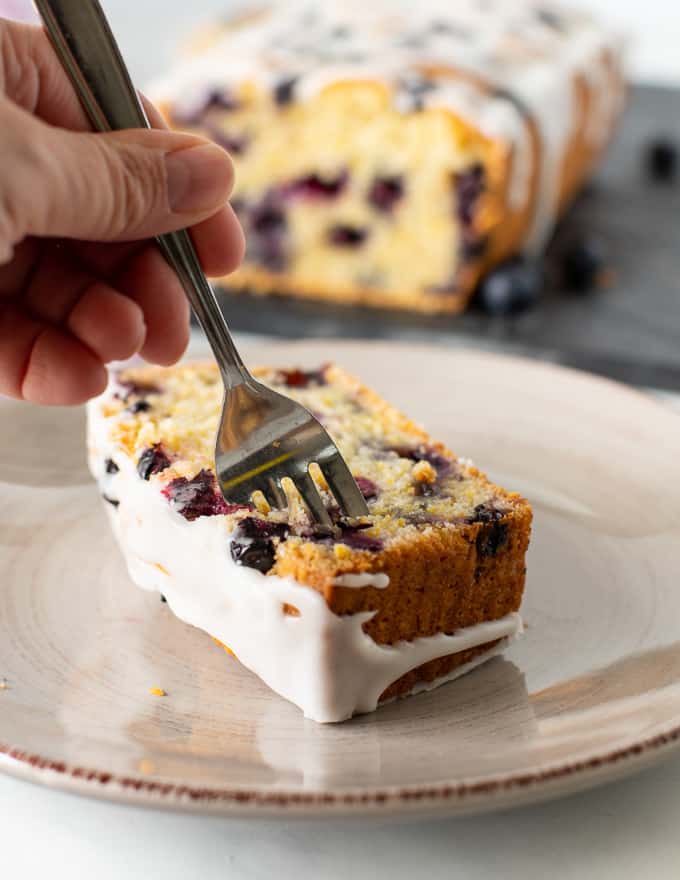 Variations
Some ways you can adapt my Lemon Blueberry Loaf recipes are:
Swap the cornmeal for shredded coconut
Skip the frosting and add a generous heap of vegan streusel before baking, or bake it with the streusel then add a drizzle of frosting on top of it if you want to be really extra!
Use raspberries instead of blueberries
Use vegan cream cheese frosting instead of the glaze
If you can get them, vegan white chocolate chips would be a lovely addition!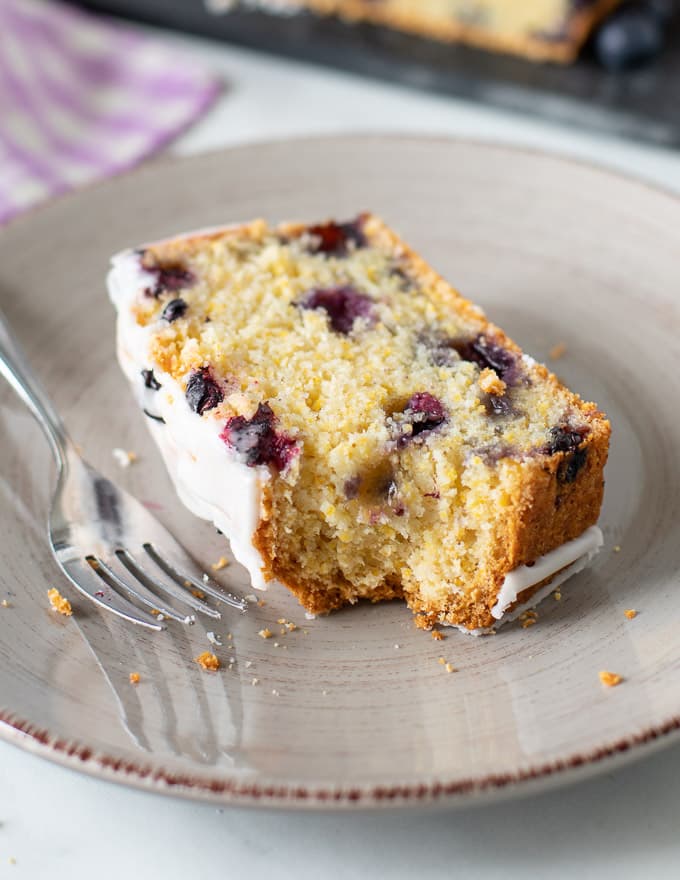 Love Lemon?
If you try this recipe, let me know how you like it by leaving a comment and rating below! And be sure to join my mailing list for more deliciousness!
Recipe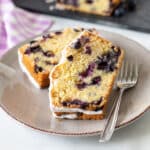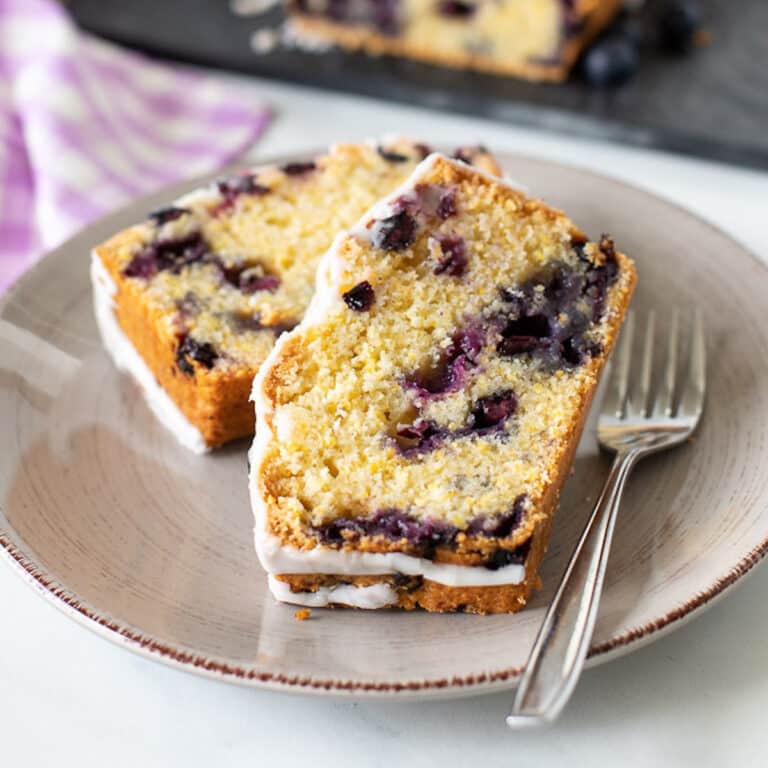 Lemon Blueberry Loaf
Author:
Soft & fluffy Lemon Blueberry Loaf. Loaded with juicy, fresh lemon, studded with blueberries and drizzled in lemon glaze. Made in one bowl and no mixer required!
Ingredients
2 cups (250

grams)

all purpose flour

, (in the UK use plain flour)

½ cup (75

grams)

fine or medium grind cornmeal

, unsweetened shredded coconut can be used as an alternative

¾

teaspoon

baking soda

, (bicarbonate of soda in the UK)

2

teaspoons

baking powder

½

teaspoon

fine salt

½ cup (120

mls)

melted coconut oil (measured after melting)

, use refined coconut oil if you prefer no coconut flavour. Any other neutral tasting liquid oil can be used instead, Extra Virgin Olive Oil also works amazingly well, but you need t love that distinct olive oil flavour

¾ cup (150

grams)

cane sugar or white granulated sugar

¾ cup (180

mls)

unsweetened milk of choice

2

medium

lemons worth of zest

, (zest them first then juice them after)

¼ cup (60

mls)

freshly squeezed lemon juice

, (usually about 2 medium lemons)

1 cup (130

grams)

fresh or frozen blueberries

, plus another small handful for decorating the top(fresh will give the best flavour
INSTRUCTIONS
Preheat the oven to 375°F (190 *C), then grease a standard 1lb loaf pan ( 8.5 x 4.5 x 2.75 inches) with some coconut oil, or any other neutral oil you have. Place a long strip of baking parchment along the bottom and up either end to act as handles which will allow you to lift the loaf out easily once it's baked. 

To a large bowl, add the flour, cornmeal, baking soda, baking powder and salt. Whisk them together to combine.

In another bowl or jug, add the melted coconut oil, sugar, milk, lemon juice and lemon zest. Whisk or stir them all together really well until thick and gloopy.

Make sure everything is ready to go, oven at temperature, loaf pan ready and at your side, before you continue. Then, pour the wet mixture into the dry mixture. With a spatula or wooden spoon, fold them together. Do not beat it or whisk it really hard as that will affect the texture of the loaf. Be gentle, but work quite quickly. As soon as you can no longer see any dry flour, pour in the blueberries and fold those in too.

Immediately spoon the batter into the loaf pan, smooth out the top, and sprinkle over a few extra blueberries (not essential, it's just for looks!). If you don't intend on glazing the finished loaf, a handful of granulated sugar sprinkled all over the top is nice as it will bake up to give a lovely crunchy top.

Get it into the oven without hanging around (we want to really take advantage of the reaction of the baking soda with the lemon juice for maximum fluffy texture). Bake for 47 - 55 minutes. If you use frozen blueberries it might take a couple of minutes longer. Check it at about 47 minutes, by poking it in the centre with a toothpick. If it comes out clean, except for perhaps a little blueberry juice, then it's done. Or press the centre with your finger. If it bounces back it's done. If it leaves a dent put it back in the oven for a few minutes.

Use the parchment paper handles to gently lift the loaf out of the pan and place on a cooling rack. Remove the paper from the base and leave on the rack until completely cool.

Once the loaf is completely cool, in a small bowl, add the powdered sugar. Gradually add the lemon juice 1 tablespoon at a time, stirring really well between each addition. It will feel like there is not enough liquid, then all of a sudden it will come together into a thick, smooth glaze. You shouldn't need more than 4 tablespoons. The amount needed will vary depending on humidity though.

Once the glaze is completely smooth and drizzle-able, use a spoon to drizzle it all over the top of your loaf. Leave it for at least 10 minutes to set up a bit before cutting.
NUTRITION
Serving:
1
of 10 slices
|
Calories:
332
kcal
|
Carbohydrates:
54
g
|
Protein:
4
g
|
Fat:
12
g
|
Saturated Fat:
10
g
|
Sodium:
208
mg
|
Potassium:
205
mg
|
Fiber:
2
g
|
Sugar:
27
g
|
Vitamin A:
44
IU
|
Vitamin C:
17
mg
|
Calcium:
66
mg
|
Iron:
2
mg
Did you make this recipe?
Rate it & leave feedback in the comments section below. I love seeing your remakes too. Tag @avirtualvegan on Instagram! 🌟