This simple yet decadent Vegan Apple Cake is light and fluffy, loaded with fresh apples, and has a super crunchy, sugar and flaked almond top. It's a cake that feels and smells like fall. No mixer required!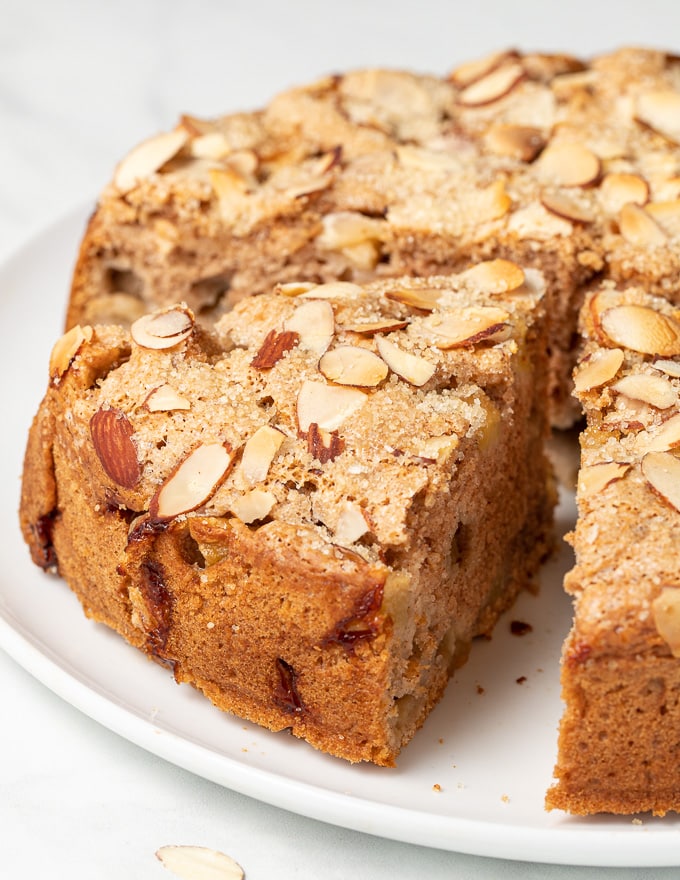 I've officially made this Vegan Apple Cake more times than I care to admit over the past few weeks. Switching things up after eating Vegan Pumpkin Bread for weeks on end feels good.
And let's just take a moment to talk about and drink in those delicious baking smells before I begin. We're talking fragrant sweet apple, warming cinnamon, nutmeg and of course the ultimate freshly baked cake smell which will waft its way right the way through your house.
This my friends is a cake that feels and smells like fall.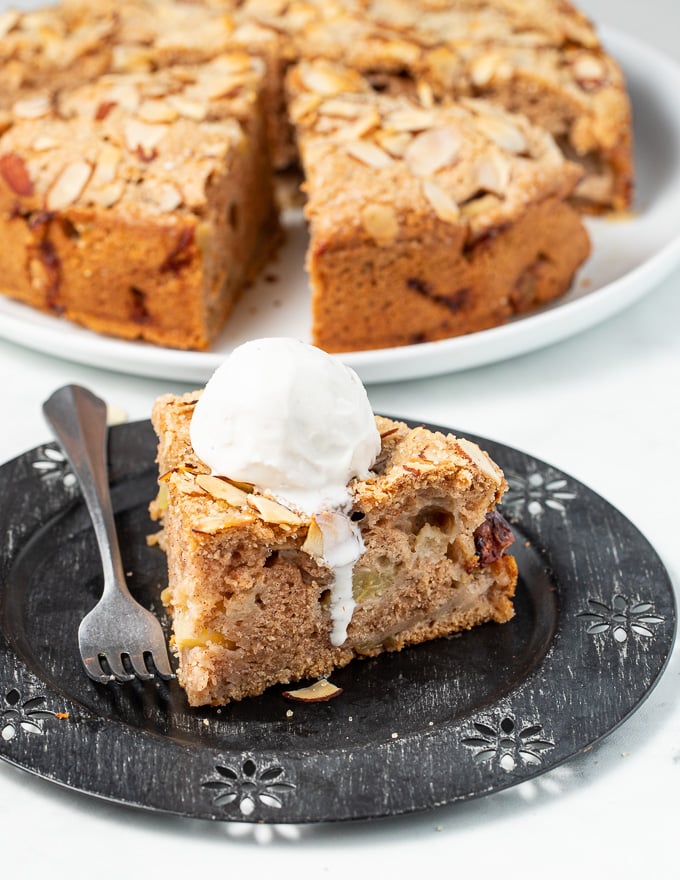 The cake itself is perfectly tender thanks to the addition of some vegan yogurt in the batter, it's nicely spiced and heavy on the apple, sweet but not too sweet .. except for the crunchy, optionally nutty, sugar sprinkled topping which is my favourite part. Get a forkful of that crunchy top in your mouth and your cake world is rocked. Then there's the meltingly soft, sweet apple ...
And although I debated a glaze or cream cheese frosting, I decided last minute that this cake didn't need it. That crunchy sugared top is more than enough.
Although a dollop of ice cream wouldn't go amiss if you are that way inclined ..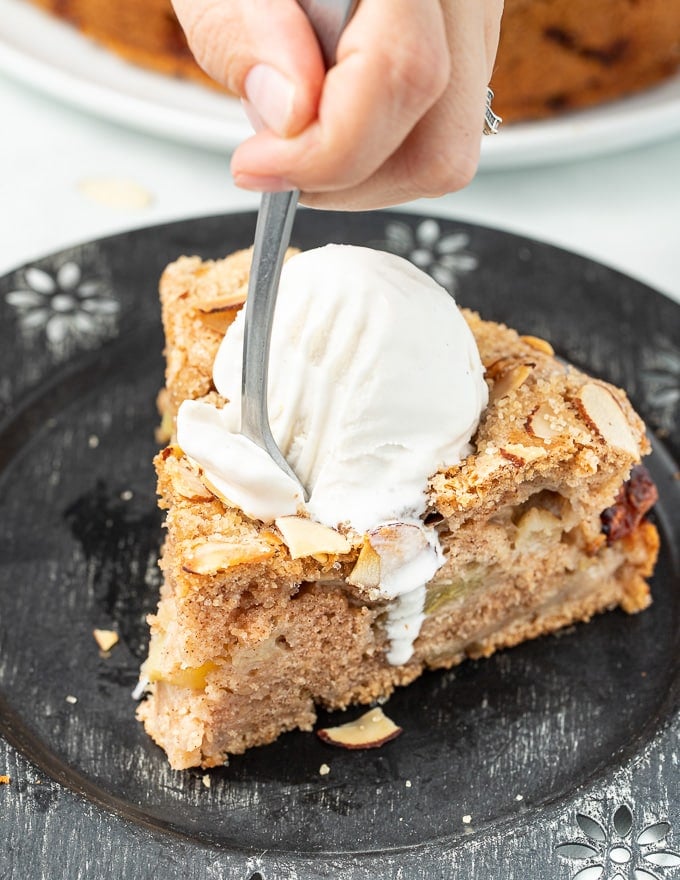 How to make Vegan Apple Cake
---
FOR INGREDIENTS & FULL INSTRUCTIONS PLEASE SEE THE RECIPE CARD AT THE END OF THIS POST
---
So, here's the run down on what's going on here and why:
All purpose flour - Works really well and gives the perfect texture. I don't recommend switching it for any other flour.
Baking powder – Adds lift and airy fluffiness
Baking Soda & Vinegar – The combination creates a chemical reaction and makes bubbles and fizz. It is used as a replacement for the leavening usually provided by eggs and helps the cake rise well and become fluffier.
Vanilla, cinnamon, nutmeg & salt – Flavour, flavour, flavour! Cinnamon and nutmeg work so well with the apple. If you aren't a fan of nutmeg you can omit it but I don't recommend you skip the cinnamon or the vanilla.
Sugar - I used organic cane sugar but white granulated will be fine, as would brown sugar. Bear in mind though that using brown sugar will change the colour and flavour of the cake. Not necessarily a bad thing! A really course sugar like turbinado is great to sprinkle on the top for texture.
Vegan yogurt - For moisture, tenderness and a slightly tighter crumb than more delicate cakes so that it can hold those apple chunks tight.  It also allows us to reduce the amount of oil used. You can use store bought vegan yogurt or my vegan yogurt recipe.
Plant Milk: Any will do although I recommend non sweetened for this recipe. I tend to use my cashew milk because I always have some on hand. Don't be tempted to use water instead of milk. The cake will end up flat and heavy without it.
Oil- Oil is a fat and is what produces a soft, cake-y crumb. It also acts as a preservative. You could try subbing applesauce or more yogurt for the oil but you will get that not so nice, gummy, fat-free texture and the cake could end up a little too moist.
Apples - It's apple cake .... duh! ;O)
Flaked Almonds - Totally optional and only for sprinkling on the top prior to baking. They add lovely texture and nuttiness and make it look pretty too.
Ok, let's get down to how to make it:
This cake is baked in a 9 inch round cake pan. Mine is 3 inches deep. The cake itself gets to about 2½ inches deep. It's a pretty big cake and great for feeding a crowd. I guess what I'm trying to say is, don't use a skinny layer cake pan. To play it safe, it needs to be at least 3 inches deep otherwise you risk overflowing cake in the oven. Not pretty. Been there. Cleared up the burnt on mess.
Prepare your cake pan. I recommend a spring form cake pan for this recipe. More details as to why in my success tips below.
How to line the bottom of a cake pan
To line the bottom of a cake pan, simply place the bottom of the pan on some parchment paper and draw around it with a pen or pencil. Then cut out the circle with scissors. Grease the pan, then place the circle in the bottom. The grease is necessary to stop the cake sticking around the sides and the parchment paper stops the bottom sticking. Some grease in the bottom of the pan before you add the paper though, is a good idea because it helps stop the paper sliding around and ensures it keeps its place when you are spooning the cake batter in.



To make the cake, first mix the flour, baking powder, baking soda, salt and spices in a large bowl.


Then in another bowl, add the sugar, yogurt and liquid ingredients and mix them together.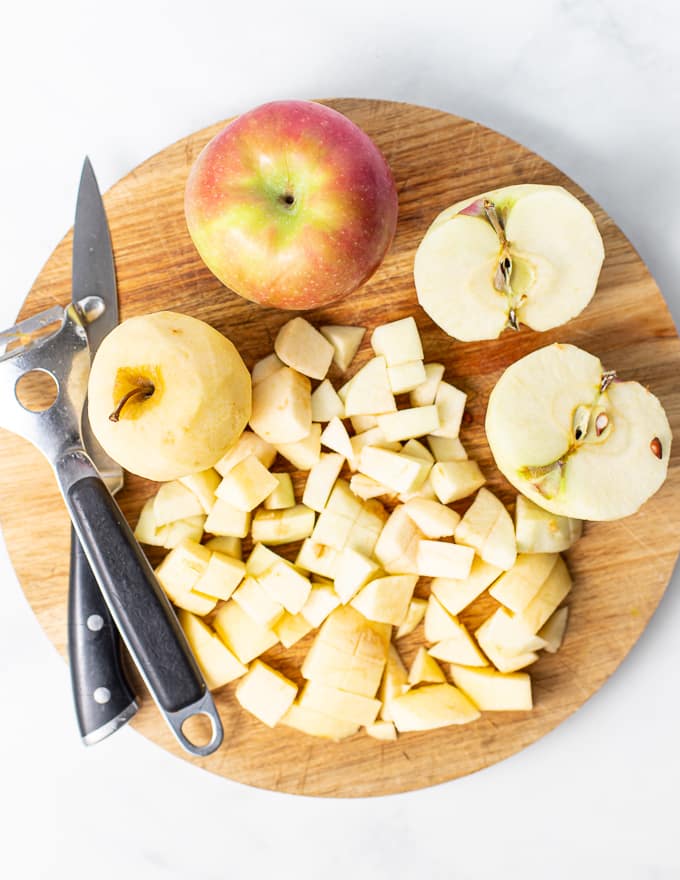 Peel, core and chop the apples.

Mix the wet ingredients with the dry ingredients.


Add the apple to the bowl and stir it through the batter.


Spoon into your prepared pan, sprinkle with course sugar (LOTS of sugar!) and flaked almonds then bake.


Ok, cake done and here's what we've got!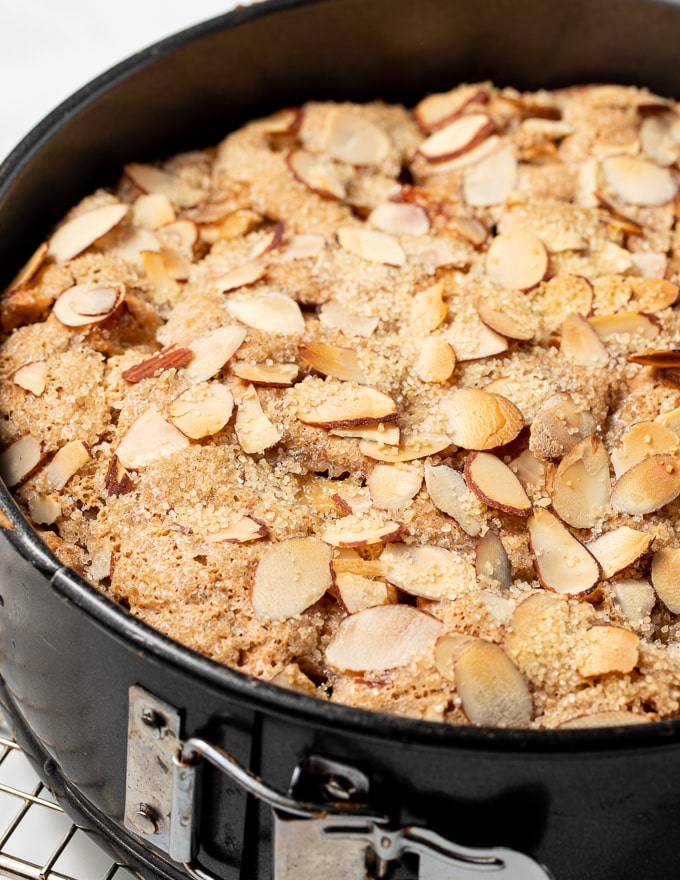 Success tips
Follow the recipe closely and as always with recipes involving flour, I highly recommend that you use a kitchen scale. Cup measurements are not accurate enough to get the best and consistent results. Digital kitchen scales are available at most big superstores now and you can pick one up for around $10. They are a great investment and are so worth having! If you do need to use cups, spoon the flour into the cup then level off the top with a knife without compacting it or shaking it down. By doing it like this you will get roughly the correct amount and make your chances of success better. Do not scoop the flour up into the cup as you will end up with much more than intended and it will affect the outcome of the recipe.
Do not over mix the batter. As with all cakes, the more you mix, the more you activate the gluten in the flour which really affects the texture and rise of the finished cake.
Mix the wet and dry ingredients separately as instructed, before adding them all together. This helps avoid accidentally over-mixing.
I recommend the use of a springform cake pan for this recipe. The top of the cake is really sugary and if you invert it a lot of the sugar will fall off. Also the apple chunks throughout the cake make it quite fragile so turning it out of a regular pan would probably result in the cake breaking. With a springform pan you can use a spatula to loosen the sides, then remove the whole cake without having to invert it.
Even if your cake pan is non stick, I recommend lining the bottom of it with a circle of parchment paper to make removing it form the base of the pan really easy. See my tips for that above.
How can you tell when it's cooked properly? You can use the toothpick test. Stick it in the centre and if it comes out clean then its done.
Don't turn the cake out of the pan too soon. With all of the apple chunks it will be fragile and fall apart easily while it's really hot. It needs time to settle a little. Remove from the oven and leave for 10 minutes before very carefully removing it from the pan.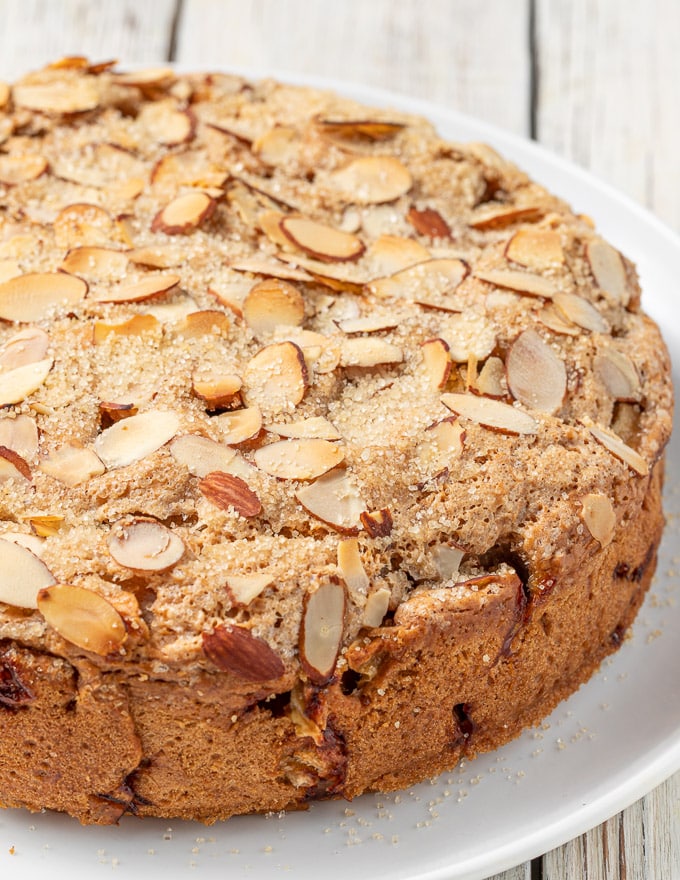 What kind of apples should I use to make apple cake?
Use your favourite type of apples. I personally like to use two different kinds. One slightly tart variety and one sweeter. In my cake I used Spartan and Gala. Best of both worlds you know? If I were in England I'd be using the good old Bramley apple, but sadly we don't get those here. Granny Smith and Gala are both a great widely available choice that you should find in most stores/greengrocers.
Some ways you can adapt this recipe
Here are some ways that you can adapt your vegan apple cake:
omit the flaked almond sprinkle to keep the recipe nut-free
Omit the almonds and sugar on top and instead spread vegan cream cheese frosting all over the top of the cake!
add a big handful of golden raisins to the batter at the same time as you add the chopped apple
add a couple tablespoons of dark rum to the batter. Just reduce the amount of milk you use to compensate. Stir it into the other liquids before mixing them with the dry ingredients.
add a big handful of chopped nuts of choice. Pecans, walnuts or hazelnuts all work well
add some stem ginger or ground ginger with the other spices
omit the course sugar top and glaze the cake or use a cream cheese frosting
add a streusel topping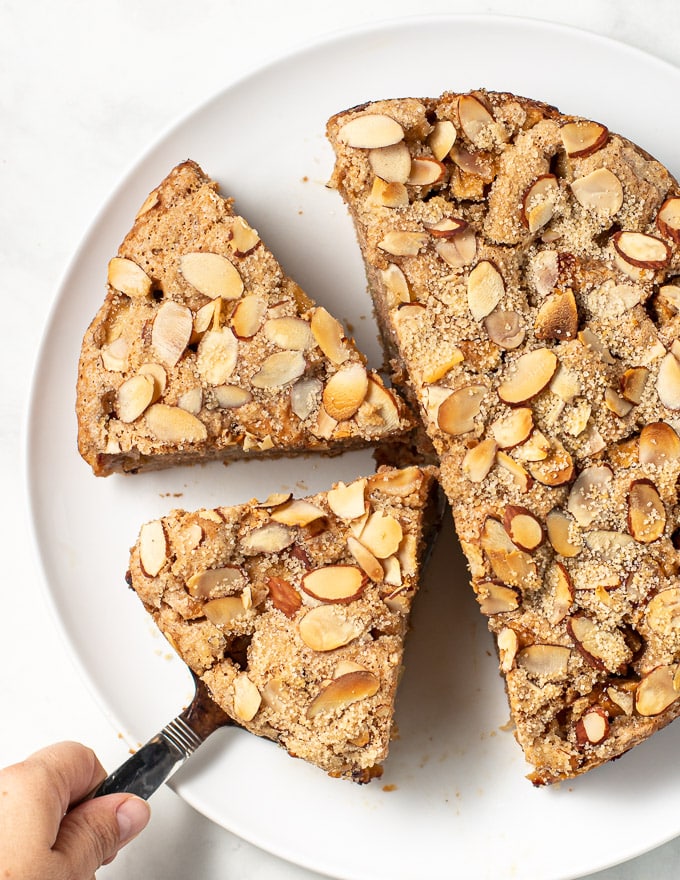 How to serve apple cake
This Vegan Apple Cake is really easy to make and perfect for feeding a crowd. Or you know? A crowd of just you ;O)
It's one of those cakes that you can eat for brunch, snack, potlucks, afternoon tea or dessert and it is great served warm from the oven or at room temperature.
If you miss it warm from the oven though, you can microwave it by the slice to. In our microwave, 30 seconds on full power warmed it nicely without it being hot.
Enjoy it just as it is or try serving it with a drizzle of my easy Vegan Caramel Sauce, my Date Caramel or a big dollop of vanilla ice-cream.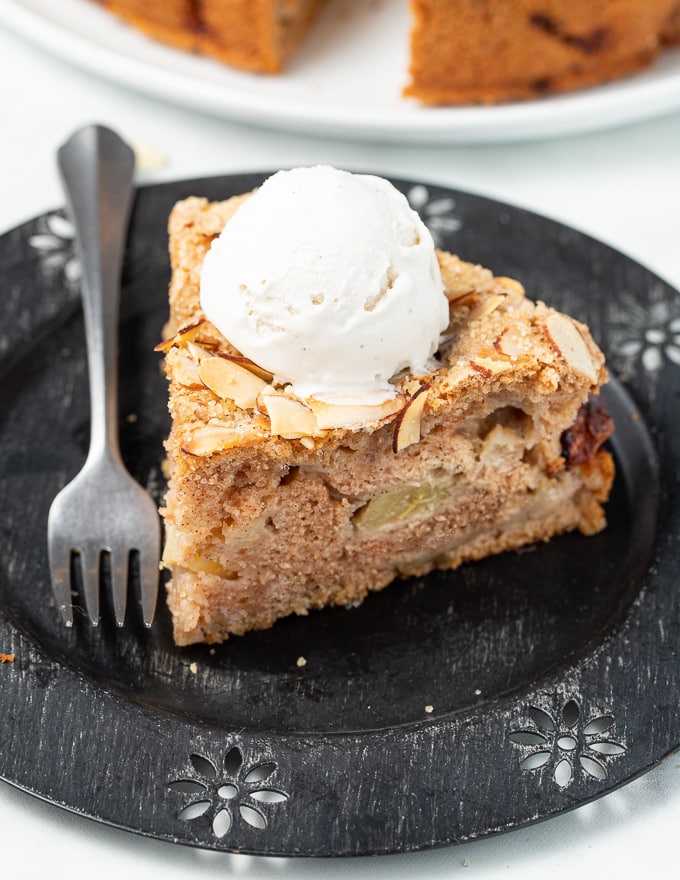 Hungry for more?
If you love seasonal apple recipes then you might also enjoy my:
Vegan Apple Cake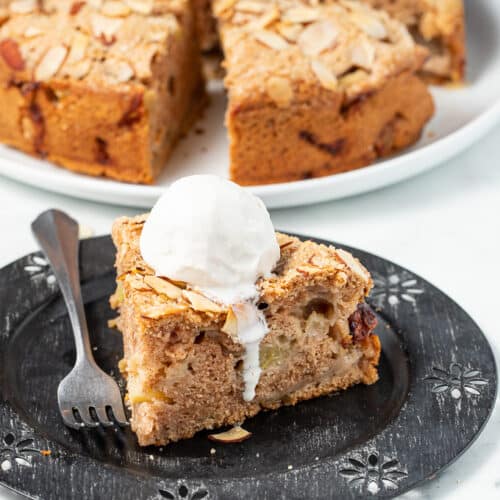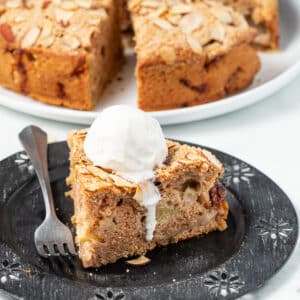 This simple yet decadent Vegan Apple Cake is light and fluffy, loaded with fresh apples, and has a super crunchy, sugar and flaked almond top. It's a cake that feels and smells like fall. No mixer required! 
Ingredients
3 cups / 375

g

all purpose flour

(plain flour in the UK)

2½

teaspoons

baking powder

½

teaspoon

baking soda

(bicarbonate of soda in the UK)

2

teaspoons

ground cinnamon

¼

teaspoon

ground nutmeg

½

teaspoon

fine salt

½ cup + 2 tablespoons / 144

g

vegan yogurt

, unflavoured, preferably unsweetened

¾ cup + 2 tablespoons / 180

g

sugar

, cane, white granulated or light brown

1 cup / 240

ml

unsweetened plant milk

5 tablespoons / 75

ml

liquid oil

, any neutral oil like sunflower, vegetable, canola or melted refined coconut oil

1 teaspoon / 5

ml

apple cider vinegar

, or lemon juice

1 tablespoon / 15

ml

vanilla extract

5

medium

apples

, about 700g of apples weighed before peeling/coring *
For the topping
¼ cup / 50

g

coarse sugar

**

¼ cup / 25

g

flaked almonds

, OPTIONAL ***
INSTRUCTIONS
Preheat oven to 360 °F (182 °C) and grease and line a 9 inch springform cake pan.

To a large bowl add the flour, baking powder, baking soda, cinnamon, nutmeg and salt. Whisk them up to combine.

In another bowl, add the yogurt, sugar, milk, oil, vinegar and vanilla. Whisk them all up until well combined.

Peel, core and chop the apples into chunks. Roughly ¼ inch pieces but it doesn't have to be exact.

Pour the wet ingredients into the dry ingredients and stir them together. Don't over mix or beat it vigorously. Just stir gently until you can no longer see any dry flour.

Pour in the apple chunks and fold them gently and evenly through. Again don't over mix.

Spoon into the prepared pan and level the top with a spatula. Sprinkle over the flaked almonds and the coarse sugar and place immediately in the oven on the middle shelf.

Bake for around 1 hour and 15 minutes. It might need up to 1 hour 20 minutes. Insert a toothpick or skewer into the centre of the cake. If it comes out clean then the cake is ready. If you see any signs of batter return to the oven for another five minutes.

Once cooked, remove from the oven and leave for 15 minutes in the pan to settle. Then carefully remove the sides of the springform pan, first running a knife around the edges to free up any caramelized apple pieces that might have stuck to the side a bit. Once the sides of the pan are removed, carefully lift the cake to remove the bottom of the pan and the circle of parchment paper. Leave the cake to cool on a wire rack.
NOTES
*The weight of the apples doesn't have to be absolutely exact. DOA few grams either side is fine.
**Course sugar is recommended for the top as it adds lovely texture, but if you don't have any you can use regular granulated sugar instead. You might not need as much but be generous! 
***Omit the flakes almonds to keep the cake nut-free. 
NUTRITION
Calories:
314
kcal
Carbohydrates:
56
g
Protein:
4
g
Fat:
9
g
Saturated Fat:
1
g
Sodium:
160
mg
Potassium:
213
mg
Fiber:
3
g
Sugar:
28
g
Vitamin A:
41
IU
Vitamin C:
5
mg
Calcium:
70
mg
Iron:
2
mg
Nutritional information is provided for convenience & as a courtesy only. The data is a computer generated estimate so should be used as a guide only.
Tried this recipe?
Rate it & leave your feedback in the comments section below, or tag @avirtualvegan on Instagram and hashtag it #avirtualvegan