Homemade Vegan Creme Eggs with rich chocolate & a sweet, creamy fondant filling & a yellow 'yolk'. Just 5 ingredients! A copycat version of that oh-so-popular Easter treat from Cadbury.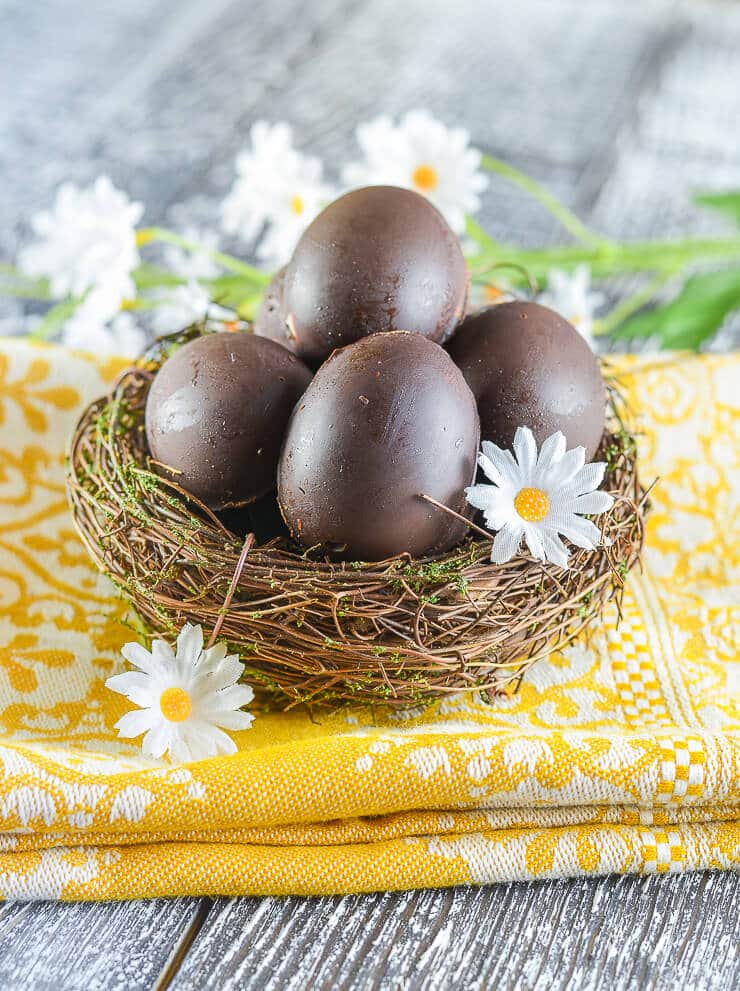 Did you grow up eating Cadbury Creme Eggs? I know I did and I loved them in my pre-vegan days so I just had to recreate them! I am more than happy with the result. They taste very close to how I remember traditional Cadbury Creme Eggs tasting.
There is rich chocolate filled with a thick, white fondant and a lovely yellow yolk coloured with turmeric. You can taste the turmeric a little bit, but barely, and I would much rather that than use food colouring of any kind. But, if you wanted to, you could omit it and use a tiny drop of yellow food colouring, or just leave your fondant all white.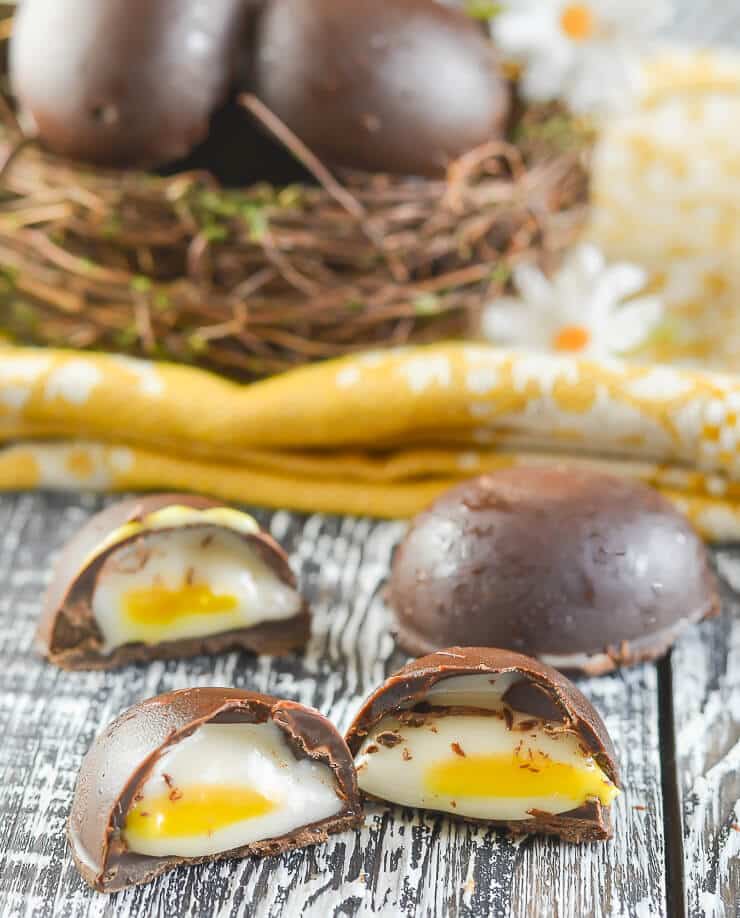 Although I am totally happy with the taste and texture in this recipe, I am not 100% happy that they didn't actually turn out fully egg shaped. I tried but I couldn't do a neat enough job.
To make the two halves, fill them adequately then stick them together neatly was just too faffy for me and I gave up after many failed and ugly attempts.
I also didn't want the recipe to end up being so difficult to make that it put you off. Making half eggs is much, much easier. Plus it means you can eat two!
Ingredients
Here are the pantry staples you need to make Vegan Creme Eggs: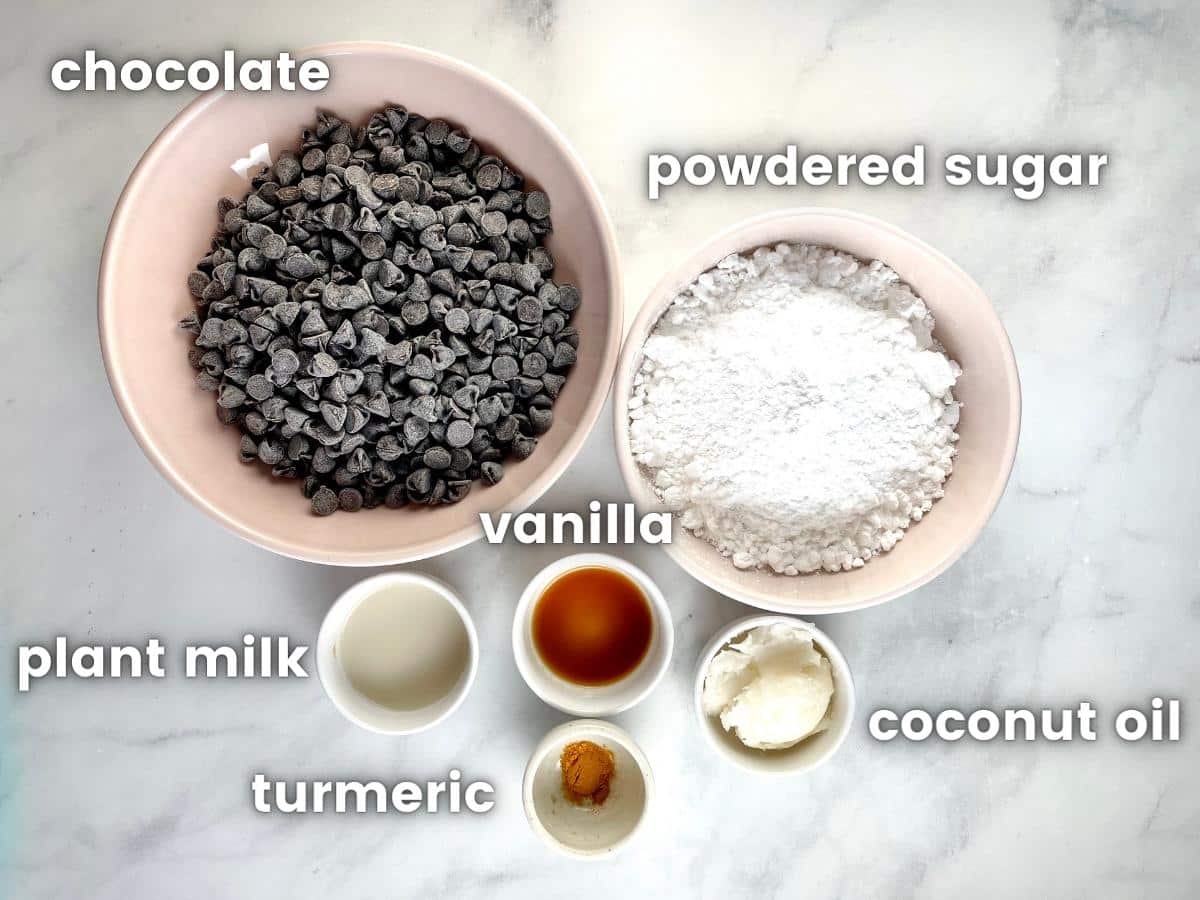 How To Make Homemade Vegan Creme Eggs
(For detailed measurements and instructions, see the printable recipe card).
Melt the chocolate with a tiny bit of coconut oil, use a teaspoon to swipe it around your egg mold, then freeze until hard (it only takes a few minutes).
Mix the fondant filling ingredients together.
Dollop some white filling into each chocolate case.
Dollop some yellow into the middle.
Cover with a bit more white filling.
Freeze for a few minutes again, then add a layer of chocolate over the top and allow it to set.
Storage
Keep your vegan creme eggs in the fridge for up to a couple of weeks, or in the freezer for up to 3 months. The filling doesn't freeze solid. It just gets a little firmer and a bit chewy so you can eat them straight from the freezer.
Variations
The turmeric flavour in the "yolk" is very mild, but if you'd rather not use it you can replace it with a tiny bit of yellow food colouring, or just skip the yellow yolky bit and just use the white fondant filling instead.
If you try this recipe, let me know how you like it by leaving a comment and rating below! And be sure to join my mailing list for more deliciousness!
Recipe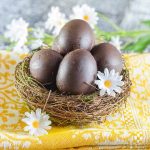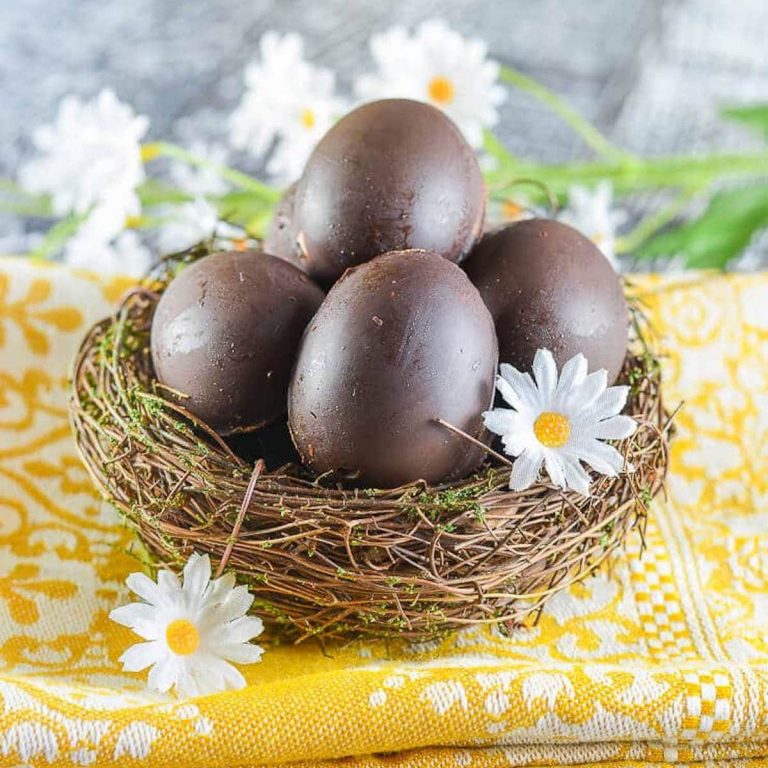 Vegan Creme Eggs
Author:
Homemade Vegan Creme Eggs with rich chocolate & a sweet, creamy fondant filling & a yellow 'yolk'. Just 5 ingredients! A copycat version of that oh-so-popular Easter treat from Cadbury. 
INSTRUCTIONS
Start by gently melting the chocolate with 2 teaspoons of coconut oil. The easiest way to do this is to simply place them both in a bowl over a pan of gently simmering water. Be sure that the bowl doesn't touch the water. You can also use a microwave but do it very gradually at a really low temperature and stir well every 20 to 30 seconds or so. Don't rush it because chocolate can burn easily in a microwave.

Once the chocolate is liquid and glossy, spoon some into each mold with a teaspoon, and spread it around and up the sides. Make sure it's not too thin as the egg 'shells' need to be pretty sturdy. Leave the remaining chocolate in its bowl and set it aside.

Once all the molds are coated, place the mold on a small baking sheet then put in the freezer to set for a few minutes. Make sure it's level.

Meanwhile, in a small bowl combine the powdered sugar, remaining coconut oil and vanilla. Gradually add the milk a drop at a time, stirring really well between each addition to create a smooth, thick, just droppable paste. This is your "egg white".

Spoon about ⅓ of it out and into another small bowl, then stir the tuermic into it to make the yolk.

By now the chocolate will be set. Remove from the freezer.

Add a small amount of white fondant to each chocolate shell. Around 1 teaspoon or just enough to fill each one about ⅓ of the way.

Add a small dollop of yellow fondant to each one. Try to get it as close to the middle as you can.

Cover each yellow dollop with more white fondant just shy of the top, leaving just enough room to cover the top with another layer of chocolate. Give the mold a little tap on your work surface to level.

Once they are filled place in the freezer (make sure they are level) for around 10 minutes just to firm up the filling a little, then remove and cover each one with a layer of chocolate. Pop back in the freezer to allow them to set.

Once completely set, pop out from the silicone mold and store in a container in the fridge or freezer.
NOTES
I recommend using a silicone mold to make these as it is much easier to remove them than it is in the more rigid plastic molds. If you don't have egg shapes just use any other shapes you have, even a silicone ice cube tray would work!
Store these Vegan Creme Eggs in the fridge. They will keep for a couple of weeks. You can also freeze them. They are edible straight from the freezer. The fondant centers do not freeze hard, they just become a bit firmer and nicely chewy. I actually prefer them straight from the freezer!
NUTRITION
Serving:
1
creme egg
|
Calories:
169
kcal
|
Carbohydrates:
25
g
|
Protein:
1
g
|
Fat:
9
g
|
Saturated Fat:
6
g
|
Polyunsaturated Fat:
1
g
|
Monounsaturated Fat:
1
g
|
Sodium:
1
mg
|
Potassium:
3
mg
|
Fiber:
1
g
|
Sugar:
22
g
|
Vitamin A:
3
IU
|
Vitamin C:
1
mg
|
Calcium:
29
mg
|
Iron:
2
mg
Did you make this recipe?
Rate it & leave feedback in the comments section below. I love seeing your remakes too. Tag @avirtualvegan on Instagram! 🌟