Homemade Vegan Creme Eggs with rich chocolate & a sweet, creamy fondant filling & a yellow 'yolk'. A copycat version of that oh so popular Easter treat from Cadbury minus the egg white, cow's milk, natural flavours, emulsifiers, high fructose corn syrup & artificial colours.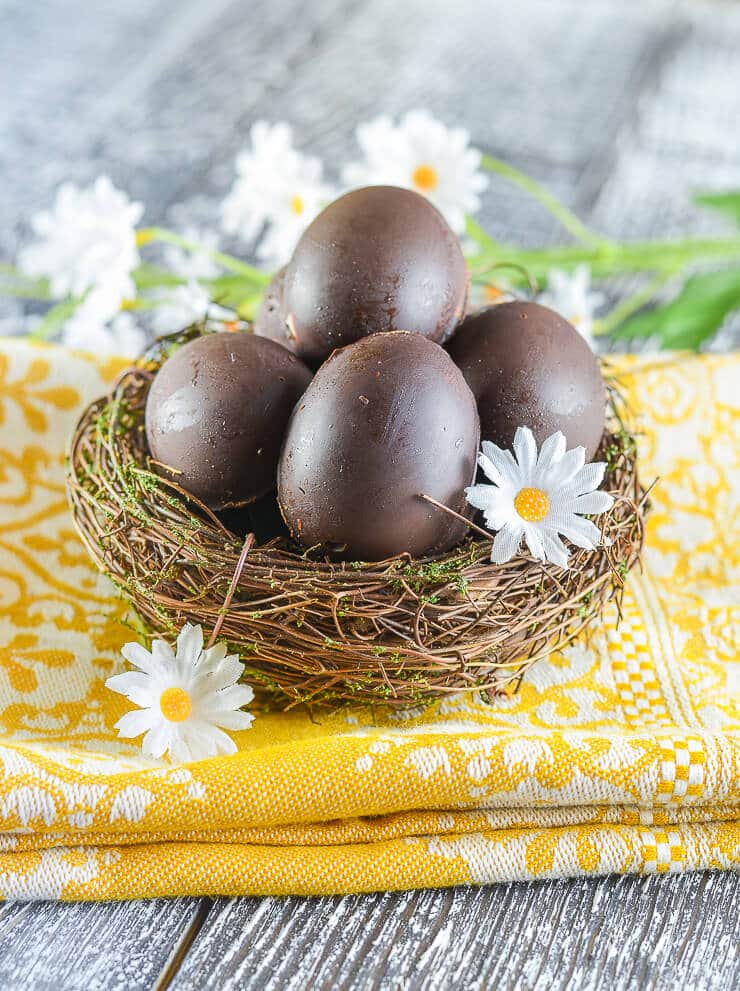 Did you grow up eating Cadbury Creme Eggs? I know I did and I loved them in my pre-vegan days.
I was looking for a piping bag to pipe the crosses on my Hot Cross Cookies, when I stumbled upon egg molds in my local craft store a few weeks ago and I took it as a sign that I needed to create some Vegan Creme Eggs.
MAKE YOUR VERY OWN VEGAN CREME EGGS!
Their creation took quite a lot of trial and error. Getting that filling just perfect meant going through the torturous process of making and eating so many......
I am more than happy with the result. They taste very close to how I remember traditional Cadbury Creme Eggs tasting.
There is rich chocolate filled with a thick, white fondant and a lovely yellow yolk coloured with turmeric. You can taste the turmeric a little bit, but barely, and I would much rather that than use food colouring of any kind. But, if you wanted to, you could omit it and use a tiny drop of yellow food colouring, or just leave your fondant all white.
A GAME OF TWO HALVES
Although I am totally happy with the taste and texture, I am not 100% happy that they didn't actually turn out fully egg shaped. I tried but I couldn't do a neat enough job.
To make the two halves, fill them adequately then stick them together neatly was just too faffy for me and I gave up after many failed and ugly attempts.
I also didn't want the recipe to end up being so difficult to make that it put you off. Making half eggs is much, much easier. Plus it means you can eat two!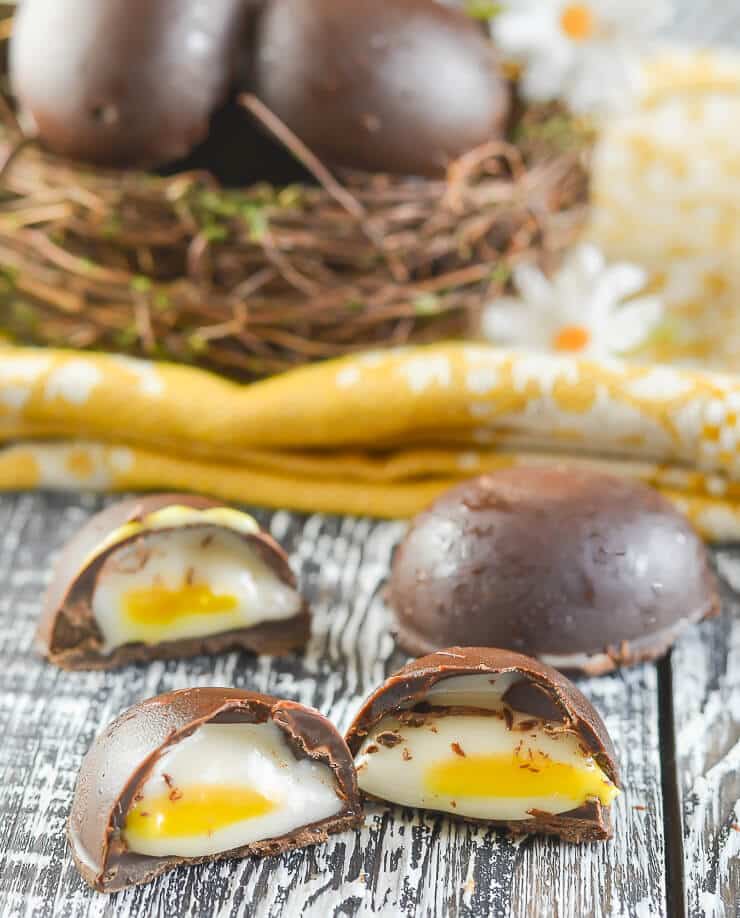 This is why I am loving these Vegan Creme Eggs:
They are vegan!
They are really like the original
Making them is pretty easy
You can have fun making them with kid instead of decorating real eggs
Um...I can eat creme eggs again!!!
And if you love these, how about trying my Vegan Caramel Eggs too?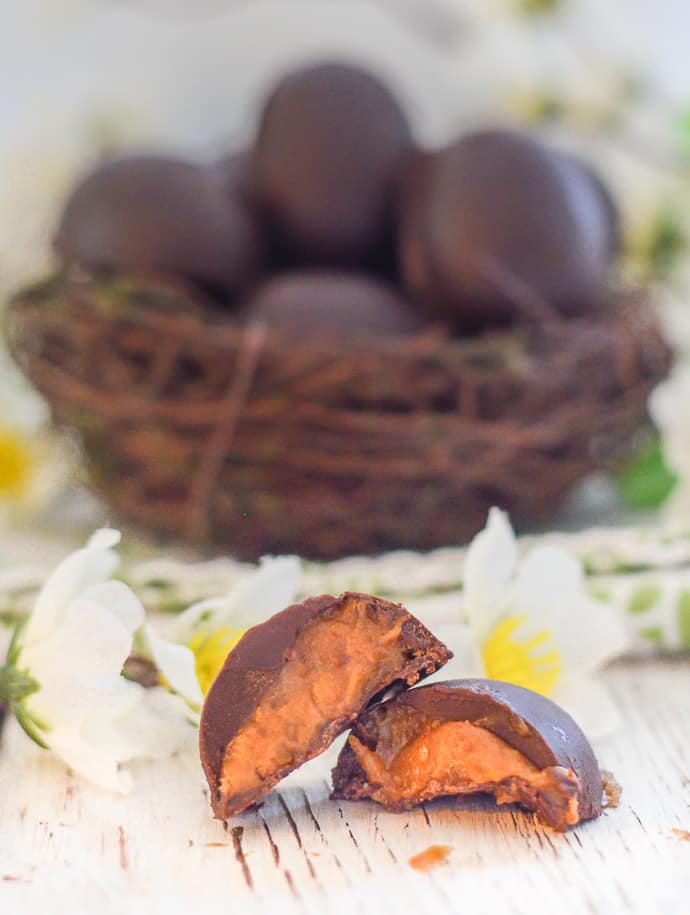 HOW TO MAKE YOUR OWN HOMEMADE CREME EGGS
---
FOR INGREDIENTS, FULL INSTRUCTIONS & STEP BY STEP VIDEO, SEE THE RECIPE CARD AT THE END OF THIS POST
---
Step 1
Melt some chocolate and use a teaspoon to swipe it around your egg mold, then freeze until hard (it only takes a few minutes)
Step 2
Mix up the filling ingredients in a bowl then spoon some filling out into another bowl and add the turmeric to make it yellow
Step 3
Dollop some white filling into each chocolate case
Step 4
Dollop some yellow into the middle of each
Step 5
Cover with a bit more white filling
Step 6
Freeze for a few minutes again, then add a layer of chocolate over the top and allow it to set before devouring!
For more Easter recipes, check out these great options:
And if you love this recipe, please do checkout my cookbook, and subscribe to my email list for a fabulous FREE eCookbook featuring my top 10 recipes. Being on the list means you will be first to see my new recipes and you'll be kept in the loop on all things new and exciting too!
Vegan Creme Eggs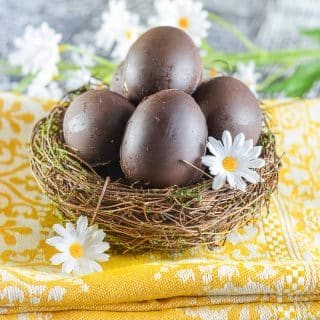 A copycat version of that oh so popular Easter treat from Cadbury minus the egg white, cow's milk, natural flavours, emulsifiers, high fructose corn syrup & artificial colours. Rich, sweet, fondant filling encased in rich chocolate makes these Vegan Creme Eggs irresistible!
INSTRUCTIONS
Start by gently melting the chocolate. The easiest way to do this is to simply place a bowl over a pan of simmering water. Be sure that the bowl doesn't touch the water. You can use a microwave but it's so easy to spoil the chocolate this way that I tend not to. Plus I think it becomes smoother and glossier when melted over a pan of water.

Spoon some chocolate into each mold and spread it around and up the sides with the back of a teaspoon. Make sure it's not too thin as the egg 'shells' need to be pretty sturdy. Leave the remaining chocolate in it's bowl, sat on top of the simmering water to keep it melted.

Once all the molds are filled, place on a baking sheet covered in parchment paper, then put in the freezer to set.

In a small bowl combine all of the other ingredients except the turmeric. Stir until completely smooth.

Spoon out about ⅓ into another small bowl and stir the turmeric into it.

By now the chocolate should be set. Remove from the freezer.

Add a small amount of white fondant to each chocolate shell. Around 1 teaspoon or just enough to fill each one about ⅓ of the way.

Add a small dollop of yellow fondant to each one. Try to get it as close to the middle as you can.

Cover each yellow dollop with more white fondant leaving just enough room to cover the top with another layer of chocolate.

Once they are all almost full place in the freezer for around 10 minutes just to firm up the filling a little, then remove and cover each one with a layer of chocolate. Pop back in the freezer to allow them to set.
NOTES
I recommend using a silicone mold to make these as it is much easier to remove them than it is in the more rigid plastic molds. If you don't have egg shapes just use any other shapes you have, even a silicone ice cube tray would work!
Store these Vegan Creme Eggs in the fridge. They will keep for a couple of weeks. You can also freeze them. They are edible straight from the freezer. The fondant centres do not freeze hard, they just become a bit firmer and nicely chewy. I actually prefer them straight from the freezer!
The brown rice syrup helps give the fondant the correct texture. You can usually find it in the baking aisle of the grocery store. If you can't find it you can sub it for golden syrup or corn syrup as they both have similar textures. You can also omit it completely but the filling will be a little thinner and not have quite the same consistency as a regular creme egg.
NUTRITION
Serving:
1
creme egg
Calories:
159
kcal
Carbohydrates:
26.8
g
Protein:
0.8
g
Fat:
6.8
g
Sodium:
7.8
mg
Fiber:
1.2
g
Sugar:
23.5
g
Calcium:
10
mg
Iron:
0.7
mg
Nutritional information is provided for convenience & as a courtesy. The data is a computer generated estimate so should be used as a guide only.
Tried this recipe?
Rate it & leave your feedback in the comments section below, or tag @avirtualvegan on Instagram and hashtag it #avirtualvegan