Easy Vegan Caramel Eggs with magical, refined sugar-free insides. Yes, it's caramel, yes it's yummy, but it's actually made from dates! So if you are watching your refined sugar intake you can have your cake egg and eat it....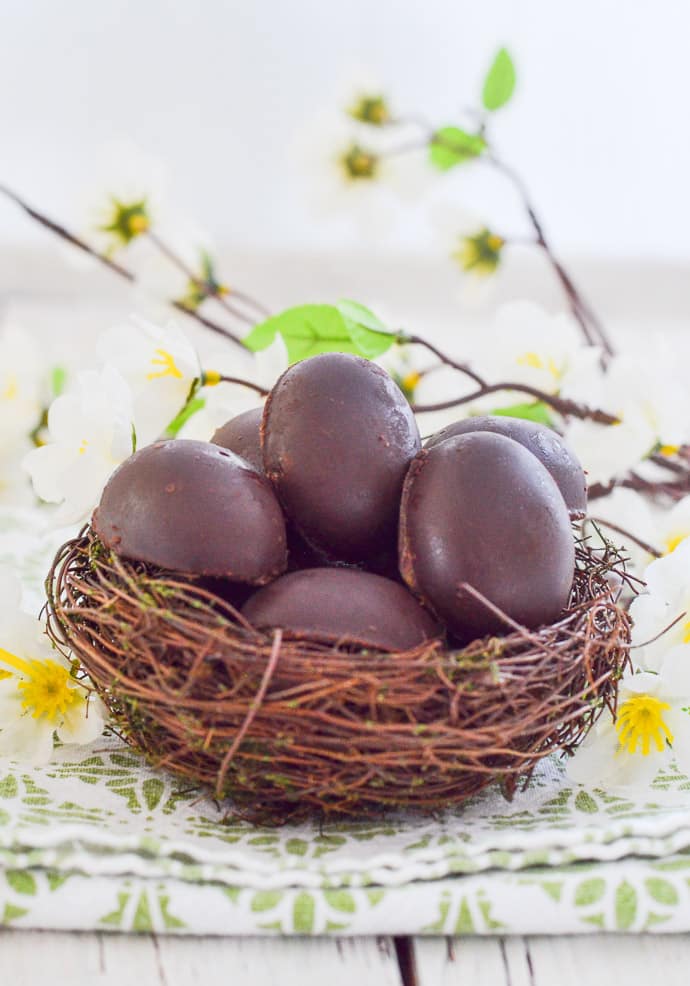 Easter is nearly here and this Vegan Caramel Eggs recipe is for those of you who are watching your refined sugar intake but still want to indulge in a little Easter egg madness.
These homemade Caramel Eggs are really sweet and indulgent a lot healthier than most candy because they are filled with Date Caramel.
The Date Caramel is made from:
medjool dates
nut butter of choice
salt
coconut milk
That's it! It is completely refined sugar free! And here it is in all of its drizzling glory: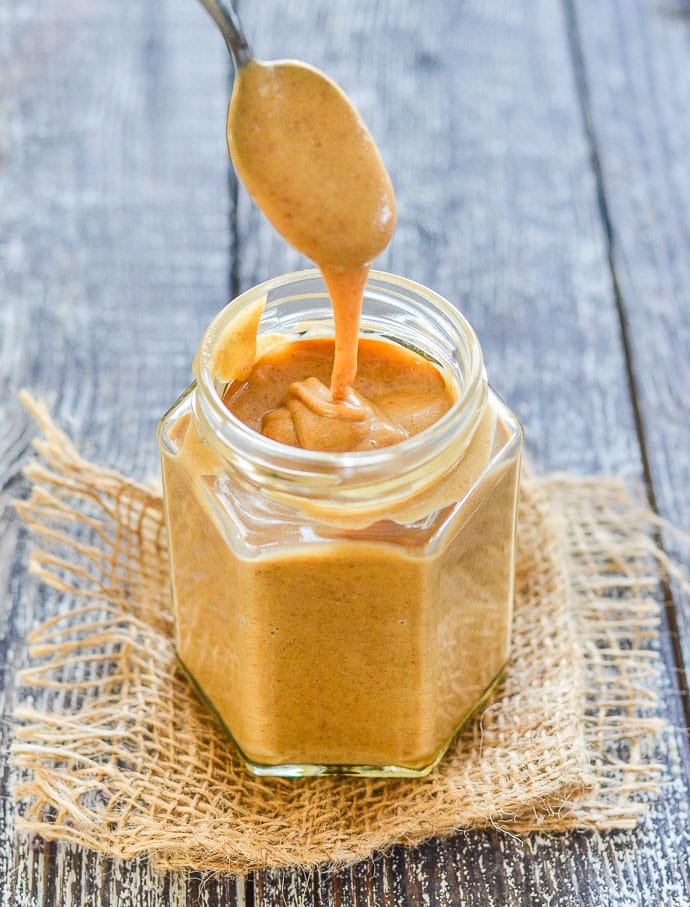 Healthy caramel....And it's so ooey-gooey..and it really doesn't taste healthy at all.
Because of the healthy Date Caramel, it means that the only refined sugar in these filled Caramel Eggs is what is in the chocolate and I tend to use semi-sweet chocolate when I make things like this which limits the sugar content even more. How good is this sounding?
This is why I am loving these Vegan Caramel Eggs:
Caramel eggs are perfect for Easter
They are really easy to make
You can have fun making them with your children
They are perfect for gifting
Refined sugar is kept to a minimum
You can keep them in the freezer and eat them straight from the freezer
Did I mention there's ooey-gooey caramel?
How to make Vegan Caramel Eggs:
Blend the date caramel ingredients up in a blender or a food processor. A food processor does an ok job, but a high powered blender does an even better one. My Blendtec makes the caramel really silky smooth whereas my food processor leaves a few tiny lumps.
Melt the chocolate and use a teaspoon to smear it around the inside of an egg shaped mold. I have this one and I do highly recommend using a silicone one as it makes removing the eggs so much easier than with a rigid mold.
Let the chocolate set in the freezer for a few minutes then dollop in some of the date caramel
Cover with a thick layer of melted chocolate then leave to set up again
You can also use the same mold to make my Vegan Creme Eggs: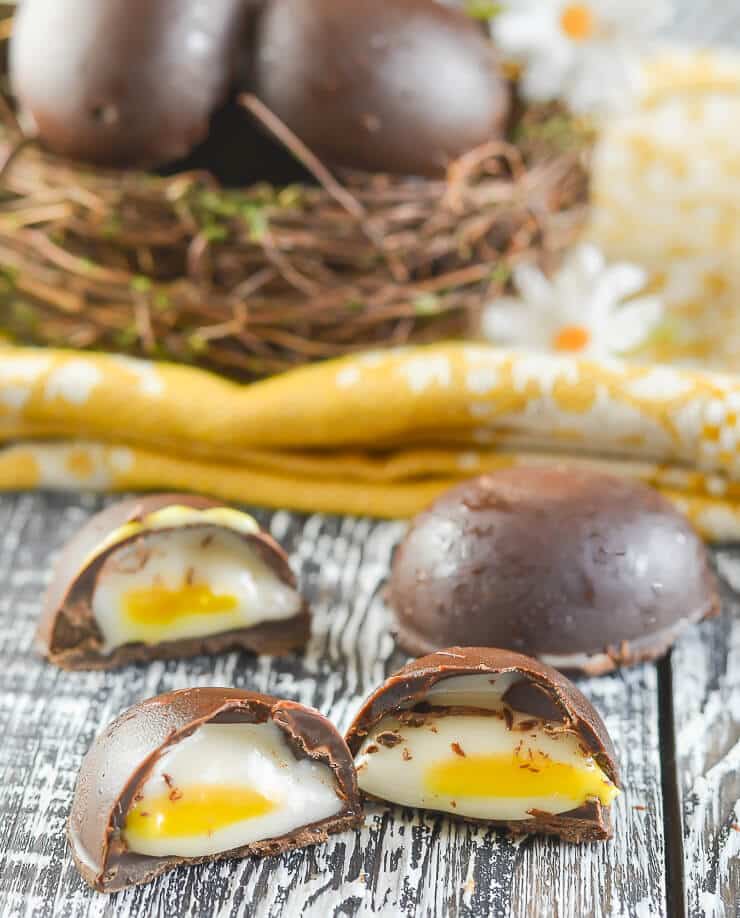 What to do with leftover date caramel
If you happen to have some Date Caramel leftover here are some ways you can use it:
On pancakes or waffles
Drizzled over oatmeal
On toast
Drizzled in vegan yogurt
With ice-cream
Use as a dip for fruit like apple slices, banana or strawberries
Over cakes
Swirled into brownies
Swirled through my Dessert Chocolate Hummus – Remember Rolos? That's what it tastes like!
Spread in a banana sandwich – Don't knock it 'til you've tried it!
How to store Vegan Caramel Eggs
Vegan Caramel Eggs can be kept in the fridge or freezer. The caramel stays edibly soft even when frozen.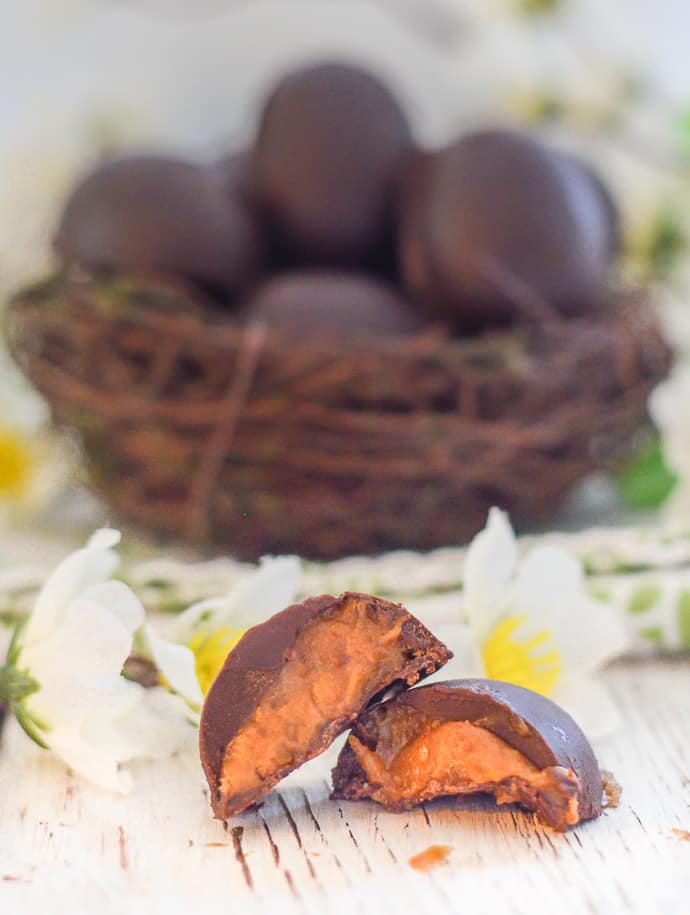 If you try this recipe, let me know how you like it by leaving a comment and rating below! And be sure to join my mailing list for more deliciousness!
Recipe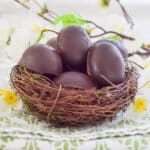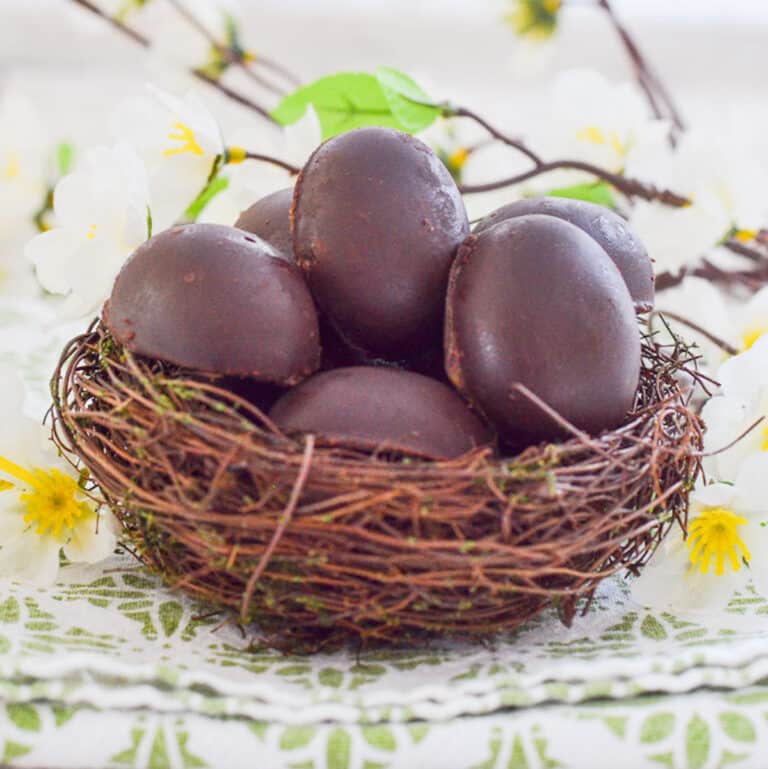 Vegan Caramel Eggs
Author:
Easy Vegan Caramel Eggs with magical, refined sugar free insides. Yes, it's caramel, yes it's yummy, but it's actually made from dates! So if you are watching your refined sugar intake you can have your cake egg and eat it....
Ingredients
1¼ cup (210

grams)

chocolate chips

, or the same weight of chocolate from a bar

1 cup (175

grams)

medjool dates *

, measured after pitting (about 10 large dates)

2

tablespoons

nut butter or sesame seed butter

, cashew butter yields the most neutral taste, but almond butter, peanut butter or tahini all work well too

½

teaspoon

vanilla extract

¼ - ½

teaspoon

salt

, add to tatse. for a salted caramel flavour ½ teaspoon is good

around 8

tablespoons

plant milk

, (canned coconut milk gives the richest flavour)
INSTRUCTIONS
Add the dates, nut butter, vanilla and salt to a blender or food processor. Blend until completely smooth, while gradually adding the coconut milk to aid in the blending. Use a little as you can get away with because you need to keep it quite thick.

Melt the chocolate in a bowl over a pan of simmering water.

Spoon some chocolate into each mold and spread it around and up the sides with the back of a teaspoon. Make sure it's not too thin as the egg 'shells' need to be pretty sturdy. Leave the remaining chocolate in it's bowl, sat on top of the simmering water to keep it melted.


Once all the molds are filled, place on a baking sheet covered in parchment paper, then put in the freezer to set. It will only take around 5 minutes.

Remove from the freezer once set and add a dollop of caramel to each chocolate shell and level off the top. A palette knife, the back of a long knife or a dough scraper is good for this.

Then put a layer of melted chocolate over the top of them all and pop back in the freezer.
NOTES
They are ready to eat as soon as they are set and can be stored in the freezer for a few weeks. 
*The dates need to be soft and sticky and not really dry and tough. If they are are pretty dried out, soak them in warm water for 10 - 15 minutes before draining and using. if you do not have a high powered blender I would recommend doing this even if your dates are quite soft as it will make things easier for your blender. 
NUTRITION
Serving:
1
egg
|
Calories:
156
kcal
|
Carbohydrates:
27
g
|
Protein:
2
g
|
Fat:
6.7
g
|
Saturated Fat:
3.4
g
|
Sodium:
51
mg
|
Fiber:
2.5
g
|
Sugar:
23
g
|
Vitamin A:
50
IU
|
Calcium:
20
mg
|
Iron:
0.7
mg
Did you make this recipe?
Rate it & leave feedback in the comments section below. I love seeing your remakes too. Tag @avirtualvegan on Instagram! 🌟