Make homemade Oat Milk in minutes with just 2 ingredients. This easy oat milk recipe is super quick and very budget friendly!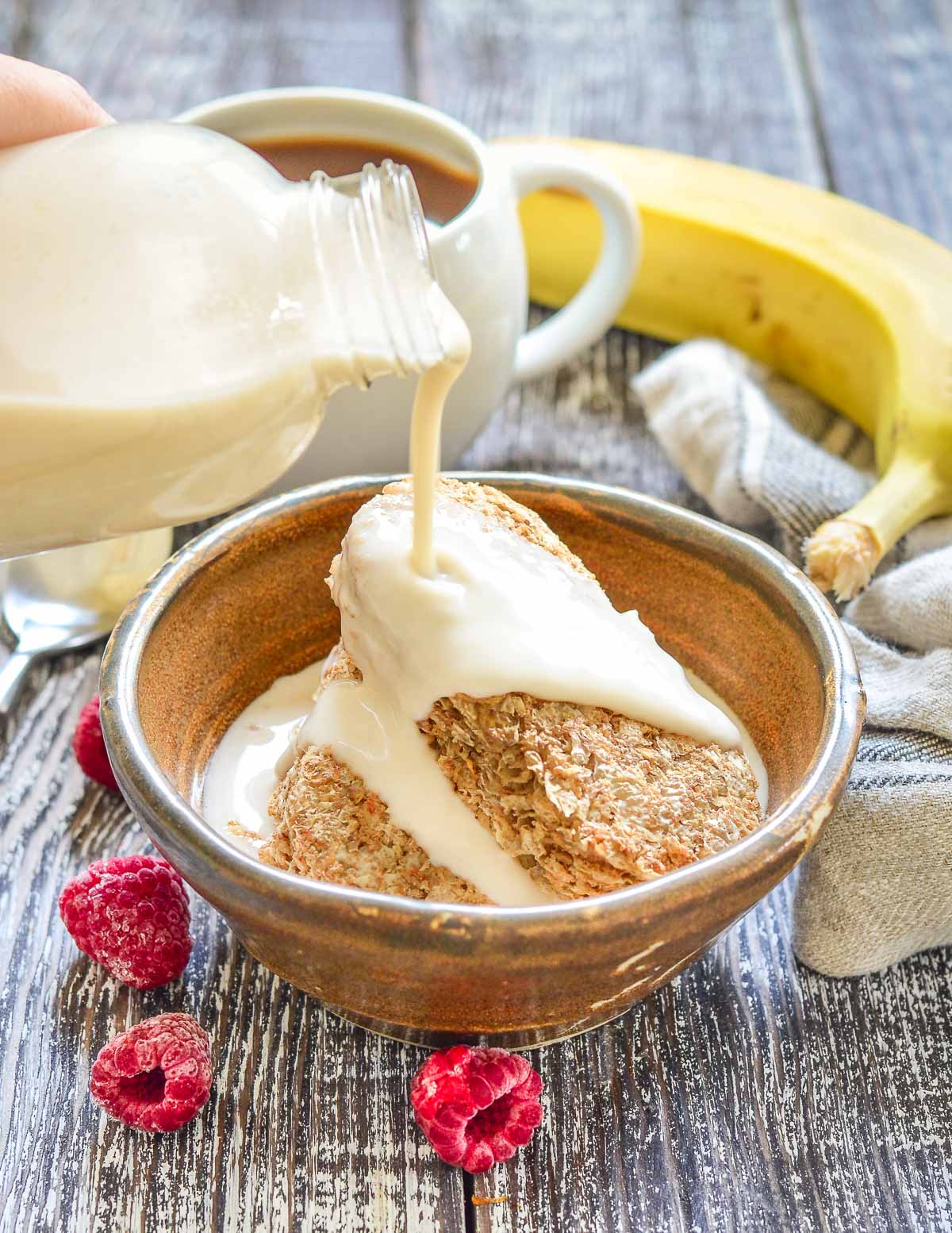 Two words : Oat Milk. One of my favourite plant-based milks. And this homemade oat milk recipe is a game-changer.
Just like my homemade cashew milk, it is super quick and easy to make. No soaking or fancy equipment required. And it's so budget-friendly!
Once you've made some, be sure to give my Iced Brown Sugar Oat Milk Shaken Espresso a try ;O)
This is a recipe that was originally published in 2018. Since then I've gradually changed the way I make my oat milk and this is the new and improved version. It's quicker, easier and it's not slimy! (If you've made your own oat milk before you'll know this can be an issue).
What Is Oat Milk?
Oat Milk is a popular budget-friendly, dairy-free milk that is made by blending oats and water. The resulting milk is smooth and creamy with a neutral taste and a fuller texture than a lot of other plant-based milks.
Oat Milk Benefits
This popular plant-based milk has many benefits, some of which include:
It's much cheaper to make than other plant-based milks.
It's virtually fat free, cholesterol free and low in calories.
It's perfect for people who want to avoid dairy, coconut milk, nut milks or soy milk.
Oats are a really sustainable crop and you can buy them cheaply just about anywhere.
Oats are nutritious. See this article for details about their nutritional value and health benefits.
Ingredients
Oat milk is a very budget friendly and sustainable non-dairy milk. Much more so than nut milks like almond milk, and you only need 2 ingredients to make it: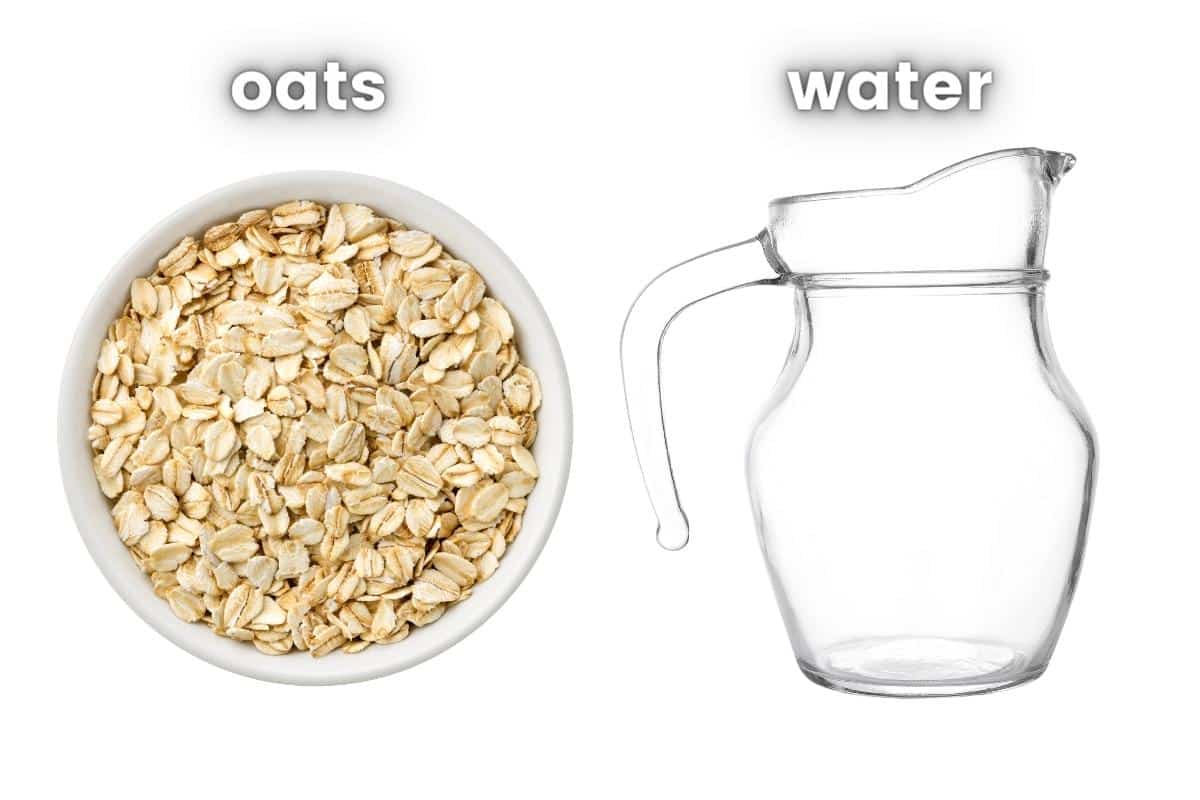 For this oat milk recipe I recommend using old fashioned or rolled oats. Steel cut oats, quick or instant oats don't work as well.
You can also include some optional add-ins:
1 or 2 tablespoons of maple syrup or agave for sweetness
A drop of vanilla extract
A pinch of salt
To make the milk you will need a blender and a sieve/fine mesh strainer. A nut milk bag, cheese cloth or very fine cloth or lint-free towel will also work.
Success tip - Adjust the thickness/thinness of the milk by increasing or reducing the water when you blend it or by adding more water after you've strained it. The beauty of homemade milk is you can make it exactly how you like it.
How To Make Oat Milk
Making oat milk is such an easy process and as long as you have some rolled oats in the pantry, you are minutes away from a fresh batch. Be sure to follow my instructions though. They include several steps that ensure your oat milk remains slime-free.
Here's how it's done:
Add the oats to a blender with chilled water and any optional add-ins, then blend.
Strain the mixture through a fine mesh strainer or nut milk bag twice then decant into a bottle/container of choice and refrigerate.
Success tip - Don't over-blend. High powered blenders like a Blendtec or Vitamix are powerful and produce a lot of heat. Heat will make the milk slimy (think of how the texture of oats and the liquid they are in changes when you make hot oatmeal/porridge).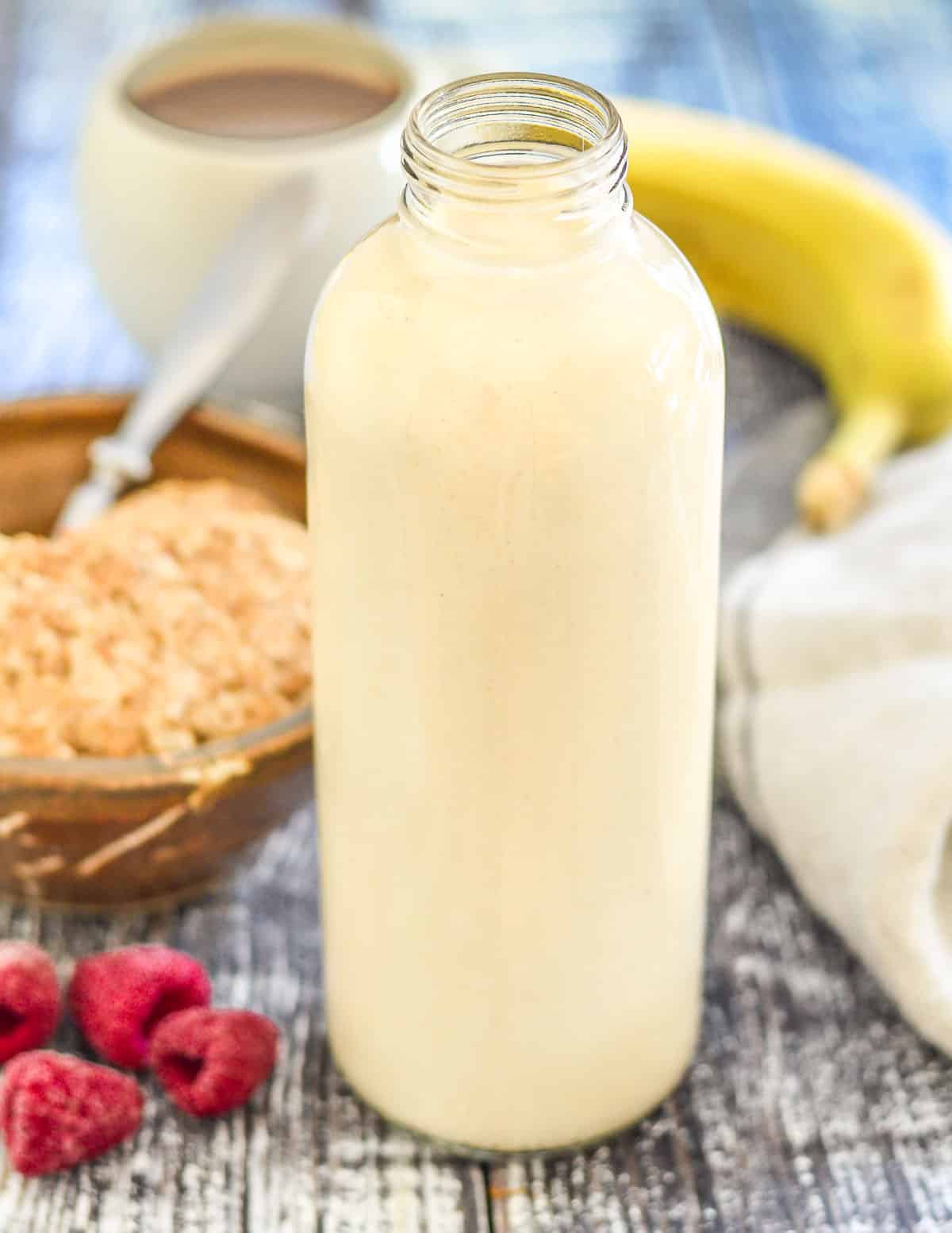 How To Avoid Slime
My top tips for avoiding slimy oat milk are:
Don't soak the oats before blending.
Use old fashioned or rolled oats, not quick or instant oats.
Use cold water when blending. Heat makes it slimy.
Do not over-blend. High-speed blenders produce heat as their motor runs and warm the liquid as it blends. Blend in short bursts and not for more than 30 to 40 seconds total. A few ice cubes added with the water can help to keep things cool if you have a blender that runs warm.
Strain at least twice.
Let the milk run freely through the strainer. Don't squeeze or smush it.
Variations
Make chocolate oat milk by adding a couple tablespoons of cocoa powder and your sweetener of choice. You can also try adding fresh berries, cinnamon, matcha or brewed coffee for fun flavour.
How To Use
Wondering what you can use oat milk for? It's perfect for drinking ice cold and for using in/on:
Important - I don't recommend you use oat milk for making hot sauces or hot milky drinks like lattes or hot chocolate because as it heats up it thickens a lot and can become a little slimy. You can however add a dash of it to cups of tea and coffee.
Recipe FAQs
Why does my oat milk separate?
This is completely normal. Because it is homemade it doesn't contain emulsifiers like storebought oat milk. Simply give it a good shake before serving.
Is oat milk gluten-free?
You can use certified gluten-free oats if you need your oat milk to be gluten-free. If you are sensitive to even gluten-free oats then I don't recommend you make this beverage.
What can I do with the leftover oat milk pulp?
You can use leftover oat pulp to make my oat pulp cookies, or you can add it to smoothies or oatmeal. You can also dehydrate it (using a dehydrator or spread out thinly on a baking tray and baked in a low oven until completely dry(, then use in granola recipes or energy bars/balls. You can also compost it.
Can I use dates to sweeten it?
I don't recommend using dates to sweeten this milk. We need to minimize the blending to stop the milk becoming slimy and dates will not blend up completely in that short time. It's much easier and more effective to add a liquid sweetener like maple syrup. 
If you try this recipe, let me know how you like it by leaving a comment and rating below! And be sure to join my mailing list for more deliciousness!
Recipe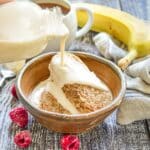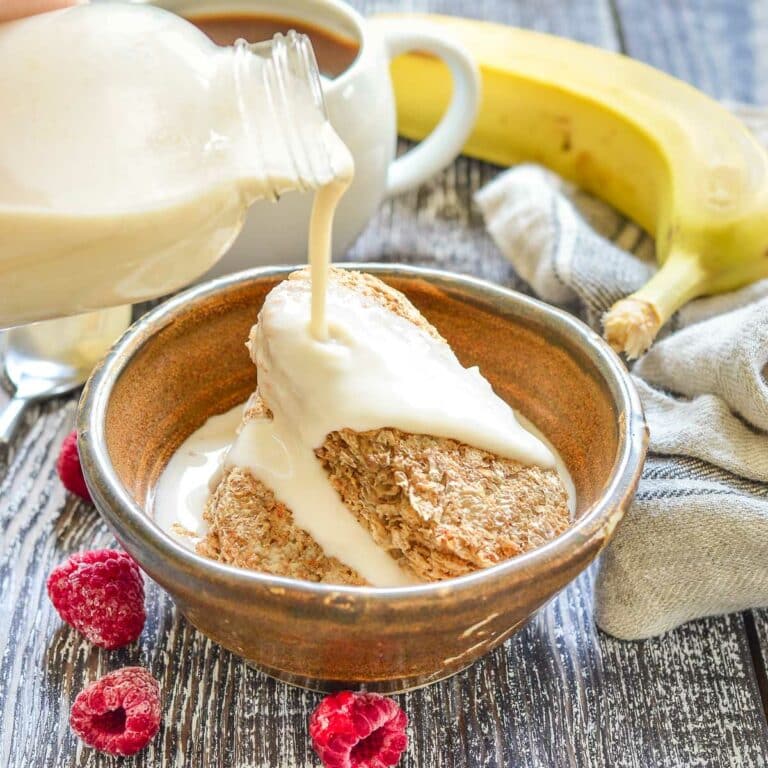 Oat Milk Recipe
Author:
Make homemade Oat Milk in minutes with just 2 ingredients. This oat milk recipe is super quick, easy and very budget friendly!
Ingredients
1 cup (90

grams)

rolled or old fashioned oats

, certified gluten-free if necessary.

4 cups (960

ml)

cold water

, from the fridge. Or as cold as you can get it from the tap with a handful of ice thrown into the blender (reduce the water a little to compensate for the ice).
INSTRUCTIONS
Cover with around 

3

cups /

720

mls of the cold water then blend for a maximum of 30 seconds. It's important that the contents of the blender don't warm up, so try not to blend any longer than that.

Check the thickness. It will likely be quite thick like cream consistency. Add enough extra water to get it to the thickness that you like and give it a very quick pulse in between additions. If you are using it as a coffee creamer then it's nice left pretty thick. Otherwise it's better a little thinner. 

Strain the milk through a sieve/fine mesh strainer into a bowl. Do not press or squeeze it while straining. Just let gravity do the work.

Pour the milk back into the blender, give the strainer a quick clean out, then strain again.

Once strained twice pour into bottles or jars. At this point if you notice it is still a little too thick, you can fill the bottles to about ¾ full, then add a little water to the bottle and shake to thin it further.
NOTES
Store oat milk in the fridge for 4 to 5 days. 
Some separation will occur during storage. That is normal with homemade milk because there are no emulsifiers added like in store-bought plant-based milk.  Simply shake well before using.  
Use the leftover oat milk pulp to make my oat pulp cookies. 
Nutritional information is calculated as a rough guide only, without the optional ingredients, and before straining (because after straining it would be impossible for me to do without laboratory analysis). 
NUTRITION
Serving:
1
cup
|
Calories:
76
kcal
|
Carbohydrates:
14
g
|
Protein:
2.6
g
|
Fat:
1
g
|
Sodium:
7
mg
|
Fiber:
2
g
|
Sugar:
3
g
|
Calcium:
20
mg
|
Iron:
0.7
mg
Did you make this recipe?
Rate it & leave feedback in the comments section below. I love seeing your remakes too. Tag @avirtualvegan on Instagram! 🌟