Put the pulp from your homemade non-dairy milks to good use by making these soft & chewy Almond Pulp or Oat Pulp Chocolate Chip Cookies.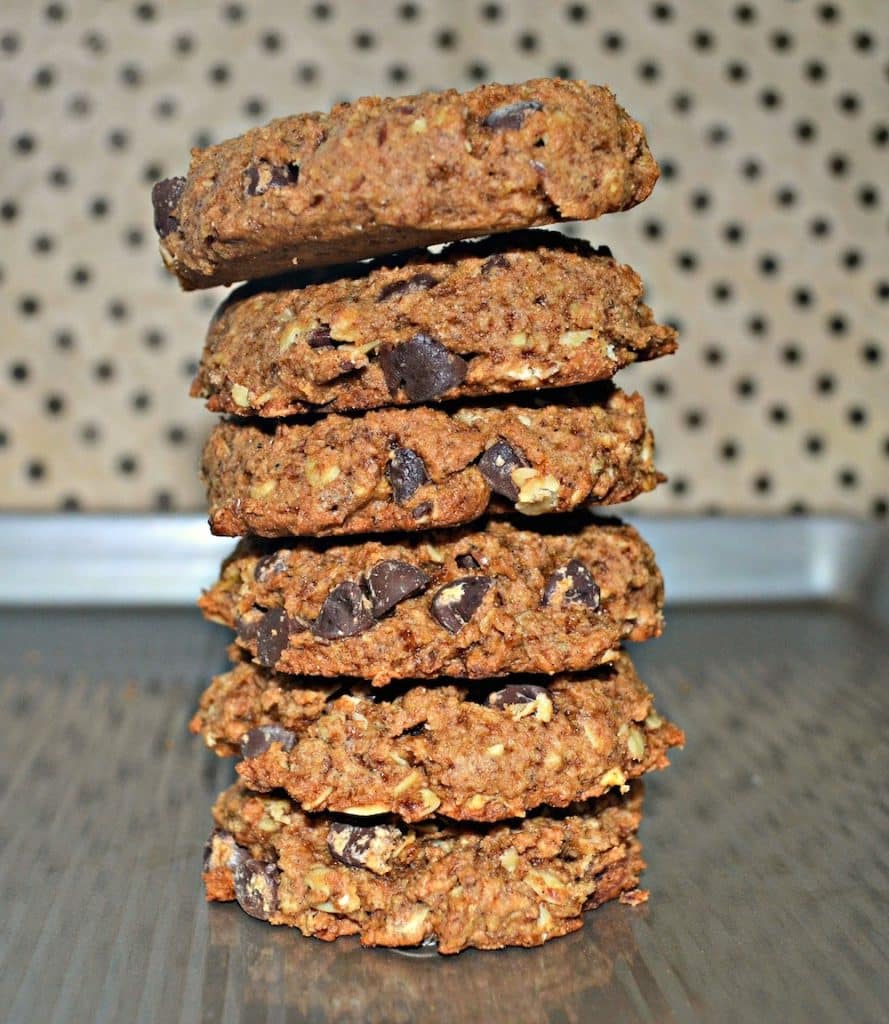 The last recipe I posted was my homemade Oat Milk and inevitably when you make most non-dairy milks you end up with some pulp leftover after straining.
I hate to waste anything so wanted to come up with a recipe that used the leftover pulp from my homemade non-dairy milk.
Most recipes that use leftover almond pulp or oat pulp, call for you to dry the pulp in the oven on a low setting first then blend it into a fine powder before adding it to your recipe. I can't be bothered with all that so wanted to come up with something that I could use the wet pulp in just as it is right after the  milk has been made.
That is how my Almond Pulp or Oat Pulp Chocolate Chip Cookies came into creation.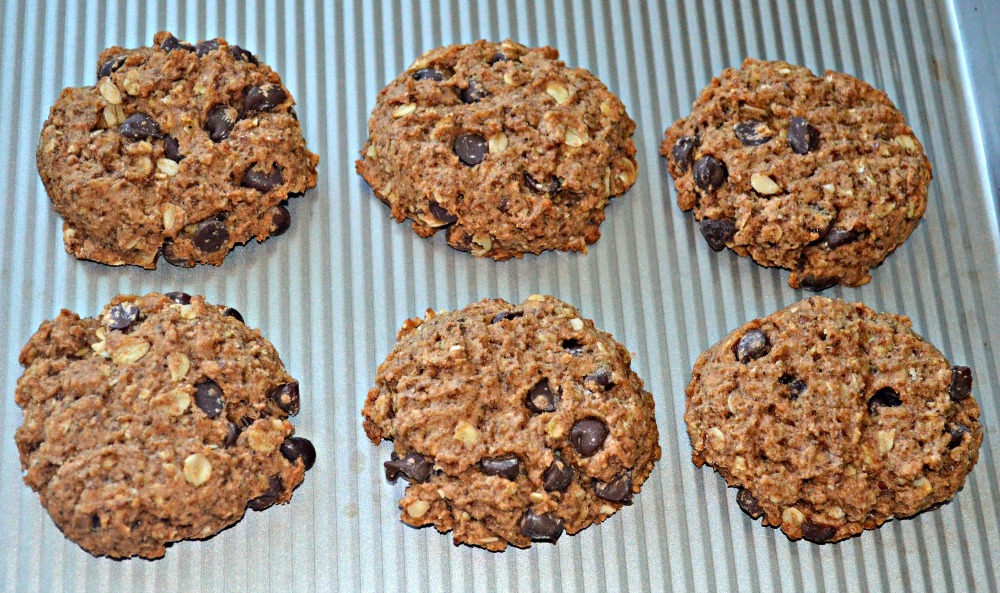 So, before you make these cookies you need to make some Oat Milk , almond milk, or other nut milk that will produce some pulp.
My Oat Milk is super easy and takes less than twenty minutes to make from start to finish and the pulp will keep covered in the fridge for a few days if you don't want to bake the cookies right away.
HOW TO MAKE COOKIES WITH LEFTOVER ALMOND PULP OR OAT PULP
---
FOR INGREDIENTS & FULL INSTRUCTIONS PLEASE SEE THE RECIPE CARD AT THE END OF THIS POST
---
These cookies are incredibly easy to make. Here's how:
STEP 1
Have some pulp ready after making your own homemade non-dairy milk.
STEP 2
Mix all the dry ingredients together
STEP 3
Mix all the wet ingredients, including the almond pulp together.
STEP 4
Let the cookie dough firm up in the fridge then scoop the dough out and onto a cookie sheet.
I love my USA Pan Cookie Sheet. It heats evenly and nothing ever sticks, plus they have a lifetime guarantee and are reasonably priced.
STEP 5
Bake and enjoy!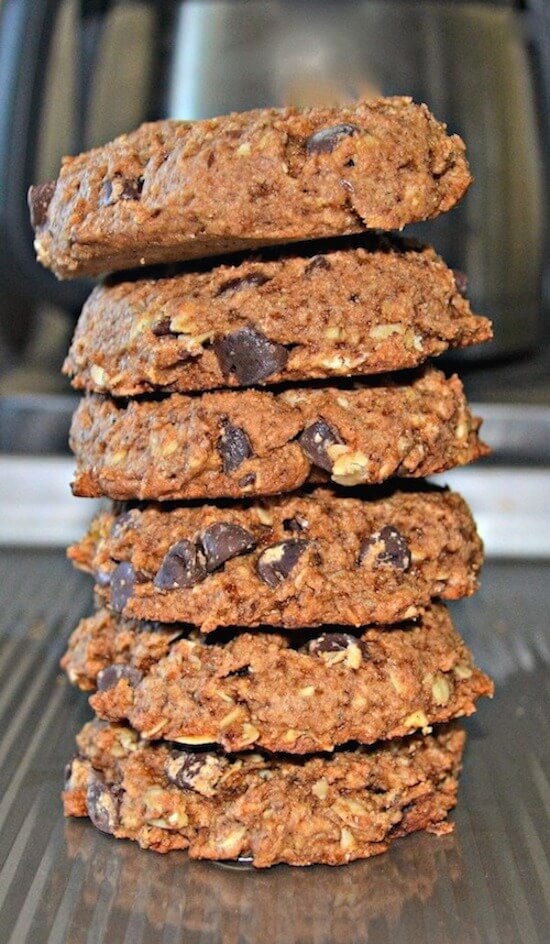 I love that when you make this recipe you get yourself some lovely fresh homemade non-dairy milk as well as a pile of delicious Almond Pulp or Oat Pulp Chocolate Chip Cookies . How perfect is that?
---
Love chocolate chip cookies? you might also enjoy my: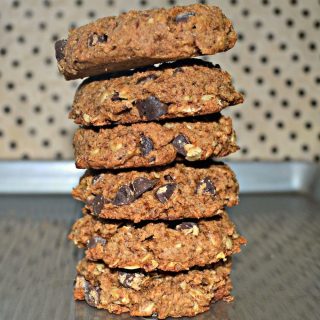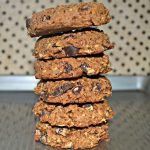 Chocolate Chip Oatmeal Cookies
Author:
Use your leftover oat milk or nut milk pulp to make these healthier, delicious, soft & chewy Chocolate Chip Oatmeal Cookies
Ingredients
180g / 1½

cup

spelt flour

46g / ⅓

cup

rolled oats

100g / ½

cup

coconut sugar

(any granulated sugar will also work)

1

teaspoon

baking powder

1

tablespoon

ground flax

¼

teaspoon

salt

1

teaspoon

vanilla bean powder

(you can substitute vanilla extract if you don't have this but add it to the wet ingredients rather than the dry)

60mls / ¼

cup

coconut oil

(liquid form)

5 tablespoons / ⅓

cup

fresh oat pulp or nut milk pulp (still wet)

, if you make my Oat Milk recipe you can use the leftover pulp

120mls / ½

cup

non-dairy milk

(I use my oat milk )

85g / ½

cup

semi sweet chocolate chips

(any chocolate chips will do, I just prefer the semi sweet ones)
INSTRUCTIONS
Preheat oven to 350 degrees F.

Mix all the dry ingredients together in a bowl.

Mix all the wet ingredients (including the pulp) in a jug or another bowl.

Add the wet to the dry and mix well.

Stir the chocolate chips through the mixture.

Put the bowl in the fridge for 15 minutes to firm up a little.

Use an ice cream scoop or a 1/4 cup measure to scoop your mixture on to your baking sheet.

Leave plenty of room between each cookie as they will spread.

Push down on the top of each cookie with a fork to flatten them slightly.

Bake your cookies for approximately twenty - twenty-five minutes or until the edges start going slightly golden.

Remove from the oven and place on a cooling rack.
NUTRITION
Serving:
9
cookies
Calories:
228
kcal
Carbohydrates:
33
g
Protein:
4
g
Fat:
9
g
Sodium:
83
mg
Fiber:
3.3
g
Sugar:
17
g
Vitamin A:
50
IU
Calcium:
70
mg
Iron:
1.4
mg
Nutritional information is provided for convenience & as a courtesy. The data is a computer generated estimate so should be used as a guide only.
Tried this recipe?
Rate it & leave your feedback in the comments section below, or tag @avirtualvegan on Instagram and hashtag it #avirtualvegan