You really can't go wrong with this very easy No Knead Hot Cross Buns recipe this Easter. . It's virtually foolproof with no kneading involved at all!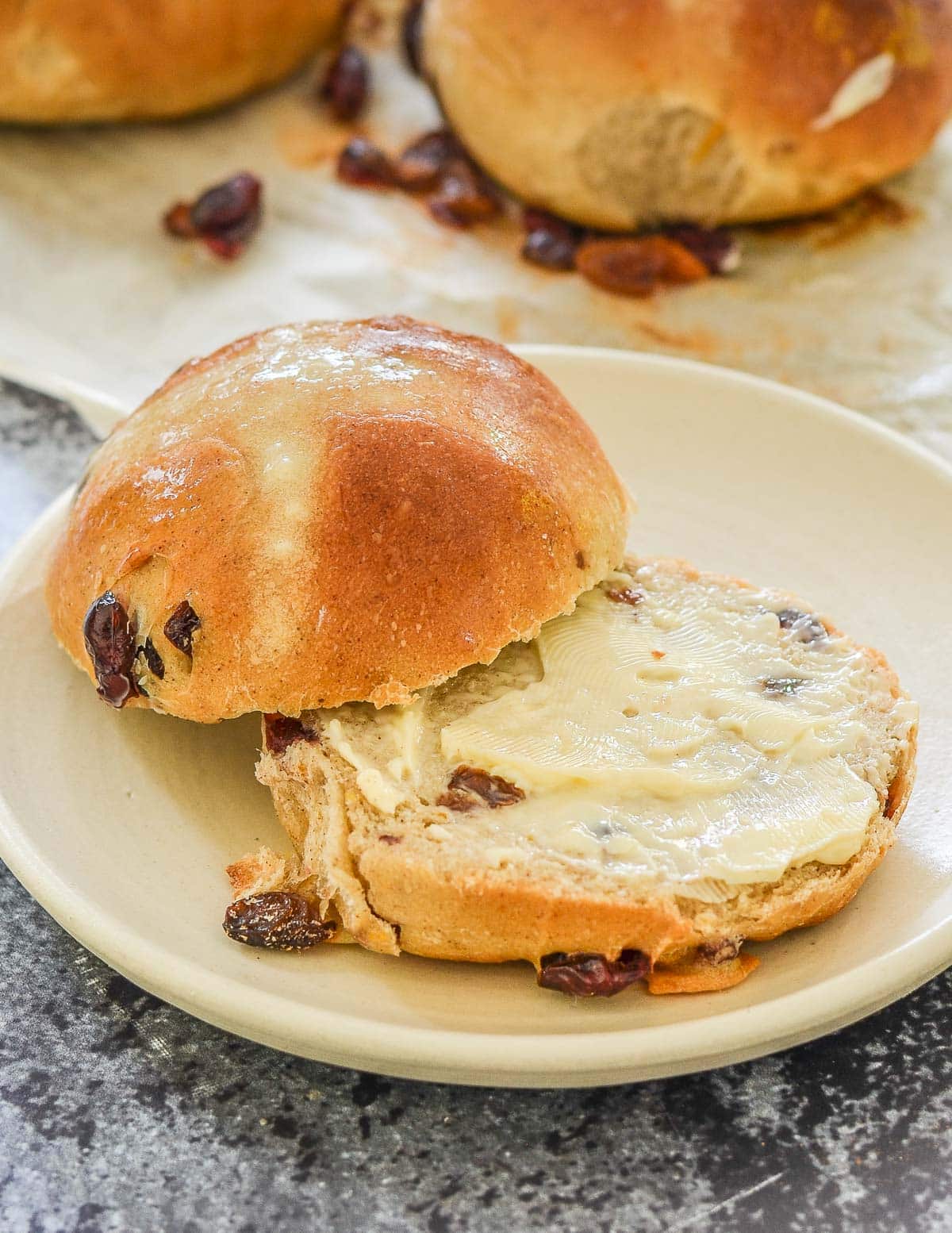 Ever made your own Hot Cross Buns at Easter? Think it's difficult?
Well, think again, because you are about to make No Knead Hot Cross Buns like a boss! This is one of my favourite vegan Easter recipes by far!
And if you are already a bit of a Hot Cross bun boss, give my more traditional Vegan Hot Cross Buns a try!
If you have made my Easy No Knead Focaccia Bread then you will know just how good no knead bread can be. That recipe is so popular and everyone who tries it loves it. Same goes for my No Knead Cinnamon Pull Apart Bread.
They were both adapted from this No Knead Hot Cross Buns recipe and they are all as easy as each other.
Making the Hot Cross Bun dough is basically the same with the addition of some dried fruit, spices and nuts and you get amazing Hot Cross Buns at the end of it as a reward.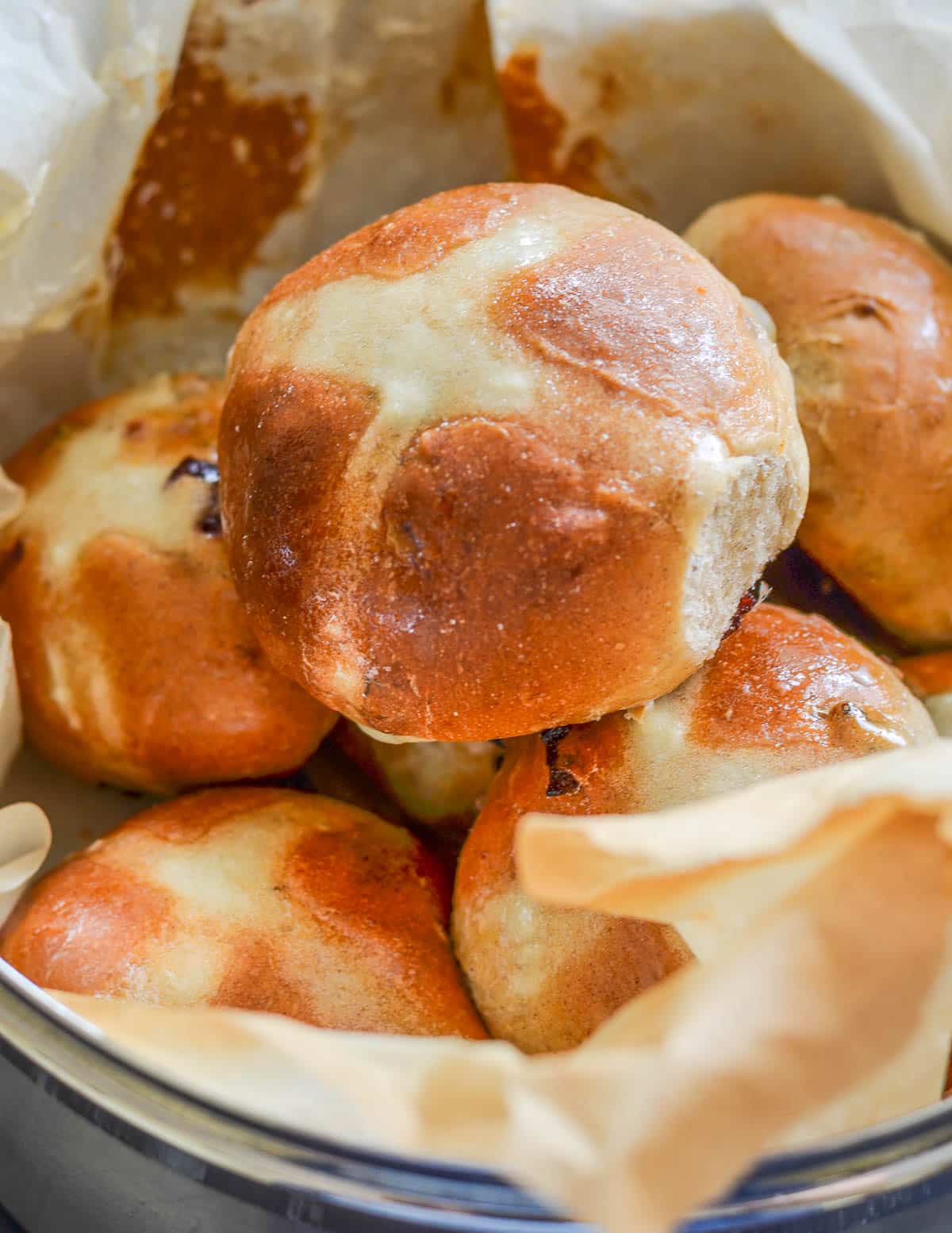 How to make No Knead Hot Cross Buns
(For detailed measurements and instructions, see the printable recipe card).
There are just a few steps involved in the making of these No Knead Hot Cross Buns and most of them will be you stepping away during all of the hands off time where you do not have to do a single thing.
Let's break it down:
Step 1 - Toast the nuts (this is optional - you don't have to use the nuts)
Step 2 - Throw everything in one bowl and mix with a wooden spoon
Step 3 - Cover the bowl with a damp dishtowel and walk away and don't come back for 4 - 8 hours. It will be fine for anything between those times. You do not need to babysit it.
Step 4 - Come back. Turn out onto a clean floured surface and cut into 10 even pieces then shape into balls and put on a baking sheet then cover with the towel again. Make a drink and go put your feet up for 30 minutes....
Step 5 - Mix up the flour and water in a small bowl, add to a piping bag and pipe crosses on the top of each bun, then bake.
Step 6 - Brush with the glaze then cool.
I'll forgive you if you eat one at this stage.
The smell in your house while they bake will be unbelievable and when they are done, the No Knead Hot Cross Buns will be golden, shiny, soft and fluffy.
And you? You will be pleased as punch with yourself and fighting the urge to eat the whole batch warm and slathered in my Easy Vegan Butter. That's it in the pics above and if you haven't made it yet this is the perfect opportunity. It takes no time at all and is the perfect accompaniment.
I hope you have a lovely Easter, full of happy baking. Be sure to make some vegan creme eggs too!
Hungry For More?
For more Easter recipes, check out these great options:
Recipe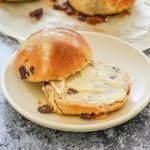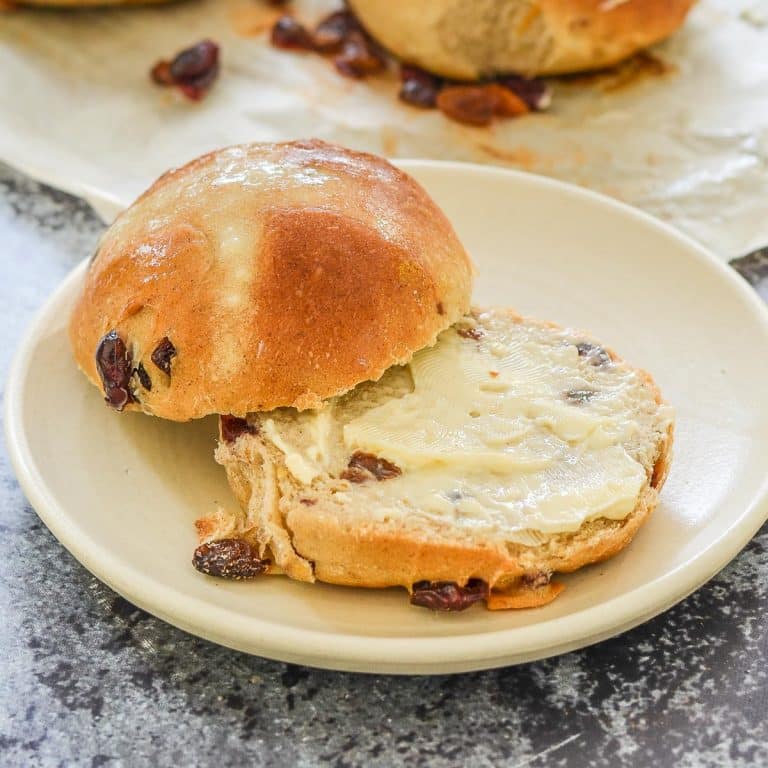 No Knead Hot Cross Buns
Author:
You really can't go wrong with this very easy No Knead Hot Cross Buns recipe this Easter. . It's virtually foolproof with no kneading involved at all!
Ingredients
For the buns
50g / ⅓

cup

whole hazelnuts (OPTIONAL)

, roughly chopped into large pieces, (optional but they add great texture and flavour)

500g / 4

cups

all purpose white flour or bread flour

, in the UK use strong flour

2½

teaspoons

instant or quick yeast

, sometimes labelled fast yeast

1

teaspoon

ground cinnamon

1

teaspoon

ground nutmeg

½

teaspoon

ground cardamon (OPTIONAL but adds a nice flavour)

2

teaspoons

fine sea salt

4

tablespoons

sugar

265g / 1½

cups

mixed dried fruit

, such as golden raisins, sultanas, cranberries, chopped dried apricot.

1

lemon

Zested

1

orange

Zested

80mls / ⅓

cup

oil of choice

, melted coconut oil or melted vegan butter are ok too but they MUST be at room temperature and not hot when added

240mls / 1

cup

unsweetened milk of choice

180mls / ¾

cup

water
For the crosses
5

tablespoons

all purpose white flour

enough water to make a thick pipe-able paste
For the glaze
2

tablespoons

sugar

2

tablespoons

boiling water
INSTRUCTIONS
IF USING HAZELNUTS
Preheat oven to 350 degrees F.

Pour the raw hazelnuts onto a baking tray and roast for about 10 mins. Shake the pan after 5 mins and keep an eye on them as they can burn fast. Remove them from the oven and let cool.
FOR THE HOT CROSS BUNS
In a large bowl, add the flour, yeast, spices, salt and sugar and mix together well. Then add the fruit, cooled nuts and zest.

Add the oil to the milk, stir, then pour into the bowl with the other ingredients.  Then add the water and stir really well with a spoon until everything is combined and there is no dry flour visible. It will be a sticky lumpy looking mess. That's fine.

Cover with cling wrap, a plastic bag or a new/clean shower cap and leave on the kitchen counter for a minimum of 7 hours and a maximum of 9 hours. Do not refrigerate and do not leave anywhere really warm. Just normal room temperature is fine.

If the temperature in your house is consistently above 22 ° C (71 °F) then just leave it for 5 hours.

After the time has elapsed the dough will be swollen and puffy. Dust a clean, dry, work surface with some flour and turn out the dough onto it making sure you scrape the bowl out well. Try not to tear the dough as it will damage the structure that has developed. It will be sticky but that is normal. 

Dust the top of the dough with some flour and form it into a rough round then cut into 10 pieces.

Shape each piece into a smooth ball using floured hands. I do this by having the ball of dough on the surface in front of me and using my hands to pull down all around, squeezing it tight underneath. Place the buns gently on a lightly floured, or parchment lined baking sheet. Have them so they all gently touch each other.

Cover with the damp dish towel (run it under the tap then wring it out) and leave for 30 minutes while you preheat the oven to 400 °F (200°C)

After 30 minutes has passed, make the flour and water paste for the crosses. Just add enough water to the 5 tablespoons of flour to make a thick pipe-able paste. Remove the towel from the buns, fill a piping bag or piping syringe ( or a ziplock bag with a nip in one corner) with the paste and pipe a cross shape on each bun.

Place the buns in the preheated oven and bake for around 20 minutes. Once done they should be starting to turn golden and if you tap one on it's bottom it should sound hollow. 

Remove from the oven and immediately mix up the glaze. 2 tablespoons of sugar with 2 tablespoons of boiling water. Stir until the sugar dissolves then brush the top of each bun generously.

Transfer to a cooling rack and be sure to eat one while it's hot! 
NOTES
As with all of my baking recipes where precision is key to excellent results, I highly recommend using a kitchen scale to measure your ingredients, rather than using cup measurements. I love this one because it is very reasonably priced and it has a tare function which is really handy. It means you can place any bowl on the scale and reset to zero so it doesn't include the weight in its calculation, plus you can reset to zero when adding multiple ingredients to the same bowl which saves on washing up!
---
Oil-Free - It is possible to make these hot cross buns without the oil if you wish but bear in mind that the oil gives a softer, fluffier crumb. The oil acts a bit like a preservative too and if you omit it the hot cross buns will go stale much more quickly. If you know you will be eating them quickly then this won't be a problem. If you won't eat them so quickly and you omit the oil, I would advise freezing them and just removing from the freezer as you need them. If you do omit the oil, add an extra 60mls of water to replace some of the lost liquid.
---
Storage - Leftover buns freeze well for up to 3 months. 
NUTRITION
Serving:
1
bun
|
Calories:
338
kcal
|
Carbohydrates:
65
g
|
Protein:
6
g
|
Fat:
6.5
g
|
Saturated Fat:
1.7
g
|
Sodium:
450
mg
|
Fiber:
3
g
|
Sugar:
20
g
|
Vitamin A:
50
IU
|
Vitamin C:
1.7
mg
|
Calcium:
60
mg
|
Iron:
2.9
mg
Did you make this recipe?
Rate it & leave feedback in the comments section below. I love seeing your remakes too. Tag @avirtualvegan on Instagram! 🌟