Nothing says Easter like the heavenly spiced fragrance of Hot Cross Buns baking in the oven & you can't go wrong with this very easy, no knead hot cross buns recipe.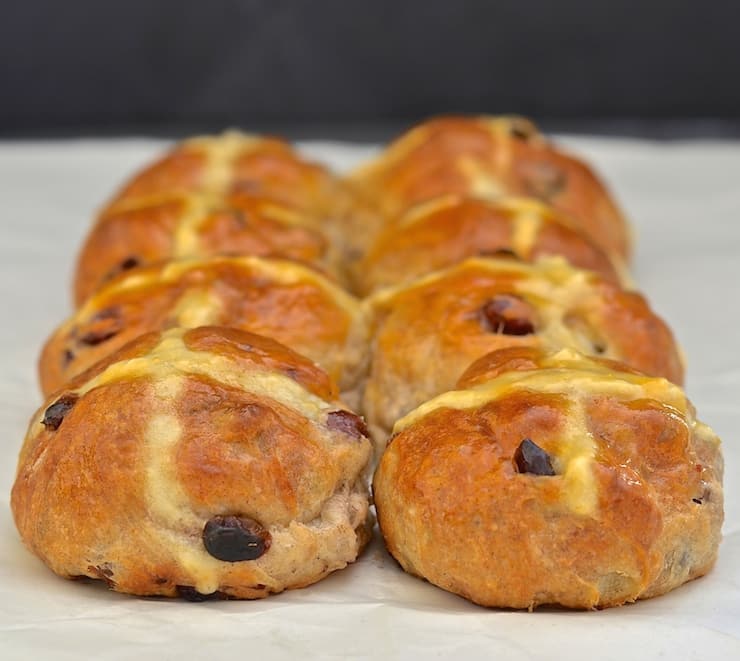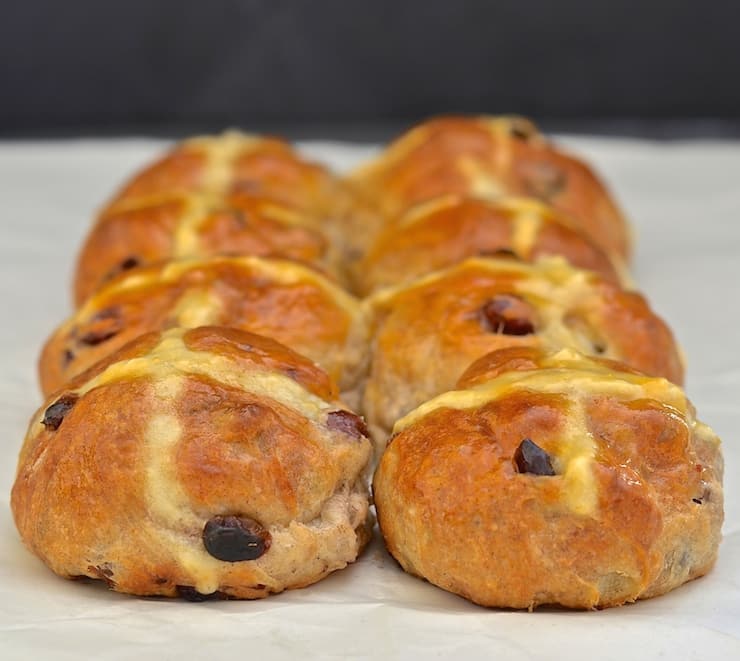 Easter isn't Easter without Hot Cross Buns but have you ever seen vegan hot cross buns at the grocery store? I know I haven't. They are usually laden with milk, butter and egg. It just isn't possible for me to not have Hot Cross Buns at Easter so I came up with my own No Knead Hot Cross Buns recipe which is totally free from egg and dairy products and that tastes just as good. There is also an oil free option!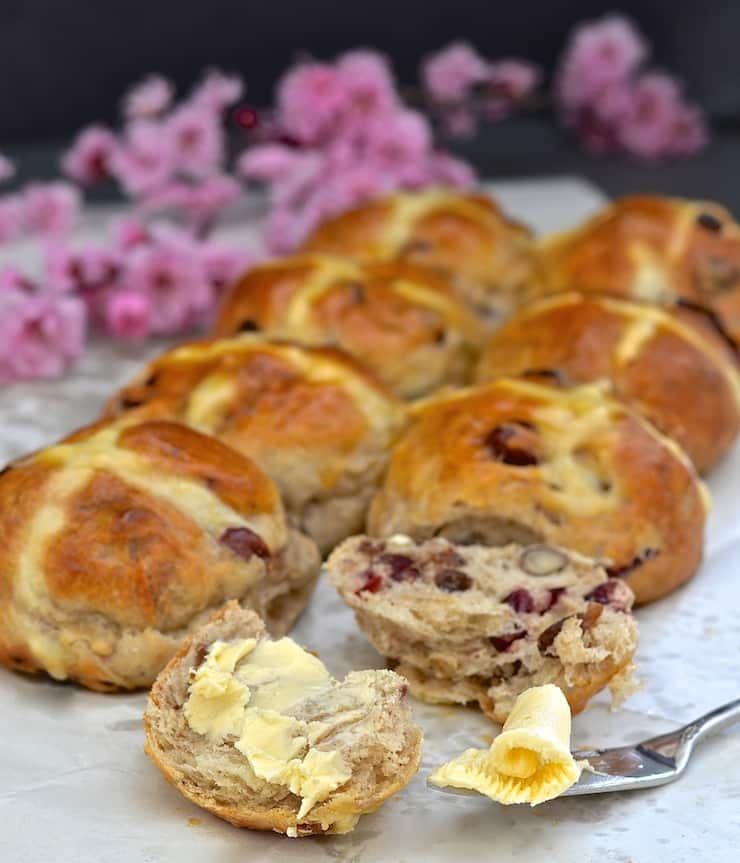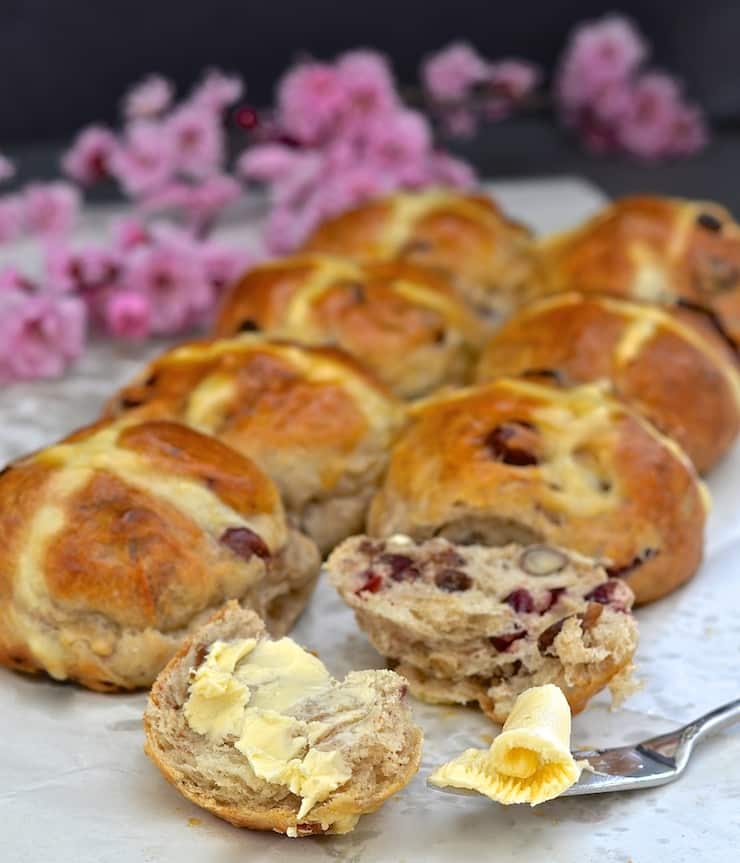 My original recipe followed the traditional method of kneading, rising, kneading some more, rising some more etc. It produced excellent results  but I know that baking with yeast often kind of scares people and kneading tends to scare people even more. Because of this I decided to experiment with a no knead recipe and I surprised myself with the results.
EASY PEASY NO KNEAD HOT CROSS BUNS
These No Knead Hot Cross Buns are so soft and fluffy and totally epitomize Easter with their heavenly spiced, fragrant crumb. They are also incredibly easy to make. The only effort involved is a tiny bit of stirring, then you and the dough get a full nights sleep to recover. The next day in less than an hour (and almost all of that is hands off time),  you have yourself a batch of beautifully golden, lightly spiced totally no knead, no effort, Hot Cross Buns!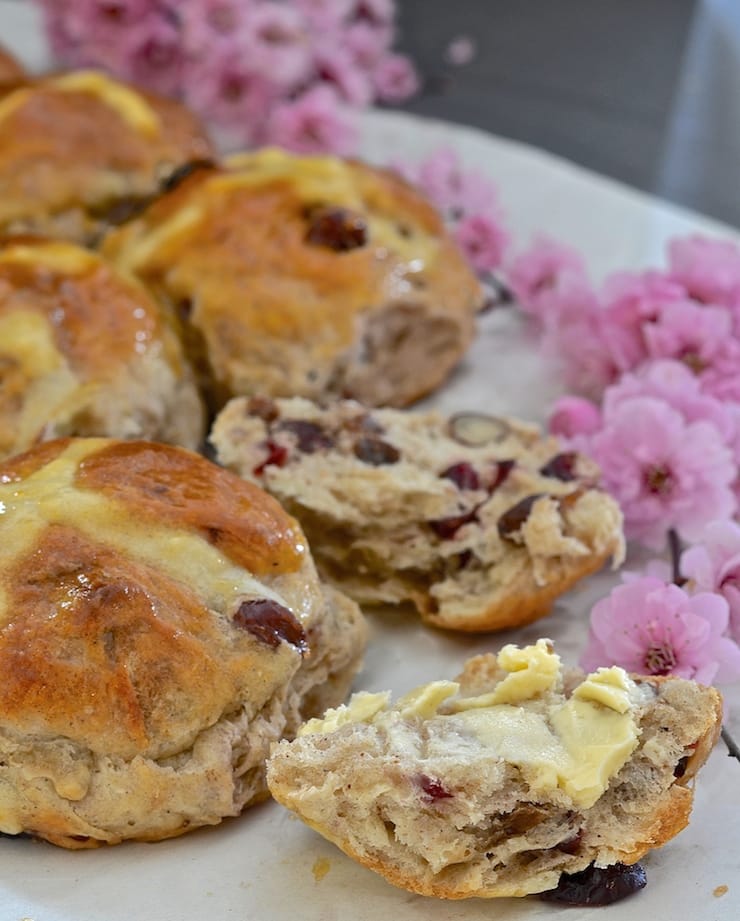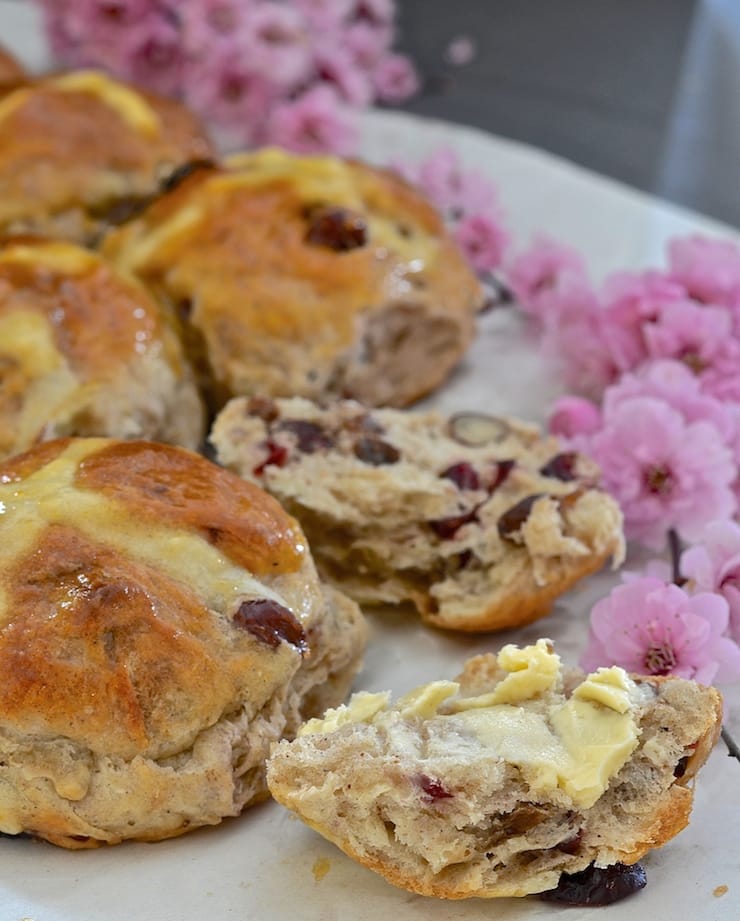 BUTTER THEM UP
My Easy Vegan Butter is the perfect accompaniment to these No Knead Hot Cross Buns and it takes no time to whip up at all. It is also completely dairy free, palm oil free and emulsifier free. I cannot believe how popular it has been since I published it last week. So popular it crashed my website on at least a few occasions!
If you are looking for more Easter inspiration then you will love my Homemade Copycat Cadbury Creme Eggs and my Hot Cross Cookies too!
If you give these No Knead Hot Cross Buns a try, let me know! Leave a comment below, rate them by clicking on the yellow stars at the start of the recipe, or tag a picture #avirtualvegan on Instagram so I can see how yours turned out. I love seeing your photos!
Happy Easter and Happy Baking! :O)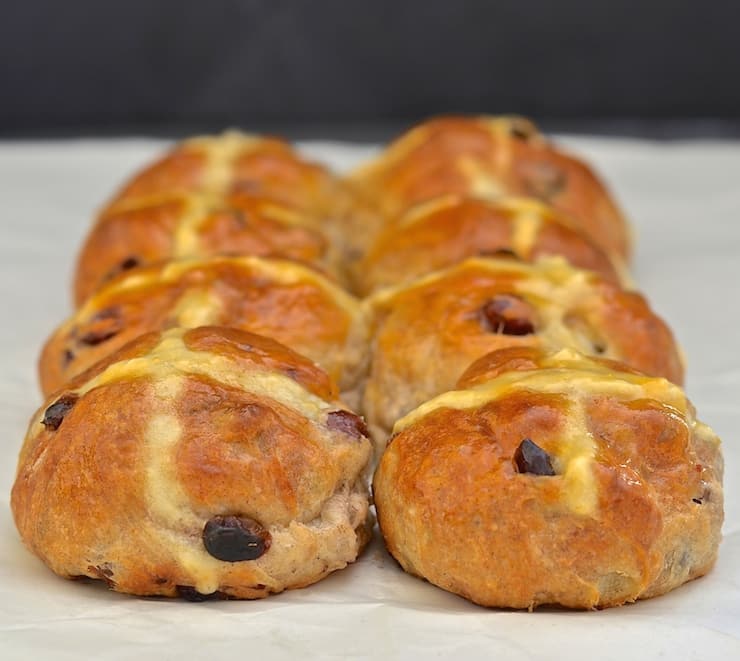 No Knead Hot Cross Buns
Nothing says Easter like the heavenly spiced fragrance of Hot Cross Buns baking in the oven & you can't go wrong with this very easy, no knead recipe.
Ingredients
For the buns
190g | 1.5

cups

all purpose white flour

(I use organic, unbleached)

2.5

teaspoon

instant or quick yeast

1

teaspoon

ground cinnamon

1

teaspoon

ground nutmeg

½

teaspoon

ground cardamon

2

tablespoons

sugar

(I used coconut sugar but any granulated sugar will work. You can also sub it for maple syrup but if you do reduce the other liquid by 2 tablespoons)

50g | 1/3

cup

hazelnuts

, roughly chopped into large pieces, (optional but they add great texture and flavour)

50g | 1/3

cup

raisins

(I used golden raisins but any kind is fine)

50g | 1/3

cup

dried cranberries

80mls | 1/3

cup

melted room temperature coconut oil

(See recipe notes for oil free option)

240mls | 1

cup

unsweetened milk of choice

( I used So Delicious Organic Unsweetened Coconut Milk but any non dairy milk will work)

1

lemon

Zested

, finely

½

orange

Zested

, finely

1/2

teaspoon

salt
For the crosses
5

tablespoons

all purpose white flour

Enough water to make a thick pipe-able paste
Instructions
Preheat your oven to 350 degrees F.

Pour your raw hazelnuts onto a baking tray and roast for about 10 mins. Shake the pan after 5 mins and keep an eye on them as they can burn fast. Remove them from the oven and let cool.

In a medium mixing bowl add all of the dry ingredients including the fruit, cooled nuts, zest and yeast. Then pour in the coconut oil (make sure it is room temperature and not hot) and stir roughly.

Pour in the milk and stir well until everything is combined and there is no dry flour visible. It will be a sticky lumpy looking mess. That's normal.

Cover the bowl with cling wrap or a plastic bag. It sounds strange but I use a

shower cap

as then I can reuse the same one again and again every time I make bread or dough of any kind.

Leave on your kitchen work surface overnight or for at least 8 hours. Up to 12 hours is ok.

After that time has passed & you are ready to bake your hot cross buns, preheat your oven to 400 °F

Dust your work surface with some flour and turn out the dough onto it making sure you scrape the bowl out well.

Dust the top of the dough with some flour and flatten it out with the palm of your hands then fold it over on itself about 6 times, flattening it out after each time. It will be pretty sticky but that's fine. Sprinkle a little flour on it again if necessary but use as little as you can get away with. The less you use the softer and fluffier your buns will be.

Then cut your dough into 8 even pieces. I use a

dough scraper

to do this but a knife will also do just fine.

Once portioned out, shape each into a smooth ball. Place them gently on a lightly floured baking sheet or you can also use an 8 X 12 brownie type pan instead if you prefer.

Cover with a damp dish towel, cling film or your shower cap ( just reuse whatever you had over the bowl) Leave until doubled in size. This will take 30 - 40 minutes.

Make the flour and water paste for the crosses.

Put the flour in a small bowl and mix with just enough water to make a paste (like very thick pancake batter). Fill a

piping bag

or piping syringewith the paste.

Once your hot cross buns have doubled uncover them and pipe cross shapes on the top. Then immediately place them in the preheated oven.

Bake them for 15 - 20 minutes. Keep an eye on them and check them after 15 minutes. Mine took 17 minutes. You want them to sound hollow when you tap them on their bottoms!

Remove from the oven when ready and place on a cooling rack.

Warm a couple of tablespoons of apricot jam so it becomes quite liquid and brush it gently over the top of the buns while they are still very hot.

Leave to cool on the rack.
Recipe Notes
It is possible to make these hot cross buns without the oil if you wish but bear in mind that the oil gives a softer, fluffier crumb. The oil acts a bit like a preservative too and if you omit it the hot cross buns will go stale much more quickly. If you know you will be eating them quickly then this won't be a problem. If you won't eat them so quickly and you omit the oil, I would advise freezing them and just removing from the freezer as you need them.
Nutrition Facts
No Knead Hot Cross Buns
Amount Per Serving (1 bun)
Calories 255
Calories from Fat 117
% Daily Value*
Total Fat 13g 20%
Sodium 41mg 2%
Total Carbohydrates 32g 11%
Protein 4.2g 8%
* Percent Daily Values are based on a 2000 calorie diet.