Incredibly delicious No-Bake Cinnamon Apple Energy Bars. A delicious mix of chewy & crispy & so quick & easy to make!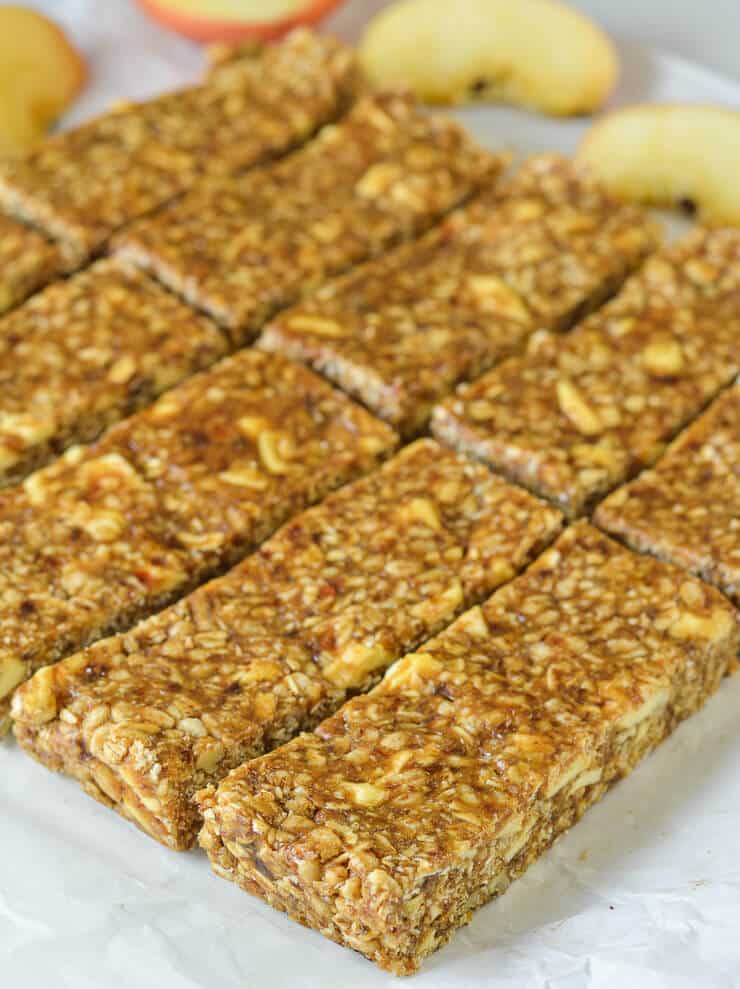 Yay! I have officially weaned my husband off store bought energy bars! It's taken some time but he's been won over by my home-made delicious offerings instead. That makes me very happy.
Have you checked the ingredients in some of these bars? Not all are bad, but the ones with half decent ingredients cost an arm and a leg.
They are much cheaper to make yourself and are incredibly easy, especially when they are no-bake like these Cinnamon Apple Energy Bars.
It all started with my Super Seedy Power Cookies. He ate most of those before I even got a look in. As a very keen cyclist he goes out at the weekend cycling further than I would ever dream of.
That insinuates I might dream of cycling. Let me tell you, that never happens. In fact, I haven't ridden a bike since I was about 13. I think the novelty wore off after a few weeks. It would be a stretch to even call it cycling. He literally goes miles and miles and rides in things like the Gran Fondo.
I'll take the car thanks.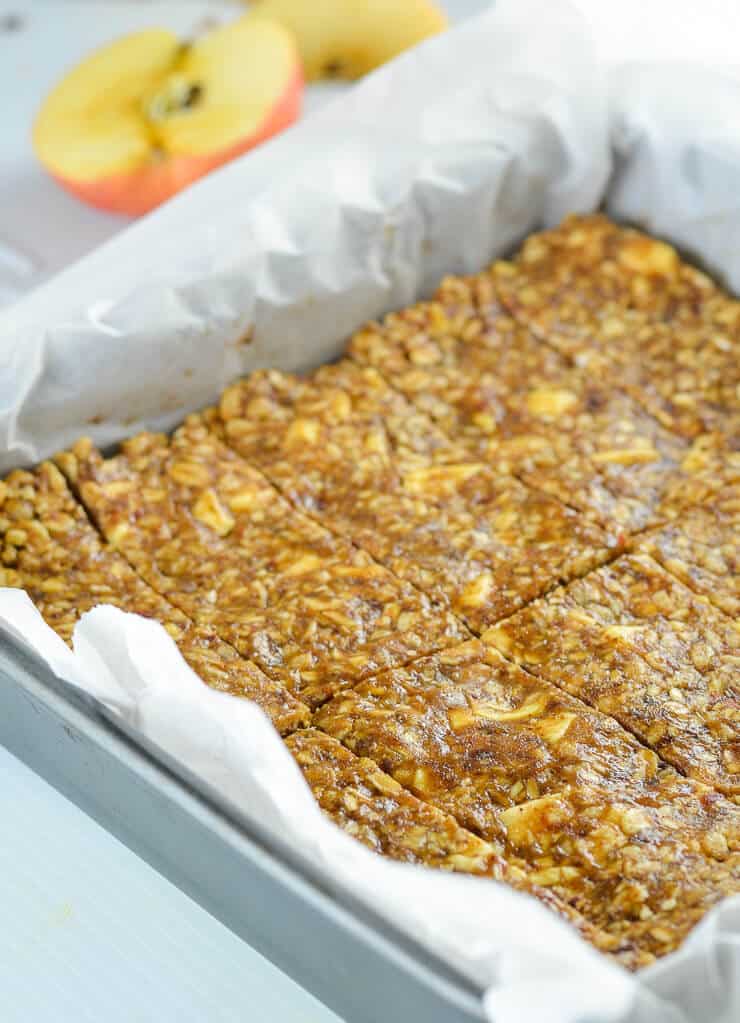 On his stupendous rides, he needs to take quick, easily accessible snacks that won't fall apart when stuffed in his pocket.
The afore mentioned Super Seedy Power Cookies are perfect. So yummy..Here they are: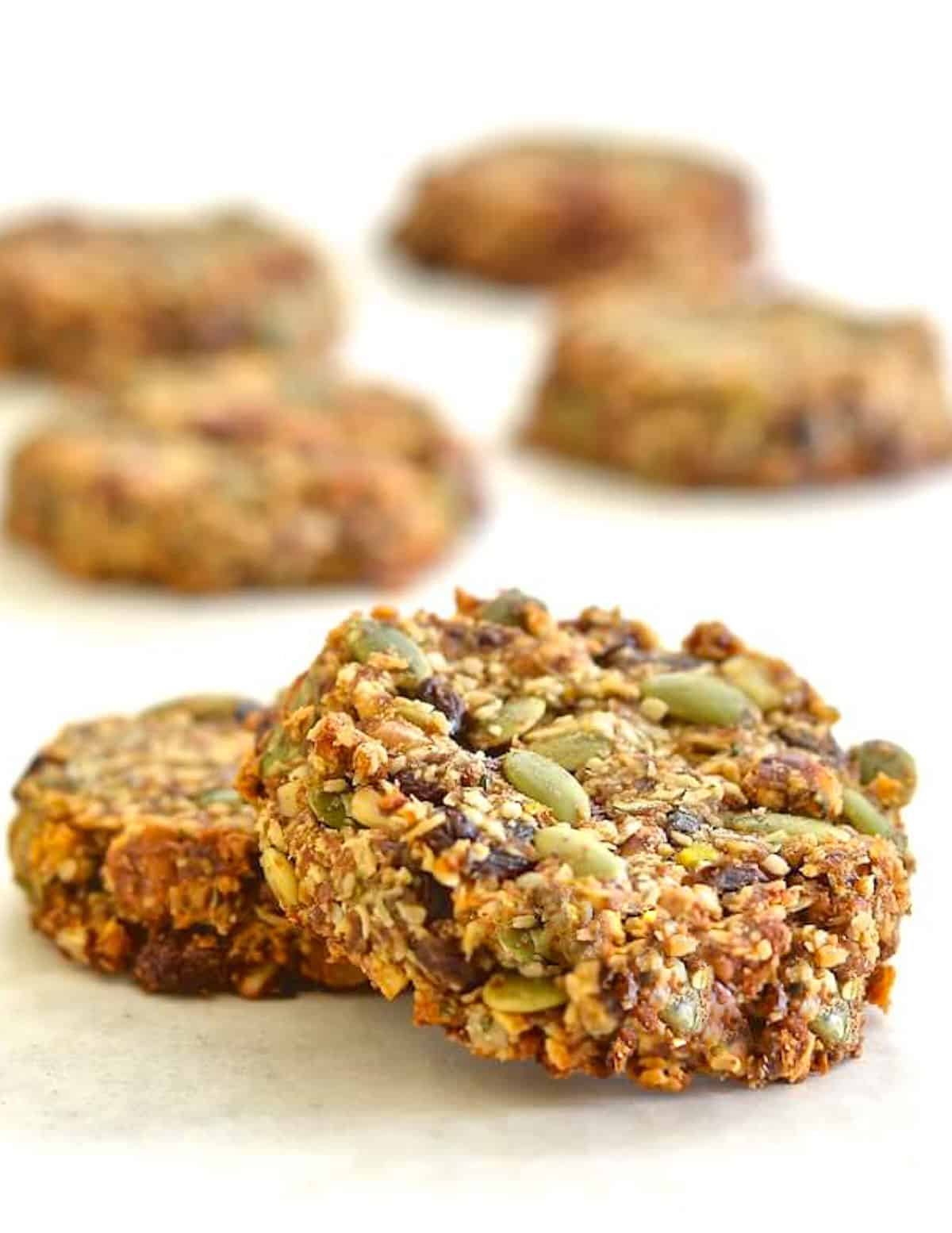 And my Mint Chocolate Truffle Larabar Bites are great when it's pretty cold, otherwise they go a bit melty.
To give him some variety I have been experimenting with different recipes and flavour combos and these No-Bake Cinnamon Apple Energy Bars happened.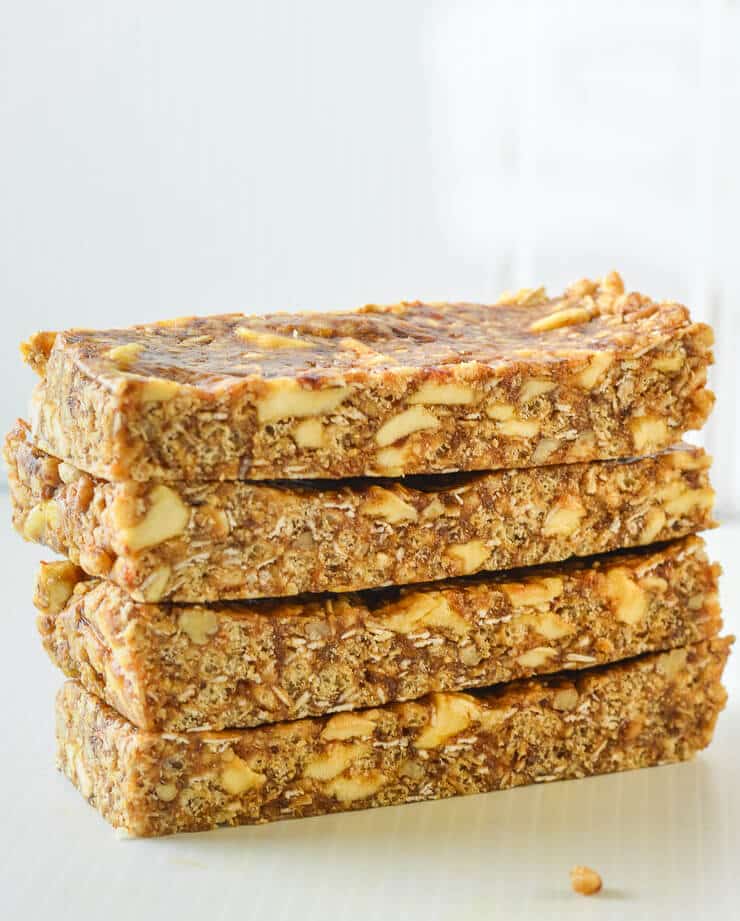 They are really delicious. Neither of us can stop eating them and I have been making them often to keep up with demand. This isn't a problem because they are so quick and easy and need no baking.
How to make no Bake Apple Cinnamon Energy Bars
(For detailed measurements and instructions, see the printable recipe card).
The whole process is super simple! Here's how:
Step 1 - Process the pitted dates in a food processor until they ball up in little pieces. Depending on the size of your food processor you might need to do this in two batches.
Step 2 - Put the dates and the other wet ingredients into a pan and melt together.
Step 3 - Mix the melty date mixture with the dry ingredients.
Step 4 - Squidge it all tightly into a pan and wait for it to set up in the fridge before cutting into bars.
Easy peasy!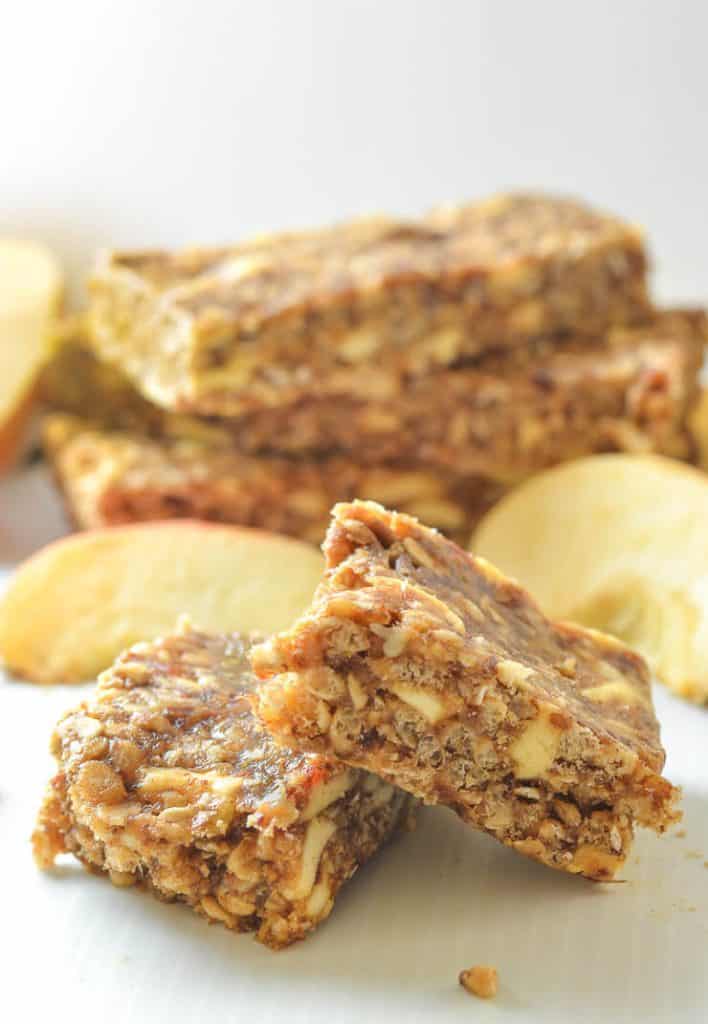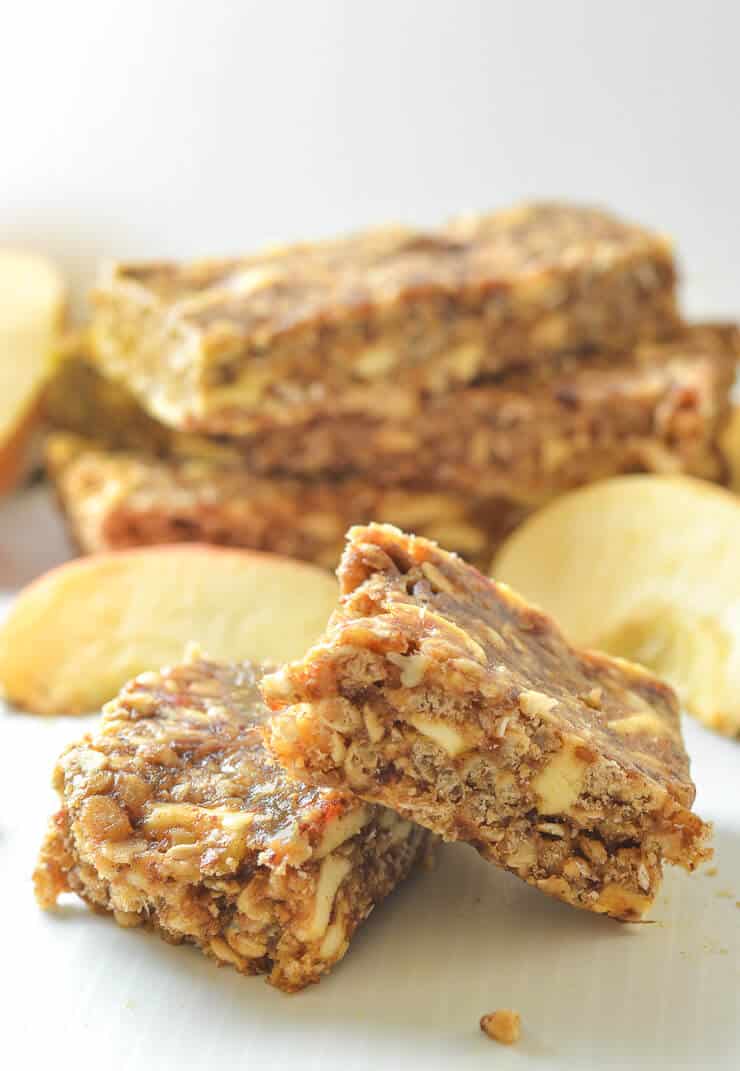 These No-Bake Cinnamon Apple Energy Bars are chewy and crispy all at the same time and the cinnamon apple flavour comes through really well. They almost taste like apple pie and that is always a good thing!
They are perfect for snacks, grab & go breakfasts, lunch boxes, or for eating just because they are there. Tell me I'm not the only one who does that?
Recipe video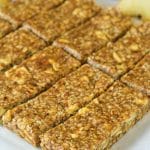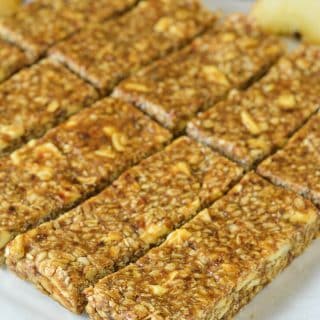 No-Bake Cinnamon Apple Energy Bars
Author:
Incredibly delicious No-Bake Cinnamon Apple Energy Bars. A delicious mix of chewy & crispy & so quick & easy to make!
Ingredients
200

g | or 1 packed cup/about 11 large

medjool dates

if your dates are not soft and a bit hard, soak them in water for 10-15 minutes first then drain well

½

cup | 125g

cashew butter

almond butter is ok as a sub or SunButter for a nut-free version

85

ml | ⅓ cup

brown rice syrup

1

teaspoon

vanilla extract

¼

teaspoon

salt

1

teaspoon

cinnamon

¼

cup | 4 tablespoons

ground flax seed

80

g | ¾ cup

chopped dried apple . You can find it with the dried fruit in the store and often in the bulk bins)

that's about 1 packed cup of the dried rounds

55

g | 1½ cup

puffed rice

125

g | 1 cup

rolled oats or quick oats processed down until they are small pieces

not as fine as flour and measured after processing. (Be sure to use gluten-free oats if necessary_
INSTRUCTIONS
Put the dates in a food processor and process until really finely chopped and starting to ball up. If you don't have a

food processor

you could chop them really finely instead.

In a small pan, put the dates, cashew butter, brown rice syrup, vanilla, salt and cinnamon.

Warm over a low to medium heat until everything is melting together. The dates wont melt but you should be able to smush them up and combine it all well.

While that is happening add the flax, dried apple, puffed rice and oats to a large bowl. Stir well.

Pour in the warm mixture from the pan. It won't be runny and will still be quite thick. Be sure to scrape the pan out well and not leave any behind.

Stir everything together until all the dry ingredients are coated. It does take a bit of arm power. Be sure to scrape into the bottom of the bowl so you don't miss any dry bits.

Spoon into the prepared tin and press down really well all over so it's flat and compacted.

Put in the fridge to set for at least 3 - 4 hours.

When set, cut into bars or squares.
NOTES
Store the bars/squares in the fridge. They keep well for a couple of weeks.
NUTRITION
Serving:
1
bar
Calories:
240
kcal
Carbohydrates:
41
g
Protein:
5
g
Fat:
8
g
Sodium:
77
mg
Fiber:
4
g
Sugar:
20
g
Vitamin A:
50
IU
Calcium:
30
mg
Iron:
1.1
mg
Nutritional information is provided for convenience. The data is a computer generated estimate and should be used as a guide only.
Tried this recipe?
Rate it & leave your feedback in the comments section below, or tag @avirtualvegan on Instagram and hashtag it #avirtualvegan