Easy & incredibly tasty White Bean Artichoke Burgers with hints of lemon & rosemary. Perfect served with lots of gloriously green guacamole & a dribble of hot sauce!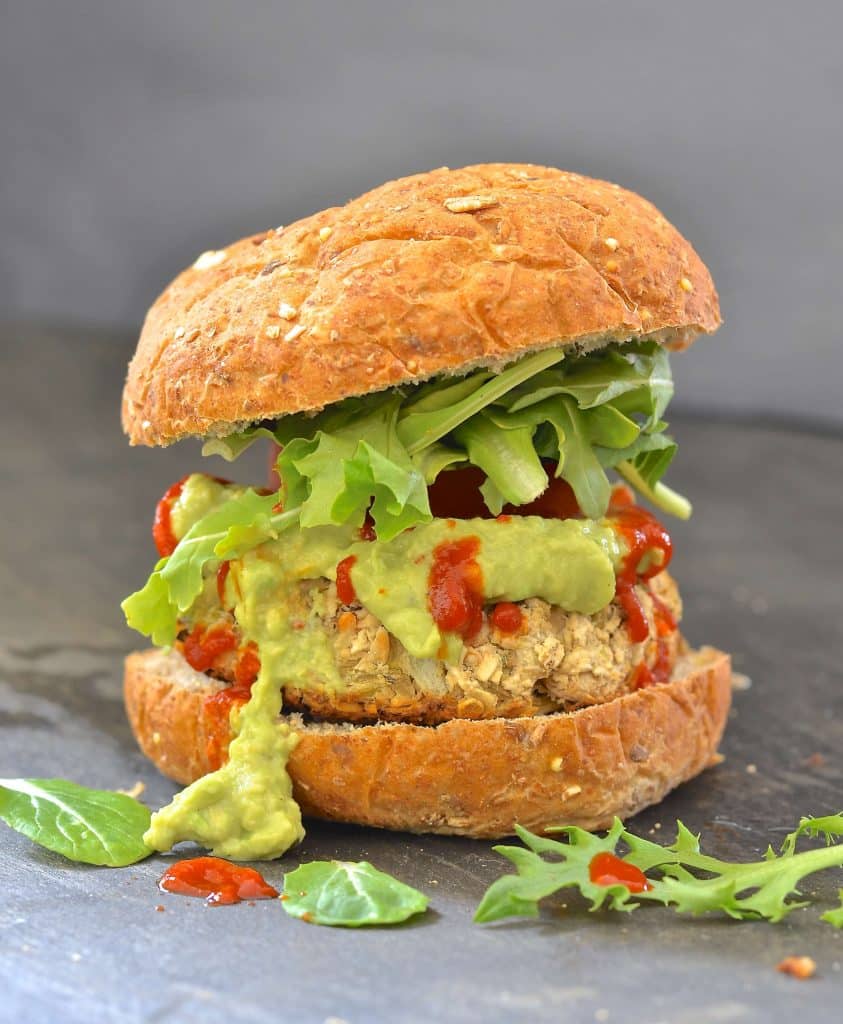 Happy Canada Day! The weather is absolutely beautiful so we are kicking off our long weekend with a BBQ tonight. My Grilled Baby Potatoes with Rosemary will certainly be making an appearance, and what BBQ is complete without veggie burgers?
DO GRILL-ABLE VEGGIE BURGERS EXIST?
I've tried to grill many veggie burger recipes and ended up hungry and frustrated when they have fallen to pieces, slipped down through the grate and gone up in flames. It's not only a huge disappointment but also a real waste of food.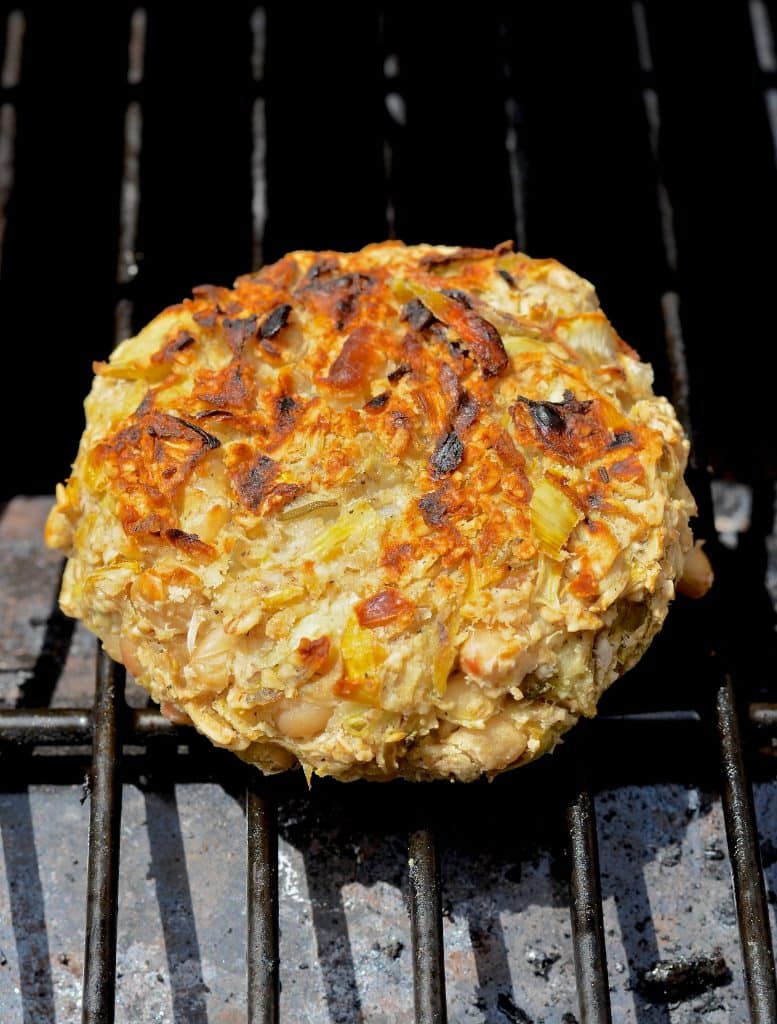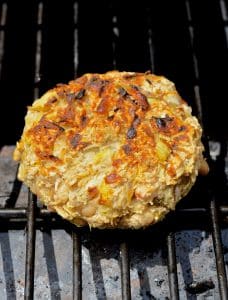 My Vegan Black Bean Lime Burgers are one of the most popular recipes on the blog, but I have yet to try them on the grill. I did intend to a couple of weeks ago but discovered I was out of black beans at the last moment. I didn't have time to go to the store so had to make do with what I did have which was a tin of lima beans and a tin of artichoke hearts.
THESE MY FRIENDS, ARE GRILL-ABLE!
I whipped some veggie burgers up in five minutes flat and after refrigerating them for a while, put them on the grill to cook with fingers crossed. I couldn't believe it when they held together and grilled up perfectly!
These White Bean Artichoke Burgers are really easy to make. You don't even need a food processor. You simply combine the ingredients, shape them into patties and refrigerate until needed. You can make them up to a few days ahead (as long as you keep them well covered in the fridge so they don't dry up) and they grill perfectly. You can also cook them in the oven or in a pan.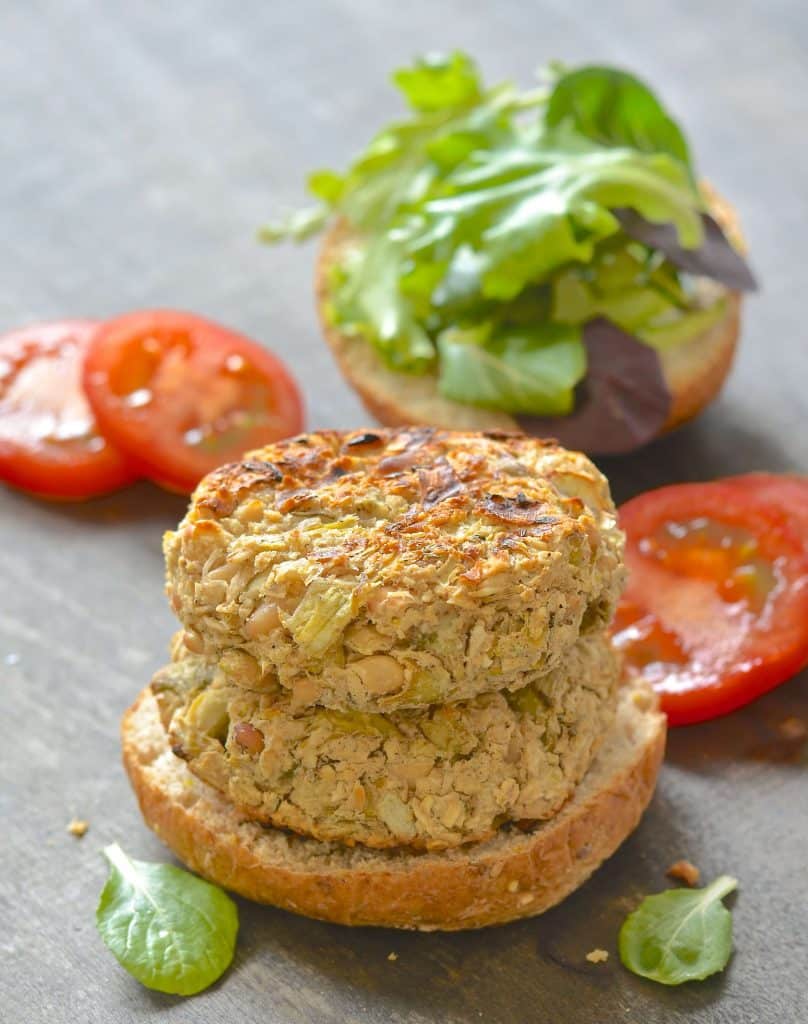 LEMON & ROSEMARY IS THE PERFECT COMBO
The burgers have subtle white bean and artichoke flavours which are enhanced by the addition of some lemon zest and rosemary. They develop a lovely crust on the outside but remain soft and moist on the inside. I love to serve them with lots of guacamole and  some hot sauce. Sriracha goes particularly well with them, as does my Fiery Habanero Hot Sauce.
If you love the white bean and artichoke combo be sure to check out my White Bean Artichoke Sandwich Filling recipe. It's awesome!
LET ME KNOW WHAT YOU THINK ABOUT THESE WHITE BEAN ARTICHOKE BURGERS
If you give these White Bean Artichoke Burgers a try please let me know! Leave a comment below or tag a picture #virtualvegan on Instagram so I can see how yours turned out. I will try grilling my Vegan Black Bean Lime Burgers soon and I will update the recipe if it works. Hopefully you will end up with two grillable veggie burger options!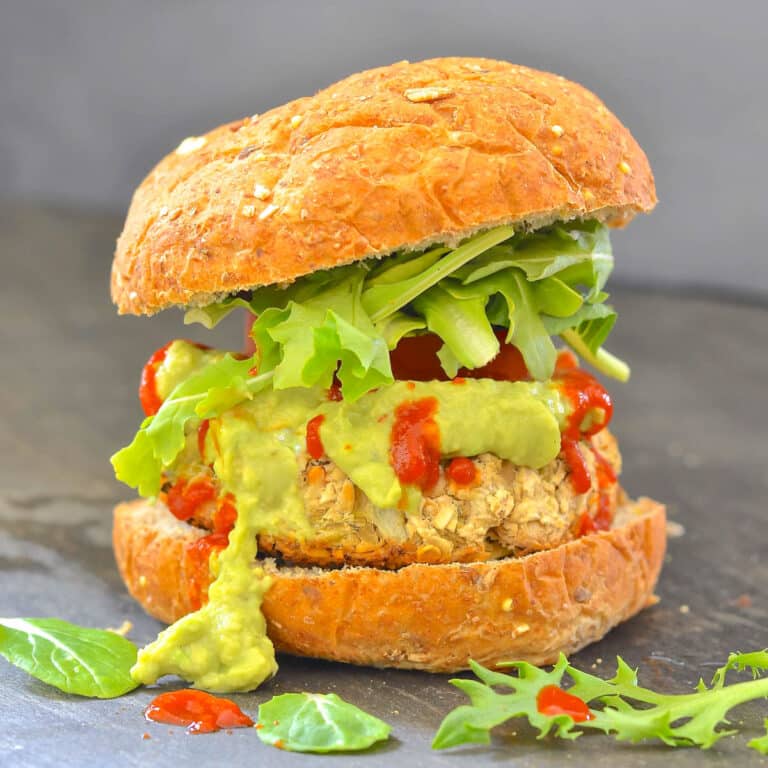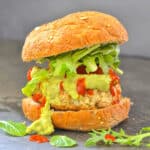 White Bean Artichoke Burgers
Author:
Easy to make and super tasty White Bean Artichoke Burgers with loads of texture and delicious hints of lemon & rosemary. Cook them in a skillet, the oven or on the grill.
Ingredients
½

medium

onion

finely chopped

1 x 14 - 15 oz can

white beans such as lima or cannellini

, equivalent to 1 x 398 ml - 400 ml can in Canada or a 400g one in the UK

1 x 14oz can

canned artichoke hearts

, equivalent to 1 x 398 ml - 400 ml can in Canada or a 400g one in the UK

1 cup (90

grams)

rolled/old fashioned oats

or quick oats (certified gluten-free if necessary)

4

cloves

garlic

, minced

1

teaspoon

chopped rosemary

, dried or fresh

1

medium

lemon (zest only)

1

teaspoon

salt

½

teaspoon

freshly ground black pepper
INSTRUCTIONS
Saute the onion in a pan until golden brown. I used a dry fry pan but you can use a little drop of oil of you prefer. Once beginning to turn golden, turn off the heat and allow to cool while you carry on with the next step.

Drain the beans well and add them to a large bowl. Mash roughly with a potato masher. You just want them a bit crushed not completely pulverized.

Drain the artichoke hearts and chop into small chunky pieces, then add them to the crushed beans.

If using old-fashioned or rolled oats, pulse them a few times in a food processor or blender to make them smaller but still a bit chunky. If using quick oats you can skip this step.

Add the oats to the beans then add the garlic, rosemary, lemon zest, salt and pepper.

Use clean hands to squeeze and squidge everything together really well.

Shape into 4 patties and really squeeze and compact them together well. Then place on a parchment paper lines baking tray or plate and refrigerate for at least one hour. It's fine to leave them up to a couple of days but if you do make sure to cover them with plastic wrap so they don't dry out.
To cook on a grill
Place on a grill over medium heat and leave to cook until a nice crust develops then turn over. They should take 5 to 6 minutes each side. Remove from the grill and serve immediately.
To cook in an oven
Put the burgers on a lined baking tray and cook at 350°F for 25 to 30 minutes, making sure to turn them over half way. They should be crusty and golden once ready.
To cook in a skillet
Heat the skillet with a small drop of oil. When hot add the burger patties.

Cook for 5 to 6 minutes until a nice golden crust has formed then turn over and do the same on the other side.
NOTES
Success tips
Be sure to drain the beans and the artichokes well. It doesn't hurt to give the artichokes a little squeeze to get the excess moisture out.
The oats are necessary for absorbing moisture and also for texture. I don't recommend switching them for anything else.
Don't be tempted to add the juice of the lemon as well as the zest. Moisture needs to be kept to a minimum here.
These burgers need the refrigeration step so don't skip it.
---
To store - Burgers keep well in the fridge for four to five days whether cooked or uncooked. Be sure to keep them wrapped well or in an airtight container so they don't dry out.
To freeze uncooked burgers - Shape the burgers then lay them out on a lined baking tray and pop the whole thing in the freezer. As soon as they are hard you can transfer them to a freezer bag or container. Don't forget about them and leave them on the tray uncovered for too long though as they may get freezer burn.
To freeze cooked burgers -Allow to cool completely then lay out on a lined baking tray and pop the whole thing in the freezer until they are hard. Then remove and put into freezer bags or containers. Or Stack the burgers with sheets of parchment paper between them and freeze. Either way will ensure they don't stick together.
To reheat previously cooked burgers - Bake them in the oven at 370°F for about 15-20 minutes or until piping hot. If frozen bake them straight from the freezer for about 20-25 minutes or until piping hot all the way through.
NUTRITION
Serving:
1
patty
Calories:
388
kcal
Carbohydrates:
47
g
Protein:
12
g
Fat:
16
g
Saturated Fat:
2
g
Polyunsaturated Fat:
1
g
Monounsaturated Fat:
1
g
Sodium:
1202
mg
Potassium:
571
mg
Fiber:
11
g
Sugar:
3
g
Vitamin A:
1616
IU
Vitamin C:
38
mg
Calcium:
129
mg
Iron:
5
mg
Nutritional information is provided for convenience & as a courtesy. The data is a computer generated estimate so should be used as a guide only.
Tried this recipe?
Rate it & leave your feedback in the comments section below, or tag @avirtualvegan on Instagram and hashtag it #avirtualvegan