Quick & easy Curried Chickpea Burgers. They are full of curry flavour with bursts of sweetness from plump golden raisins and texture from chopped cashew nuts & chewy oats. Serve them in buns with a generous dollop of mango chutney!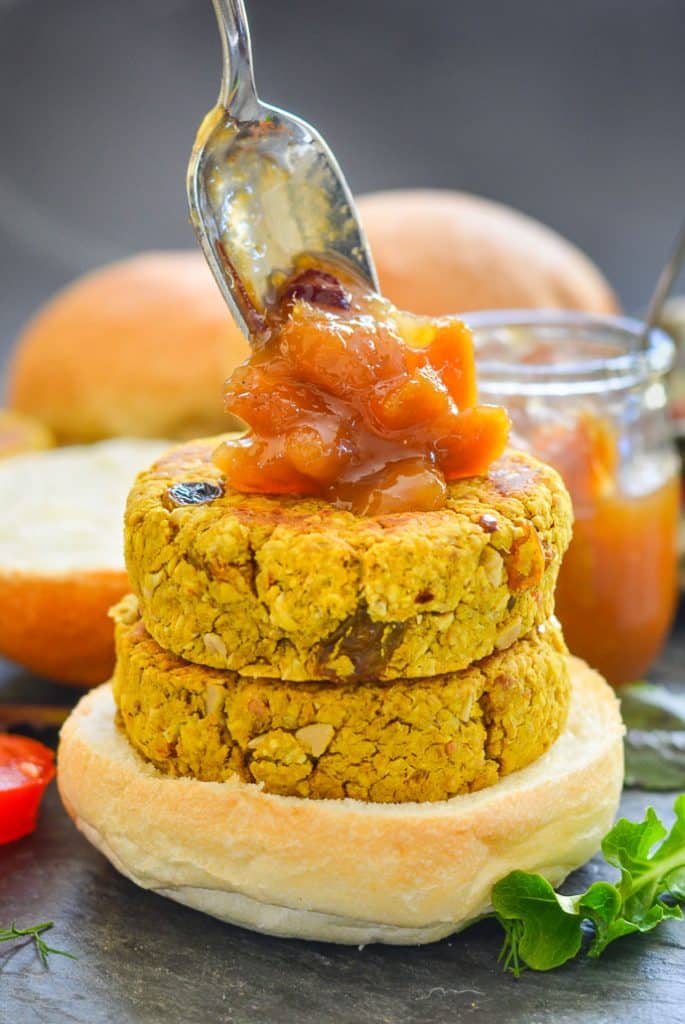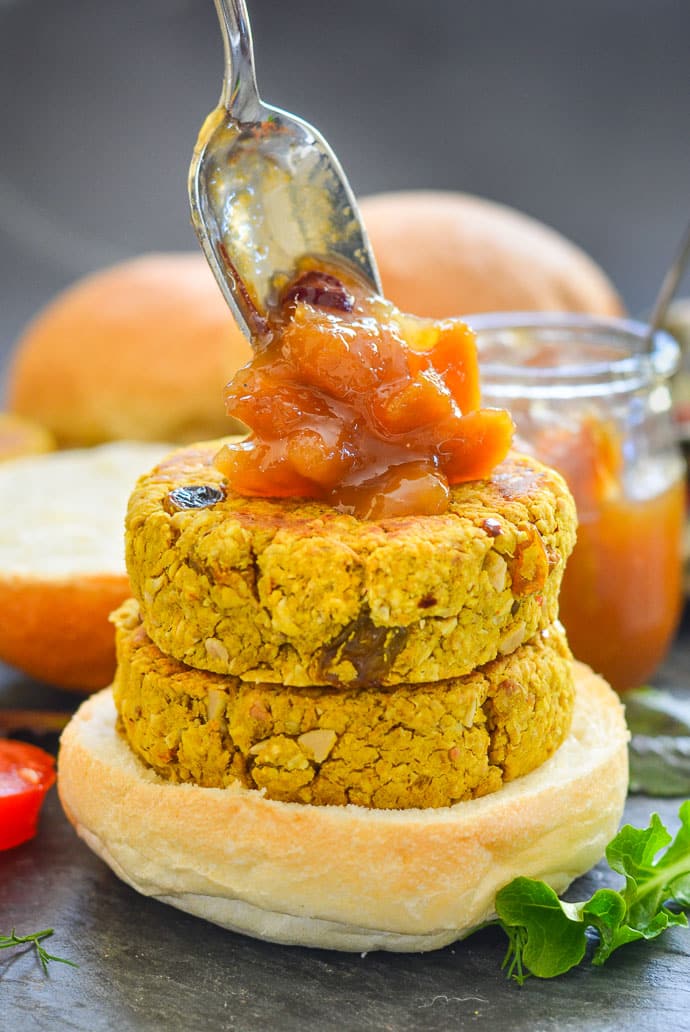 These Curried Chickpea Burgers are quite literally everything. Savoury, sweet, nutty and a little fiery (if you want them to be). Add a giant dollop of mango chutney and you have one incredible combo going on.
It also happens to be an incredibly messy combo, but hey, it's a burger. That's expected, right?! Those sticky drips scattered with burger crumbles rolling down your chin are part of the fun!
They are really easy to make, needing pretty much minimal or zero grocery shopping, assuming you keep a well stocked vegan pantry and the only equipment you need is a food processor (<< affiliate link) . You could get away without if you are happy to mash the chickpeas with a fork and blitz the oats in a blender though(<< affiliate link).
If you aren't a curry fan but you do like chili, you might want to hop on over to my Spicy Chipotle Red Bean Burgers.
Ways I have been enjoying these Curried Chickpea Burgers:
In a bun with mango chutney
In a bun with mango chutney and a drizzle of plain vegan yogurt
Wrapped in a pita with all the fixings
Topped with fresh mango in all of the above situations
With a simple salad (hot or cold) and my very old, badly photographed but very yummy, Creamy Mango Salad Dressing
Just as they are for a quick grab from the fridge snack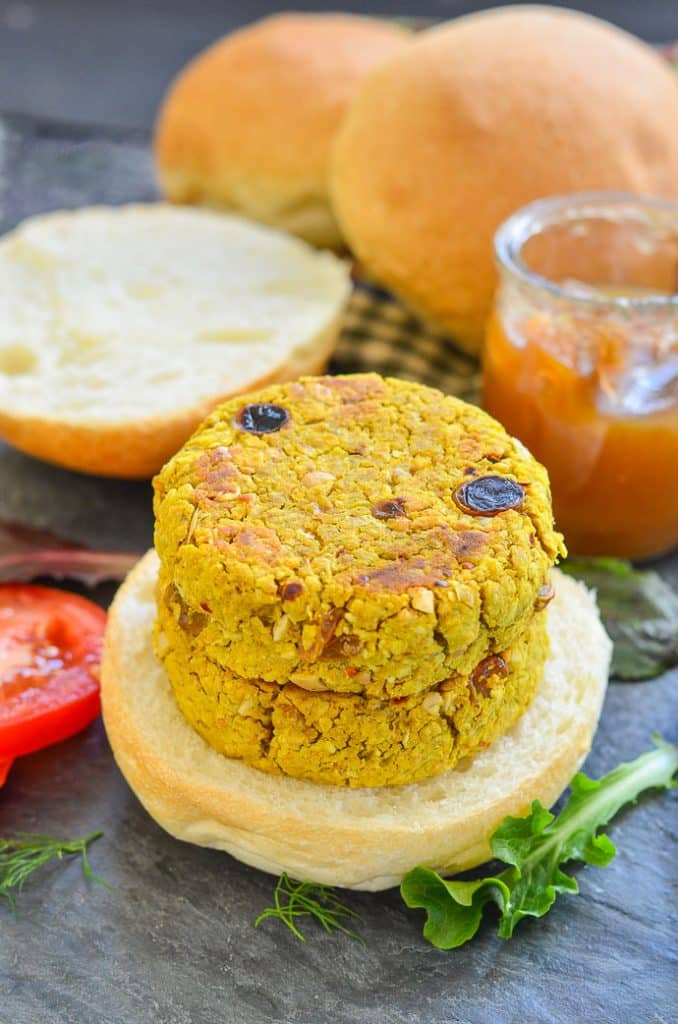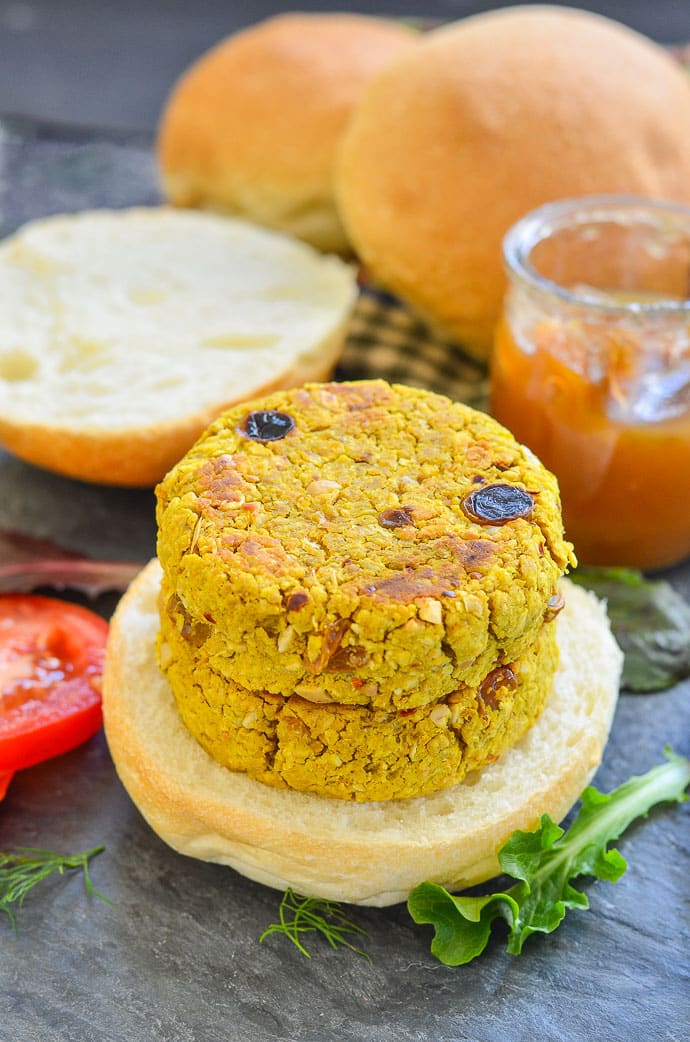 This is why I am loving these Curried Chickpea Burgers:
No special ingredients necessary
They are perfectly crusty on the outside, NOT mushy in the middle and have great texture
The sweet & savoury flavours work so well together
They are full of protein and healthy fats
No frying involved - they are oven-baked
Keep them for up to 1 week in the fridge either cooked or uncooked
You can make extra and stash some in the freezer
Um...curry and burger together?? ????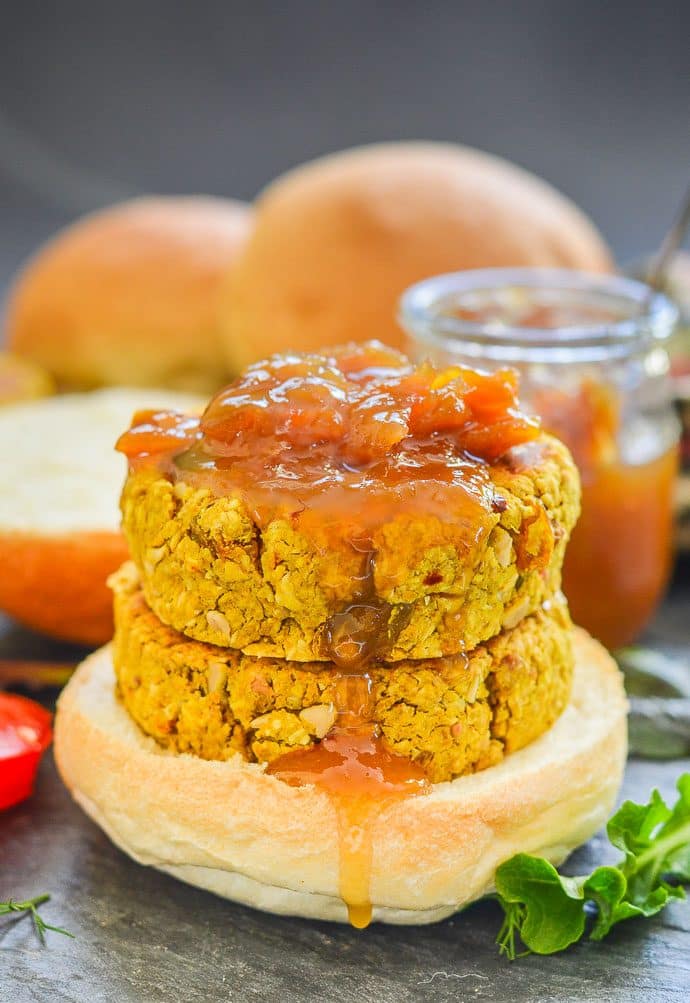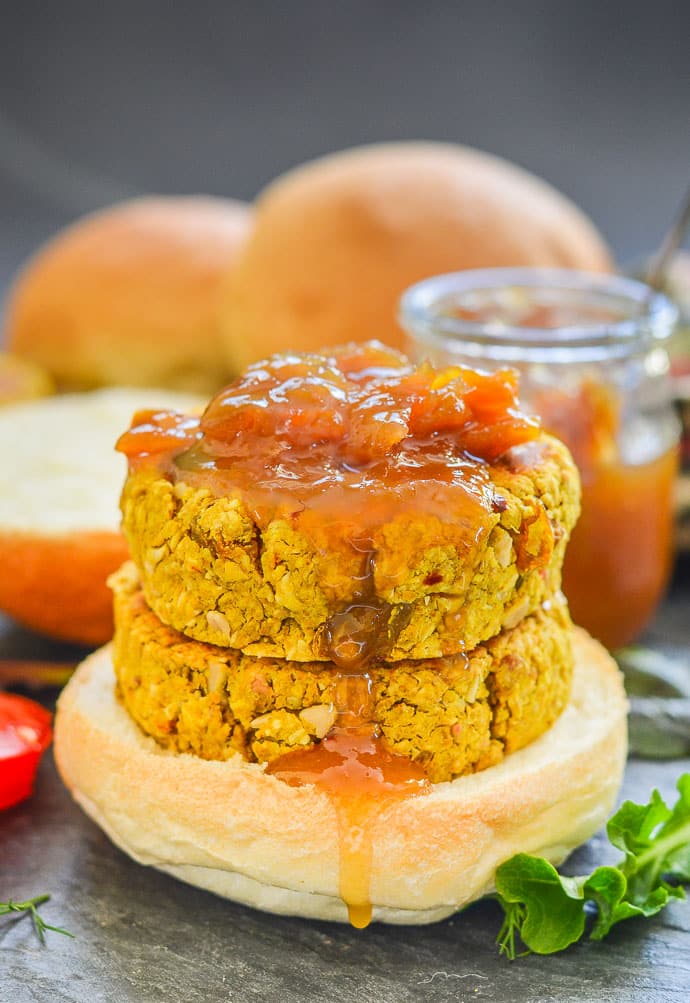 You. Dinnertime. Curried Chickpea Burgers slathered in mango chutney and a drippy, sticky chin and fingers. Let's do this!
Hungry for more?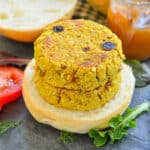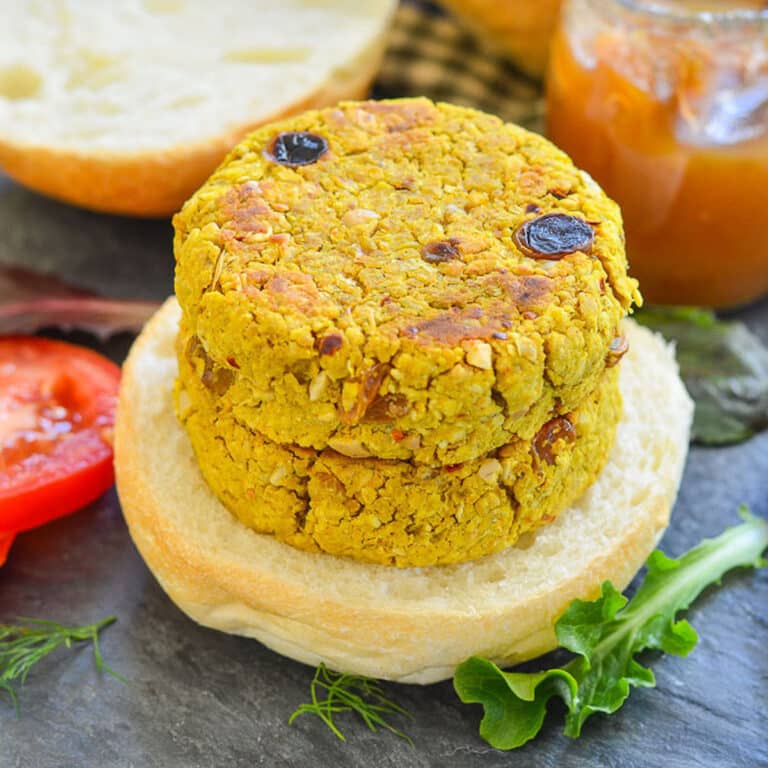 Curried Chickpea Burgers
Author:
Quick & easy Curried Chickpea Burgers. They are full of curry flavour with bursts of sweetness from plump golden raisins and texture from chopped cashew nuts & chewy oats. Serve them in buns with a generous dollop of mango chutney!
Ingredients
1

small

onion (golf ball size)

, chopped finely

4

cloves

garlic

, chopped finely

2 cups (380

grams)

canned chickpeas

, drained *

3

tablespoons

peanut or cashew butter

1

teaspoon

chili flakes

, optional

2 - 3

teaspoons

curry powder

, add to taste

1

teaspoon

salt

1 cup (90

grams)

oats

, rolled oats or quick cook oats, NOT steel cut

⅓ cup (50

grams)

cashew nuts or peanuts

, chopped into small pieces

½ cup (70

grams)

golden raisins

, or chopped apricots (or a mix of both)

a

little

water
INSTRUCTIONS
Sauté the onion and garlic in a pan with a little water or oil until just beginning to turn golden. (You can use oil if you prefer rather than water). Set aside and allow to cool. 

Add around half of the chickpeas to a food processor with the peanut butter, chili flakes, 2 teaspoons of curry powder and salt. Process until smooth.

Add the oats, sautéed onions and garlic and the rest of the chickpeas and pulse until they are combined and the oats are in small pieces and the chickpeas are still a little chunky. Have a quick taste and add the other teaspoon of curry powder if you want the flavour a little stronger.

Add the cashew nuts and raisins and pulse a few times to combine, then feel the mixture with your hands (being careful of the blade). See if you can squeeze it together. If you can it's done. If not add water a tablespoon at a time and pulse until you can bring it together.

Remove the blade and form the mixture into 6 burger patties. Squeeze them into a tight ball in one hand first (as tight as you can), then flatten them on your work surface with your palm. Smooth over any cracks around the outside then place on a lined baking sheet.

Baked for around 20 - 25 minutes until the burgers are crusty on the outside and piping hot.
NOTES
I have tested these burgers with canned and home-cooked chickpeas. With canned chickpeas they are slightly moister and stick together easier. With home-cooked chickpeas they are slightly drier and need a little more added water to hold them together. 
To store - These burgers can be refrigerated for up to 1 week, or frozen while raw or cooked. Just separate them with a little baking parchment and wrap well. Defrost then cook as per the directions.
NUTRITION
Serving:
1
of 6 burger patties
Calories:
273
kcal
Carbohydrates:
39
g
Protein:
11
g
Fat:
9
g
Sodium:
401
mg
Fiber:
8
g
Sugar:
11
g
Vitamin C:
3.3
mg
Calcium:
60
mg
Iron:
3.2
mg
Nutritional information is provided for convenience. The data is a computer generated estimate and should be used as a guide only.
Tried this recipe?
Rate it & leave your feedback in the comments section below, or tag @avirtualvegan on Instagram and hashtag it #avirtualvegan