I used to have a real passion for baking cakes but as I spent a good few years counting calories before I became vegan it has been a long time since I baked anything other than bread.
One day last week I noticed three very overripe bananas in the fruit bowl. I hate to waste anything so knew I had to create a recipe to use them. I had purchased some lovely organic ground cardamon the day before and as the two flavours marry so nicely together I decided to create a Cardamon Banana Bread.
This was the first time I have baked anything remotely cake like in a long time and I was worried that I might have lost the knack but my finished Cardamon Banana Bread certainly didn't disappoint.
My Cardamon Banana Bread is
fairly healthy (as far as cakes go!)
moist
delicious
topped with chewy roasted bananas
and has just the right amount of sugar and spice.
A beautiful crust forms whilst baking so please don't blame me when you have to fight everyone in your household to get the crusty end bit. Tell them that I said "it's the cook's perk" and swiftly cut and run!
If you enjoy baking then check out my Lemon & Blueberry Cornmeal Muffins. They are super delicious!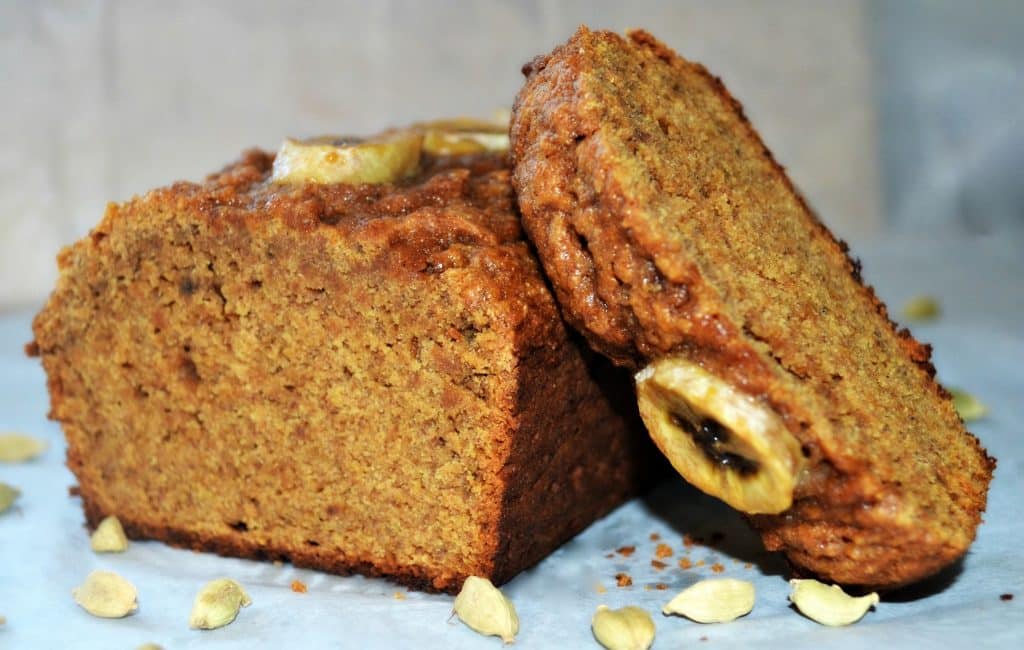 Cardamon Banana Bread
This healthier dairy & egg free Cardamon Banana Bread is full of flavour with just the right amount of sugar and spice. Enjoy guilt free!
Instructions
Preheat oven to 350 degree F.

Grease a loaf pan (I used a 8.5 x 4.5 inch

loaf pan

and line with parchment paper.

Peel bananas and put in a large bowl.

Mash with a fork.

Add coconut oil, sugar, molasses, cardamon and salt.

Beat well until very smooth. I used an

hand mixer

but you could use a stand mixer or do it by hand.

Sift in your flour and baking powder and gently fold it all together. Do not use your electric mixer and do not over mix. You want it so that it is just combined and so that you cannot see any dry flour throughout the mixture.

Pour into your prepared pan.

Top with some sliced banana and a sprinkle of sugar.

Bake in oven for 40 - 50 minutes until a tooth pick or skewer comes out clean when inserted through the middle.

Leave to cool in pan for 5 - 10 minutes then remove and cook completely on a cooling rack.
Nutrition Facts
Cardamon Banana Bread
Amount Per Serving (1 slice)
Calories 185
Calories from Fat 54
% Daily Value*
Total Fat 6g 9%
Sodium 220mg 9%
Total Carbohydrates 31.4g 10%
Protein 4g 8%
* Percent Daily Values are based on a 2000 calorie diet.