Transform those overripe spotty bananas into the Best Vegan Banana Bread. Loaded with chocolate chips and chopped nuts, it's perfectly moist, sweet and flavorful, and it's quick and easy to make all in one bowl!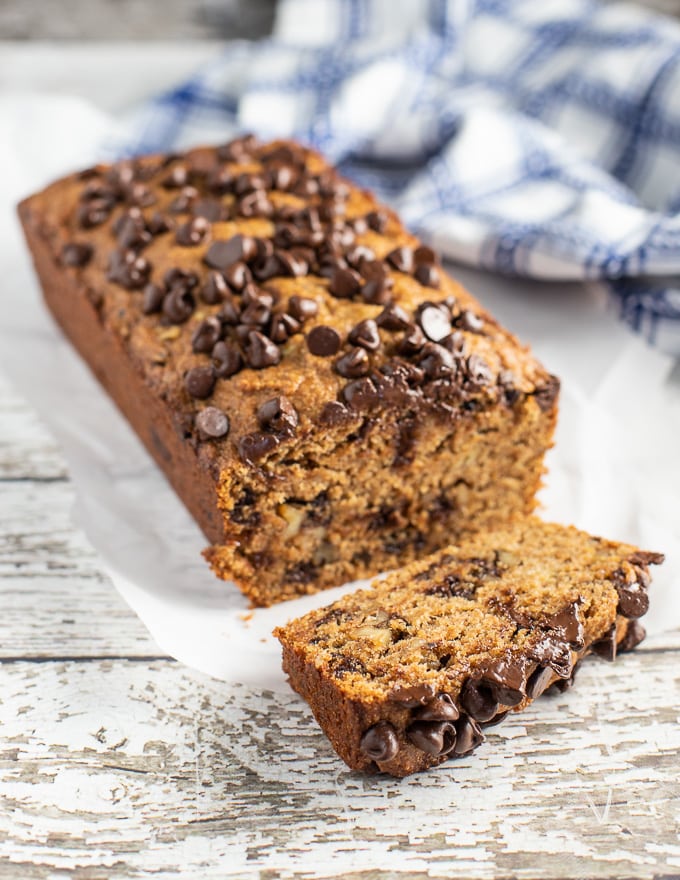 Friends, my obsession with banana bread continues. Meet the Best Vegan Banana Bread. I made it and I loved it and now I am sharing it with you.
And guess what? It is a super-duper delicious, flavourful and moist vegan banana bread and it is about to become your new favourite sliceable snack.
Jump to:
This recipe is an adaptation of my regular Spelt Banana Bread, but we are taking it up a notch.  
We're talking bananas in all their spotty overripe glory, hearty spelt flour (or sub for all purpose flour or a mix of whole wheat and all purpose), vegan chocolate chips and lots of chopped nuts (or not nuts if they aren't your thing - you can easily omit them).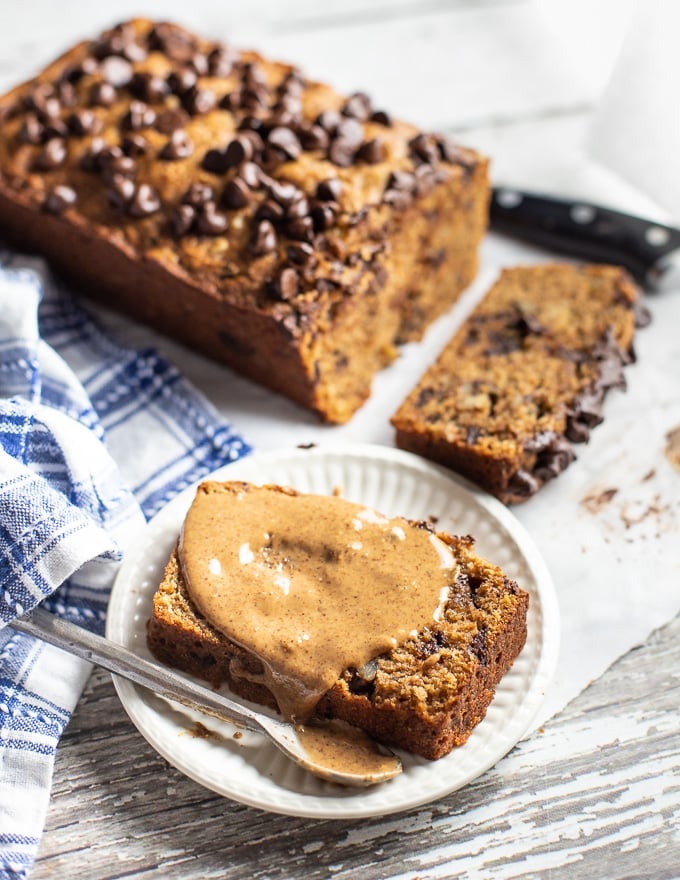 We're talking your choice of using oil or no oil. You can make this Best Vegan Banana Bread oil-free if you want to. It needs some fat in it to turn out well, but nut butter is fatty enough to do a fab job instead of oil.
We're talking your choice of sugar. Refined, unrefined, brown, white, coconut sugar. They all work fine.
We're taking moist and sweet and perfect for schmearing with my Vegan Butter.
And hey. Did I mention that this can be mixed up and in the oven in about 10 minutes?
How about a big old "yes" to that?
Is it better than my Vegan Chocolate Banana Bread? I feel like a traitor for even thinking that. I think it might be but I'm finding it hard to commit and Mr AVV isn't able to pick a winner either.
Can we call it a tie?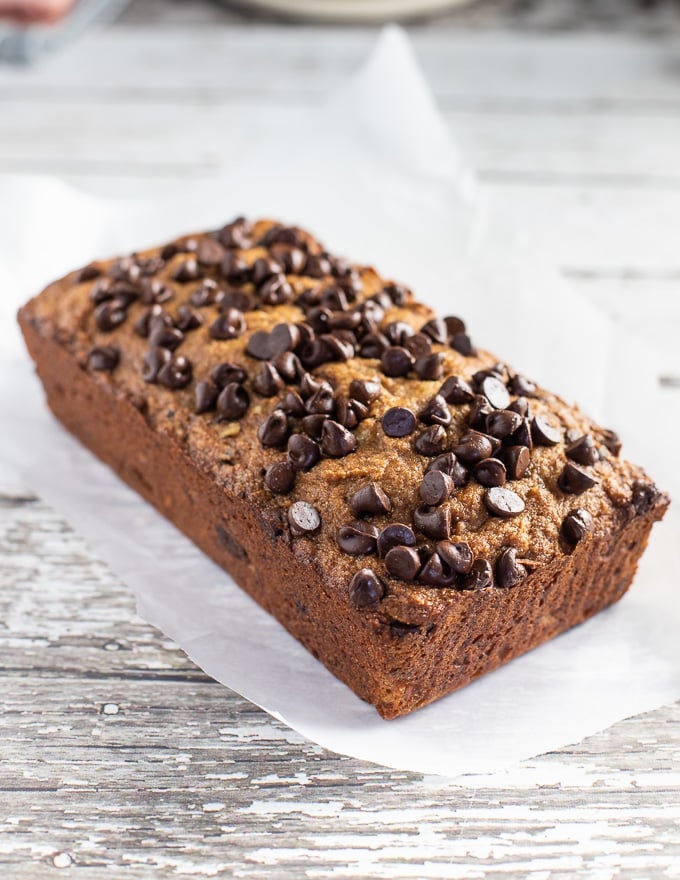 Ingredient & equipment notes
(For detailed measurements and instructions, see the printable recipe card).
Our ingredient list isn't too complicated. You will be needing:
overripe bananas - the spottier the better!
flour - all purpose, spelt, or white whole wheat are all fine.
sugar - any kind you like
coconut oil - or sub it for any other neutral oil you like or don't use oil at all. Yes I've got the oil-free peeps covered - Nut butter is your friend!
blackstrap molasses or regular molasses - my banana bread secret weapon!
chocolate chips - because they make everything better
nuts - because bananas, nuts and chocolate ... Is there a better combo?
and the usual suspects like salt and baking powder
Here they all are, just waiting for good things to happen to them: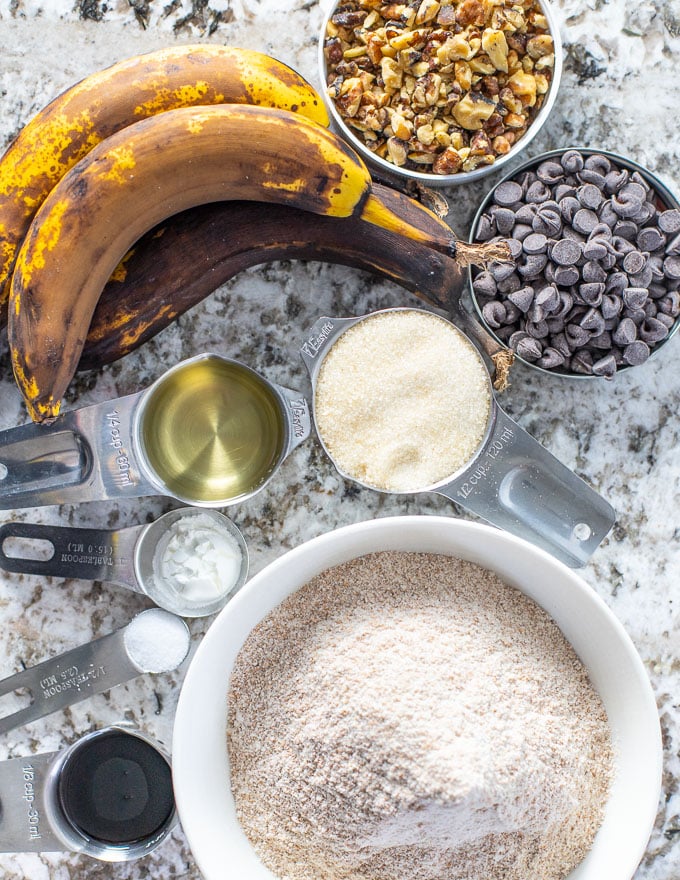 And you don't need any special equipment at all except a loaf pan.
I've expressed my love for this USA Pan loaf pan. It's quite simply awesome. And really reasonably priced. Mine is a few years old and gets used all the time and still releases perfectly every-time with very minimal greasing.
With baking, precision is key to excellent results which is why, although you don't absolutely need one, I highly recommend using a kitchen scale to measure your ingredients, rather than using cup measurements.
This one is cheap and works brilliantly.
It has a tare function which is really handy. This means you can place any bowl on the scale and reset to zero so it doesn't include the weight in its calculation, plus you can reset to zero when adding multiple ingredients to the same bowl which saves on washing up. If you do a lot of baking and want optimum results a scale really is a great investment.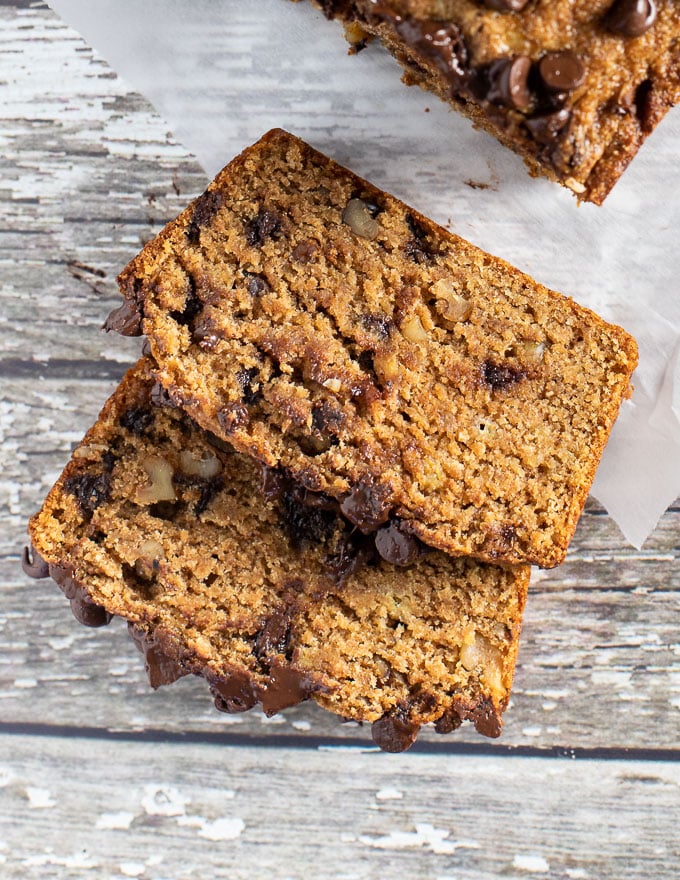 How to make the best vegan banana bread
Step 1 - Mash those bananas up really, really well, then add the sugar along with all of the wet ingredients and beat together.






Step 2 - Fold in the flour and baking powder, then gently stir in the nuts and chocolate.






Step 3 - Dollop into your pan and bake.
Done!
The Best Vegan Banana Bread should be moist, hearty, satisfying, perfectly sweet and studded with nuts and chocolate chips and I think we can safely say we have all boxes checked.
Possible variations
Don't have all the ingredients for banana bread on hand?
Here are some handy banana bread substitutions:
OIL - No oil? Try using nut butter like we do int his recipe, or coconut butter instead. They provide all the necessary fat to create a great banana bread. Any nut butter will do: peanut, cashew, almond. Bear in mind that peanut butter has a strong flavour which will more than likely come through in the finished bread. That's not necessarily a bad thing, but if you would prefer not to taste it, use cashew or almond butter instead. They are much more neutral.
SUGAR - In most banana breads, including this one, any sugar will work as long as you keep the quantity the same. Coconut sugar, granulated sugar, white sugar, brown sugar, refined sugar, unrefined sugar. Just don't swap it out for a liquid sweetener like maple syrup as it will make the batter too wet and affect the texture.
FLOUR - Don't have spelt flour in your pantry? Switch it for whole wheat flour or all purpose, or a mix of the two. Just be sure to weigh it and not just go by volume. That will ensure you get the very best results.
BANANAS - What is a good substitute for bananas in banana bread? We've all been there. The urge to bake takes over but there aren't enough bananas in the fruit bowl to make your favourite banana bread. The curse of only having 2 bananas when you need 3 is common! Make up the difference with some pureed sweet potato, pureed butternut squash or pumpkin. You can even replace them completely with any of those, (except then it wouldn't be banana bread)!
3 mashed bananas = approximately 1 packed cup. Keep to that amount and you can use any combo of the alternatives mentioned above.
So as an example, if you want to make vegan banana bread with only 2 bananas, just add one-third of a cup of sweet potato puree, butternut squash puree or pumpkin puree.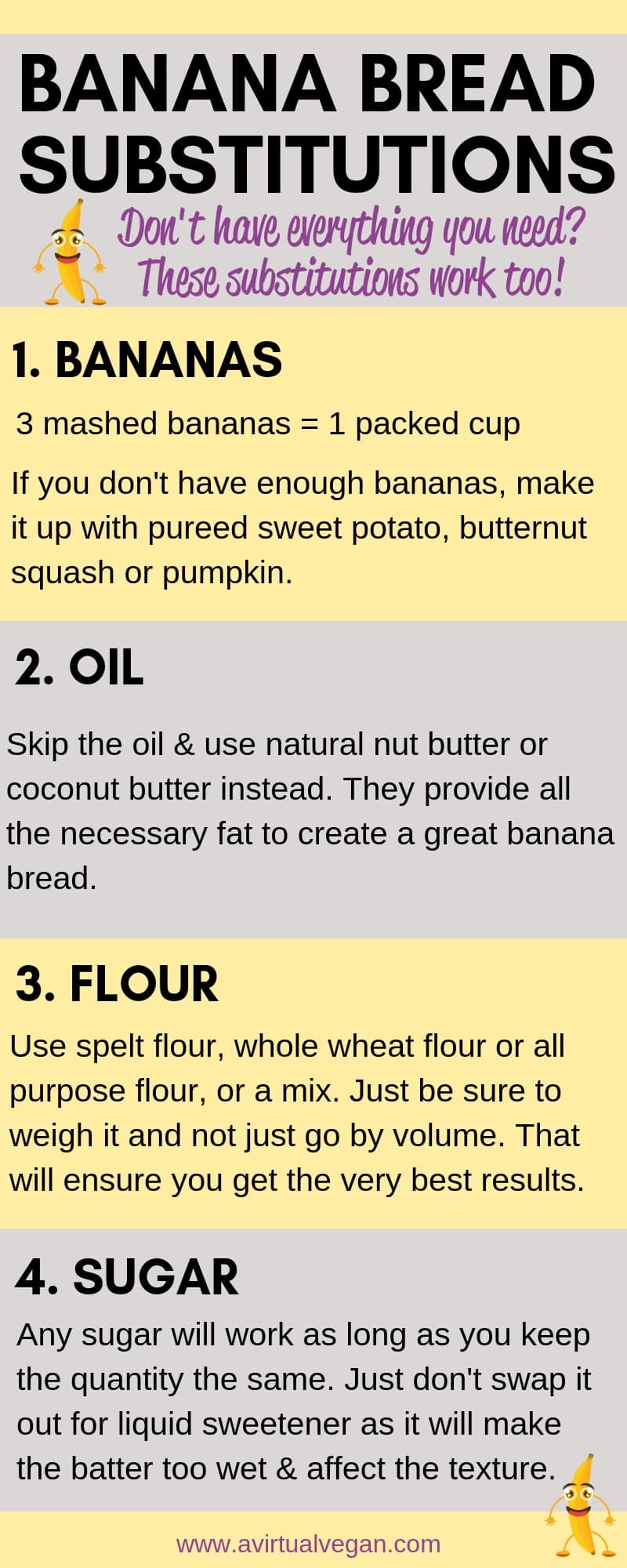 Can you make banana bread in a cake pan?
If you don't have a loaf pan you can bake banana bread in any cake pan that you happen to have. I would advise to line the bottom of the pan to enable you to get the banana bread out cleanly once it's done. And as I've said before, I'm not a fan of silicone bakeware. It doesn't have the rigid structure or heat conduction necessary to get good results.
Remember if using a cake pan, that the depth of the pan will affect the cooking time. The shallower the pan is, the quicker the bread will cook. The deeper the pan, the longer it takes to cook.
This banana bread takes about 50 minute to bake in a loaf pan. Cake pans tend to be bigger and shallower so it won't take as long as 50 minute in one of them. Check after 30 to 35 minutes. If it's coming away from the edges slightly and a toothpick inserted comes out clean (except for a bit of melted chocolate), then it's done.
Or if you don't have a loaf pan or a cake pan, make muffins instead. They will take around 18 to 20 minutes.
Serving suggestions
Best Vegan Banana bread is great eaten just as it is, especially in lunch boxes or when snacking on the go, but you can also spread it with vegan butter, vegan cream cheese, peanut butter, almond butter, cashew butter or chocolate spread.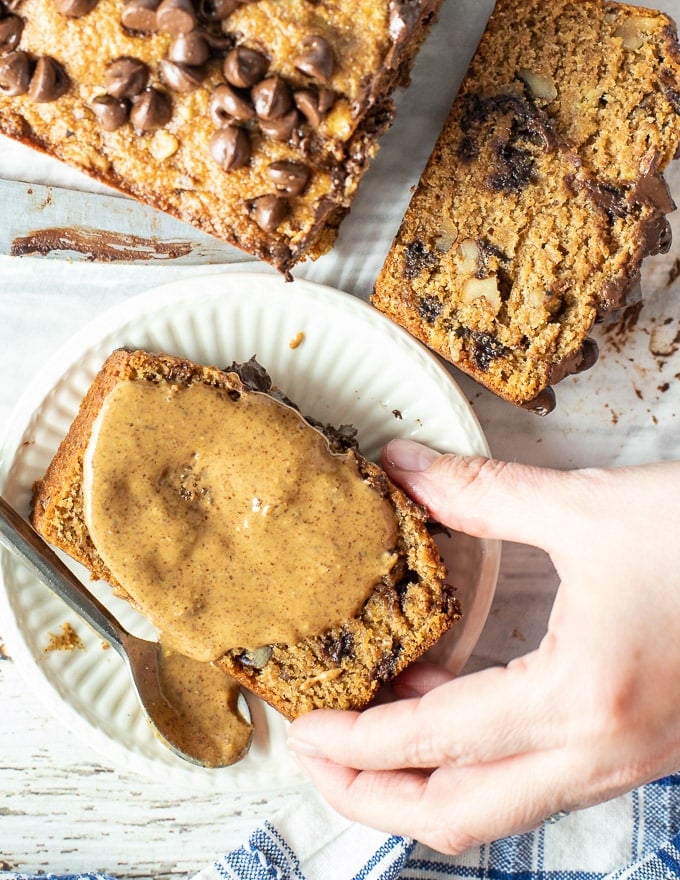 It isn't likely to happen, but if you get any leftovers that are a little past their best, turn them into Banana Bread Vegan French Toast. Just swap out the regular bread for banana bread in my recipe.
Want to know how to turn your banana bread into dessert though?
Now I've got your attention ...
Cut a slice and microwave it for about 20 to 30 seconds until warm. Then top it with a dollop of vanilla ice cream and if you are feeling extra decadent, a drizzle of chocolate sauce.
You can thank me later ...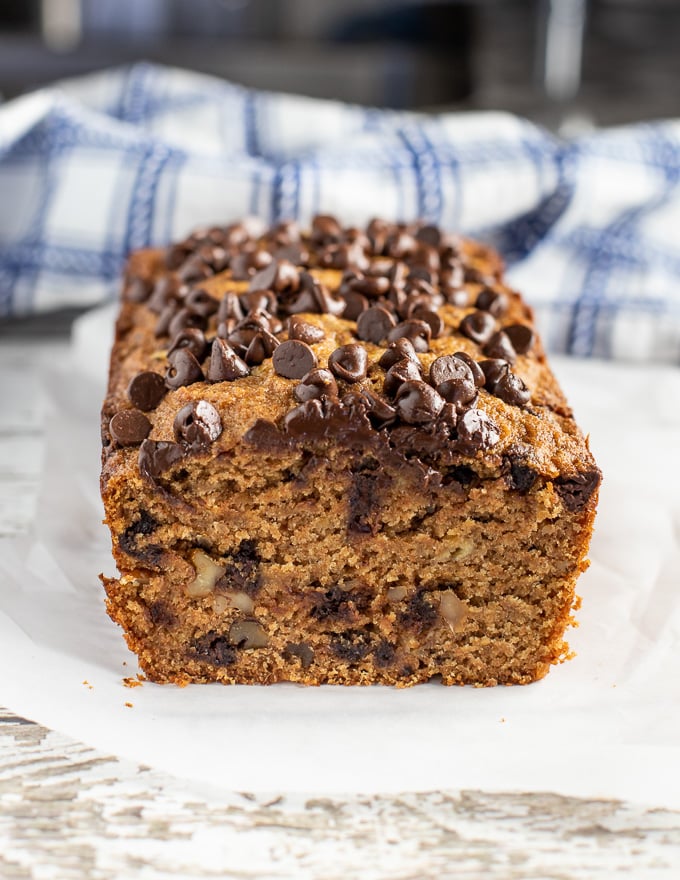 When you feel like having a baking splurge my Best Vegan Banana Bread is waiting for you.
Hungry for more?
If you are always looking for recipes that involves overripe bananas then be sure to check out:
📖 Recipe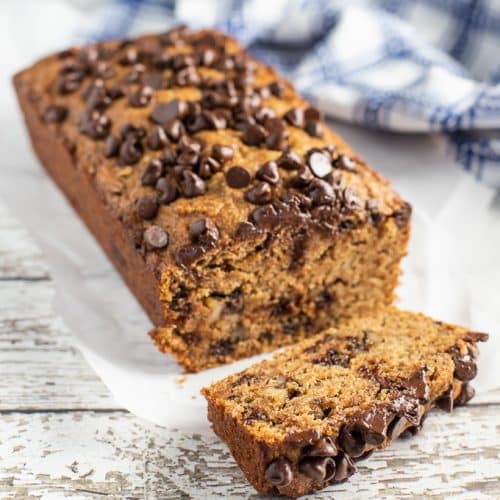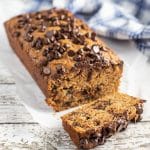 Best Vegan Banana Bread
Author:
Transform those overripe spotty bananas into the Best Vegan Banana Bread. Loaded with chocolate chips and chopped nuts, it's perfectly moist, sweet and flavorful, and it's quick and easy to make all in one bowl!
Ingredients
3

medium bananas

make sure they are very ripe, (plus some extra slices for the top)

¼ cup / 60

mls

melted and liquid coconut oil, or ¼ cup (4 tablespoons) of natural nut/seed butter

, be sure to use refined coconut oil if you want no hint of coconut flavour

½ cup / 100

g

sugar

, white, brown, coconut, any will do

1

tablespoon

blackstrap or regular molasses

1/2

teaspoon

salt

2 cup / 230 g

g

all-purpose flour or spelt flour

, (plain flour in the UK)

2

teaspoons

baking powder

½ cup / 85

g

chocolate chips

, plus a few more for sprinkling

½ cup / 60

g

chopped walnuts or pecans

, omit to make nut-free, plus a few more for sprinkling
INSTRUCTIONS
Preheat oven to 350°F and grease a loaf pan. My pan is 8.5 x 4.5 inch loaf pan but a 9 x 5 inch will be fine too. Line the pan with a strip of parchment paper along the bottom, making sure it comes up over the ends so you can use it as a handle to lift the loaf out once cooked.

Peel the bananas then mash them really well with a fork until they are a puree.

Add the coconut oil (or nut butter), sugar, black strap molasses and salt and beat well until smooth.

Add the flour and baking powder and gently fold it all together. Do not over mix. You want it so that it is just combined and so that you cannot see any dry flour throughout the mixture. When almost mixed up, add the chocolate chips and nuts and stir gently to combine.

Pour into your prepared pan and sprinkle over a few more chocolate chips or nuts, or both.

Bake in oven for around 50 minutes or until a tooth pick or skewer comes out clean when inserted through the middle. Lift out of pan, remove parchment paper and cool on a cooling rack.
NOTES
This bread freezes really well. I often double the recipe so we have one to eat and one for another day.
NUTRITION
Serving:
1
of 10 slices
Calories:
263
kcal
Carbohydrates:
37.5
g
Protein:
5
g
Fat:
12
g
Saturated Fat:
6
g
Sodium:
221
mg
Fiber:
4
g
Sugar:
17
g
Vitamin C:
4.1
mg
Calcium:
90
mg
Iron:
1.6
mg
Nutritional information is provided for convenience & as a courtesy. The data is a computer generated estimate so should be used as a guide only.
Tried this recipe?
Rate it & leave your feedback in the comments section below, or tag @avirtualvegan on Instagram and hashtag it #avirtualvegan