This Vegan Chocolate Banana Bread is 100% amazing. It's easy to make in one bowl, rich, chocolatey, fudgy and super indulgent!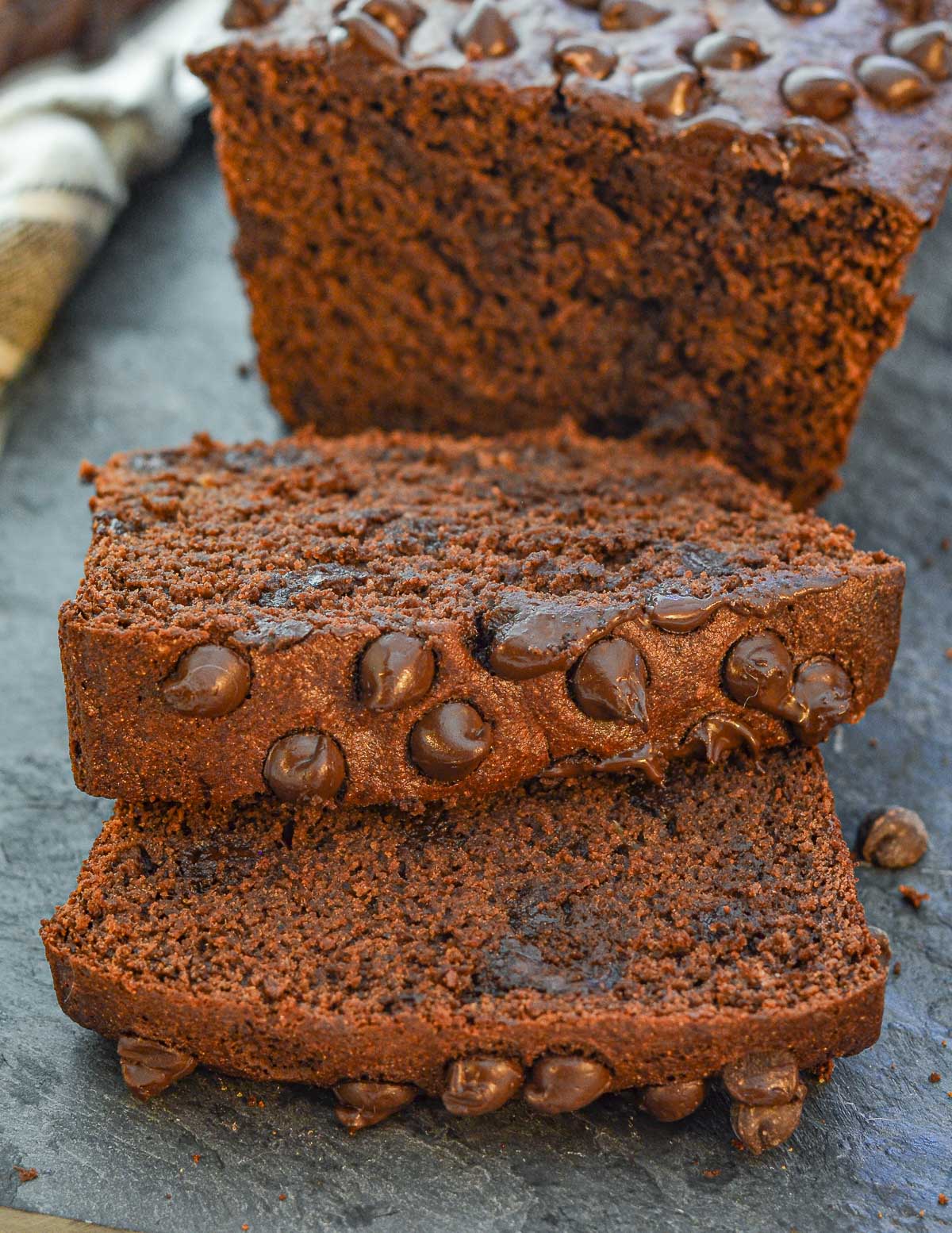 Spotty bananas at the ready because we're making Vegan Chocolate Banana Bread! And if you don't have spotty bananas then don't worry because I've got a little trick up my sleeve to fix that!
Ingredients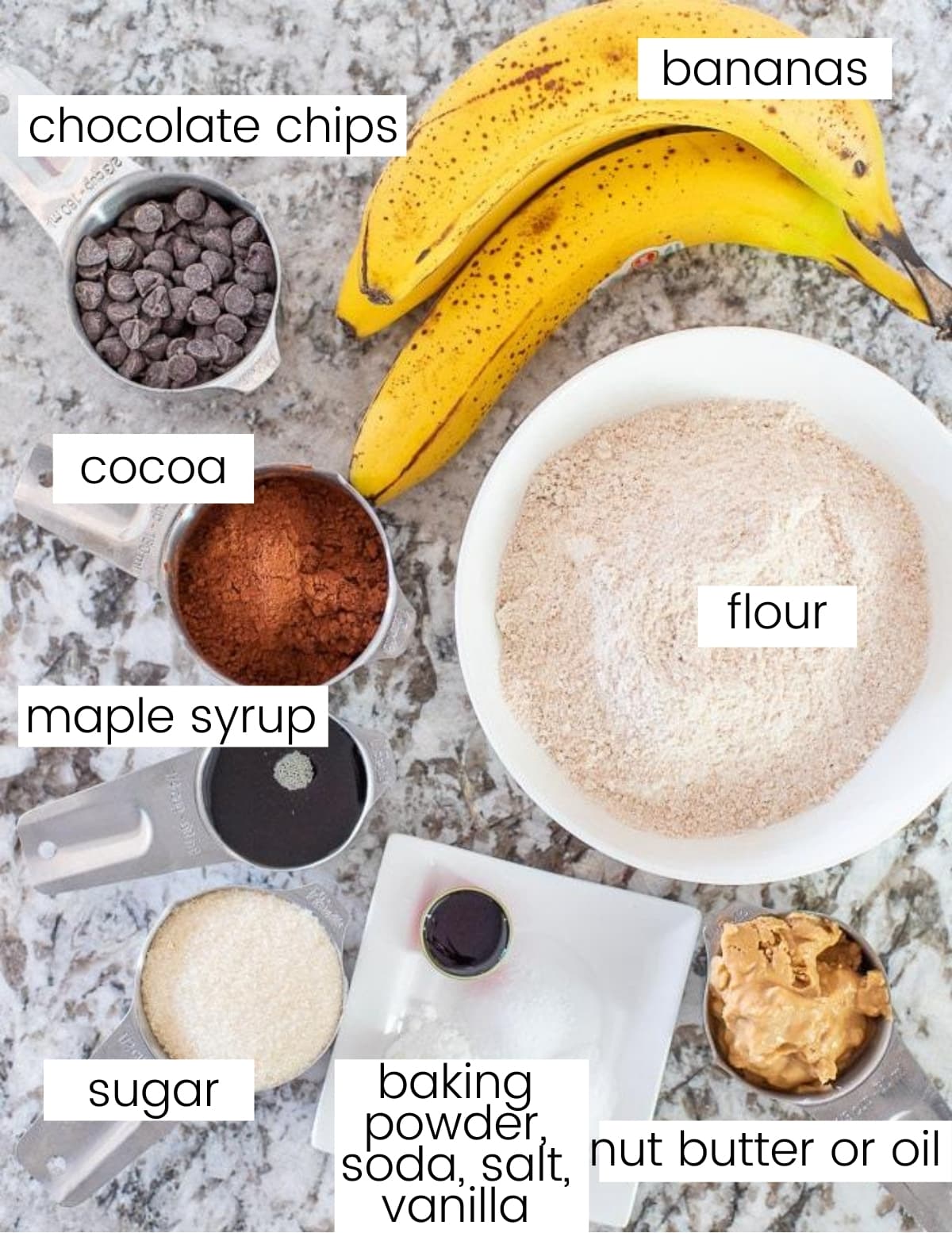 And a few notes:
overripe bananas - The spottier the better!
flour - All purpose, spelt, wholewheat or gluten-free all purpose are all fine to use.
maple syrup - For extra fudginess. You can use sugar instead but it will change the texture of the cake and it won't be as moist or fudgy.
nut/seed butter or oil - I prefer making this with nut butter as the fat because it adds more flavour but any liquid oil is fine to use instead.
baking powder and baking soda - When you don't use eggs you need to make up for the leavening they would otherwise provide by adding both of these. The baking soda reacts with an acid (in this case cocoa) and creates extra lift to make up for the no egg situation.
You'll also be needing a loaf pan to cook it in. For baking, I recommend metal bake-ware. Silicone does not conduct heat well and you won't get such good results.
No loaf pan? Make my Vegan Chocolate Banana Muffins instead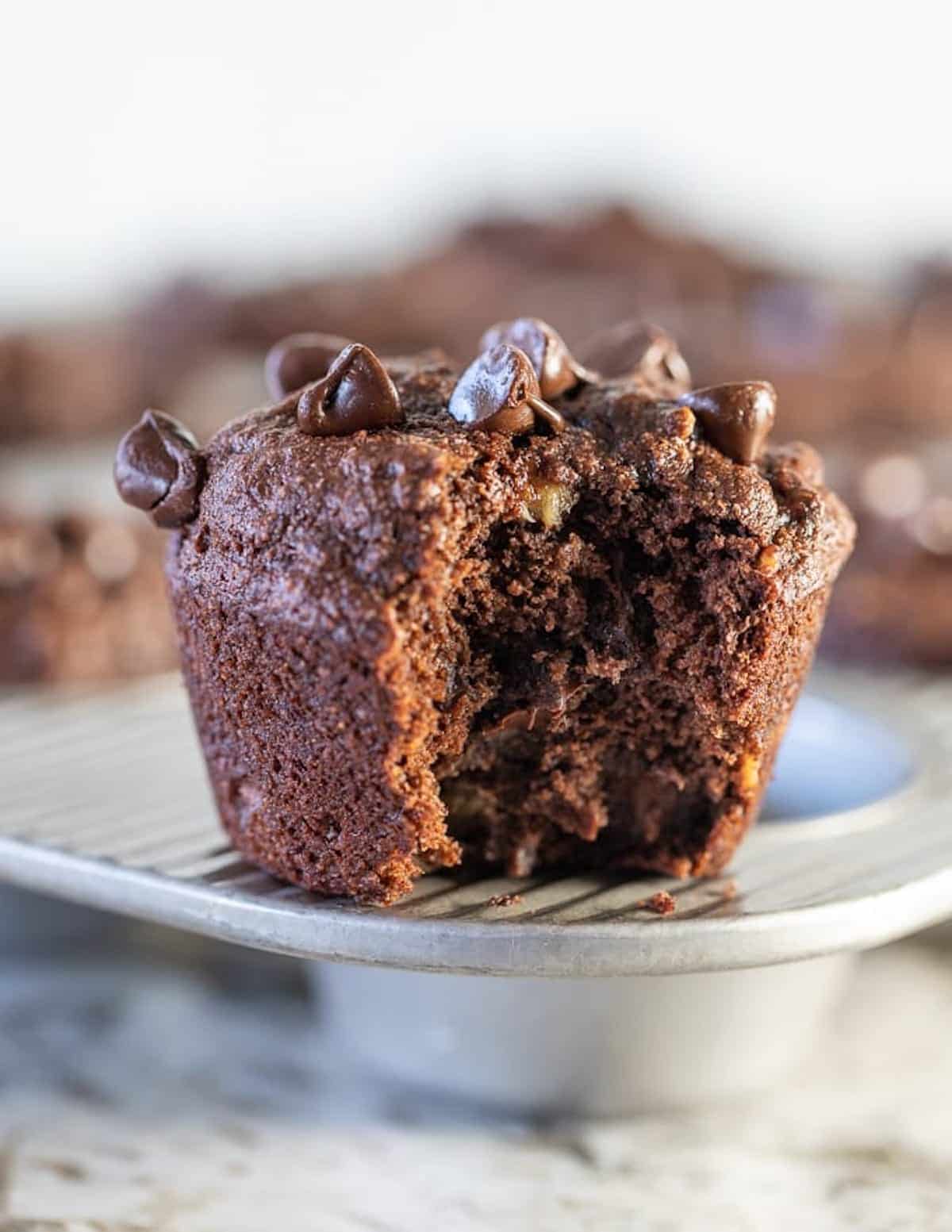 How to make Vegan Chocolate Banana Bread
This healthy chocolate banana bread is really easy to make and is mixed up all in one bowl. Here's how it's done:
Puree the bananas.
Add the rest of the wet ingredients and beat together.
Add the dry ingredients and fold in gently.
Add the chocolate chips, spoon into a pan, more choccy chips on top, then bake.
You cannot imagine just how good this loaf of chocolatey goodness smells when it is baking. That chocolate and those bananas mingling in the air is perfection.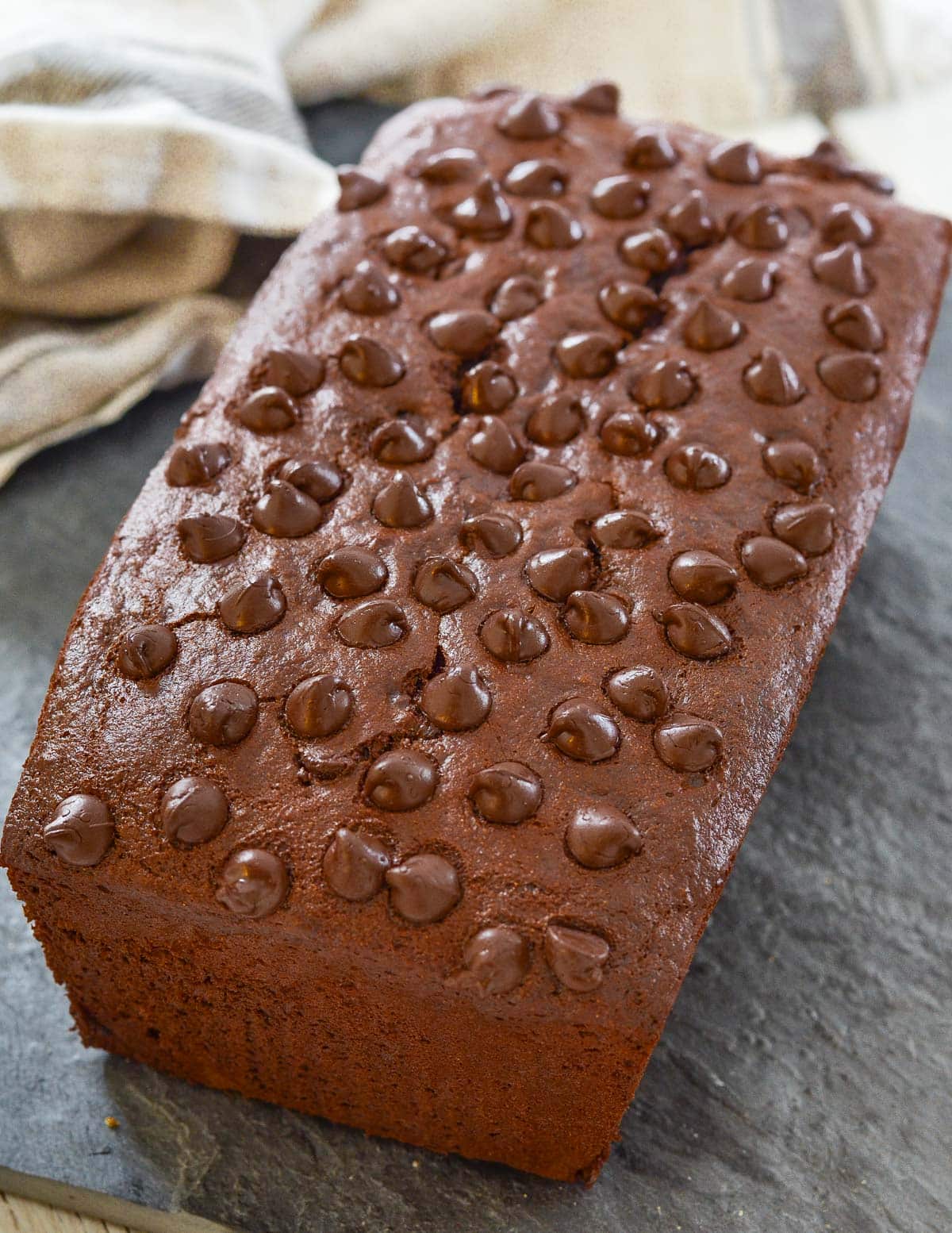 Success Tips
Use a scale to weigh the ingredients. Precision is key to excellent results when baking and cup measurements are not accurate enough for optimum and consistent results. This kitchen scale is cheap and works brilliantly.
Use really ripe spotty bananas
Don't over-mix the batter.
Be sure you don't over-bake this banana bread. It's beauty is the fudginess and we don't want to lose it! It's better to very slightly under-bake it than it is to go over.
Add some extra chocolate chips to the top before baking to make it look extra pretty (or as an excuse to eat more chocolate).
No Overripe Bananas?
If none of your bananas are super ripe and spotty, simply place 3 of them on a baking tray with their skins still intact (i.e not peeled) and bake them on 350°F (175°C) for 8 minutes. Remove them from the oven. They will be black. Allow them to cool before scraping the mushy banana out and going ahead with the recipe.
How to Store & Freeze
To store - Allow the bread to cool completely on a wire rack prior to stashing it away. Then, keep it in an airtight container with a layer of kitchen paper on the bottom and on top to suck up any moisture. Or alternatively, wrap it well in plastic wrap or foil. It should keep well and perfectly moist for up to 5 days.
To freeze - Cool the banana bread thoroughly on a cooling rack then wrap really well (either in a freezer-safe storage container or a freezer bag) and place in the freezer. You can keep it whole or slice it prior to freezing. Slicing it enables you to pull out a piece or two as needed rather than defrosting the entire loaf. It will keep in the freezer for up to 3 months. Allow to defrost at room temperature.
Serving Suggestions
This Vegan Chocolate Banana Bread can be breakfast, snack or dessert. It's kind of healthy enough for breakfast and starting a day with chocolate is always a good idea. Eat it as it is or spread with vegan butter, nut butter or date caramel.
It's also rich and fudgy enough to be dessert. Try warming a slice gently and topping with a dollop of dairy-free vanilla ice cream and vegan caramel sauce!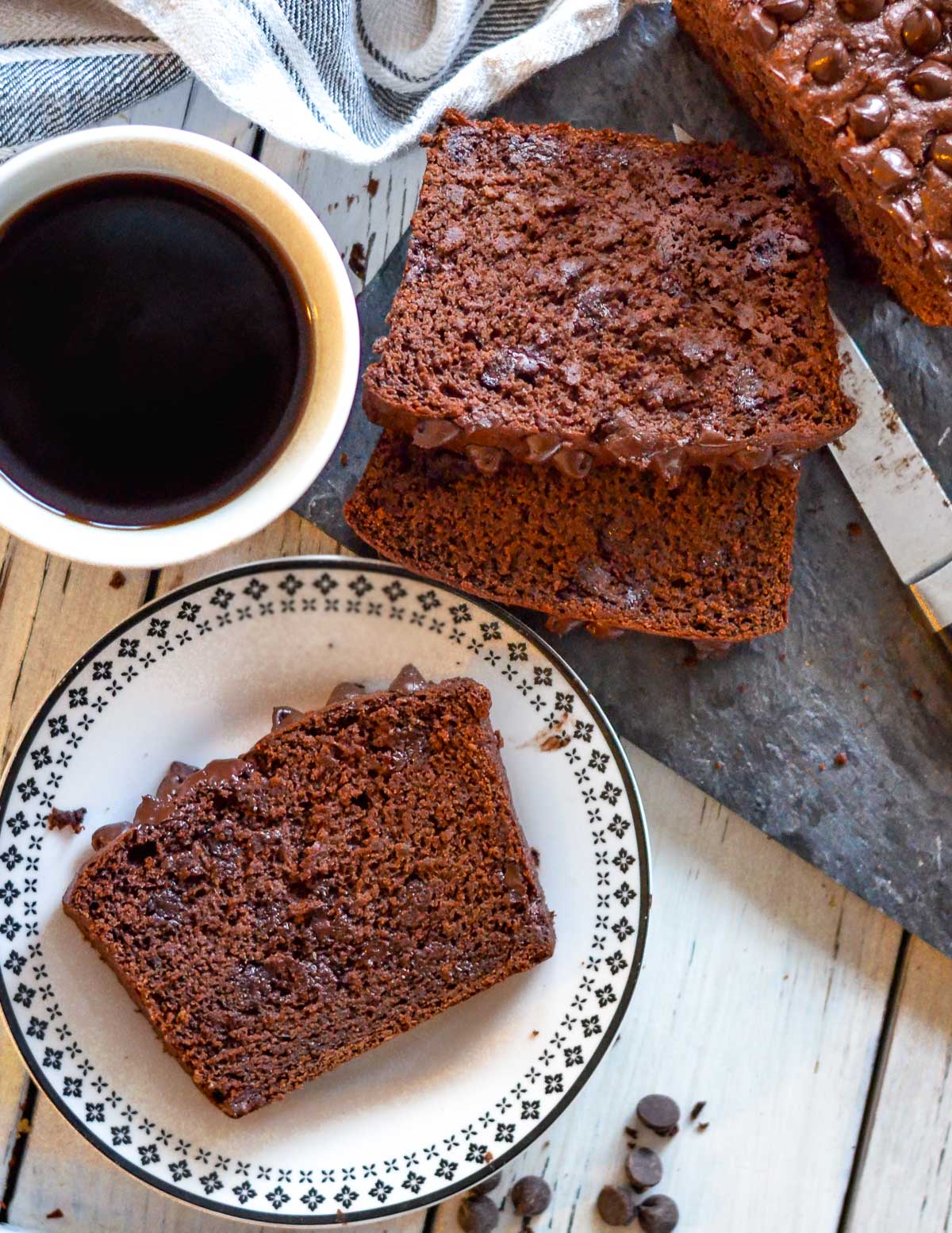 Variations
I recommend following the basic recipe as closely as possible for best results but it is perfectly ok to make it your own by adding some mix-ins. How about:
using broken up chocolate bars instead of chocolate chips
chopped nuts (walnuts or pecans would be great)
dried fruit (cherries would be great! )
shredded coconut
a few chopped dates for extra fudginess
make it extra decadent by frosting with chocolate or vegan cream cheese frosting
If you try this recipe, let me know how you like it by leaving a comment and rating below! And be sure to join my mailing list for more deliciousness!
Recipe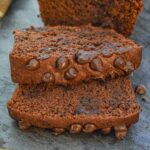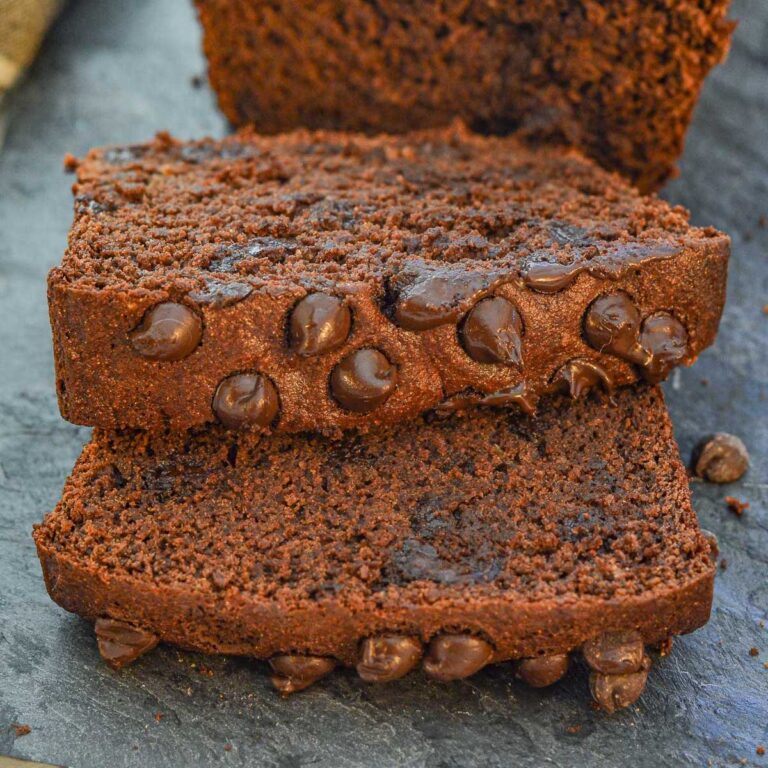 Vegan Chocolate Banana Bread
Author:
This Vegan Chocolate Banana Bread is 100% amazing. It's easy to make, rich, chocolatey, fudgy and super indulgent!
Ingredients
3

medium 7 - 8 inch long

ripe & spotty bananas

, (weighing approx 375 grams or 13 oz in total when peeled)

6

tablespoons

natural nut/seed butter or oil of choice

¼

cup

maple syrup

2

teaspoons

vanilla extract

½ packed cup (115

grams)

sugar

, any type (white, cane, coconut, brown)

¾

teaspoon

salt

1¾ cup (215

grams)

flour

, spelt, all-purpose flour (plain flour in the UK), wholewheat or gluten-free all-purpose flour blend.

2

teaspoons

baking powder

¾

teaspoon

baking soda

, (bicarbonate of soda in the UK)

½ cup (50

grams)

cocoa powder

½ cup (85

grams)

dairy-free chocolate chips

plus a few more for sprinkling on top
INSTRUCTIONS
Preheat the oven to 350°F and grease and line a 9 x 5 or 8.5 x 4.5 inch loaf pan with a strip of parchment paper down the middle with some extra overhanging at each end to act as handles for lifting the cooked cake out. 

Puree the bananas until smooth. You can do this by hand with a fork or in a mixer.

Add the nut/seed butter or oil, maple syrup, vanilla extract, sugar and salt to the bananas and beat until smooth and light and fluffy. 

Add the flour, baking powder, baking soda and cocoa powder and mix gently until everything is just combined. Do not over mix because it will affect the texture and rise. 

Then add the chocolate chips and stir just enough to distribute evenly. 

Pour the batter into the prepared loaf pan, even out the top and sprinkle with an extra handful of chocolate chips. 

Bake for around 45 - 50 minutes until the loaf is coming away from the sides of the pan and is firm with a bit of bounce when you poke the centre of it. This bread is best when very slightly under-cooked as it has maximum fudginess then. If you insert a toothpick, instead of it coming out clean like with most cakes, you want a bit of fudgy cake clinging to it. If it feels liquidy put it back in the oven for another 5 minutes then check again. 

Remove from the tin immediately once done using the parchment paper as handles and place on a cooling rack. Be sure to remove the strip of paper from it's bottom by gently turning it on its side and peeling it away.
NUTRITION
Serving:
1
of 10 slices
|
Calories:
255
kcal
|
Carbohydrates:
42
g
|
Protein:
6
g
|
Fat:
9
g
|
Saturated Fat:
3
g
|
Sodium:
261
mg
|
Potassium:
250
mg
|
Fiber:
3
g
|
Sugar:
20
g
|
Calcium:
68
mg
|
Iron:
3
mg
Did you make this recipe?
Rate it & leave feedback in the comments section below. I love seeing your remakes too. Tag @avirtualvegan on Instagram! 🌟
If you try this recipe, let me know how you like it by leaving a comment and rating below! And be sure to join my mailing list for more deliciousness!
This recipe was originally published on February 2nd 2018. I've tweaked the post a bit, added a video and now I am republishing it for you. The actual recipe remains the same. I hope you enjoy it. Thank you for following A Virtual Vegan!