Vegan Lemon Cookies with a simple, tangy lemon glaze, are easy to make, buttery, soft, light, and bursting with lemon flavour!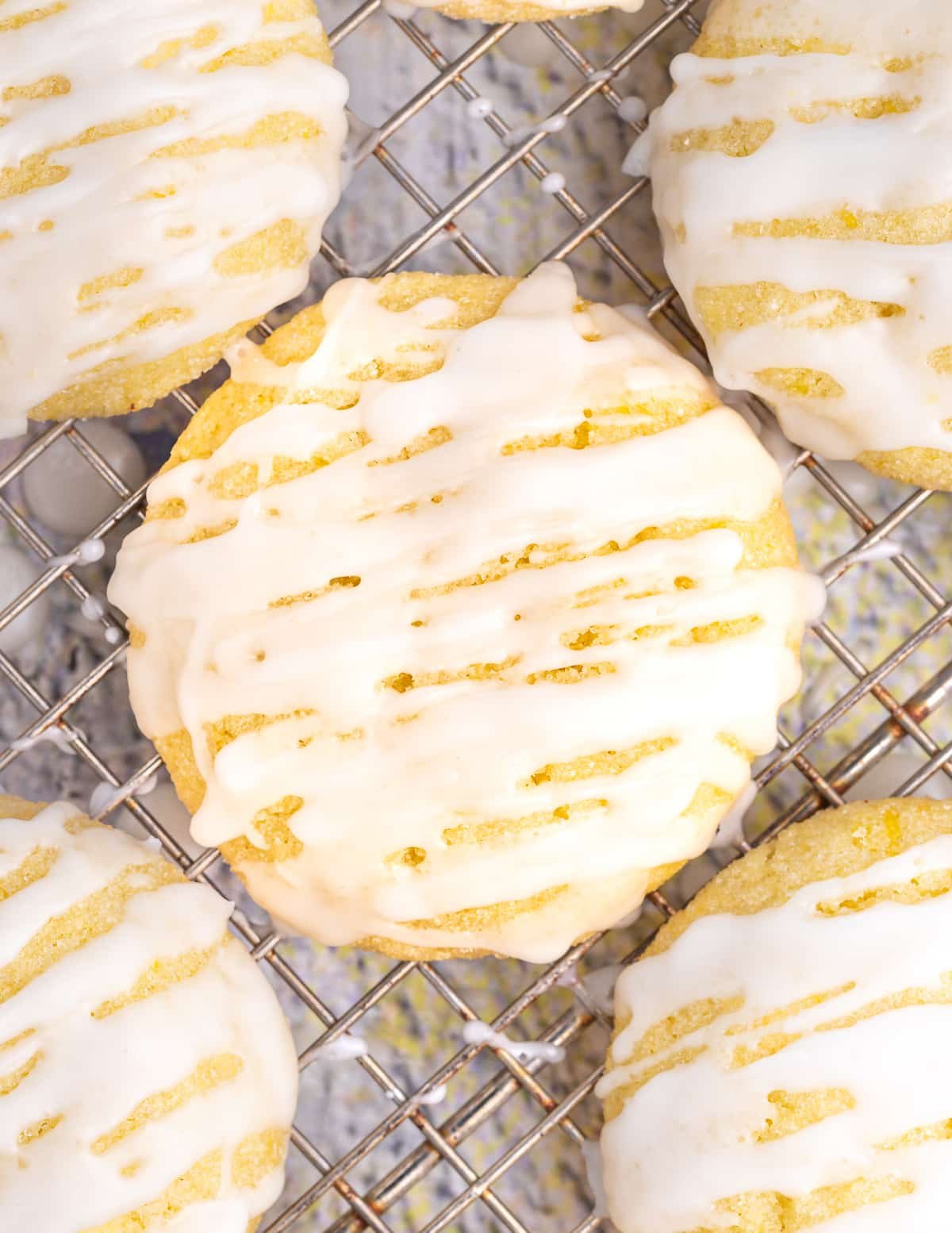 These Vegan Lemon Cookies...They are just So good!
We're talking super light, soft, melt-in-your-mouth texture with bright lemon, buttery flavour. Then come the swizzles of sweet, zingy lemon icing that take them right over the top.
That balance between soft cookie rolled in crunchy granulated sugar, and crunchy, brittle, lemon icing...Make plenty because vegan cookie recipes don't get better than this and I can guarantee you won't be stopping at one!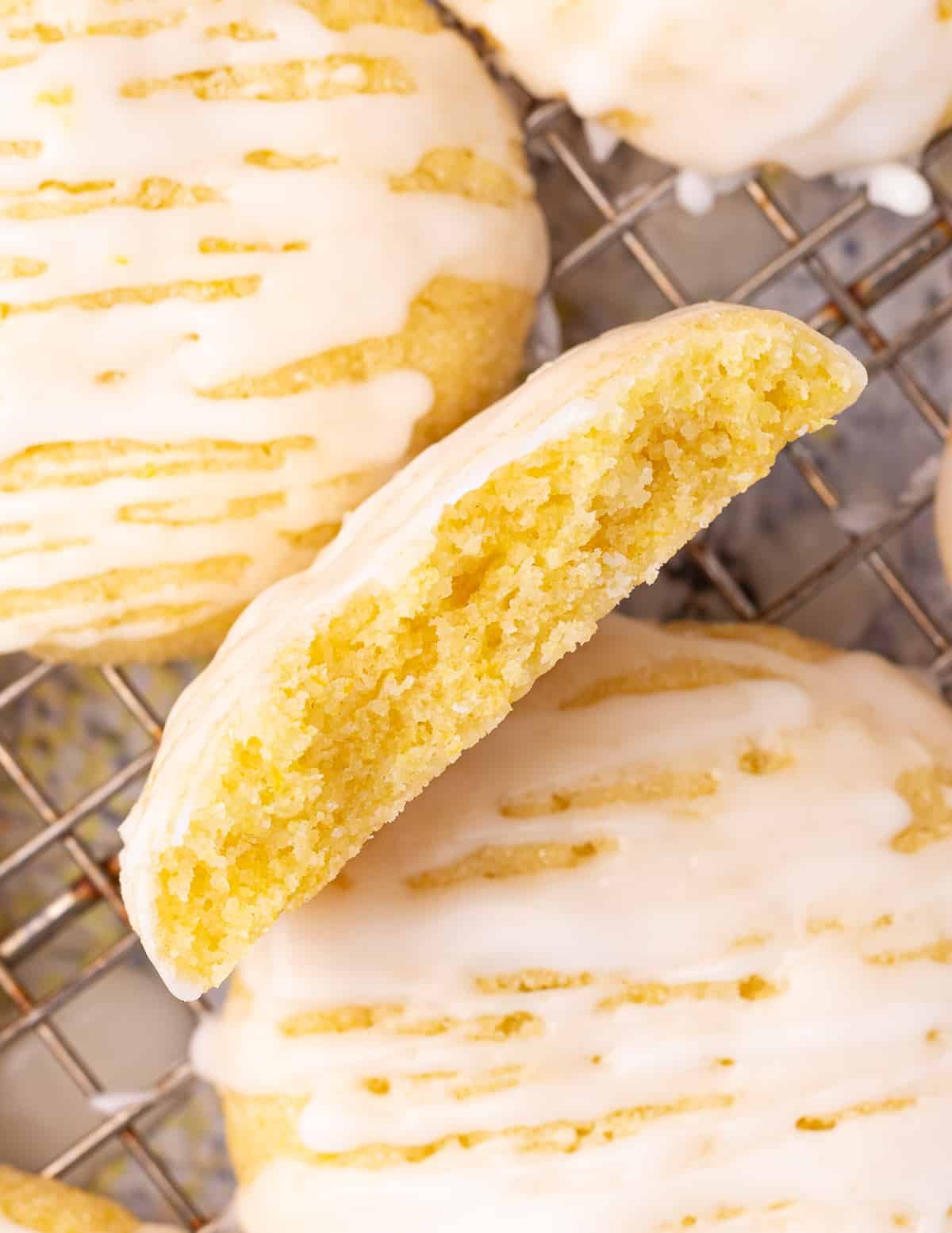 Ingredients
To make these Vegan Lemon Cookies you will need just a few simple ingredients. No eggs required!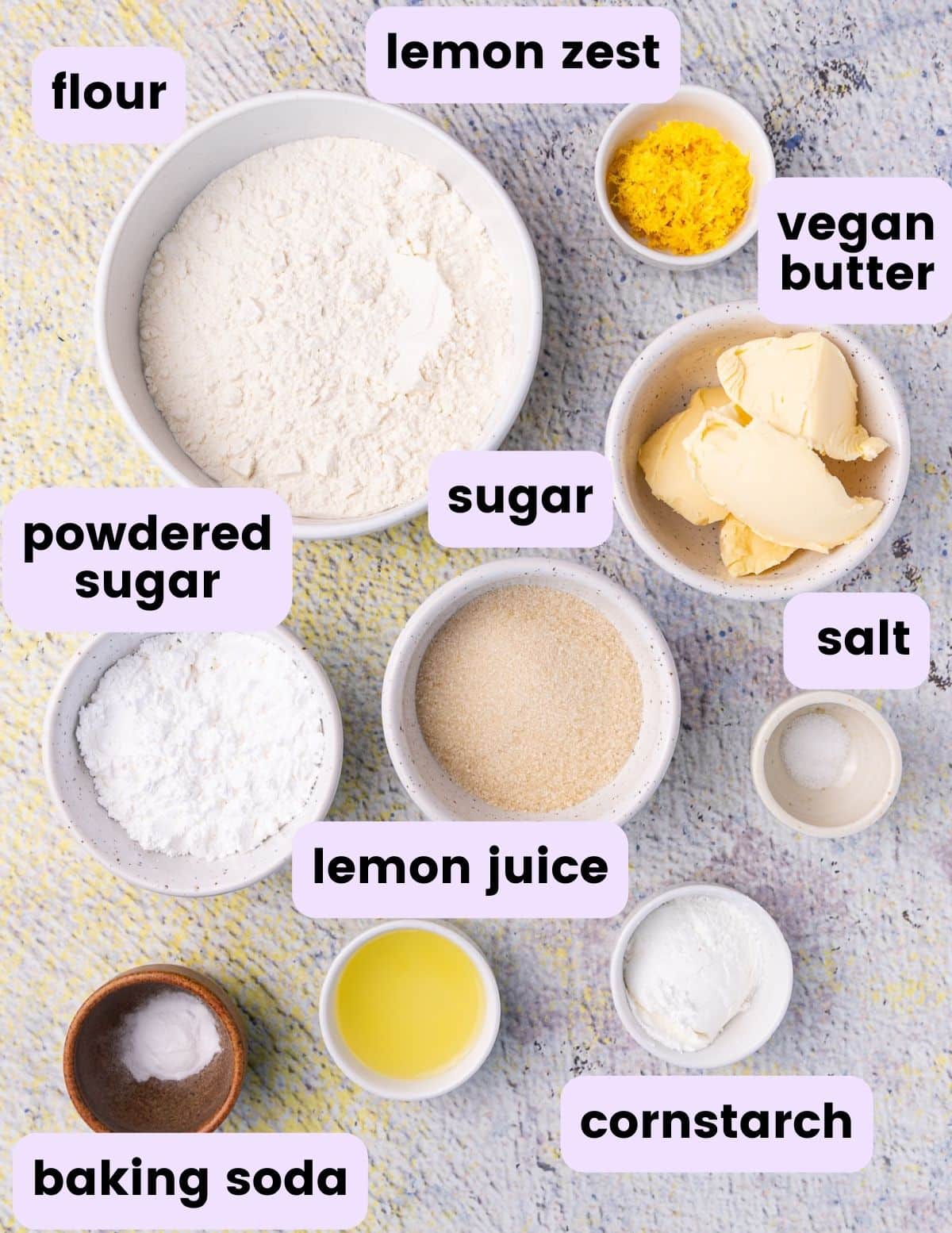 And some important ingredient notes:
Flour - All-purpose flour gives just the right texture (plain flour if you are in the UK). I don't recommend using any other type of flour.
Cornstarch - This is the egg substitute in this eggless lemon cookie recipe. It's a key ingredient and is what gives the cookies such a great texture. So soft and light! I do not recommend omitting it or using anything else.
Sugar - Cane sugar or white granulated sugar. Wondering about vegan sugar brands? See the FAQs! The sugar sweetens the cookies, adds structure, and texture, and helps them spread perfectly while allowing the lemon flavour to really shine. Darker sugars don't work as they will ruin the lovely colour and flavour of the cookies.
Lemon - We are using fresh lemon juice and lemon zest. Don't sub this for bottled lemon juice. It's important to use a fresh lemon because most of the lemon flavour and fragrance is in the zest and not the juice.
Vegan butter - So important for great flavour. Harder dairy-free butter will give you better cookies than soft margarine-style ones. I used the tub Earth Balance. I don't recommend using Melt Organic tub or sticks for baking. It has a much lower fat content than Earth Balance and does not give good results, especially in cookies.
Baking soda - Our leavening agent of choice in this recipe. It is necessary to achieve the intended spread, colour, flavour, and texture. The cookies won't turn out at their best if you use baking powder. This article about the function of baking powder and baking soda in cookies is really interesting in case you want to learn more.
Powdered sugar - For the drizzly lemon icing. I love Wholesome Sweeteners brand.
Other flavour ideas - Try switching the lemon for any other citrus fruit. Lime, orange or blood orange would be amazing! You could also add a tablespoon or two of poppy seeds or a little chopped fresh rosemary or thyme.
How To Make Vegan Lemon Cookies
These are really quick and easy cookies. Here's how it's done: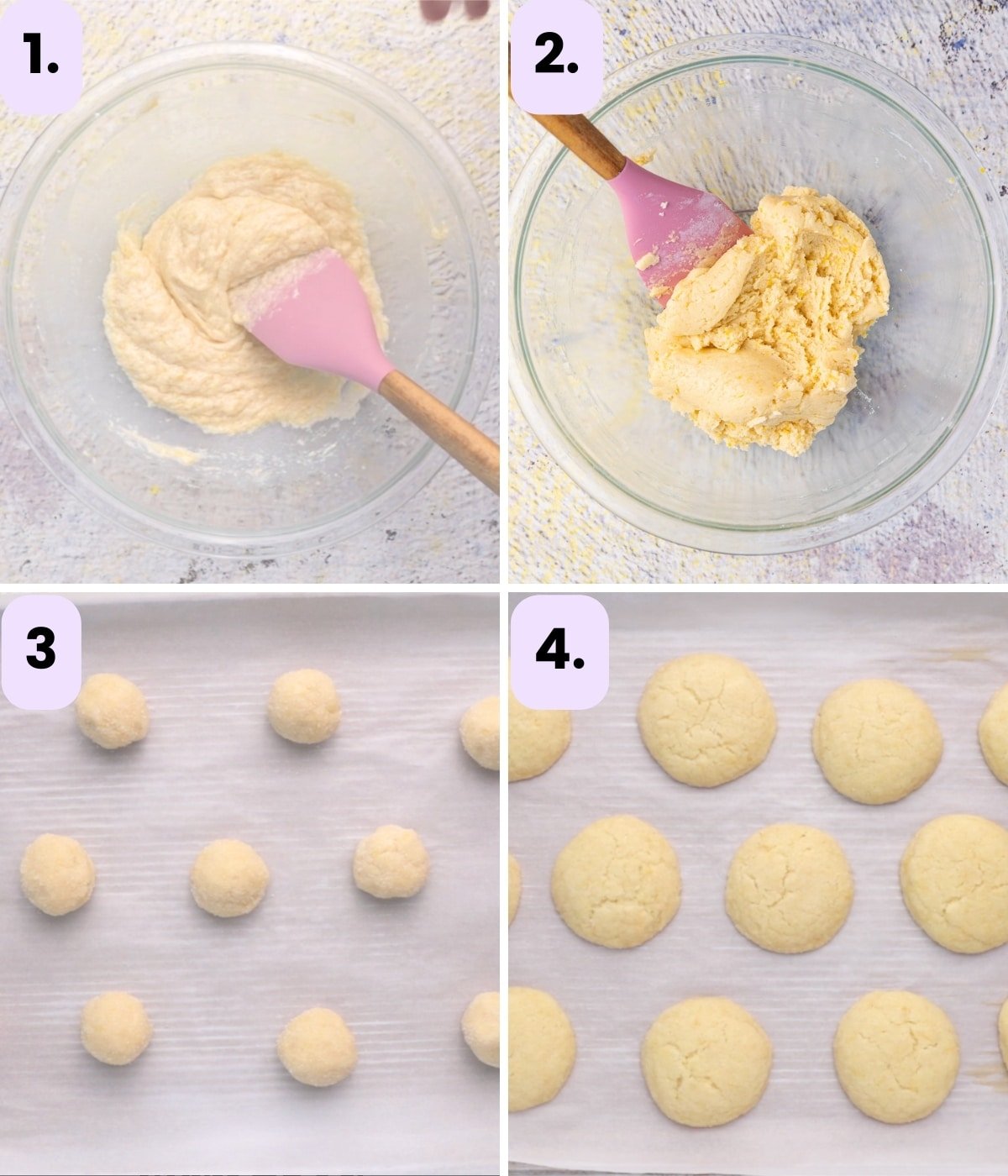 Cream the butter with the sugar, salt and
Add the dry ingredients and mix them until just combined. It's important not to over-mix. Then refrigerate for 30 minutes.
Scoop out, form balls, roll in granulated sugar then lay out on a baking tray.
Bake until very lightly golden on the bottom.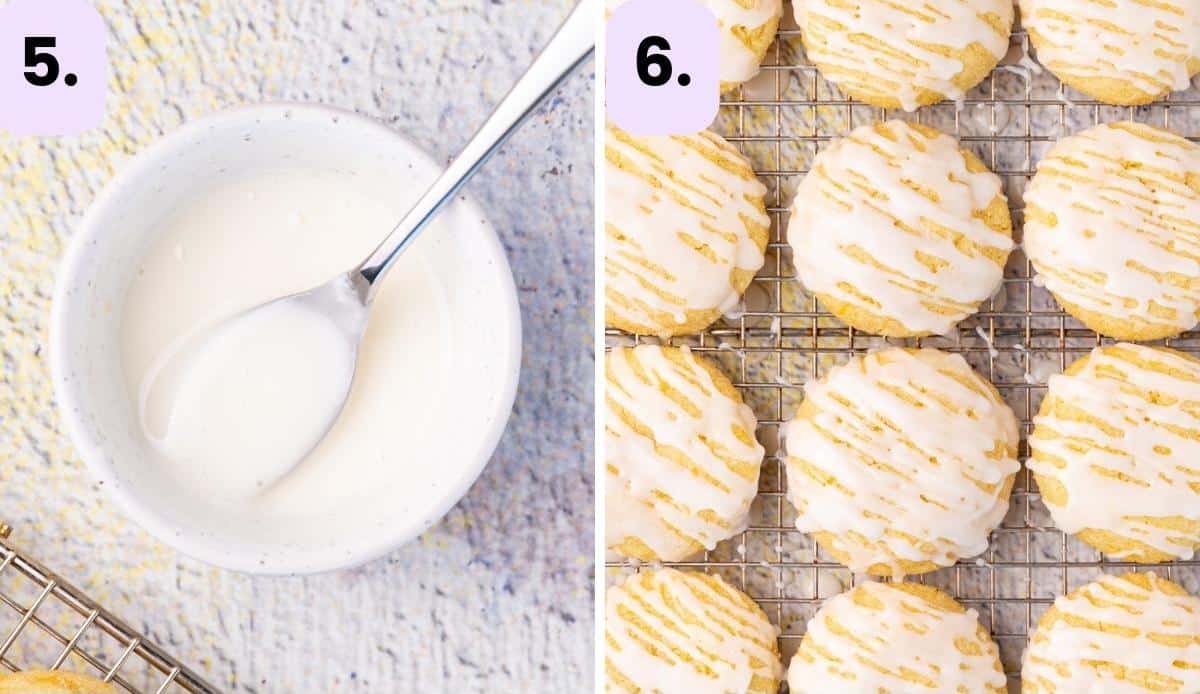 Mix the easy 2 ingredient icing.
Drizzle it on cookies.
Storing Cookies
Vegan Lemon Cookies will keep well in an airtight container at room temperature for up to 1 week or in the freezer for up to 6 months.
Recipe FAQs
Can I freeze the cookie dough?
Yes! Roll the dough into balls and freeze. You can bake them straight from frozen, no need to thaw them. Just add an extra minute or two to the baking time.
Do I have to chill the cookie dough?
Yes, you MUST chill the dough for at least 30 minutes. If you bake the unchilled dough the cookies will be prone to spreading and will turn out thinner and flatter.
Can I double this recipe?
Yes, simply double all of the ingredients including the baking powder and soda. Hover over the serving size in the recipe card and a slider will appear. As you move it the ingredient quantities will change automatically. No need for any complicated maths!
Is white/cane sugar vegan?
Here in Canada the 2 big sugar producers, Rogers and Red Path, are both vegan and in the UK and Europe pretty much all sugar is vegan. If you are in the US you will need to be more careful and research what brands are vegan in your area. Some common brands that you should be able to find easily and that are vegan include Wholesome Sweeteners, Kirkland Organic Cane Sugar, Trader Joes, Bob's Red Mill, Florida Crystals, Billington's, Michigan Sugar Company, Imperial, Now Foods, and In The Raw. Also, all organic sugar is vegan by default wherever you are in the world.
Can I make them gluten-free?
This recipe has not been tested with gluten-free flour, but Bob's Red Mill 1 to 1 Baking Flour usually works well in recipes like this.
Can I use lemon juice instead of lemon zest?
No. No extra liquid can't be added to the cookies without affecting the texture of the cookie dough and the finished cookies. Also, lemon zest contains more concentrated lemon flavour than the juice so without it the cookies won't taste nearly as lemony.
More Lemon Recipes
If you try this recipe, let me know how you like it by leaving a comment and rating below! And be sure to join my mailing list for more deliciousness!
Recipe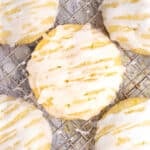 Vegan Lemon Cookies
Author:
Vegan Lemon Cookies with a simple, tangy lemon glaze, are easy to make, buttery, soft, light, and bursting with lemon flavour!
INSTRUCTIONS
To a mixing bowl or stand mixer, add the vegan butter, sugar and lemon zest. Beat together really well until light and fluffy.

Add in the lemon juice, cornstarch, and salt, then mix again until combined.

Next, add the flour and baking soda. Stir together with a spatula until a smooth and thick cookie dough forms. It's important not to over-mix which is why it's best not to use an electric mixer.

Cover the bowl with clingwrap or a wet, clean, dish towel, and let chill in the fridge for at least 30 minutes. Up to a few days is fine but if leaving it that long the cover needs to be airtight so the cookie dough doesn't dry up.

While waiting, line a baking sheet with parchment paper or a silicone baking mat, and preheat the oven to 350°F (175°C).

Remove the chilled cookie dough from the fridge. If the cookie dough was in there for much over 30 minutes you will probably need to let it soften for 5 minutes or so until it's scoopable.

Scoop using a 2-tablespoon cookie scoop then roll into balls. Roll each ball in granulated sugar before placing on the lined baking sheet, making sure to leave about 2 inches of space around each one.

Place the cookie dough balls onto the baking sheet. Bake for about 14 minutes or until the bottoms are very lightly golden and puffy, and the cookie is cooked through but still feels soft in the center.

When you remove them from the oven they will be puffy. Bang the baking sheet hard twice on the stovetop or on a wooden cutting board. This knocks the air out of them, improving the look and texture.

Let the cookies cool on the baking sheet for 10 minutes then carefully transfer to a wire cooling rack.

When completely cool make the lemon glaze. Add the lemon juice to a small bowl then add in ½ cup of the powdered sugar. Whisk together to form a thick icing. It should be really thick but drop slowly off the spoon/whisk for drizzling. If it's a little thin add the rest of the powdered sugar gradually until thick enough.

Using a teaspoon, drizzle the icing over the cookies in a zig-zag motion then allow to harden for a few minutes.
NOTES
Store in an airtight container at room temperature for up to 1 week or in the freezer for up to 6 months.
NUTRITION
Serving:
1
cookie
|
Calories:
127
kcal
|
Carbohydrates:
20
g
|
Protein:
1
g
|
Fat:
5
g
|
Saturated Fat:
1
g
|
Polyunsaturated Fat:
1
g
|
Monounsaturated Fat:
2
g
|
Trans Fat:
0.03
g
|
Sodium:
123
mg
|
Potassium:
17
mg
|
Fiber:
0.3
g
|
Sugar:
11
g
|
Vitamin A:
280
IU
|
Vitamin C:
1
mg
|
Calcium:
2
mg
|
Iron:
0.5
mg
Did you make this recipe?
Rate it & leave feedback in the comments section below. I love seeing your remakes too. Tag @avirtualvegan on Instagram! 🌟