Vegan Feta Cheese that actually tastes like feta cheese and crumbles like real feta cheese and is cheap, nut-free and easy to make!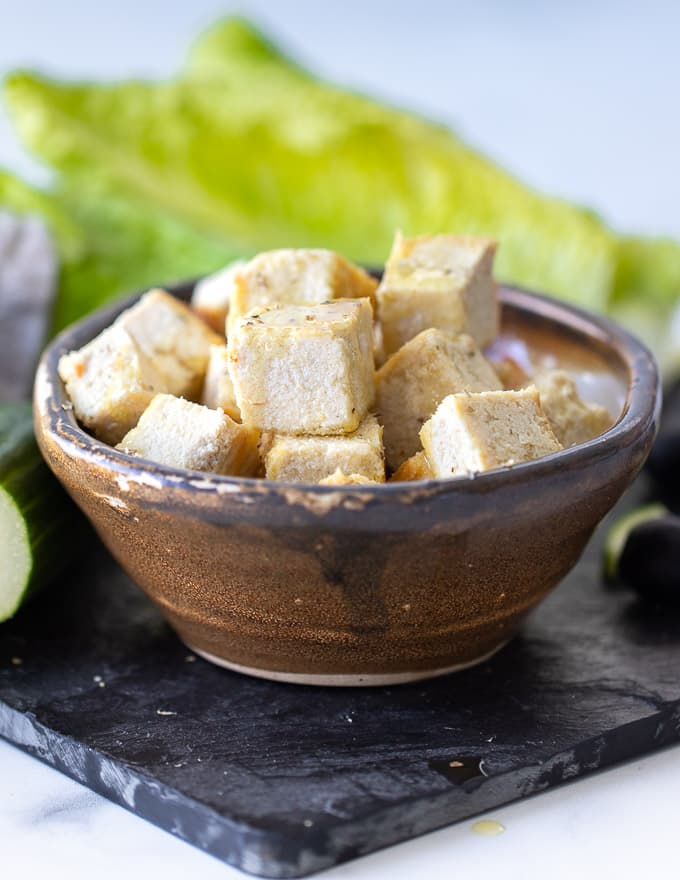 Vegan Feta Cheese that is creamy, crumbly if you want it to be, or spreadable if you don't. It's protein-packed, super yum, truly multi-purpose and sent from vegan cheese heaven!
I've worked on vegan cheese recipes on and off for ages and ages but am rarely happy enough with any of my efforts to share them.
I totally respect people who get all science-y and make real vegan cheese by growing cultures and all that but it's not for me. I just want it to be easy and relatively quick. Are you with me?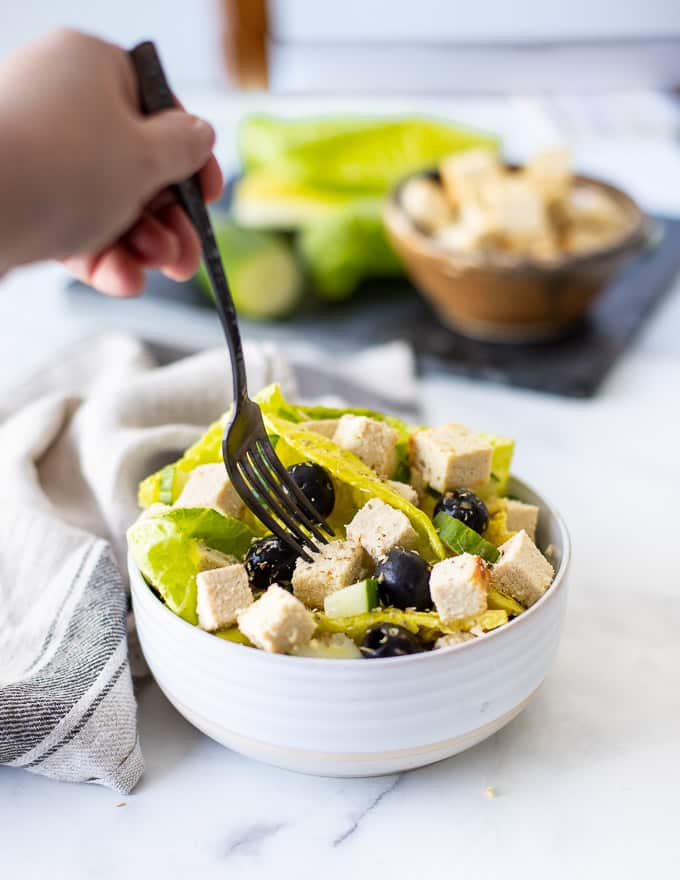 And what's with all of the vegan tofu feta cheese recipes that are literally just cubes of tofu marinaded in oil? You might get something that looks kind of like feta to throw in your salads, but the flavour and the texture is nothing like real feta cheese.
You know me. If it's not really like the non-vegan version, then it's not making it to the blog. I'm all about authentic tasting vegan dairy alternatives like my Vegan Butter and my Vegan Ricotta.
So I made Vegan Feta Cheese for lazy people, that is made with tofu, but actually tastes like real feta cheese and crumbles like real feta cheese and doesn't include any hard to find ingredients or cost a small fortune to make.
Heck, if you're feeling extra lazy (hands up me on at least 6 out of 7 days a week), you can skip the baking step and make it into a spreadable vegan cheese with all the flavour of feta.
In its soft state, it is amazing in my Vegan Spanakopita, or spread on crackers or even melted into pasta.
Tofu really is magic stuff. It is so transformed in this recipe that you would never know it's actually tofu and I love that. Hurrah for fantastic vegan tofu recipes!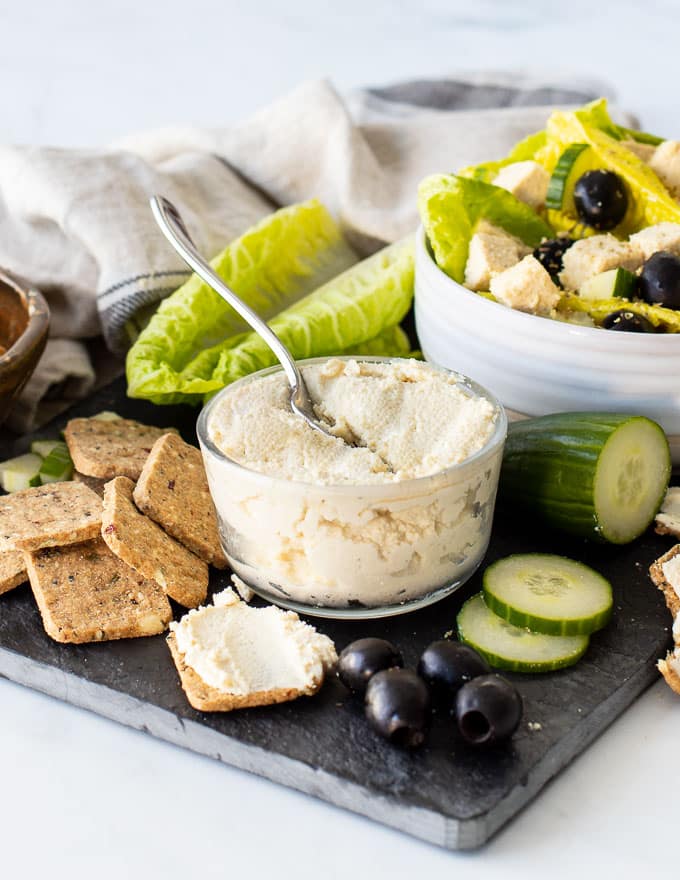 What is feta cheese?
Feta cheese is one of Greece's most popular cheeses. It is made from either sheep or goat's milk, or a combination of the two, and it is brined, giving it that unique tangy, rich and salty flavour.
Feta is quite firm to the touch, but it crumbles when cut and has a creamy, but slightly grainy mouth feel. It is best known as the cheese used in Greek salads, spanakopita and tyropita.
What do you need to make it?
This vegan cheese recipe has pretty basic, store cupboard ingredients. There's nothing fancy. You will be needing :
extra firm tofu
refined coconut oil
nutritional yeast
lemon juice
apple cider vinegar
salt
nutritional yeast
onion powder
garlic powder
dried dill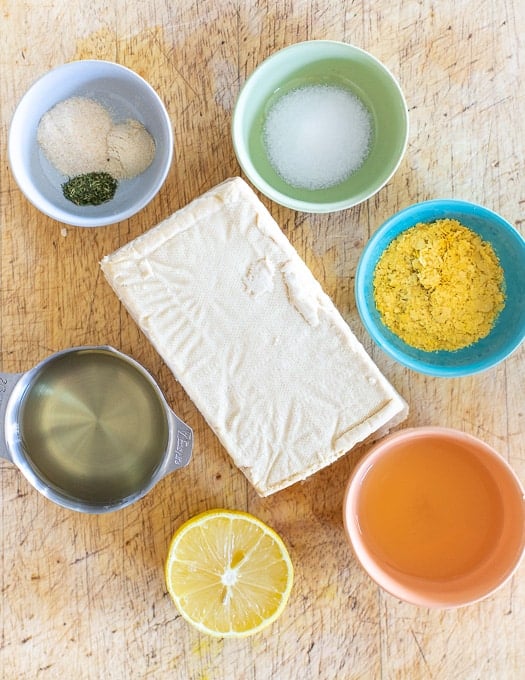 The only piece of equipment you will need to make this recipe and my vegan parmesan cheese recipe, is a food processor.
Please note that I recommend using a food processor rather than a blender for this recipe. Even a high powered blender will struggle once the coconut oil comes into contact with the cold tofu and everything sets. It will more than likely just seize up and the blades won't turn. A food processor is a way better tool for the job and will save you the hassle of starting it in the blender and then having to transfer it all to your food processor.
Why do I have to use refined coconut oil?
I know I will get questions about the refined coconut oil, just like I do with my vegan butter recipe, so I am going to pre-empt them now.
For this recipe, you must use refined coconut oil. You cannot use virgin or unrefined coconut oil. If you use virgin or un-refined coconut oil your cheese will taste and smell of coconut not feta.
If you are worried about the refining process, there are plenty of brands out there that refine their coconut oil with steam only and do not use chemicals. Nutiva is one of them and is the brand I tend to use.
How to make vegan feta cheese
Vegan Feta Cheese is super simple to make but please take note of the different directions depending on whether you want smooth and creamy results, or firm and crumbly results.
Step 1 - Add all of the ingredients to a food processor.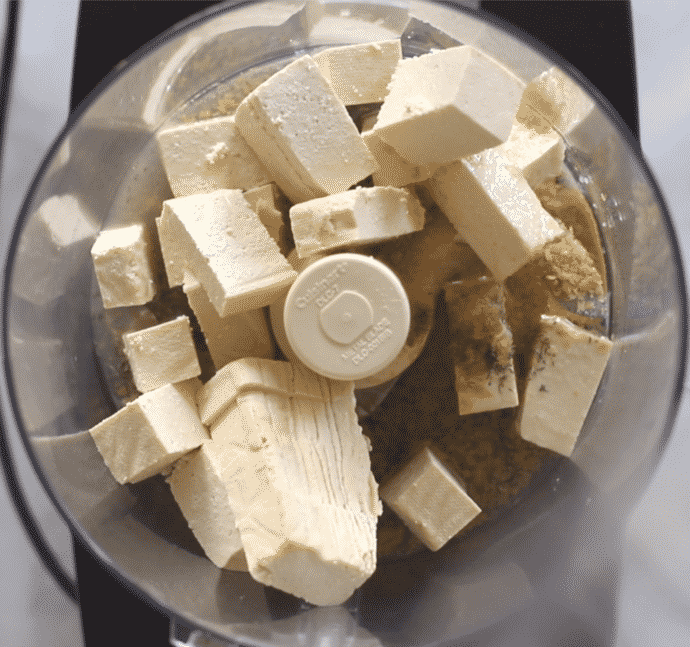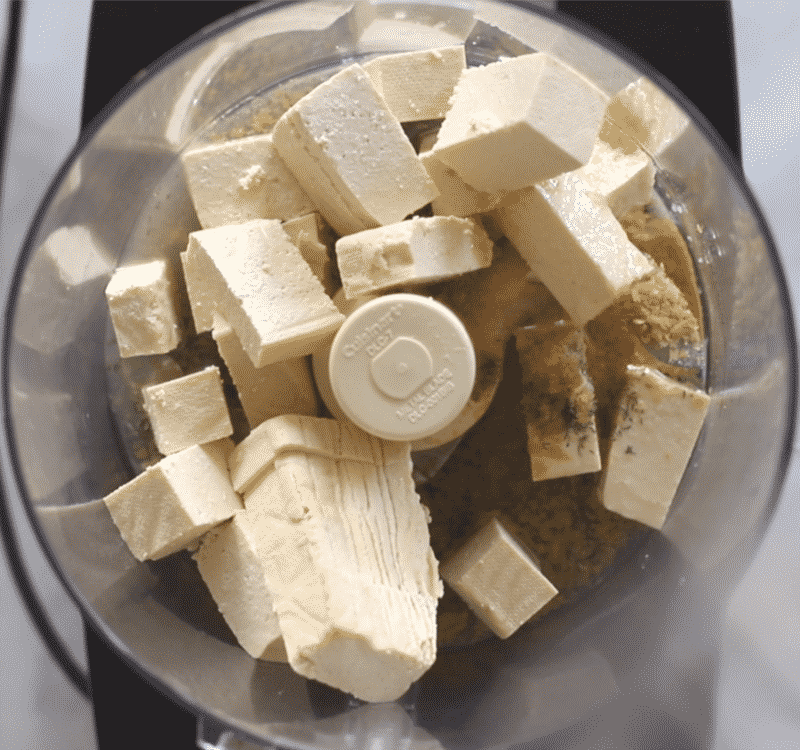 Step 2 - Process until smooth but with a little graininess for that authentic feta texture.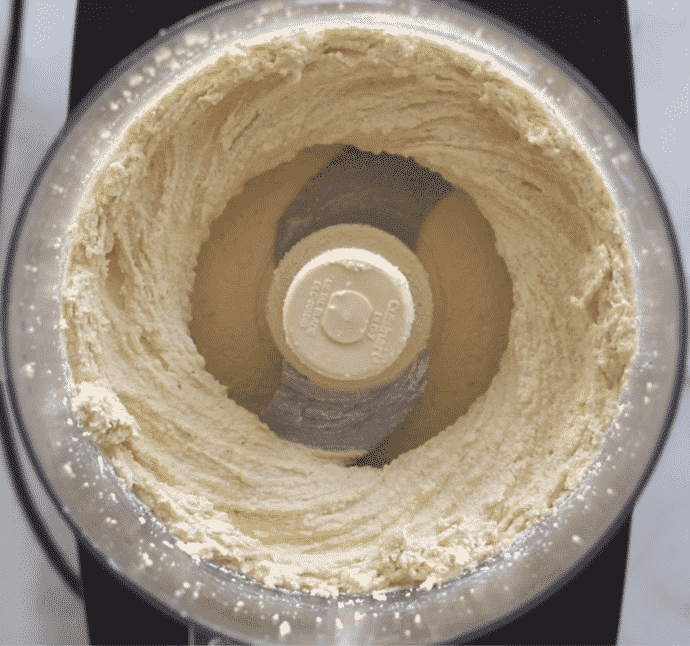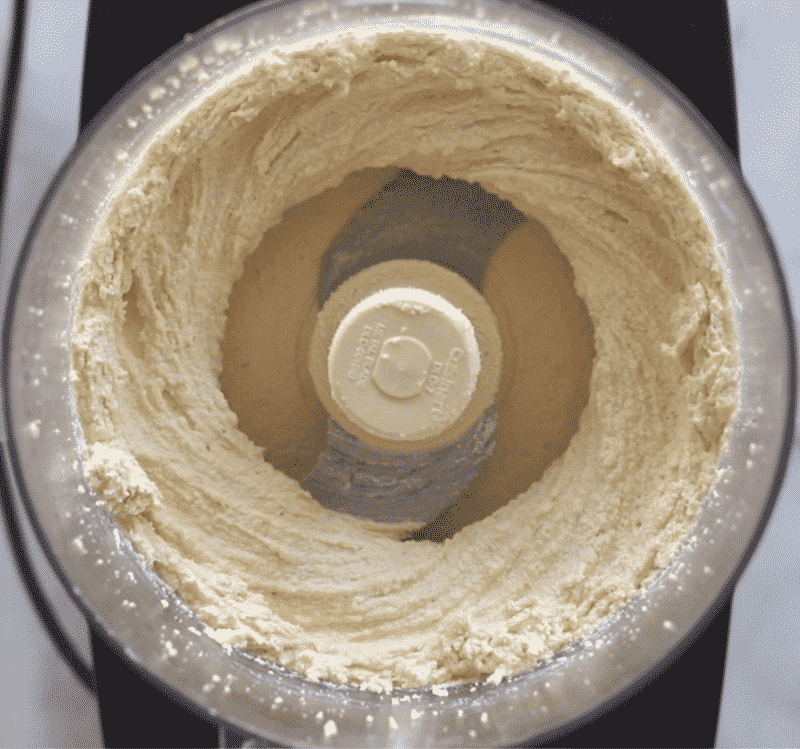 Step 3 - Now comes the part where you have to make a choice.
You can eat it as it straight out of the food processor. It is so good spread on all the things!
Or, you can spoon it into a lined container, pack it in well, then refrigerate until it has set, then turn out and serve. That way it will have a slightly firmer cream cheese texture, but will get softer as it comes to room temperature.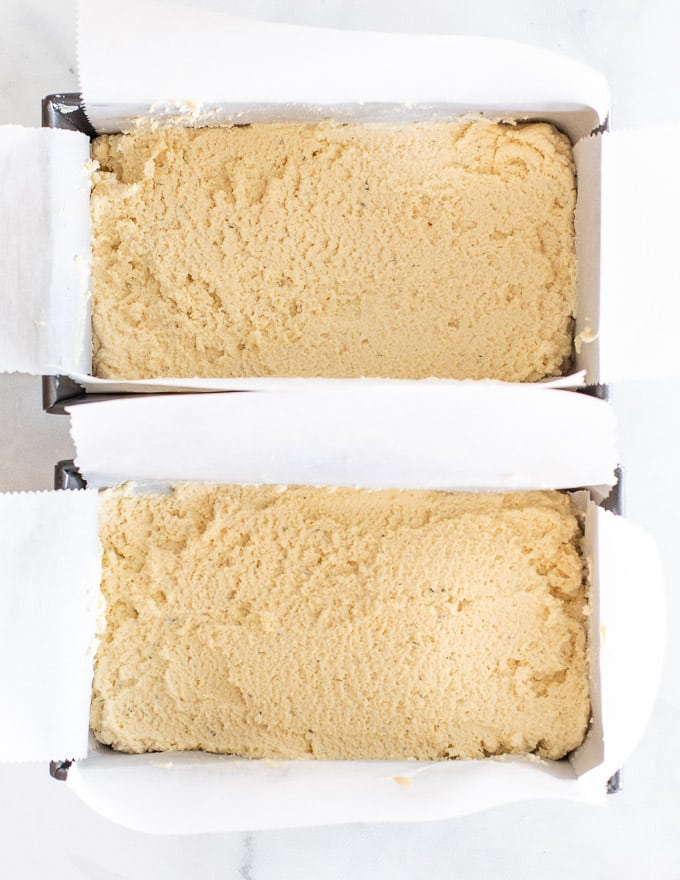 Or, the best way ...You can spoon it into a baking parchment lined oven proof container, set then bake as directed in the recipe card below.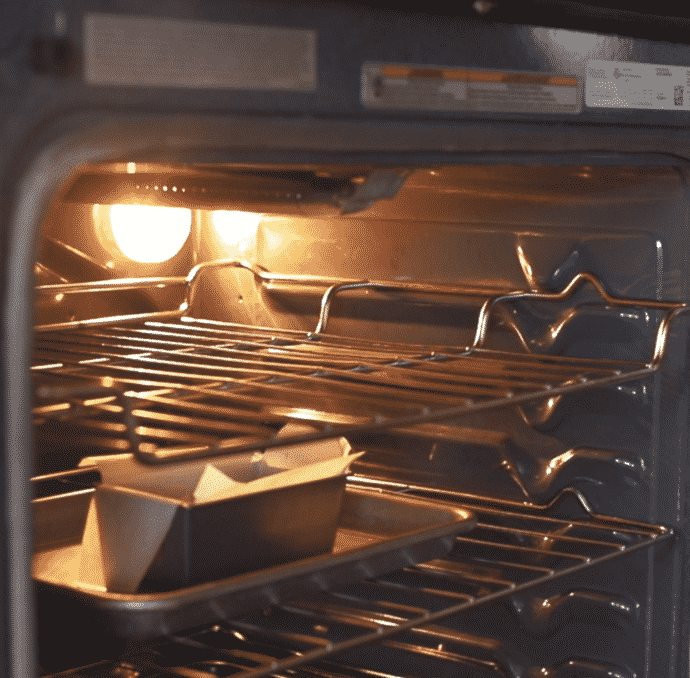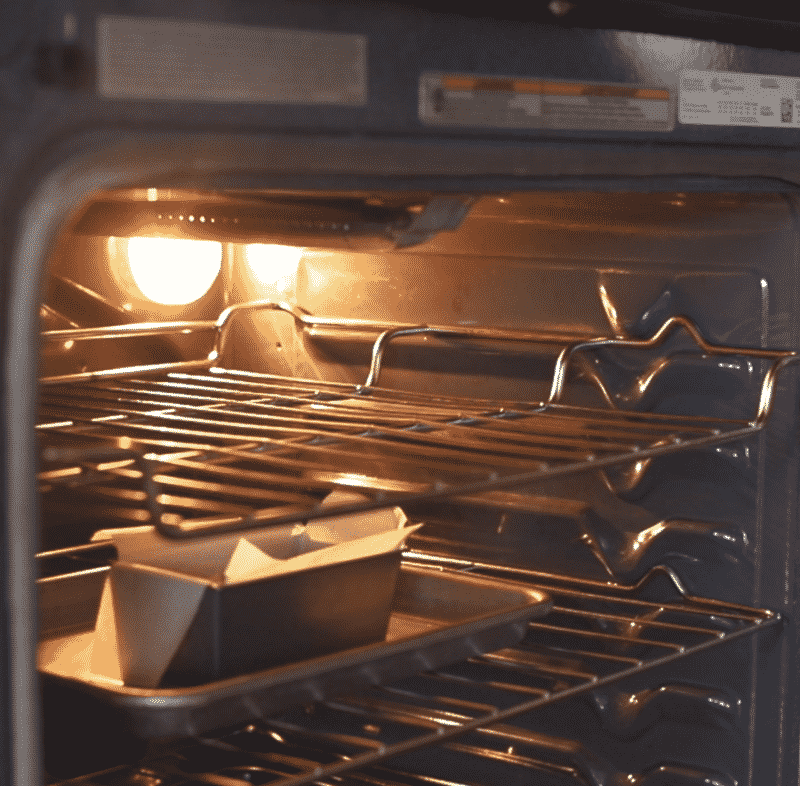 Step 4 - Then allow to chill completely for at least 4 to 5 hours. That will yield the perfect, authentic feta texture.
Perfect for cubing: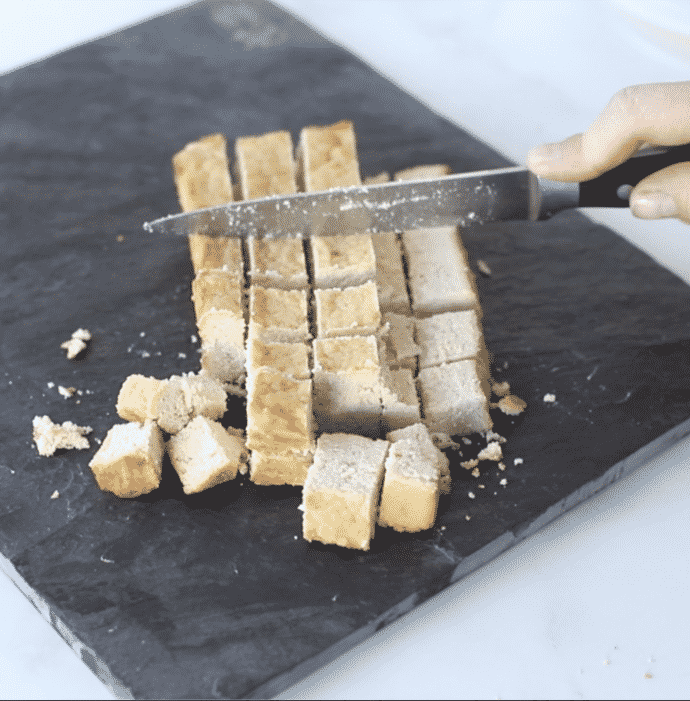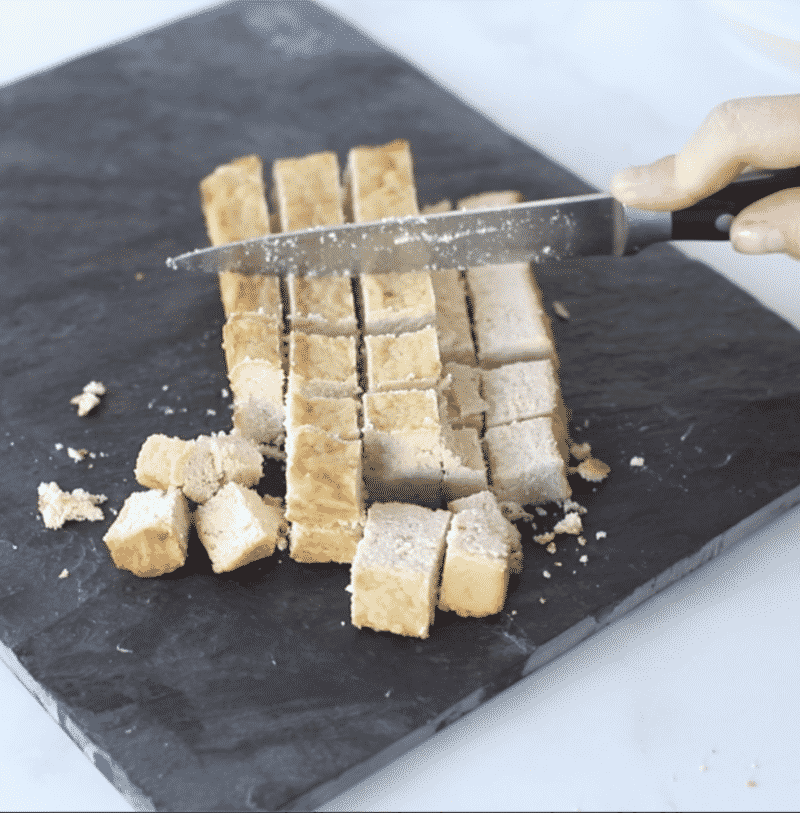 Or crumbling: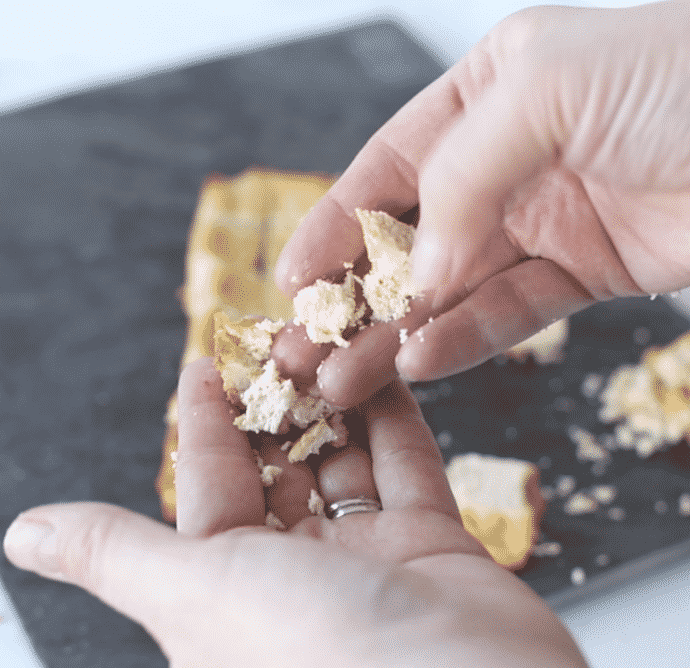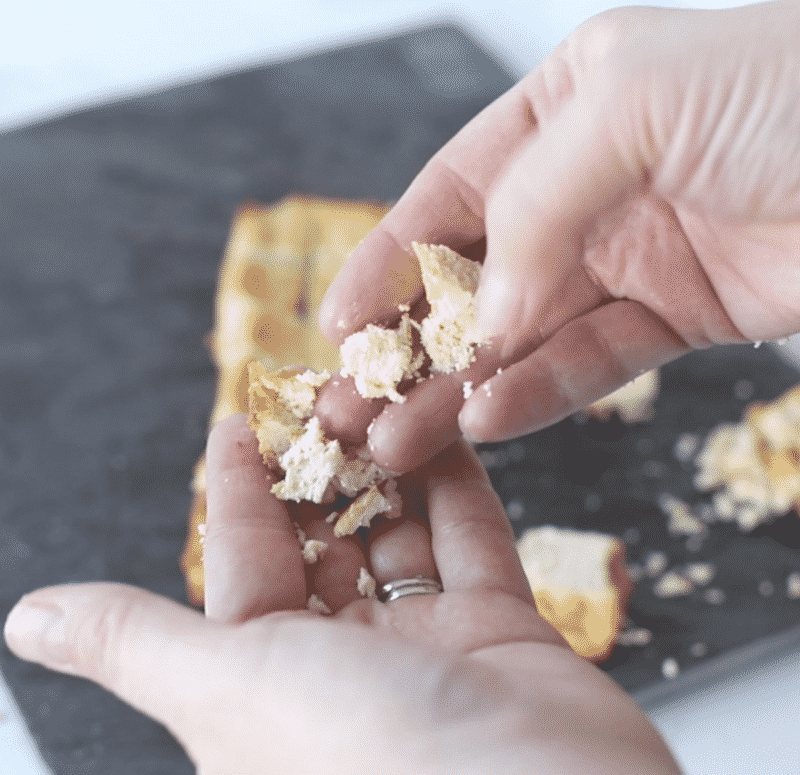 It might take a bit of waiting around while making, but the hands on time is really minimal and it really is so worth it!
I struggled a little with the colour of the baked feta at first. I know traditional feta isn't usually golden around the edges. I tried other methods of cooking it to reduce the colouration, but, I loved the taste of the slightly crusty golden bits so much, that I decided they should stay. I hope you love them too. If you would prefer them gone so that your feta looks perfectly white, it's really easy to shave the golden bits off with a sharp knife. Be sure to eat the shaved off bits as you go though!
Success Tips
Be sure to use refined coconut oil.
Blend the cheese thoroughly
Don't skip any of the ingredients. Every single one works together to make this cheese special.
Be sure to read my directions carefully and take note of the differences between the soft and baked versions.
Do not forget or skip the refrigeration step before baking or after baking.
How to serve
This Vegan Feta is a really versatile cheese, especially as it can be made in two ways: soft and spreadable or firm and crumbly.
Serve your vegan feta cheese:
With bread or crackers
With olives
In salads like my Strawberry Spinach Salad or my Watermelon Mint Salad
Crumbled on soup like my Vegan Tortilla Soup
As part of an antipasto platter
Drizzled with olive oil and sprinkled with oregano
Crumbled or cubed in salads
Crumbled on tacos
On pizza ( the soft unbaked version of this cheese melts beautifully when baked)
With pasta. (the soft version of this cheese melts into hot pasta so well and the baked, firm version is amazing crumbled or cubed into pasta dishes or pasta salads)
With potatoes. Try it on a baked potato or melted into mashed potato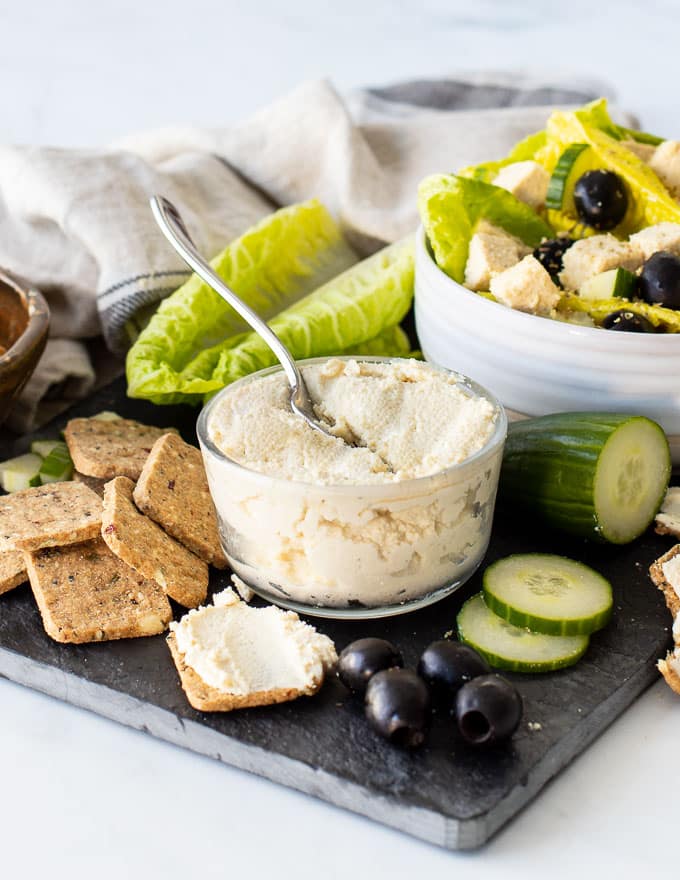 How to store
This Vegan Feta Cheese will keep, in a sealed container in the fridge for 5 to 7 days. You can cube the firmer, baked version, pop it into a jar and cover with olive oil and some herbs and keep that in the fridge for up to 7 days.
The baked version of this Vegan Feta Cheese freezes very well. Cube it up and put in a sealed container and freeze for up to 3 months. The cubes will defrost in about 30 minutes so you don't need to wait long for them, and if you are making something like a vegan feta salad for your packed lunch, you can throw in the feta cubes while they are still frozen. Freezing makes the cheese a little drier and crumblier but it still holds together well and tastes great.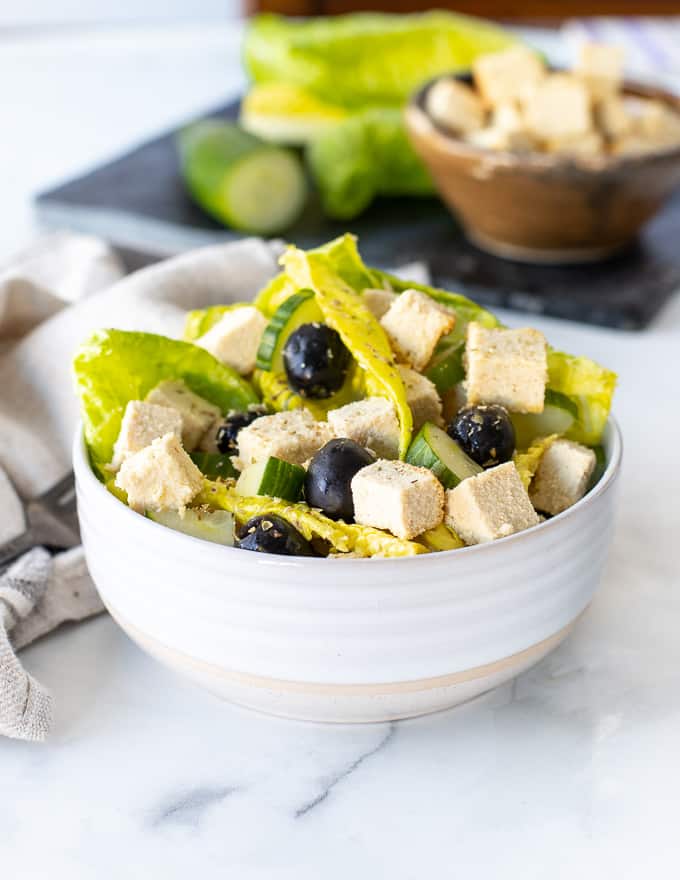 So if you're looking for a convenient, cheap, no fuss vegan substitute for feta cheese, that as an added bonus just happens to be loaded up with vegan protein, low carb and completely nut-free, you know what? I got you. This is your vegan feta recipe.
When you're craving a crumbly vegan cheese that's tangy, salty, cheesy (or tangy, salty and spreadable), knocks dairy out of the park and tastes like dreams have come true, the search stops right here with this feta recipe!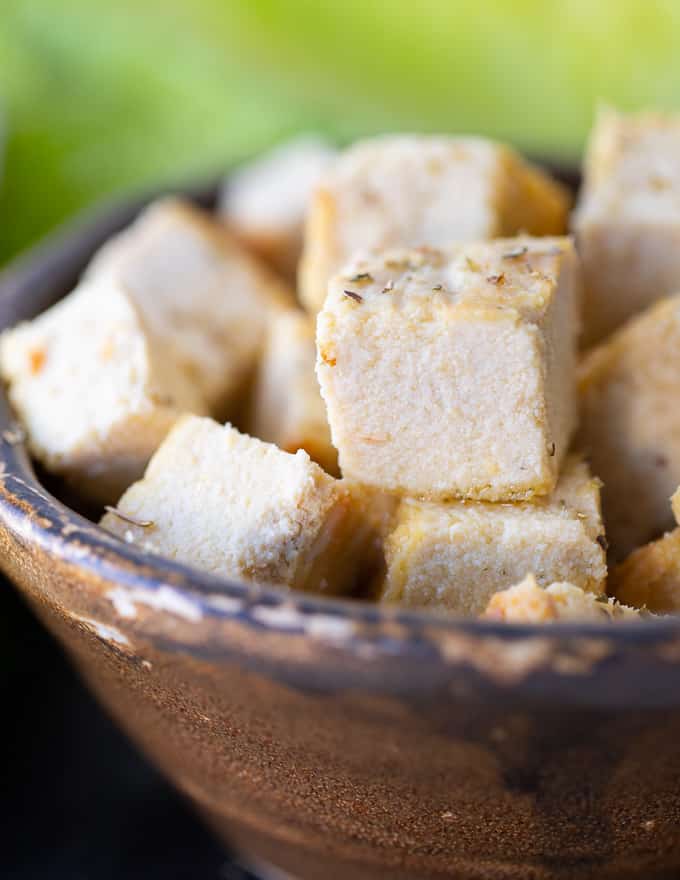 And please, do not miss my recommendation for melting the soft version of this feta into freshly cooked and drained pasta. Dollop it in, stir it up and it will coat the pasta beautifully. Add some freshly ground black pepper and a pinch of chili flakes and you've got a super special dinner in no time at all! And you really must try it on pizza too!
If you try this recipe, let me know how you like it by leaving a comment and rating below! And be sure to join my mailing list for more deliciousness!
Recipe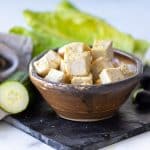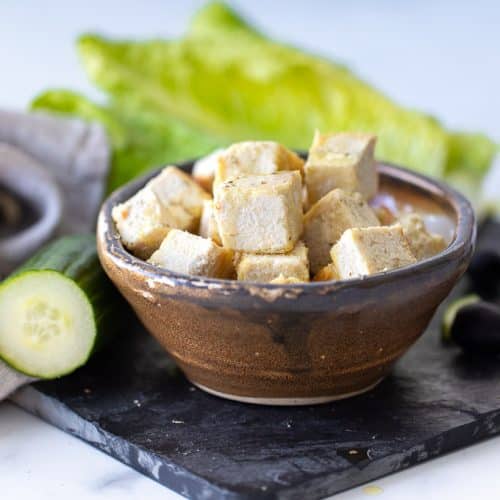 Vegan Feta Cheese
Author:
Vegan Feta Cheese that actually tastes like feta cheese and crumbles like real feta cheese and is cheap and easy to make!

Ingredients
350 g / 12

oz

extra firm tofu

, no need to press

½ cup / 120

ml

melted refined coconut oil (measured after melting)

, it MUST be refined and not unrefined or virgin

45 ml / 3

tablespoons

freshly squeezed lemon juice

30 ml / 2

tablespoons

apple cider vinegar

1

tablespoon

nutritional yeast

1

teaspoon

onion powder

½

teaspoon

garlic powder

¼

teaspoon

dried dill (leaves not seeds)

, please note the finished feta does not taste of dill at all - Strangely, it helps the feta flavour so please don't omit it.

1½ - 2

teaspoons

fine sea salt

, or to taste (not table salt)
INSTRUCTIONS
Add all of the ingredients to a food processor (this recipe does not work well in a blender, even a high powered one), starting off with only half of the salt. Blend it all up until smooth then taste and add more salt as needed. Blend to incorporate it after each addition. Remember that this is feta so it should have quite a salty edge. I like to use a full 2 teaspoons in mine.
For softer meltable vegan feta
Serve straight from the blender, or pack into a container and refrigerate for a few hours for a firmer, spreadable cheese. If you want to be able to turn it out for use on a cheese board, line the container with cling-wrap so that you can easily remove it once it's set.
For firm, cube-able vegan feta
Line an oven proof pan/dish with baking parchment. A square or rectangular shaped pan/dish is best if you want to be able to cut perfect cubes once it's ready. A loaf pan will work well. It doesn't matter if the cheese doesn't fill the container. You just need the cheese to be between 1 and 2 inches deep once it's in there.

Spoon the cheese from the food processor into the oven proof dish and push it down well and evenly. Refrigerate for at least 2 hours (or overnight is fine). This step is important. If you don't refrigerate before baking, the coconut oil can separate a little on the bottom while cooking.

Preheat oven to 400°F (200 °C) and once at temperature, remove the cheese from the fridge and bake uncovered for 35 minutes.

Remove from the oven. It will be puffy, a bit soft and bubbly but will set again as it cools. Allow to cool, then refrigerate for at least 4 hours (or overnight) before cubing or crumbling.
NOTES
For an authentic feta flavour, it is very important to not alter the ingredients or their quantities at all (except for the salt). Every one plays an important role and the recipe will not be at its best if you change them. 
STORAGE & FREEZING
The baked Vegan Feta Cheese can be frozen for up to 3 months in an airtight container. I like to cube mine first. The frozen cubes only take about 20 minute to defrost so they can be taken out as needed. If you are making something like a salad for a packed lunch or pot luck, you can add the cubes to it while still frozen. 
I do not recommend freezing the soft, spreadable feta cheese. 
Vegan Feta Cheese will keep, in a sealed container in the fridge for 5 to 7 days. 
The firmer, baked version, can be cubed and covered with olive oil and some herbs and kept in the fridge for up to 7 days. 
TIP - When I make this recipe, I like to divide my cheese mixture in half and make one of each kind of cheese. Soft and spreadable and firm and crumbly. I use 2 mini loaf pans and split the cheese mixture between them, then follow the directions above for preparing each one. 
NUTRITION
Serving:
50
g
|
Calories:
191
kcal
|
Carbohydrates:
2
g
|
Protein:
7
g
|
Fat:
17
g
|
Sodium:
420
mg
|
Fiber:
0.5
g
|
Sugar:
0.1
g
|
Vitamin C:
1.7
mg
|
Calcium:
50
mg
|
Iron:
1.4
mg
Did you make this recipe?
Rate it & leave feedback in the comments section below. I love seeing your remakes too. Tag @avirtualvegan on Instagram! 🌟