Sweet, juicy peaches and blueberries come together beautifully in this Peach Baked Oatmeal with Blueberries. A delicious & healthy breakfast.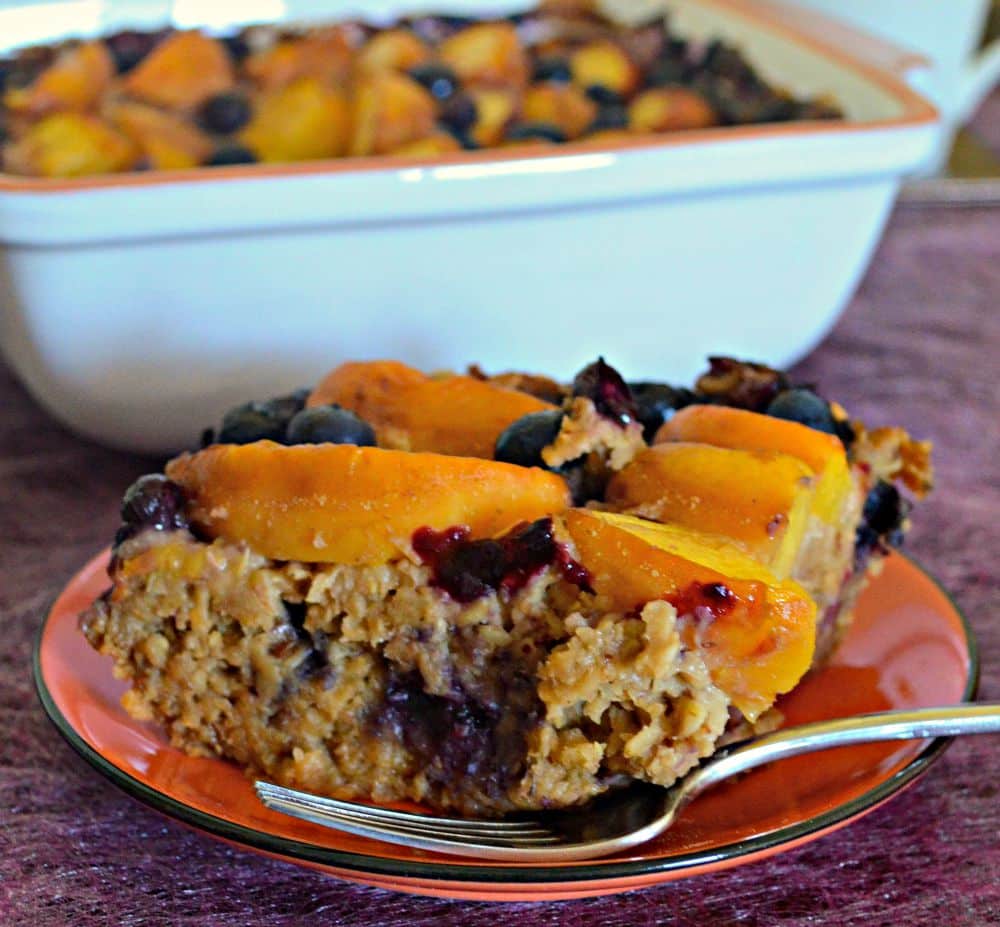 Local peaches are so cheap at the moment that we have had a fruit bowl full of them for the past few weeks. I find peaches are a bit like avocados in that they are often a bit hard and unripe when you buy them, so you leave them for a few days then they seem to ripen over night and all need eating at once! Now I'm not one to complain about eating ripe and juicy peaches (or avocados for that matter) but there are only so many you can eat in one day. So what do you do with the peaches that are a little past their best?
You make Peach Baked Oatmeal with Blueberries of course!
This Peach Baked Oatmeal with Blueberries is assembled then baked in the oven. If you are unable to get fresh fruit, frozen peach slices or canned peaches also work, as do frozen blueberries. Experiments in the slow cooker were also successful but it doesn't end up looking quite so pretty when done that way so if you are serving it to guests then I would recommend the oven. Once cooked it can be eaten either hot or cold and keeps well covered in the fridge for about 5 days. You can then just cut a portion out in the morning and eat it cold or warm it up (you can do this in the microwave or pop it in the oven for 10 minutes or so). You can eat the Peach Baked Oatmeal with Blueberries on it's own, drizzled with maple syrup, or with a little non dairy milk in a bowl. The choice is yours!
This Peach Baked Oatmeal with Blueberries doesn't take long to prepare at all and you can even get it all ready the night before and leave it covered in the fridge until the next morning. Then you can remove it from the fridge and pop it in the oven while you go off to shower and get ready for the day. When you emerge from the bathroom you will be greeted by the wonderful smell of fruity baked oatmeal!
This Peach Baked Oatmeal with Blueberries is:
Fruity and delicious
Filling and nutritious
Easy
And a great way to start the day.
Remember that oatmeal may help to lower cholesterol, reduce the risk of developing heart disease, Type 2 diabetes and high blood pressure as well as having many other health benefits. Top that with the fact that it's inexpensive, easy to prepare and tastes great.
We all need to eat more oatmeal guys!
If you take my advice and go baked oatmeal crazy then please leave me some feedback in the comments section below. I love to know what you think! You can also share your pictures on Instagram  but be sure to tag me on @avirtualvegan and add the hashtag #avirtualvegan so i don't miss them!
If you like this recipe then check out my Strawberry Baked Oatmeal and my Apple Baked Oatmeal too!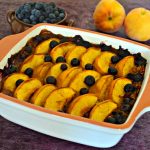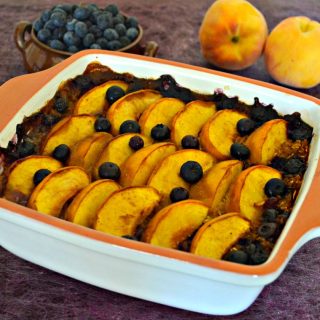 Peach & Blueberry Baked Oatmeal
Author:
Sweet, juicy peaches and blueberries come together beautifully in this easy Peach & Blueberry Baked Oatmeal.
Ingredients
2

tablespoons

ground flax seeds

6

tablespoons

water

225g | 2½

cups

rolled oats

1½

teaspoon

baking powder

¼

teaspoon

salt

240mls | 1

cup

of milk

(I used my homemade Oat Milk but any unsweetened milk will be fine).

3

teaspoons

vanilla extract

120mls | 1/2

cup

maple syrup

3

peaches

(sub for frozen peach slices or canned peaches if fresh are unavailable)

110g | 1

heaping cup

blueberries

(fresh or frozen)
INSTRUCTIONS
Preheat oven to 375 degrees F (slow cooker directions at end)

Mix the ground flax and the water together in a small bowl and set aside.

Cut each peach in half and remove the stones. Cut 2 peaches into slices as shown in my photographs and cut the third peach into small pieces.

Add all the dry ingredients to a large bowl and mix.

Add all the wet ingredients (including the flax mixture) to a jug or bowl and mix.

Mix the two together.

Add the small pieces of peach and mix again.

Pour into an oven proof dish and smooth out the top. The dish I used was about 8 x 8 inches & 2 inches deep. Anything similar will be fine.

Arrange your sliced peaches across the top.

Sprinkle your blueberries over the peaches.

Place in oven and bake uncovered for 35 - 45 minutes. I like mine a little crusty around the sides and top so leave it for the full 45 minutes but if you prefer it a little softer take it out before that.

Allow to cool slightly before slicing so that it holds together better....If you can resist for that long!

If cooking in a slow cooker then follow the assembly directions above and place in your slow cooker. Cook on low for about 4 hours.
NUTRITION
Serving:
1
serving
Calories:
255
kcal
Carbohydrates:
52
g
Protein:
6
g
Fat:
3.7
g
Sodium:
179
mg
Fiber:
6
g
Sugar:
25
g
Vitamin A:
350
IU
Vitamin C:
9.9
mg
Calcium:
200
mg
Iron:
1.8
mg
Nutritional information is provided for convenience. The data is a computer generated estimate and should be used as a guide only.
Tried this recipe?
Rate it & leave your feedback in the comments section below, or tag @avirtualvegan on Instagram and hashtag it #avirtualvegan