This Banana Chia Pudding with zingy, lip smacking Mango Lime Purée will bring a taste of the tropics to your breakfast. It is incredibly easy to make, positively bursting with nutrition & just looking at the wonderful yellow colour will make your day brighter!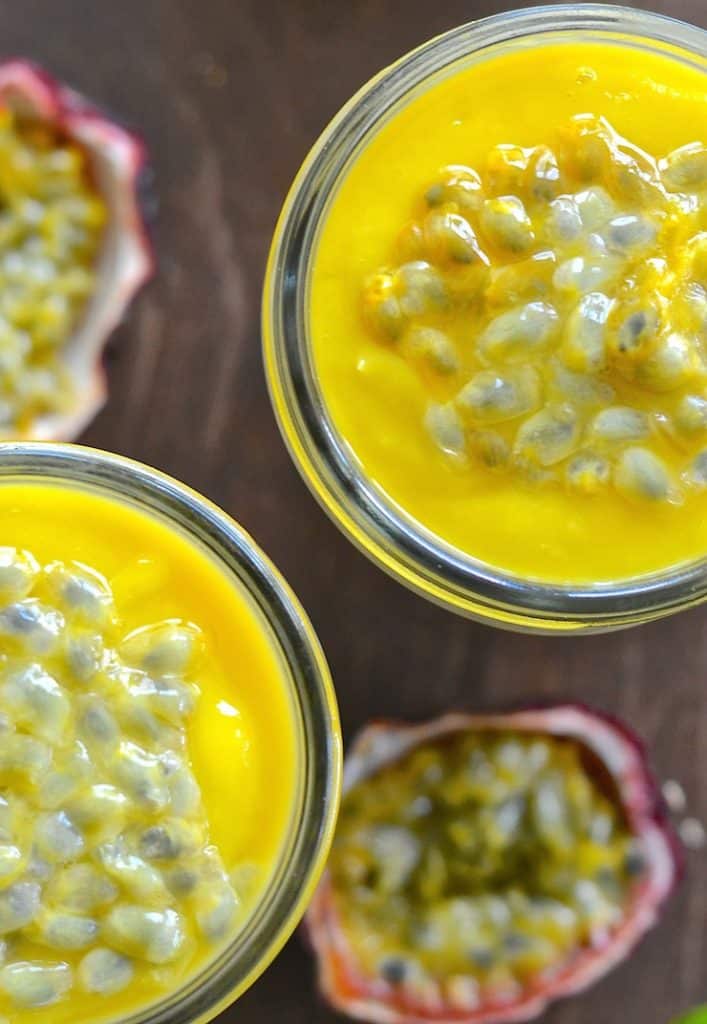 Where have chia seeds been all my life? It is hard to believe that they have actually been grown and consumed by humans since around 3500 B.C. but despite this, until a few years ago I had never heard of them. It is only quite recently that they have gained popularity and become recognized as a modern day superfood, and with good reason. They contain good amounts of calcium, protein, manganese, phosphorus, zinc, potassium, B1, B2 &B3 as well as plenty of omega 3. Whilst they are packed full of nutrients, they are relatively low in calories and because they swell upon contact with liquid they are extremely filling.
When mixed with liquid, chia seeds become gelatinous so are great for using as an egg replacer in baking or for turning into a simple chia pudding. All you need to make pudding are some seeds and some non-dairy milk. Mix together, leave for a while and you have a basic chia pudding. I can't take credit for this and I have no idea where it originated. There are hundreds of recipes floating around on the internet, in books and in food magazines.
Chia pudding, to me, is kind of like a blank slate. It needs a bit of oomph and that's where I come in with this Banana Chia Pudding with Mango Lime Purée recipe.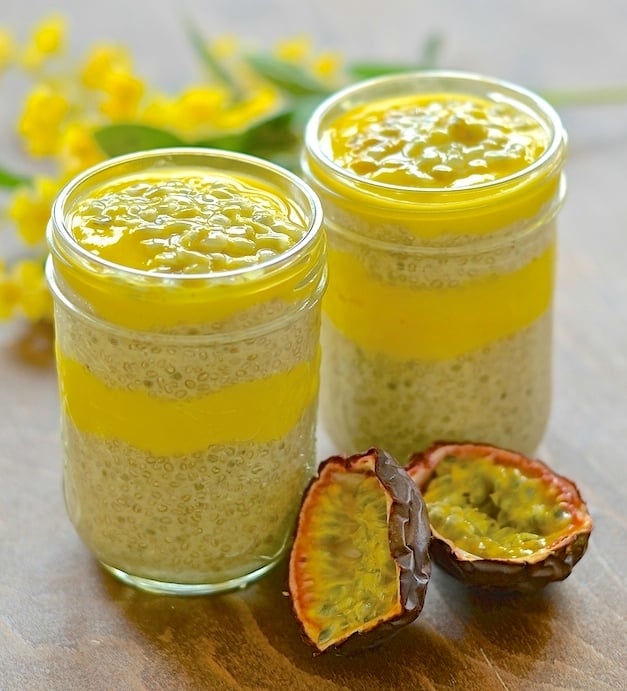 I take a basic chia pudding and jazz it up with soft, sweet, ripe banana and a touch of maple syrup for a flavour boost. Then a simple but very delicious, zingy mango lime purée is added to really liven things up. This purée with it's combination of sweet juicy mango and tart lime is lip smackingly good. So good I couldn't stop eating it and ended up having to make another batch for my chia pudding! Make sure you have a spare mango to hand in case the same happens to you….
On top of the mango puree I added some beautiful passion fruit seeds for an extra burst of flavour and texture. The passion fruit flavour works so well with the mango and banana chia pudding but is totally optional so don't worry if you don't have one to hand.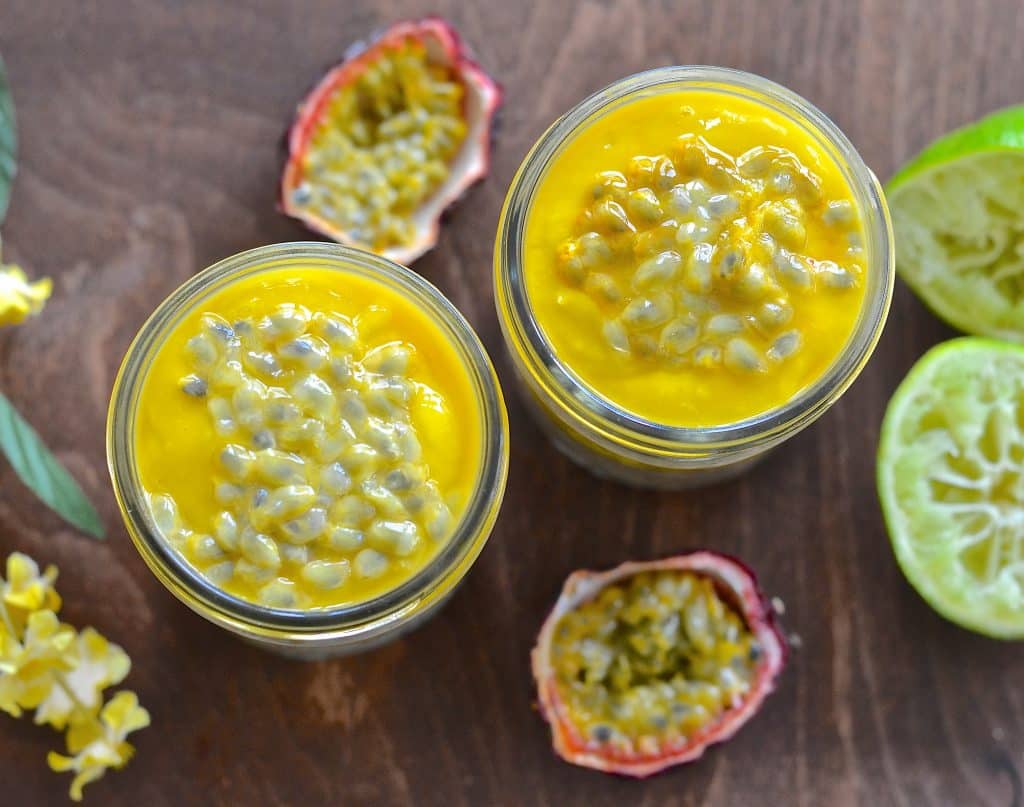 This Banana Chia Pudding with Mango Lime Purée makes a fantastic breakfast and because it is chilled it is perfect for the warmer months. Layer it up in a mason jar and it becomes a perfect portable breakfast!
If you make this Banana Chia Pudding with Mango Lime Purée please let me know what you think in the comments below and rate the recipe by hitting the yellow stars. You can also share your pictures with me on Instagram. I am @avirtualvegan. If you use the hashtag #avirtualvegan I won't miss them.
Yields 2 puddings
Banana Chia Pudding with Mango Lime Purée
Ingredients
For the chia pudding

1 medium banana
1 cup non-dairy milk
4 tablespoons chia seeds
1 tablespoon maple syrup

For the purée

1 mango
1 lime

Optional

1 passion fruit
Instructions
For the pudding

Blend the banana with the milk.
If you don't have a blender mash the banana really well with a fork and whisk into the milk.
Pour in the chia seeds and maple syrup and stir well.
Cover and place in the fridge.
Leave until thick and puddingy (at least 2 hours)
If you don't like the texture of chia seeds then you can blend it up in a high powered blender for a smooth pudding.

For the purée

Peel and remove the stone from the mango.
Add to a blender with the juice of one lime.
Blend until totally smooth.
Layer the chia pudding and the puree up in a bowl, glass or jar.
Top with passion fruit (optional)
Recipe Notes
This chia pudding is best eaten within 24 hours but can be kept for up to a couple of days in the fridge. The pudding will become slightly darker as the banana oxidizes but this doesn't affect the flavour.
6.8
https://avirtualvegan.com/banana-chia-pudding-mango-lime/
Melanie McDonald | A Virtual Vegan
This recipe has been included in this round up by Better Homes and Gardens:
15 Ways to Enjoy Tropical Recipes at Home