This is the ultimate double chocolate coconut vegan granola recipe. Crunchy, chewy, chocolatey, coconutty, not too sweet, very slightly salty.....Just perfect!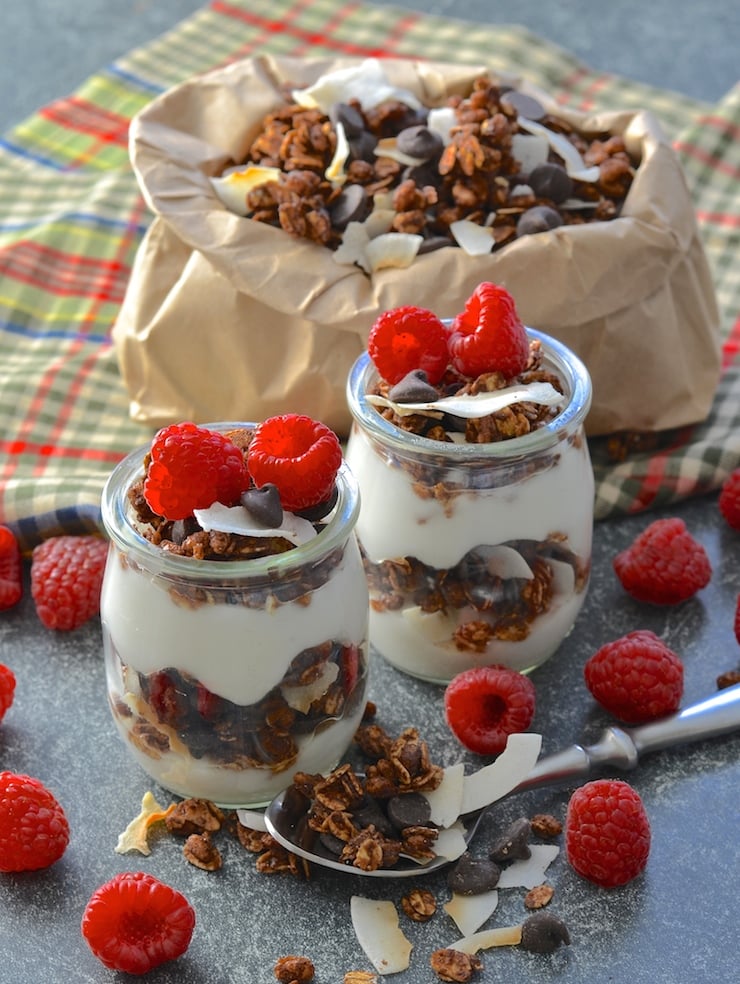 Can you tell I'm excited? I mean it's got chocolate on/in it so it's gotta be good, right?
It's no secret that I love granola. Have you tried my Vegan Almond Hemp Granola? It's so good!
And I've had this new granola under my hat (not literally...that would just be weird) for ages. As I said when I published my Chocolate Tahini Crunch Bars, I have a bit of a chocolate obsession and if I let this obsession take hold, everything on this blog would be chocolate coated.
That would be even weirder....
So, I control myself for the sake of normality (and my waistline)  and try to space out my chocolate recipes. It's actually been three weeks since I published a chocolatey recipe and I literally could not wait any longer.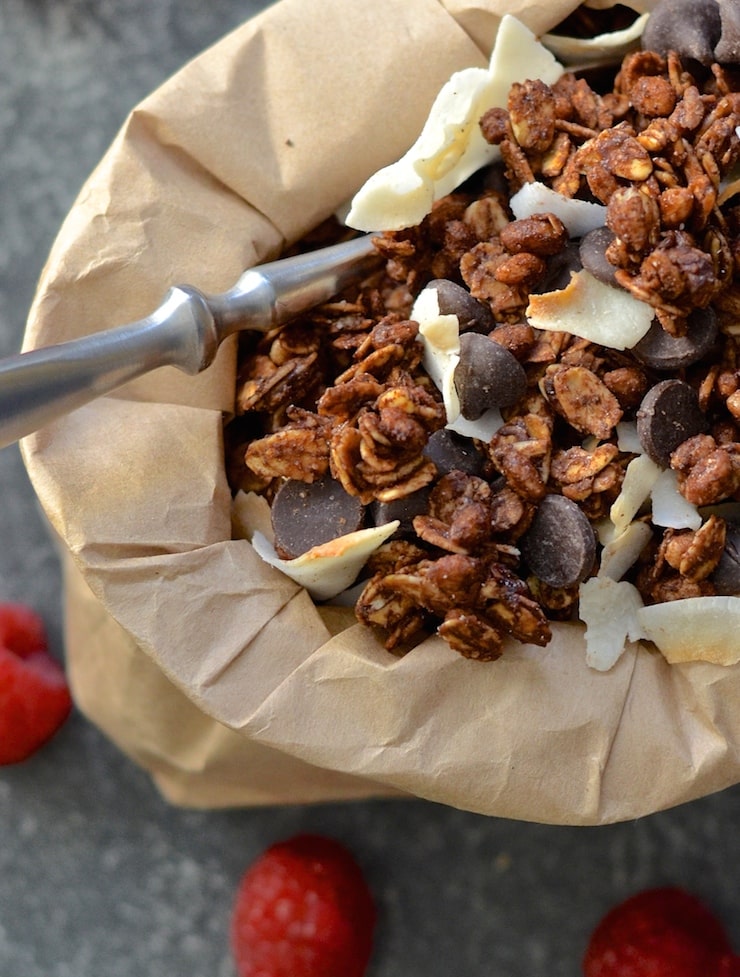 This Double Chocolate Coconut Vegan Granola recipe is so good. Every-time I make it I make a double batch and it disappears within days. My husband has his hand in the granola jar every-time he enters the kitchen and, if I am honest, I do too.
It is so extremely easy to make. All you need are a few minutes of your time to mix it all up plus fifteen minutes to bake it. Keep it in an airtight container and it lasts for a few weeks....Ha ha! Who am I kidding? I honestly have no idea how long it lasts. There is no way we could have a jar of this taunting us from the kitchen for weeks. When I say it lasts for a few weeks I am going by other granolas which I have made in the past. I am sure that this one will too, but can virtually guarantee that you will never find out because it quite simply will not be around long enough.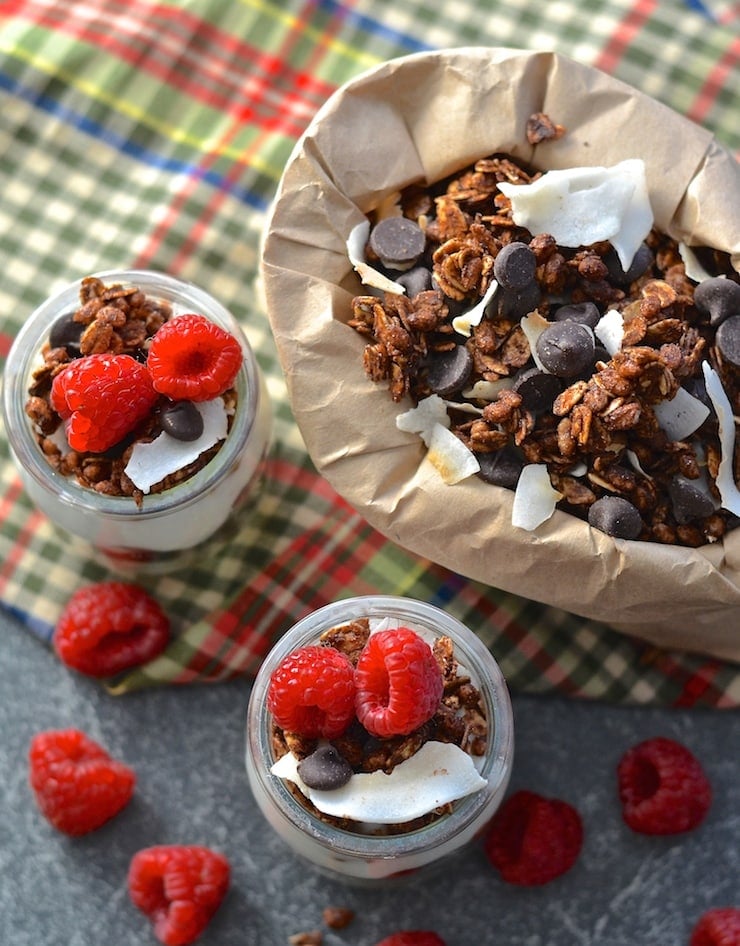 This granola is great as a quick snack by the handful or with smoothie bowls. Try it with my Healthy Chocolate Smoothie. It is also awesome with vegan yogurt. Scattered with a few raspberries, it is breakfast perfection.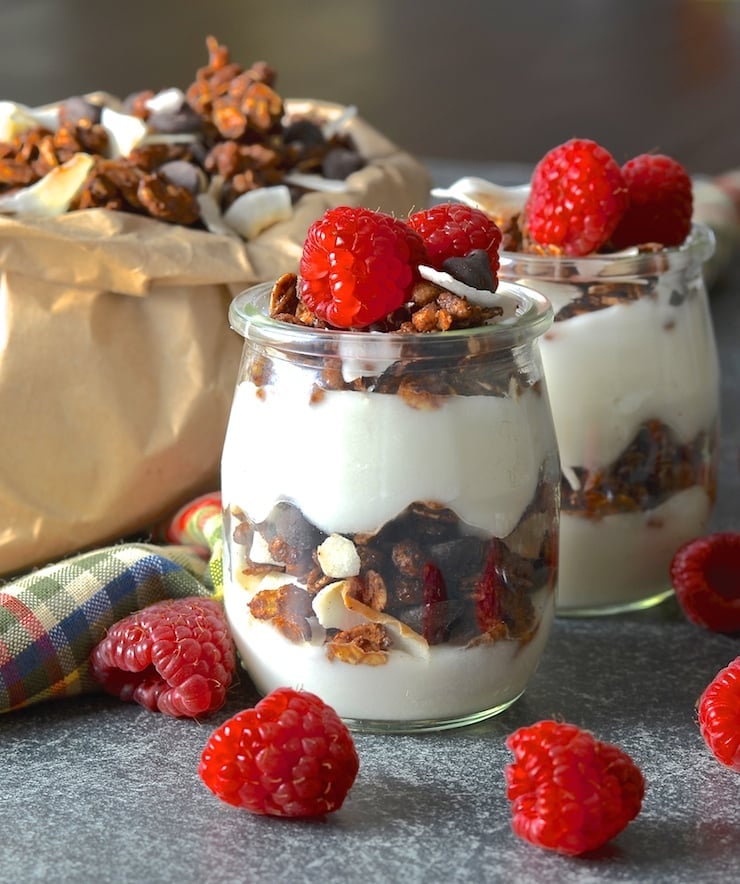 For more vegan coconut recipes check out these great options:
And if you love this recipe, please do check out my cookbook, and subscribe to my email list for a fabulous FREE eCookbook featuring my top 10 recipes. Being on the list means you will be first to see my new recipes and you'll be kept in the loop on all things new and exciting too!
Recipe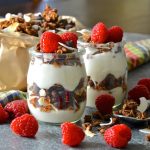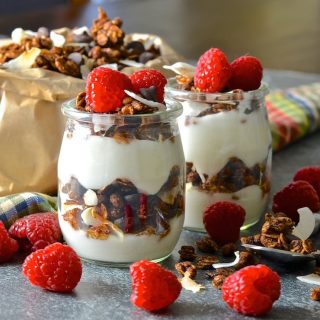 Double Chocolate Coconut Granola Vegan
Author:
This is the ultimate double chocolate coconut vegan granola recipe. Crunchy, chewy, chocolatey, coconutty, not too sweet, very slightly salty…..Just perfect!
Ingredients
2 cups (180

grams)

rolled oats

1 cup (25

grams)

puffed rice

, (optional but adds a lovely crunch - If you don't use it make up the quantity with more oats, almonds or hemp seeds)

¼ cup (25

grams)

cocoa powder

¼ cup (60

mls)

coconut butter

sometimes known as coconut manna, (NOT oil) melted & measured while liquid

¼ cup (60

mls)

brown rice syrup

, or maple syrup but you won't get quite the same chewy, crunch

¼ cup (60

mls)

maple syrup

, (only use if you use brown rice syrup. If you subbed maple syrup for brown rice syrup then you don't need any extra)

½

teaspoon

salt

1 cup (75

grams)

coconut flakes or shreds

½ cup (90

grams)

chocolate chips

, dairy-free, I like to use semi-sweet chips
INSTRUCTIONS
Preheat oven to 325°F and line a large baking sheet with parchment paper or a

silicone mat

.

Add the oats, puffed rice, cocoa powder to a large bowl. Stir well.

Add the coconut butter, brown rice syrup, maple syrup and salt to a small pan and warm gently until liquid.

Pour the liquid into the oat mixture.

Stir really well.

Pour out oaty mixture onto your prepared tray and bake for 10 minutes.

Remove from the oven, stir it around a bit then return to the oven for 4 - 5 minutes.

Throw on the coconut flakes and cook again for 2 minutes.

Remove from oven and allow to cook on the tray.

Once cool sprinkle over the chocolate chips and transfer to an air tight container.
NUTRITION
Serving:
1
⅓ cup serving
Calories:
205
kcal
Carbohydrates:
28
g
Protein:
3
g
Fat:
10
g
Sodium:
116
mg
Fiber:
4
g
Sugar:
12
g
Calcium:
10
mg
Iron:
1.4
mg
Tried this recipe?
Rate it & leave your feedback in the comments section below!