Rich, smooth, creamy mango banana ice cream that is healthy enough to eat for breakfast! All the texture/flavour of real ice cream with none of the guilt!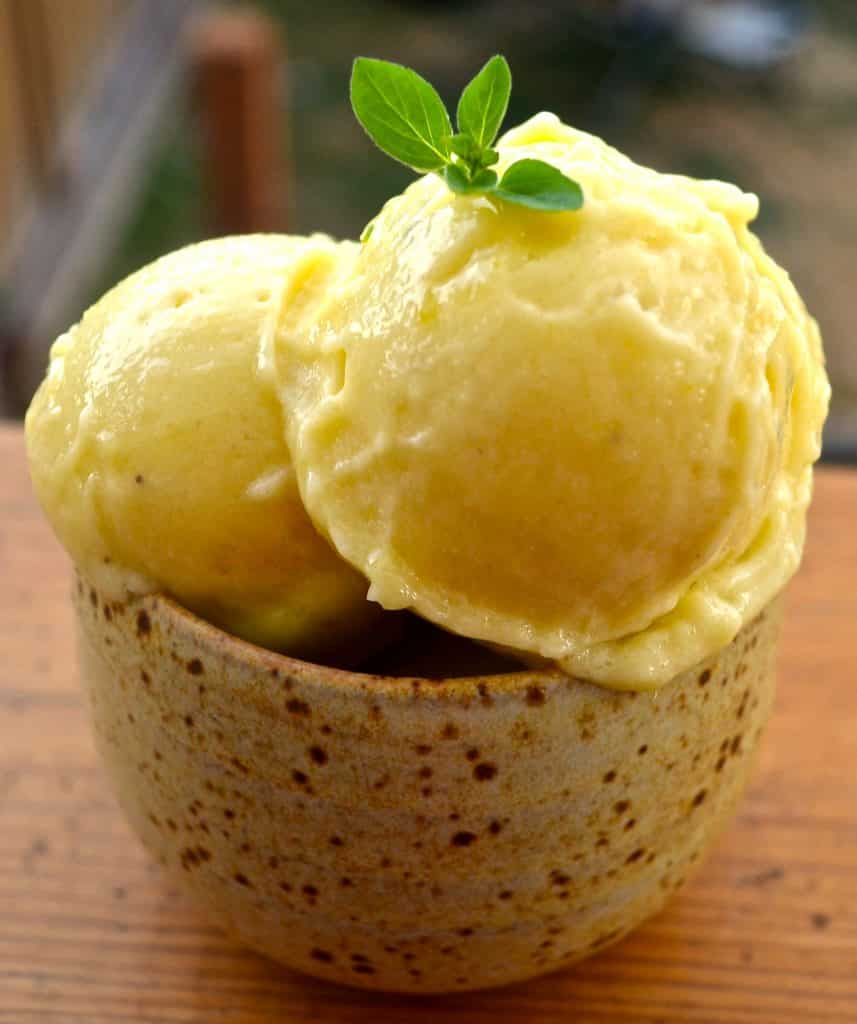 Who doesn't love ice cream? And now that the weather is warming up it's a perfect time to indulge!
Except that with this ice cream you will feel like you are indulging in a rich, smooth, creamy dessert when in fact you are just eating a bowl of fruit! How good is that? It's so healthy that you can even enjoy it for breakfast!
Even better news is that you don't need an ice cream maker. A food processor or a powerful blender will do the job perfectly.
I am a big fan of Melissa King's blog My Whole Food Life and this recipe is loosely adapted from her very delicious 5 Minute Banana Ice Cream.
Yields 2 servings
Mango Banana Ice Cream
Rich, smooth, creamy ice cream that is healthy enough to eat for breakfast!
10 minPrep Time
10 minTotal Time
Ingredients
2 ripe mangos
1 banana
3 tablespoons non-dairy milk
Optional - A few drops of liquid sweetener of your choice (maple syrup, vegan honey, stevia, or agave will all be fine)
Instructions
Cut your mangos into cubes (this is a great video showing the easiest ways to prepare and chop a mango).
Peel and slice a banana
Put the mango and the banana pieces on a small baking sheet lined with a silpat or baking parchment).
Freeze (I always do this at least the day before I make my ice cream but you could probably get away with a few hours before). Once they have been in the freezer and gone solid you can either use them right way or transfer them to a freezer bag or container of some kind if you are leaving them longer. This will ensure they don't get freezer burn. Bear in mind that if you skip this step and just put the fresh pieces of fruit in a container together then freeze them, they will stick together and be difficult to prise apart making it a struggle to fit them in the bowl of your food processor/blender.
When your are ready to make your ice cream place your fruit into the bowl of a food processor (if it is stuck in your container just run a little warm water over the outside of the container. This will loosen it enough for you to get it out).
Add your non-dairy milk and blend/process until smooth. I use a Cuisinart food processor and mine took 3 - 4 minutes.
It will look like it's never going to go ice-creamy but stick with it. You might need to stop it throughout to push it down the sides and stir it around a bit.
After a few minutes you will have a smooth, creamy ice cream.
Give it a little taste to check the sweetness. Often there is no need to add any sweetener but it depends on the sweetness of the mangos so feel free to add a few drops of liquid Stevia, maple syrup or other liquid sweetener of choice to suit your tastes. Just process for a minute after you add it.
6.6.15
https://avirtualvegan.com/mango-banana-ice-cream/
Melanie McDonald | A Virtual Vegan