Vegan Coffee Syrup Recipes: Because nothing is better than cozying up, (or cooling down), with a delicious and decadently sweetened and flavored coffee drink!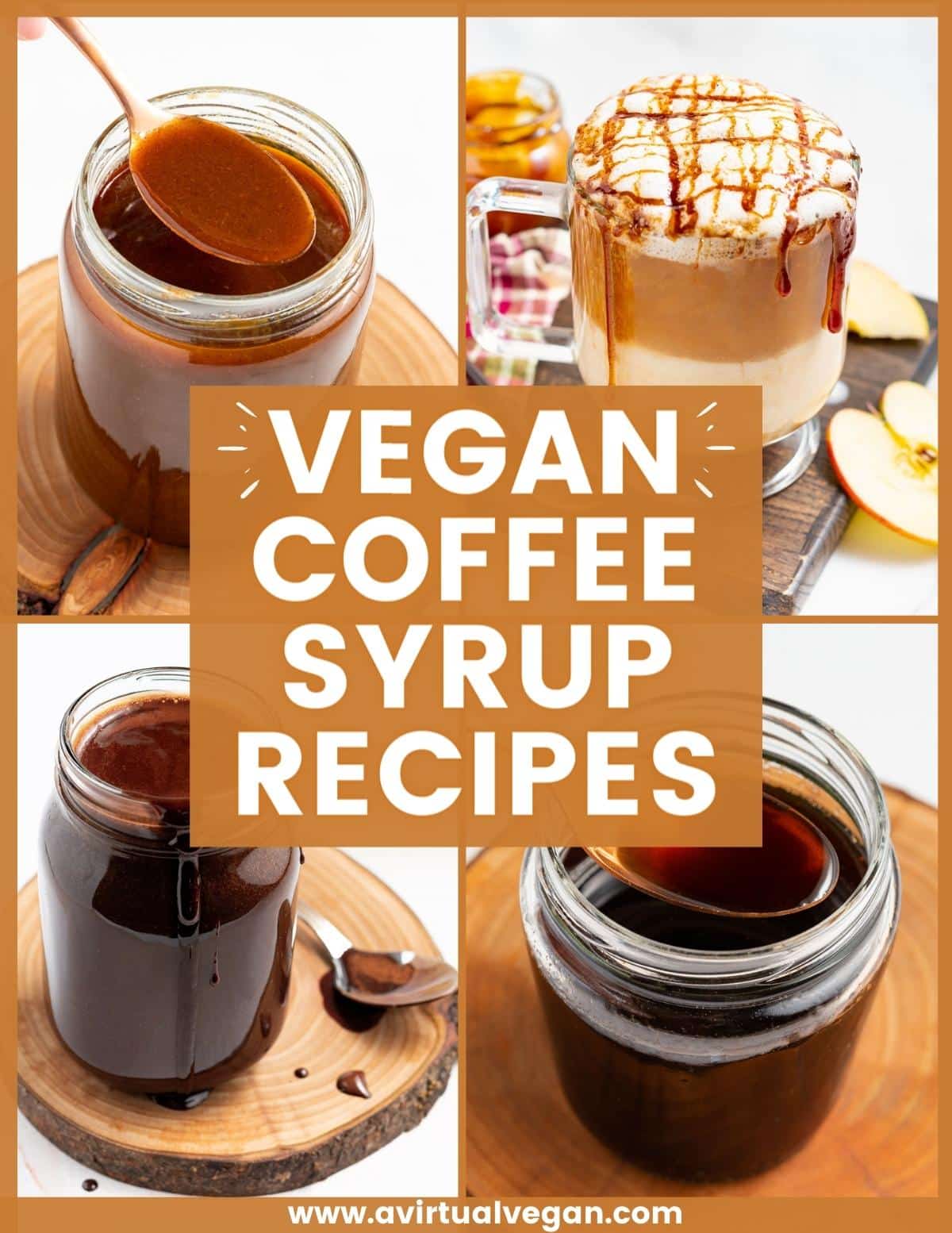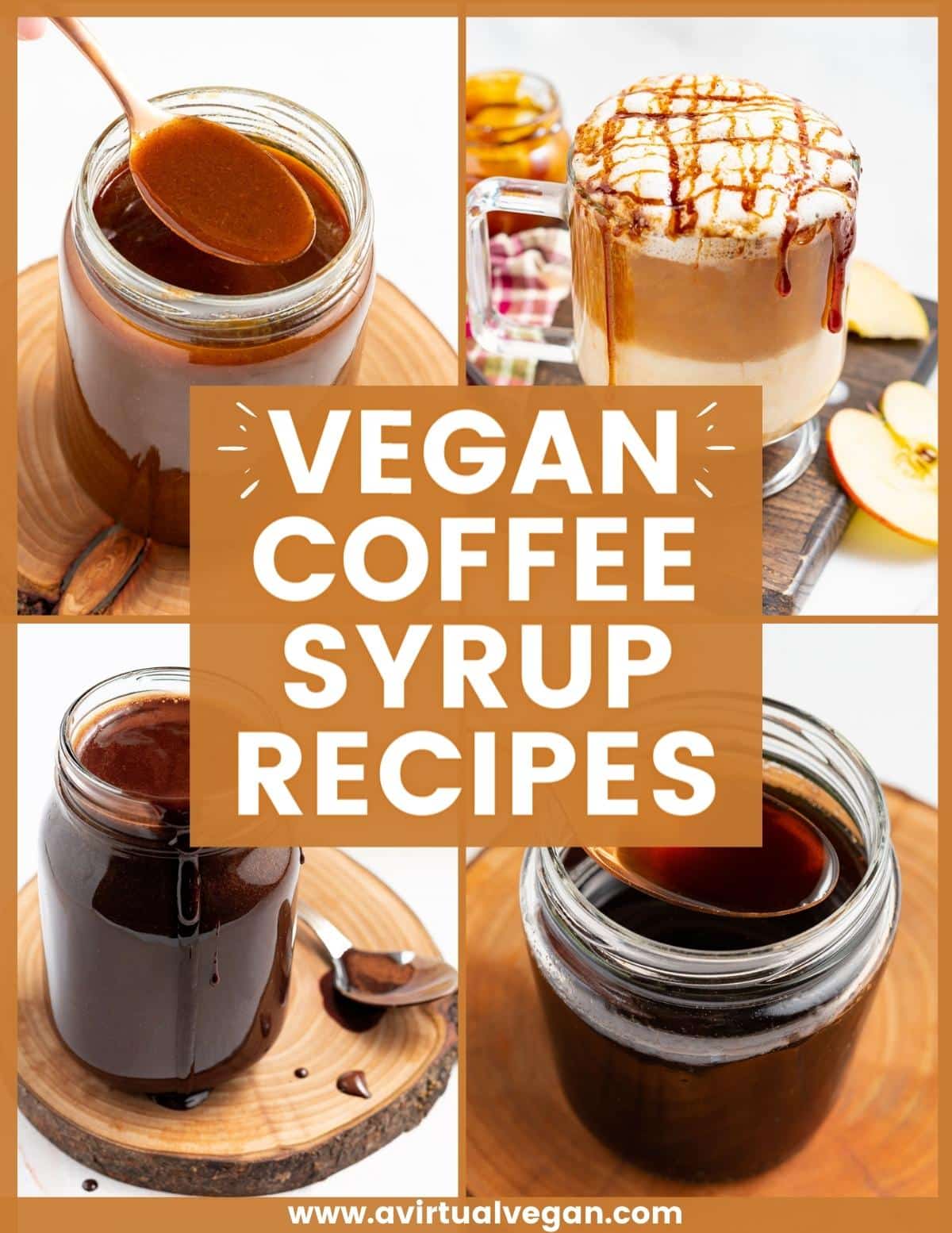 Coffee syrup is incredibly quick and easy to make at home and will keep for ages in the fridge, all ready for you to make your own drinks with authentic coffeehouse flavor!
Jump to:
How To Use Coffee Syrup
All you need to make yourself a deliciously sweetened vegan latte or vegan iced coffee are 3 ingredients:
Espresso or strong coffee.
A few tablespoons/pumps of your favorite vegan-friendly coffee syrup.
Plant milk of choice, such as oat milk, soy milk, almond milk, or cashew milk.
Brew some coffee, heat the milk (if it's hot drink), then combine in a mug or glass with a little syrup, not forgetting plenty of ice if it's an iced coffee drink.
Coffee syrup isn't just for coffee drinks though. It's also great for adding to tea, hot chocolate, frappes, soda, cocktails, smoothies and plant milk. Mixed with cold plant milk of choice, my vegan chocolate syrup makes awesome chocolate milk!
How To Make Simple Syrup
Simple syrup is great for easy sweetening without additional flavor and it couldn't be easier to make yourself at home.
All you need are 2 ingredients. Sugar and water. White or cane sugar is best.
Here's how you make it:
Add the sugar and water to a small saucepan and place over medium heat.
Stir until hot and the sugar is dissolved.
Allow the syrup to cool a little then pour into a glass bottle or jar then refrigerate.
Simple syrup will last for about 4 weeks if kept in the fridge. A richer simple syrup, made from a 2:1 ratio of sugar to water, will last for about six months.
Other Coffee Syrup Recipes
All of the following vegan coffee syrup recipes are naturally vegan, gluten-free, wheat-free, and soy-free and unlike many store bought varieties are free of artificial flavors. Feel free to swap out the sugar for Stevia or any other artificial sweeteners in these recipes.
Brown Sugar Syrup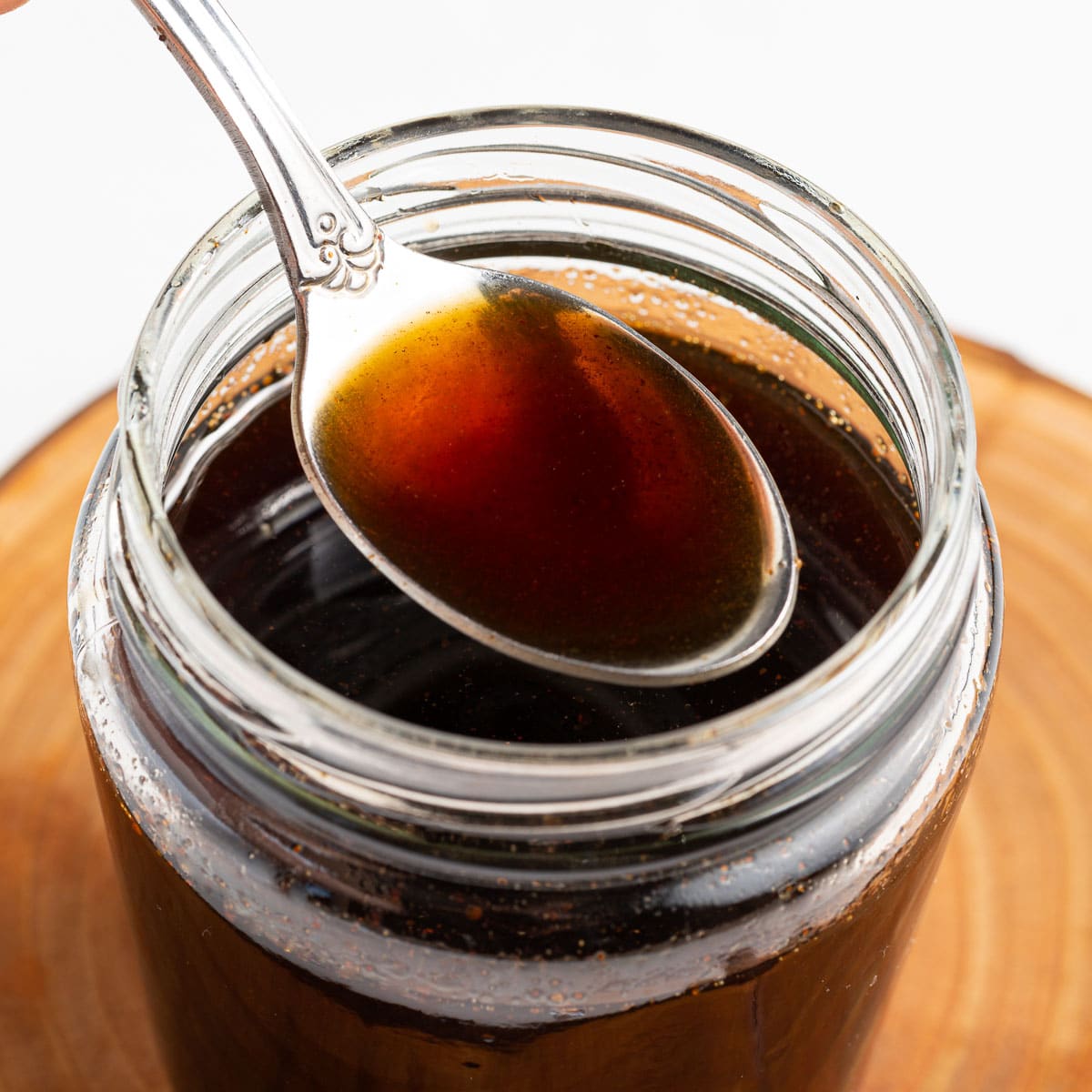 Learn how to make Brown Sugar Syrup at home! It's super easy, ready in just 10 minutes and has a rich caramel, cinnamon flavour. Use in coffee, tea, cocktails, baking, or as a budget-friendly maple syrup alternative on pancakes.
make this recipe
Pumpkin Spice Syrup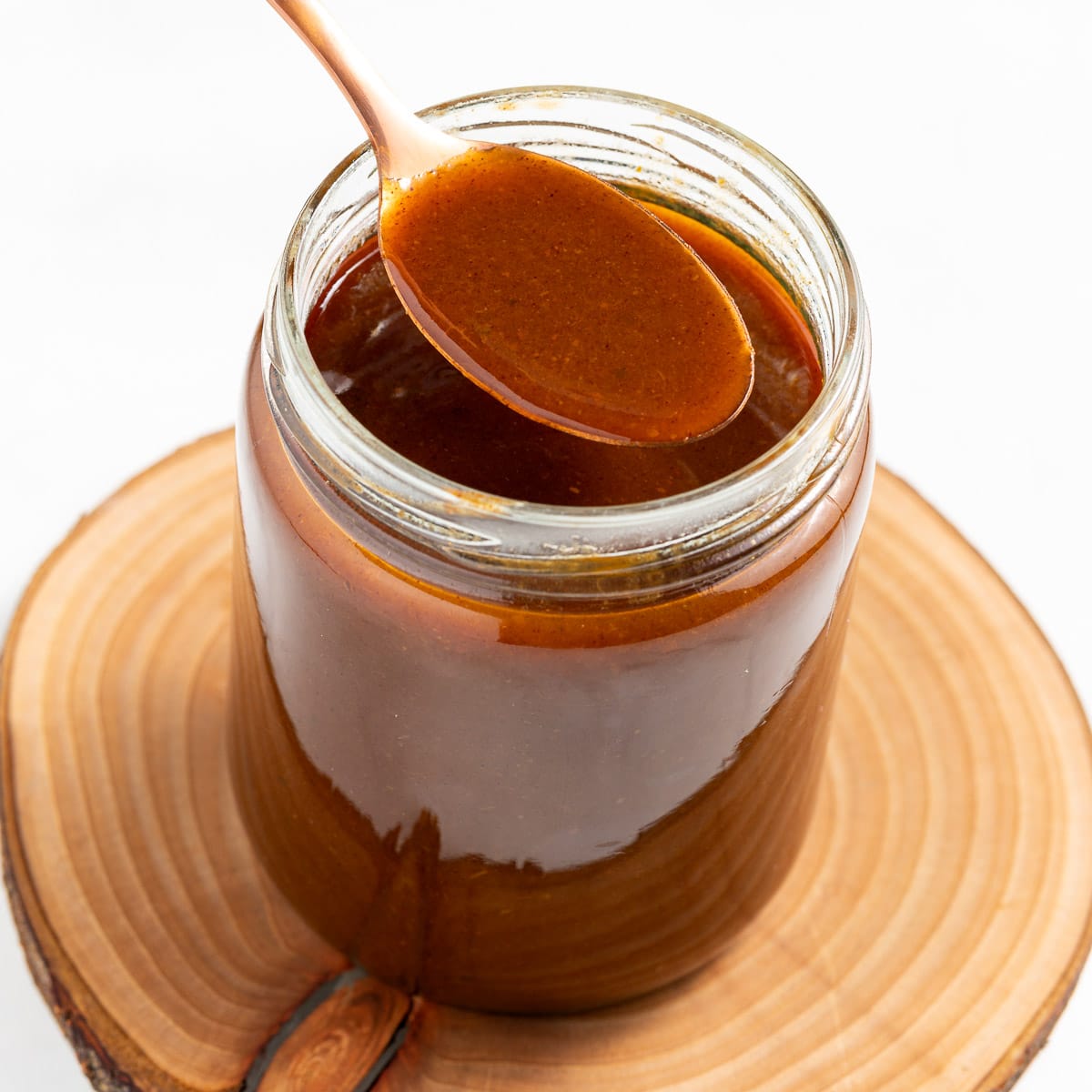 Learn how to make Pumpkin Spice Syrup at home! It only takes a few minutes and is full of delicious spiced pumpkin flavor. Use in your favourite fall beverages or drizzle on bakes, desserts and pancakes.
make this recipe
Vegan Chocolate Syrup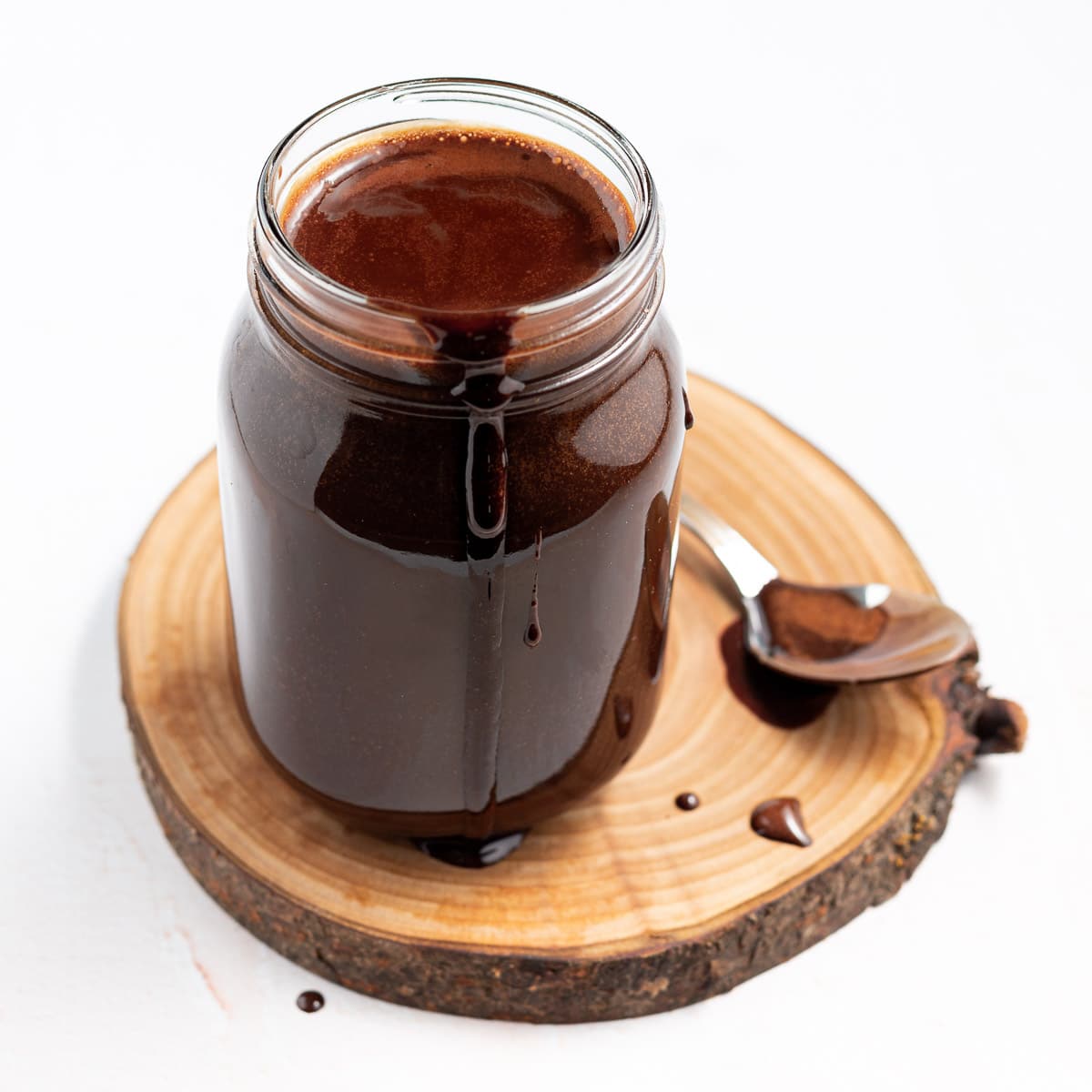 Beautiful, glossy Vegan Chocolate Syrup made with just 4 simple ingredients in under 5 minutes! It's sweet, rich and intensely chocolatey. Use this dairy-free chocolate syrup to make chocolate milk and fancy coffee drinks, or as a syrup on pancakes, waffles, ice cream sundaes and desserts. Sugar-free option included!
make this recipe
Apple Brown Sugar Syrup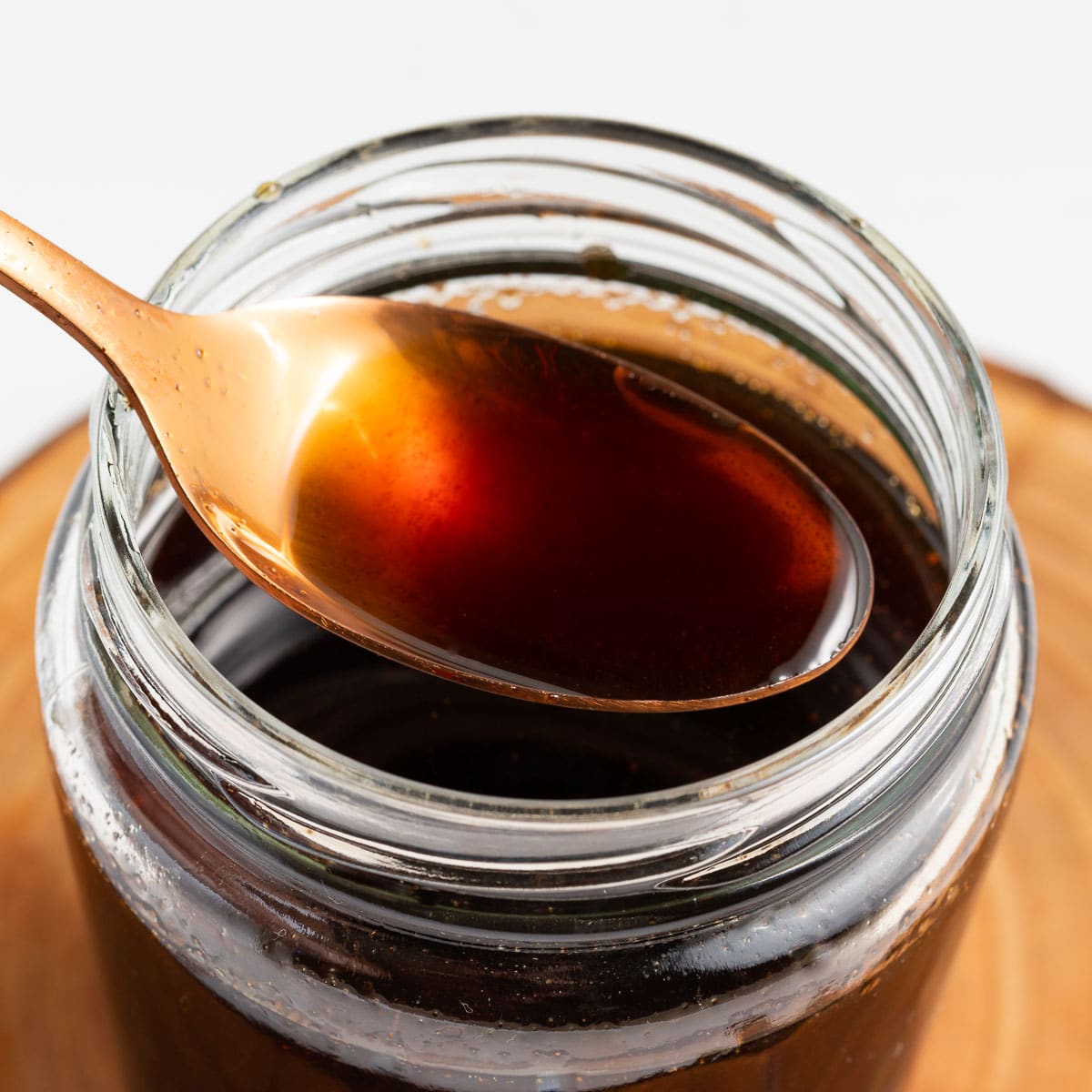 Learn how to make Apple Brown Sugar Syrup at home. Full of spiced caramel apple flavour, it's perfect for adding to your favourite hot or iced drinks and only takes 10 minutes to make!
make this recipe
Vegan Coffee Syrup FAQs
Is coffee syrup vegan?
It depends on the brand and variety of coffee syrup. Some coffee syrups contain dairy products, natural flavorings that aren't vegan, or honey, and they all contain sugar. As you are probably aware, not all sugar is vegan (especially if you are located in the US). Check the label before purchasing and contact the brand to clarify if it's not clear. Rest assured though that all of my vegan coffee syrup recipes are vegan when made as instructed!
The website Go Dairy Free has a useful and up to date article listing dairy-free and vegan coffee house syrups and sauces from popular brands like Torani syrups.
How much coffee syrup should I use?
That depends on how much sweetness you like in your beverage. Generally though 2 tablespoons (30 ml) is a good amount to start with.
Why use coffee syrup and not sugar?
Coffee syrup is perfect for sweetening your drinks because unlike sugar, it is liquid and combines easily whether you are making a hot or cold drink. Depending on the variety used it can also add delicious flavour as well as sweetness.
Espresso Machine Recommendation
For making the coffee, I absolutely adore my Breville Barista Express Espresso Machine! It's at least 7 years old now and still going strong. If you are looking to invest in a machine that makes barista quality coffee, I highly recommend it. If space is an issue check out the Breville Bambino Plus Espresso Machine which is also very highly rated and a little cheaper.
If you don't have an espresso machine though, don't worry because you can make fancy coffee drinks with regular strongly brewed coffee. I always include the exact amount you need in my vegan coffee recipes.
Wondering what other kitchenware and appliances I love? See my kitchenware essentials here!
Fancy Vegan Coffee Recipes
Looking for some fancy coffee recipes to use your vegan coffee syrup in instead of winging it with a custom creation? Sip, sip, sip away with these delicious brews:
Iced Brown Sugar Oat Milk Shaken Espresso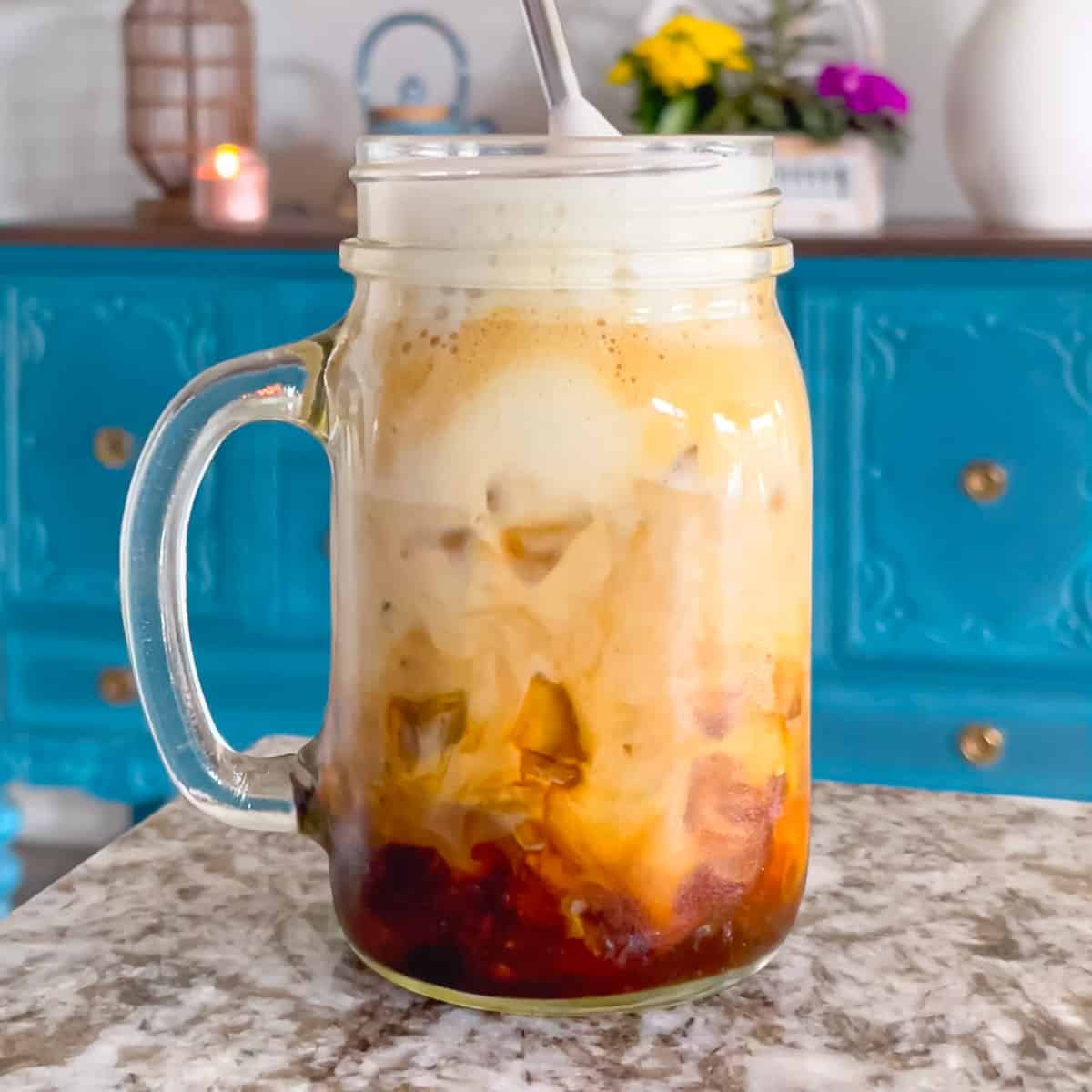 Save yourself some dollars and make your own Iced Brown Sugar Oat Milk Shaken Espresso at home! This Starbucks copycat recipe is really quick and easy. Prep the brown sugar syrup, keep it in the fridge, and you can whip up a delicious sweet beverage in minutes!
make this recipe
Iced Chocolate Almondmilk Shaken Espresso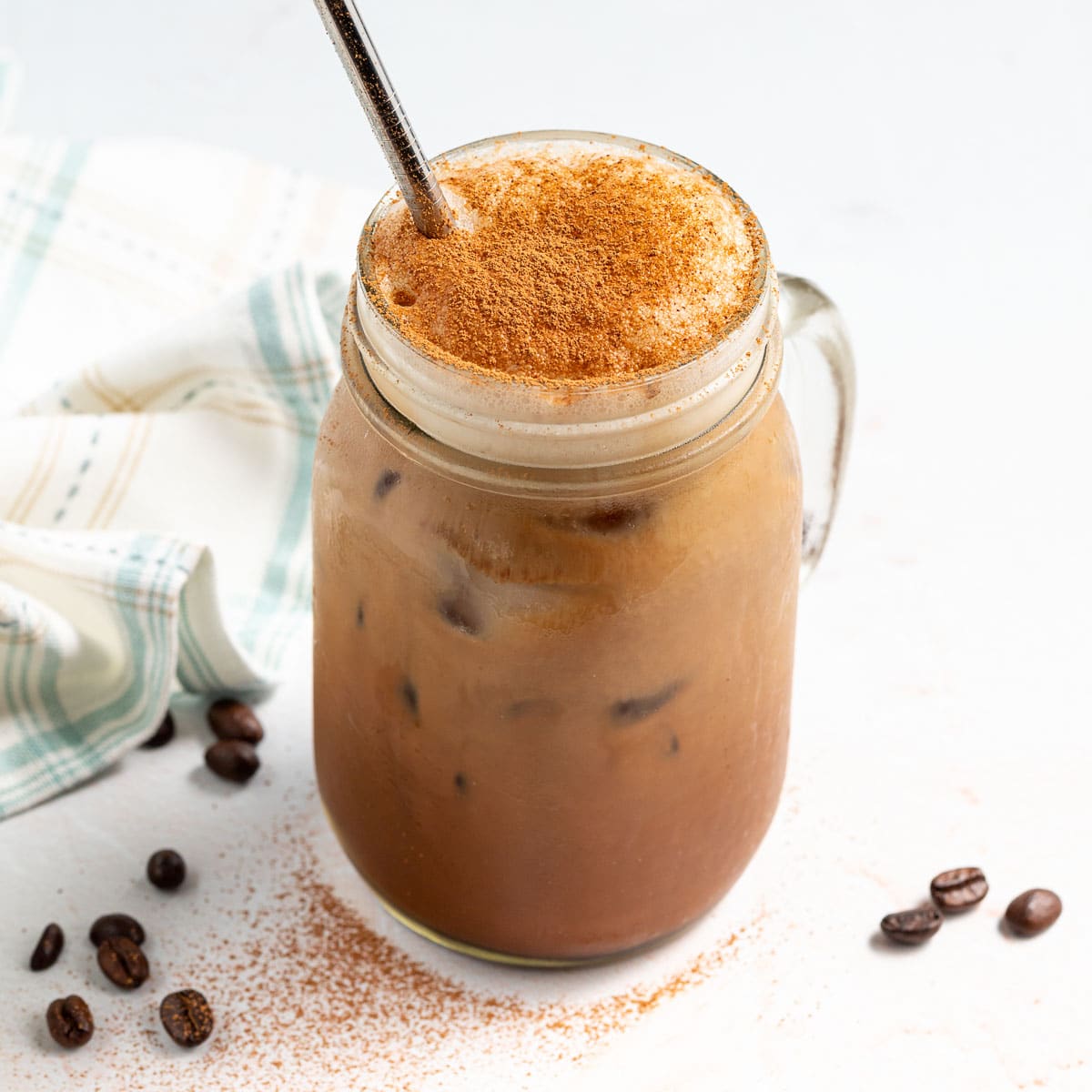 Make your favourite Starbucks Iced Chocolate Almondmilk Shaken Espresso at home. It's easy to make, frothy, rich, perfectly chilled, satisfyingly sweet, and proper coffee shop-level delicious!
make this recipe
Apple Crisp Macchiato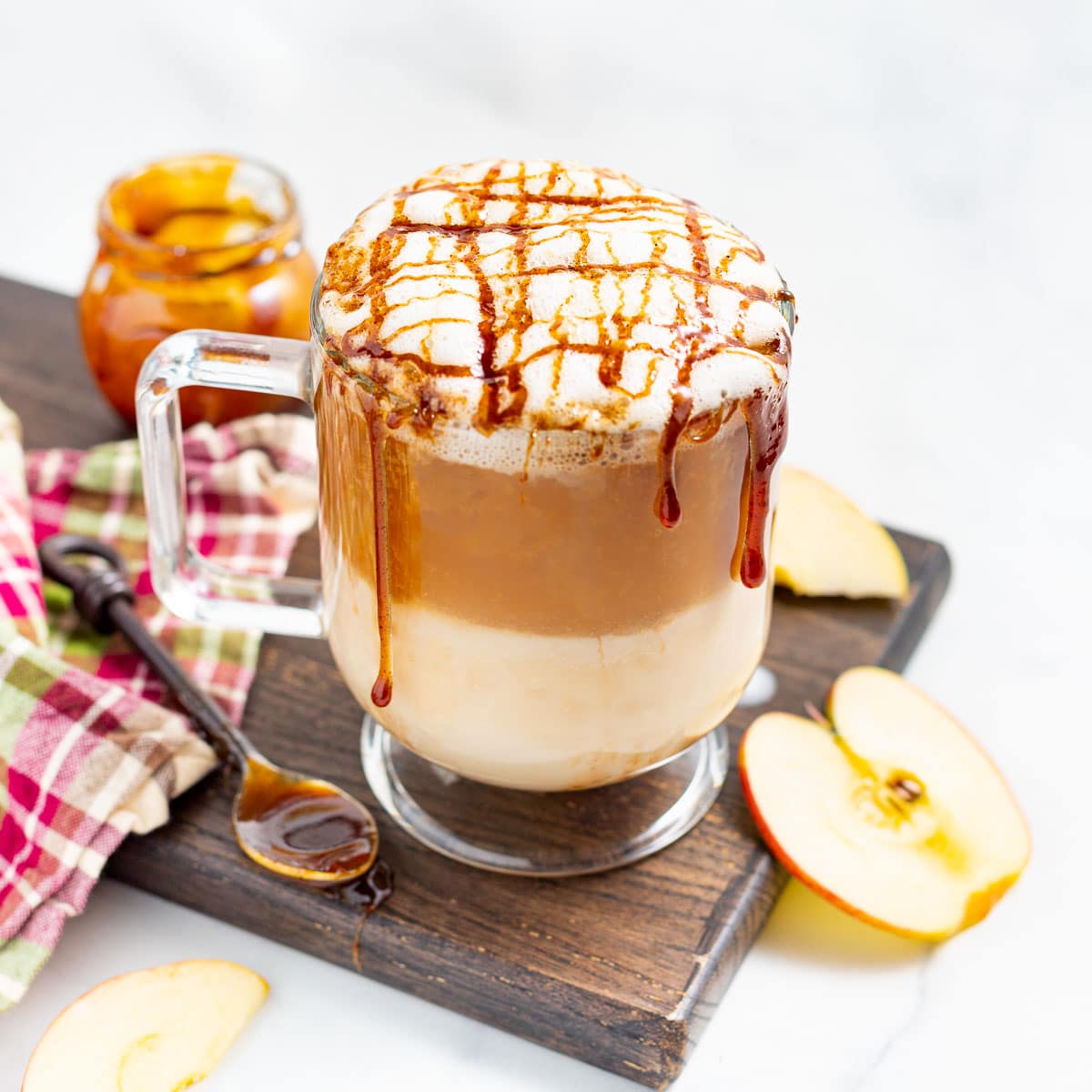 Apple Crisp Macchiato, Starbucks style! Make this delicious coffee shop-level fall drink either hot or iced. It's creamy, cozy, and warmly spiced, with rich, caramel apple-type vibes!
make this recipe
Vegan Pumpkin Spice Latte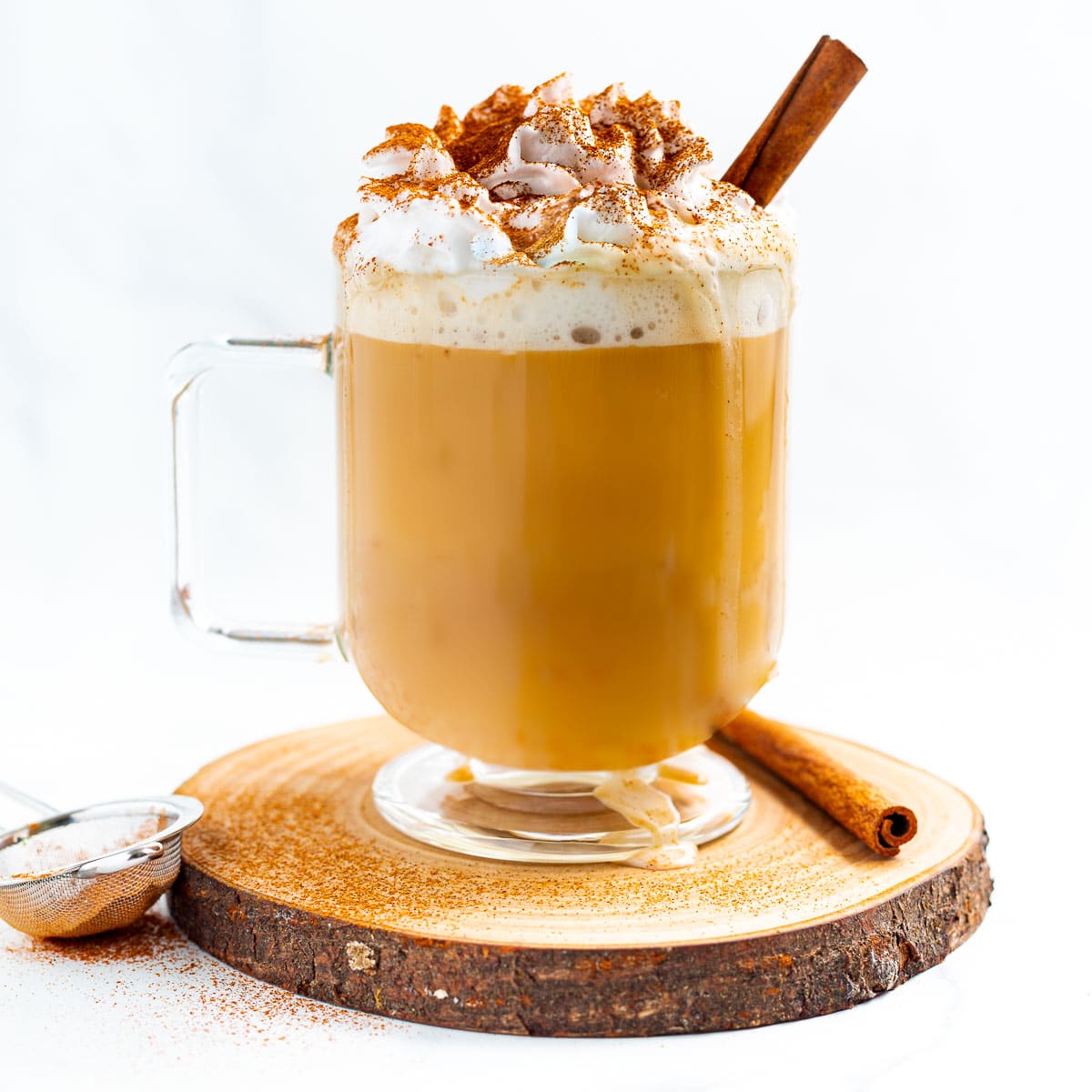 Treat yourself to a cozy Vegan Pumpkin Spice Latte without leaving home. This delicious dairy-free latte is loaded with sweet, warmly spiced pumpkin flavor and is just the pick-me-up you need on a chilly fall day!
make this recipe
---
I hope this post leaves you feeling inspired. Have fun making your own vegan coffee syrups and delicious and decadent flavored coffee drinks!