Rich & gooey homemade vegan chocolate caramels. So decadent & delicious and surprisingly easy to make. Perfect as an indulgent treat or as a gift for someone special.
This year my husband and I will be celebrating our eighteenth wedding anniversary. I can hardly believe we have been married that long. The time has just flown by.
The last couple of years have seen some massive changes in our lives. On Valentine's Day in 2013, we gave up everything to move halfway round the world to a place we had never been before and where we knew no-one. Everything changed. We started new jobs, met new friends and all of these changes led me to re-evaluate my lifestyle choices. I started to become aware of the cruelty in the meat and dairy industry and after a lot of research and soul-searching decided to lead a plant-based lifestyle. It was because of this that "A Virtual Vegan" was born and for that I couldn't be more grateful.
I love to cook and that has made my vegan journey pretty easy, but despite this, there are times when being vegan makes life a little more difficult. My husband and I are both foodies and have always gifted each other yummy treats on special occasions like birthdays, Christmas and Valentine's Day. Now when these occasions come around it's much more difficult to go out and buy foodie gifts that don't contain animal products. We are both chocolate lovers and although it's pretty easy to find chocolate bars that are vegan, it is more difficult to find boxes of chocolates that you might give as a gift. They almost always contain milk, butter or cream and if by some stroke of luck you do find a box of vegan chocolates they cost a small fortune.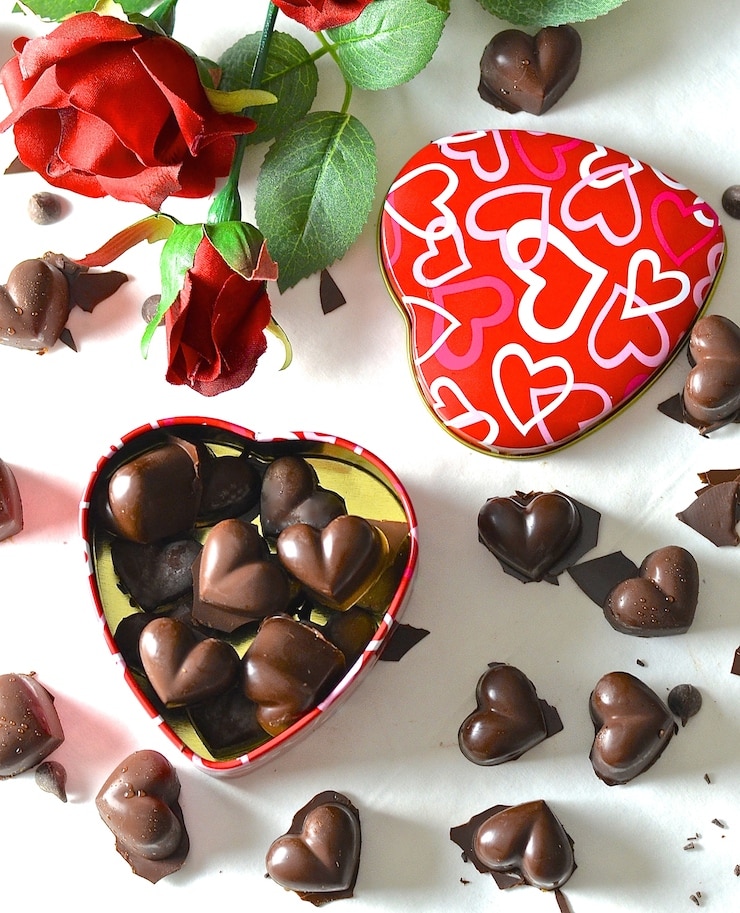 That is why, this year, with Valentine's Day fast approaching, I have decided to make my own Vegan Chocolate Caramels as a gift for my husband.
We are both super busy people and with the hustle and bustle of everyday life it is so easy to start taking each other for granted. Since our journey to Canada on Valentine's Day nearly three years ago we have been so busy building a new life that we haven't really taken any time out for each other. This year is going to be different and it's going to start with some rich and gooey homemade vegan caramel chocolates!
They say the way to a man's heart is through his stomach and that is certainly the case with my husband. He loves chocolate and candy and chocolate caramels are one of his favourite things.
Today I snuck out to buy what I needed while he was out at work. I happened to already have a heart-shaped silicone candy mould which I purchased ages ago on a whim and have never used. I knew it would come in handy one day! If you don't have a chocolate mold then you can pick them up at most kitchen supply stores. Bulk Barn has a very large selection and Walmart also sells them. As my recipe involves filling the chocolates with caramel you need to make sure they are deep enough to hold a sufficient amount so bear that in mind when you are choosing your mold.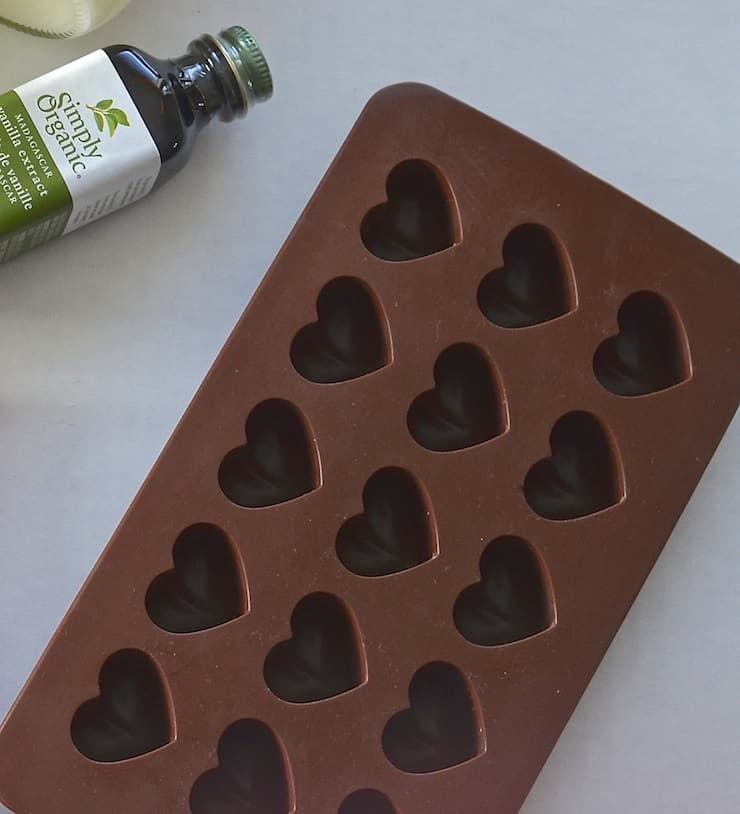 As soon as I got home, I got to work and the resulting caramels are absolutely divine. The rich dark chocolate exteriors are filled with the most delicious, golden, soft and gooey caramel. They look seriously impressive too. My son did not believe that I made them myself. He said they looked too good and couldn't understand how I got the caramel in the middle of them!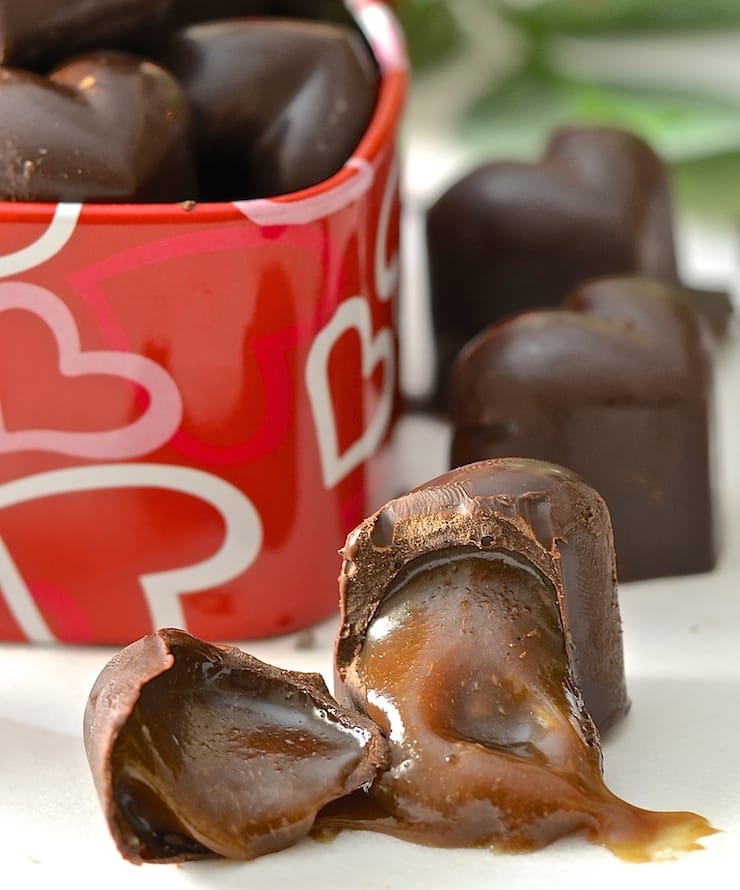 Just look at that……I mean who could resist that ooey-gooey caramel? It tastes as decadent as it looks. I had to try quite a few to make sure I had got the recipe just right ;O)
When you gift these to your partner and they take their first bite, they will fall in love with you all over again. Not just because they taste so delicious, but because you went to the time (which to be honest isn't all that long but they don't know that do they?) and effort to make them yourself.
Now if you will excuse me, I need to go off and hide these awesome Vegan Chocolate Caramels in the deepest, darkest depths of my fridge so that my husband doesn't find them before Valentine's Day. This will also ensure that they are out of sight and out of mind, otherwise I might end up eating testing one too many before the big day…..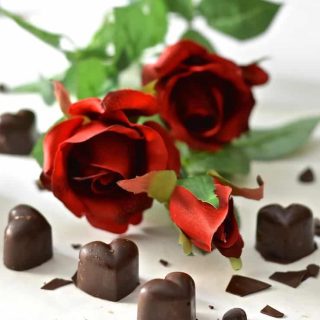 Vegan Chocolate Caramels
Rich & gooey homemade vegan chocolate caramels. So decadent & delicious and surprisingly easy to make. Perfect as an indulgent treat or as a gift for someone special.
Rate this Recipe!
Print
Pin
Serves:
35
small chocolates
Ingredients
1

chocolate mold or if you don't mind large chocolates a silicone ice cube tray would work.

100g | 1/2

cup

coconut sugar

2

tablespoons

water

2

tablespoons

tahini

2

tablespoons

coconut oil

(refined or unrefined is fine)

1/4

teaspoon

fine salt

1/2

teaspoon

vanilla extract

300g | 2

cups

vegan dark chocolate
Instructions
Add the coconut sugar and the water to a pan.

Place over a medium heat and cook until the sugar has completely dissolved and it is just starting to bubble. DO NOT STIR!! If you need to, just swirl the pan a bit. It will take 2- 3 minutes max. Do not leave it unattended as it will burn very easily if left too long.

Remove from the heat and add the coconut oil, tahini, salt and vanilla. Stir very well until it is all well combined. It is normal to see a few little light flecks through it. If you have trouble getting it to come together put it over a low heat again for 30 seconds or so.

Remove from the heat and leave to cool. It will be very runny at first but will thicken up nicely as it cools. It doesn't take long.

When the caramel is cool melt your chocolate. I melt mine in a bowl over a pan of gently simmering water.

Pour some melted chocolate into the bottom of each mold. I used a spoon and a knife to just push the melted chocolate gently off the edge of it into the molds. You need a depth of about 3-4 mms. No need to be too exact. Just eyeball it. Remember though if it's too thin the will be very hard to remove from the mold intact.

Once you have chocolate in each mold use the end of a knife to just push the chocolate pooled in the bottom up the sides of each mold to coat it.

Now spoon some caramel into each mold. You need to leave room for about 2-3mm of chocolate to be poured on the top. Don't be tempted to overdo it as you'll end up with a gooey mess.

The caramel will level itself out as you pour it in.

Now cover the caramel with chocolate.

Use a pallet knife or the back of a regular knife to run along the top and level everything off nicely.

Pop the mold into the freezer. Make sure it is kept flat.

Within 20-30 minutes they will be hard enough to turn out of the mold.

If you only have one mold you will need to repeat the process. Your chocolate should still be melted enough to continue but if it isn't just warm it slightly again.
Notes
Store your chocolate caramels in a sealed container in the fridge, They will keep well for a couple of weeks.
If you have any caramel left it keeps well in the fridge and will turn liquid again if warmed gently.
It is great served with ice-cream, waffles , pancakes , popcorn and baked bananas.
Estimated nutrition per serving:
Serving:
1
chocolate caramel
|
Calories:
64
kcal
|
Carbohydrates:
8.5
g
|
Protein:
0.5
g
|
Fat:
3.8
g
|
Sodium:
18
mg
|
Fiber:
0.6
g
|
Sugar:
7.6
g
|
Calcium:
10
mg
|
Iron:
0.4
mg
Tried this recipe?
Rate it & leave your feedback in the comments section below, or tag @avirtualvegan on Instagram and hashtag it #avirtualvegan
This shop has been compensated by Collective Bias, Inc. and its advertiser. All opinions are mine alone. #CollectiveBias