Rich & gooey homemade vegan chocolate caramels. So decadent, delicious, just 6 ingredients, and surprisingly easy to make. Perfect as a treat or gift for someone special!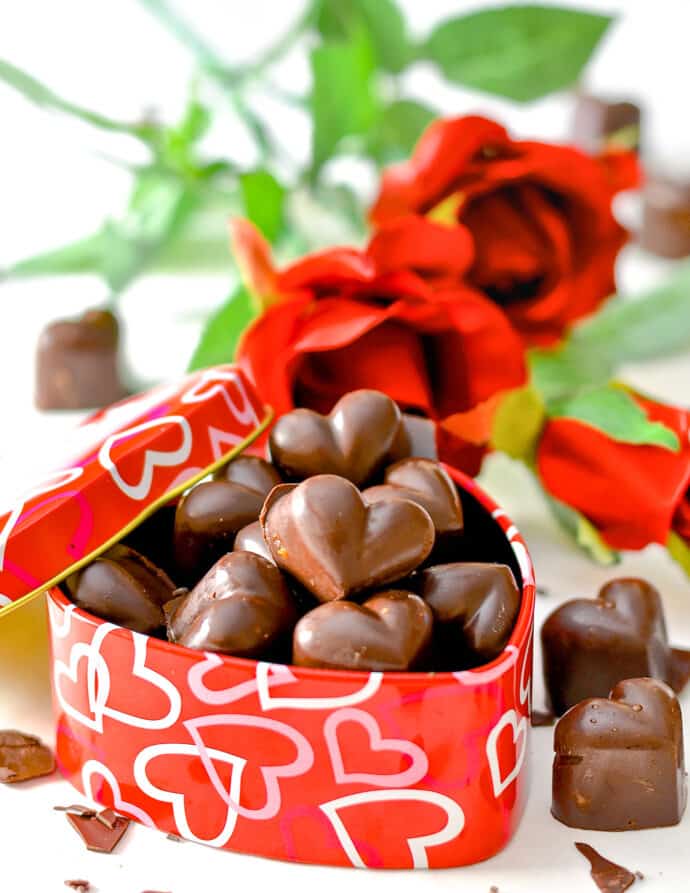 Okay, there are a few essential things I look for in my vegan chocolate caramels and they are thick chocolate and appropriate gooeyness.
Now just imagine thick, thick chocolate filled with vegan caramel. Not really sickly-sweet caramel but just-right, slightly nutty, soft, gooey, silky caramel that you made yourself, cause you're clever like that.
Now imagine that you're biting into said vegan chocolate caramels and the chocolate is cracking and the caramel is oozing out.
These vegan chocolate caramels just have it all. They are my Valentine ... Sorry hubs ...
In this post - Everything you need to make Vegan Chocolate Caramels:
Jump to:
Ingredients
You need just 6 ingredients to make Vegan Chocolate Caramels: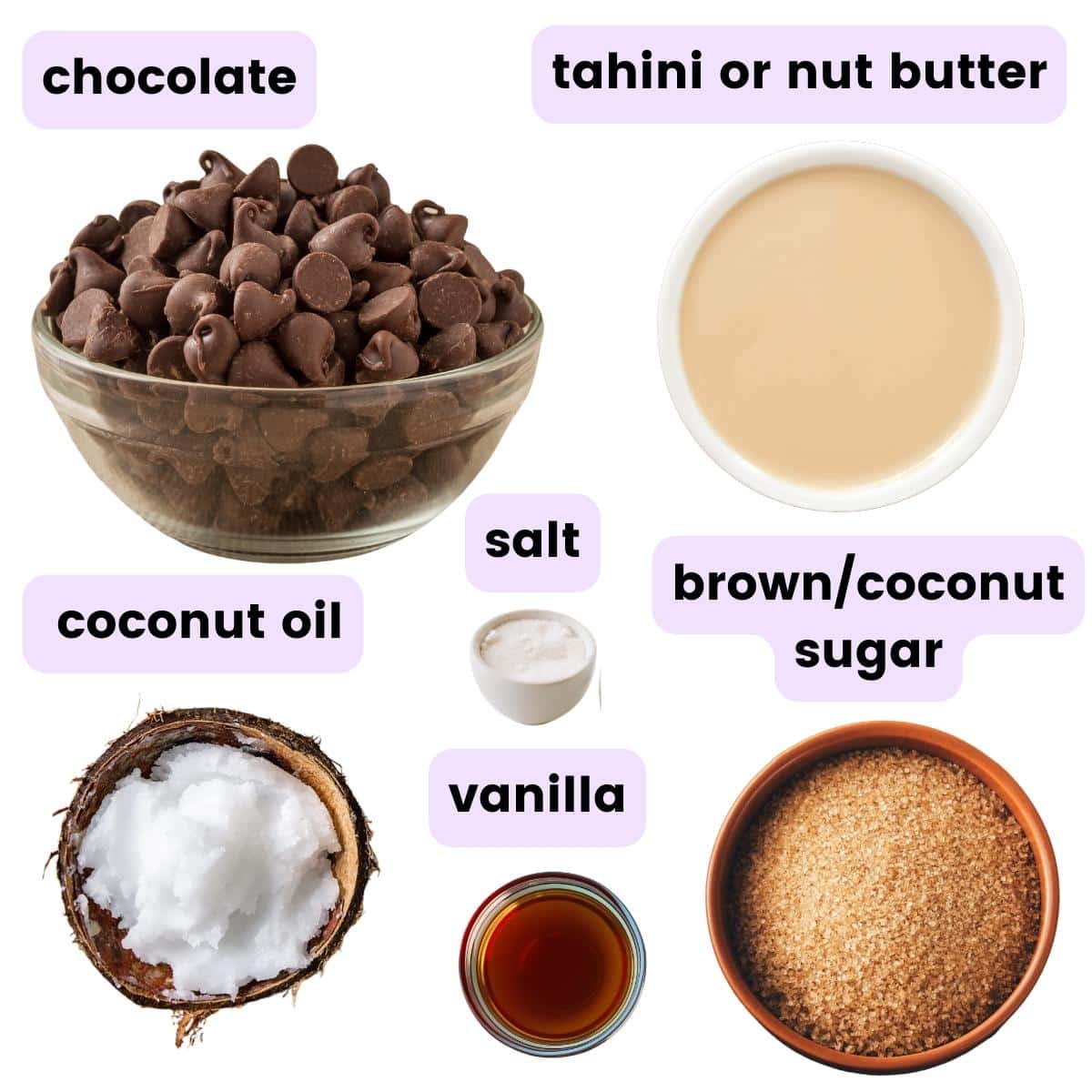 How To Make Vegan Chocolate Caramels
Before you make your chocolate covered caramels you need to get yourself a mold. Mine looks like this: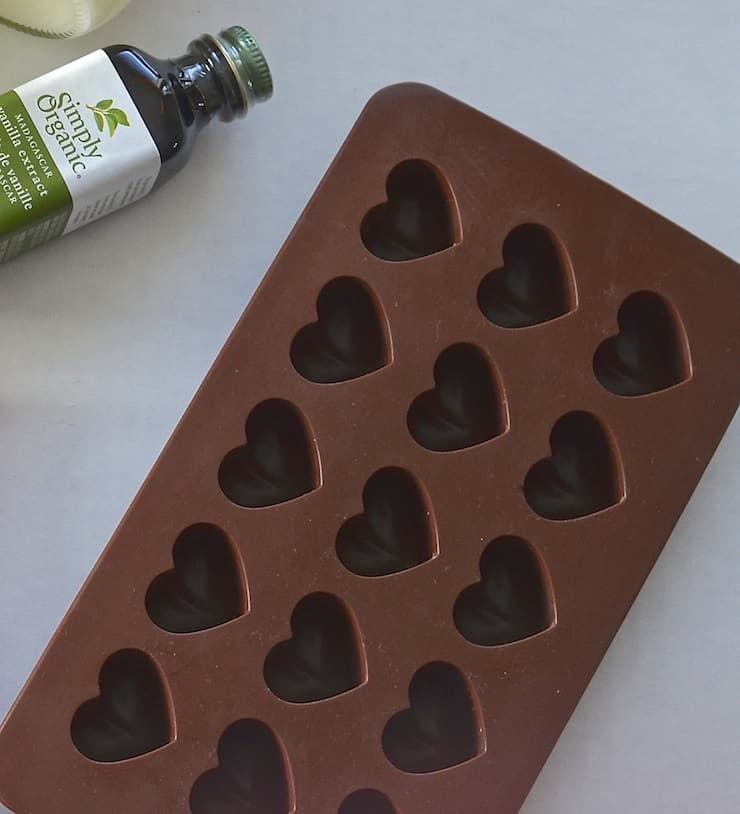 You can pick them up from craft shops, some big grocery stores or on Amazon. 
Then here's how it's done:
Make the caramel. It's as simple as adding all of the ingredients to a pan and melting them together. You don't need thermometers or any fancy pants knowledge like with regular caramel. It's so simple! Once it's done let it cool. 
Melt the chocolate and spread it around the inside of the mold with a teaspoon. 
Add a dollop of caramel to each one.
Put a small amount of chocolate over the top of the caramel and spread out so it's flat. 
Pop in the freezer until set. 
Done! Who could resist that ooey-gooey caramel?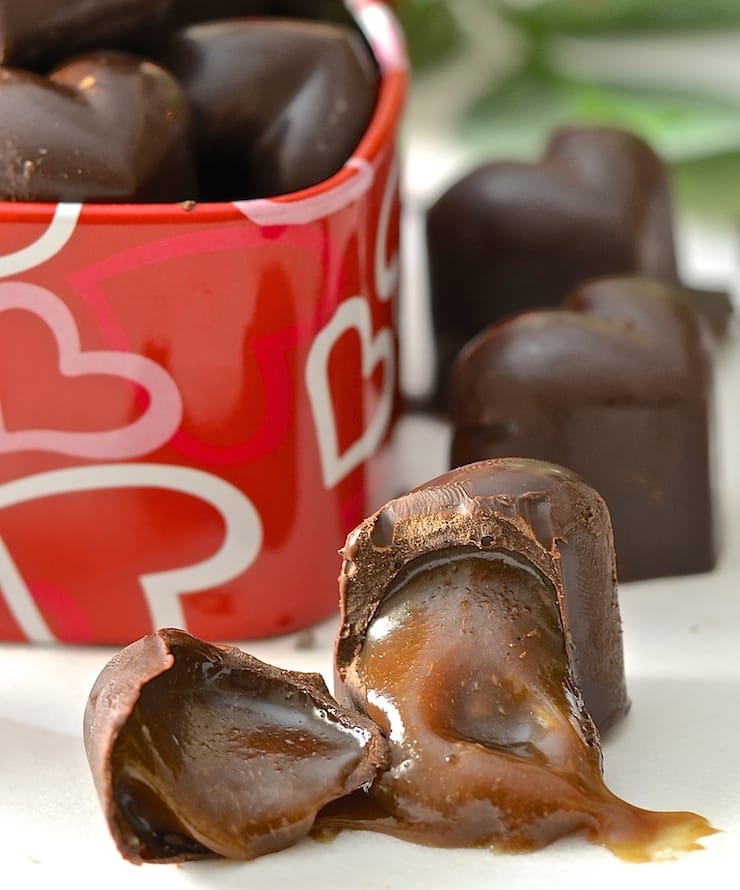 Love Caramel?
If you try this recipe, let me know how you like it by leaving a comment and rating below! And be sure to join my mailing list for more deliciousness!
Recipe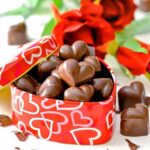 Vegan Chocolate Caramels
Author:
Rich & gooey homemade vegan chocolate caramels. So decadent, delicious, just 6 ingredients, and surprisingly easy to make. Perfect as a treat or gift for someone special!
INSTRUCTIONS
Add the sugar and water to a small pan. Place over a medium heat and cook until the sugar has completely dissolved and is just starting to bubble. Swirl the pan a bit if needed. It will take 2- 3 minutes max. Do not leave it unattended as it will burn very easily if left too long.

Remove from the heat and add the coconut oil, tahini, salt and vanilla. Stir very well until it is all combined. It is normal to see a few light flecks through it. If you have trouble getting it to come together put it over a very low heat again for 30 seconds or so.

Remove from the heat and leave to cool. It will be very runny at first but will thicken up nicely as it cools.

When the caramel is cool melt the chocolate either in a mixing bowl over a pan of gently simmering water, or very gently in a microwave.

Spoon some melted chocolate into the bottom of each mold and use a teaspoon to spread it around the bottom and up the sides. You need a depth of about 3 mms on the bottom so they are strong enough to remove when set. No need to be too exact. Just eyeball it.

Leave the chocolate for a couple of minutes, then spoon some caramel into each mold. You need to leave room for about 2-3mm of chocolate to be poured on the top.

Now cover the caramel with some more chocolate and use a pallet knife or the back of a regular knife to run along the top and level everything off nicely.

Pop the mold into the freezer. Make sure it is kept flat. I put mine on a baking tray. Within 30 minutes they will be hard enough to turn out of the mold.

If you only have one mold you will need to repeat the process. Your chocolate should still be melted enough to continue but if it isn't just warm it slightly again.
NOTES
Store chocolate caramels in a sealed container in the fridge. They will keep well for a couple of weeks.
If you have any caramel left it keeps well in the fridge and will turn liquid again if warmed gently. It's great served with ice-cream, waffles, pancakes, popcorn and baked bananas.
NUTRITION
Serving:
1
chocolate caramel
|
Calories:
73
kcal
|
Carbohydrates:
7
g
|
Protein:
1
g
|
Fat:
5
g
|
Saturated Fat:
3
g
|
Sodium:
24
mg
|
Potassium:
66
mg
|
Fiber:
1
g
|
Sugar:
4
g
|
Vitamin A:
3
IU
|
Vitamin C:
1
mg
|
Calcium:
8
mg
|
Iron:
1
mg
Did you make this recipe?
Rate it & leave feedback in the comments section below. I love seeing your remakes too. Tag @avirtualvegan on Instagram! 🌟