This Caramel Chocolate Vegan Popcorn is seriously addictive. Drenched in rich, buttery salted caramel, baked until perfectly crisp & then finished with lashings of chocolate, it is totally & utterly delicious & absolutely dairy-free!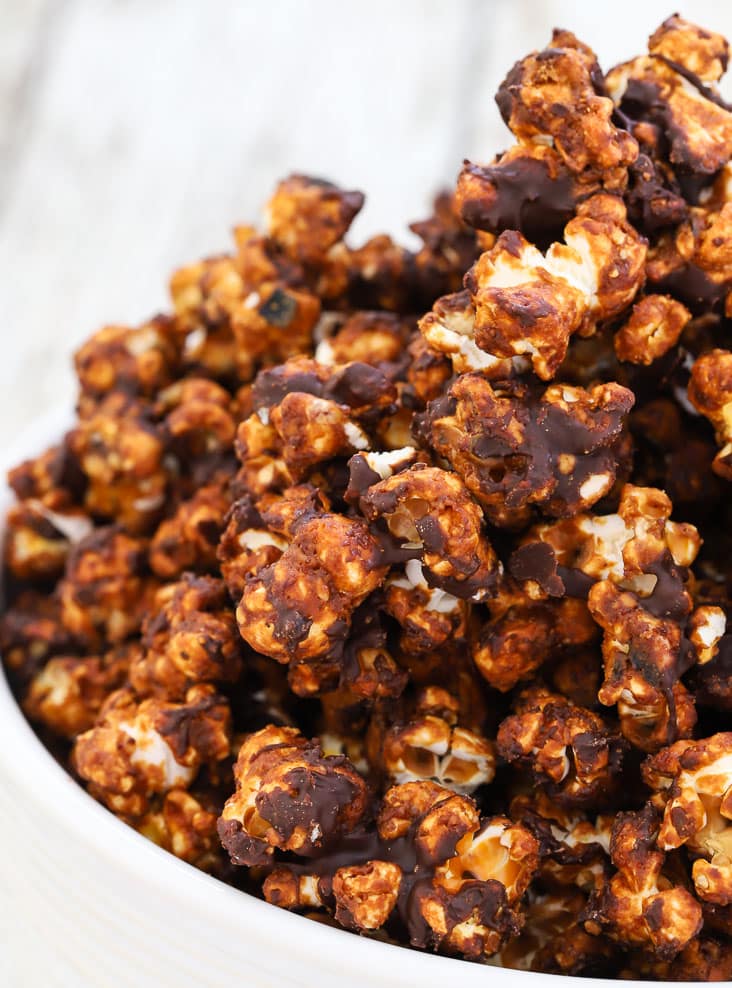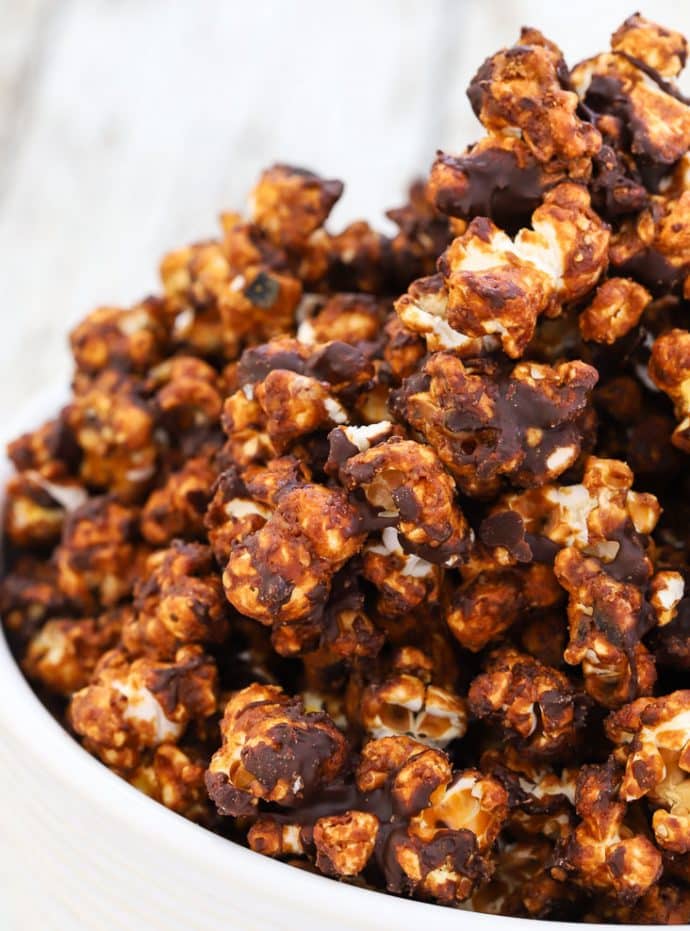 Truth be told, I'm not the biggest popcorn lover, especially the kind you buy at the movie theatre. To me it's like eating buttery, salted cardboard and the smell of it makes me cringe.
I do like it when I make it myself though, because I can load it up with yummy flavours like I have with this Caramel Chocolate Vegan Popcorn and I have a special trick for making it super crispy too!
Am I in the minority with the movie theatre popcorn thing? I guess I am judging by the line-up before each show, but, even if you do like movie theatre popcorn, you're going to love this too in a whole other kind of way!
As you know by now, I am all about flavour. Everything I eat has to be packed with it, otherwise what's the point?
So to make my popcorn taste amazing, I drench it in my very popular, and really flavourful Five Minute Vegan Caramel Sauce recipe. If you have made that recipe then you know how yummy it is!
Then comes the secret step that turns it from soggy cardboard to crunchy deliciousness.
I'll let you in on how that's done in my step by step direction below.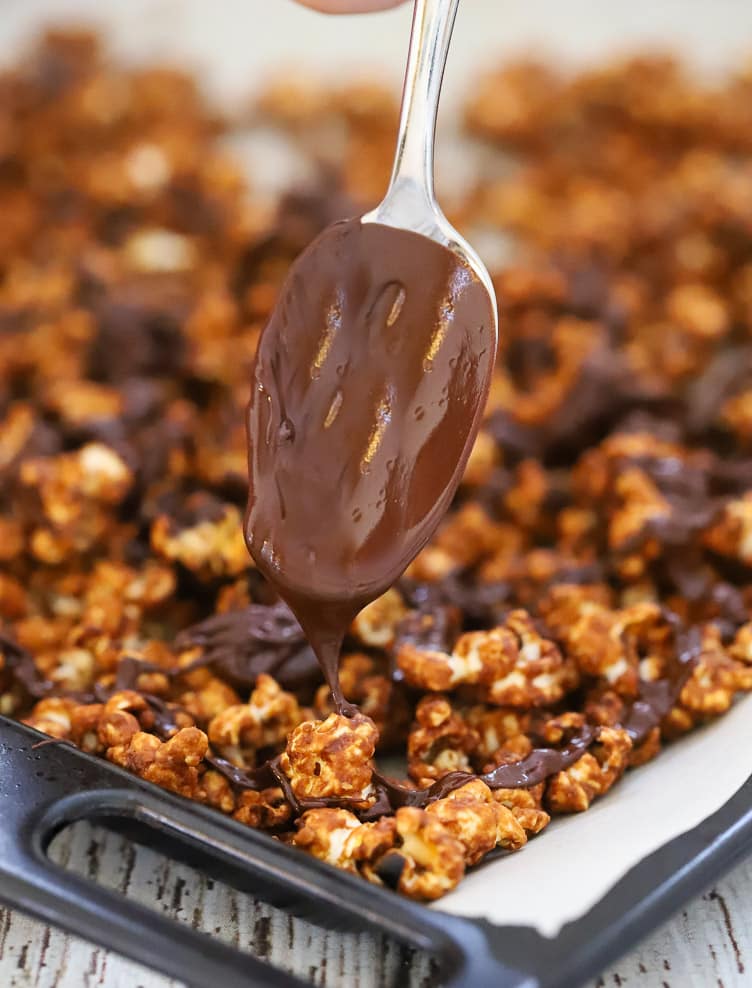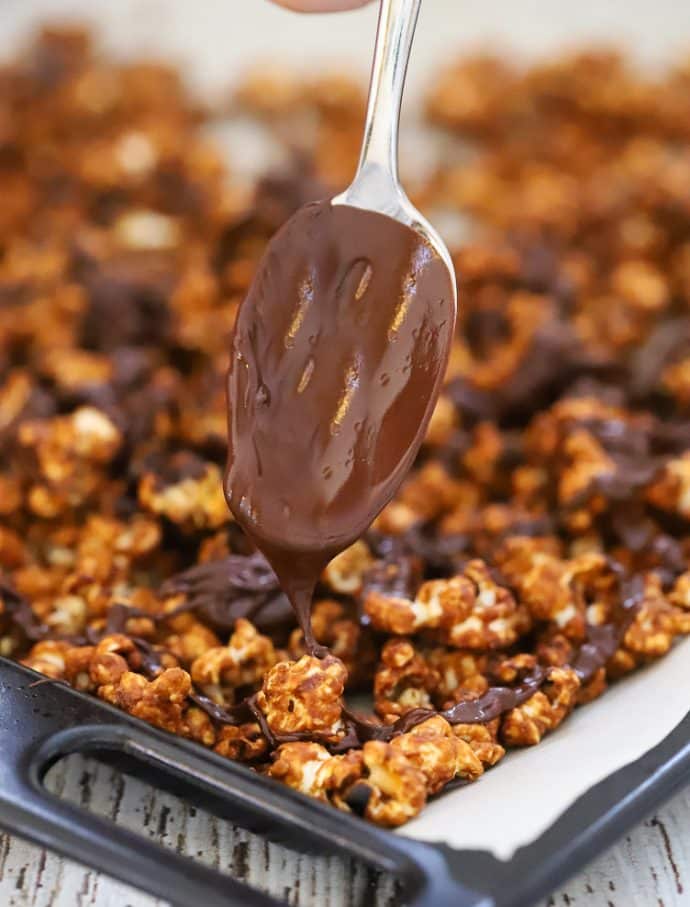 HOW TO MAKE THE CRUNCHIEST CARAMEL CHOCOLATE VEGAN POPCORN
---
FOR FULL INSTRUCTIONS PLEASE SEE THE RECIPE CARD AT THE END OF THIS POST
---
STEP 1
The fun part..Pop the corn. There's just something about the corn kernels popping that makes me smile!
STEP 2
Make the caramel sauce
STEP 3
Toss the popped corn in the caramel sauce
STEP 4
Spread out on a lined baking tray then oven bake until super-duper crispy (that's the secret for transforming the cardboard texture into the crunchiest popcorn you have probably ever eaten!
To line your baking sheet, you can use parchment paper or a Silpat.
If you aren't familiar with Silpat's here is what they look like:
They are non-stick silicone mats and are so handy for lining baking trays. I rarely use parchment paper now unless I need to line the bottom of a cake pan. 
Nothing sticks to them and they last for ages. I've had mine for years.
STEP 5
Drizzle over copious amounts of chocolate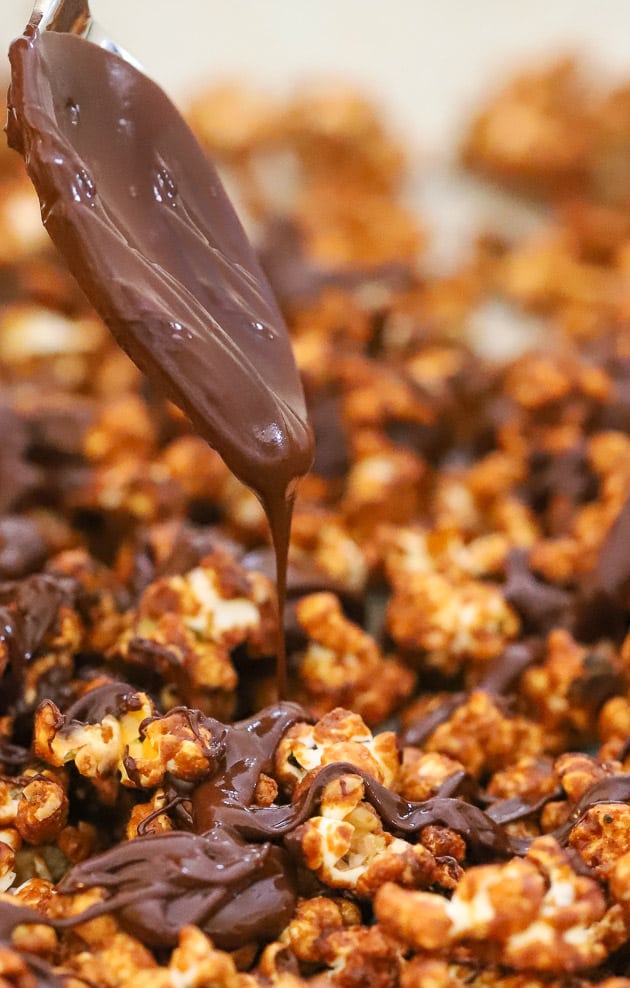 STEP 6
Refrigerate or freeze for a few minutes until the chocolate sets, then break up into clumpy pieces.
STEP 7
Store in an airtight container
...If it survives long enough...
---
So there you have it. My trick for making properly crispy, crunchy, vegan popcorn that tastes amazing!
It's perfect for snacking on, serving up at parties and for taking to the movies!
I am loving this Caramel Chocolate Vegan Popcorn because it's:
super crispy
drenched in rich, salted caramel
drizzled in chocolate
so decadent
really quick and easy to make
and totally addictive (don't say I didn't warn you!)
Just look at that caramel drenched deliciousness ????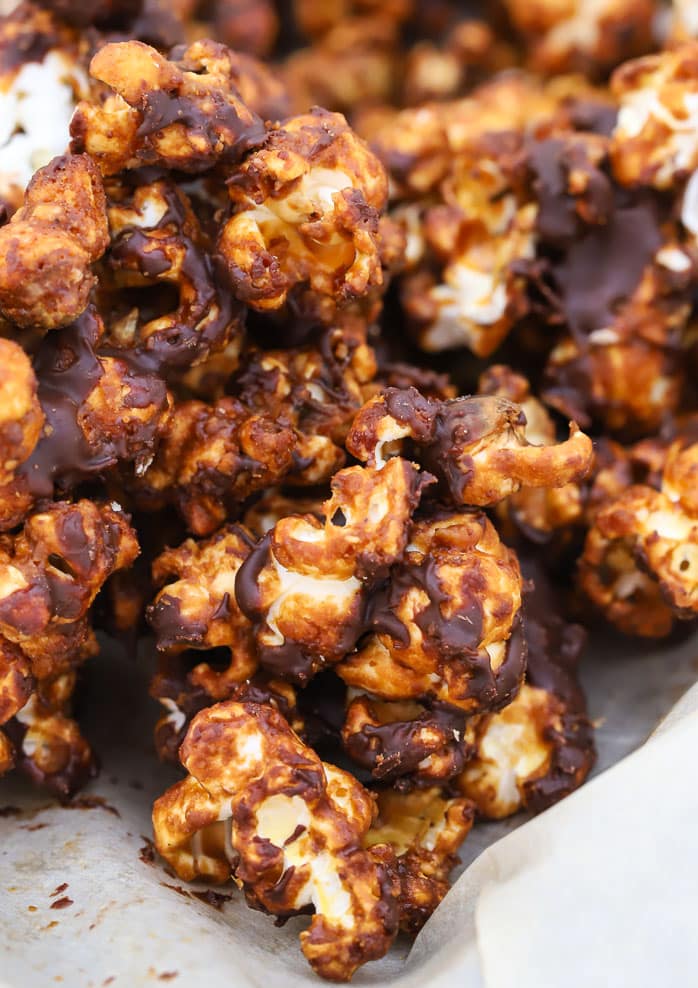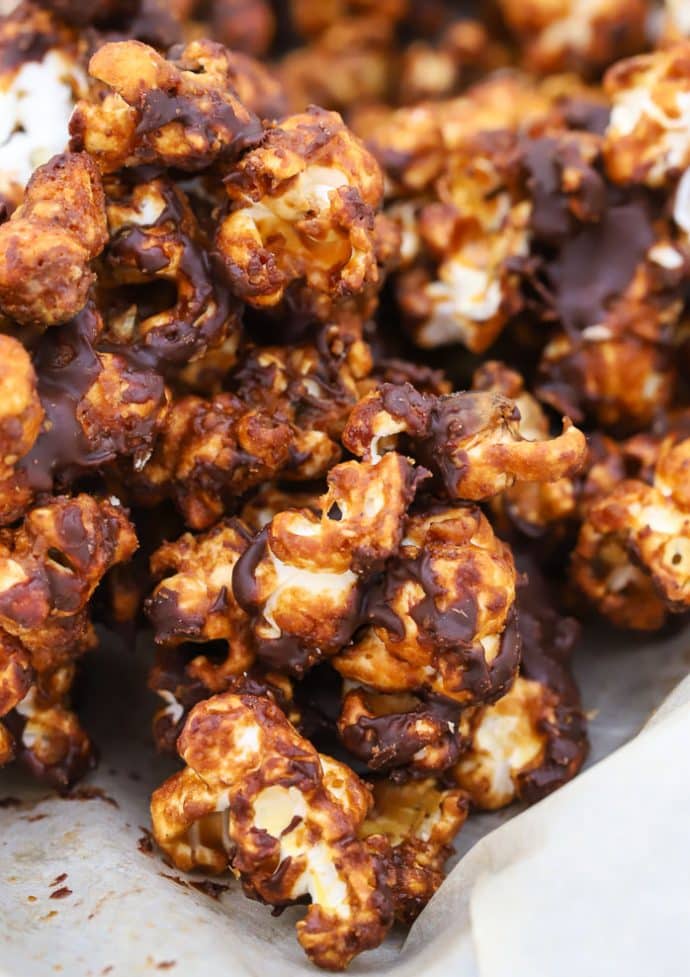 It's ridiculously good. A batch disappears in minutes here every time I make it!
---
DID YOU MAKE THIS RECIPE?
If you did, be a ☆ and let me know what you think by rating it and commenting below. Tag me on Instagram too. I am @avirtualvegan and my hashtag is #avirtualvegan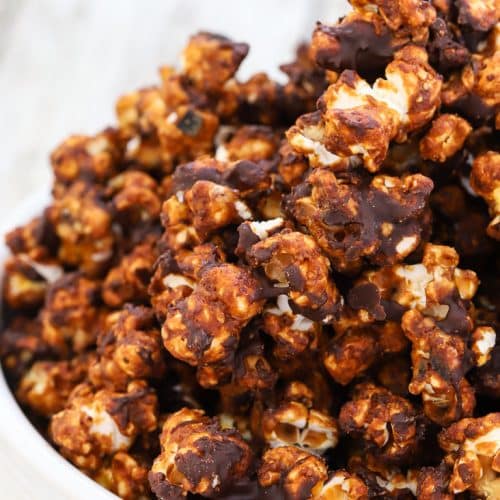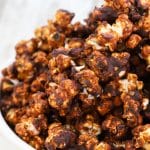 Vegan Chocolate Caramel Popcorn
Author:
This popcorn is seriously addictive. Drenched in rich, buttery salted caramel, baked until perfectly crisp & then finished with lashings of chocolate, it is totally & utterly delicious & absolutely dairy free!
Ingredients
For the chocolate drizzle
90g | 1/2

cup

dairy free chocolate chips
INSTRUCTIONS
Warm a large heavy bottomed pan with a lid, over medium heat until hot. Pour in the popcorn kernels and put the lid on tightly. Move them around frequently by gently moving the pan. They will start popping after about 30 seconds.

Keep watching/listening until the popping stops then remove from the heat but keep the lid on in case a rogue kernel decides to surprise you!

Preheat oven to 300 degrees F

Add the coconut sugar and water to a small saucepan and warm over a medium heat until the sugar has dissolved and it is just starting the bubble.

Remove from the heat and add the coconut oil, tahini and salt. Stir really well until it is smooth. It is normal to see some pale flecks throughout. If lumps persist or it doesn't combine well put the pan back over a low heat and continue stirring. It will come together.

Remove the lid from the popcorn kernels and pour over the caramel. Be careful as it will be very hot. Stir until coated evenly.

Pour onto a baking tray lined with either a

Silpat

or baking parchment and spread out into a single layer. Put in the oven and bake for around 15 minutes until crunchy and golden.

Melt the chocolate chips over simmering water, or gently in a microwave, then drizzle over the popcorn with a spoon.

Place the tray in the fridge to allow the chocolate to set. If you are in a hurry you can put it in the freezer for 10 minutes. Once the chocolate is set break into pieces and store in an airtight container where it will keep well for a few days.
NOTES
Feel free to omit the chocolate if you prefer to just have caramel flavour. 
NUTRITION
Serving:
1
½ cup serving
Calories:
124
kcal
Carbohydrates:
18
g
Protein:
1.4
g
Fat:
6
g
Saturated Fat:
3.4
g
Sodium:
53
mg
Fiber:
1.5
g
Sugar:
2112
g
Calcium:
510
mg
Iron:
0.7
mg
Nutritional information is provided for convenience & as a courtesy. The data is a computer generated estimate so should be used as a guide only.
Tried this recipe?
Rate it & leave your feedback in the comments section below, or tag @avirtualvegan on Instagram and hashtag it #avirtualvegan
The original image from Oct 2015, before I updated the post and photographs in May 2018