This vegan chocolate caramel popcorn is seriously addictive. Drenched in rich, buttery salted caramel, baked until perfectly crisp & then finished with lashings of chocolate, it is totally & utterly delicious & absolutely dairy free!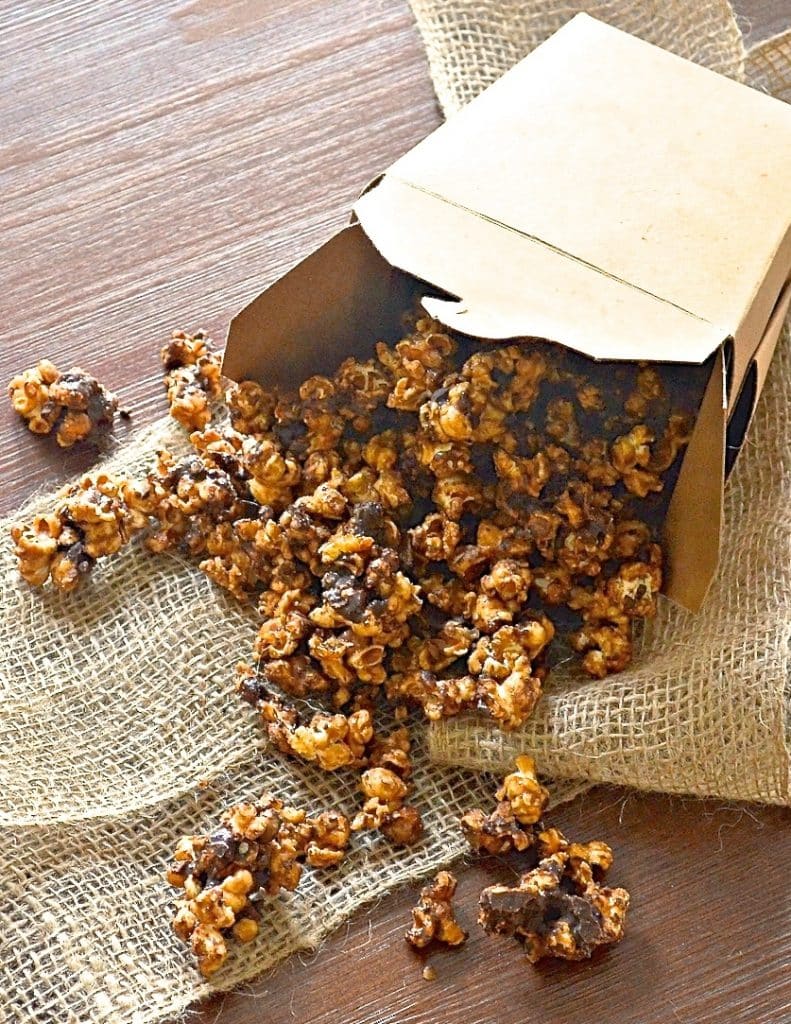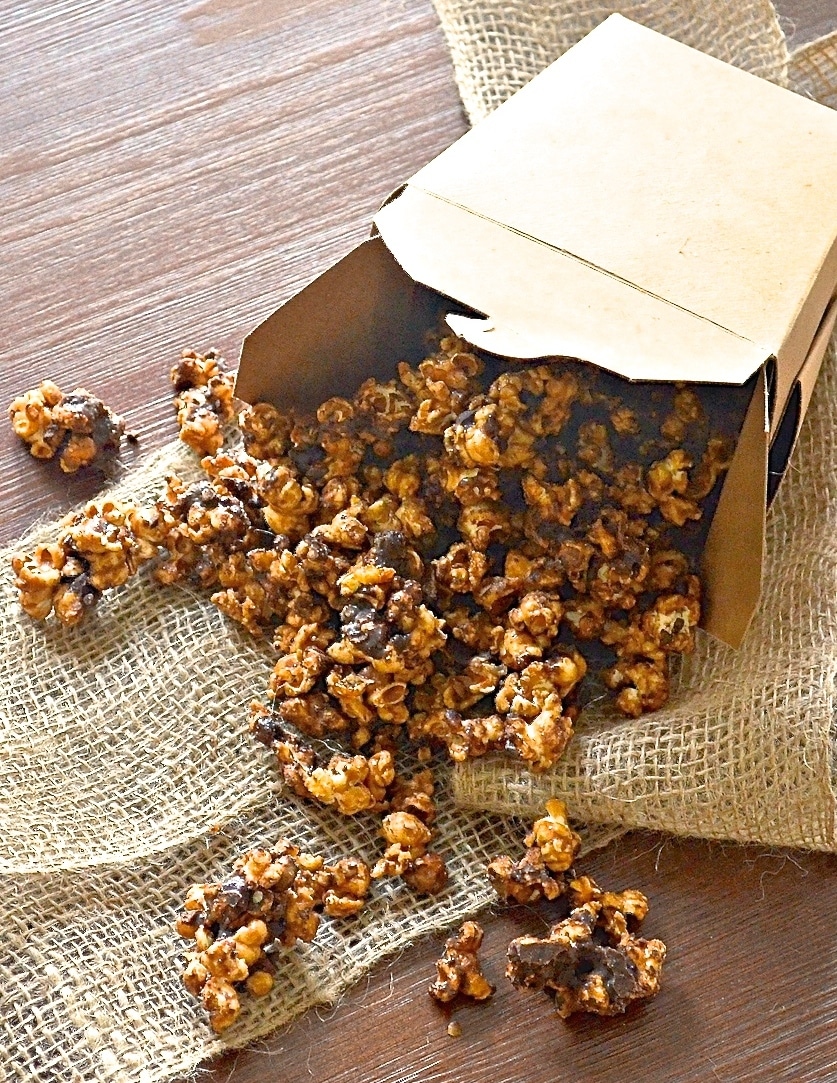 I will be honest and say that popcorn isn't usually one of my favourite things and I hadn't considered making it for the blog at all until a friend suggested I did. She loves popcorn and was dying for me to come up with a delicious vegan version that she didn't need to feel too guilty about devouring by the bucket load.
Challenge accepted.
Just before Thanksgiving I made a Pumpkin Pie With Caramel Sauce & Whipped Coconut Cream. Now that pie is delicious but what makes it really special is the caramel sauce that goes with it. In fact one reader who made the pie a few days ago said that the caramel sauce was the easiest, most delicious thing she had ever tasted. I tend to agree and as soon as I tasted it I knew that it had to feature in another recipe. When I first tried it on popcorn I had my doubts about whether it would work but it did, and oh boy it's good!
This Vegan Chocolate Caramel Popcorn is
deliciously crisp
drenched in rich, buttery salted caramel
drizzled with chocolate
and totally addictive! (Don't say I didn't warn you!)
Now if the thought of making caramel sauce makes you run for the hills, then take note…….This is honestly the easiest, quickest caramel sauce you will ever make. It is ready in about two minutes flat and has just 4 ingredients (two of those being water and salt)! So, so simple.
Once you dress those popcorn kernels in the caramel sauce it is hard to resist eating it right away, and you could, but if you follow my directions for baking it you will get the crispiest, most gratifying popcorn you have ever eaten. And there are no annoying soggy bits that get stuck in your teeth…..Don't you just hate that?
I have gone from a 'take it or leave it' kind of popcorn girl to a 'give me all the popcorn now..I am not sharing' kind of girl!  And when you drizzle it in chocolate too……O M G!
Seriously addictive….In fact,I struggled to make it through this blog post without eating some!
I can't wait to hear what you all think! Please leave your comments below. I love to read them. I also love seeing your versions of my recipes so feel free to share your pictures on Instagram (@avirtualvegan) and add the hashtag #avirtualvegan so I don't miss them!
Happy crunching!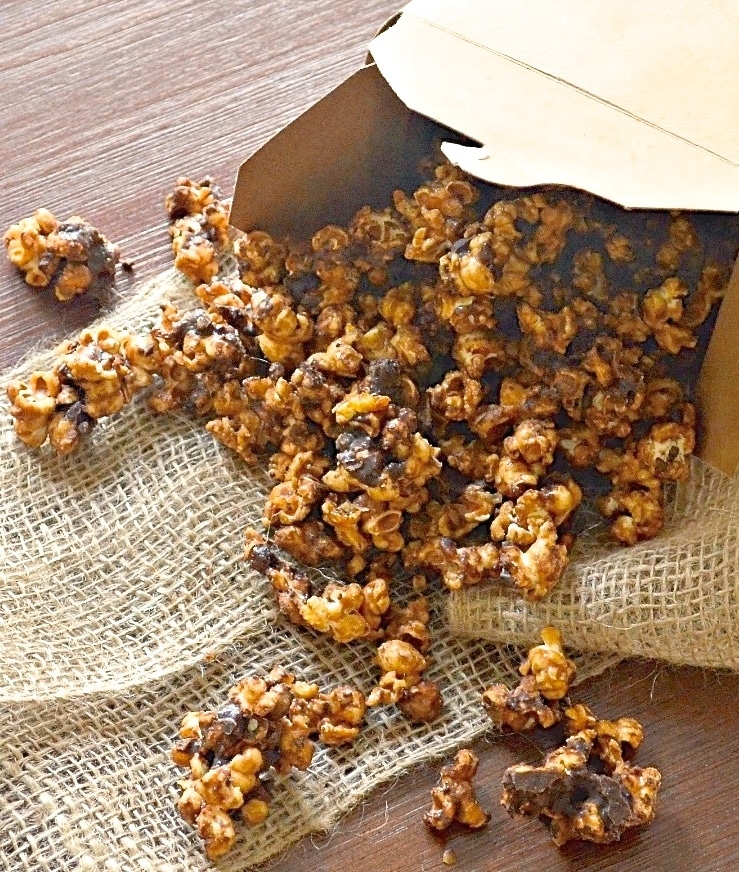 Vegan Chocolate Caramel Popcorn
This popcorn is seriously addictive. Drenched in rich, buttery salted caramel, baked until perfectly crisp & then finished with lashings of chocolate, it is totally & utterly delicious & absolutely dairy free!
Ingredients
For the caramel
75g | 1/2

cup

of coconut sugar

2

tablespoons

water

2

tablespoons

coconut oil

2

tablespoons

tahini

1/4

heaping teaspoon

salt
For the chocolate drizzle
90g | 1/2

cup

dairy free chocolate chips
Instructions
Add

1

tablespoon of coconut oil to a medium lidded pan and warm over a medium heat until hot.

Pour in your popcorn kernels and put the lid on tightly.

They will start popping after about 30 seconds.

Keep listening until the popping stops then remove from the heat but keep the lid on for now in case a rogue kernel decides to surprise you!

Preheat oven to 300 degrees F

Add the coconut sugar and water to a small saucepan.

Warm over a medium heat until it comes to a boil. Keep it moving by swirling the pan. DO NOT STIR!

Once bubbling remove from the heat and add the coconut oil, tahini and salt.

Stir well until it is smooth. It is normal to see some pale flecks throughout.

If lumps persist or it doesn't combine well put the pan back over a low heat and continue stirring. It will come together.

Remove the lid from the popcorn kernels and pour over the caramel. Be careful as it will be very hot.

Stir very well until coated.

Pour onto a baking tray lined with either a Silpat or baking parchment and spread out into a single layer.

Put in the oven and bake for 15 - 20 minutes until crunchy and golden brown.

Melt the chocolate chips gently over simmering water, or gently in a microwave and drizzle over the popcorn with a spoon.

Place the tray in the fridge to allow the chocolate to set. If you are in a hurry you can put it in the freezer for 10 minutes.

Once the chocolate is set break into pieces and store in an airtight container where it will keep well for a few days.
Recipe Notes
Nutritional information is based on a 1 cup size serving
Nutrition Facts
Vegan Chocolate Caramel Popcorn
Amount Per Serving (1 serving)
Calories 256
Calories from Fat 126
% Daily Value*
Total Fat 14g 22%
Sodium 34mg 1%
Total Carbohydrates 32g 11%
Protein 3g 6%
* Percent Daily Values are based on a 2000 calorie diet.
This recipe has been linked to the Meat Free Monday link party over at tinnedtomatoes.com