Simply perfect Vegan Chocolate Chip Muffins. One bowl, easy to make with just 9 basic pantry-friendly ingredients, soft, fluffy, and loaded with chocolate chips!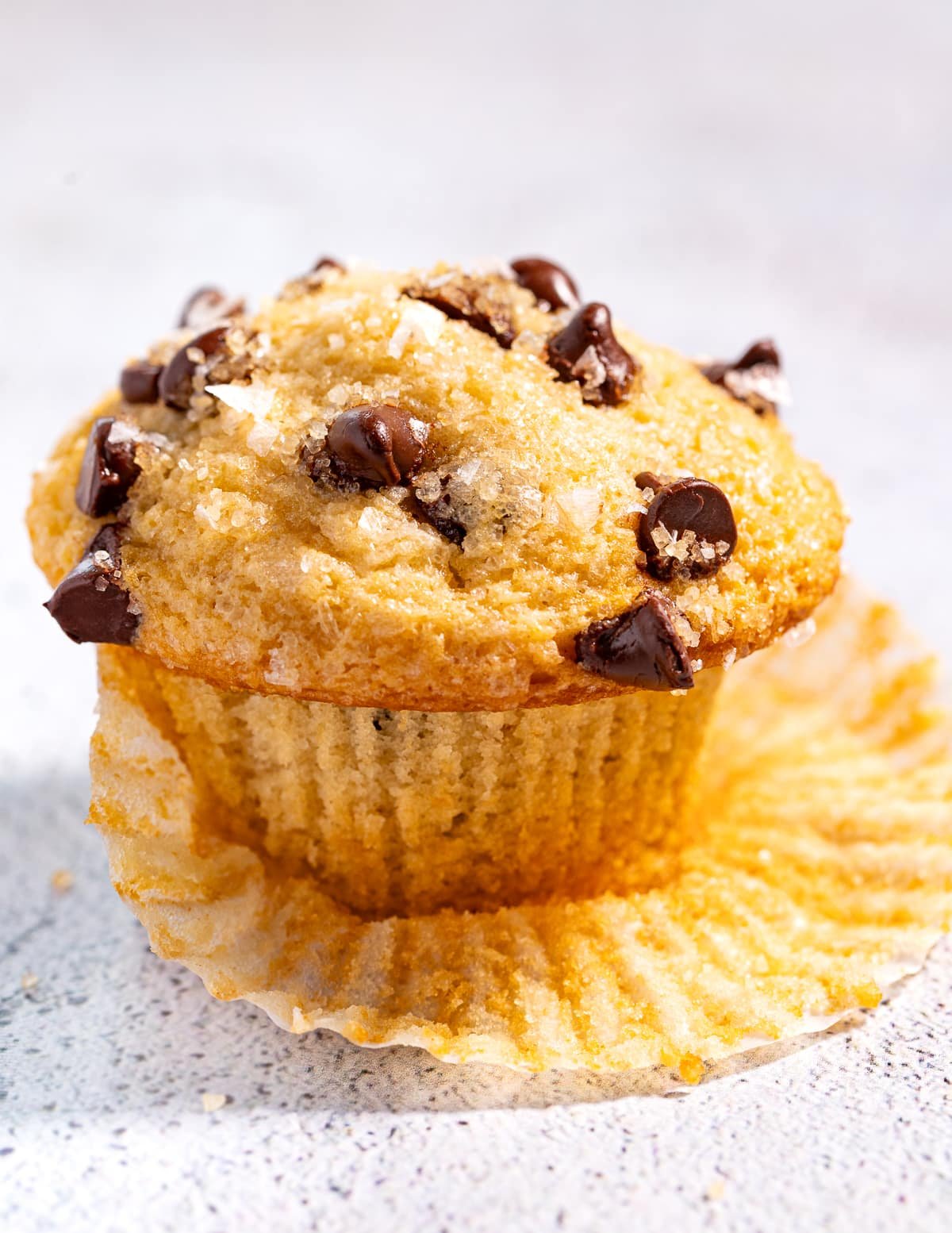 Dust off that muffin pan because you need this simple bakery-style Vegan Chocolate Chip Muffin recipe in your life!
We're talking soft and fluffy, loaded with chocolate chips, perfectly domed tops (thanks to my no-fail and used-on-repeat poofy muffin trick), and made even better with a sprinkle of flaky salt and sugar. That salty, sweet, chocolate, combo is the best!
In this post - Everything you need to make the best Vegan Chocolate Chip Muffins:
Jump to:
My vegan muffin recipes are some of the most highly rated on AVV, so you can bet that any new muffin recipe that's joining them has been tested on repeat until absolutely perfect. No muffin is going to be letting that team down!
Ingredients
Here are the ingredients you need at a glance, along with some important notes and substitution ideas: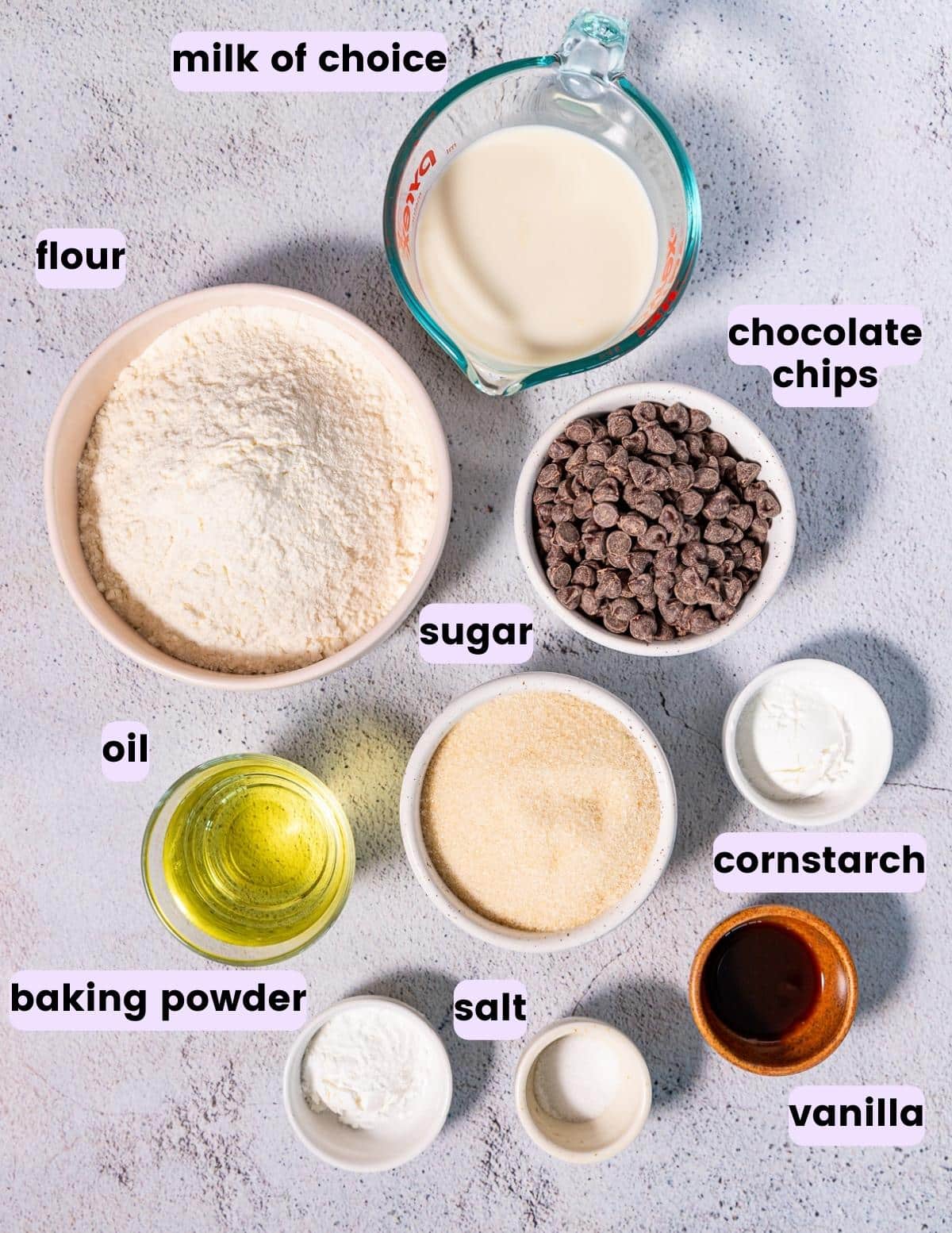 Flour - All-purpose flour is best. Use plain flour if you are in the UK. This recipe also works well with Bob's Red Mill 1 to 1 Baking Flour. I haven't tested it with any other gluten-free flour.
Sugar - I recommend using cane sugar or white sugar in this recipe. Sugar adds structure, flavor, and sweetness to baked goods. If you reduce the quantity the texture, rise, and flavor of the muffins will be affected. See the FAQs if you are wondering about which sugars are vegan.
Oil - Any neutral liquid oil will work such as vegetable oil, canola oil, sunflower oil, avocado oil, light olive oil, etc. Melted coconut oil will work well too, as long as your ingredients are all at room temperature.
Dairy-free milk - Any plant milk such as cashew milk, soy milk, oat milk, or almond milk will work in this recipe. Unsweetened & unflavored is best though.
Cornstarch - Key in this recipe for the perfect texture. It binds (like eggs would in a non-vegan recipe) and creates a really tender, soft, crumb.
Baking powder - It might seem like a lot but it's necessary in a vegan muffin recipe because it's also replacing the leavening that eggs would otherwise provide. Make sure it's fresh! Using inactive, ineffective, or expired baking powder can cause your baked goods not to rise. Once opened it will start to deteriorate and can become ineffective anywhere between 3 and 6 months depending on the conditions in your home (heat, light, humidity, etc.) I recommend writing the date you open it on the label so you can check before using it.
Chocolate Chips - Many semi-sweet and dark chocolate chips are naturally vegan and easy to find in pretty much all grocery stores.
Vanilla - I recommend using vanilla extract over vanilla essence. The flavor is so much better!
Salt - Fine sea salt for the muffin batter (I believe in the US something called kosher salt is common and that is fine too as long as it's fine, just steer clear of table salt), and I recommend flaky salt for the top. It has a delicious flavor and the texture is so good! I use (and love) Maldon Sea Salt Flakes.
Expert tip - If at all possible use a digital scale to weigh the flour etc. You can pick them up so cheaply and they make a world of difference. Cups are not an accurate way to measure, especially when baking and you will never get the best results when using them.
How To Make Vegan Chocolate Chip Muffins
Can't wait to make them? The full printable recipe is below, but first, let me give you a quick walkthrough to set you up for success. I recommend watching my recipe video if you're more of a visual learner: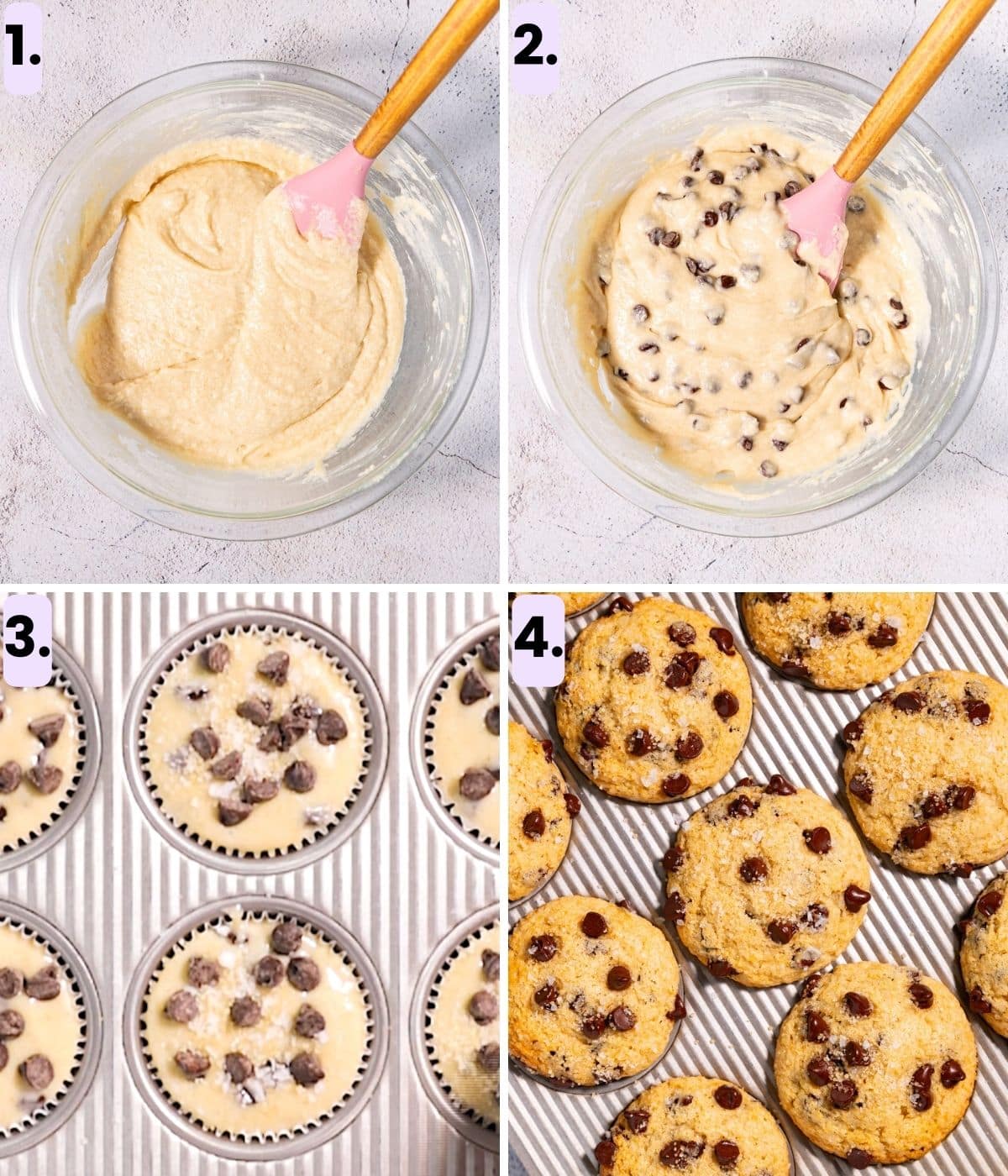 Mix the batter. Don't beat or otherwise over-mix your batter or you will affect the rise and texture of your muffins.
Gently fold through the chocolate chips.
Spoon into muffin pans (I like to use an ice cream scoop) then sprinkle with a few more chocolate chips, and the flaky salt and coarse sugar mixture.
Bake until golden and well-risen.
The salt and sugar sprinkle is a small extra touch that makes a huge difference. That touch of salty, sweet, and crunchy texture, takes these muffins right over the top!
My Secret Tricks For Tall Muffin Tops
Want my top tips for perfectly domed, tall, muffin tops? Here we go!
Don't over-mix your batter. You don't want to activate the gluten in the flour (you're not making bread!). Over-mixing or beating the batter will affect the rise and texture of your muffins so treat that batter gently. Use a metal muffin pan (not silicone) and fill the wells right to the top. I love and highly recommend USA Pan Muffin Pans.
Start them off with a blast of high heat (425°F) for 5 minutes, then cook for the remaining time at a lower temperature (375°F). This creates steam that will raise those muffin tops right up from the inside out and will ensure that the batter won't overflow.
I do this with all of my vegan muffin recipes and it really works!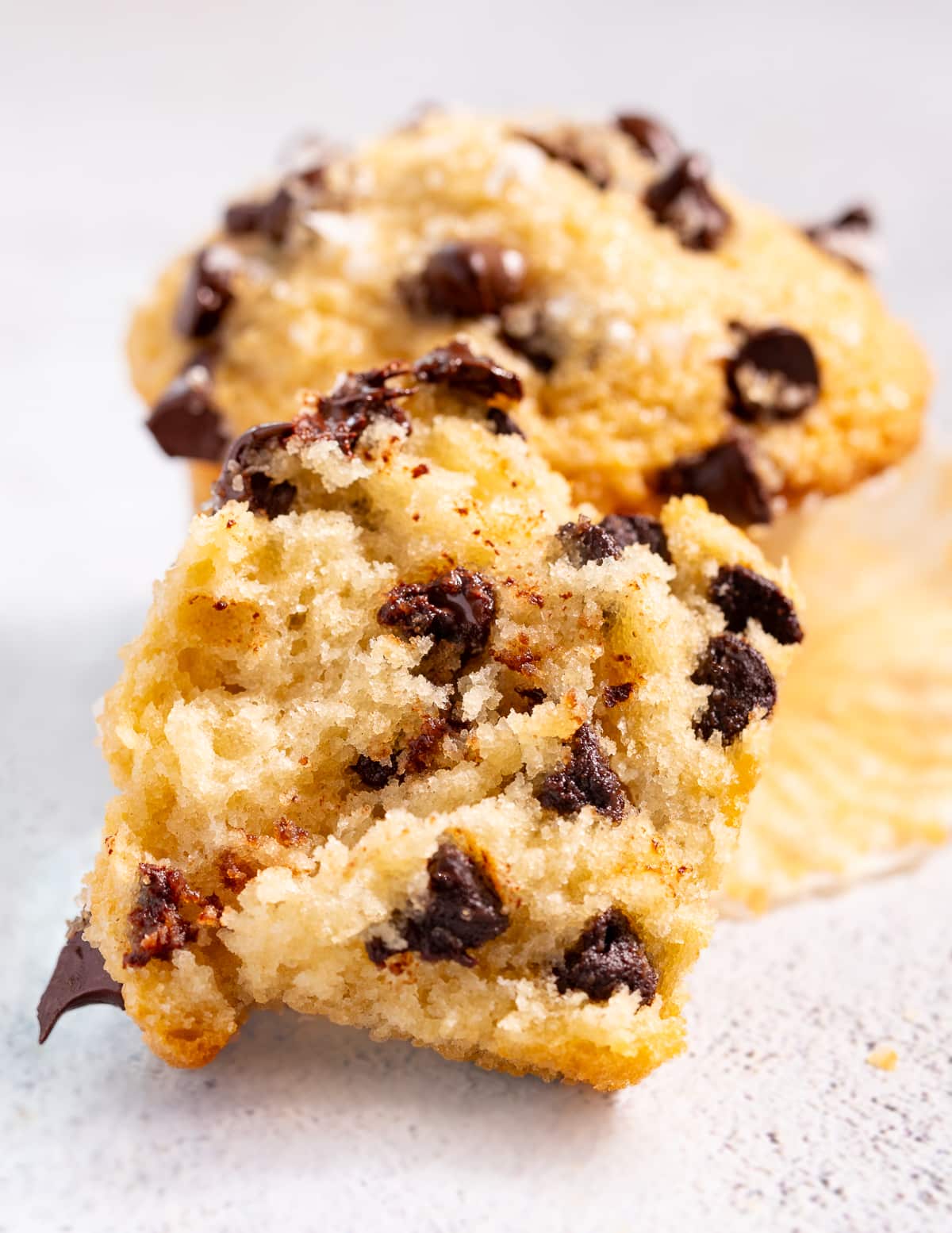 Customization Ideas
Enjoy these muffins just as they are or make them your own with some customizations. Get creative and have fun! Some ideas include:
Switch the chocolate chips for any other mix-in of choice!
Use vegan white chocolate chips.
Replace 4 tablespoons of the flour with cocoa powder for double chocolate muffins.
Add some spices like cinnamon and nutmeg.
Add dried fruit. Sour cherries work really well with chocolate.
Add orange zest for a lovely chocolate orange flavor.
Add a handful of nuts such as walnuts or pecans.
Recipe FAQs
Is cane/white sugar vegan?
Here in Canada the 2 biggest sugar producers, Rogers and Red Path, are both vegan, and in the UK and Europe sugar is also vegan. If you are in the US you need to be more careful, but all organic sugar is vegan, and other common brands that are vegan and you should be able to find easily include Wholesome Sweeteners, Kirkland Organic Cane Sugar, Trader Joe, Bob's Red Mill, Florida Crystals, Billington's, Michigan Sugar Company, Imperial, Now Foods, and In The Raw.
What chocolate chips are vegan?
Many semi-sweet and dark chocolate chips are naturally vegan and easy to find in pretty much all grocery stores. Check the store's own brand for what is often the most budget-friendly option. I buy Kirkland Signature Semi-Sweet Chocolate Chips from Costco. Others to look out for include Enjoy Life, President's Choice Plant-Based Chocolate Chips, Pascha, Endangered Species Premium Oat Milk Baking Chips, Walmart Organic Great Value Dark Chocolate Chips, Hu, Nestle Toll House Allergen-Free Morsels, Lily's Dark Chocolate Baking Chips, Ghirardelli Non-Dairy Dark Chocolate Chips, Equal Exchange, Artisan Kettle, Camino, Trader Joe's Semi Sweet Chocolate Chips, Yupik Organic Dark Chocolate Chips.
Can I make the batter ahead of time?
Yes! Mixing muffin batter together the night before can often give you great results. After you have mixed the wet and dry ingredients (making sure to not over-mix), cover the batter tightly and store it in the fridge overnight. When ready to bake, pour the batter into the lined muffin pan and bake as instructed. Note that this method will only work for muffin recipes that use baking powder like this one. If they contain baking soda the batter needs to be baked immediately.
More Chocolate Treats
If you try this recipe, let me know how you like it by leaving a comment and rating below! And be sure to join my mailing list for more deliciousness!
Recipe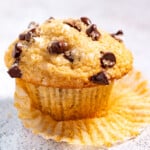 Vegan Chocolate Chip Muffins
Author:
Simply perfect Vegan Chocolate Chip Muffins. One bowl, easy to make with just 9 basic pantry-friendly ingredients, soft, fluffy, and loaded with chocolate chips!
Ingredients
Optional (but recommended) topping
INSTRUCTIONS
Preheat oven to 425°F (218°C) and place muffin liners in your muffin pan.

If using the optional topping mix together the sugar and flaky salt in a small bowl. Set aside.

To a mixing bowl add the flour, sugar, cornstarch, baking power, and salt. Whisk together to combine.

Make a well in the centre then pour in the milk, oil, and vanilla. Mix gently with a spatula until just combined and you can't see any dry flour. Don't beat it or over-mix.

Add 1¼ cups of the chocolate chips to the batter (you can eyeball it, no need to be exact), reserving the rest to decorate the tops. Fold them through gently.

Spoon evenly into the muffin pan filling all the way to the top. Decorate with the remaining chocolate chips then sprinkle some of the salt/sugar mixture generously over each one.

Bake for 5 minutes at 425°F (218°C), then turn the oven down to 375°F (190°C) (do not open the door), and bake for another 18 to 20 minutes or until well risen, gently golden, and a toothpick or sharp knife inserted into the middle comes out clean.

Leave in the pan for 10 minutes before transferring to a wire rack to cool.
NOTES
To store - Place muffins in an airtight container with kitchen paper above and below to absorb any moisture. Store at room temperature for up to 4 days. They can also be stored in the freezer for 3 months. 
NUTRITION
Serving:
1
muffin
|
Calories:
427
kcal
|
Carbohydrates:
60
g
|
Protein:
5
g
|
Fat:
21
g
|
Saturated Fat:
6
g
|
Polyunsaturated Fat:
4
g
|
Monounsaturated Fat:
7
g
|
Trans Fat:
0.04
g
|
Sodium:
127
mg
|
Potassium:
183
mg
|
Fiber:
3
g
|
Sugar:
33
g
|
Vitamin A:
51
IU
|
Calcium:
120
mg
|
Iron:
3
mg
Did you make this recipe?
Rate it & leave feedback in the comments section below. I love seeing your remakes too. Tag @avirtualvegan on Instagram! 🌟