Healthy Dairy Free Mac and Cheese with a twist! The veggie filled 'cheese' sauce is silky & glossy with a lovely hit of black pepper. Stirred through tender macaroni & chopped broccoli it makes the perfect family meal & can be on the table in a little over 30 minutes!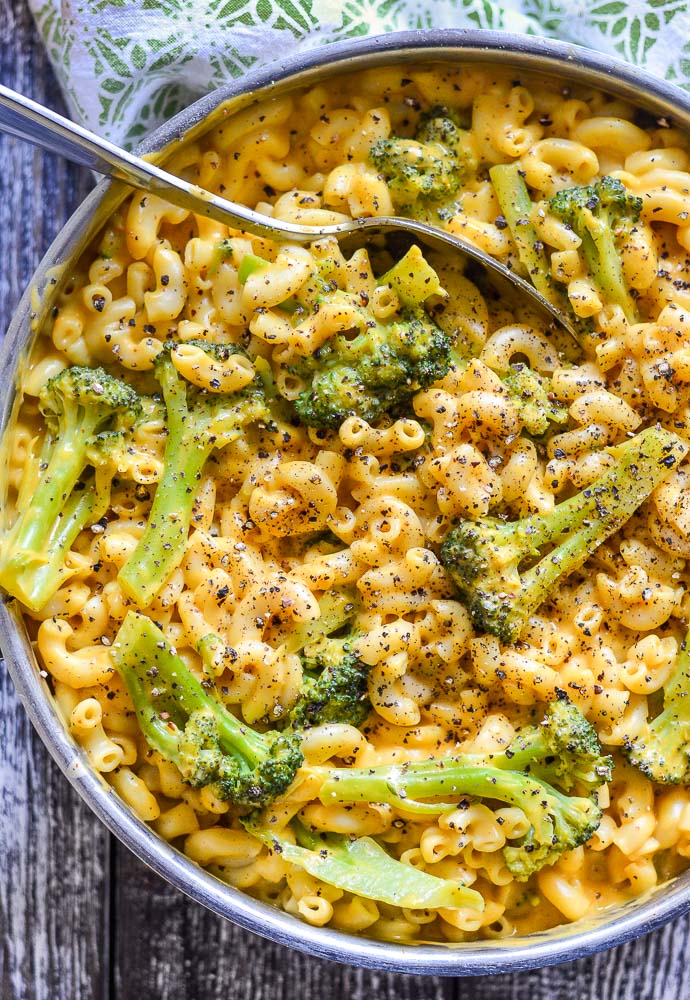 This Dairy Free Mac and Cheese with Black Pepper & Broccoli is from the book Vegan Richa's Everyday Kitchen: Epic Anytime Recipes with a World of Flavor by Richa Hingle, creator of the blog Vegan Richa.
Richa's blog and books are personal favourites of mine. I don't follow many blogs because I don't have much free time for cooking other people's recipes, but on the odd occasion that I do, I find myself turning to her recipes. I like my food full of flavour and they never disappoint.
Vegan Richa's Every Day Kitchen is her second book and the recipes in it are mouthwatering. She really does know how to pack a flavour punch. I am excited by every single one of them and had the hardest time deciding what recipe to share with you today.
This Dairy Free Mac and Cheese with Black Pepper & Broccoli decision came about at the last minute. I had been leaning towards tacos, but you know when those mac and cheese cravings hit and you just can't let it go?
Well I couldn't let it go. I am ruled by my stomach after-all ????
So here we are.
Richa calls this recipe Black Pepper Cheesy Mac and Broccoli in her book. I changed the name slightly here for SEO (or pleasing Google) purposes. It is such a tasty recipe. I want it to be seen by as many eyes as possible...I mean just gaze upon this cheesy deliciousness...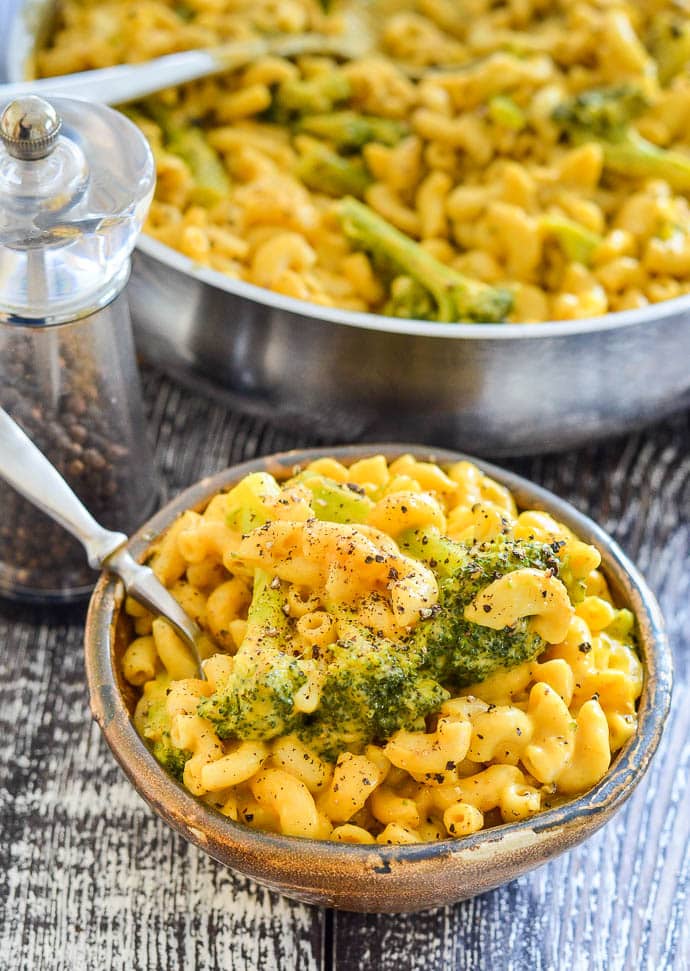 I already have my own Baked Vegan Mac and Cheese recipe, so I did hesitate, but they are really different. Plus you can never have too much Vegan Mac and Cheese, right?!
This Dairy Free Mac and Cheese is full of flavour (and hidden veggies) and the added broccoli and generous twist of black pepper really take it to the next level.
How do you make Dairy Free Mac and Cheese?
---
INGREDIENTS & FULL INSTRUCTIONS PLEASE SEE THE RECIPE CARD AT THE END OF THIS POST
---
STEP 1
The sauce is made by simply simmering the ingredients in a pan until the veggies are tender.
STEP 2
Blend it all up.
I wouldn't be without my Blendtec blender (<<<affiliate link).
It makes the smoothest sauces, but if you don't have a high powered blender, because everything is cooked down with water in a pan first and pretty soft you should still get great results.
STEP 3
Cook the blended sauce over a medium heat for a few minutes, then stir it through the cooked elbow pasta and broccoli.
Done.
Dairy Free Mac and Cheese with Black Pepper & Broccoli is served!
What can you expect to find in Vegan Richa's Everyday Kitchen?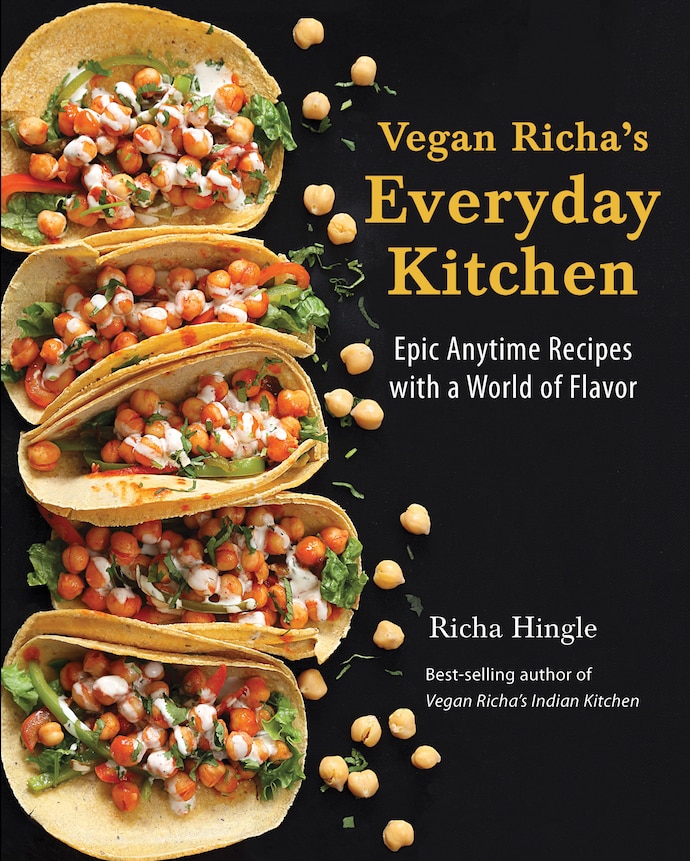 This Dairy Free Mac and Cheese with Black Pepper & Broccoli is just one of the many gorgeous recipes in Vegan Richa's Everyday Kitchen
Here are the chapters with details of what you can expect to find in each:
PEANUT BUTTER & COCONUT- um a whole chapter of peanut butter and coconut filled recipes???? ???? I must admit that my head was buried here the longest... There are all kinds of delicious sauces, curries, soups, noodle and fried rice dishes.
SWEET & SOUR  - All kind of sauces including Sweet and Sour, Teriyaki, Kung Pau, Hoisin and recipes to use them all in.
MASALA & SAAG - Perfectly spiced pastes, sauces and recipes to use them in like Lentil Balls in Masala Sauce and Berbere Tofu Bowl with Couscous.
BUFFALO & FIRECRACKER - This is where things get hot. There's everything from  Firecracker Cauliflower Bites to Buffalo Chickpea Pizza with White Garlic Sauce.
BURGERS & MORE - Everything from a simple Black Bean Burger to Baharat Chickpea Burgers and Lentil-Quinoa Loaf with Spicy Glaze.
BOWLS & HANDS - Bowls like Turmeric Lentil Fritters Bowl, sauces, wraps, soups....
DEEP-DISHING - The most amazing sounding pizzas, sauces, lasagna, bakes and macs.
BREAKFAST FOR LUNCH - Chilaquiles, frittatas, flatbreads, fritters and Samosa Stuffed French Toast.....????
ON A SWEET NOTE - oh my goodness. So many lovely sounding desserts. 21 in total. No skimping on the sweet stuff here. You'll find everything from cake to pudding to cookies.
EVERYDAY BASICS - Pizza dough, parmesan, bread, chutney, tofu, flatbreads...
MY EVERYDAY KITCHEN - A look inside Richa's pantry and lots of useful info about the ingredients used throughout the book.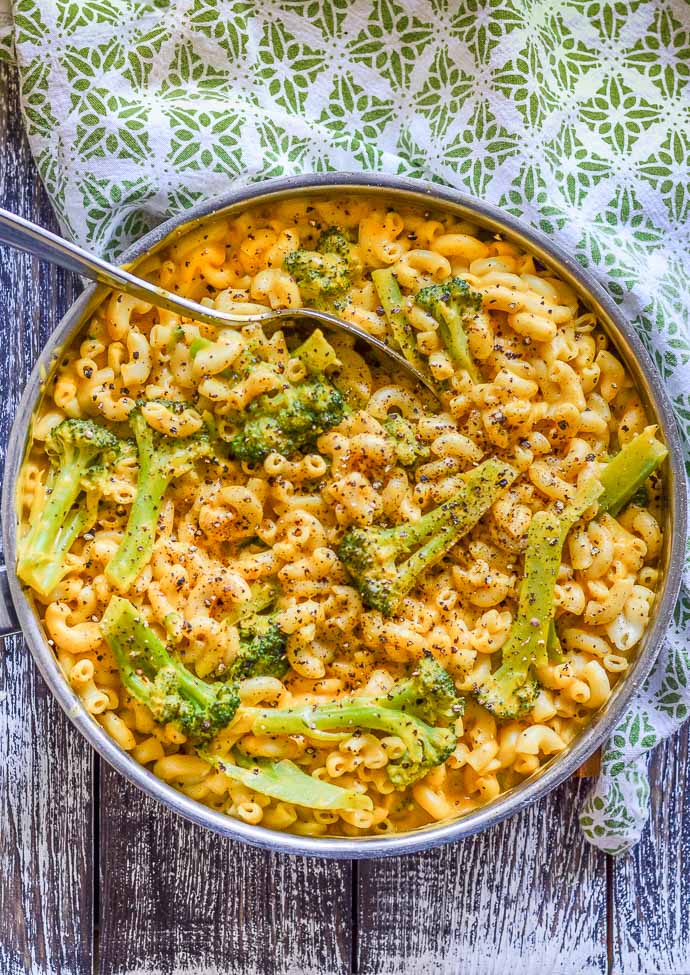 If you would like to buy your own copy of this wonderful book it is available in book stores or from Amazon here.
Recipe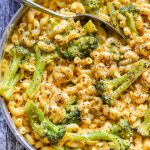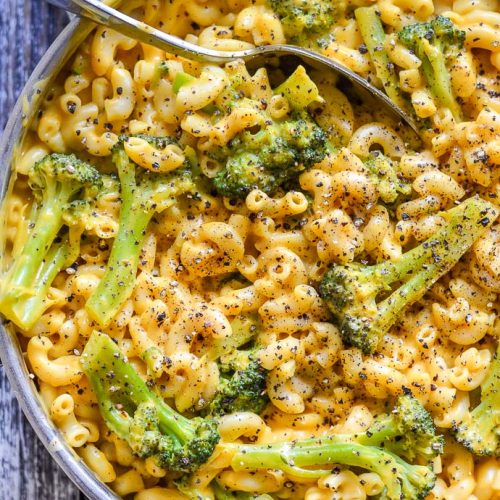 Dairy-Free Mac and Cheese with Black Pepper & Broccoli
Author:
Potato-carrot cheese sauce is the thing these days. My version of this sauce is creamy, filled with vegetables, and loaded with black pepper. What makes this sauce different, you may ask? It's the black pepper: add black pepper and then, when you think that should be enough, add some more.
Ingredients
600 mls / 2 ½

cups

water

1

medium

potato

, peeled and cubed

50g / ⅓

cup

carrots

, chopped

4

cloves

garlic

, chopped, or use 1 teaspoon garlic powder)

3

tablespoons

onion

, chopped, or use ½ teaspoon onion powder

½

small

green chile

(optional)

1

small

tomato

, chopped

30g / ¼

cup

raw cashews

, or macadamias (or 1/4 cup pepitas to make nut-free)

225g / 2 ½

cups

broccoli

, chopped

¾

teaspoon

prepared mustard

2

teaspoons

soy sauce

, or tamari (or coconut aminos to make soy-free)

4

tablespoons

nutritional yeast

2

teaspoons

fresh lemon juice

2

tablespoons

extra-virgin olive oil

, omit to make oil-free

¾

teaspoon

salt

, or more to taste

½

teaspoon

paprika

½

teaspoon

sriracha sauce

(optional)

¼

teaspoon

white pepper

1 ½

teaspoons

freshly ground black pepper

, or to taste, divided

10 - 12

ounces

cooked elbow pasta

, gluten-free if necessary
INSTRUCTIONS
In a medium skillet over medium-high heat, combine the water, potato, carrots, garlic, onion, chile (if using), tomato, and cashews. Cover the skillet and cook 18 to 20 minutes, or until the potato is very tender. Let the mixture cool slightly.

Meanwhile, bring a medium saucepan of water to a boil over high heat. Add the broccoli and cook for 2 minutes. Drain the broccoli and set aside. Then cook the macaroni as per the instructions on the packaging. Usually it's for around 8 - 10 minutes. Alternatively, you can add the broccoli to the cooking pasta pot in the last two minutes.

Combine the potato mixture (along with its liquid), mustard, soy sauce, nutritional yeast, lemon juice, oil, paprika, and sriracha (if using) in a blender. Blend for 1 minute, let the mixture rest for 1 minute, and blend again until smooth.

Transfer the mixture to the saucepan over medium heat. Add the salt, white pepper, and ½ teaspoon of the black pepper, stirring to combine. Add some additional water to adjust the consistency if the sauce is too thick.

Bring the sauce almost to a boil. Taste and adjust the seasonings. Add the elbow pasta and broccoli. Stir to combine, cover the saucepan, and cook for 3 minutes. Let the mixture sit for 2 minutes. Add the remaining 1 teaspoon black pepper. Sprinkle some more pepper on each serving, if desired.
NUTRITION
Did you make this recipe?
Rate it & leave feedback in the comments section below. I love seeing your remakes too. Tag @avirtualvegan on Instagram! 🌟