Leave the cute little crabs where they belong & make these Vegan Crab Cakes instead. Tender, moist, full of texture, packed with flavour & subtly 'fishy', they are so like the real deal! And they are really easy to make!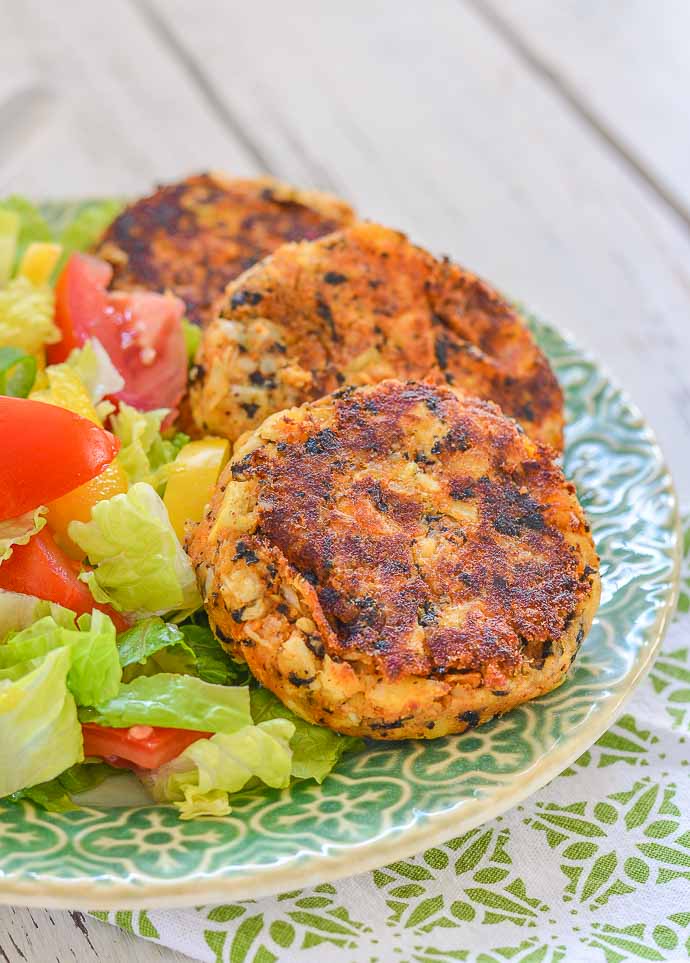 These Vegan Crab Cakes are incredible. They are golden, tender, moist, flaky and absolutely full of flavour thanks to a combo of red curry paste, green onions, lime, tamari and ginger.
If you aren't big on spicy food, don't be put off because there isn't much Thai red curry paste in them and they aren't really spicy. Having said that if you do like spice feel free to add more!
They are just perfect. Perfect flavour, perfect texture and they look mighty fine too, in all of their crispy, golden gloriousness!
Jump to: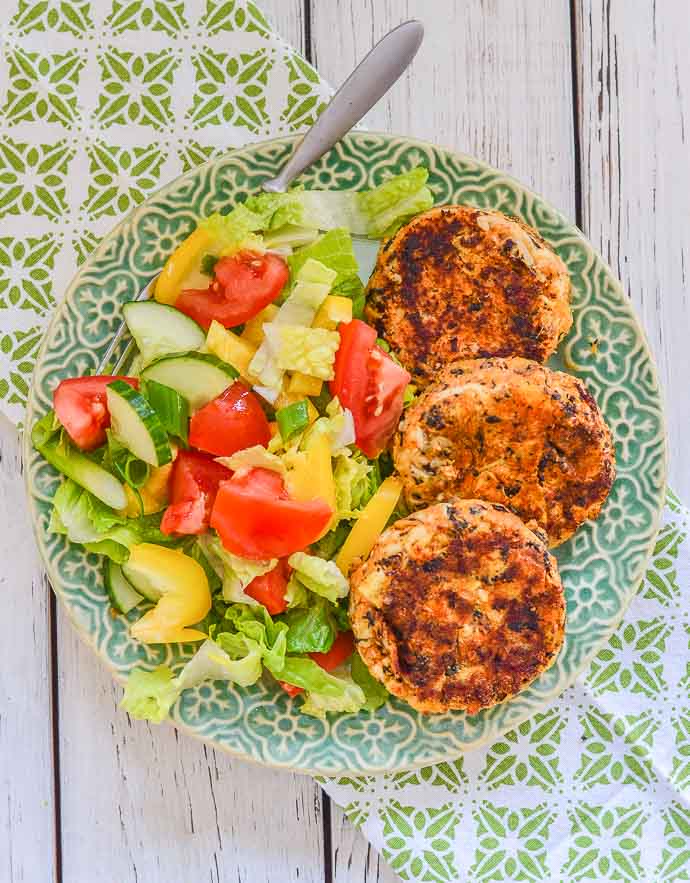 What makes vegan crab cake fishy?
The addition of nori sheets is what makes these Vegan Crab Cakes taste "of the sea" and slightly fishy. You know?... The stuff you use to roll sushi. You can pick it up in most stores now and it is perfect in this recipe.
In addition to nori, you are going to need a new ingredient and that is hearts of palm. Vegan crab cakes with hearts of palm are the key to good texture because they are soft and stringy, a bit like crab meat.
Hearts of Palm are not to be confused with palm oil. They are a totally different species of palm tree and are grown in different parts of the world entirely. They are a really tasty, versatile and nutritious ingredient. Rich in potassium, cholesterol free and a great source of plant powered protein. The perfect addition to your vegan recipes!
You will find them in most grocery stores. They will be with the canned vegetables, usually pretty near the artichokes. The long tubular stick shapes of it are better for this particular recipe because you need to shred or grate them.
The shredded hearts of palm and some chopped canned artichoke hearts are what gives these vegan crab cakes their "crab meaty" texture. It really is so similar once it's shredded up. In combination with the artichoke and the nori it is so hard to believe that there is no actual crab in these cakes!
Just look at that inside shot!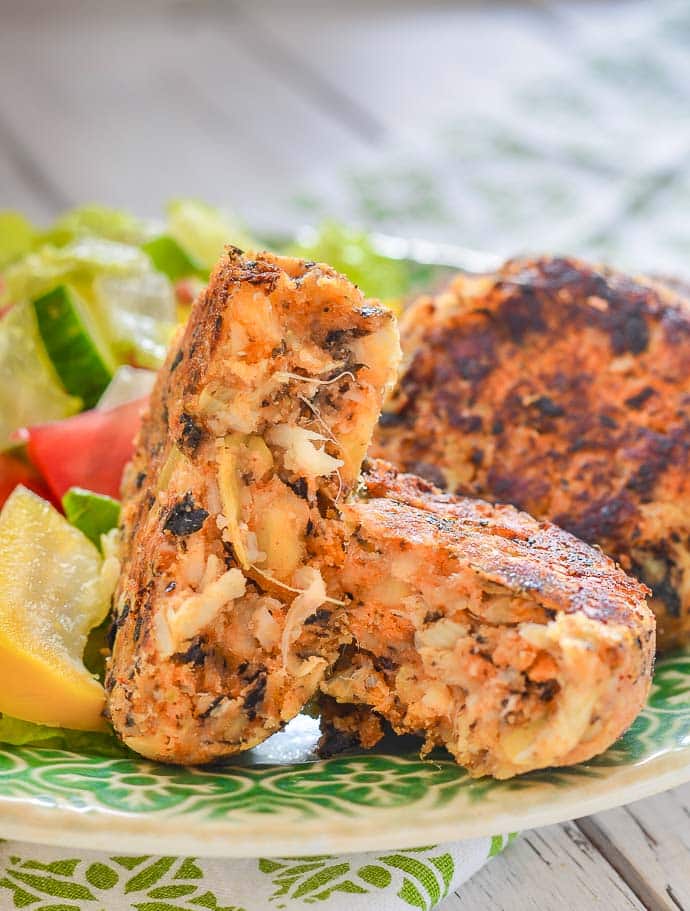 How to make vegan crab cakes
---
For detailed measurements and instructions, scroll to my printable recipe card at the bottom of the page or click the "jump to recipe" button at the top of the page.
---
These vegan crab cakes are so simple to make. The base ingredient and glue to hold them all together is mashed potato.
Step 1 - Add the green onions, curry paste, tamari, lime zest, lime juice and ginger to a food processor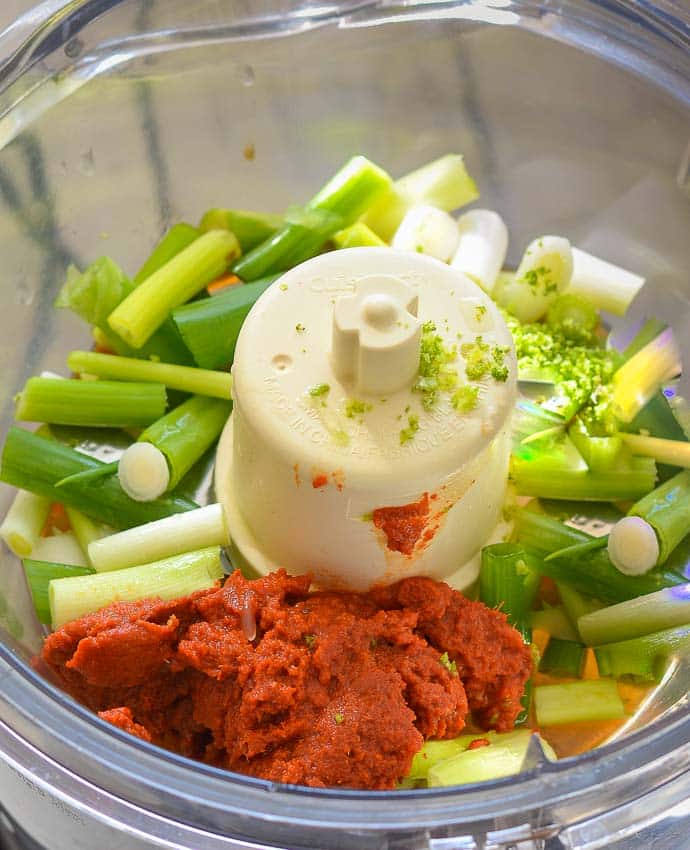 Step 2 - Break up some nori sheets and add them too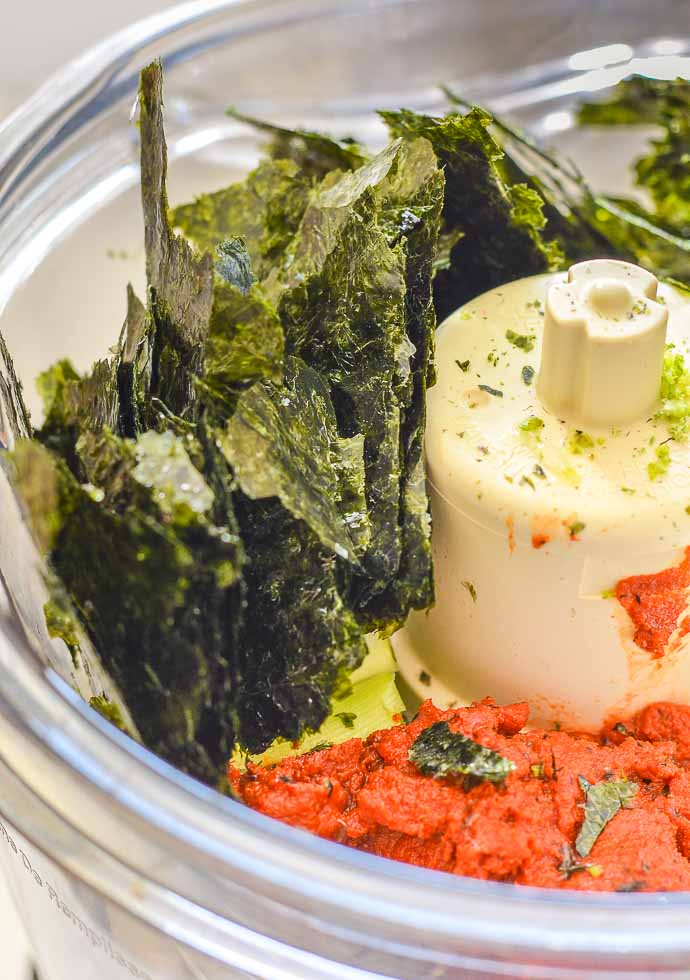 Step 3 - Process until you have a slightly chunky paste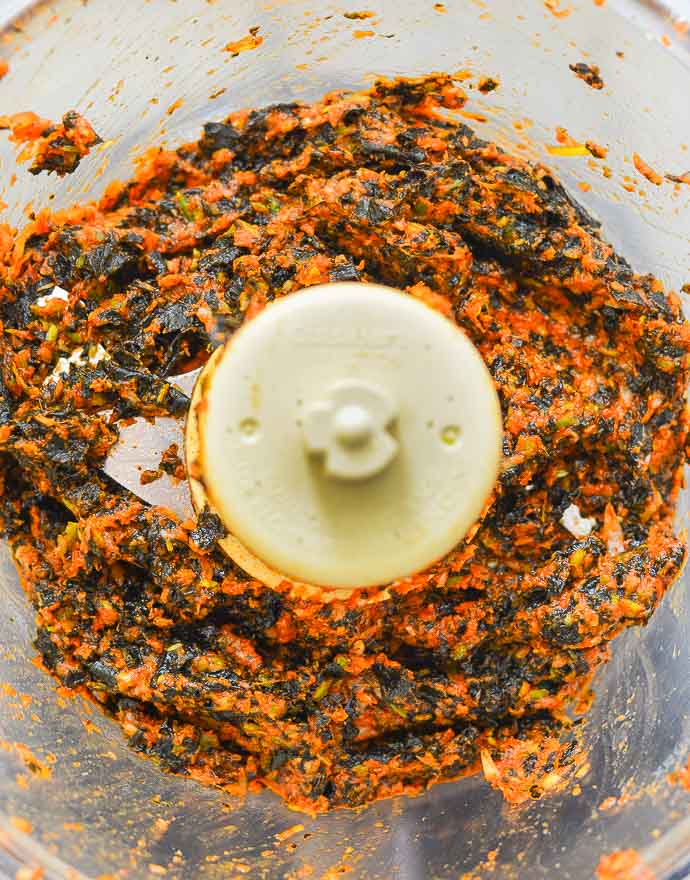 Step 4 - Grate or shred the Hearts Of Palm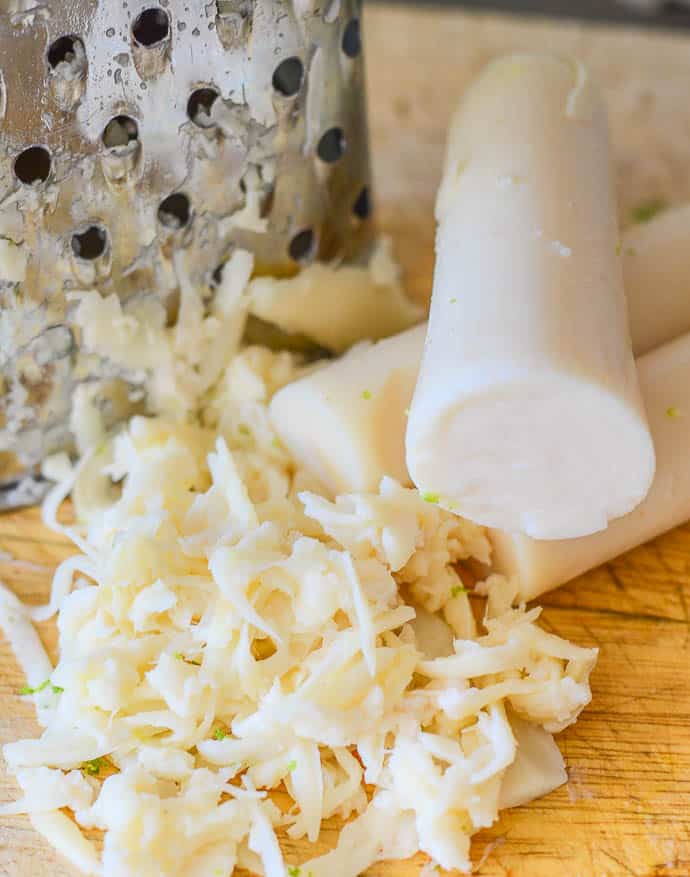 Step 5 - Chop the artichoke hearts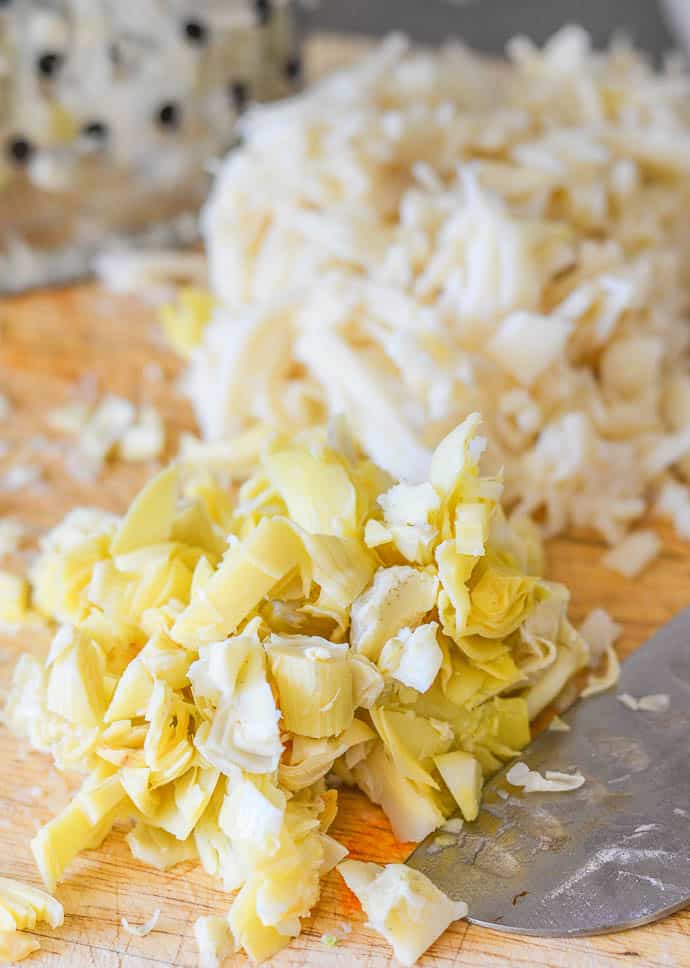 Step 6 - Mix everything together with the mashed potato and a generous amount of seasoning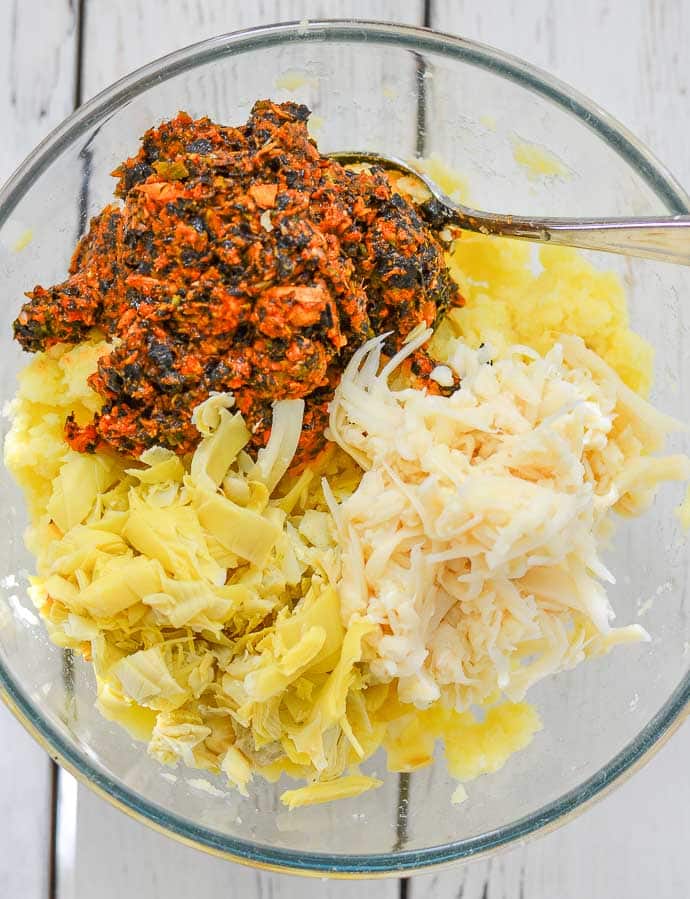 Step 7 - Shape into patties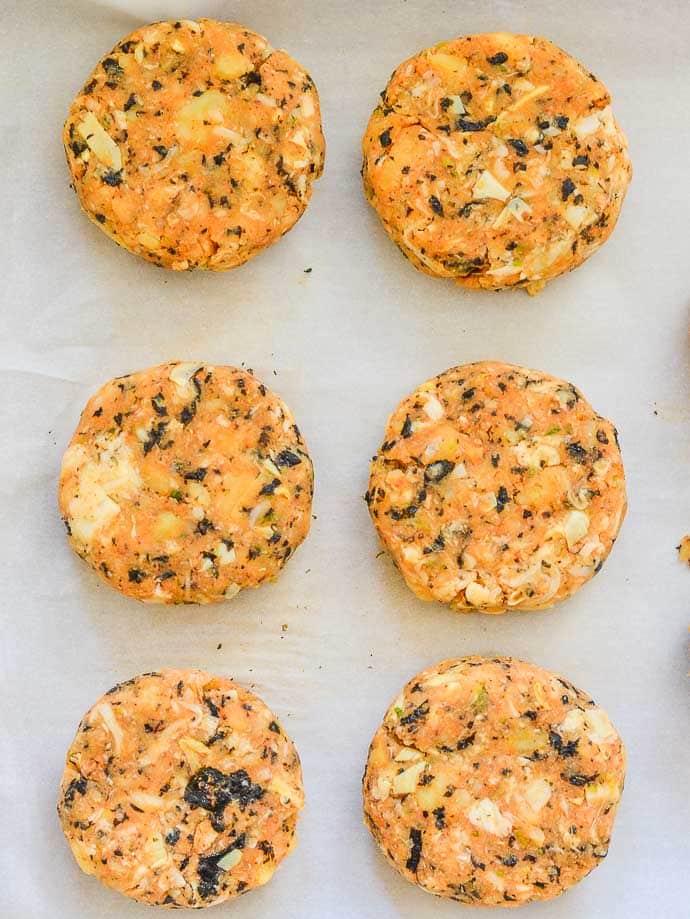 Step 8 - Either pan fry or oven bake
These Thai Style Vegan Crab Cakes really don't take long at all to make. With just a few easy steps they are done and ready to cook. They will keep in their uncooked state for 3 to 4 days in the fridge and for the same time once cooked so are perfect for making in advance. They also reheat really well once cooked. I haven't tried it because we always eat them too quickly, but I think they would probably freeze well.
Success tips
Weigh the potatoes so you get the exact right proportions. This will ensure the texture is as it is supposed to be.
Make sure you drain everything really well ... That's the boiled potatoes and the canned ingredients.
Don't add vegan butter or milk to the potatoes when you mash them. The might seem a tad dry but by the time you add everything else they will be fine.
Pan fry for the best crusty, golden outsides!
Storage and reheating tips
Vegan crab cakes can be made ahead of time. Just prepare them as instructed and lay them out on a lined baking tray. Cover and pop in the fridge for up to 2 days then cook as instructed.
They also keep for 2 to 3 days in the fridge once they have been cooked. TO reheat, put them on a lined tray in the oven on 350°F for about 20 minutes or until heated through.
What do vegan crab cakes go with?
As it's summer we have been enjoying these yummy Vegan Crab Cakes with lots of fresh and crisp salad for dinner. They are particularly good with my:
If you are wondering what sauce goes well with vegan crab cakes then my Green Sauce is the answer. It is a fantastic accompaniment.
You could also serve them with home-made potato wedges, steamed new potatoes, polenta, grits, arugula, corn on the cob, potato salad, coleslaw or even in a bun as a veggie burger substitute.
They can also be made into mini cakes and served with a sweet chili dipping sauce <double drool> either as an appetizer at a dinner party or as part of a buffet.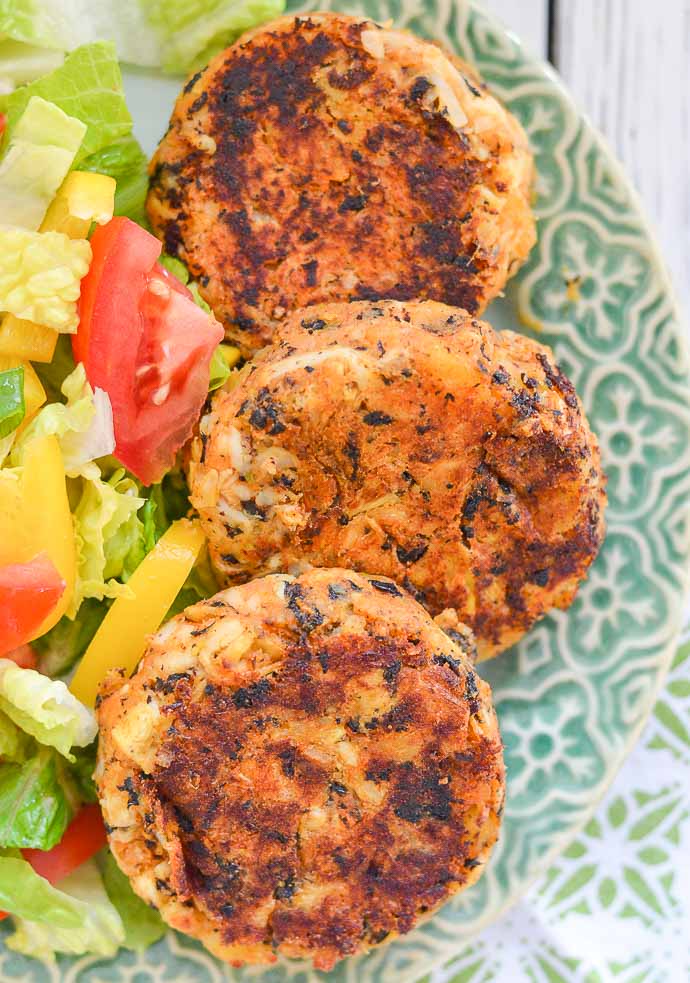 However you serve them they will be awesome. So awesome that I am about to make them again for dinner tonight. Told ya we can't get enough!
You also need to make them now, like right now.
Go!
The crabs and I will thank you. And you will thank me right after because they really are the bomb!
---
Subscribe to my email list for a fabulous FREE eCookbook featuring my top 10 recipes. Being on the list means you will be first to see my new recipes and you'll be kept in the loop on all things new and exciting too. Also be sure to check out my cookbook Vegan Comfort Cooking for even more recipes!
Step By Step Photos Above
Most of my recipes come with helpful step by step photos, success tips & a video so you can make them perfectly first time!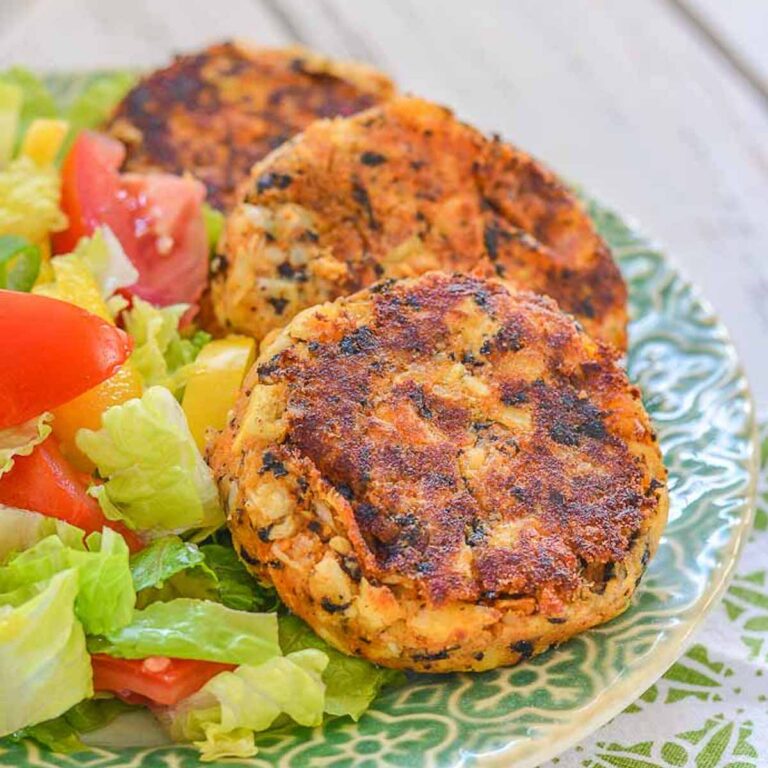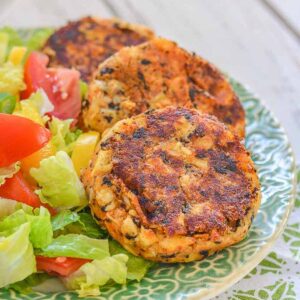 Vegan Crab Cakes
Leave the cute little crabs where they belong & make these Vegan Crab Cakes instead. Tender, moist, packed with flavour & subtly 'fishy', they are so like the real deal! And they are really easy to make!
Ingredients
600g / 4 cups diced or about 4

medium

potatoes

7-8 individual / 1

bunch

green onions

1

lime

, zest & juice

1½

inch

knob of fresh ginger

1

tablespoon

Tamari

, or soy sauce

4

tablespoons

Red Curry Paste

, I used Thai kitchen brand.

4

sheets

nori

1 x 398

gram

can hearts of palm, drained

, the long tubular shaped ones work best. (drained weight is about 200 g)

100g / ¾

cup

canned artichoke hearts

, drained

pepper

, to taste

salt

, to taste

2

tablespoons

oil for pan frying

, optional
INSTRUCTIONS
Peel and cube the potatoes then add them to a pan. Cover with water and boil until fork tender and mashable but not too soft, then drain, mash and set aside.

While the potatoes are boiling, add the green onions, lime juice, lime zest, ginger, tamari and curry paste to a food processor. Break the nori sheets up into manageable pieces and put them in the food processor with the other ingredients. Process until it is a paste. The nori tends to stay a little chunkier than everything else and that is ok.

Drain the hearts of palm really, really well, and either grate them, or shred them with a fork, then drain the artichokes and roughly chop. Be sure to drain them throughly and give the artichokes a little squeeze to get any residual liquid out of them.


Once the potatoes have cooled enough to handle, add the paste and stir through really well so it's evenly distributed then add the shredded hearts of palm and the chopped artichoke and stir through gently.

Form into patties, squeezing them together really well, then place them on a tray with some baking parchment as you go. To cook you can either pan-fry them, oven bake or cook them on a griddle. They are best pan-fried as they develop a lovely golden crust.
To pan-fry
Warm a couple tablespoons of oil in a pan over medium high heat. Once really hot add the crab cakes carefully. Leave them well alone for around 4 minutes to allow a thick, golden crust to develop then turn over and do the same on the other side. Remove from the pan and rest them on some kitchen paper to absorb excess oil. Your pan probably wont be big enough to cook them all at once so have the oven on low and pop the cooked ones in there to keep warm while you cook the rest.
To griddle
Warm your griddle to a medium high heat. When hot carefully place the crab cakes on the griddle and cook for 4-5 minutes each side.
To oven bake
Place on a tray on lightly greased baking parchment and bake at 400°F for around 25 minutes. Turn over half way through.
NOTES
Make ahead - Once shaped into patties the crab cakes can be stored in the fridge for a few days before cooking.  To reheat - If you have leftovers they reheat really well in the oven. 
NUTRITION
Calories:
116
kcal
Carbohydrates:
15
g
Protein:
2
g
Fat:
5
g
Saturated Fat:
1
g
Sodium:
182
mg
Potassium:
927
mg
Fiber:
2
g
Sugar:
9
g
Vitamin A:
1438
IU
Vitamin C:
11
mg
Calcium:
27
mg
Iron:
1
mg
Tried this recipe?
Rate it & leave your feedback in the comments section below, or tag @avirtualvegan on Instagram and hashtag it #avirtualvegan
LOOKING FOR MORE RECIPES?
Be sure to check out my recipe index where you can browse and filter recipes by meal type, category and dietary preference.
Originally published August 8th 2017. Updated and republished on April 25th 2020.