Soft, fluffy Vegan Blueberry Muffins, bursting with juicy, jammy blueberries! Quick, easy and made with basic ingredients, you'll appreciate their simplicity.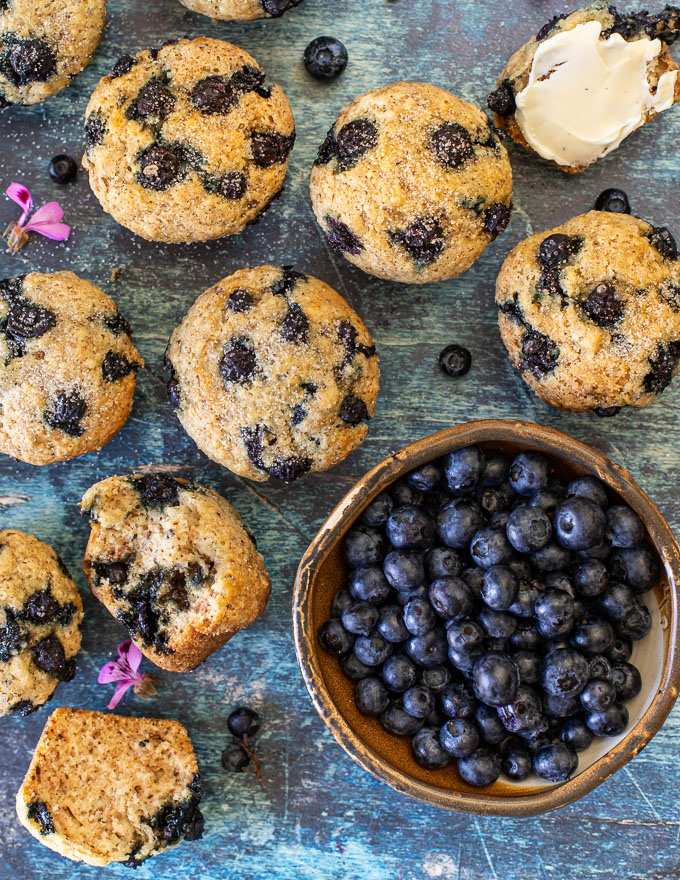 Hands up blueberry lovers! I guess it's fair to say that I am one, seen as I am posting Vegan Blueberry Muffins right after a Giant Blueberry Vegan Pancake recipe.
The whole world needs to be making more Vegan Blueberry Muffins though so I'm not sorry.
Summer's bounty of blueberries deserve to end up in something good, and does it get better than a simple blueberry muffin? Fancy recipes are all well and good, but the basics should be celebrated too and this is a basic but very tasty muffin recipe.
Use those berries. Love those berries. Put those berries in muffins. And if you are reading this in the middle of winter while craving blueberry muffins, know that frozen blueberries work perfectly well and all is good with the world.
My Vegan Blueberry Muffins are sweet, fluffy, super-light, moist and will make your house smell wonderful while they bake. They are just perfect as they but even more delish when spread with a schmear of vegan butter.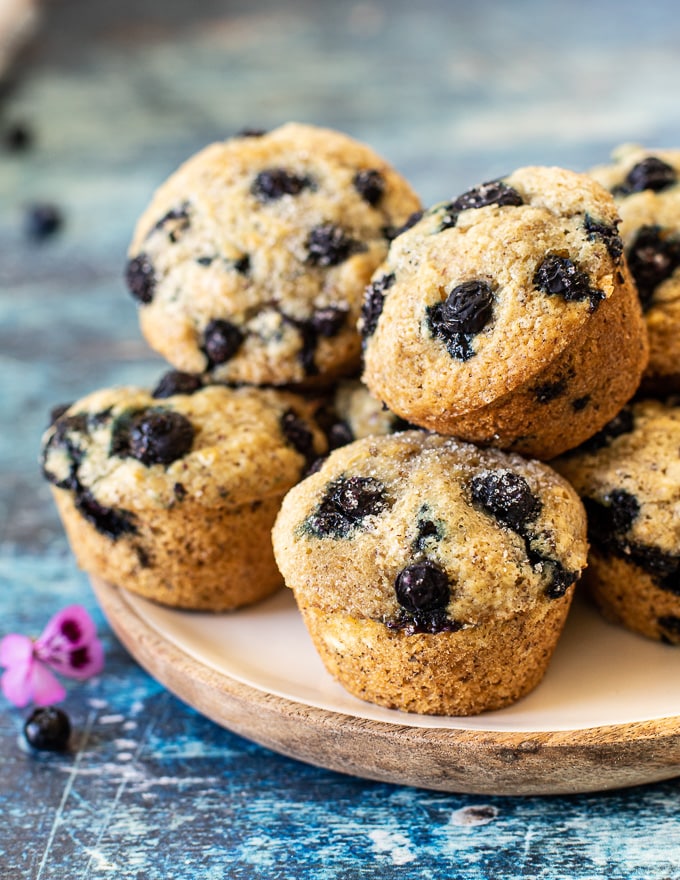 How to make Vegan Blueberry Muffins
---
FOR INGREDIENTS & FULL INSTRUCTIONS PLEASE SEE THE RECIPE CARD AT THE END OF THIS POST
---
Ingredients for making Vegan Blueberry Muffins
Nothing but basics here! Other than the obvious bluebs, these are the main ingredients you need, as well as a quick summary about why you need them:
Flax eggs: a mix of ground flax seeds and hot water that is left to gel for 10 - 15 minutes and works to bind and add structure like eggs would in a non-vegan recipe. I like to use hot water because I find that it helps it gel more quickly.
Sugar: I like to use cane sugar or white granulated sugar. They work better than darker sugars like brown sugar or coconut sugar in this recipe. I don't recommend a liquid sweetener as that will make the dry/wet ingredients off balance and affect the outcome. If you can't find sugar that is labelled "vegan" or you aren't familiar with your local brands, go for an organic one as then it has to be vegan by default.  My favourite brand of sugar is Wholesome Sweeteners, and for this recipe I used their Wholesome Sweeteners Organic Cane Sugar.
Vanilla, Salt and Cinnamon: Flavour, flavour, flavour!
Flour: All-purpose flour is great in these muffins. Make them gluten-free by using a good 1 for 1 gluten-free flour blend like Bob's Red Mill. If you want to you can substitute whole wheat flour or white whole wheat flour for a denser blueberry muffin. Or use half all purpose flour and half whole wheat flour to lighten them up a bit. If I'm going wholegrain though, spelt is always my first choice. It gives such a lovely texture to baked goods and tastes better than whole wheat in my opinion. If you do want a super healthy muffin though, and aren't up for switching out ingredients, you might want to check out my Blueberry Bran Muffins.
Leaveners: Both baking soda and baking powder add lift. We need both when a non-vegan muffin recipe would more than likely only use baking powder, because eggs provide leavening as well as binding and when we remove them we lose that extra leavening. Flax works well to bind and add structure but it does not leaven. The baking soda, in combination with the next ingredient below, work to do that instead.
Apple Cider Vinegar: Some acid is really important to react with the baking soda and create bubbles, air, lift and a fluffy texture. Lemon juice will work instead if you are sensitive to vinegar or don't have any.
Plant Milk: Any will do although I recommend non sweetened as we are sweet enough already! Don't be tempted to use water instead. The blueberry muffins will end up flat and heavy without it.
Oil: Oil is a fat and is what produces a soft, cake-y crumb. It also acts as a preservative. You can however make these muffins oil-free by subbing cashew butter for the oil and blending it up with the milk first so it's all nice and smooth. The texture of the finished muffins will be a little heavier and slightly less fluffy. You can also sub applesauce for the oil but then you will get that not so nice, gummy, fat-free texture.
To make the muffins, first, before you do anything else, you need to make the flax egg. Then set it aside and let it gel while you turn on the oven and get your muffin pan ready for action.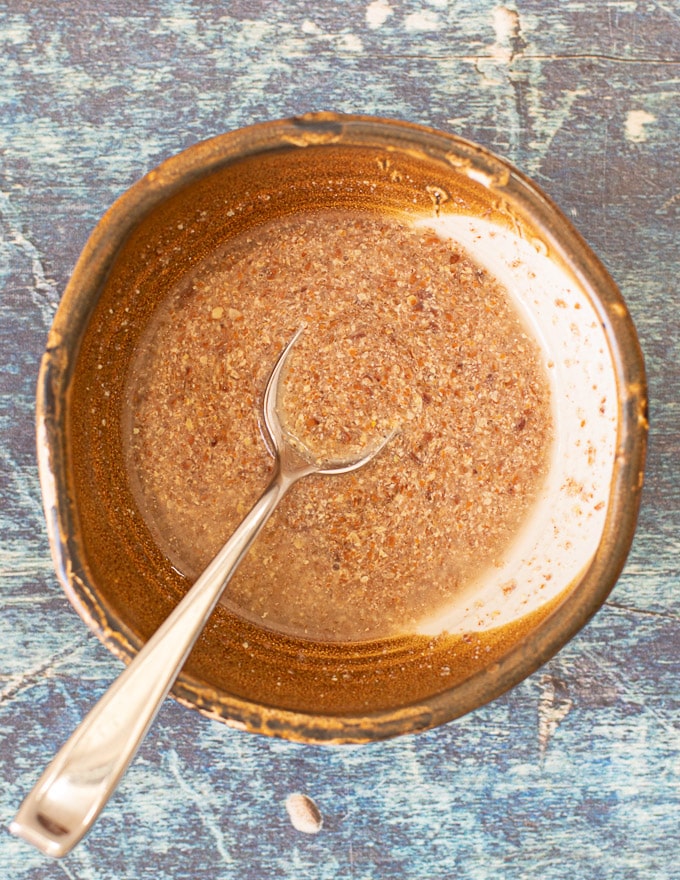 Add the wet ingredients to a bowl, then add the sugar and flax eggs to them.


Whisk them up then add add the dry ingredients on top.


Mix it all together gently. Don't over mix (read my success tips for more info on this). Then fold in the blueberries.


Divide evenly between the muffin pan wells, sprinkle with a little extra sugar for a bit of crunch and pretty glistening, then bake.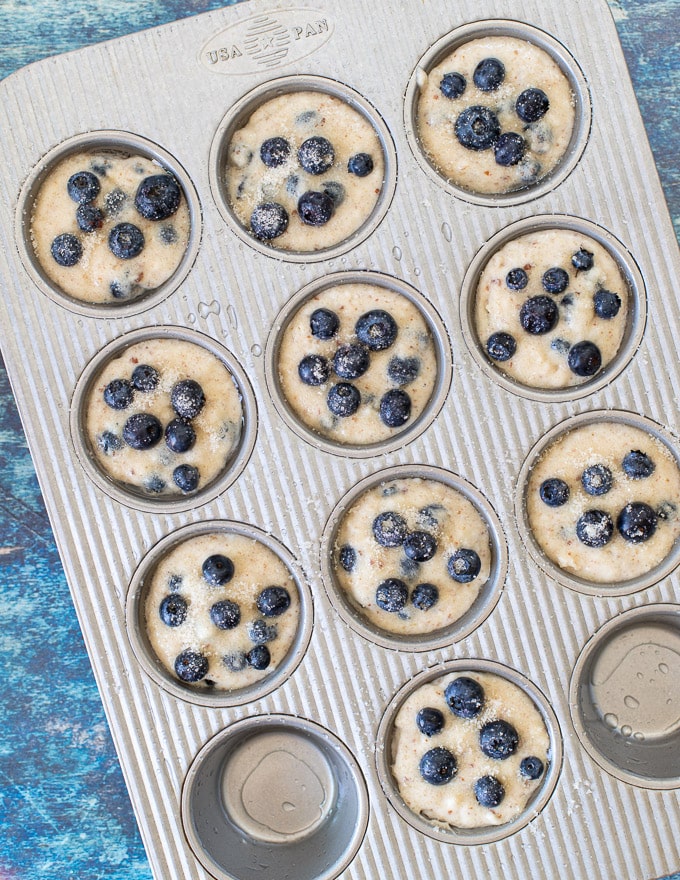 I love my USA Pan Muffin Pan and I like to use an ice cream scoop to scoop the batter.
Vegan muffin success tips
1 - My tips for perfectly domed muffin tops? The batter needs to be thick. The thicker it is, the taller and puffier the muffin will be. Combine that with my initial high temperature trick as instructed in the recipe and mentioned below, and you are virtually guaranteed tall muffin tops.
2 - Muffins need an initial, very hot blast in the oven. This creates steam that will raise those muffin tops right up from the inside out. Then you need to turn them down after 5 minutes, so that the insides cook through more gently. That's my temperature trick and it really works so don't skip that initial high blast of heat.
3 - You know how most recipes and "muffin experts" say to only fill the wells two thirds or three quarters full? Well we are breaking all the rules and are going to fill them all the way to the top. Ain't no-one got time for tiny muffins. If you're going to muffin you need to go big or go home. Plus it helps with the afore-mentioned muffin tops.
4 - Do not over mix the batter.  Just mix until you can't see any dry flour any more. Resist the urge to stir or beat the batter until it is smooth and lump free. Some small lumps are fine.
5 - Mix the wet and dry ingredients separately as instructed, before adding them all together. This helps avoid accidentally over-mixing.
6 - Follow the recipe closely and as always with recipes involving flour, I highly recommend you use a kitchen scale. Cup measurements are not accurate enough to get the best and consistent results, but if you do need to use them, spoon the flour into the cup then level off the top with a knife without compacting it or shaking it down. By doing it like this you will get roughly the correct amount. If you scoop the flour up into the cup, you will end up with much more than is needed and it will affect the outcome of the recipe. Digital scales are available at most big superstores now and you can pick one up for around $10. They are a great investment and are so worth having!
7 - How can you tell when muffins are cooked properly? You can use the toothpick test. Stick it in the centre  of a muffin and if it comes out clean (apart from a little sticky blueberry juice), then its done.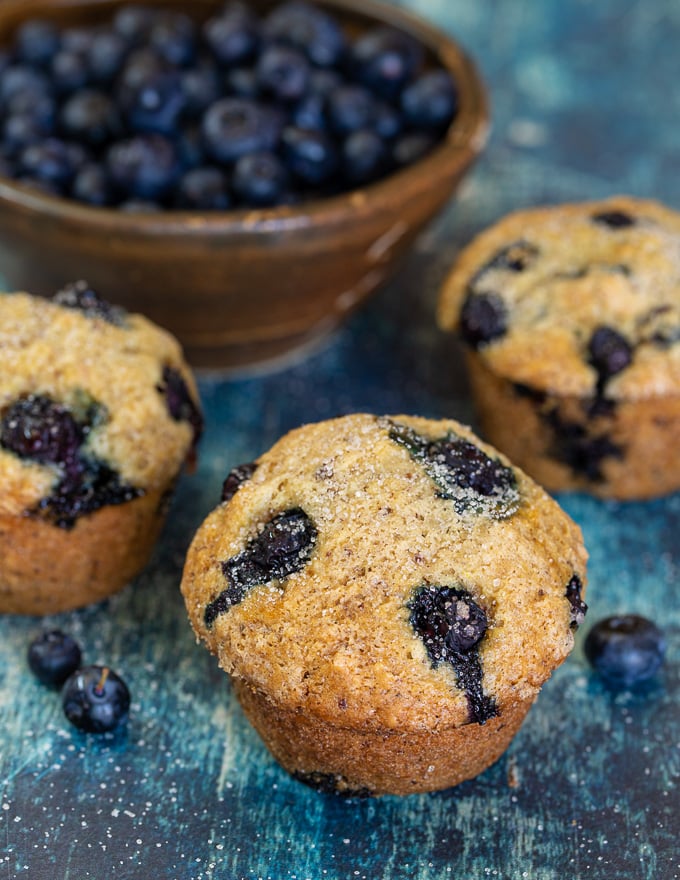 Can I use frozen blueberries?
You can switch the fresh blueberries in this muffin recipe for frozen blueberries. Just be sure to add them to the batter while they are still frozen and to stir them in really gently so their colour doesn't bleed into the batter too much.
Because the frozen blueberries will lower the temperature of the batter, you will need to add on an extra few minutes cooking time.
How to store muffins
You went to the trouble of baking your own muffins, and if you have leftovers it's important you know how to store them for optimum freshness.
The most important thing is to let them cool completely on a wire rack before storing them. If there is any warmth in them at all, as soon as they go into a sealed container condensation will happen, and that means damp muffins.
Once they are completely cool, you will need an airtight container and some paper towels. As muffins age, the moisture inside them rises to the surface and can make them wet. By packing them up with some paper towels laid out underneath and another layer on top, you can avoid this. Just keep an eye on them and if the paper towels get a little moist, replace them with fresh.
If they do get a little damp, you can refresh them in the oven on 350°F (175 °C) for about 7 minutes. They will come out good as new!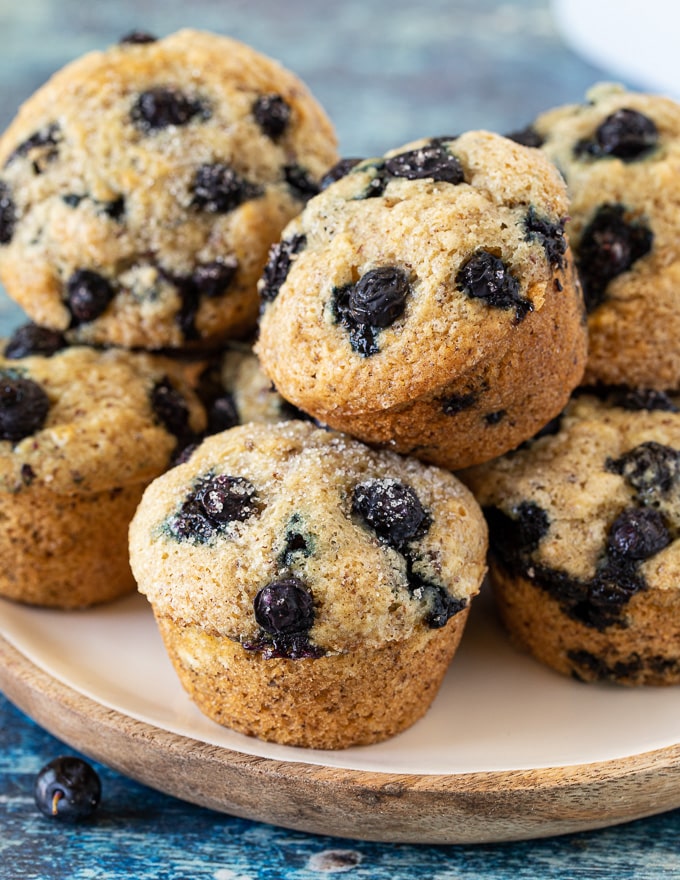 Freezing muffins
Need to store freshly baked muffins for more than a couple of days? Then the freezer is your best option. Muffins freeze extremely well for up to 3 months. Pop them into a freezer bag or a freezer safe container and place carefully in the freezer. When you want them, remove from the freezer and let them defrost for a couple of hours at room temperature. You can make them fresh as the day they were baked by warming them gently in the oven on 350°F (175 °C) for about 7 minutes.
Some ways you can adapt my Vegan Blueberry Muffins
Add a couple of tablespoons of lemon or orange zest to the batter for some extra freshness and a citrus burst.
Instead of vanilla extract try using some almond extract.
Add a tiny pinch of culinary lavender buds to the batter. The lavender flavour works really well with blueberries.
Half the amount of blueberries and use some chopped fresh peach to make up the difference.
Add a scoop of muffin batter to the pan, top with a little blob of blueberry jam, then add a little more batter on top to cover it.
Add a crumble topping. You could use the streusel from my Vegan Apple Muffins.
This muffin batter can also be used as a great base for many other muffin recipes. Try switching the blueberries for other fruit, nuts or chocolate chips and experiment with different spices.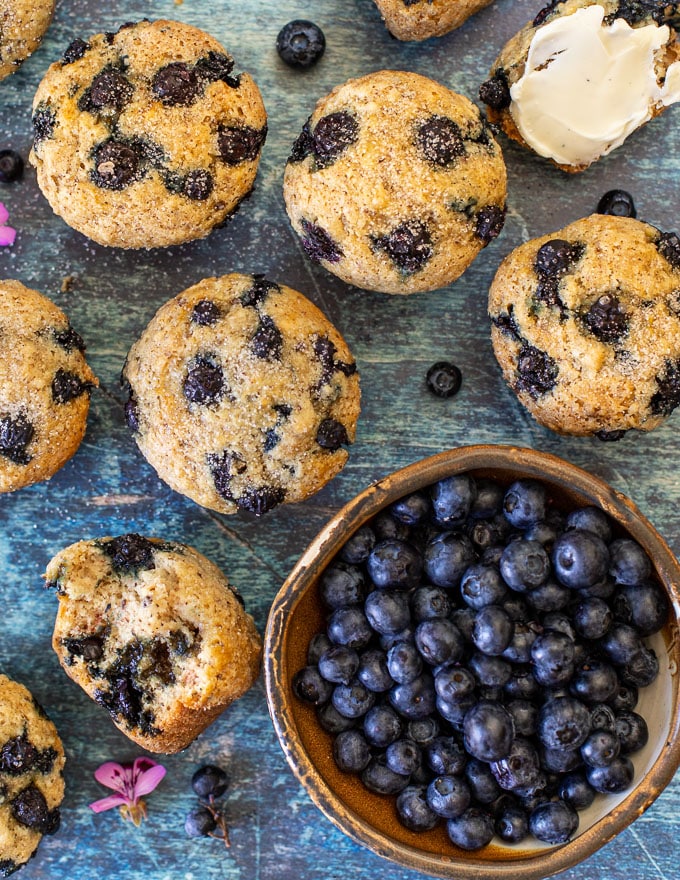 And so to recap, yes I am a little blueberry obsessed. I might also be a little muffin obsessed. And yes I am about to eat a third muffin .... Sorry, not sorry.
These muffins are:
quick and easy to make
basic but so good!
packed with juicy fruit
super light and fluffy
perfect for breakfast, lunch boxes, snacks or dessert.
Also, if you are really into muffins (who actually isn't?), you'll probably like my:
But for now, stay focused, get your muffin pan ready and let's bake some Vegan Blueberry Muffins!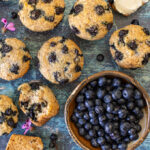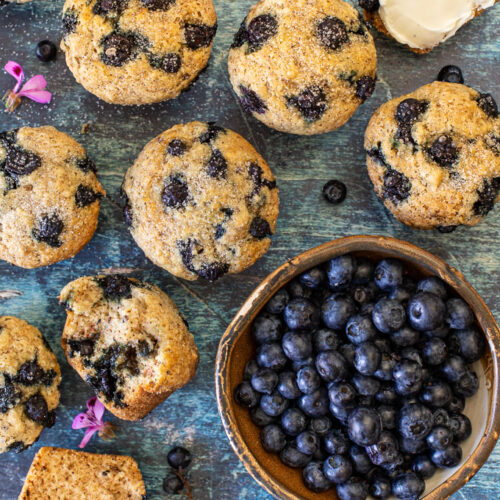 Vegan Blueberry Muffins
Author:
Soft, fluffy Vegan Blueberry Muffins, bursting with juicy, jammy blueberries! Quick, easy and made with basic ingredients, you'll appreciate their simplicity.
Ingredients
2

tablespoons

ground flax seed

5

tablespoons

hot water

, not boiled, just hot from the tap

1 cup / 240

mls

unsweetened milk of choice

1

teaspoon

apple cider vinegar

, or lemon juice

1

teaspoon

vanilla extract

¼ cup / 60

mls

neutral oil of choice

, avocado oil, vegetable oil, sunflower oil, refined coconut oil are all fine

¾ cup / 150

g

sugar

, cane sugar or white sugar is best (plus a little more for sprinkling)

2 cups / 250

g

all purpose flour

, or spelt, or a 50/50 wholewheat/all purpose flour blend

1½

teaspoons

baking powder

1½

teaspoons

baking soda

(bicarbonate of soda in the UK)

¼

teaspoon

ground cinnamon

, (omit if you aren't a cinnamon fan)

1

teaspoon

fine salt

1 slightly heaping cup / 150

g

blueberries

, fresh or frozen
INSTRUCTIONS
In a small bowl, mix the ground flax with the hot water and stir well. Set aside.

Preheat the oven to 425°F (218 °C) and either line or grease 10 wells of a muffin pan.

To a large bowl, add the milk, vinegar, vanilla and oil. Add to that the flax egg mixture and the sugar and whisk it all together.

To the wet ingredients, add the flour, baking powder, baking soda, cinnamon and salt. Stir them together gently until you can't see any dry flour. Do not beat it or over mix it. A few small lumps are fine.

Add the blueberries to the batter and fold them in gently, then divide the mixture evenly between muffin wells. I use an ice cream scoop. Fill the wells to the top. You should get 10 muffins. Sprinkle the top of each muffin with some more sugar and place in the oven as quickly as you can.

Set a timer for 5 minutes. After that time is up turn the oven down to 375 °F (190 °C) (don't open the oven door) and cook for a further 18-20 minutes until they are turning slightly golden and a toothpick inserted comes out clean, except for maybe a little blueberry juice. Remember that if you make the muffins smaller you will need to decrease the cooking time to suit.

Allow to cool completely on a wire rack before storing. See more detailed storage and freezing instructions in my post above.
NUTRITION
Calories:
228
kcal
Carbohydrates:
37
g
Protein:
4
g
Fat:
7
g
Saturated Fat:
1
g
Sodium:
408
mg
Potassium:
139
mg
Fiber:
2
g
Sugar:
17
g
Vitamin A:
58
IU
Vitamin C:
1
mg
Calcium:
63
mg
Iron:
1
mg
Nutritional information is provided for convenience & as a courtesy. The data is a computer generated estimate so should be used as a guide only.
Tried this recipe?
Rate it & leave your feedback in the comments section below, or tag @avirtualvegan on Instagram and hashtag it #avirtualvegan