Deliciously soft & fluffy apple muffins, loaded with sweet, tender fruit and topped with an irresistibly crumbly, cinnamony, streusel topping. Want one?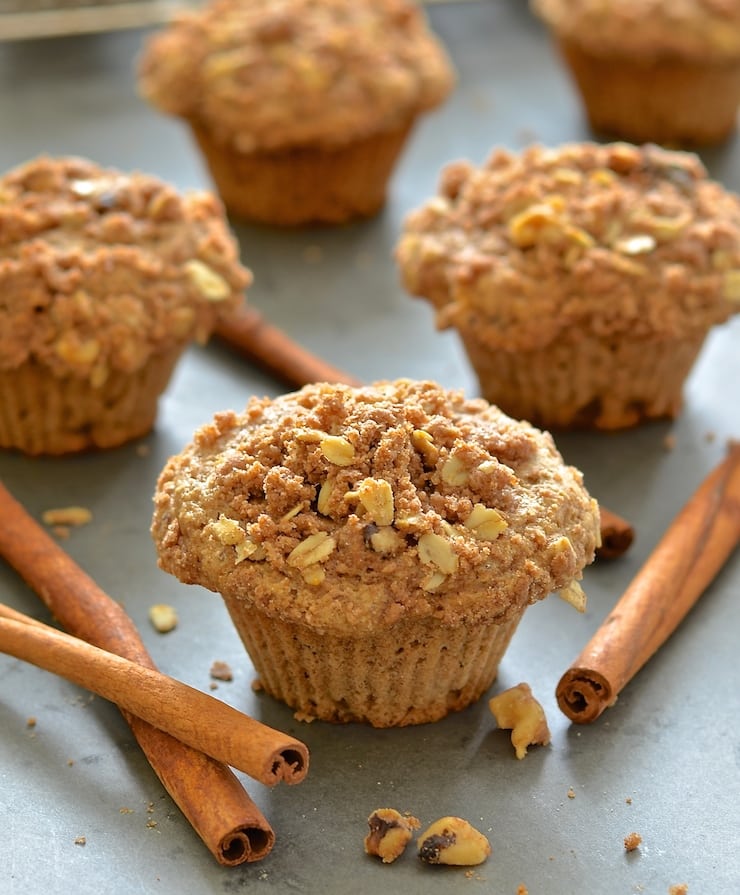 It's been a while since I published a muffin recipe here. I think the last one was my Lemon & Blueberry Cornmeal Muffins and that feels like ages ago. I was planning a different flavour combination but Mr A Virtual Vegan had a craving for my apple cake. I had set my mind on making muffins so we compromised and Apple Muffins with Cinnamon Streusel happened.
I love that muffins are self contained with no slicing involved. And you get to eat a whole one, muffin top first of course!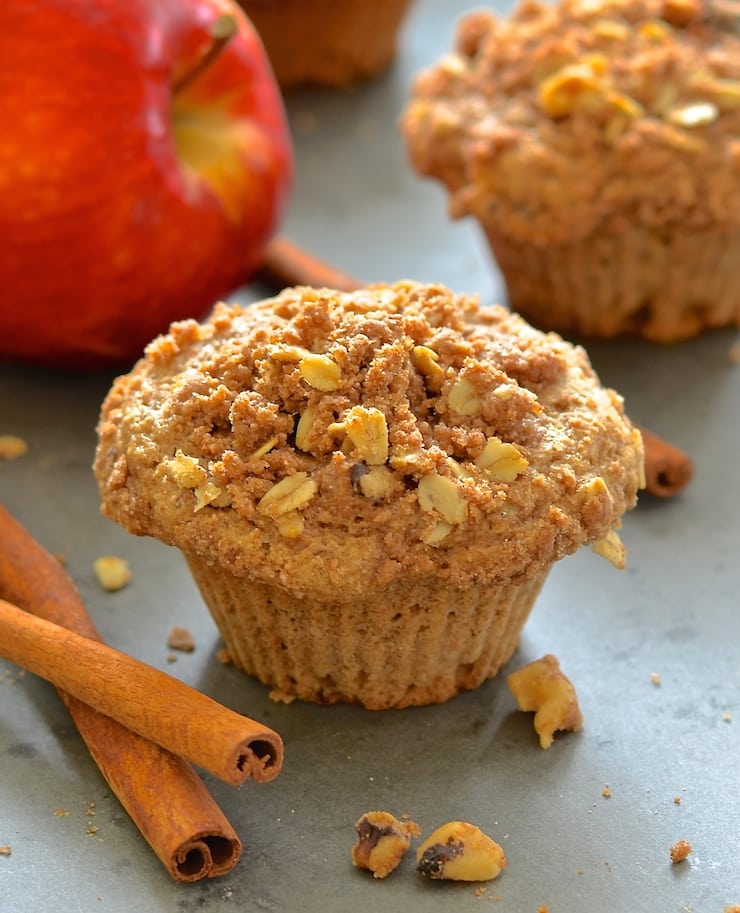 The only time I care to think about muffin tops is when I am baking, but lets be honest, even though these muffins are healthier than a lot of recipes out there, if you eat too many you will no doubt end up with your very own muffin top and I don't mean of the cake variety.
I'm not trying to put you off making these Apple Muffins because they are so delicious you really need to. The muffin tops are always the best bit too aren't they? Especially these ones with their cinnamony, nutty, crumbly streusel topping.
Yum!
They work out to be only about 215 calories and 7 grams of fat each, which isn't all that bad as far as muffins go.
If you try them please leave your feedback below and hit the yellow stars to rate the recipe. Share your pictures on Instagram too. Tag me with @avirtualvegan. I wanna see your muffin tops!
Yields 12
Apple Muffins with Cinnamon Streusel
Deliciously soft & fluffy apple muffins, loaded with sweet, tender fruit and topped with an irresistibly crumbly, cinnamony, streusel topping. Want one?
10 minPrep Time
25 minCook Time
35 minTotal Time
Ingredients
For the streusel

3 tablespoons liquid coconut oil see recipe note for oil-free option)
1/3 cup + 1 tablespoon spelt flour
3 tablespoons rolled oats
3 tablespoons chopped walnuts (can be left out to make the recipe nut-free))
1.5 teaspoons ground cinnamon
1.5 tablespoons granulated sugar (any kind)

For the muffins

1 tablespoon ground flax
3 tablespoons water
340g or(about 2.25 cups spelt flour (you could sub 1 cup wholewheat & 1 cup all purpose flour)
1/4 teaspoon salt
2 teaspoons baking powder
1 teaspoon baking soda
115g or 0.5 cup sugar - (I used coconut sugar but any granulated sugar is fine)
2 teaspoons vanilla extract
250mls or 1 cup non-dairy milk
1 tablespoon apple cider vinegar or lemon juice
130g or 0.5 cups unsweetened apple sauce
1.5 heaping cups (2 medium apples) peeled & chopped
Instructions
Preheat oven to 400°F and prepare your muffin tins (see recipe note)
Start off by making the streusel topping.
Combine all streusel ingredients in a small bowl and stir well to combine.
Set aside.

For the muffins

Mix the ground flax with the water in a small bowl and set aside.
Add all of the dry ingredients to a mixing bowl.
In a jug or another bowl combine all of the wet ingredients.
Add the flax mixture to the wet ingredients and stir well.
Pour the liquid into the dry ingredients and stir just enough to combine everything. Do not stir too much.
Add the chopped apple to the batter and stir to distribute evenly.
Divide the mixture between 12 muffin tins. Fill each one right to the very top of the muffin cases.
Sprinkle the streusel topping over the muffins and place in the oven.
Bake for around 25 minutes or until a tooth pick/skewer can be inserted and comes out clean.
Remove from the tin and cool on a cooling rack
Recipe Notes
I like to use silicone muffin liners as nothing ever sticks in them. They are also more environmentally friendly as they last forever. If you use paper liners there is a chance the muffins will stick to the paper a bit as the batter is oil-free.
This recipe can be made oil-free by omitting the streusel topping.
6.8
https://avirtualvegan.com/apple-muffins-cinnamon-streusel/
Melanie McDonald | A Virtual Vegan
Never Miss A Recipe – Join my mailing list.
Simply add your email and name in the boxes below and click the 'sign me up!' button.