A simple, super tasty Strawberry Spinach Salad made with soft, deep green spinach, ripe juicy strawberries & buttery avocado all finished off with a fresh, oil-free, strawberry vinaigrette and some optional creamy, salty crumbles of vegan feta cheese or toasted nuts.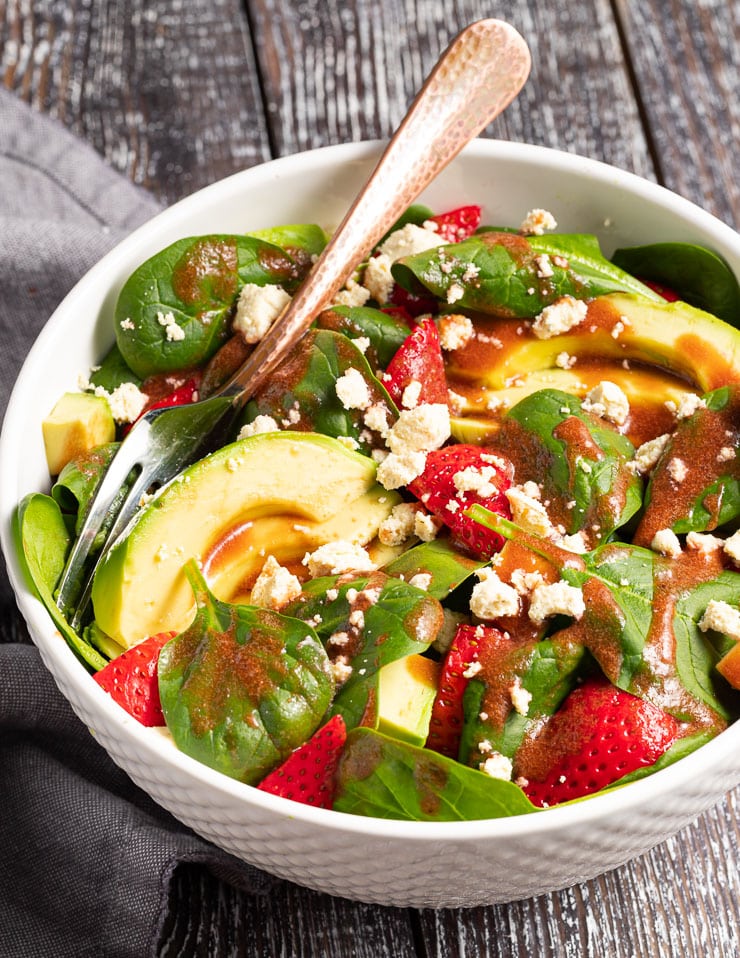 This healthy Strawberry Spinach Salad is the only salad you need to see you through spring and summer.
It's refreshingly delicious, with rewarding little bites of strawberry and soft buttery avocado. The optional addition of some creamy, salty vegan feta cheese, toasted or candied nuts takes it right over the top.
It also happens to be super easy to make from scratch in barely any time at all. That even includes the strawberry vinaigrette which is made in seconds in a blender.
Yep. You're gonna be making salad and dressing like a boss!
How to make Strawberry Spinach Salad
Ok so you wanna know how this Vegan Strawberry Spinach Salad is done? First up you'll be needing to gather up some spinach leaves, strawberries and avocado.
And here's what we're doing:
Step 1: Make the oil-free strawberry vinaigrette by adding all of the ingredients to a blender and blending until smooth.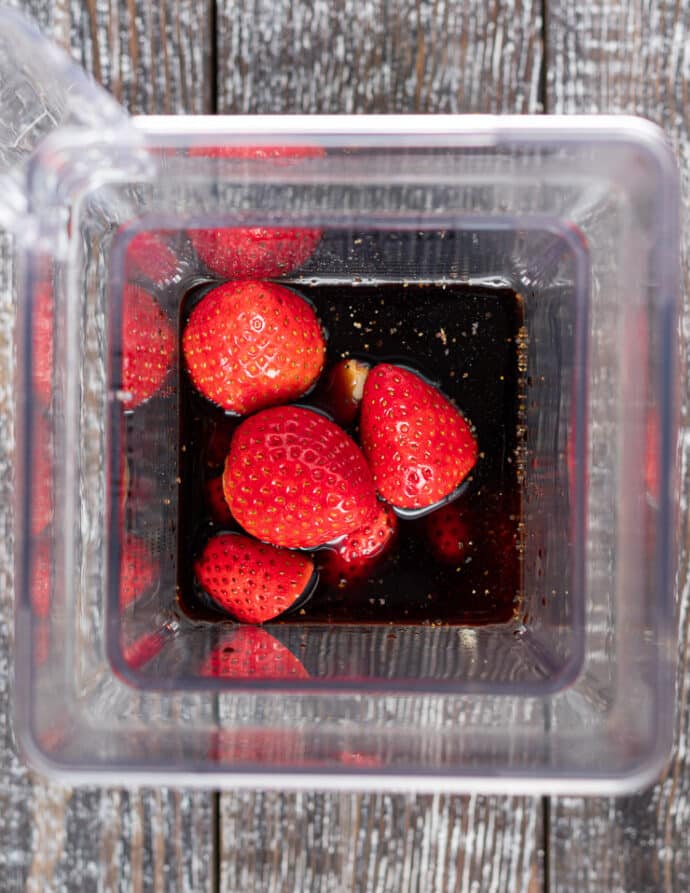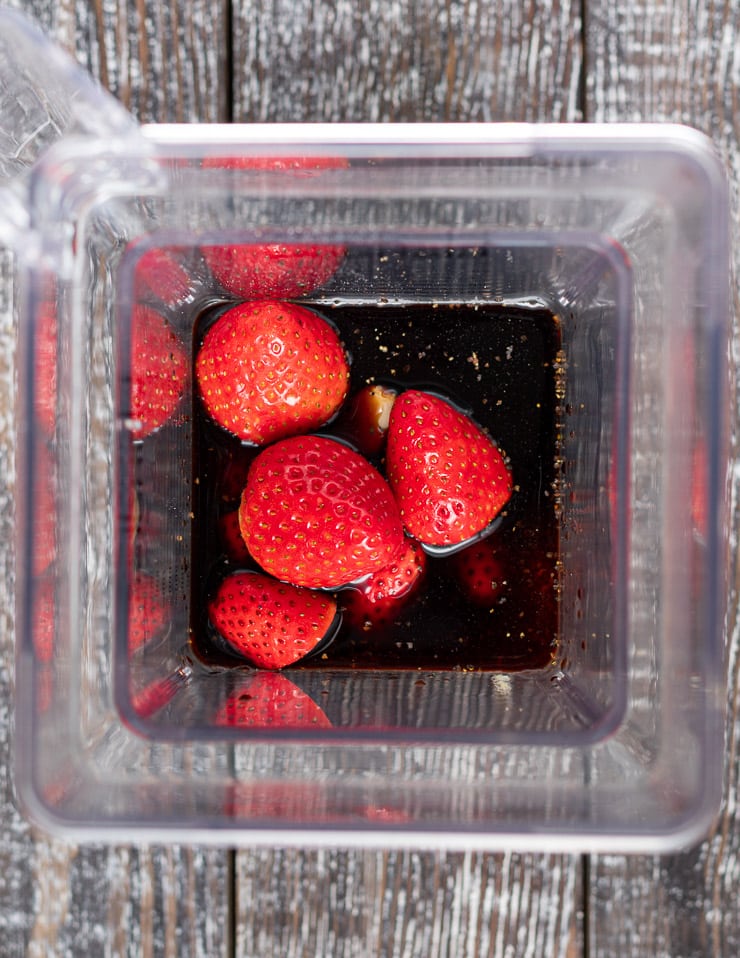 Step 2: Wash, dry and chop the strawberries.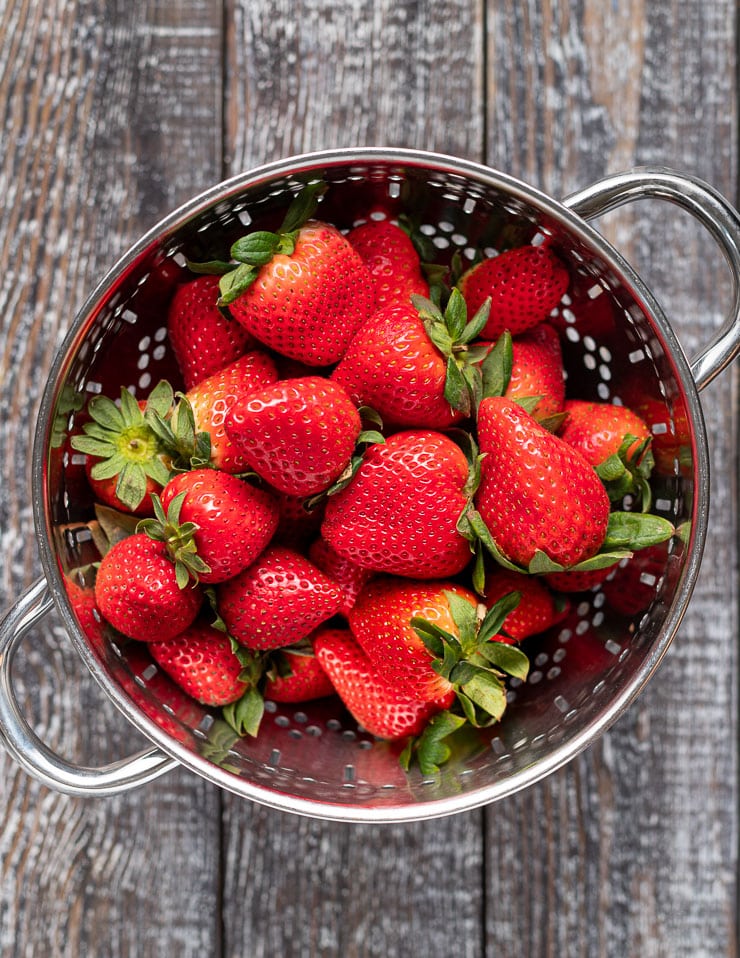 Step 3: Wash and dry the spinach then prepare the avocado.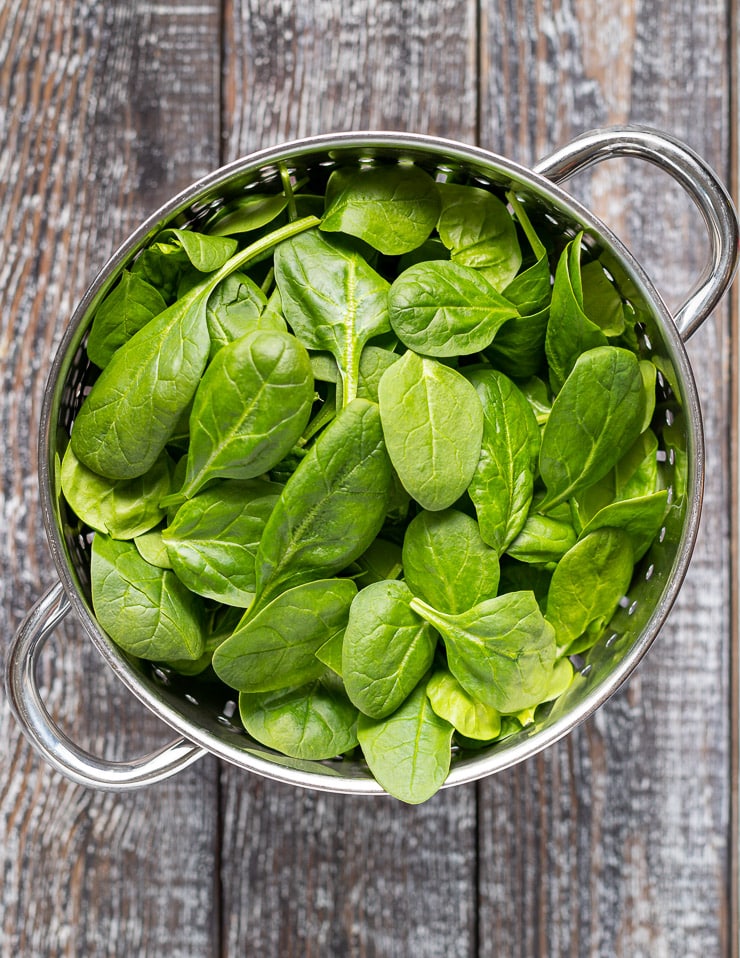 Step 4: Toss the spinach in a little of the dressing, then layer it up in a bowl with the avocado and strawberries.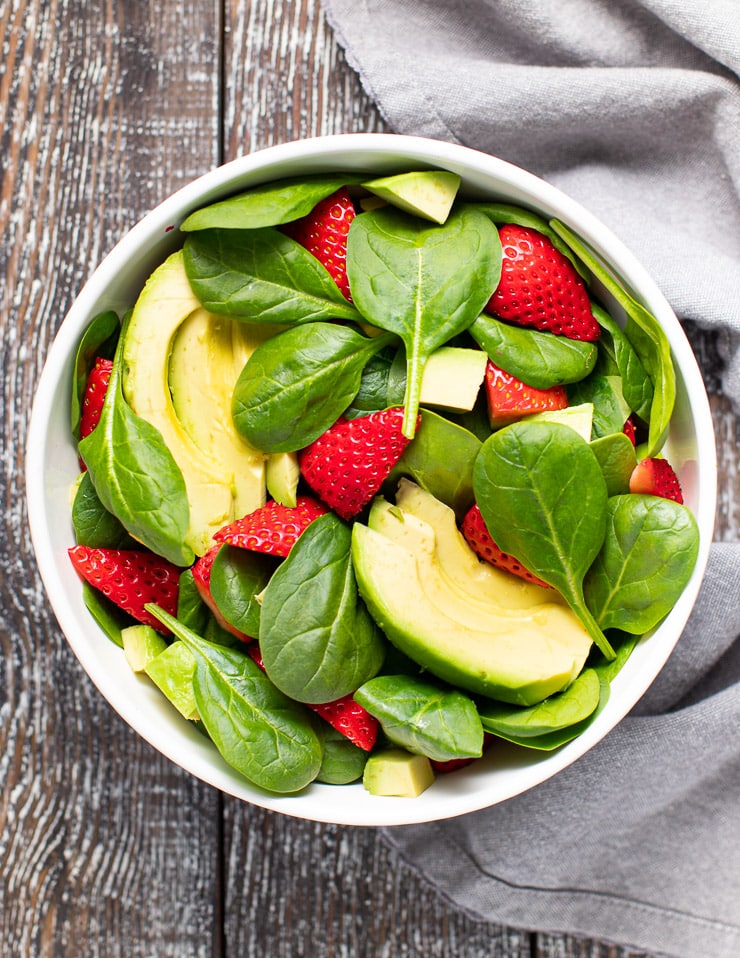 Step 5: Drizzle over some more dressing and a few sprinkles of optional nuts or vegan feta cheese if you're using it.
Success Tips
If you don't buy already washed spinach, I really recommend the use of a salad spinner to get the spinach leaves as dry as possible after washing. This will help keep the leaves fresher and in better condition until they are dressed and avoid accidentally diluting the salad dressing.
Buy the ripest and reddest strawberries possible.
This is a salad that is better layered than tossed. If you toss it together all of the strawberries and avocados end up sliding to the bottom. So first toss the spinach leaves with a bit of the vinaigrette, then add a layer of the leaves followed by a layer of the mix-ins, then another layer of spinach leaves. The number of layers you need will depend on how deep your bowl is.
Don't prepare the salad until shortly before you are ready to serve it. Spinach doesn't hold up to moisture well and the leaves become a little wilted after about 30 to 40 minutes. The avocado could discolor a little too.
My vegan feta cheese works brilliantly with this salad and adds a lovely creamy, salty, texture/flavor. Strawberry Spinach Salad + Feta = Perfection. I highly recommend you sprinkle some all over!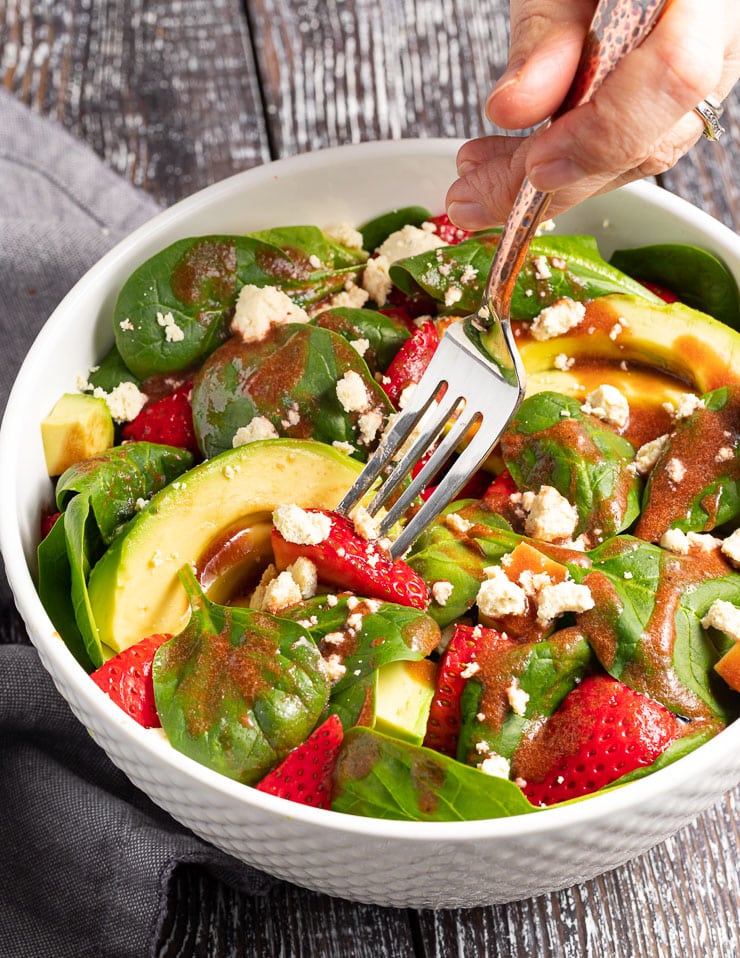 Serving Suggestions
Serve this strawberry spinach salad as:
A light meal just as it is or with some No Knead Focaccia on the side .
A side salad with dinner. It would work really well with my vegan spanakopita or vegan quiche.
Make it more substantial by topping it with some crispy tofu, baked tofu, vegan crab cakes or vegan chic'n.
Take it along with you to potlucks. Just carry everything (spinach, vinaigrette, chopped strawberries, avocado and optional mix-ins) separately then assemble at the last moment.
Variations
Here are some tips for summer strawberry salad mix ins and substitutions:
Baby spinach works incredibly well with the other flavours and it's soft texture goes really well with the juicy strawberries but you could use any other greens if you need to. Butter lettuce would probably make the best sub or use half arugula and half spinach for a peppery twist.
Add vegan croutons, nuts (walnuts, pecans) or seeds (pumpkin or sunflower) for some extra texture and crunch.
Bulk it up with some cooked grains like farro, wild rice or quinoa.
Add some poppyseeds to the dressing for some extra "nuttiness" and texture.
Add some clementine segments or chopped orange
Add a handful of fresh blueberries in addition to the strawberries.
Use raspberries, blueberries or blackberries instead of strawberries in the salad and vinaigrette.
Tips for making the vinaigrette without fresh strawberries
The strawberry vinaigrette is really good when made with fresh strawberries. You can't beat their flavour. Raspberries, blueberries or blackberries would all work well instead though.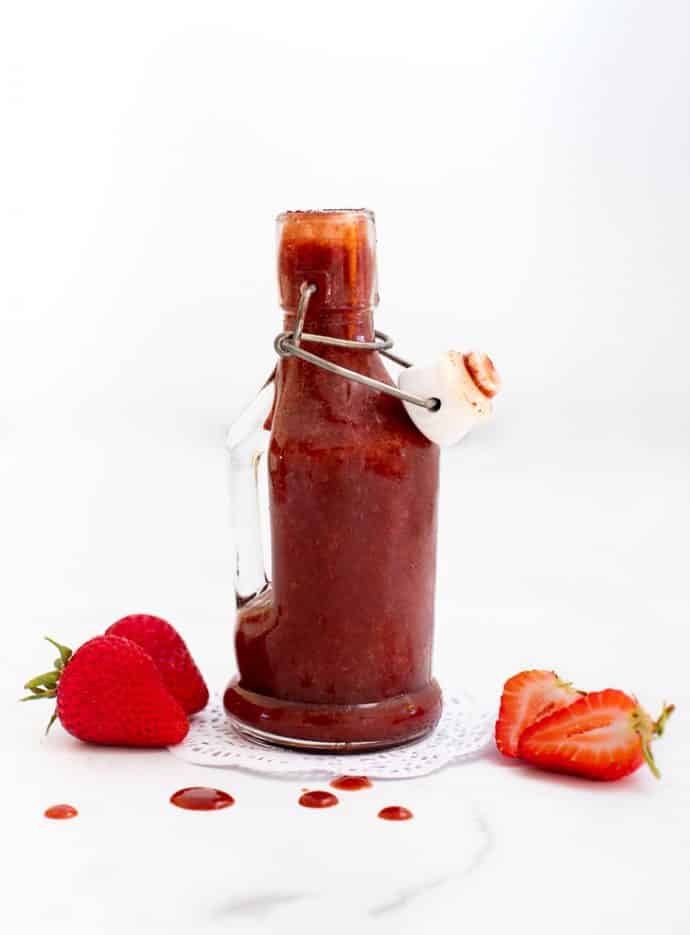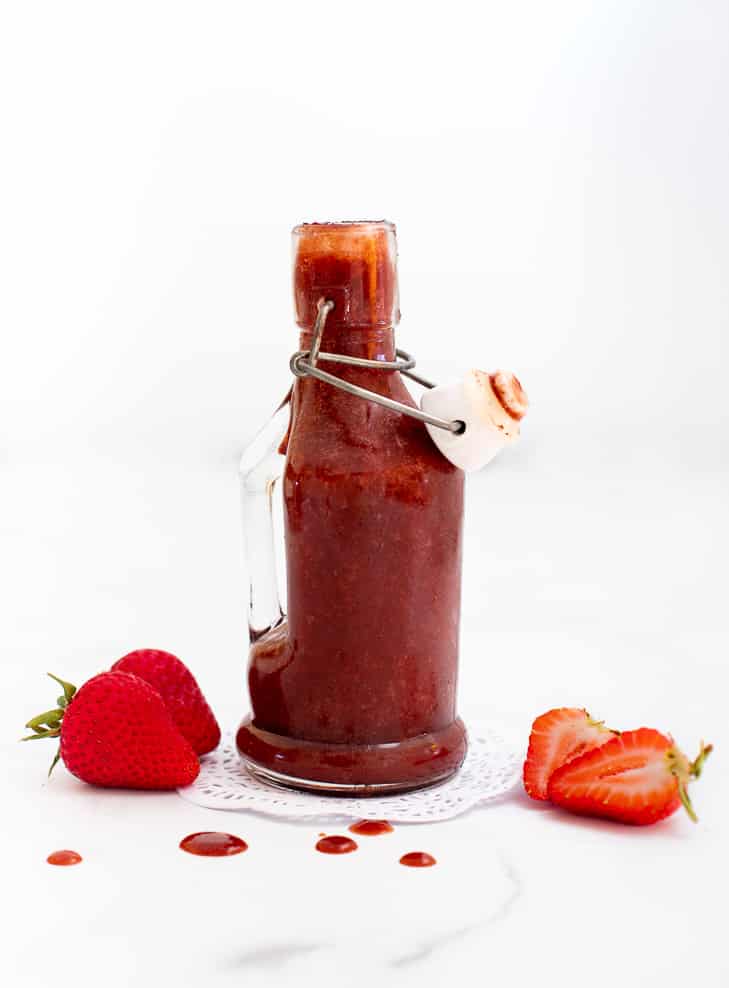 How to prep Strawberry Spinach Salad ahead of time
This is a salad that is best when put together right before serving. However you can prepare many of the individual components ahead of time.
Make the Oil-Free Strawberry Vinaigrette up to several days ahead and store it in an airtight container in the fridge.
The spinach can be washed and dried the day before and kept in an airtight container.
The strawberries can be washed, hulled and chopped and stored in an airtight container.
Toast the optional nuts up to a week ahead and store them in a jar for freshness.
My vegan feta keeps well in the fridge for about a week.
This will save you some preparation time on the day and all you will have to do before serving is cut the avocado and combine everything.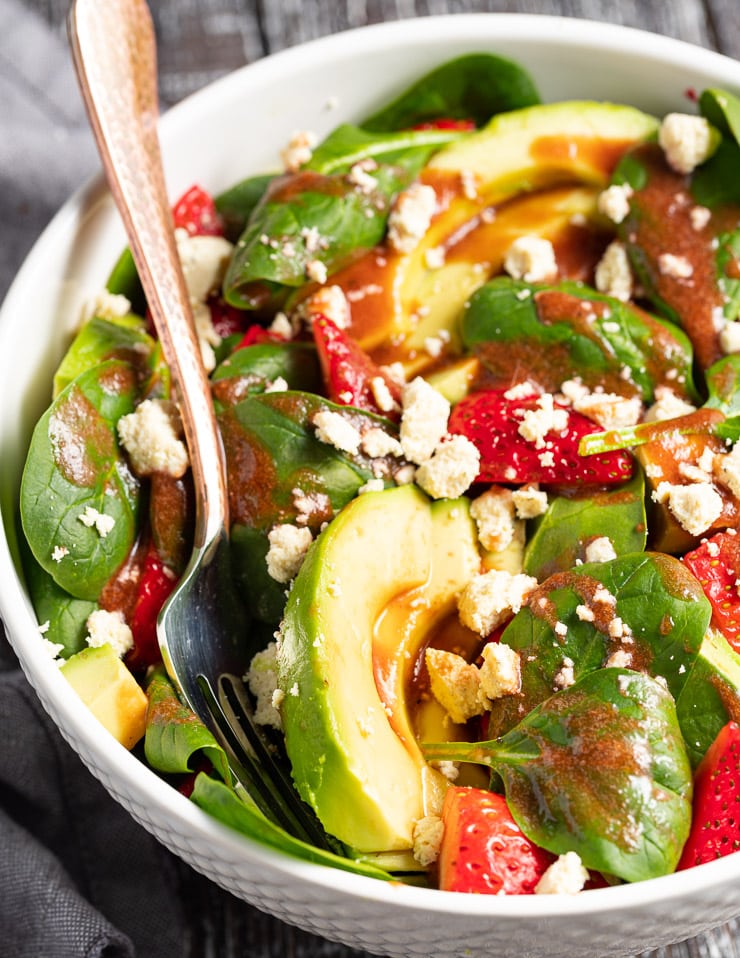 How to store leftovers
Once dressed this salad doesn't keep well so it's best to dress it as you need it and store leftovers undressed in a sealed container in the fridge. They should keep for up to 2 days as long as the spinach leaves were nice and dry when you packed it up.
Leftover strawberry spinach salad dressing and the vegan feta can be kept in the fridge for up to one week and nuts will keep for weeks in a sealed jar.
The good news is that this salad will be such a hit that it won't be likely you'll have much leftover!
If you try this recipe, let me know how you like it by leaving a comment and rating below! And be sure to join my mailing list for more deliciousness!
Recipe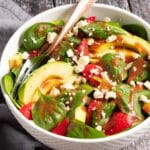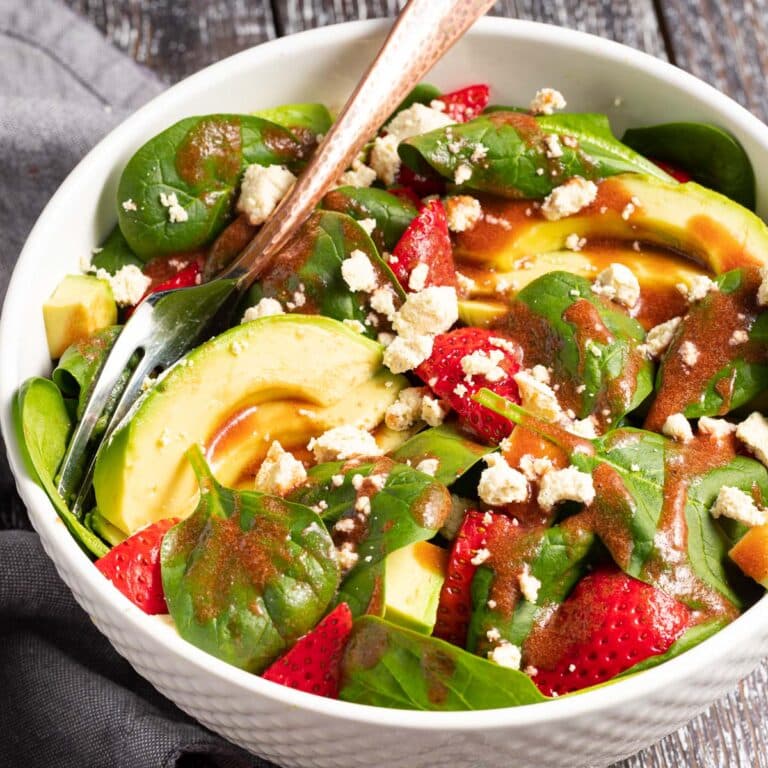 Strawberry Spinach Salad
Author:
A simple, super tasty Strawberry Spinach Salad made with soft, deep green spinach, ripe juicy strawberries & buttery avocado all finished off with a fresh, oil-free, strawberry vinaigrette and some optional creamy, salty crumbles of vegan feta cheese or crunchy nuts..
INSTRUCTIONS
Wash the strawberries then hull them and either half or quarter them.

Wash and dry the spinach leaves. Put them in a serving bowl, drizzle over a bit of strawberry vinaigrette (be sure to shake the vinaigrette first) and toss the leaves gently to coat.

Cut the avocado in half, remove the pit and skin and chop into chunky pieces.

Layer up the dressed spinach leaves with the avocado and strawberries reserving some for the top. I recommend layering over just tossing everything together so that you don't end up with all of the good bits finding their way to the bottom of the bowl.

Scatter the top with the reserved strawberries and avocado then drizzle with a little more vinaigrette. Scatter over the optional nuts and feta cheese.
NOTES
The salad is best eaten immediately. 
You likely won't need all of the vinaigrette but it will keep for up to a week in the fridge. 
If adding nuts or seeds to the salad I recommend toasting them first for ultimate flavor. Here's how: Warm a small skillet over a medium heat, add the nuts and toss them around in the pan for about 3 minutes until they smell nice and toasty. Remove from the heat, tip them into a small bowl and allow to cool. Walnuts and pecans work very well. 
Nutrition is calculated without the optional vegan feta cheese and nuts.
NUTRITION
Calories:
252
kcal
|
Carbohydrates:
30
g
|
Protein:
5
g
|
Fat:
15
g
|
Saturated Fat:
2
g
|
Sodium:
203
mg
|
Potassium:
978
mg
|
Fiber:
12
g
|
Sugar:
15
g
|
Vitamin A:
5482
IU
|
Vitamin C:
123
mg
|
Calcium:
86
mg
|
Iron:
3
mg
Did you make this recipe?
Rate it & leave feedback in the comments section below. I love seeing your remakes too. Tag @avirtualvegan on Instagram! 🌟