Festive, fragrant & delicious Pistachio Cranberry Orange Muffins! Orange scented, studded with juicy, jewel red cranberries & crunchy, vibrantly green pistachios & finished with a swirl of vanilla cream.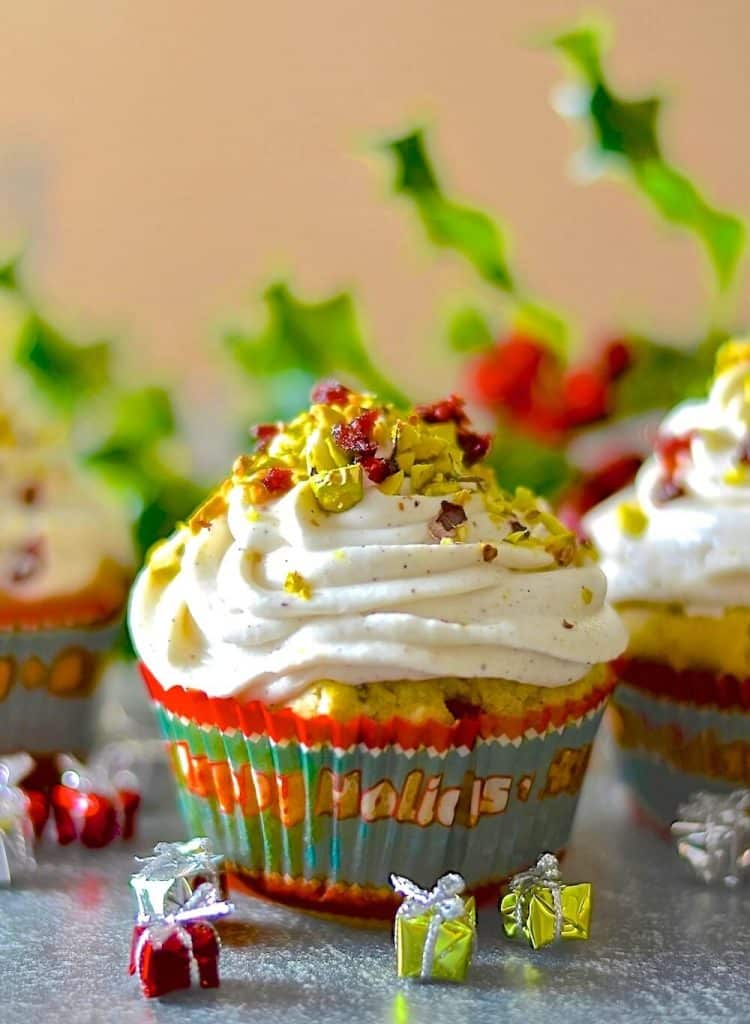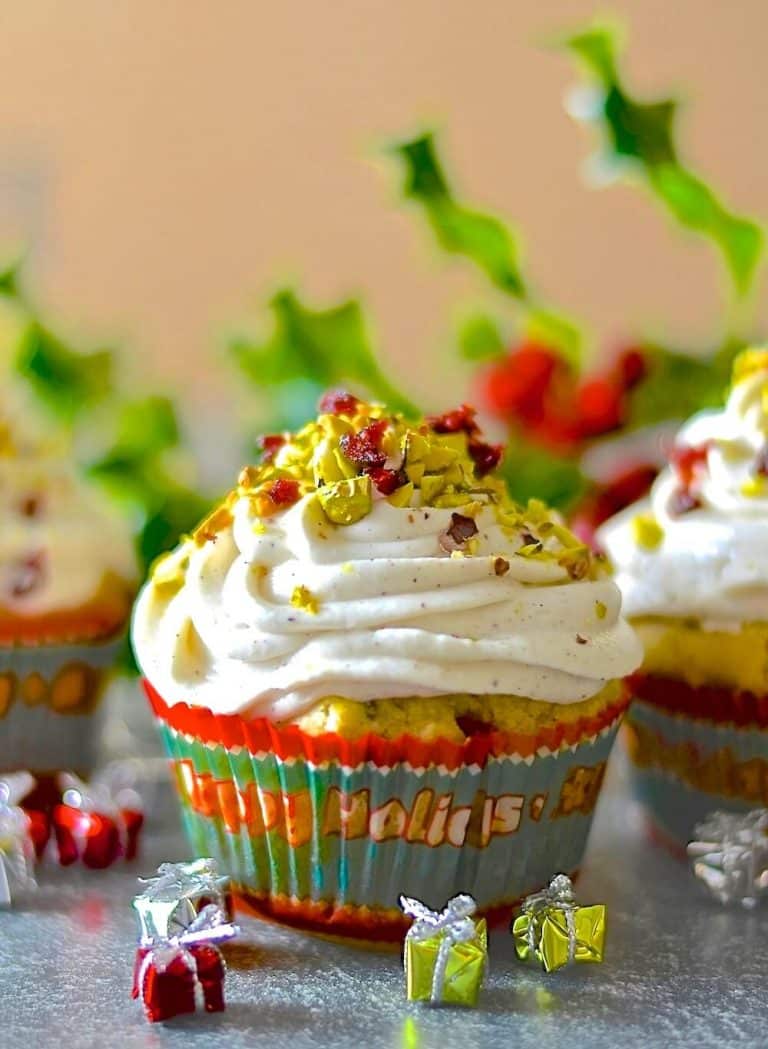 Have you heard of the Vegan Mystery Box Challenge? No? Neither had I until a few weeks ago. I read about it in a Facebook group that us bloggers tend to frequent and volunteered myself as it sounded like a fun thing to do.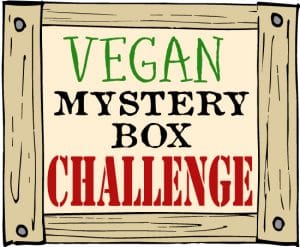 Basically, a group of vegan bloggers are given the same three mystery ingredients and have to come up with a recipe which uses them. Then all the bloggers in the group publish their recipe and photographs on the same day at exactly the same time. Included in that post should be links to all of the other bloggers and the recipes they created so that you lovely readers can take a little tour around and check out all of the wonderful recipes!
Our mystery ingredients turned out to be cranberries, pistachios and coconut milk. I was thrilled when I found out what they were as I love all three of them. I thought long and hard about what I would make and had so many ideas. Cookies, a cake, a rice dish…But in the end I decided on muffins (you might also get the rice dish at a later date but that won't be part of the challenge).
I created these wonderful Pistachio Cranberry Orange Muffins With Vanilla Cream. I would never have come up with this flavour combination if it hadn't been for this challenge and I am so grateful that I found out about it and joined, otherwise I would have gone my whole life without ever trying one of these awesome muffins. Oh and 'one' is just a figure of speech. You probably know me well enough by now to know that I didn't stop at just one!
These Pistachio Cranberry Orange Muffins are totally and utterly delicious. They are fabulous just as they are but the Vanilla Bean Cream just takes them to a whole new level.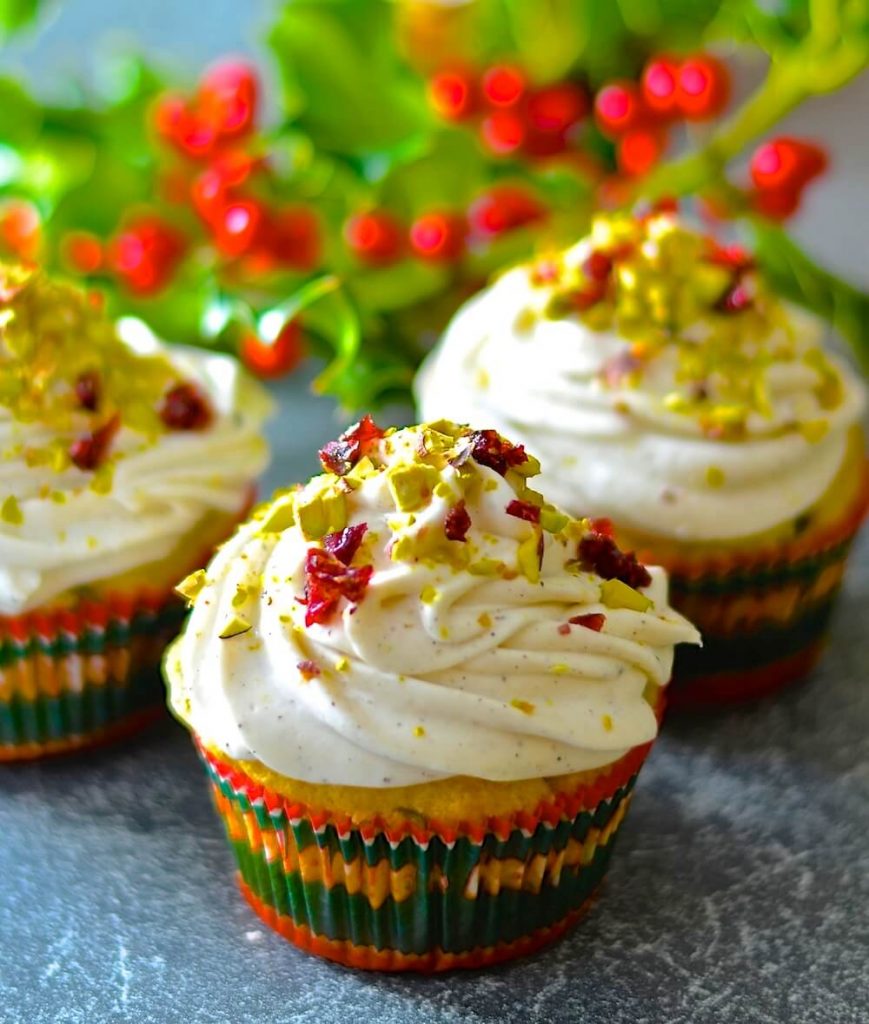 Start off by soaking the dried cranberries for a little while in some orange juice. This makes them plump and juicy and gives them a lovely orange flavour. Then to make the muffins, all you have to do is add all the dry ingredients to one bowl and all the wet ingredients to another. Then mix. Simple as that!
The Vanilla Bean Cream is made with a refrigerated can of full fat coconut milk. When at the grocery store choosing the coconut milk for the cream, shake the cans. You don't want a really sloshy one. You should choose one that feels like there is something solid with a little bit of liquid in there. It is the solid bit that you need to make the cream. I tend to find that I have more success with the organic varieties. Once you get shaking you will see what I mean. It really must be full fat or the cream won't work at all.
So there you have it. My Vegan Mystery Box Challenge recipe creation is Pistachio Cranberry Orange Muffins With Vanilla Cream and aren't they pretty? Those colours….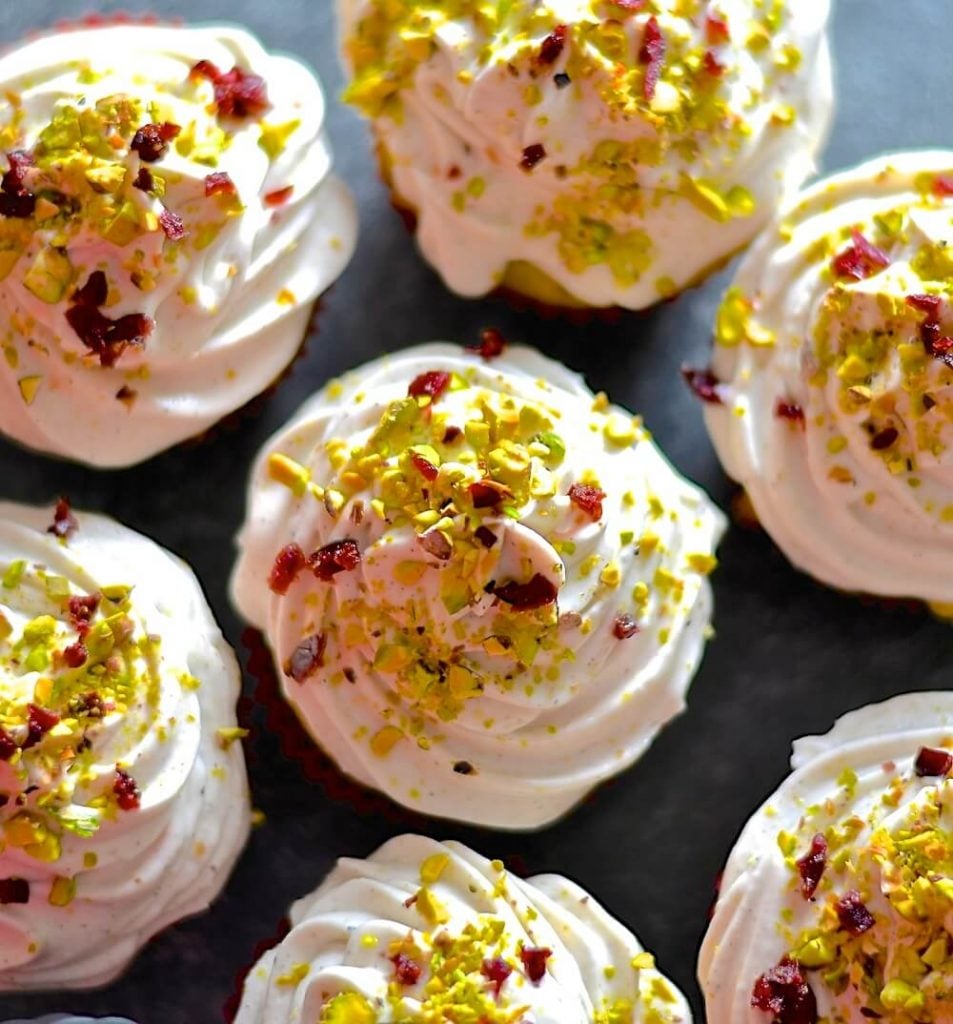 It is fascinating to see how everyone's mind works and how so many different recipes can be made with the same key ingredients. I am really excited to check out the recipes from all of my wonderful fellow vegan bloggers, as I am sure you are too. I have so enjoyed taking part in this challenge. A big thank you to Sam from It Doesn't Taste Like Chicken and Andrew the One Ingredient Chef for setting this Vegan Mystery Box Challenge up. You can check out their recipes, along with all the other bloggers who have taken part under my recipe at the bottom of this post.  Show them all some love folks!
I would love to know what you think of these muffins so please leave your comments below. Share your pics of them on Instagram (@avirtualvegan and #avirtualvegan) and Twitter (@avirtualvegan) and don't forget too that I have a Facebook page. If you don't already you might want to start following it. I would love to see you there!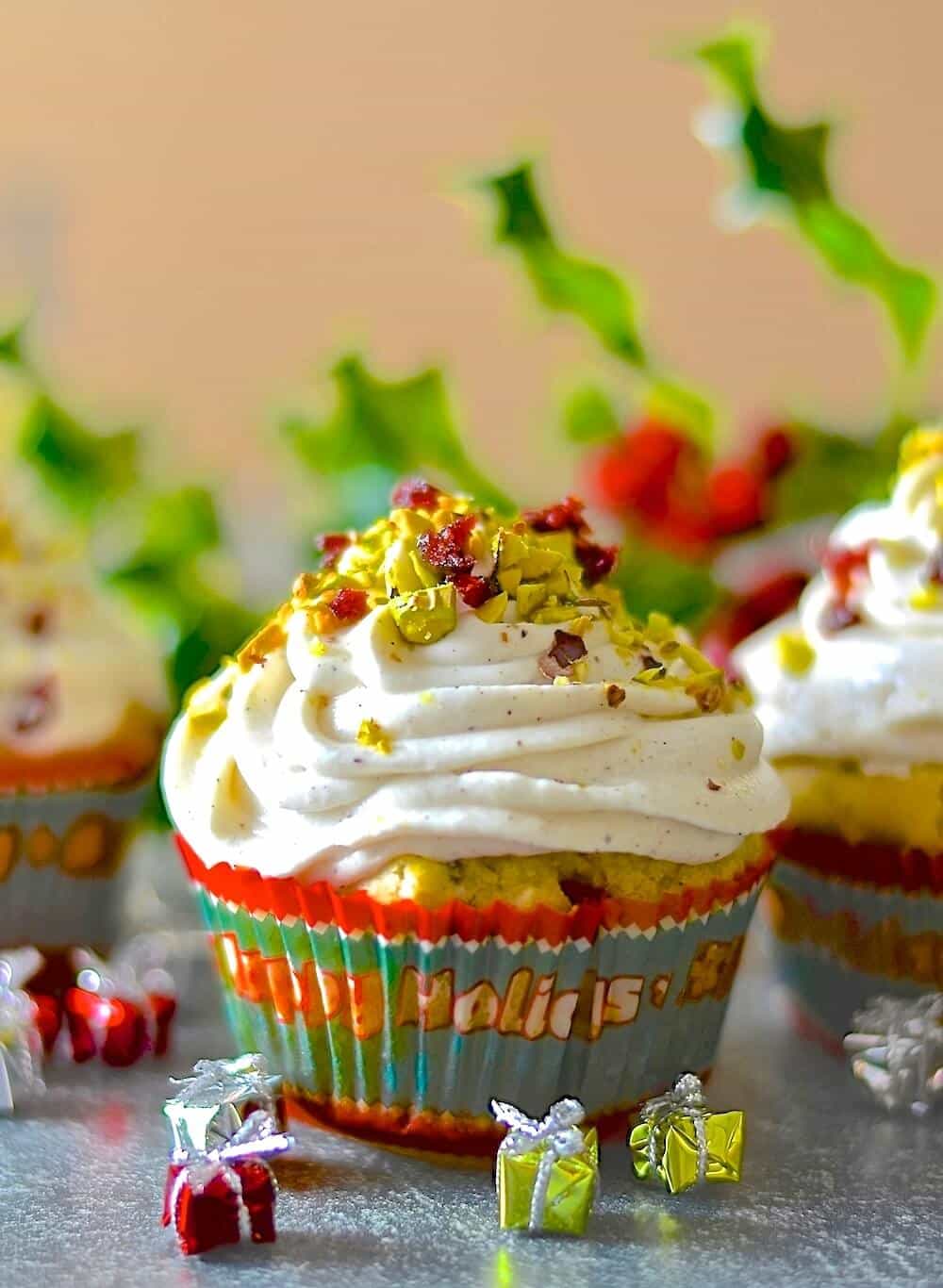 Cranberry, Orange & Pistachio Muffins With Vanilla Cream
Light & fluffy orange scented muffins studded with juicy, jewel red cranberries & crunchy, vibrantly green pistachios all topped with a swirl of vanilla cream. Festive, fragrant & delicious!
Ingredients
120g | 1

cup

dried cranberries

120mls | 1/2

cup

orange juice

260g | 2

cups

all purpose unbleached flour

(sifted)

2.5

teaspoons

baking powder

1/4

teaspoon

baking soda

1/4

teaspoon

salt

100g | 1/2

cup

sugar

(any light granulated sugar will work, as will coconut sugar)

50g | 1/2

cup

pistachio nuts

, chopped, (see recipe notes)

1

large

orange

, tested

120mls | 1/2

cup

coconut oil

, in liquid form, (mild olive oil would also work)

240mls | 1

cup

non-dairy milk

1

tablespoon

apple cider vinegar

(white wine vinegar can also be used).

1

tablespoon

vanilla extract
For frosting
1

400 ml can

full fat coconut milk

, you just need the hard cream on top, (the whole can needs to be refrigerated for at least 12 hours before using).

62g | 1/2

cup

natural powdered sugar

1/2

teaspoon

vanilla bean powder

( You may sub this for 1 teaspoon of vanilla extract if you do not have vanilla bean powder but I do recommend you try to get the powder as the flavour is so much better).

1 - 2

tablespoons

orange juice

(what was left when you drained the cranberries) if the cream is very thick and needs loosening.
Instructions
Preheat oven to 350 degrees F

Line a muffin tray with liners. I love my

silicone liners

. They can be used over and over and nothing ever sticks in them.

Put the cranberries in a small bowl and cover with orange juice. Leave to soak for at least 15 minutes.

Put all of the dry ingredients into a large bowl.

Put all of the wet ingredients into a jug. Don't worry if the coconut oil goes a bit clumpy. Just mix it all up as well as you can.

Drain the cranberries (keep the leftover juice) and add them to the wet ingredients.

Pour the wet ingredients into the dry ingredients and stir well but not too much. You want it to be just combined so you can't see any dry flour. Over mixing can affect the rise & texture.

Spoon into muffin cases and put into the oven immediately.

Bake for around 25 minutes or until a skewer or toothpick comes out clean.
For the cream
While the muffins are cooking or cooling, open the can of coconut milk.

Scrape out the hard cream and put in a bowl. Keep the leftover water and add to a smoothie or curry later.

Beat with an electric hand held whisk or in a stand mixer until light and fluffy.

Add the powdered sugar and vanilla bean powder or extract and beat again until well combined.

If too stiff add a drop or two of the reserved orange juice to loosen.

If you accidentally add a bit too much orange juice then just add a little more powered sugar.

The cream will get a little bit loose as it warms up while being whipped. If it's too loose to pipe put it in the fridge to set up a bit, or even the freezer for a little while if you are in a hurry.

Do not pipe onto the muffins until they are completely cool.

Once piped decorate with some chopped pistachios and dried cranberries.

You can use up the leftover orange juice in a smoothie to save wasting it.
Recipe Notes
If you cannot find natural pistachio nuts then it is ok to use salted pistachios. I purchased mine from a bulk bin and they were labelled unsalted and natural but when I got home and tasted one they were actually salted. They worked absolutely fine in the recipe. Just reduce the salt to 1/8 of a teaspoon to compensate if this is the case.
Nutrition Facts
Cranberry, Orange & Pistachio Muffins With Vanilla Cream
Amount Per Serving (1 muffin)
Calories 386
Calories from Fat 162
% Daily Value*
Total Fat 18g 28%
Sodium 188mg 8%
Total Carbohydrates 49g 16%
Protein 5g 10%
* Percent Daily Values are based on a 2000 calorie diet.
Links to all of the other bloggers who have taken part in the Vegan Mystery Box Challenge:
Vegan Cranberry Pistachio Loaf by It Doesn't Taste Like Chicken
Magic Fruit Cake Bars with White Chocolate Drizzle by One Ingredient Chef
Cranberry Cheesecake & Pistachio Stuffed Vegan French Toast by Connoisseurus Veg
Pistachio Crusted Cranberry Cashew Coconut Cheese by Lemon and Coconut
Jolly Bollywood Holiday Curry by Sexie Veggies
Cranberry Pistachio and Mango Salad by Veggies Save the Day
Cranberry Cointreau Coconut Ice Cream with Candied Pistachios by Vegan Yack Attack
Cranberry Pistachio Donuts by Two City Vegans (Casey)
Cranberry Pistachio Gingersnap Truffles by Two City Vegans (Alix)
Warm Barley Bowl with Roasted Brussels, Sweet Potatoes and a Coconut Curry Dressing by Taste Space
Whole Wheat Cranberry Pistachio Vegan Biscotti by Veggie Inspired Journey
Coconut Pistachio Cashew Cheese Panini with Cranberry Jam by Peppers and Peaches
Toasted Pistachio Rice Pudding with Candied Cranberries by The Lazy Vegan Baker
Pistachio and Cranberry Cream Sandwich Cookies by Love Me Feed Me
Vegan Meringue Nests with Cranberry Coconut Whip and Crushed Pistachios by The Viet Vegan
Vegan Coconut Quinoa Salad by Beets Not Meats
Gourmet Lazy Cabbage Rolls by Choose to Cook
Sweet Potato Coconut Curry with Cranberries and Pistachios by The Tofu Diaries
Lebanese Semolina Pudding (Layali Lubnan) by Lands and Flavors
Vegan Chocolate Cranberry Cake by The Seasonal Diet
// ]]>