Ultra creamy, ultra dreamy, Vegan Garlic Mushroom Risotto that feels like a fancy restaurant meal. So unbelievably rich, creamy, and delicious it's hard to believe this vegan risotto is completely dairy-free!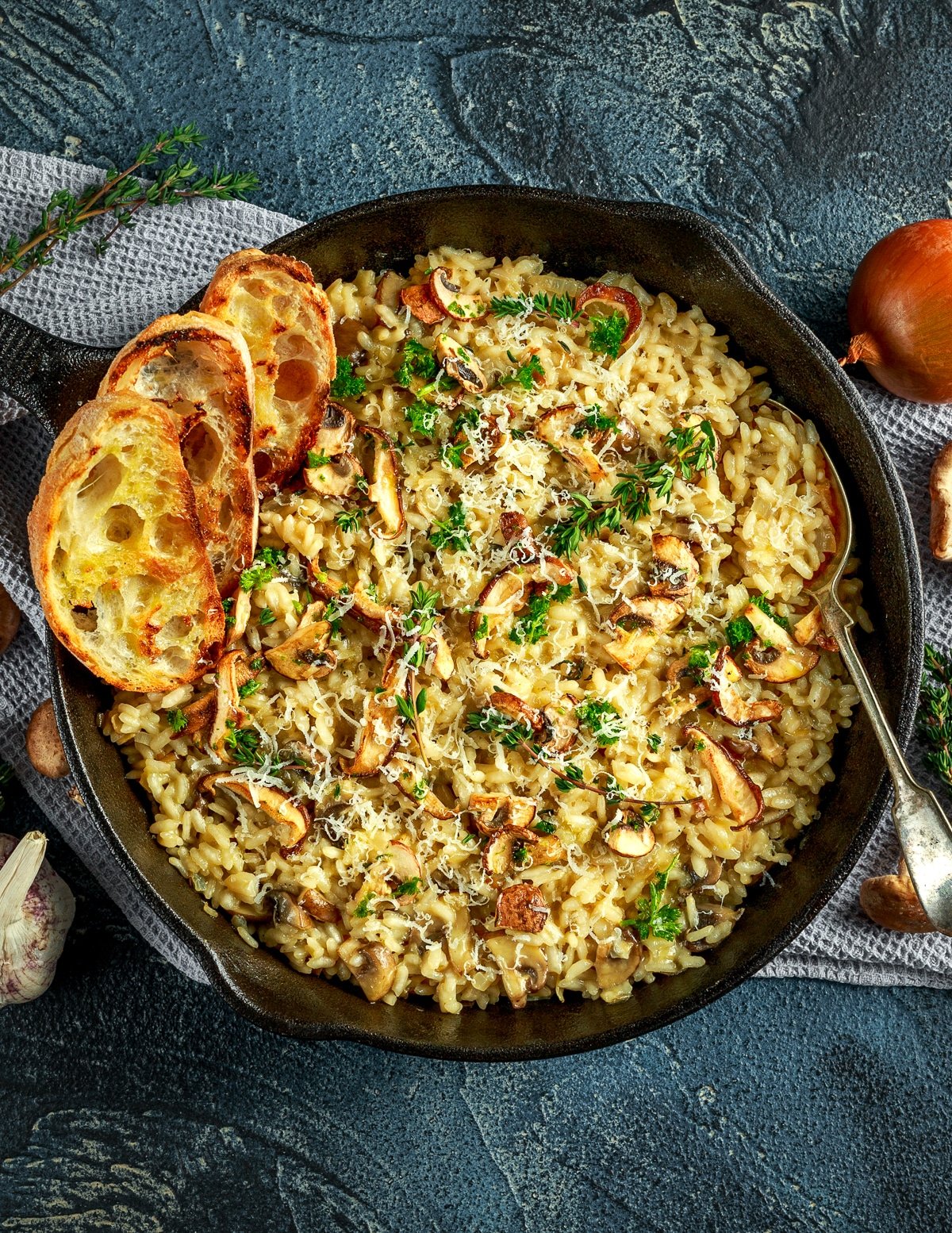 Vegan Garlic Mushroom Risotto has the most amazing flavour and is creamy, rich, and feels so special. The subtly sweet, golden, tender mushrooms, and the amazing flavour of the roasted garlic...Oh the garlic....This one's a REAL treat!
This is a vegan risotto recipe that is perfect for a special date night, or for when you really need really impress someone with your vegan cooking skills! In fact it's always my number one choice when I want a really special, treat myself kind of meal.
We're talking woody, earthy dried mushrooms, mellow sweet roasted garlic, and buttery, creamy risotto rice. All of that combined with the slight acidity from the white wine makes heaven in a bowl.
What Makes This Vegan Risotto Special?
Before I was vegan I made my risottos with lashings of butter and parmesan cheese. They are generally added to a risotto at the end of cooking to give an extra glossy, creamy richness to the cooked rice.
In this Vegan Mushroom Risotto recipe I use rich, creamy, cashew cream and it gives amazing results. Stir it through near the end and you really won't believe the glossy creamy texture and the extra rich flavour it gives until you have tried it for yourself.
Success Tip - Vegan risotto is quite a fast moving dish so make sure everything is prepared and ready before you start. The garlic and the cashew cream can be prepared up to a couple of days in advance which can help save time on the day. Remember too that when risotto is ready it needs to be served immediately so again have everything ready, table set etc, so you can enjoy the fruits of your labour at it's very best.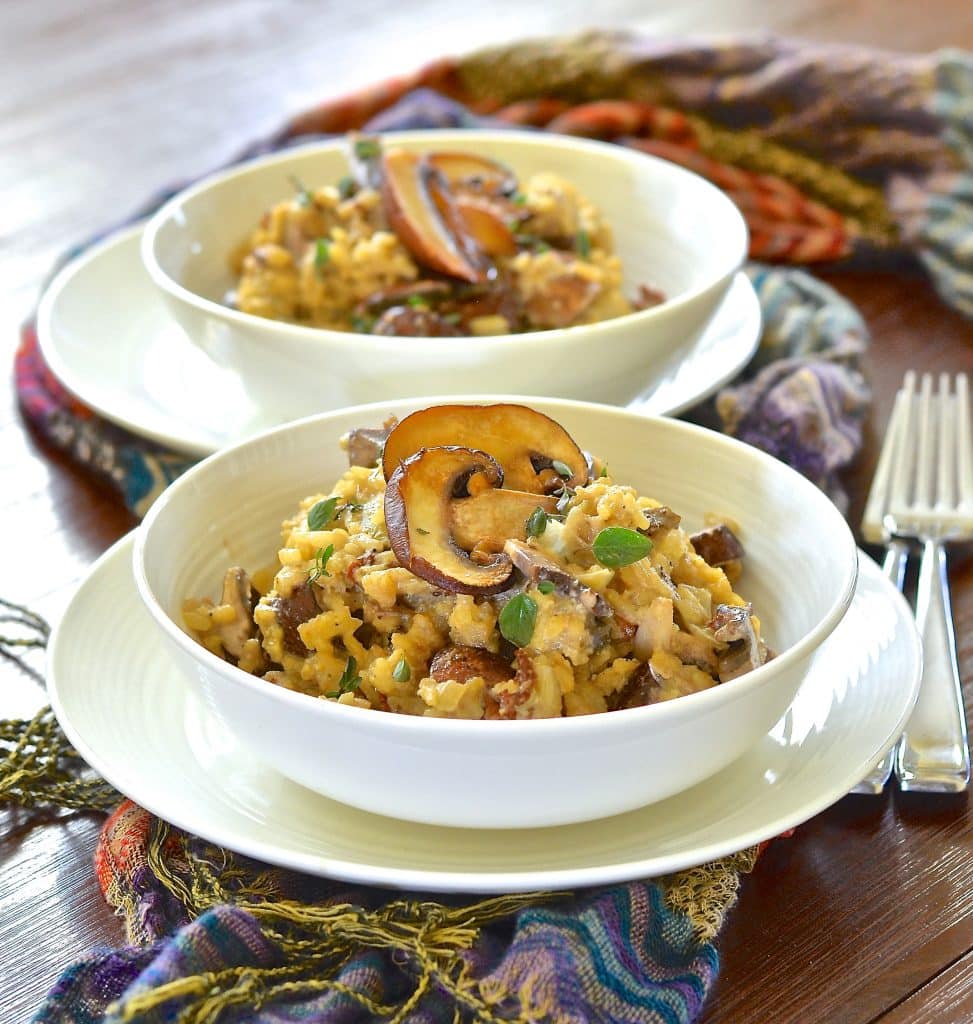 Be prepared to dedicate twenty to twenty-five minutes of your time to standing with the pan and stir a lot. This stirring helps to break down the starch in the rice which in turn makes the risotto extra creamy. If you're not up for that take a look at my Risi e Bisi recipe which is just as decadent but much simpler to make.
I tend to have a wooden spoon in one hand and a glass of wine in the other while preparing my risotto though, and it's strangely therapeutic to stand there stirring and sipping!
Be sure to serve your vegan risotto with lots of vegan parmesan cheese and a big glass of red wine!
Vegan Risotto FAQs
What kind of rice do you use to make risotto?
You need risotto rice (a short grain rice) to make this recipe. Arborio rice, carnaroli rice or Vialone Nano. You can usually find at least one of them in most grocery stores although the most commonly found is arborio.
What should I pair with vegan risotto?
Risotto is amazing with garlic bread or no knead focaccia, lots of vegan parmesan, and a crisp green salad, lemon orzo salad, or some extra virgin olive oil and balsamic vinegar tossed peppery arugula leaves. Or just serve it simply on it's own with a big glass of red wine!
If you try this recipe, let me know how you like it by leaving a comment and rating below! And be sure to join my mailing list for more deliciousness!
Recipe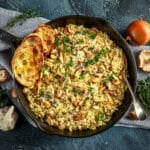 Vegan Garlic Mushroom Risotto
Author:
Ultra creamy, ultra dreamy, Vegan Garlic Mushroom Risotto that feels like a fancy restaurant meal. So unbelievably rich, creamy, and delicious it's hard to believe this vegan risotto is completely dairy-free!
Ingredients
INSTRUCTIONS
For the roasted garlic
Preheat oven to 400°F (200°C). Brush the foil squares with olive oil. Cut the top quarter off each garlic bulb (not clove, the whole bulb) so the cloves inside are exposed. Discard the top, and pop the rest in the middle of the foil. Draw it up around the bulbs and squeeze tightly shut.

Place on a tray and bake in the oven for about 25 minutes. Check they feel squishy through the foil. Return to the oven for a few more minutes if not. Remove from the oven and set aside to cool a bit. This step can be done up to 4 days ahead. Just keep them unopened in the fridge.
For the cashew cream
Soak the cashews in boiling water for 15 minutes, then drain.

Squeeze the roasted garlic out of the cloves (If you squeeze from the base up the little soft cloves will pop out easily) and put them into a high powered blender. Add the soaked cashews, nutritional yeast, and water and blend until completely smooth.
For the risotto
Put the dried mushrooms in a small bowl and cover with boiling water. Soak for at least 15 minutes then squeeze, drain and chop, reserving the liquid to use as part of the stock.

Warm the olive oil in a wide shallow pan over a medium heat. Add the onion sauté until translucent.

Add the risotto rice to the pan and stir for a minute or two until it starts to make little popping noises, then pour in the white wine and the dried mushrooms. Stir constantly until the wine is almost absorbed. It will only take a minute or two.

Gradually add 1½ cups of stock, half a cup at a time, stirring constantly between each addition. Only add the next half a cup when the previous one has almost been absorbed. The stirring when making risotto is really important. It breaks own the starch and will make your vegan risotto irresistiably creamy!

Add the fresh mushrooms to the pan, stir and gradually add the last half a cup of stock. Keep stirring until almost absorbed again. Check that the rice is tender. If not add a little more stock and continue cooking until it is.

Turn down really low and add the cashew cream, salt and pepper. Stir until it has warmed through then turn off the heat, check the seasoning adding more salt and pepper as needed, then add the vegan butter and fresh thyme leaves. Stir them through then serve immediately with lots of vegan parmesan.
NOTES
Store leftovers in a sealed container in the fridge for 3 to 4 days. Reheat in a small pan on the stovetop or in a microwave. Add a few tablespoons of water prior to heating to moisten it up. 
NUTRITION
Serving:
1
serving
|
Calories:
523
kcal
|
Carbohydrates:
61
g
|
Protein:
12
g
|
Fat:
22
g
|
Saturated Fat:
4
g
|
Polyunsaturated Fat:
4
g
|
Monounsaturated Fat:
13
g
|
Trans Fat:
0.03
g
|
Sodium:
1411
mg
|
Potassium:
700
mg
|
Fiber:
5
g
|
Sugar:
5
g
|
Vitamin A:
573
IU
|
Vitamin C:
5
mg
|
Calcium:
47
mg
|
Iron:
5
mg
Did you make this recipe?
Rate it & leave feedback in the comments section below. I love seeing your remakes too. Tag @avirtualvegan on Instagram! 🌟