Ultra creamy, ultra dreamy, garlicky mushroom vegan risotto. So unbelievably rich & delicious it's hard to believe that it's dairy-free!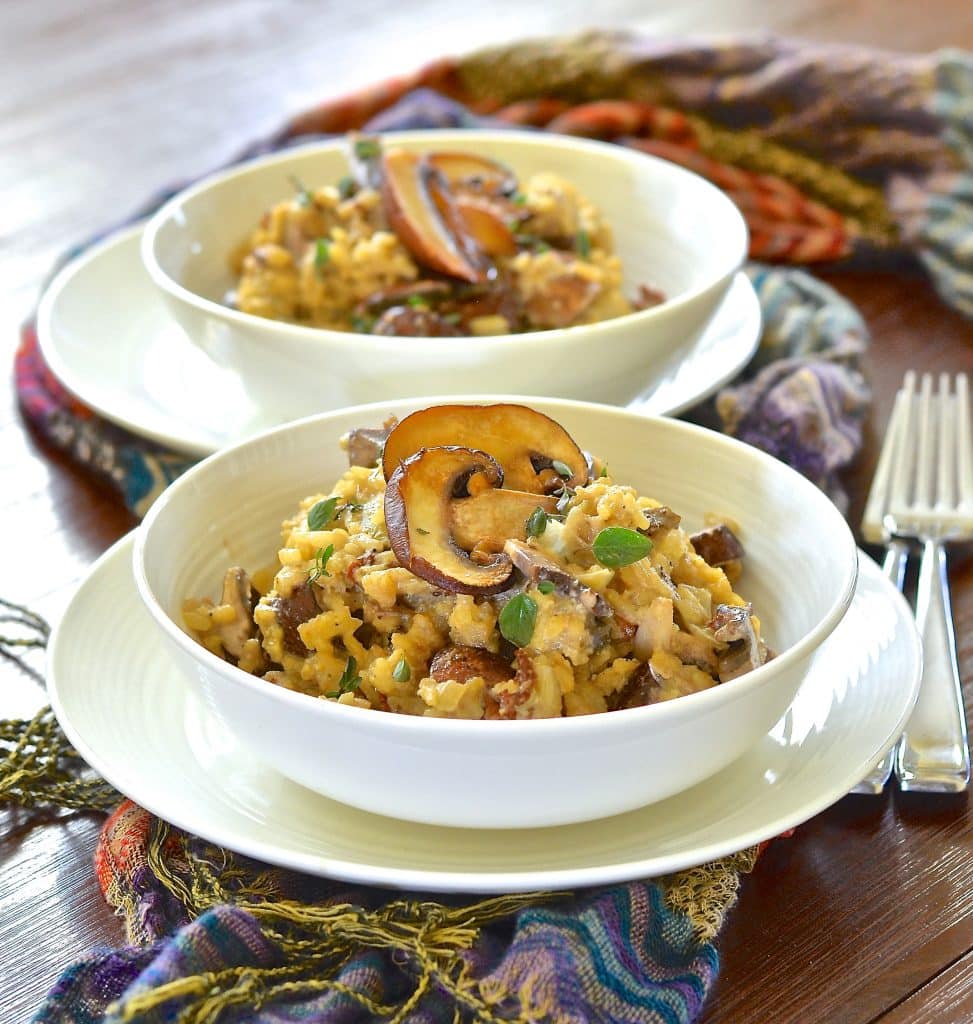 Risotto has got to be one of my all time favourite foods. The voluptuously rich, creamy texture is just irresistible and I love nothing more than eating it with a large glass of oaky red wine.
Before I was vegan I made my risottos with lashings of butter and parmesan cheese. They are generally added to a risotto at the end of cooking to give an extra glossy, creamy richness to the cooked rice.
In this Garlic Mushroom Vegan Risotto recipe I sub cashew cream for the butter and the cheese with amazing results. You really won't believe the glossy creaminess and the extra flavour it gives until you have tried it for yourself. Cashew nuts really are a magical ingredient. You can do so much with them and they really help to make this risotto extra special.
This Garlic Mushroom Vegan Risotto has the most amazing flavour.
Woody, earthy dried mushrooms, mellow sweet roasted garlic, and buttery, slightly cheesy cashew cream. All of that combined with the slight acidity from the white wine makes heaven in a bowl.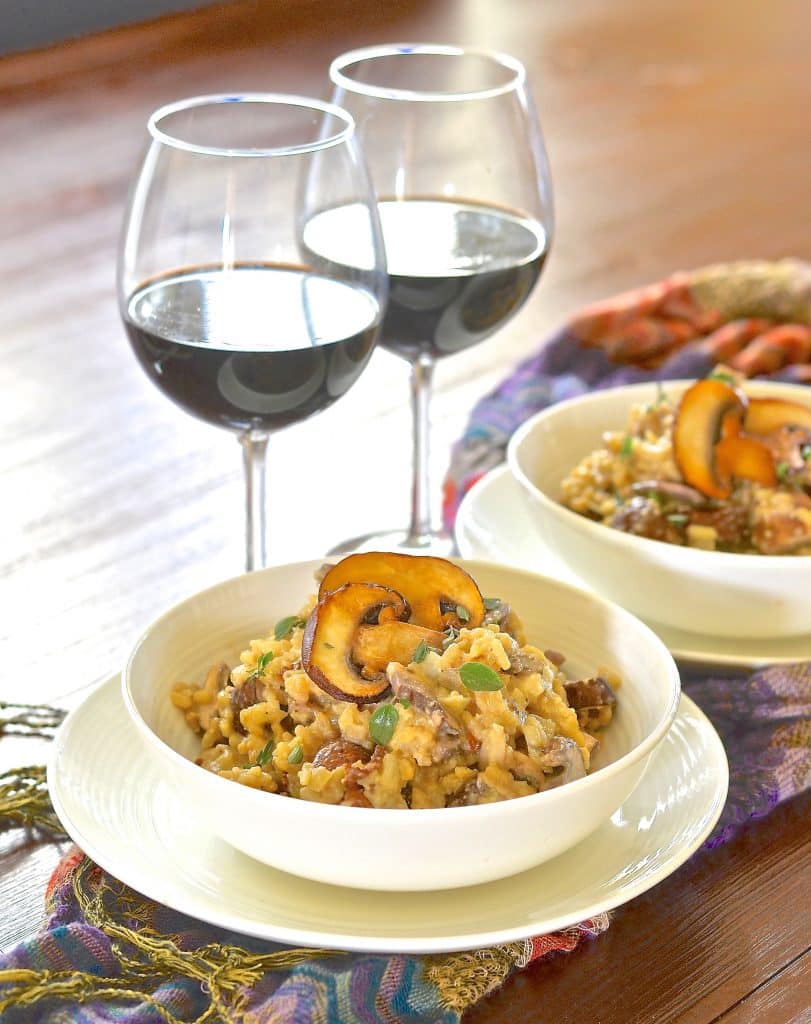 Please do not be alarmed by the amount of garlic in this recipe. It sounds a lot but when you roast garlic is becomes very mellow and sweet so it will not be too overpowering. Taste a clove when you are squeezing it out and you will see what I mean.
Risotto is so satisfying to prepare and never fails to impress.
You might have heard that risottos are difficult to make but this one really isn't. You do however need to dedicate twenty to twenty-five minutes of your time to standing with the pan and stirring as much as you can. This stirring helps to break down the starch in the rice which in turn makes the risotto extra creamy. I tend to have a wooden spoon in one hand and a glass of wine in the other while preparing my risotto and it's strangely therapeutic to stand there stirring and sipping! Try it. You will see what I mean.
Risotto is quite a fast moving dish to cook so make sure everything is prepared and ready before you start. The garlic and the cashew cream can be prepared up to a couple of days in advance and stored in the fridge leaving you with just an onion and mushrooms to chop on the day. Remember too that when risotto is ready it needs to be served immediately so again have everything ready, table set etc, so you can enjoy the fruits of your labour at it's very best.
When it is time to make your vegan risotto you can relax, sip your wine and chat to your guests, safe in the knowledge that everything is prepared and ready to go.
This Garlic & Mushroom Vegan Risotto is perfect for serving at a special meal or dinner party. It would even make a great alternative Christmas dinner. What a refreshing change to just have one pot and a few plates or bowls to wash up on Christmas day!
For more vegan rice recipes, check out these great options:
And if you love this recipe, please do checkout my cookbook, and subscribe to my email list for a fabulous FREE eCookbook featuring my top 10 recipes. Being on the list means you will be first to see my new recipes and you'll be kept in the loop on all things new and exciting too!
Recipe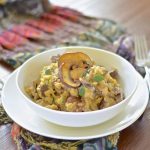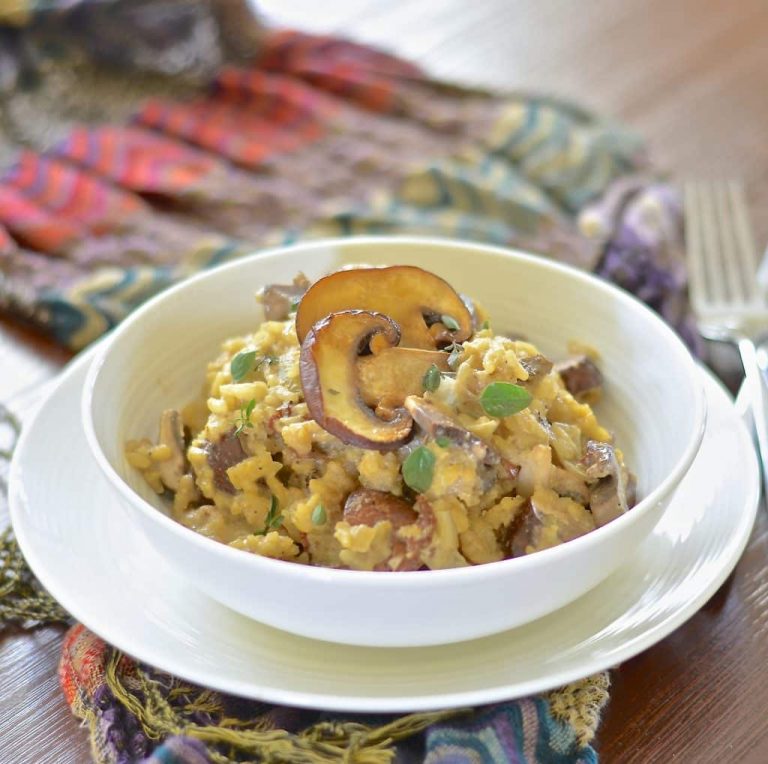 Garlic Mushroom Vegan Risotto
Author:
Ultra creamy, ultra dreamy, garlicky mushroom vegan risotto. So unbelievably rich & delicious that it's hard to believe that it's dairy free!
Ingredients
For the roasted garlic
1

teaspoon

olive oil

2

whole

garlic bulbs

(not cloves, whole bulbs)

2

squares of silver foil
For the cashew cream
75g | 1/2

cup

cashew nuts

(soak for at least 2 hours in cold water or 15 minutes in boiling water)

2

heaping tablespoons

nutritional yeast

120mls | 1/2

cup

water
For the risotto
10g | 1/3

cup

dried mushrooms

(I used chanterelles & morels but porcini, oyster or a mixed blend would also be good. Dried mushrooms are a little pricey but a little goes a long way.

1

tablespoon

olive oil

1

medium onion chopped finely

200g | 1

cup

risotto rice

(Arborio or Carnoli work best)

240mls | 1

cup

white wine

( you may sub this for more stock if you have no wine although the flavour will not be as good)

480mls | 2

cups

mushroom broth

, or vegetable broth, (use the water you drain off the dried mushrooms and make up to 2 cups)

225g | 3

cups

fresh crimini mushrooms

, baby portobello, or white mushrooms sliced

2

teaspoons

fresh thyme

(optional)

2

tablespoons

vegan butter

, optional

Salt and pepper to taste
INSTRUCTIONS
For the roasted garlic
Preheat oven to 400. Brush your foil squares with a little olive oil. Cut the top quarter off each garlic bulb so the cloves inside are exposed.

Place in the middle of the foil and draw it up around the bulbs and squeeze tightly shut.

Place on a tray and bake in the oven for about 25 minutes.

Check they feel squishy through the foil. Return to the oven for a few more minutes if not.

Remove and set aside.
For the cashew cream
Put all ingredients into a

food processor

or blender and process until smooth. Squeeze the roasted garlic out of it's skin and into the cashew cream. If you squeeze from the base up the little soft cloves will pop out easily. Process once more for 30 seconds or so until smooth and the garlic is combined.

Set aside.
For the risotto
Put the dried mushrooms in a small bowl and cover with warm water. Soak for at least 15 minutes then squeeze, drain and chop, reserving the liquid as part of the stock.

Warm the olive oil in a wide shallow pan over a medium heat.

Add the onion and sauté until translucent.

Add the rice and stir for a minute or two until it starts to make little popping noises.

Pour in the white wine and add the dried mushrooms.

Stir constantly until the wine is almost absorbed. It will only take a minute or two.

Gradually add 1.5 cups of stock, half a cup at a time, stirring constantly.

When the liquid is nearly absorbed add the fresh mushrooms, stir and gradually add the last half a cup of stock. Keep stirring until almost absorbed again. Check that the rice is tender. If not add a little more stock and continue cooking until it is.

Turn down low and add the cashew cream, salt and pepper to taste (about 1 teaspoon of pepper and 1.5 teaspoons of salt but taste as you add so it's just right for you).

Keep stirring until it has warmed through again then add the butter (optional but lends a lovely glossy texture) and fresh thyme leaves.

Serve immediately.
NOTES
To get the mushrooms on the top like I did for a garnish I simply sliced them, put them in a warm pan with a drop of olive oil and left them to cook very slowly. Turning half way. They kind of dry out a bit and go nice and chewy and toasty so make a fabulous garnish! Great if you are having a dinner party or special meal.
NUTRITION
Serving:
1
serving
Calories:
579
kcal
Carbohydrates:
79
g
Protein:
17
g
Fat:
18
g
Sodium:
374
mg
Fiber:
7
g
Sugar:
5
g
Vitamin A:
50
IU
Vitamin C:
14
mg
Calcium:
90
mg
Iron:
3.4
mg
Tried this recipe?
Rate it & leave your feedback in the comments section below!