Deep, dark, insanely rich and chocolate-y Chocolate Marshmallow Cookies with perfect crackly tops. They are soft, chewy and crispy all at the same time and naturally gluten-free. These are cookies for people who are serious about cookies ... And chocolate ... And marshmallows ...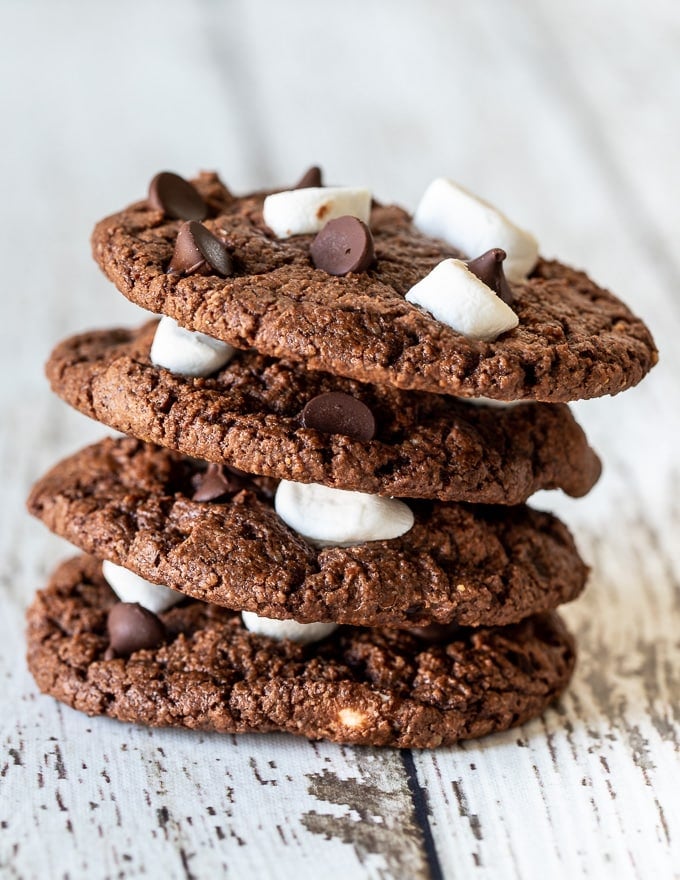 These are Chocolate Marshmallow Cookies and this is your warning.
Close your eyes. Turn away. You do not want to make them. If you dare to continue you will be completely and utterly obsessed and find yourself standing in the kitchen eating cookies at odd times of the day when you should really be doing other things.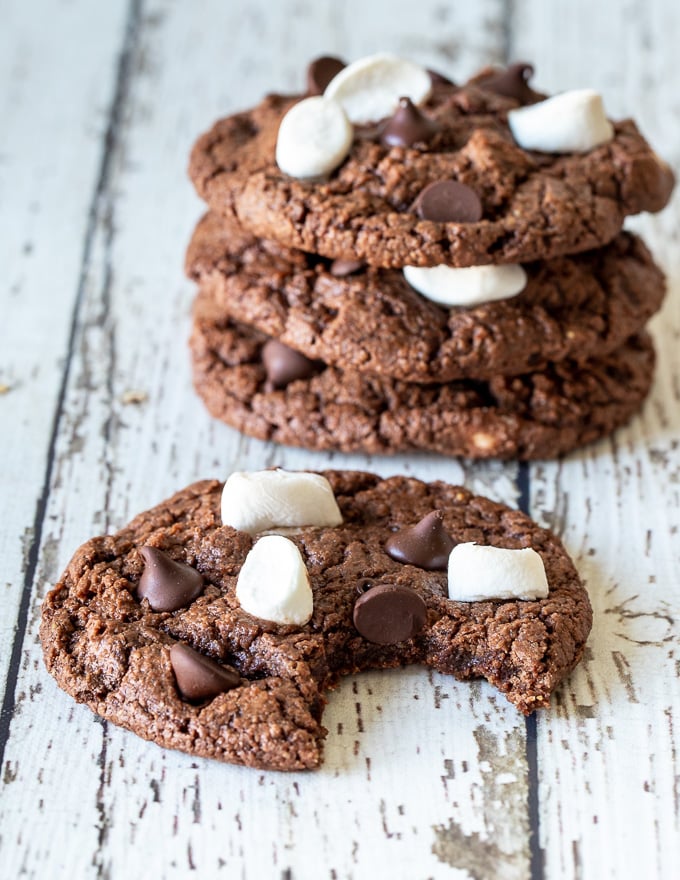 If you are looking for vegan cookies that are any of the following:
Easy
Deep, dark and crackly on top
Seriously rich and chocolate-y
Soft, chewy and crispy all at the same time
Studded with fluffy marshmallows
Buttery without butter or even any oil at all
Naturally gluten-free
No dough chilling required
Then sign yourself up. Sold. You have found the only Chocolate Marshmallow Cookies you will ever need in your life. Complete and utter obsession is about to take over.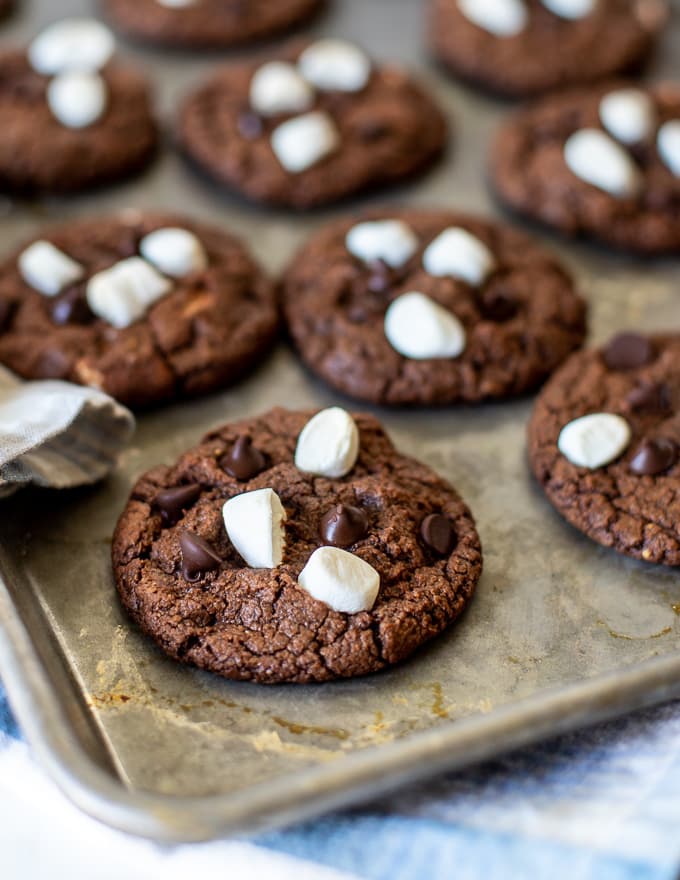 Something absolutely magic happens when these cookies get baked up. The marshmallows turn into sheer heaven. More heaven-like than regular straight out of the bag marshmallows. The inside cookie covered ones get really soft and chewy and the ones with their edges poking out, get almost crispy, toasted on the outside and gooey on the inside. The texture of the actual cookies too is spot on. Crisp on the edges and soft and chewy inside. The combo of the really rich, chewy chocolate cookies with the marshmallows is currently one of my favourite things ever.
Are marshmallows vegan?
Regular marshmallows are not vegan because they are made with gelatin. However, there are some excellent vegan marshmallow brands available and they are indistinguishable from regular marshmallows.
I like Dandies Marshmallows because they are made with natural non GMO ingredients and they are allergen friendly. They are pretty easy to find in most grocery stores or you can pick them up from Amazon.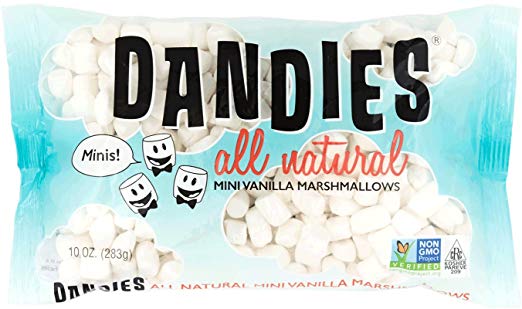 If you aren't able to find vegan marshmallows though, see my substitution suggestions a little further down the post.
How to make Chocolate Marshmallow Cookies
Chocolate Marshmallow Cookies are incredibly easy to make and no special equipment is needed.
Step 1 - Add chocolate chips, nut/seed butter, sugar, vanilla, milk and salt to a small pan.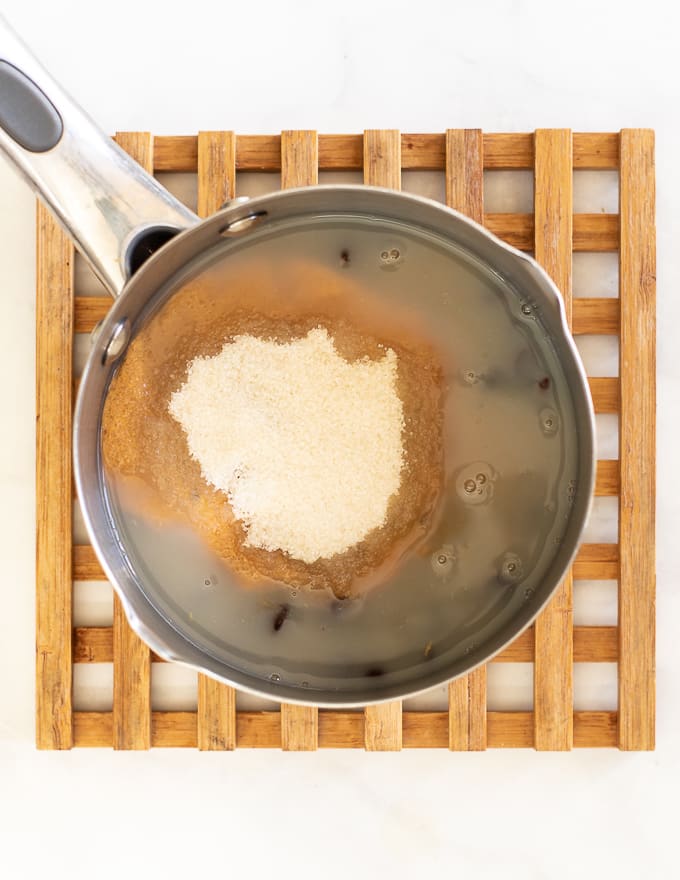 Step 2 - Allow it all to melt gently together.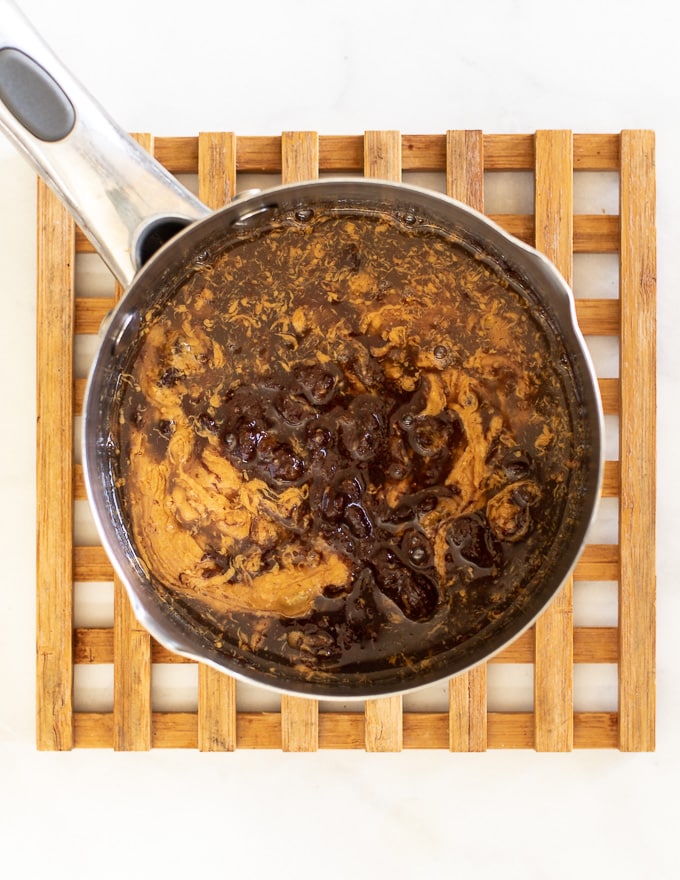 Step 3 - Then stir to combine until it's like a thick chocolate sauce.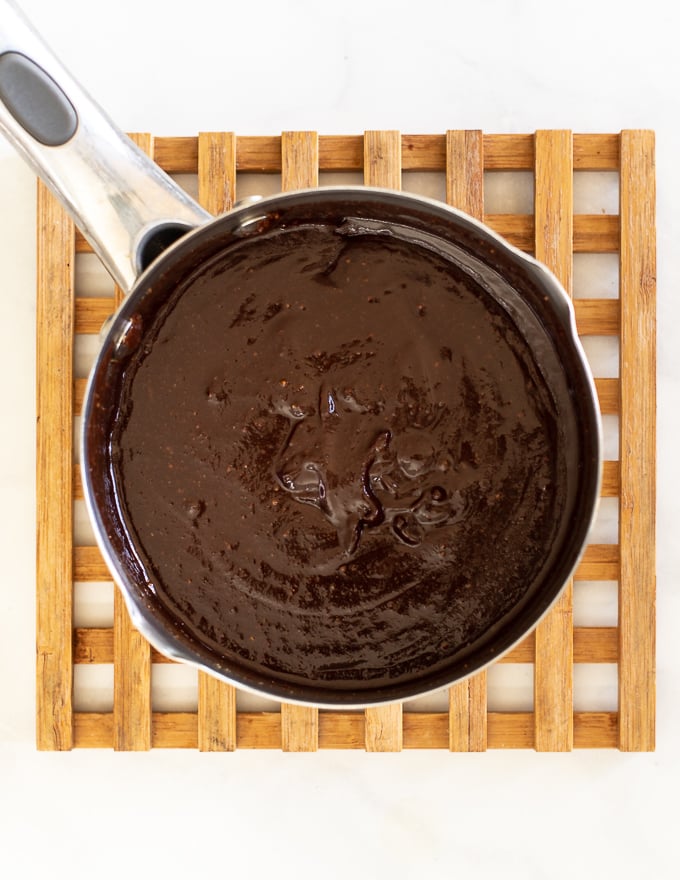 Step 4 - Put the flour, flax, baking soda, baking powder, remaining chocolate chips and marshmallows in a mixing bowl, pour over the melty chocolate mixture and give it all a good stir.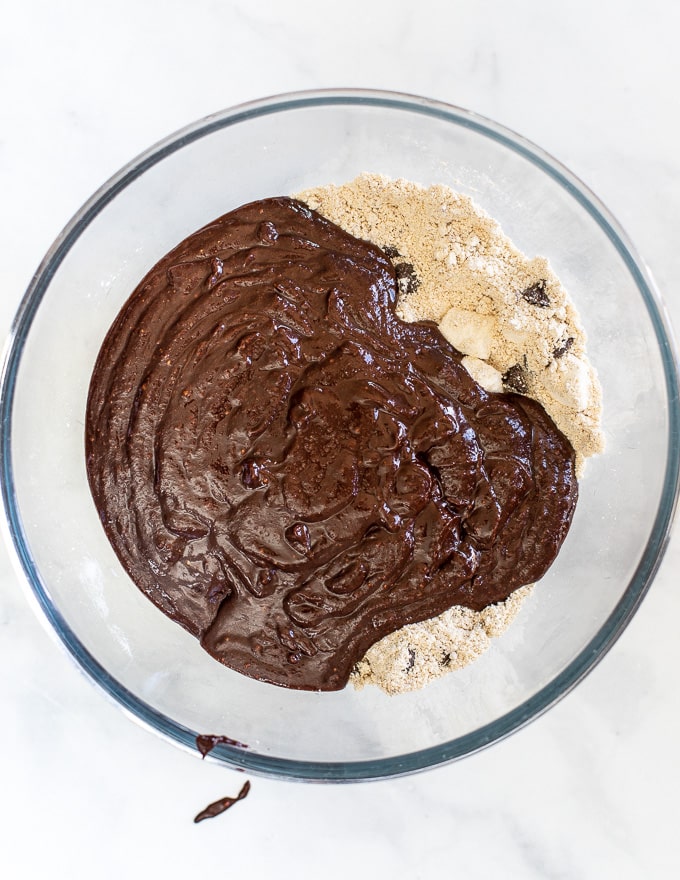 Step 5 - Use an ice cream scoop to scoop out dollops onto a baking tray and stick a few more chocolate chips and marshmallows on top ... because more chocolate and more marshmallows are never a bad thing. Then bake.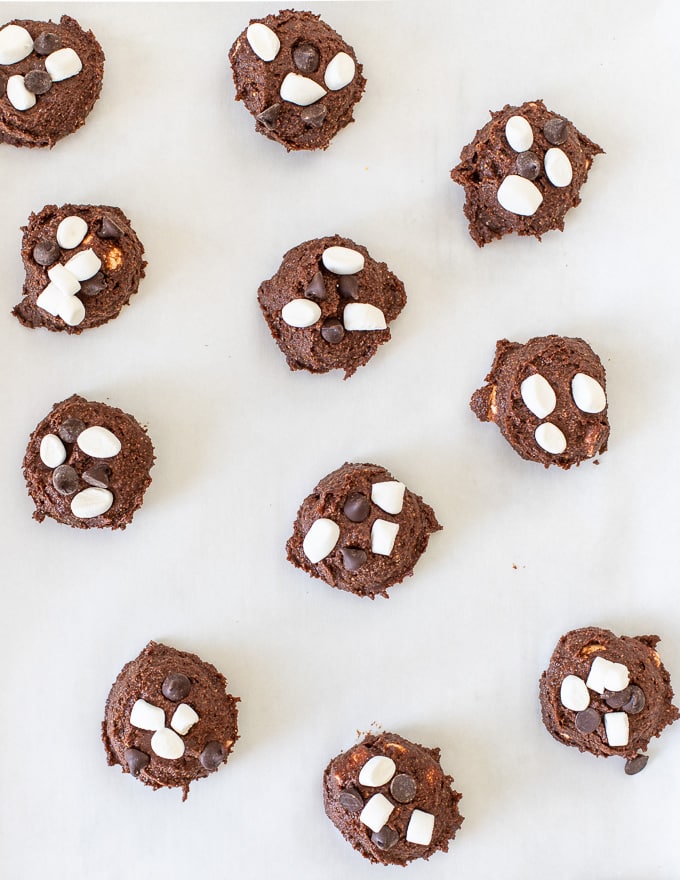 Success tips
Follow the recipe closely and as always with recipes involving flour, I highly recommend you use a kitchen scale. Cup measurements are not accurate enough to get the best and consistent results, but if you do need to use them, spoon the flour into the cup then level off the top with a knife without compacting it or shaking it down. By doing it like this you will get roughly the correct amount.If you scoop the flour up into the cup, you will end up with much more than is needed and it will affect the outcome of the recipe.
This is a quick and easy recipe. The dough is thick and sturdy enough to bake right away and there is no chilling required. However, should you bake the cookies using oil instead of nut butter, chill in the refrigerator for probably about 30 minutes. Check how it feels. It will be a little sticky but shouldn't be wet. It should be firm enough to scoop up in an ice cream scoop and stay that shape on a baking tray when turned out.
Unless you have a really great baking tray, line it. Use either parchment paper or a silicone baking mat.
How to make oat flour
If you do need to make your own oat flour it's really easy and much cheaper than buying it ready made from the store. Generally you get the same volume of oat flour as you do the amount of whole oats you started with. So use 1 cups of oats and you will get 1 cups of flour (assuming you don't sieve it - see my notes about that below).
Simply add oats (rolled, quick or steel cut) to a blender and blend on high speed until the oats are a fine powder.
Of course, how good your blender is will make a difference with this. With a high powered blender like a Blendtec or a Vitamix you can get it really fine. I tend to almost always use it straight from the blender without sieving and that is absolutely ok when making these cookies. If your blender is not so good though, you can run it longer to get a finer flour and if it still isn't super fine, then sieve it. Use the fine flour for baking and the courser flour in the sieve for making oatmeal.
Variations
Swap out the marshmallows for nuts or dried fruit
Omit the marshmallows and just enjoy super rich, simple, double chocolate cookies
Omit the marshmallows and add a sprinkle of flaky sea salt to the tops of the cookies before baking
Add some broken up salted pretzels to the batter and to the top before baking
Turn them into sandwich cookies by whipping up a delish frosting to sandwich them together with
Make ice cream sandwiches with them ... OMG .. can you imagine ...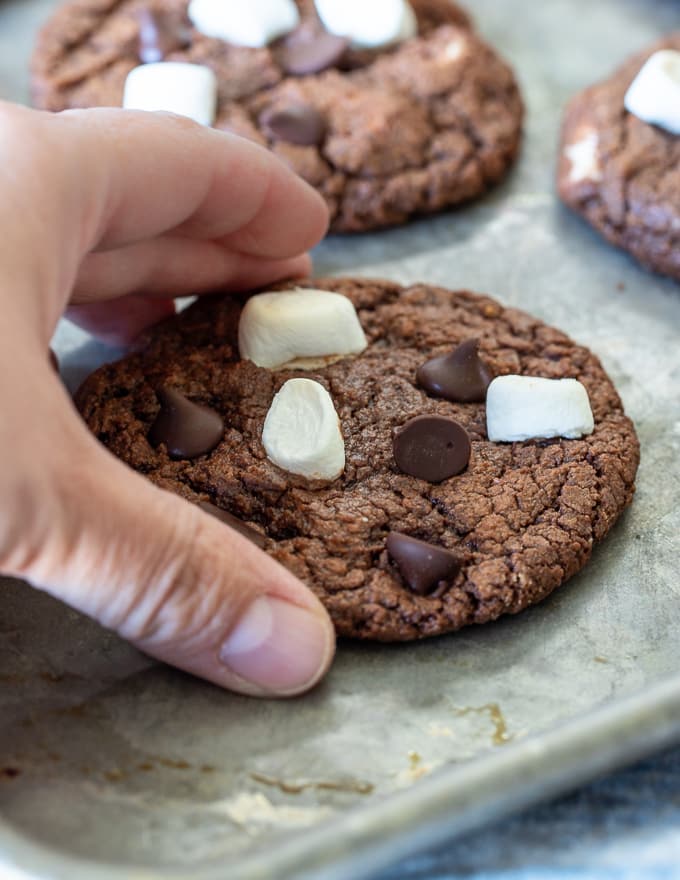 If you try this recipe, let me know how you like it by leaving a comment and rating below! And be sure to join my mailing list for more deliciousness!
Recipe Video
Recipe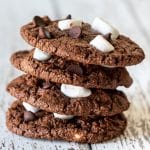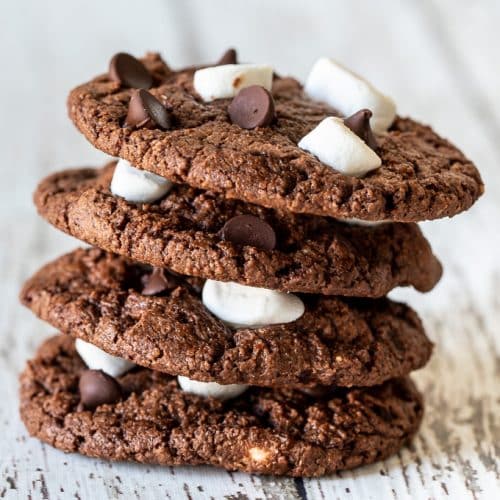 Chocolate Marshmallow Cookies
Author:
Deep, dark, insanely rich and chocolate-y Chocolate Marshmallow Cookies with perfect crackly tops. They are soft, chewy and crispy all at the same time and naturally gluten-free. These are cookies for people who are serious about cookies ... And chocolate ... And marshmallows ...
Ingredients
1⅓ cup / 233

g

dairy free chocolate chips

, divided - plus a few more for decorating the top

¼ cup / 4

tablespoons

smooth seed or nut butter

, any nut or seed butter will work. Flavor-wise, SunButter works really well, as does peanut butter, cashew or almond butter. If you don't have any nut/seed butter, coconut oil can be used instead but see the recipe notes for an important extra step!

¾ cup / 150

g

sugar

, cane, granulated white or coconut sugar

1

teaspoon

vanilla extract

⅓ cup / 80

ml

unsweetened milk of choice

1

teaspoon

fine salt

1 ¼ cup / 125

g

oat flour or all purpose flour

, for gluten-free be sure to use certified gluten-free oats

2

tablespoons

ground flax seed

, don't sub this for anything else. It gives the best result by far.

1

teaspoon

baking powder

⅛

teaspoon

baking soda

(bicarbonate of soda in the UK)

⅓ cup / 20

g

mini vegan marshmallows

, I like the brand Dandies
INSTRUCTIONS
Preheat the oven to 350 °F (175 °C) and line a large baking tray/cookie sheet with parchment paper or a silicone baking mat.

To a small saucepan, add 1 cup (175 g) of the chocolate chips. Set the rest aside you will need them later. Then add the nut/seed butter, sugar, vanilla, milk and salt to the pan. Set over a really low heat and allow to melt together. Once the chocolate chips are a bit melty, take it off the heat and stir it together well until they melt completely and it looks like chocolate sauce.

To a mixing bowl, add the flour, ground flax seed, baking powder, baking soda, the remaining chocolate chips and the mini marshmallows. Stir it to combine, then pour in the melted chocolate mixture, making sure you scrape the pan out well with a spatula so you don't waste any. Stir everything together until you can't see any dry flour.

Using an ice cream scoop (mine holds a smidge over 2 tablespoons), scoop out mounds of cookie dough and place them on the prepared baking tray leaving a margin of at least 2½ inches around each one.

Stick an extra couple of chocolate chips and marshmallows in the top of each one, then bake on the centre shelf of the oven for 15 to 17 minutes. They will stay in mound shapes for most of the time in the oven, but towards the end will flatten to cookie shapes. Once done they will have firmed up a little on the edges and will look cooked but still feel very, very soft if you touch them gently.

Remove from the oven and leave on the tray for 5 minutes. They will be too soft to move immediately. After 5 minutes, transfer them really gently to a cooling rack and allow to cool completely before storing in an air tight container. Eating one (or more) warm is highly recommended though!
NOTES
IMPORTANT - If you use coconut oil instead of nut/seed butter, once the dough has been mixed up you must refrigerate it for 30 minutes to 1 hour prior to dolloping the cookie dough out and baking the cookies. This will allow it to firm up again and will stop the cookies spreading too much.
NUTRITION
Serving:
1
of 13 cookies
Calories:
206
kcal
Carbohydrates:
32
g
Protein:
3.4
g
Fat:
8.9
g
Sodium:
200
mg
Fiber:
2.6
g
Sugar:
23
g
Calcium:
40
mg
Iron:
1.1
mg
Tried this recipe?
Rate it & leave your feedback in the comments section below!