No gluten? No problem! This spring infused Gluten-Free Lemon Cake is made with fresh lemons, beautiful bluebs and oat flour. It's fresh and zingy , soft and tender and there are bursts of juicy blueberry in every bite!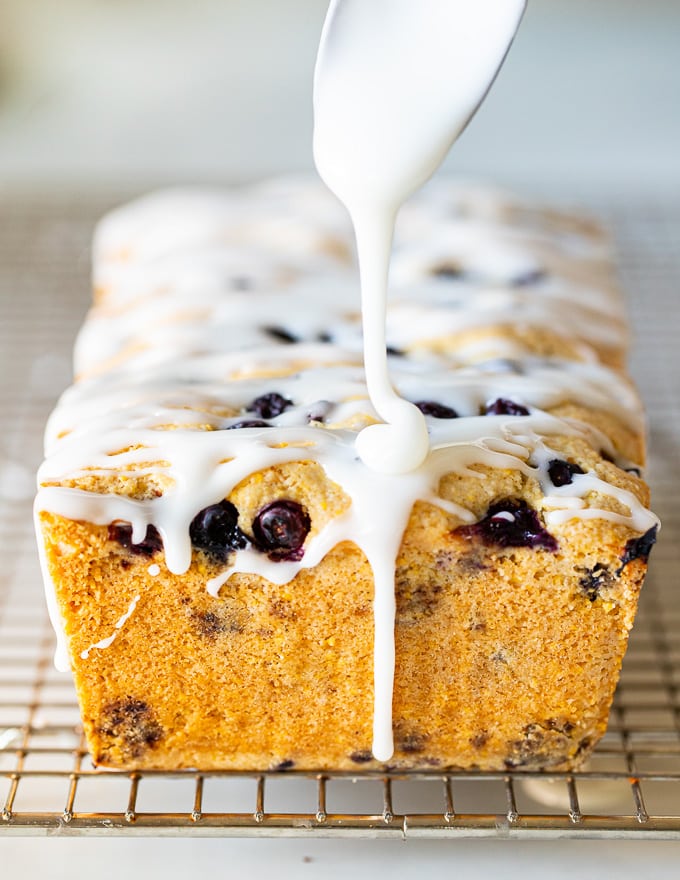 Look out world, Gluten-Free Lemon Cake with bursty bluebs is coming on through! This recipe is an adaptation of my very popular Lemon Blueberry Loaf recipe.
You are welcome.
We're talking:
SUPER YUM lemon infused cake, crammed with juicy blueberries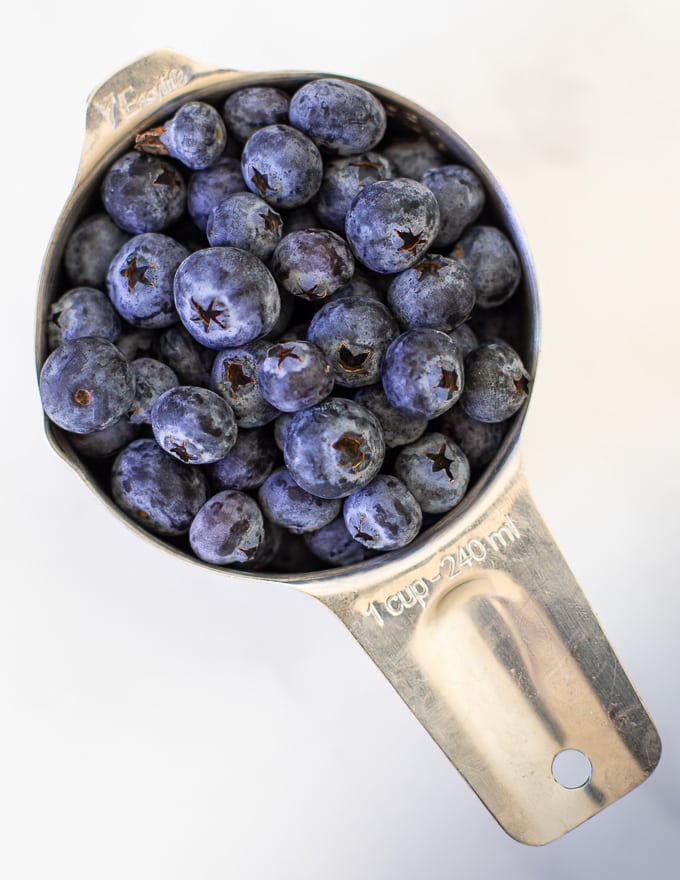 Oat flour in place of all purpose flour so no gluten (as long as you use certified gluten-free oats)
Soft, tender sponge
A dash of yellow speckles from the cornmeal, which adds depth of flavour and a lovely texture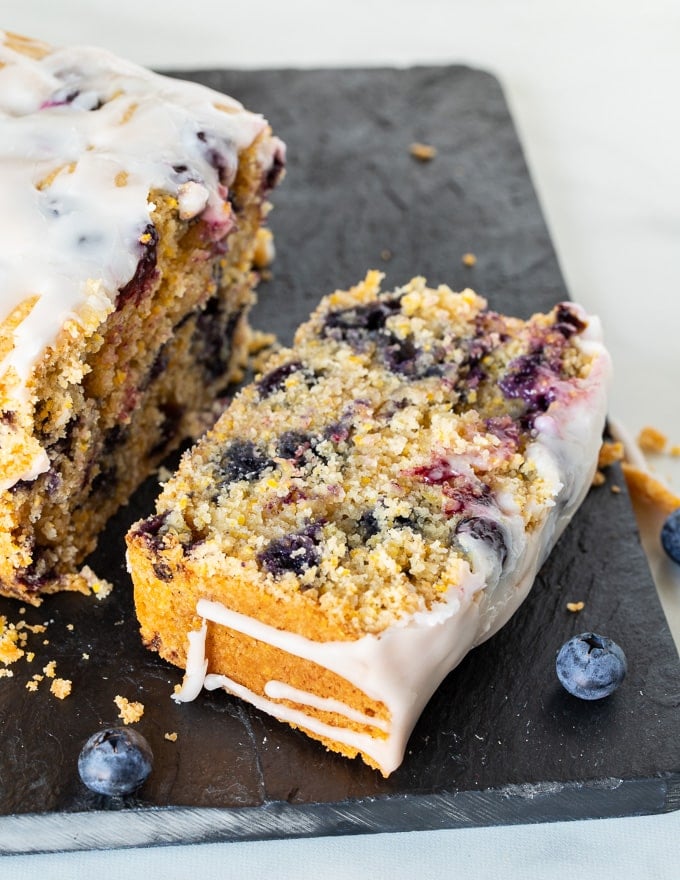 Fruity and fragrant
Sharp, sweet, lemon glaze drizzled ALL OVER for extra decadence
And that glaze has only 2 ingredients! Powdered sugar and fresh, zippy lemon juice. Simple but incredibly delicious.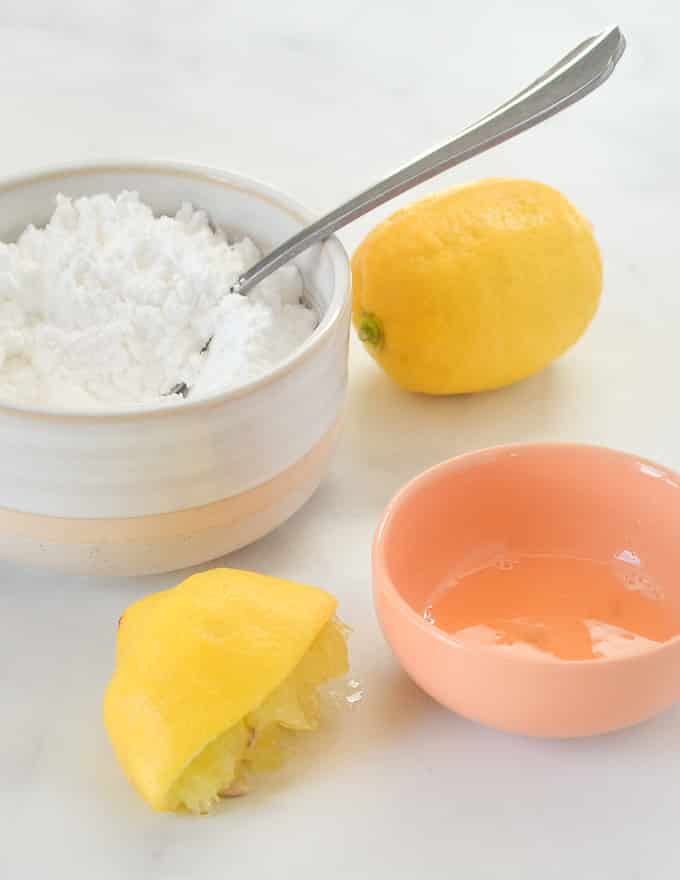 How to make Gluten-Free Lemon Cake with Blueberries
Step 1 - If you don't already have some oat flour hanging around in your pantry, buy some, or make it yourself. It's so easy. Instructions are a bit further down. Add the dry ingredients, except the sugar, to a mixing bowl and whisk them together
Step 2 - Zest and juice your lemons then add both to a jug with all of the wet ingredients and the sugar and give them all a good stir up. Pour the wet ingredients into the dry ingredients and fold together.
Step 3 - Then add the blueberries and fold them through, spoon into a loaf pan and bake.
Step 5 - Enjoy a big piece or 3!
How to make oat flour
If you do need to make your own oat flour it's really easy and much cheaper than buying it ready made from the store. Generally you get the same volume of oat flour as you do the amount of whole oats you started with. So use 1 cups of oats and you will get about 1 cups of flour (assuming you don't sieve it – see my notes about that below).
Here's how:
Add oats (rolled or quick) to a blender and blend on high speed until the oats are a fine powder and there are no little chunky bits. With a high powered blender like a Blendtec or a Vitamix this will be really easy and done in a minute or under.
If your blender is not so good though, you can run it longer to get a finer flour and if it still isn't super fine, then sieve it. Use the fine flour that passes through the sieve for baking and the courser flour left in the sieve for making oatmeal.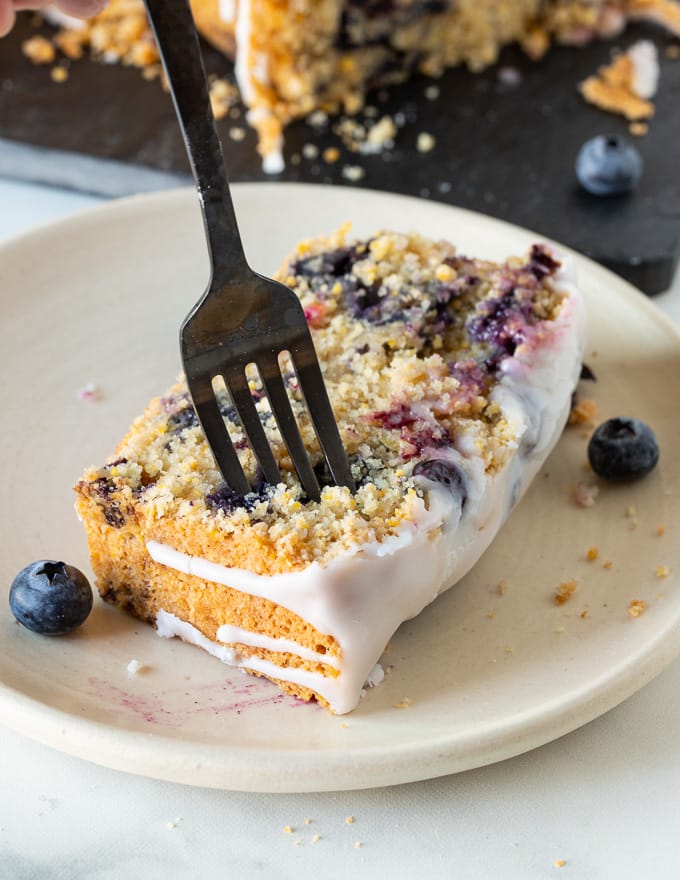 Success Tips
Follow the recipe closely and as always with recipes involving flour, I highly recommend you use a kitchen scale.
Cup measurements are not accurate enough to get the best and consistent results.
Digital scales are available at most big superstores now and you can pick one up for around $10. They are a great investment and are so worth having! I have this one:
Even if your loaf pan is non stick, I recommend lining the bottom of it with a strip of parchment paper. One long strip that goes along the bottom and overhangs the ends is fine, then it can act as handles for you to easily lift the loaf out once it's baked.
How can you tell when it's cooked properly? You can use the toothpick test. Stick it in the centre and if it comes out clean (apart from a little sticky blueberry juice), then its done, or gently press down on the center of the loaf. If it bounces back completely, it is done. If your finger leaves a dent in the loaf it needs more time.
Let the loaf cool completely in the pan. I know it's tempting to break into it when it's still warm, but if you try to remove it, you risk it breaking because it's so fragile when it's warm. Once it's cool it's a lot easier to handle and won't fall apart.
If you are glazing it, you must wait until it is completely cool.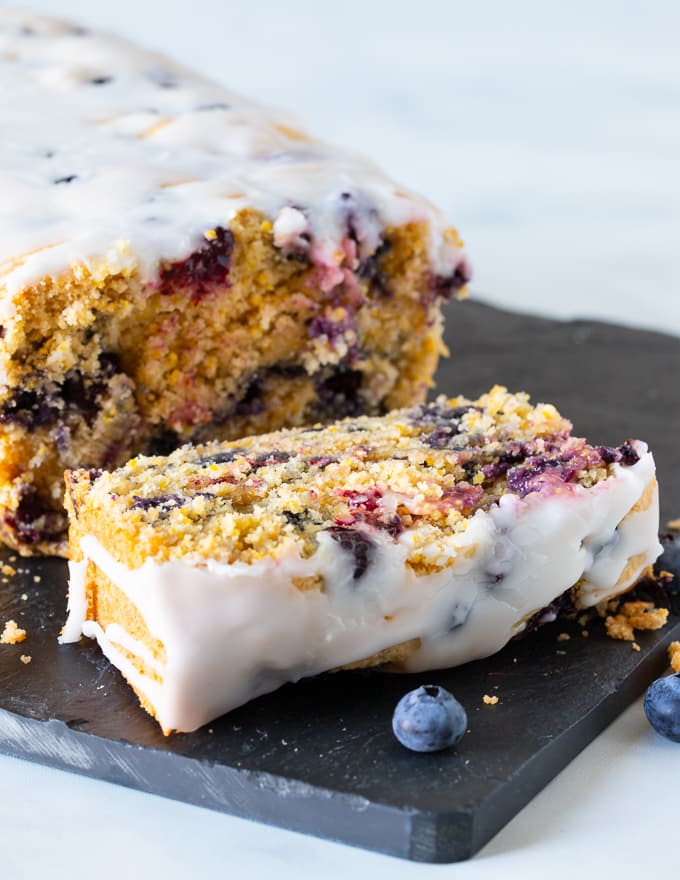 Variations
Some ways you can adapt this Gluten-Free Lemon Cake are:
Switch out the cornmeal for shredded coconut
Use raspberries instead of blueberries
If you can get them, vegan white chocolate chips would be a lovely addition!
If you try this recipe, let me know how you like it by leaving a comment and rating below! And be sure to join my mailing list for more deliciousness!
Recipe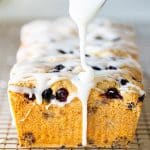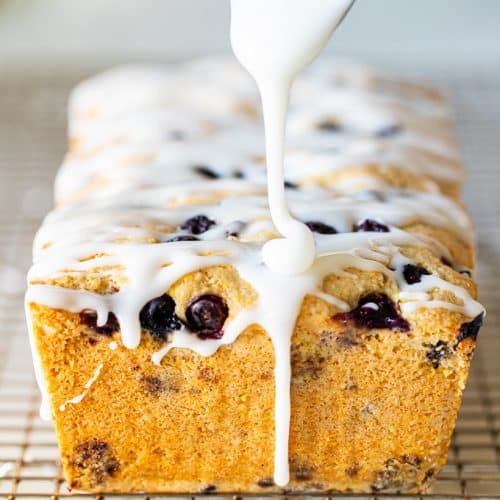 Gluten-Free Lemon Cake with Blueberries
Author:
No gluten? No problem! This spring infused Gluten-Free Lemon Cake is made with fresh lemons, beautiful bluebs and oat flour.  It's fresh and zingy , soft and tender and there are bursts of juicy blueberry in every bite!
Ingredients
2 very packed cups / 250

g

oat flour (certified gluten-free if necessary)

, if you don't have a kitchen scale, spoon the oat flour into the cups and press it down really hard to pack it in until each cup is full.

½ cup / 75

g

cornmeal

, medium or course grind (unsweetened shredded coconut can be used as an alternative).

½ cup / 60

g

tapioca flour/starch

, Please don't try to sub this. It gives by far the best results.

¾

teaspoon

baking soda

, (bicarbonate of soda in the UK)

2

teaspoons

baking powder

½

teaspoon

fine salt

½ / 120

mls

coconut oil (measured while liquid)

, use refined coconut oil if you don't want a slight coconut taste. Amy other neutral tasting oil can be used instead. If you love the taste of olive oil, extra virgin olive oil works brilliantly with the citrus flavours as an alternative)

¾ cup / 150

g

cane sugar or white granulated sugar

½ cup / 120

mls

unsweetened milk of choice

¼ cup / 60

mls

freshly squeezed lemon juice

2

lemons

worth of zest

1 cup / 130

g

fresh or frozen blueberries

, plus another small handful for decorating the top
INSTRUCTIONS
Preheat the oven to 375°F (190 *C), then grease a 1lb loaf pan (approx 9x5 inches) with some coconut oil, or any other neutral oil you have. Place a long strip of baking parchment along the bottom and up either end to act as handles which will allow you to lift the loaf out easily once it's baked. 

To a large bowl, add the flour, cornmeal, tapioca flour, baking soda, baking powder and salt. Whisk them together to combine. 

In another bowl or jug, add the melted coconut oil, sugar, milk, lemon juice and lemon zest. Whisk or stir them all together really well until thick and gloopy. 

Make sure everything is ready to go, oven at temperature, loaf pan ready and at your side, before you continue. Then, pour the wet mixture into the dry mixture. With a spatula or wooden spoon, fold them together. Be gentle, but work quite quickly. As soon as you can no longer see any dry flour, pour in the blueberries and fold those in too. 

Immediately spoon the batter into the loaf pan, smooth out the top, and sprinkle over a few extra blueberries (not essential, it's just for looks!). If you don't intend on glazing the finished loaf, a handful of granulated sugar sprinkled all over the top is nice as it will bake up to give a lovely crunchy top.

Get it into the oven without hanging around (we want to really take advantage of the reaction of the baking soda with the lemon juice for maximum fluffy texture). Bake for about 50 minutes. If you use frozen blueberries it might take a couple of minutes longer. Check it's done by poking it in the centre with a toothpick. If it comes out clean, except for perhaps a little blueberry juice, then it's done.

Leave the loaf in the pan to cool . This is important as it can crack and break a bit if you try to remove it while still warm. When it is cool, use the parchment paper handles to lift it out, then peel the paper off the bottom and place on a cooling rack or board ready for glazing.

In a small bowl, add the powdered sugar. Gradually add the lemon juice 1 tablespoon at a time, stirring really well between each addition. It will feel like there is not enough liquid, then all of a sudden it will come together into a thick, smooth glaze. You shouldn't need more than 4 tablespoons of lemon juice. The amount needed will vary depending on humidity though. Once the glaze is completely smooth, thick and drizzle-able, use a spoon to drizzle it all over the top of your loaf. Leave it for at least 10 minutes to set up a bit before cutting. 
NUTRITION
Serving:
1
of 10 slices
|
Calories:
342
kcal
|
Carbohydrates:
54.7
g
|
Protein:
4
g
|
Fat:
12.8
g
|
Saturated Fat:
9
g
|
Sodium:
322
mg
|
Fiber:
3.4
g
|
Sugar:
26.4
g
|
Vitamin A:
50
IU
|
Vitamin C:
9.9
mg
|
Calcium:
90
mg
|
Iron:
1.6
mg
Did you make this recipe?
Rate it & leave feedback in the comments section below. I love seeing your remakes too. Tag @avirtualvegan on Instagram! 🌟